The Osprey Kamber 16 is a compact, lightweight ski backpack that promises to fit right into your alpine adventures. This pack features ski and snowboard attachments points, an insulated hydration reservoir, various pockets, and comfortable straps.
This snowboard pack stands out in its category as a practical, high-quality pack that's an ideal size for carrying the essentials out on the slopes.
Osprey the Company
Founded in 1974, Osprey has grown from a small retail shop in Santa Cruz, California, to a large facility in Colorado with manufacturing branches overseas. Osprey is highly committed to the quality of its product, honoring the "All Mighty Guarantee," which means that they will repair or replace any damaged product no matter when it was purchased.
Osprey values sustainability and ethics by utilizing recycled materials, only using safe chemicals for water repellents and dyes, and respecting its workers across the supply chain.
Please read on for our full Osprey Kamber 16 review!
Things to Consider Before Buying a Ski Pack
When skiing or snowboarding at a resort, you'll want to bring a backpack that doesn't encumber you during the sport yet holds all the important gear you'll need throughout the day, such as sunscreen, water, gloves, and goggles.
If you're looking for a lightweight, small, comfortable ski pack that holds onto your essentials and won't get in the way, the Osprey Kamber 16 may be a great option. However, if you need more space and weight, you may want to look at some of Osprey's more rugged, larger packs, like the Osprey Kamber 42, which is a better fit for mountaineering and holds more snow gear.
When selecting a snowboarding pack, you should consider your needs for the day, the weight you want to carry, and the overall comfort level of the pack. It's important to try to find a pack that has enough room yet won't be too bulky.
Features and Benefits
Osprey Kamber 16 Men's Ski Backpack , Galactic Black , One Size
Glove friendly zipper pulls and buckles allow for quick and easy use
Front panel access to main compartment dry gear and insulated hydration reservoir sleeve
Extra-large front panel pocket with internal organization, key clip and a scratch-free goggle pocket
Tuckaway diagonal ski or vertical snowboard attachment
Reinforced wear points to protect pack from metal abrasion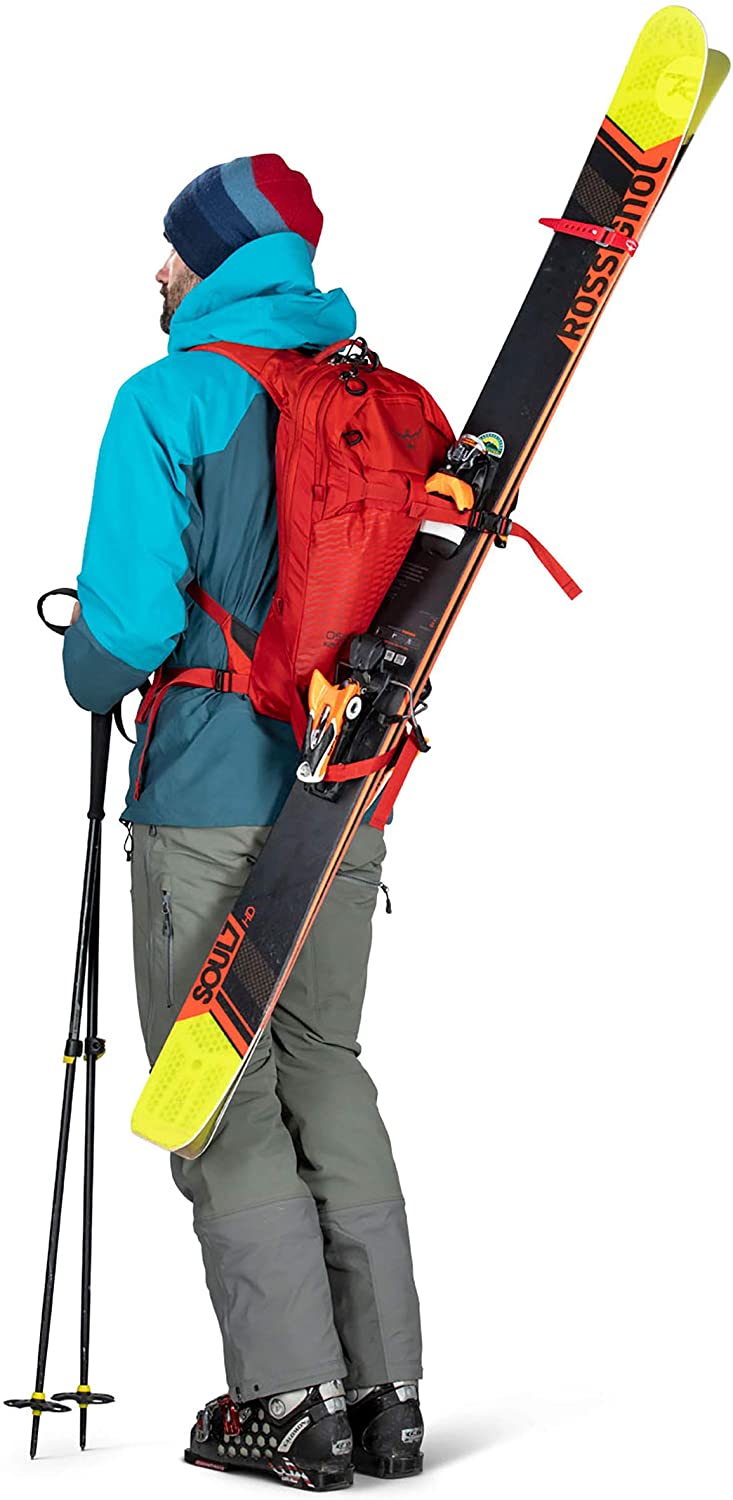 Weight and Materials
The Osprey Kamber 16 backpack is made of a durable, flexible, lightweight, waterproof 420-denier nylon packcloth. This fabric is durable, making it an ideal option for outdoor bags, where ruggedness is essential. The bag is reinforced at wear points for extra durability.
Unpacked, the Osprey Kamber 16 weighs a mere two pounds, so it's ideal for days at the ski lift.
Its lightweight body style lends itself to easy maneuverability for those quick turns and curves when you're snowboarding or skiing. With this in mind, you can feel confident in your agility as you zoom down the slopes.
Breathability, Comfort, and Suspension
The Osprey Kamber 16 is a compact snowpack that fits closely to the wearer's back, making it a comfortable option for chairlifts and fast-paced skiing or snowboarding sessions. Because the pack has a thinner, longer, low-profile shape, it allows you to have full use of your arms for balancing on the board. The pack feels "out-of-the-way" and doesn't detract from the fun.
Additionally, the shoulder straps on the Osprey Kamber 16 are quite comfortable, as the extra padding promises to keep your shoulders pain-free over many adventurous hours. Note that there is less padding on the hip belt, as it is only webbed rather than cushioned. However, a padded ski jacket can often remediate this issue.
The contour of the back panel keeps the pack feeling snug to the body rather than swinging wildly everywhere when turning or making quick movements. Also, the cushion and ventilation of the back adds to the pack's comfortable feel and helps with breathability.
This Osprey ski backpack will fit torsos with length 18-22 inches and waist and hips of 25-50 inches, so it is adjustable to increase your comfort. The hip belt can also be removed if you would prefer. Although the Kamber is classified as a men's bag, women can certainly wear it as well.
Overall, this pack is extremely comfortable and lightweight, and I felt like I could forget that I was even wearing it.
For suspension, the Osprey Kamber 16 is actually frameless. However, for days at the ski lift, when you may not want to carry a lot of weight anyway, this will likely not prove bothersome for most. I never felt that the lack of suspension made me unbalanced or unsafe.
More: Kelty Redwing 44 Or Osprey Farpoint 40
Storage, Organization, and Accessibility
The overall gear capacity of the Osprey Kamber is 16 liters, or 976 cubic inches, which I found to be just enough to hold what I need for a snowboarding day without being too heavy. The bag can hold up to a 3-liter water reservoir (sold separately) in the hydration sleeve. Because the sleeve itself is insulated, this ensures that your water won't freeze before you have a chance to drink it.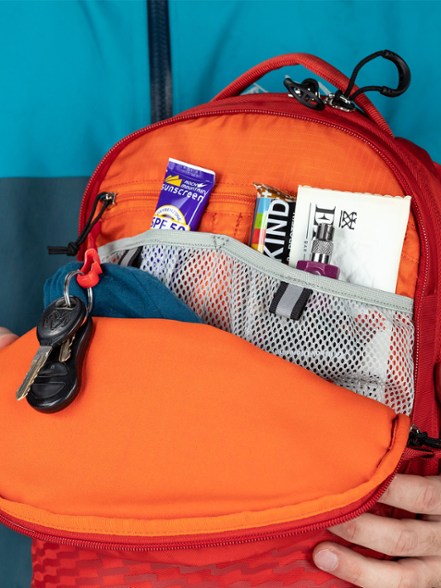 The zippers on the Osprey Kamber 16 are built to be "glove-friendly," so you won't be fumbling around trying to get to your gear. The pack features an extra-large front pocket that zippers open to even more zippered pockets and mesh compartments on the inside of the bag.
The main compartment and these smaller compartments are perfect for storing extra layers, snacks, first aid kits, winter gloves, collapsible poles, sunscreen, lip balm, your cell phone, and other small yet important items. There is also a key clip, which adds a level of security.
The various pockets also helped me to keep the wet and dry gear separate from each other, which is an important safety feature. You wouldn't want to pack an extra set of clothes, only to find that they had gotten soaked and are now too cold to wear.
Another cool feature of the Osprey Kamber 16 is its goggle storage pocket, which is lined with fleece for protection from abrasion. This is a convenient, safe space to store your ski goggles and keep them scratch-free.
Because of its durably built diagonal ski and vertical snowboard attachment areas with buckles and webbing straps, the Osprey Kamber 16 makes for a versatile ski or snowboard pack. I found the attachments easy to use, and they felt stable. They also tuck away when not in use, so they stayed out of the way and avoided snagging.
Because the Osprey Kamber 16 was created with safety in mind, the bag features GPS and radio attachment points along with the harness as well. There is also a safety whistle in the buckle for the sternum strap.
Pros and Cons of Osprey Kamber 16
Osprey Kamber 16 Specifications Table
| Feature Type | Feature Specs | What This Means |
| --- | --- | --- |
| Weight | 2 lbs (0.9 kg) | This pack is not too heavy on its own, which is ideal for snowboarding and skiing. |
| Capacity | 16 liters (976 cubic inches) | This pack can hold enough water and gear for days on the ski lift, but it may not be suited for mountaineering or longer days. |
| Frame | No | This pack is frameless, meaning that it doesn't have a strong suspension. |
| Frame Material | N/A | This pack is frameless meaning that it doesn't have a strong suspension. |
| Hip Belt Size | 25-50 inches | Adjustable for comfort and fits different sizes. |
| Torso Fit | 18-22 inches | Adjustable for comfort and fits different sizes. |
| Number of Exterior Pockets | 2, plus the main compartment | Has enough storage compartments for carrying extra clothing layers, first aid kit, small snacks, and collapsible poles. |
| Hydration Sleeve | Yes | This pack is great for on-the-go hydration, and it's also insulated, which is perfect for cold weather. The sleeve can hold up to a 3-liter volume water pack, which is sold separately. |
| Main Pack Access | Front panel access (top/panel) | The pack has front panel access to the main compartment, which is easily opened. |
| Attachments | Diagonal ski, vertical snowboard | These attachments tuck away and are very convenient for carrying gear. |
| Materials | 420-denier nylon packcloth | Lightweight yet durable. |
| Warranty | All Mighty Guarantee | Osprey will repair or replace the product at any time. |
| Retail Price Range | $80-$100 | Decent price. |
Other Customer Reviews
As I scoured the internet for helpful information on snowboard and ski packs, I came across several user reviews that seemed to have positive experiences with the Osprey Kamber 16 and with Osprey as a brand in general.
Here are a few screenshots of some testimonials telling of their time with the Osprey Kamber 16 on their back.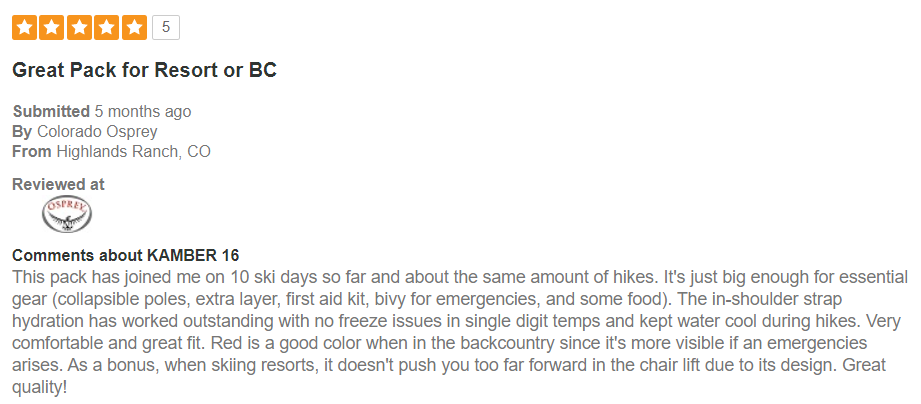 Alternatives
Osprey Kode 22 vs Kamber 16
The Osprey Kamber is the replacement model for the Osprey Kode series. Like the Kamber, there were various sizes of the Kode. All of these bags have similar overall features, such as snowboard and ski attachments, insulation and waterproofing, and various pockets.
However, comparing the smallest size, the Osprey Kode 22, to the Osprey Kamber 16 reveals that the Kode was better equipped for backcountry mountaineering, as it was constructed with a supportive internal HDPE framesheet, while the Kamber is frameless.
The Kode offered larger compartments, a helmet attachment, and the ability to carry snowboards vertically or horizontally. Because of this, the Kode may be a better choice if you're looking for some versatility and strength in your backpack.
For trekking through snowy mountains, an Osprey Kode is probably a better fit, if you're able to find one. You can also check out some of the larger Osprey Kamber models for higher durability.
Comparison
Kode is more durable
Kamber is more compact
Osprey Kamber 16 vs 22
While both models share similar features, such as contoured shoulder straps, a hydration reservoir, waterproofing, and a goggle pocket, the Osprey Kamber 22 offers even more. It has an avalanche safety kit pocket, just in case. A helmet net provides an easy way to store your helmet as you ascend the mountain.
Aside from some extra features, the Osprey Kamber 22 is constructed with a stronger suspension with a 1.2 mm HDPE framesheet, making it a more ideal option if you need to carry more equipment in the mountains.
Comparison
Kamber 16 is more lightweight
Kamber 22 is more durable
Kamber 22 has an avalanche safety kit pocket and helmet net
If the Osprey Kamber 22 is a better fit for your mountaineering adventures, you can find it here.
Other Kamber Models
If you want a Kamber pack but need more space, Osprey offers 32-liter and 42-liter models. These might be the right fit if you want to carry more gear and need more pockets.
The Osprey Kamber 32 has an extra large J-style pocket, compression straps along the sides, and back panel access instead of only front access to the main pocket. It can also carry skis in an A-frame formation. The 42-liter model features all of this, plus a top-loading capability, dual zippers at the back panel, and more space overall.
Check out the Osprey Kamber 32 here and the 42 here.
Comparison
Kamber 42 is top-loading with dual back zippers
Kamber 32 and 42 have A-frame ski carry
Kamber 32 is heavier than the 16 but not as heavy as the 42
Conclusion
For snowboarders and skiers who are searching for that elusive all-purpose, easy, comfortable bag, the Osprey Kamber 16 ski pack may be the best fit for the slopes. It is waterproof, lightweight, durable, simple to use, and nearly unnoticeable on your back, all of which are essential features whether you're cruising on a snowboard or ski.
Overall, I would rate this backpack 9.75 out of 10 stars for its overall performance due to its compact style, ease of use, safety features, and pocket organization while not being too heavy or overbearing.