A long day of outdoor adventure deserves a great night's rest – you want to put yourself into your traditional mummy bag that makes sleeping comfortable, toasty warm, even when damp snuggle.
If you're looking for a sleeping bag that allows for freedom of movement while you slumber under the stars, look no further.
The NEMO Disco 30 is a comfortable side sleeper bag with a down filling that helps regulate temperature down to 30 degrees Fahrenheit. Built with a spoon shape, the Disco 30 features ample space at the knees and elbows, perfect for those who are more comfortable sleeping on their sides or stomach.
Not only that,
Compared to other NEMO sleeping bags, the NEMO Disco 30 stands out for its overall packed size comfort and uniquely designed shape. While other bags are more tapered or narrow, the NEMO Disco 30 promises to keep the warmth while being more versatile in shape so that you can move without restriction.
As a company,
NEMO Equipment aims to design and create gear that fits perfectly into your adventurous lifestyle. Based in Dover, New Hampshire, NEMO was founded in 2002 with a commitment to thoughtful and comfortable design.
Fun Fact: In 2005, NEMO won the ISPO Brand New award for its innovative design techniques. The NEMO Equipment team has 25 employees who take on various adventures when they aren't busy at work, from biking and backpacking to surfing and skiing.
Pros of the NEMO Disco 30
Extra room at knees and elbows is very comfortable for side or stomach sleepers.
Keeps you warm down to 30 degrees Fahrenheit
Versatility is high
Cons of the NEMO Disco 30
Slightly heavy
When packed, it doesn't get as compact as other bags
Read on for our full review of the NEMO Disco 30 to see if this sleeping bag is the perfect fit for you.
Check Today Price
Things to Consider Before Buying a Sleeping Bag
Before you hunt down your next sleeping bag…
You should consider various important questions regarding the features that you will need. First, make sure to research the temperature range of the area you'll be sleeping in because you don't want to be too cold at night.
You should also consider the bag's weight, as it should be light enough that you can comfortably carry it with you on the trails during the day. Also, you should consider the weatherproofing features as well as the overall size and shape of the bag.
If you're a side or stomach sleeper,
Your choice of comfortable sleeping bags is more limited. Because of its uniquely designed shape, the NEMO Disco 30 may be a great option for you.
Also, as it features a temperature rating of 30 degrees Fahrenheit, the Disco 30 is great for those chilly nights but isn't suited for temperatures that drop much below freezing.
Moreover,
For those seeking a bag that's better suited for colder nights, consider the NEMO Sonic, which is temperature rated down to -20 degrees Fahrenheit, or the NEMO Canon -40 Down.
While the Disco 30 compressed volume down to a smaller size, it doesn't get as small as other bags of its kind, so it may not be your best fit if you have a very small backpack. If you're seeking a super compact bag, check out the Marmot Phase 30 or Western Mountaineering SummerLite 32.
Features & Benefits
NEMO Disco 30
SWEET DREAMS - Backpacking is better after a great night's rest; The 3 season Disco is designed to give you the best sleep in the backcountry; 650 fill power Nikwax Hydrophobic Down is feather-light and toasty warm even when damp
SNUGGLE UP - Like your favorite comforter, NEMO's Blanket Fold gives some extra material around your face to cuddle up with; Cozy and practical, this helps regulate temperature
LET'S SPOON - The Disco's unique spoon shape is designed with extra room at the elbows and knees that make side sleeping comfortable if you don't like to sleep on your back
LET IT BREATHE - When you get too hot, ThermoGills unzip to let out warm air, allowing superior temperature control and added versatility; A waterproof, breathable footbox protects from condensation so your feet stay warm and dry
TECHNICAL SPECS - Weighs 2 lbs 4 oz (1.02 kg) with a packed size of 17 x 9 in diameter and a compressed volume of 5.7 L; Nylon Ripstop with water-resistant DWR; 1-person capacity fits men up to 6 ft tall; Left zipper
Warmth and Waterproofing

The NEMO Disco 30 features 650-fill-power down insulation with 1 pound of fill weight for the long version and 15 ounces of fill weight in the regular version. The fill power tells you how many cubic inches of the loft is produced by one ounce of the down. The higher the fill power, the higher the insulation and loft.
As it's rated down to 30 degrees Fahrenheit, the ND 30 is a moderately warm bag rated for mild nights.
However,
Because this bag features so much extra room in the torso and leg areas, I found that I could sleep in several layers of clothing without feeling restricted. Thus, this may be suited for even colder nights than advertised.
Thankfully, I didn't feel that the bag was overly large either, which would otherwise create cold spots.
The Nikwax down insulation of the bag is hydrophobic, meaning it repels water. It's advertised to be free of fluorocarbons often found in waterproofing and is said to be 50 times more water-resistant than untreated down. It's rated for 16 hours of water exposure while still retaining insulation.
Further,
The draft collar near the neck (NEMO's Blanket Fold) folded like a blanket and helped me to feel extra warm but not overly so. It made the whole sleeping bag feel cozier.
The nifty Thermo Gills on the ND 30 can be used, allowing superior temperature control inside the bag. The Thermo Gills will release warm air from the bag without exposing you to the cold air when unzipped.
Comfort

The NEMO Disco's unique spoon-shape promises to offer ample space at your elbows and knees, so the bag can adapt to fit your sleeping style more easily. The Disco 30 was built to fit those who don't sleep on their backs with straightened arms and legs "like mummies."
Not only that…
I found this extremely comfortable, especially as I tend to move around a lot in my sleep. I am truly a back sleeper, side sleeper, and stomach sleeper, and all rolled into one. I never felt that the ND 30 was constricting or restricting my movement, and I was able to sleep pretty soundly all through the night.
These images below are a demonstration of how ND30 is roomy enough for various sleeping styles.
I also appreciated the foot box of this bag. It's waterproof but also ventilated and prevents condensation from building up, ensuring that my feet stay warm and never sweaty or too hot.
Check Today Price
Total Weight and Packed Size
The long version of the ND 30 weighs 2 pounds 5 ounces, while the regular size weighs 2 pounds 4 ounces. I felt that the bag was not too heavy for backpacking throughout the day, although it's slightly heavier than other sleeping bags I've tried, such as the Marmot Phase 30.
For storage, the ND 30 features a stuff sack made of high-quality cotton. It stuffs into a pack size of 17 x 9 inches, which is moderately sized but might not fit in all backpacks.
When packed, this bag felt very loose rather than compact, and it was difficult to compress into a smaller size. This might make it somewhat of a challenge to fit it into smaller backpacks. You should troubleshoot this with your pack of choice to make sure they are compatible.
Versatility
The NEMO Disco 30 is versatile in both shape and temperature range.
While the spoon shape accommodates side, stomach, and back sleepers, the down insulation keeps you warm, while the Thermo Gills and full zippered body allow for ventilation and airflow if you get too warm. This makes the bag versatile enough that it can be comfortably used in three seasons.
Features & Design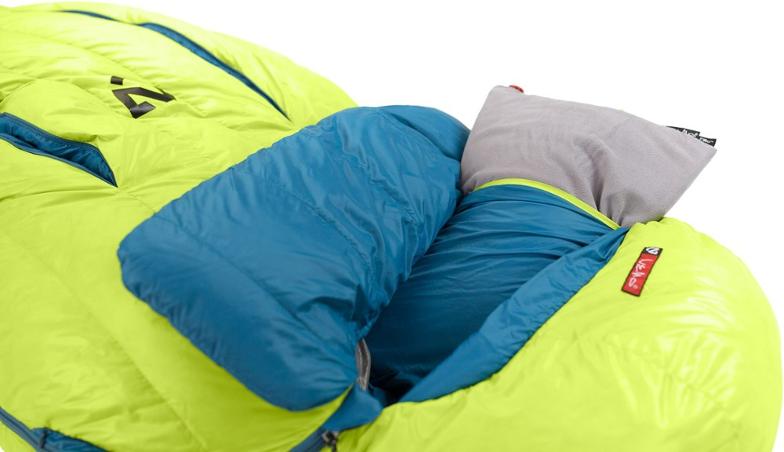 Along with its comfort and versatility, the NEMO Disco 30 has several features that make it stand out in its category. There is a built-in pillow pocket, where you have space to stuff a shirt or soft jacket and create your own pillow underneath your head.
Along the side of the bag, there is also a stash pocket with a zipper so that you can store your keys or other small necessities for easier, safe access.
There is almost nothing more frustrating than trying to zip or unzip your sleeping bag when the zipper snags and gets caught on its own fabric. I found that this wasn't an issue with this bag, as it features a high-quality YKK zipper with an integrated snag guard. The bag seemed to always zip and unzip very quickly and smoothly with no catch.
The shell, made of 30-denier ripstop nylon, felt durable, and I didn't experience any rips or holes while backpacking with the bag or sleeping in it.
Feature Type
Feature Specs
What This Means
Weight
Regular: 2 pounds 4 ounces
Long: 2 pounds 5 ounces
The NEMO Disco 30 is moderately lightweight for backpacking.
Insulation
Yes; 650-fill down
The bag is insulated with 650-fill-power down.
Temperature rating
30 degrees Fahrenheit
The NEMO Disco 30 is rated for mildly cold nights, down to 30 degrees Fahrenheit.
Waterproofing
Yes
Nikwax Down insulation is 50 times more hydrophobic than untreated down, maintaining its insulation for up to 16 hours of water exposure.
Zip style
Full-zip. YKK zipper
The YKK zipper is strong and doesn't get caught. The bag features a full-length zipper along the entire body, making it more ventilated.
Pockets
Yes; zippered stash pocket.
The zippered stash pocket can hold an ID card, phone, wallet, and keys.
Warranty
Lifetime warranty
NEMO offers a lifetime warranty on all of their gear with proof of purchase from an authorized store.
Retail Price
$240-$280
The NEMO Disco 30 is a good value for the price point, coming in cheaper than other 30-degree bags.
Other Customer Review
You can read about a few of these users' experiences below: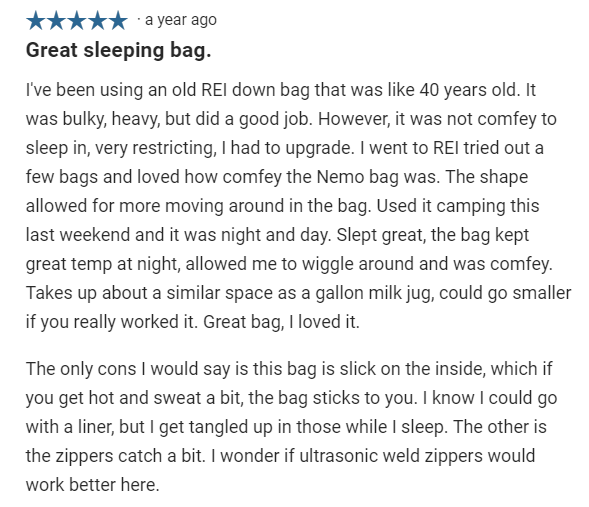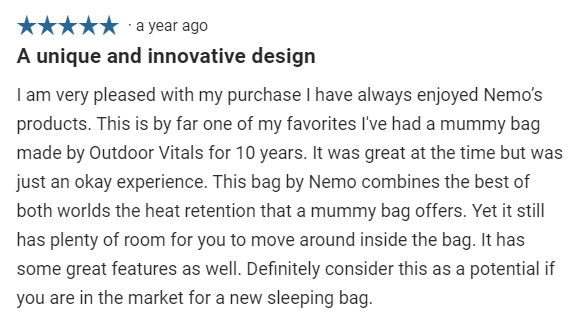 Click for More Customers Review
Alternatives
NEMO Disco 30 vs 15
Rated down to 15 degrees Fahrenheit, the NEMO Disco 15 also features 650-fill down with Nikwax treatment for waterproofing. Both of these bags feature a spoon-shaped design.
Along with the differences in the temperature rating, the other main difference is the weight of the sleeping bag. The Disco 15 comes in heavier, at 2 pounds 14 ounces for the long style and 2 pounds 11 ounces for the regular size.
Like the Disco 30, the Disco 15 also features the Thermo Gills for ventilation, the blanket fold design, and a stash pocket along the side.
Comparison
The NEMO Disco 15 is heavier
The NEMO Disco 30 is rated for colder temperatures
If you're looking for a side-sleeper bag with a milder temperature so you don't get too warm, check out the NEMO Disco 15.
NEMO Disco 30 vs Riff 30
Both the ND 30 and Riff 30 are built for temperatures down to 30 degrees Fahrenheit. These bags are both also spoon-shaped and feature Thermo Gills, the blanket fold draft collar, YKK zippers, and breathability.
The NEMO Riff 30 takes insulation one step further, as one ounce of its 800 fill will have a higher fill volume than the NEMO Disco 30. In other words, because the Riff 30 uses a higher fill power down, it requires less down to achieve its temperature rating, making it more easily compressed to a smaller size.
This means the Riff 30 is more lightweight. While the weight of these two bags is about the same, with the Riff 30 weighing 2 pounds compared to 2 pounds 4 ounces for the regular sized Disco 30, this may make a difference overall when you start counting ounces for your overall backpack weight.
The Riff 30 is constructed of 20-denier ripstop nylon, which is more lightweight and compact than the 30-denier ripstop nylon of the Disco. However, the Disco 30 is more durable with its higher denier.
The Riff overall is considered a more premium option than the Disco 30, although the use cases of the two bags are very similar.
Comparison
The Riff 30 has 800-fill-power down, compared to 650-fill-power down on the Disco 30.
The Riff 30 is lighter and packs smaller.
The Disco 30 has thicker fabric, making it slightly more durable.
The Riff 30 is more premium and more expensive.
If you're looking for a more lightweight sleeping bag rated at 30 degrees Fahrenheit, perhaps the NEMO Riff 30 is the better option for you.
NEMO Disco 30 vs Ramsey 30
While both of these sleeping bags boast a temperature rating of 30 degrees, their styles are quite different. While the ND 30 is built in a roomy style for side sleepers and movement, the Ramsey 30 is a "mummy bag," designed for those who sleep on their backs.
The Ramsey 30, like the Disco 30, features a draft collar, Thermo Gills for ventilation of body heat, and a breathable foot box area. The Ramsey 30 also packs into a smaller size than the Disco 30 and is slightly more lightweight.
Comparison
The Ramsey 30 is a "mummy" style sleeping bag, while the Disco 30 is more versatile for many sleeping styles.
The Ramsey 30 is slightly more lightweight.
The Ramsey 30 packs are smaller.
If you're seeking a lightweight sleeping bag rated for 30 degrees Fahrenheit and feel comfortable sleeping on your back, the NEMO Ramsey 30 may be a better choice for you.
Conclusion
We hope you found our NEMO Equipment Disco down sleeping bag review helpful in finding the perfect bag for your needs, which can be a difficult task. It can be tough to find a roomy bag, comfortable and warm yet lightweight enough to carry on the trails.
The NEMO Disco 30 promises comfort for nearly any sleeping style and help regulate temperature down to 30 degrees Fahrenheit. For its warmth, versatility, softness, and lightweight materials, it gets a rating of 9.4 out of 10 stars.