A hiking pack can make your time on the trail much more enjoyable for all your hiking adventures. A hiking backpack like the Teton Sports Scout 3400 is the perfect bag for carrying all of your most essential items while being comfortable and reliable.
The Teton Sports Scout 3400 is a top-selling hiking backpack. It is featuring a strong suspension with durable internal frame construction. Also, it has a large interior capacity for carrying valuable gear, versatility in sizing to fit nearly anyone. This bag also comes with a built-in rainfly to keep you dry, a sleeping bag compartment, foam padding for extra comfort all day long, and various pockets for organization.
The Scout 3400 stands out as a versatile, easy-to-use, durable backpack perfect for multiple days of hiking along the trails. It's also useful as a camping backpack when you need to carry your sleeping bag and other vital equipment pieces.
Teton Sports, a privately-owned company started in 2005 in Utah, aims to sell equipment and gear that encourages an active, adventurous lifestyle. The company designs tents, sleeping bags, backpacks, camping cots, inflatable pillows, hammocks, and more, all with the great outdoors at the forefront of its mission.
Teton Sports has dedicated itself to creating products for people to live life to the fullest, and this has included manufacturing respirators and masks for healthcare providers during the COVID-19 pandemic.
Read on for our full Teton Sports Scout 3400 review to determine if this backpack would be the perfect fit for your hiking adventures.
Things to Consider Before Buying a Hiking Pack
When you're planning a longer hiking trip that spans across multiple days, you may want to seriously consider purchasing a larger backpack so that you can feel prepared with all the equipment you need. For those who want a bag with a large amount of storage, the Teton Sports Scout 3400 pack would be a great fit.
With a gear capacity of 55 liters, the Scout 3400 has enough interior space to hold all of your essentials and more. This pack features several pockets and gear loops, a bungee storage area across the front of the pack, and even a zippered sleeping bag storage compartment underneath so that you can sleep under the stars with ease.
Secondly, you'll want to think about the comfort level and size range of the bag to make sure that it will fit you well. You want to make sure that the bag stays securely on your shoulders without being too tight or too loose, which might cause unsteadiness when hiking. Also, look for a bag with cushioned straps and an internal frame for even weight distribution.
The Teton Sports Scout 3400 is adjustable to fit nearly anyone, with a torso length adjustment of 15 to 19.5 inches. It also features several straps, all of which are padded and adjustable, as well as an internal frame to keep the bag securely in place.
If you might encounter showers along your hike, the water-resistance level of the backpack is also important. The Scout 3400 features a polyurethane-coated exterior shell and a rainfly, sewn into the bag itself but can be rolled up into an integrated pocket for easy storage when unneeded. This way, you won't have to worry about your gear getting wet.
So, if you're looking for a larger backpack for your hiking days, equipped with a sleeping bag compartment, various pockets, and a rainfly for protection from the elements, the Teton Sports Scout 3400 might be an excellent choice. Keep reading below for a full review of its main features.
Features & Benefits
Weight and Materials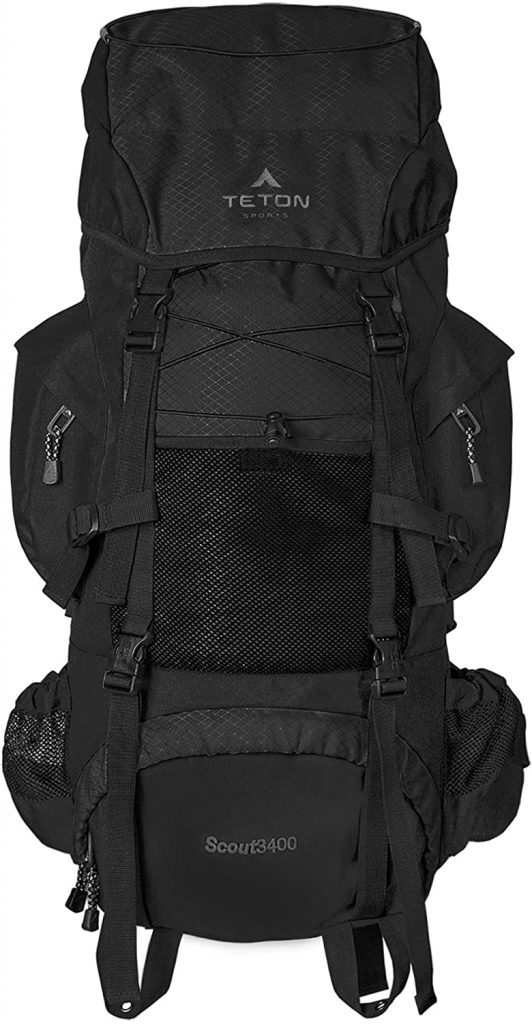 Constructed of 600 deniers ripstop nylon, the Teton Sports Scout 3400 promises longevity. Nylon itself is a popular backpack material because it is a reliable, durable, mold-resistant fabric. Ripstop nylon is even more durable than standard nylon. The way it is woven with interlacing and crossing yarns provides extra reinforcement that makes the fabric so resistant to tearing.
Here's a youtube video discussing the properties of ripstop nylon and the benefits of using it in backpacking gear:
More: The Best Waterproof Duffel Bag And How to Find It
The outer shell of the Scout 3400, which comes in four colors, is made out of 600 denier Oxford canvas coated with polyurethane. This is a water-resistant material that will help to keep you worry-free in a rainstorm.
The bag's weight is 4.5 pounds, which may be slightly heavy as this is the weight of the bag even before you've put any gear into it. Because of this, the pack may feel a little cumbersome for some users during all-day or multi-day hikes if you were expecting a more lightweight bag. However, it is not so heavy to make it unusable, and some users may not find it too heavy at all.
Breathability, Comfort, and Suspension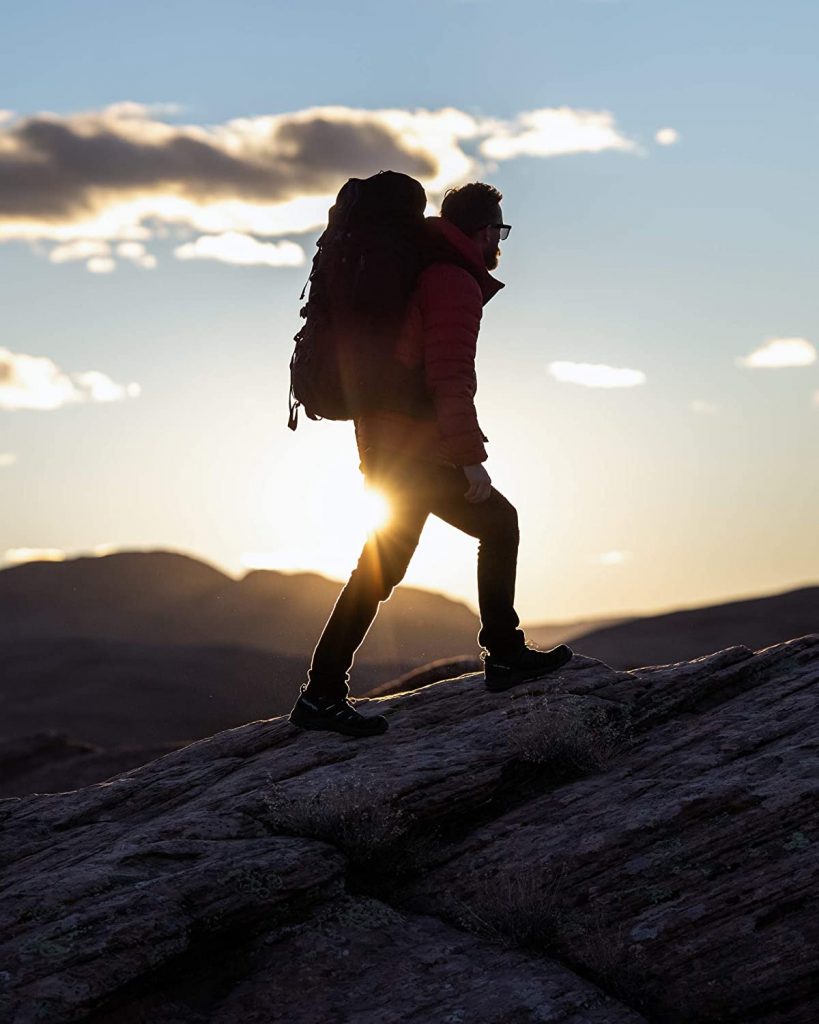 For optimal breathability and comfort, the Teton Sports Scout 3400 features a back panel designed with plenty of padding, as well as air channels to prevent overheating and sweating. This will help to keep you cool even on warmer hiking days.
The Scout 3400 is equipped with contoured, cushioned straps along the shoulders, waist, and lower back areas to reduce pressure and muscle tension for added comfort. Along with increasing your comfort level, these straps also help with suspension.
The straps keep the weight balanced evenly across your body rather than solely on your shoulders like traditional backpacks. The compression straps also ensure that the backpack remains cinched tightly to prevent the bag from swaying back and forth and interrupting your gait.
More: The Best Herschel Backpack [Review and Buying Guide]
Because the shoulder, waist, and chest straps are all adjustable to fit you perfectly, you can ensure a compact, close fit to help keep the bag stable and in place. The waist belt is adjustable from 26 to 60 inches, while the torso length can be adjusted from 15 to 19.5 inches.
Because it features an internal frame, the Teton Sports Scout 3400 is form-fitting and evenly balanced, and the frame keeps the weight closer to your body. The frame also prevents the contents of the bag from poking into your back as you walk along trails.
Overall, I found the Scout 3400 to be rather comfortable even though it is a larger bag. While this is not an ultra-lightweight bag, the cushioned straps and even weight distribution certainly helped it to feel more tolerable all day.
Storage, Organization, and Accessibility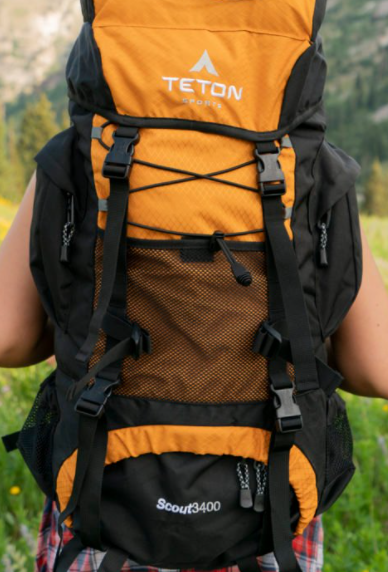 The storage capacity of the Teton Sports Scout 3400 is 55 liters (3400 cubic inches), which is a lot of gear. Add to this the fact that there are plenty of individual pockets, and you have a backpack that is built for organization.
There are large zippered pockets that are also waterproofed across the sides so that you can house your phone or other essential devices here. There is also a large mesh stash pocket along the front for easy storage of items that you want easy access to on the trails. The Scout 3400 also features lower gear loops, as well as gear loops on the sides of the bag.
Here, you can see the spacious pockets along the sides of the backpack, perfect for storing snacks or other items for easy access.
Conveniently, the Scout 3400 also features a 14 x 8 x 8-inch sleeping bag compartment in the bottom of the pack, which opens via zipper and is separated from the rest of the contents. This way, you won't need to pour out the entire backpack to get to your sleeping bag at the end of a long hiking day.
More: The Best North Face Backpack and How to Find It
Another option for storing your sleeping bag is to secure it across the pack with compression straps.
Below is an image of the easy-to-access sleeping bag compartment.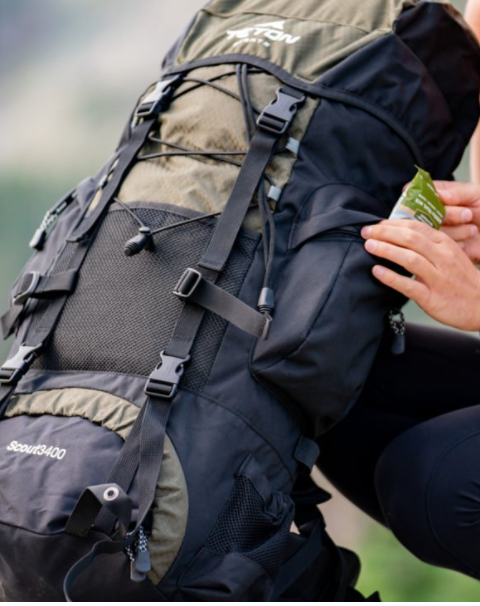 Compression straps along the front of the bag:
The Scout 3400 also features a hydration sleeve space that can hold up to a 3-liter hydration bladder. This is an essential component of any long-term hiking bag, as you definitely don't want to run out of water.
For accessibility, the Scout 3400 features top and front-loading spaces, so you or your hiking companion can easily get to whatever you need without having to waste time shuffling through the bag in its entirety. The large pockets along the side provide for an extra convenient storage space as well.
Lastly, the built-in rainfly makes sure that the gear you've so carefully organized stays dry and in tip-top shape throughout your hike.
More: Osprey Aether 60 vs Osprey Atmos 65: The Search for a Backpack
Teton Sports Scout 3400 Specifications Table
Feature Type
Feature Specs
What This Means

Weight

Unloaded weight 4.5 pounds

While the unloaded weight isn't hefty on its own, some users may find that the bag feels slightly too heavy throughout longer or more difficult hiking days when all gear is accounted for.

Capacity

3400 cubic inches (55 liters)

The bag holds a large amount of gear and has plenty of storage pockets.

Frame

Yes – internal frame

The frame helps balance the load's weight evenly on your body and stays comfortably in place against your back.

Materials

600 denier ripstop nylon
600 denier polyurethane coating on Oxford canvas outer shell

Ripstop nylon keeps the bag tear-free, and the polyurethane coating on the outer shell helps with waterproofing the bag.

Hip Belt Size

Adjustable 26 to 60 in.

An adjustable hip (waist) belt keeps the weight balanced and in place.

Torso Length

Adjustable 15 to 19.5 in.

The backpack will fit a range of torso lengths for extra comfort and versatility.

Exterior Pockets

Large side pockets
Mesh front pocket

Large side pockets have zippers for security to hold extra gear. The mesh front pocket is convenient as well.

Hydration Sleeve

Yes

You can insert a hydration sleeve holding up to 3 liters of water (sold separately).

Main Pack Access

Top, front, and bottom

You can access the main compartment through the front or top of the bag, and there is also bottom access through the sleeping bag compartment.

Rainfly

Yes

The integrated rainfly keeps your gear rain-free.

Warranty

Lifetime

Teton Sports promises to repair or replace the bag for its lifetime due to defects in workmanship or construction.

Retail Price

$$

Slightly expensive bag.
Social Proof
When I was looking for a new hiking bag, I knew I wanted plenty of storage. One of the more spacious bags I found was the Teton Sports Scout 3400, so I scoured the internet and found several user reviews that seemed rather positive. Here are some snippets of these reviews demonstrating real-life experience with the Scout 3400.



Alternatives
Teton Sports Scout 3400 vs Explorer 4000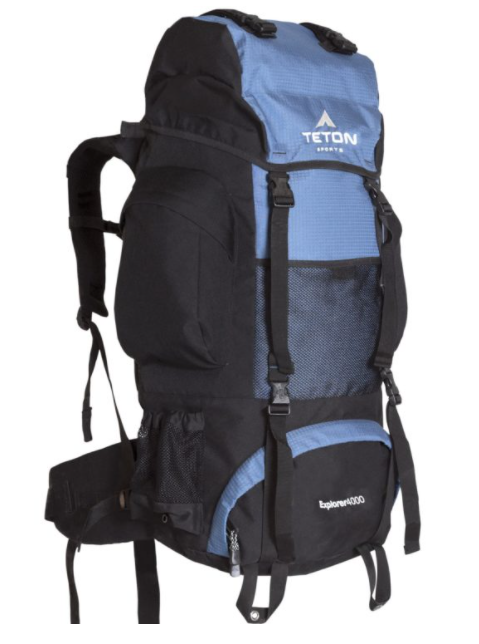 The Explorer 4000 is another large-capacity hiking backpack from Teton Sports, although it has slightly more space than the Scout 3400, as it holds up to 65 liters (4000 cubic inches) compared to the Scout at 55 liters. However, the Explorer 4000 itself is slightly more heavy on its own, as it weighs 5 pounds unpacked.
Overall, these two bags look incredibly similar body-style wise and have many of the same characteristics and features.
Both packs have adjustable torso lengths and waist belts, and both were made with ripstop nylon and polyurethane materials for durability and weatherproofing. They both feature padded back panels as well as an internal frame, compression straps, a built-in rainfly, side pockets, and a sleeping bag storage space. Both can also hold a 3-liter hydration sleeve.
If you are looking for a more spacious yet slightly heavier bag with all the same essential features as the Scout 3400, the Teton Sports Explorer 4000 may be an excellent option for your needs.
Comparison
Explorer 4000 holds 10 liters more gear.
Explorer 4000 is 0.5 pounds heavier.
Explorer 4000 is slightly more expensive.
Teton Sports Scout 3400 vs Osprey Volt 60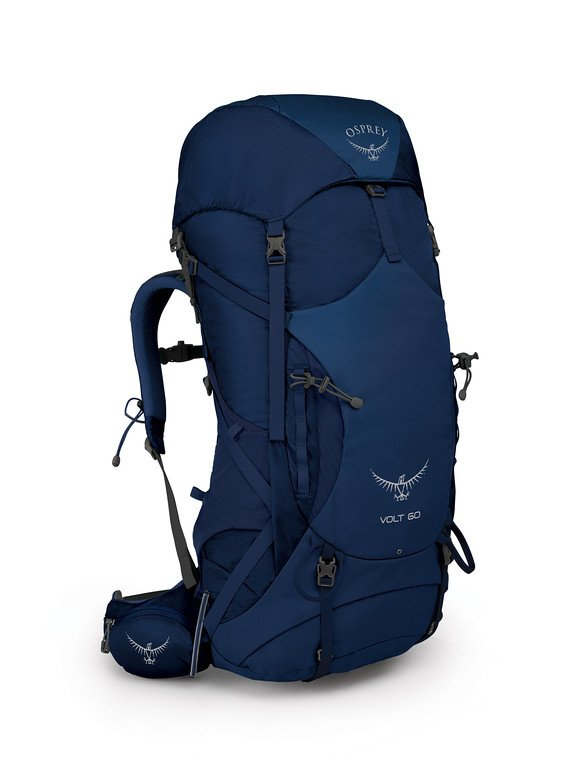 The Volt 60 is another great backpack from a reliable brand, Osprey. While the Scout 3400 holds 55 liters of gear, the Osprey Volt 60 has a slightly higher storage capacity at 60 liters. Their unpacked weights are nearly the same, with the Osprey coming in slightly more lightweight at 4.3 pounds compared to the Scout 3400 at 4.5 pounds.
Like the Scout 3400, the Osprey Volt 60 also features a breathable back panel as well as an internal frame for comfort and suspension. Both bags also have a built-in rainfly, zippered sleeping bag compartment, cushioned straps, hip belts, adjustable torso lengths, and an internal hydration sleeve.
Because it is a more expensive bag, the Osprey Volt also has some extra features. These include trekking pole attachments. Also, it has zippered pockets along the hip belt, daisy chains, ice tool attachments, and mesh pockets along the side for storing water bottles.
Comparison
Volt is much more expensive.
Volt has trekking pole and ice tool attachments, daisy chains, mesh side pockets, and zippered hip belt pockets.
Volt holds 60 liters of gear; Scout 3400 holds 55 liters.
If you want a high-capacity hiking bag with multiple pockets and even more features from another well-known brand but don't mind paying a higher price tag, check out the Osprey Volt 60.
Conclusion
Because multi-day hiking trips are quite the adventure, you want to make sure you are properly prepared. A major component of preparedness is bringing a reliable hiking backpack with enough space to hold what you need. The Teton Sports Scout 3400 is the perfect example of a rugged, versatile, high-capacity pack that will last for many years with its lifetime warranty.
Features 55 liters of gear capacity, a built-in rainfly and waterproof materials for peace of mind in case of storms, cushioned straps, and an internal frame to keep the weight evenly balanced and your shoulders comfortable. Many easy-to-use zippers for quick access to all your important gear, the Scout 3400 is a durable, high-quality pack that will suit you well on the trails.
Those seeking a comfortable, well-made, versatile backpack with plenty of storage space, check out the Teton Sports Scout 3400 here.