Going on expeditions in the backcountry can be a thrilling adventure. Getting away from the hustle and bustle of the city, you can find solace in the arms of Mother Nature. However, being surrounded by mountains and nature can sometimes leave you in unimaginable situations.
Your cellphone might not be a great savior in such times. Network issues can isolate you and create difficult situations too. But a satellite communicator can help you through thick and thin.
A GPS communicator comes in handy when you need it the most. But with umpteen devices available, choosing the best one can be a daunting task. That's why we decided to make things easier for you. This article is all about Garmin inReach Explorer+ review for all you expedition lovers out there.
Garmin inReach Explorer+
100 percent global Iridium satellite coverage enables two way text messaging from anywhere (satellite subscription required)
Trigger an interactive SOS to the 24/7 search and rescue monitoring center
Track and share your location with family and friends. Water rating : IPX7. Battery : Rechargeable internal lithium ion
Pair with mobile devices using the free earthmate app for access to downloadable maps, U.S. NOAA charts, color aerial imagery and more
In reach explorer+ device adds preloaded Delorme topo maps with onscreen GPS routing plus built in digital compass, barometric altimeter and accelerometer
Garmin inReach Explorer+ Review
Brief Overview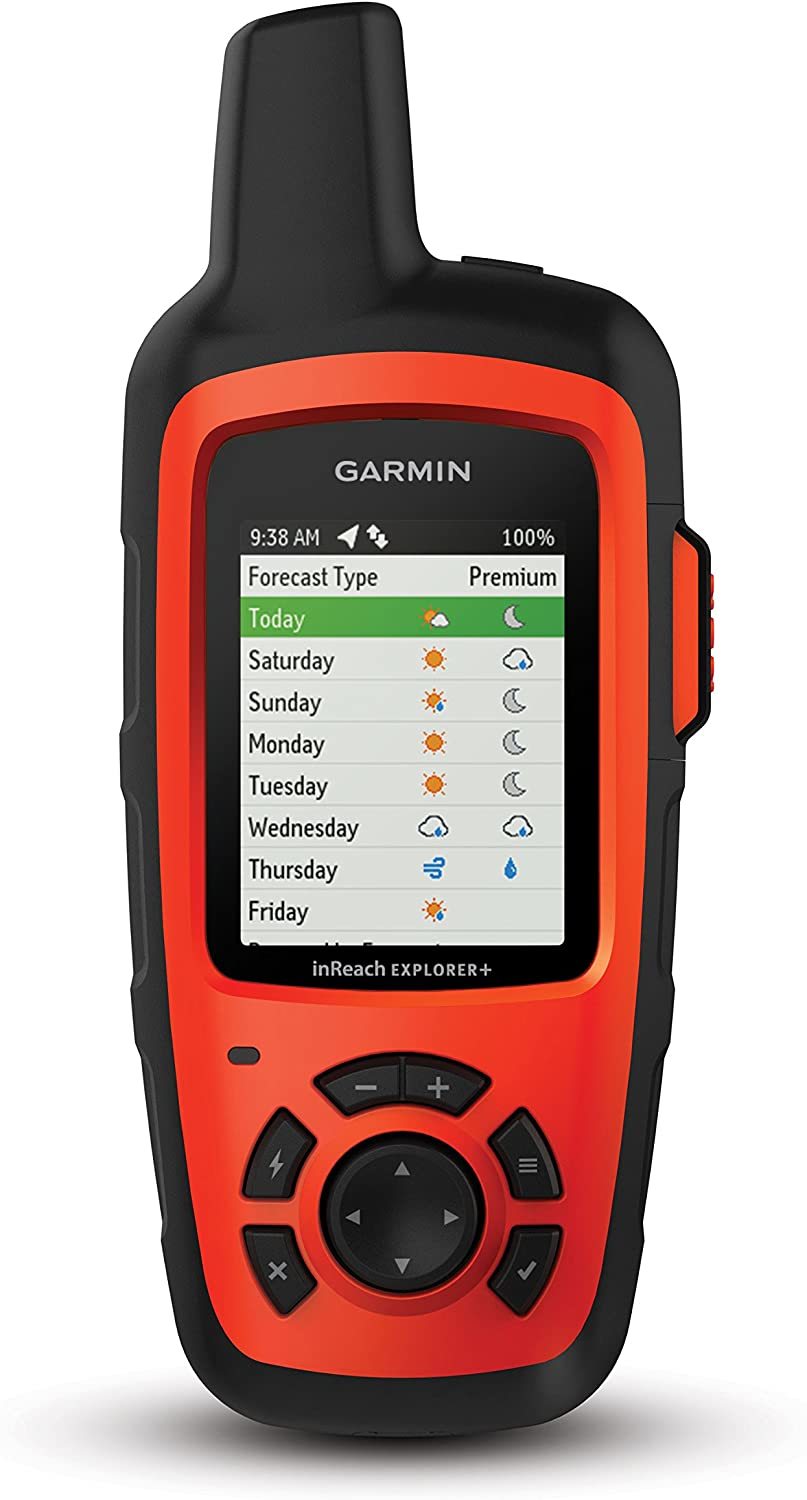 The Garmin inReach Explorer+ is the first version of Garmin's inReach devices after the acquisition of DeLorme. This device is an improved version of the original unit, and it would not be wrong to say that it has improved in all aspects.
As long as you have this device with you, you will never be out of touch. Whether it's an international adventure or a backcountry trip, you can rely on this device for sure. This Garmin device provides you with communication, navigation, location sharing, and an SOS function.
With many such wonderful features, the Garmin inReach Explorer+ is an all-in-one tool for all your expeditions.
This handheld satellite communicator excels at what it is meant to do. It is a great combination of GPS tracker, navigation tool, 2-way satellite messenger and an SOS messenger. If you are looking for a reliable messaging device for your excursion, then the Explorer+ can be a great companion.
Who is this product for?
The Garmin inReach device is a wonderful device for outdoor enthusiasts who love to go on new adventures without sacrificing the peace of mind of their loved ones. You can spend considerable time exploring the backcountry without your cellphone and yet stay connected to the outside world when you need to be.
This handheld satellite communicator is perfect for you, whether you are exploring land, air, or sea. There is no stopping your adventures with this device in your hand. The Garmin inReach Explorer+ is an invaluable tool if you love spending time exploring the mountains whilst remaining in touch with your friends and family.
​Specifications

​Dimensions

​2.7″ x 6.5″ x 1.5″

​Battery

​Rechargeable internal lithium Ion

​Display type

​Transflective color TFT

​Weight

​7.5 oz.

​Water rating

​IPX7

​Memory

​2 GB

​Preloaded maps

​Yes

​Ability to add maps

​Yes

​Routes

​20

​Display size

​1.4 x 1.9 inches

​Waterproof

​Yes

​Certification

​Approved by FCC, CE, IC

​Altimeter

​Pressure-based

​Basemap

​Yes

​Visual map display

​Yes

​Device integration

​Smartphone

​Number of waypoints

​500

​Weather forecast

​Yes

​Location accuracy

​5 meters

​SOS function

​Yes

​Messaging

​2-way messaging

​Average battery life

​100 hours (10 min interval tracking)

​Display resolution

​200 x 265 pixels

​Check-in feature

​Yes

​Power supply

​USB charger

​Replaceable batteries

​No
Garmin inReach Explorer+ Review: Key Features and Benefits
​Iridium Satellite
Phone not receiving any signal? No worries. The Garmin inReach Explorer+ has an impressive reception ability. Sending and receiving messages with this device is pretty quick. This Garmin device works with the help of Iridium satellite which is the only global, two-way communication network. It ensures pole-to-pole coverage with no gaps. With Iridium's coverage you can send text messages and emails anywhere in the world.
The Explorer+ gives you the freedom to explore places in faraway lands without having to worry about network and other issues. The satellite connection keeps you connected from every corner of the globe with your nearest and dearest.
​Easy to Operate
A great thing about this device is its easy-to-use interface. The device is easy to navigate and the menus are simple and straightforward. Once you own this device, it won't take you too long to master its operation.
A status light on the device shows you what the Explorer+ is doing without the need to open the main menu. With the aid of this notification light you will know when you have unread messages, low battery, and the status of your SOS mode.
Interactive SOS Message
Garmin uses the latest technology which enables two way SOS messages. It doesn't matter where you are, you will be able to send an SOS message. Previously, GPS devices could only send an SOS message. But thanks to technological advancement, interactive SOS communication is now possible.
Once you send an SOS message to the GEOS, a trained professional will respond to your message. The team collects all the information needed to carry out a successful rescue operation.
The SOS button is easily accessible on the Explorer+ at the side of the device. The button is protected by a plastic cover which saves it from being accidently activated even if it is shoved among loose items deep inside your bag.
Smart Sensors
The Garmin inReach Explorer+ is more than just a basic GPS unit. It also has built-in features such as digital compass, barometric altimeter, and accelerometer which will help you to establish precise bearings.
More: Check our Garmin eTrex 10 Review Here
Weather Forecast
The weather forecast feature on this device allows you to get a basic idea of the weather in advance. It is a wonderful feature, particularly when you are off the grid and need to know the weather predictions for the coming days in order to make informed decisions about your route. The weather feature includes wind speed, hour by hour break downs, barometric pressure, wind chill value, precipitation amounts, and temperature.
You can receive forecasts directly on your inReach device. You have the option of choosing from three forecasts on your phone: basic, premium nonmarine, and premium marine.
Earthmate
The InReach Explorer+ consists of a full-featured GPS navigation app and an off-the-grid satellite connection. With the help of this app, you can download maps, US NOAA charts, color aerial imagery and many more things to your smartphone.
With the Earthmate app you can also use all inReach features very conveniently on your paired devices, such as your Smartphone.
But it does not end there. The inReach device can also be synced with your contact list on your phone to enable you to reach out to anyone anywhere. This will keep you connected at all times.
More: Garmin GPSMAP 64st Review
Track and Share
Let your family and friends know your whereabouts by turning on the tracking function. The MapShare portal can be used by your loved ones to track your location from time to time using mobile phones, laptops, and other devices.
The Garmin inReach device will send waypoints at specified intervals to your followers, so that they can track your location. With the help of MapShare, your friends and family members can ping you on the inReach device and see your GPS location.
You can also embed your MapShare page on your blog, social media account, and website.
Maps
You will find preloaded 1:24k maps of North America with data of the US and Canada. It also includes Mexico on a 1:125K scale.
The preloaded topo maps allow you to drop a waypoint and plot a course as well. You can also leave a breadcrumb trail which will enable you to find your way back at the end of the day.
Cloud-Based Storage
Taking full advantage of the latest technology, the inReach device gives you access to a cloud-based portal. With the help of this portal you can plan your trips, create preset messages, update the firmware and much more.
Battery Life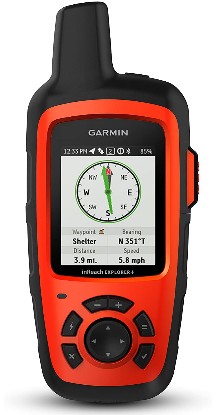 When looking for a GPS device, one of the most important features to consider is battery life. Your GPS device must have a fairly long battery life to last you on your expedition.
The Garmin Explorer+ comes with an internal lithium ion battery which gives up to 100 hours of battery life in tracking mode. If you wish to use it in power-saving mode, then you can expect the battery to last for as long as 30 days.
The battery life of this GPS device is impressive and you can absolutely rely on it for your expeditions. The battery can be charged using a USB compatible power source or another battery.
Built for Rugged Environments
The Explorer+ has been made specifically for the rugged backcountry environment. The device is impact-resistant and water rated to IPX7.
No matter what an adventure throws at you, this handheld device can endure it all. This GPS device is your adventure partner in a very real sense and it will stand by you through all the rough times and in all conditions.
More: Garmin eTrex 20x Review
Subscription
To use the Garmin features to its fullest, you must subscribe to one of their plans. You can choose from four plans that Garmin offers, the "safety plan" being the most affordable one.
This provides you with unlimited SOS messaging, unlimited preset one-way texts, and 10 pre-set two-way texts. You can choose from a professional plan (safety, recreation, expedition) or personal plan (basic, advanced, unlimited)
The best part about a Garmin subscription plan is that it gives you full access to all the features of the Explorer+. Even if you decide to choose the cheapest "safety" plan, you can still access basic weather texts. In addition, you can receive premium weather/ marine updates with a small charge as and when you need them.
You can link your Smartphone to any of the plans as there is no restriction regarding the use of Earthmate app.
Pros
​Two-way messaging

​100% global Iridium satellite coverage

​Built-in navigation sensors

​High-sensitivity GPS chip

​GPS location embedded messages

​GEOS emergency response coordination center

​Free Earthmate web app
Cons
​Service plans are relatively expensive

​Preloaded apps are US-based
Garmin inReach Explorer+ Vs. Others
Garmin inReach Explorer+ vs. Garmin inReach SE+
Talking about inReach Explorer+ vs. inReach SE+ you will find that both inReach devices are similar, in terms of the build and physical specifications. Both provide the user with two-way messaging, Earthmate app, and a 2.3 inch full-color screen as well.
The inReach Explorer+ comes with DeLorme's Topo North America map data. But the SE+ does not have any mapping data loaded into it. However, it does contain a simple grid map.
The Explorer+ also features 2GB internal memory, altimeter, barometer, and accelerometer.
More: Garmin eTrex 30x Review
Garmin inReach Explorer+ vs. inReach Mini
The inReach Mini is the cousin of the larger inReach devices. The Mini device has a battery life of up to 50 hours (10-minute tracking mode). At the same time the inReach Explorer+ has a battery life of up to 100 hours with 10-min tracking mode.
The inReach Explorer+ has an internal storage of 2 GB whereas the inReach Mini has no internal memory.
The inReach Explorer+ features a transflective color TFT screen. It is sunlight-readable, monochrome, transflective memory-in-pixel (MIP) in the inReach Mini.
The inReach Mini lacks electronic compass and barometric altimeter, which are both present in the Explorer+.
Garmin inReach Explorer+ vs. Garmin GPSMAP 66i
When comparing the screens of both devices, the 66i is the winner as it sports a larger screen and comes with more options than the Explorer+.
When it comes to maps, the 66i comes with preloaded routable Garmin Topo active maps and also has access to BirdsEye satellite imagery. The topo active maps offer two free updates per year.
The Explorer+ also comes with preloaded DeLorme Topo maps along with built-in digital compass, barometric altimeter, and accelerometer. Both these Garmin devices use Iridium satellite connection to enable users to send and receive messages, and also trigger an interactive SOS 24/7. To Learn more about Garmin GPSMAP 66i read our review here.
Customer Reviews
Based on user experience, if you are looking for a do-it-all performer GPS device, then you can trust the Garmin inReach Explorer+. The hand-held GPS device features global satellite messaging and robust map-based outdoor navigation.
Preloaded with Topo maps and with a built-in digital compass, this device is suited for all your adventure trips. Whether you want to hide in the mountains or escape to the skies, this device has it all covered.
Users also feel that the inReach Explorer+ is good value for money, given its outstanding features and versatility. The top-notch satellite connection, navigation, and tracking with this device are simply wonderful. It is one of the best devices and is are rugged, impact resistant, and water rated too. Therefore, you can trust the Explorer+ for your mountain or water expeditions.
Some users have however found that the waiting time for sending and receiving messages can sometimes be 15 minutes to one hour. And they were disappointed with the customer service on offer as well.
Another thing which is a little disappointing is the relatively high price of the device. However, the features of this device more than justify the cost.
Final Word
In conclusion, we can say that the Garmin inReach Explorer+ is a wonderful device for adventurers and nature enthusiasts. It is a high performer and one of the best devices for comprehensive communication when cellular networks let your own.
Exploring the backcountry can place you in unpredictable conditions. At times when even the latest technological devices disappoint you, this GPS device will come to your rescue.
It is not only a means of communication, it can also help you navigate your path through the rugged areas. Explorers in the United States can take full advantage of this device for their peace of mind while on their expeditions.
This device removes the need for a cellphone and keeps you connected with friends and family, as well as with the emergency services 24/7. Although this device is more expensive than many others which are currently available, it provides you with a host of features and can be your do- it-all device on your next journey.