No matter what season of the year it is, exploring outdoors is always fun.
Having a GPS unit while hiking or camping is very important. It will help you if you are hopelessly lost deep in the wood.
Whether you are a novice or seasoned explorer, this Garmin eTrex is going to be your loyal companion for the trip and make sure you don't get lost along the route.
In this Garmin eTrex 10 review, we are going to look at Garmin's entry-level GPS unit, a handheld unit called eTrex 10. But it's packs with some remarkable features to serve you in the wilderness.
With its sturdy construction, eTrex 10 qualifies as a tremendous pocket-sized unit.
With thorough research, we've made sure to cover up all of its specs, features, performance and every minute detail about this GPS unit.
Let's start with the detailed review of this unit, the eTrex 10, but before that here is our quick review:
Garmin eTrex10 GPS For Hiking, Camping and Backpacking
Rugged handheld navigator with preloaded worldwide basemap and 2.2 inch monochrome display
WAAS enabled GPS receiver with HotFix and GLONASS support for fast positioning and a reliable signal
Waterproof to IPX7 standards for protection against splashes, rain, etc.
Support for paperless geocaching and Garmin spine mounting accessories. Power with two AA batteries for up to 20 hours of use (best with Polaroid AA batteries)
See high and low elevation points or store waypoints along a track (start, finish and high/low altitude) to estimate time and distance between points
Overview of eTrex
The Garmin eTrex 10 is a basic, entry-level handheld GPS device, created by Garmin.
Garmin is one of the legendary companies to manufacture GPS devices packed with innovation.
Talking about their eTrex 10, it is less-featured version as compared to their eTrex 20 model. Though the dimensions, battery life, and weight are same, it lacks expandable memory, color display and is less expensive.
More: Garmin eTrex 30x Review
The main highlight about eTrex 10 is that it offers quick GPS functionality, is remarkably compact and acts as an excellent companion for general outdoor exploration, geocaching, and hiking.
It has retained the long battery life, rugged build, and affordability that eTrex series is originally popular for!
Who is it for?
The new improved version of eTrex 10 comes with a better interface, paperless geocaching, worldwide base map and compatibility for Garmin's spine-mounting accessories.
Overall, eTrex 10 qualifies as a premium entry-level GPS device that will impress and satisfy both beginners and pro explorers as well.
This petite, hefty GPS receiver sits effortlessly in your palm and also offers HotFix and GLONASS support.
More: Osprey Aether 70 Ag Backpack Review
Coming to the point, this entry-level device is sturdy, handy and suitable for people seeking a rugged and durable basic GPS navigation unit.
It makes use of AA batteries, so you need not to worry about its system breaking down.
In-depth Garmin eTrex 10 Review
Retains GPS Location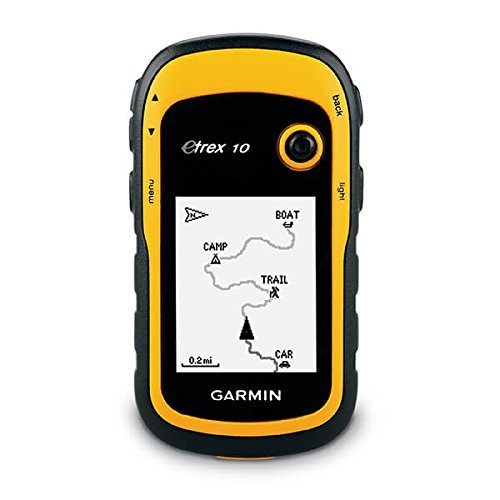 This etrex 10 comes with LCD screen shows comprehensive worldwide base map info, each featuring spot-on GPS.
This high-sensitivity GPS receiver is WAAS-enabled and features HotFix satellite prediction. That is why it can locate your position accurately and much faster.
More: Exped Down Pillow Review
No matter where you are, this handheld Garmin GPS device is going to maintain your position and coordinate at all times, even in dense woods and deep canyons.
So it won't bail out on you when you need to find your way!
Controls
eTrex 10 is equipped with a total six control buttons, two on the right side, three on the left side and one toggle button on front panel.
Zoom in & Zoom Out: On the left side of the unit, you will see zoom in and zoom out buttons, with which you can adjust the screen view. Besides, you can also use these to navigate menu lists.
Menu: Another "Menu" button on the left side lets you navigate through the menu (context related). With a double tap, it opens up the main menu as well.
Back: Right side of the screen features a "back" button. It will take you one step back and open up the last thing you viewed in the menu.
Light: Again on the right side, there's a "light" button, which also doubles as a power button. With a single tap, the screen turns on and shows time, date, GPS signal strength, and battery status. With more short taps, you can change the illumination level of the screen to be either 0%, 50% or 100% backlight. If you press and hold the "light" button, the screen will power down.
Thumb Stick: Big Toggle button on the front panel helps you pan the map or quickly navigate through menus. If you mash it down, you can select a map point or enter a menu command as well. On pressing and holding the thumbstick, you can mark a waypoint.
Display & User Interface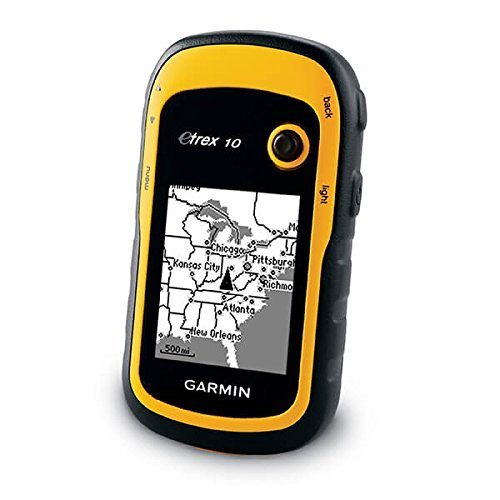 The 2.2" display screen of Garmin eTrex 10 is simple and monochrome with low resolution. Everything on the screen is shown in grayscale, and the text seems to be fuzzy.
Hence, such a screen might make it difficult for you to read it in sunlight, as compared to colored screens.
More: Garmin eTrex 20x Review
eTrex flaunts a rugged construction, so it can withstand elements- be it water, humidity, dust or dirt.
The easy-to-use interface is what adds more fun to your outdoor activities, as you don't have to waste time searching for info.
Portable GPS device
At the back of eTrex 10, there's a spine for mounting it onto mini watercrafts or bikes. Likewise, you can even attach a carabiner clip to it, to hang eTrex 10 to your clothing.
eTrex 10 is extremely compact and effortlessly hangs onto jacket's zipper as well. It measures just about 3.9" x 2.1" x 1.3".
Keep in mind that, this spine is made out of plastic. Thus, sliding in/out accessories gets somewhat difficult.
Paperless Geocaching
If you are a geocache aficionado, you are going to love eTrex 10. Why?
Because it offers full paperless geocaching support along with cache filtering, it provides precise and reliable information; you can see logs, hints, cache descriptions, difficulty, terrain, etc. in the field itself as your cache.
No need to manually enter this information and no more carrying paper printouts around. Just upload the GPX file to your eTrex 10 via high-speed USB connection, and you're all set to start geocaching!
All in all, Garmin eTrex 10 is one of the best GPS units for paperless geocaching.
Versatile Profile Feature
eTrex 10 allows you to switch between different profiles that it comes with, such as geocaching, recreational, fitness, and marine profiles. You get all of this without having to scroll through the screen a lot.
Go to the Main Menu and select Profile Change. Or, you can even create a new profile by hopping into Main Menu > Setup > Profiles > Create Profile. Select this newly created profile to rename it.
This is what makes eTrex 10 more versatile to use.
Memory
eTrex 10 does not house any memory expansion slot. Garmin has not declared what size of internal memory is available for geocaches.
WAAS-enabled GPS with GLONASS support
Adding to GPS navigation, eTrex 10 also offers HotFix and GLONASS support. Now, this portable GPS unit is going to come handy even when you are exploring a different country.
eTrex 10 can track GPS as well as GLONASS satellites, to provide you with reliable reception and fast positioning, even in northern latitudes and urban canyons.
Developed by the Russian Federation, GLONASS works much faster and finds your location 20% quicker than GPS.
With the combination of GPS (American) and GLONASS (Russian), the receiver can lock on to 24 more satellites.
Advanced Track Navigation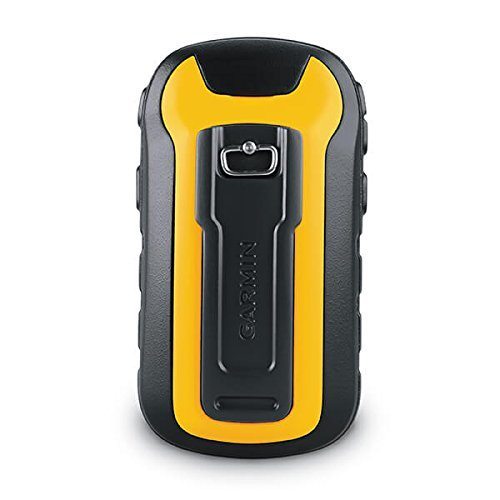 Advanced Track Navigation is something to look forward to in this eTrex GPS gadget, and this feature adds great value to the product altogether.
All you need to do is select a track for navigation, and a route will be automatically generated.
Waypoints for start & finish and main high/low elevation points along the route will be automatically created so that you can estimate time and distance between these points. Moreover, the user can mark a waypoint on their own, and it will be added to the route.
eTrex 10 can store up to 50 routes and 1000 waypoints. Once you get back home, you can back them up via USB connector. The device can also tell sunrise and sunset times.
The biggest advantage of Advanced Track Navigation is that you get a calculation of actual terrain distance, mostly lacking in usual backcountry navigation.
Battery Power
eTrex 10 will last you for a whole hiking or camping trip, as 2 AA batteries will offer a whopping 25 hours of battery life.
It makes use of AA batteries instead of rechargeable batteries, so you don't need to wander around searching for a place to recharge them.
The unit will keep on working, without any unwanted lags.
When loaded with batteries, the unit still weighs less than 5 oz., and that's what makes it so streamlined and downsized.
Waterproof IPX7
Garmin eTrex 10 is designed to be waterproof to IPX7 standards. Meaning, it can handle splashes, rain, accidental drops in water, etc.
The design meets IEC 60529 IPX7 standards so that it can bear submerging into 1m deep water for up to 30 minutes.
Pros & Cons
Pros
​GPS + GLONASS support locates precisely and much faster

​Long battery life: up to 25 hours

​Supports Paperless Geocaching

​Features Advanced Track Navigation

​Rugged construction; Waterproof up to IPX7 standards

​Preloaded with WW base map

​1-year warranty
​Cons
​The monochrome screen might not be easy to read in sunlight

​Internal memory is inadequate
Customer Reviews
Customers have loved the area calculation feature of the device. Many feel that eTrex 10 remains unbeatable for the price!
Some of the users claim eTrex 10 to deliver reliable performance and accurate information. And, if you are looking for an entry-level device for GPS navigation, you can't go wrong with this one!
On the negative side, some feel that user manual provided with eTrex is far from complete. Users are of the opinion that Garmin eTrex 10 is not for those who can't figure out things on their own or who like frills. Other than that, it will work great for everyone.
Frequently Asked Questions
Q. Does eTrex 10 allow you to retrace your way back to find your car after your outdoor activity?
eTrex 10 comes with Track feature, so you can follow your steps back and find your initial location.
Q. What outdoor activities are eTrex 10 GPS unit ideal for?
This basic, handheld GPS unit is great for scouting, backpacking, hunting, hiking, fishing, and even kayaking, as it is waterproof to IPX7 standards.
Q. What is the price of Garmin eTrex 10?
Garmin eTrex 10 falls in the price range of $70 to 100. Garmin backs this model with 1-year warranty.
Conclusion
Certainly, Garmin eTrex 10 does not include any extra bells and whistles. But for GPS tracking, you cannot beat this one for the price!
You also get basic features such as area calculation, managing waypoints, best hunting/fishing times and a calendar to show sun & moon cycles.
Owing to its simple yet some remarkable features, it is suitable for beginners and pros alike.
But it has its cons, as it doesn't accept SD cards or other data cards and you cannot add maps onto it.
To conclude, we highly recommend it for geocachers out there. Apart from that, the GPS + GLONASS support and advanced track navigation is also something that'll greatly help you in the wilderness.