For hikers, backpackers, bikers, ATV riders, and geocachers alike, a handheld GPS is a valuable device to bring along on your adventures.
That being said…
…the Garmin Montana 680t promises a versatile, easy-to-use navigational experience.
The Garmin Montana 680t is a standout in its category thanks to its preloaded maps, built-in compass and altimeter, integrated 8-megapixel digital camera that enables you to capture those beautiful moments, and a 4-inch color touchscreen display that works even under the sun or if you have gloves on.
It sure has its pros and its cons so we've tested it out to see how it will work for us and for you. Read on to know more!
Garmin Montana Handheld GPS Device
The 680t version improves on the 680 because it included preloaded U.S. topographical maps that make navigation easier and faster.
In the box….
…you get the device, a rechargeable lithium-ion battery pack, a USB cable and charger, and a quickstart guidebook.
Garmin as a company is an established leader in the GPS market. They are devoted to the design of innovative, reliably built GPS units and wearable technologies, such as GPS watches, for a range of markets, including sports and fitness, backpacking, and aviation.
Things to Consider Before Buying a Handheld GPS
Sale
Garmin Montana 680t
SEE YOUR SURROUNDINGS - Includes a 1-year Birdseye Satellite Imagery subscription1
GPS AND GLONASS - With its high-sensitivity, WAAS-enabled GPS receiver, Hotfix satellite prediction and GLONASS support, Montana locates your position quickly and precisely and maintains its location even in heavy cover and deep canyons
TRACK MANAGER - Ability to organize and navigate through waypoints/routes/track logs (easily start/stop recording track logs)
CAPTURE THE MOMENT - 8 megapixel digital camera for higher quality images and better resolution; geotagged with coordinates automatically, allowing you to
Before you purchase a handheld device, there are various aspects to consider.
First, consider durability and reliability.  The Garmin Montana 680t is built to be rugged and last through years of outdoor adventures.
If you want a device that will hold up to rain, you should purchase a waterproof GPS device. The 680t is an excellent choice for this, as it features IPX7 waterproofing.
What does this mean?
This means the device can withstand being submerged 1 meter underwater for 30 minutes.
Battery life is an important characteristic of any portable device.
The 680t lasts up to 16 hours with the built-in lithium-ion battery, or you can also insert AA batteries for up to 22 hours of battery life.
While this is respectable…
…there are other GPS units with much longer battery life, such as the Garmin Montana 750i, which can reach up to 330 hours in expedition mode.
Another important aspect is the device's screen size and type.
The 680t has a 4-inch transflective (meaning it's easy to read in the sun) touchscreen display with bright colors and high resolution. You can also use it with touchscreen gloves.
Also, consider the navigational systems and accuracy.
The 680t has built-in GPS and GLONASS system capabilities. These refer to the global navigation satellite systems that the device receives signals from. The more systems a device can interface with, the more accurate the GPS will be. Some GPS devices also have integrated Galileo.
Another feature to consider is whether or not you need a camera.
The 680t includes an integrated 8-megapixel autofocus digital camera so that you can capture those critical moments on your adventures.
Features & Benefits
Weight and Size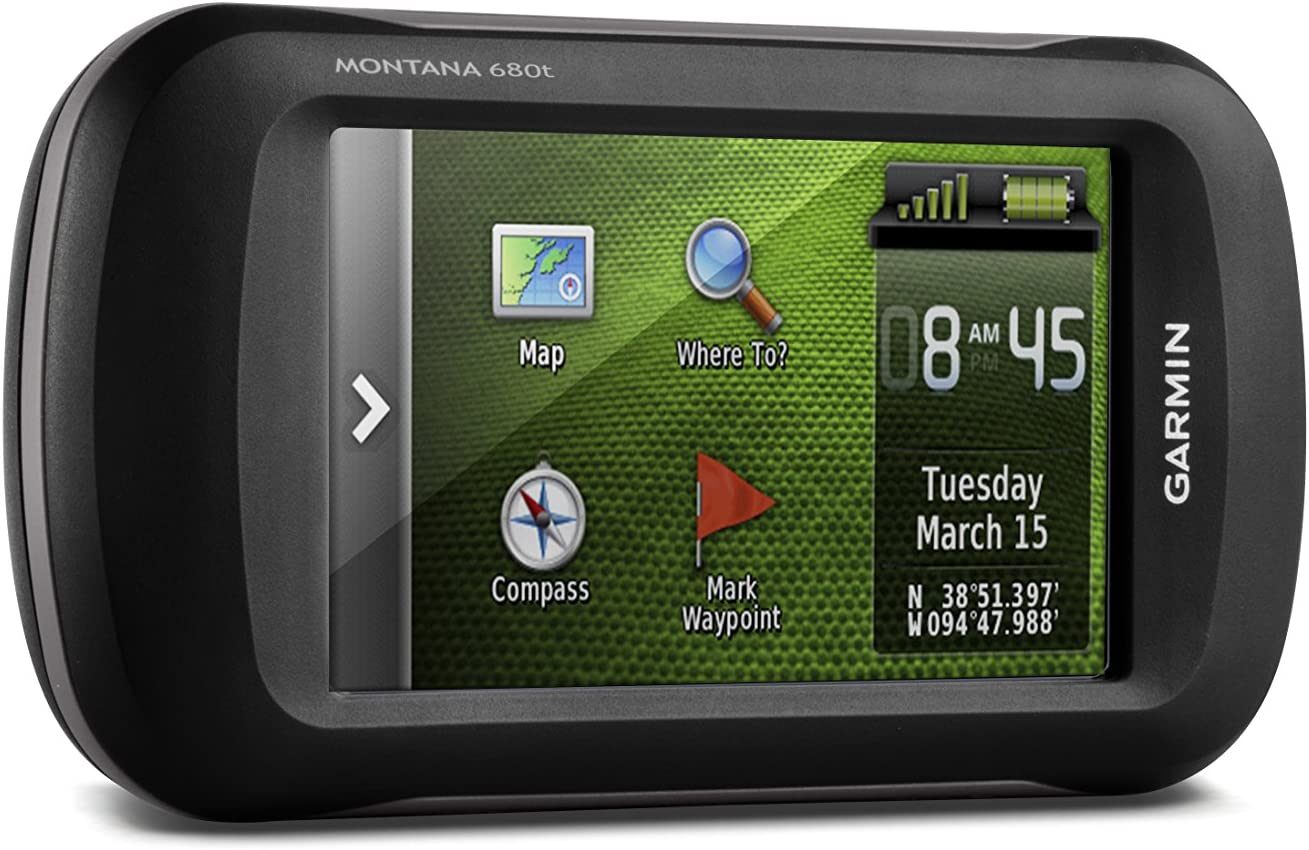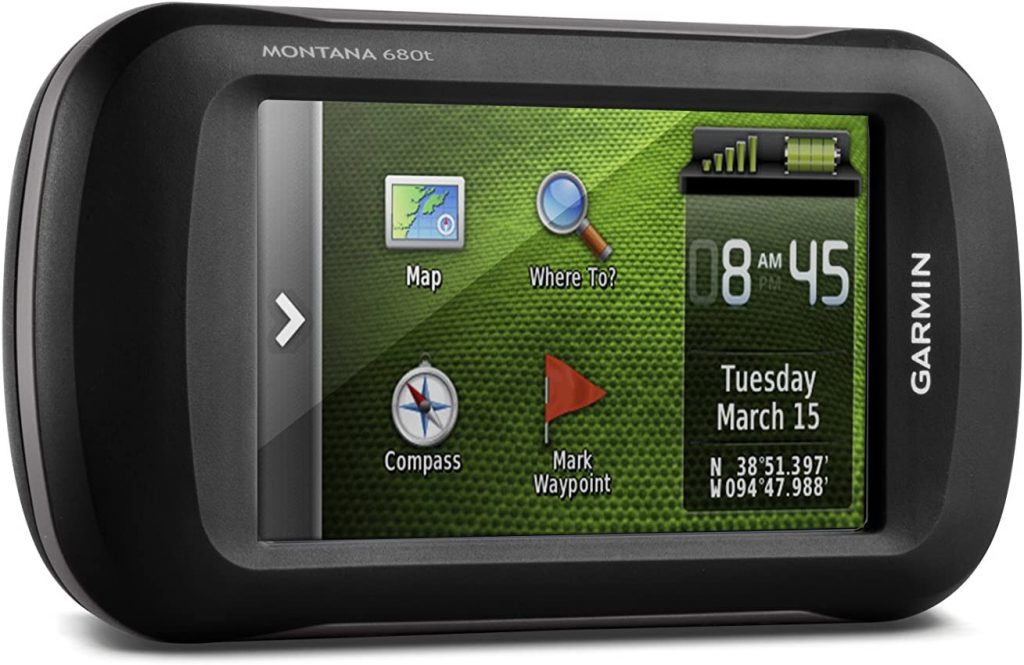 The 680t weighs 10.2 ounces (289 grams) and has an overall 2.9 x 5.7 x 1.4 inches. With three AA batteries installed, the device weighs 11.7 ounces.
While this is not the smallest GPS device on the market…
…it is lighter than many of Garmin's other GPS offerings while also slightly shorter and narrower. This makes it relatively lightweight and compact.
However, the 680t may be a little too bulky to fit inside some pockets.
On the other hand, this is not the main purpose of the device as it's meant to be displayed on a mount while in use for easy viewability and navigation.
More:Garmin GPSMAP 64st Review: Is it a perfect Companion for your next Adventure Trip?
Garmin Handheld GPS Device Navigational Technologies
GPS + GLONASS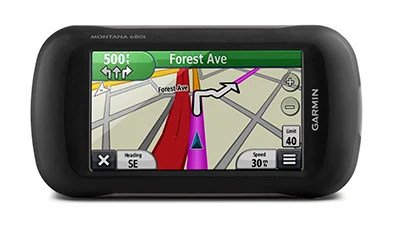 The 680t is equipped with GPS+GLONASS satellite system technology. GPS is a global navigation satellite system owned by the United States, while GLONASS is Russia's. Since the 680t can interface with two different satellite systems, it has the potential to more accurately pinpoint your location than a device that only has one or the other.
The 680t also comes with 100,000 U.S. topographical maps preloaded on the device, which is rather convenient and makes navigation a breeze. This is especially useful for geocaching adventures.
In addition to that…
…the 680t is also designed to find a satellite signal even in areas where receiving a signal may be more challenging, such as the wilderness or around taller buildings.
This ensures the reliability of the device when you need to find your way.
Compass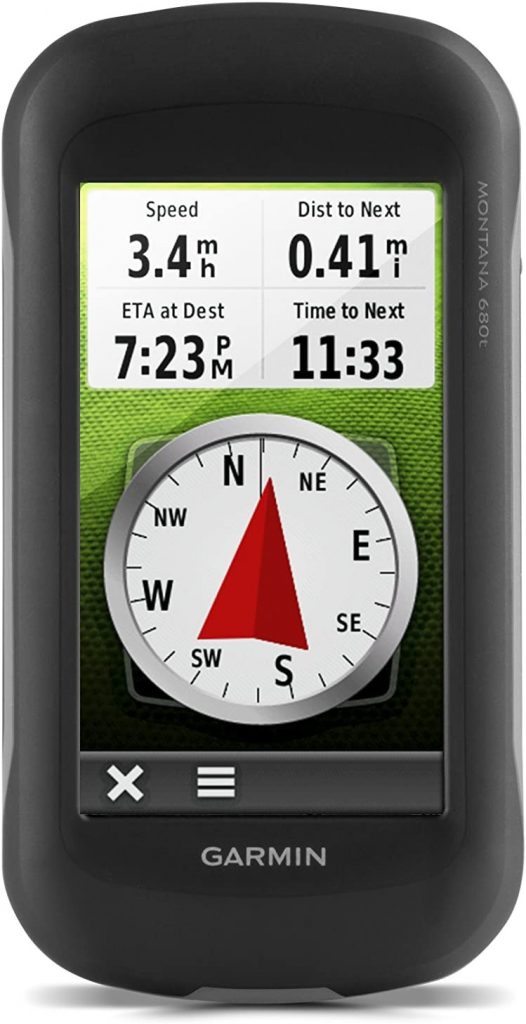 Furthermore, the 680t features an electronic compass with 3-axis tilt capabilities, which enables it to continue navigating correctly even if the device is tilted at an angle when in use.
More: Garmin inReach Explorer+ Review: Your Companion for a Wonderful Expedition
Barometric Altimeter
There is also an integrated barometric altimeter, which monitors and tracks your altitude by measuring pressure changes as you move. This is also sensitive to weather changes that affect barometric pressure, so you can use it to track the forecast.
BaseCamp and City Navigator Software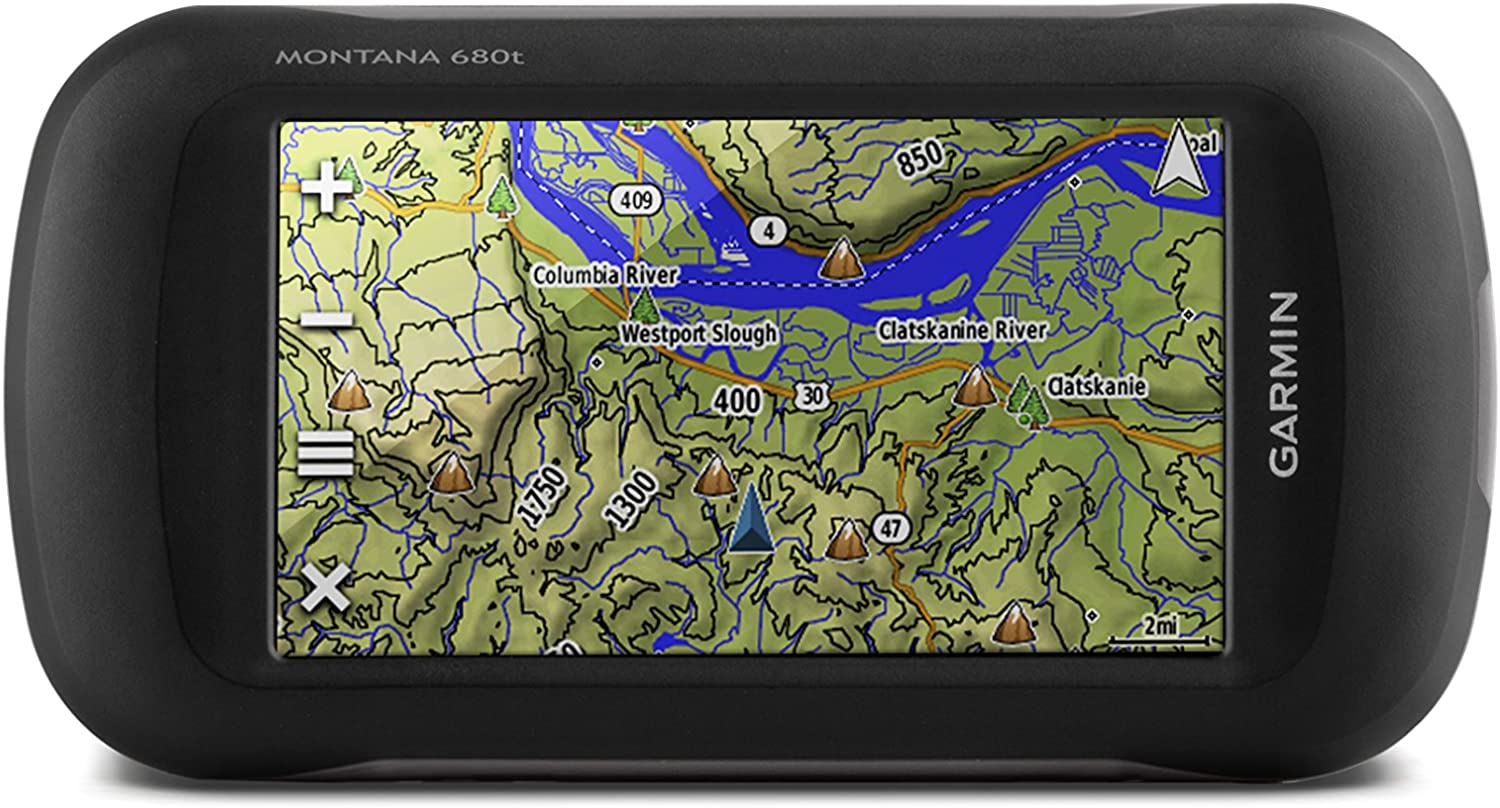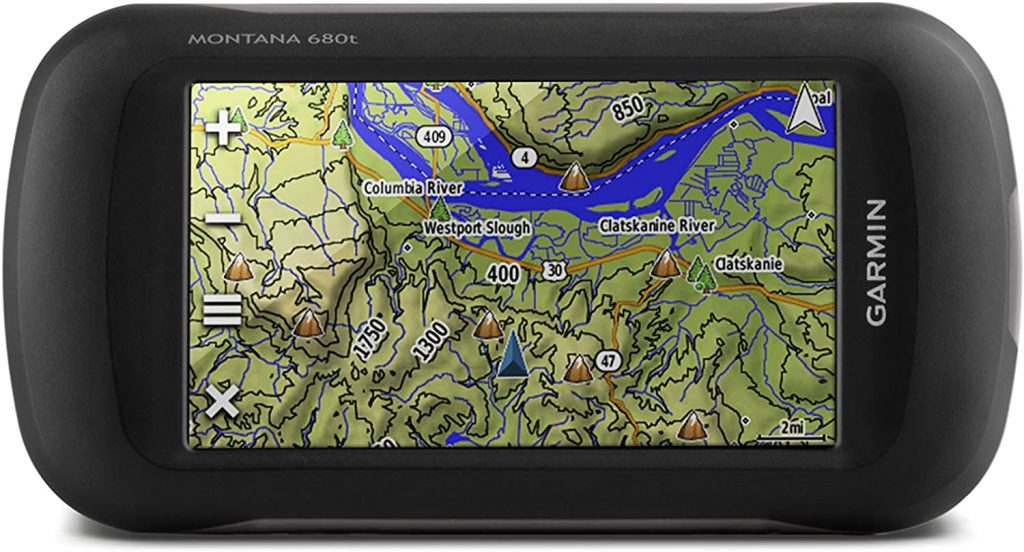 The Garmin BaseCamp software is a useful way to follow your customized maps and routes, allowing you to plan your trips with ease.
The track manager organizes up to 200 routes and waypoints for easy navigating. You can also upload City Navigator map data so that the device will give you turn-by-turn directions as you drive on the road.
More: Is the Garmin GPSMAP 66i Worth Buying? In-depth Review
Waterproofing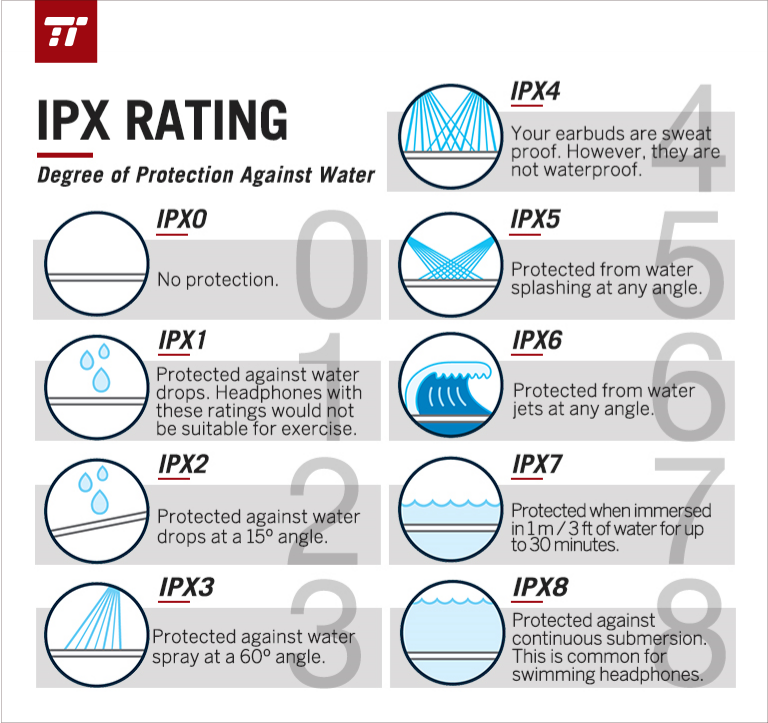 Waterproofing is an important feature if you plan to use your device in rainy or snowy conditions.
With a waterproof rating of IPX7, the 680t can withstand immersion in up to 1 meter of water for up to 30 minutes. This is more than enough for rainstorms on the go.
Battery Life
The built-in lithium-ion battery lasts up to 16 hours.
While this is reasonable…
…you can find other devices that last longer if battery life is the main concern. Thankfully, the 680t can also be powered with three AA batteries (not included), giving an additional 22 hours of battery life. You can also charge the device while you use it.
This video shows how to insert the battery and charge your device before set-up.
While this video uses the Garmin GPS Montana 610/680, the same procedure applies to the 680t.
More: Garmin eTrex 20x GPS Handheld Review: Is It The Best
Screen
The 680t has a 4-inch display with a resolution of 272 x 480 pixels.
The screen is transflective, meaning it reflects ambient light in your environment to create a bright enough display to see without a backlight (which would consume more battery life). It is also easy to read in the sunlight without washing out.
Another great feature of the screen is that you can use it with touchscreen gloves, which is important in chillier weather.
Camera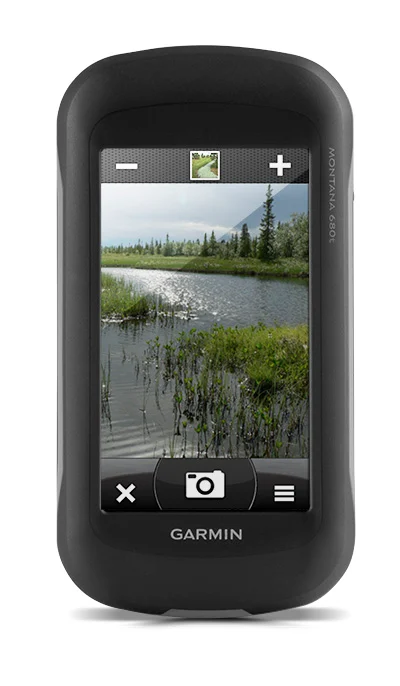 With the built-in 8-megapixel autofocus digital camera, you can quickly capture your memories along the trails.
Even better…
…when you take a photo, the device geotags it so that you can easily navigate back to those exact coordinates if you wish to revisit that same spot in the future.
There is an integrated microSD slot (card not included) for more storage of your favorite photos.
Feature Type
Feature Specs
What This Means

Weight

10.2 oz (289 g)
11.7 oz (333 g) with three A.A. batteries

Relatively lightweight.

Size

2.9" x 5.7" x 1.4"

Decently compact, but it can be slightly bulky for pockets.

Display

-Transflective, sunlight-readable 4-inch display
-Touchscreen with glove compatibility

The screen is easy to read, even in the sunlight, and doesn't require a backlight.

Waterproofing

IPX7

Can withstand being immersed in up to 1 meter of water for up to 30 minutes. This is a good choice for rainy conditions.

Navigational tech

GPS + GLONASS

More accurate location

Preloaded Maps

Yes – 100,000 topographical U.S. maps

The preloaded topo maps are very convenient for geocaching.

Battery Life

16 hours (lithium-ion battery)
22 hours (three A.A. batteries)

More powering options.

Automatic turn-by-turn navigation

Yes

The device can easily give you turn-by-turn directions to get from point A to B.

Barometric Altimeter

Yes

The 680t tracks the environmental pressure to determine your altitude.

Compass

Built-in tilt-compensated 3-axis compass

The device tracks accurately even if tilted.

Camera

Autofocus 8-megapixel camera with geotagging

The built-in camera is easy to use and automatically tags your photos' exact coordinates for easy navigation back to those spots.

Retail Price

$491.76

Mid-Range Price
Social Proof
When I was looking for a GPS device, I came across the trusty Garmin GPS Montana 680t and was intrigued by its ruggedness and reliability. I scoured the internet and found some user reviews singing the praises of the device.
You can read some of these users' experiences below:




Alternatives
Garmin Montana 680t vs Garmin Oregon 750t
Oregon 750t
Touchscreen - 3-inch sunlight-readable touchscreen display with Dual orientation (landscape or portrait view)
ABC sensors - 3-axis tilt-compensated electronic Compass with accelerometer and Barometric altimeter sensors
Ruggedized for the outdoors - ergonomic, rugged design that Stands strong against dust, dirt and humidity -and it is water-rated to Ipx7
Capture the moment - 8 Megapixel Autofocus Camera with LED flash/Torch
Connect iq - connect iq compatible to customize the Device with data fields, widgets, and apps; find what you like or build your own
The Garmin Oregon 750t is a slightly higher-end device that includes more built-in waypoints and convenient navigation routes. It also has a smaller overall size and only requires two A.A. batteries rather than three, although they have the same battery life.
Both GPS devices use GPS+GLONASS technologies and feature a compass, barometric altimeter, a touch screen color display, and an 8-megapixel camera. The Garmin Oregon also has an integrated flashlight.
It can also receive smartphone notifications, unlike the Montana 680t.
Comparison
Oregon has a built-in flashlight.
Oregon has more routes and waypoints that you can store on the device.
Oregon requires fewer A.A. batteries.
Montana is larger.
Oregon receives smart notifications.
If you're looking for a GPS device with an integrated flashlight and some extra onboard routes in a more compact package, check out the Garmin Oregon 750t.
Garmin Montana 680t vs 610t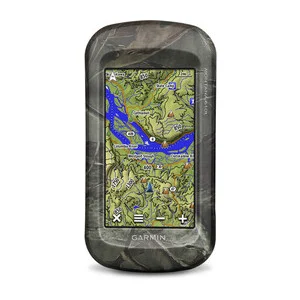 The Garmin 680t and 610t are very similar. They are the exact same size and feature the same 4-inch transflective display. T
hey also both weigh 10.2 ounces, have the same 16-hour battery life, and are IPX7 rated. Additionally, they both navigate using GPS and GLONASS.
The 610t, however…
…does not come with any preloaded U.S. topographical maps. It also does not feature a camera.
For this reason, if you're looking for a more straightforward device without the extra bells and whistles, the Garmin Montana 610t might be your best hiking GPS choice.
Comparison
Same size and weight with the same navigational system technologies
610t does not have a camera
610t does not feature preloaded maps
Garmin Montana 680t vs GPSMAP 66st
GPSMAP 66st
Premium GPS handheld with Birdseye Satellite Imagery subscription and TOPO maps
Large, 3" sunlight-readable color display for easy viewing. Display size - 1.5 W x 2.5 H inch (3.8 x 6.3 cm); 3 inch diag (7.6 cm)
Multiple Global Navigation Satellite Systems (GNSS) support to track your travels in more challenging environments than GPS alone plus three-axis compass and barometric altimeter
Access to Birdseye Satellite Imagery with direct-to-device downloads and no annual subscription and preloaded TOPO U.S. and Canada maps
Expanded wireless connectivity supports Active Weather for up-to-date forecasts and animated weather radar and Geocaching Live for mobile syncing and updates
The Garmin GPSMAP 66st is an even more rugged device with a MIL-STD-810 rating against thermal, shock, and water damage.
It has a non-touchscreen display and features more storage for onboard track logs, waypoints, and routes than the Montana 680t. The GPSMAP is also a more compact device with a lighter weight of only 8.1 ounces.
Also…
…instead of only using GPS and GLONASS, the GPSMAP also utilizes Galileo for even more accuracy in navigation.
The GPSMAP also features the same 16-hour battery life in standard mode; however, it can last up to 170 hours in expedition mode.
It also has a built-in flashlight with an SOS beacon. However, while the Montana 680t features a camera, the GPSMAP does not.
Comparison
GPSMAP uses GPS, GLONASS, and Galileo for more accuracy
GPSMAP is more rugged against shock, water, and thermal damage
Montana has a touchscreen; GPSMAP does not
GPSMAP has more built-in onboard storage for routes
GPSMAP is taller and narrower and weighs less
GPSMAP has a longer battery life in expedition mode
If you're looking for the ultimate rugged option with the highest GPS accuracy, a longer battery life, and no touchscreen but don't mind losing the camera feature of the Montana 680t, then check out the Garmin GPSMAP 66st here.
Conclusion: Garmin 680T GPS Unit
Outdoor enthusiasts looking for reliable, durable, top-quality handheld GPS devices should consider a Garmin, as they are a known leader in the market of navigational technology.
The Garmin Montana 680t has an easy-to-read display, great battery life, conveniently included camera, plenty of storage and a MicroSD slot, turn-by-turn directional capabilities, waterproofing, and fast GPS + GLONASS technology integration.
If you're on the hunt for a new GPS device that will last for many adventures, check out the Garmin Montana 680t here.
Garmin makes birdseye satellite imagery subscription