The Kelty Redwing 32, a miniaturized version of the larger Redwing backpack, serves as a comfortable and small but durable multifunctional backpack that is perfect for holding gear, water, and small items you might need on your travels.
This daypack features several pockets, comfortable straps, pole loops for trekking, a key fob, hydration sleeve, and much more. Compared to its larger siblings, this pack is very lightweight and much easier to carry.
The newest model boasts various improvements: a slimmer design, redesigned harness padding and straps, an additional front pocket, more attachment loops, and a new handle design.
The Kelty Redwing 32 is a stand-out model which is known for ruggedness while maintaining a light weight, which makes it a great option for hiking or day-to-day travel.
Kelty was founded in 1952 by Asher Kelty, who designed the first external aluminum-framed backpack. With its headquarters in Boulder, Colorado, Kelty produces durable gear for all outdoors activities.
The company's mission is to promote outdoor recreation in order to improve health. Kelty has grown as a popular brand in outdoor stores, including REI. In 2016, Kelty won the Gear of the Year Award for one of its tents, which was named as the best new adventure sports gear.
Read on for our full Kelty Redwing 32 review.
Things to Consider Before Buying a Daypack
Kelty Redwing 32
A sized-down version of Kelty's best-selling Redwing all the features needed for travel or a day on the trail adding convenience to any adventure
Suspension Features: HDPE frame sheet, Hex Mesh back panel, shoulder straps & waist belt, ventilating back panel, Sternum strap, Load lifter straps
Dimensions: Size (L x W x D) 22 x 14 x 11 in, Weight 2 lbs, Volume 32 L
Hide-away airmesh waistbelt
Pockets: 1 interior slip, 6 exterior
When you're out and about, carrying more than your pockets can hold, a daypack is an important piece of gear. You should choose a daypack which matches the type of activity you're planning.
For hikers, daypacks with water bottle pockets or hydration reservoirs are essential. A daypack should feel comfortable and well-balanced and should be windproof or water-resistant.
Daypacks for snowboarders and skiers should be waterproof, with insulated hydration reservoirs. They should also have attachment points for skis, boards, or snowshoes.
Runners should look for a vest or smaller daypack which won't bounce. For climbers, a backpack should be durable and have special features, such as loops for picks. Bikers should look for light daypacks which hold water yet maintain a low profile. If the daypack is for school or travel, you should consider the number of pockets for organization.
Overall, you should consider your lifestyle, size, and carrying needs when determining which daypack suits you best.
Features and Benefits
Weight and Materials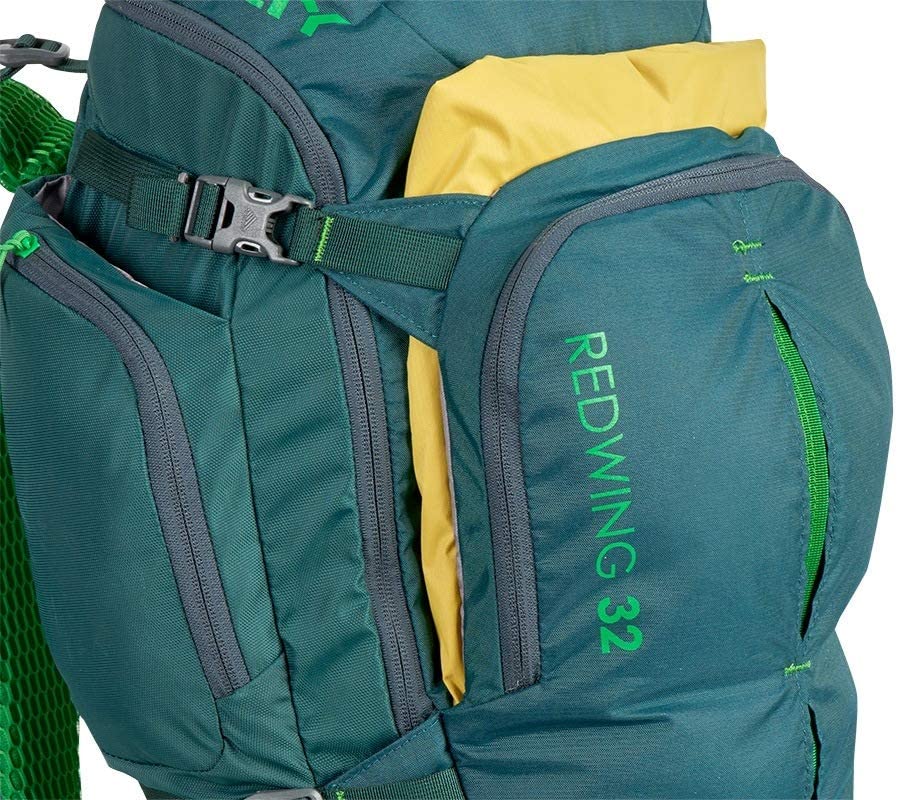 Weighing in at only 2 pounds (0.9 kilograms), the ultralight style of the Kelty Redwing 32 daypack is one of the stand-out features which most draws me to it. I've lost count of the number of times I've been hiking, felt a nagging soreness in my back, and wished I had brought a lighter daypack. The Kelty Redwing 32 daypack promises to solve this issue.
The light, compact feel of this daypack makes it a great option for day-to-day commuting or day trails when you don't need to carry a ton of gear with you. I have never liked the distracting feeling of a large bag on my back, so this pack adds a greater quality of life to my hikes.
The body is made from 420-denier polyester and is reinforced with poly 75x150D Tasser Coal. The polyester is lightweight, but it makes for a durable fabric body. There's no problem when tossing the backpack around in the car or on the way to a trail.
The Kelty backpack can hold 32 liters of water plus important items you might need on your travels. In total, its gear capacity is 1950 cubic inches. While this is considerably smaller than some of the other packs we'll compare it to below, I've found that the Kelty Redwing 32 can hold a respectable amount of water and gear for a day hike while not being overly roomy. Sometimes, less is more.
The Kelty Redwing 32 is water resistant, but it does not have a rain cover. This means that it can withstand some light rain or sprinkling, but this pack may not be the greatest choice when hiking in a rainstorm.
The pack also has an internal lightweight, high-density polyethylene framesheet for added control and balance.
Breathability, Comfort, and Suspension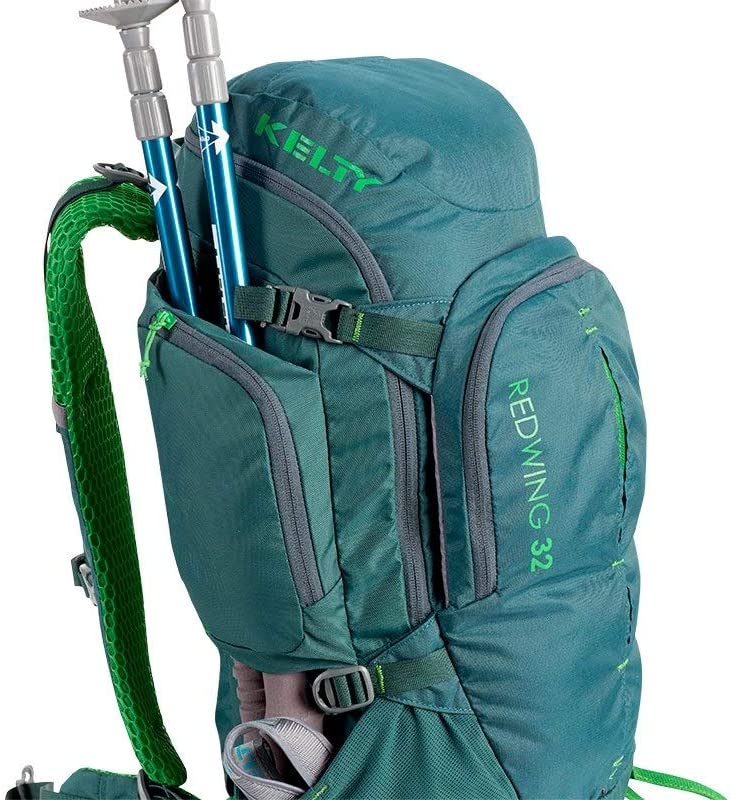 As I've learned from past experiences on hiking trips, there's really nothing worse than a backpack that traps in heat and sweat. The hexagonal mesh back panel of the Kelty Redwing 32 is vital for breathability and comfort. This daypack is designed with mesh on the shoulder straps too, and this helps to wick away moisture and provides ventilation.
An area where I often feel pain with a backpack is around the shoulders. With this light daypack, however, this is much less of a concern. The sternum strap helps keep the pack in place across your back, which adds to its comfortable feel. The Kelty Redwing 32 also has a comfortably padded back panel, as shown here.
Remember that as the Kelly Redwing 32 is built with lightness in mind, the high-density polyethylene frame is not paired with an aluminum stay, so this pack is not as strong as larger, heavier packs. The purpose of the framesheet is to shield the wearer's back from pointy objects inside the bag and to add stability.
More: Check Our Osprey Aether Ag 70 Review Here
In the case of this Kelty daypack, the framesheet serves its purpose for the much smaller carrying capacity. However, it's clear that this pack is not built in a heavy-duty style for larger items and weights. The bag is equipped with load-lifter straps though, and they give it a decent feeling of suspension overall and relieve stress from your shoulders.
As the pack strangely only comes in one torso size, it can sometimes be challenging to fit this daypack over thicker clothing, such as a winter coat. The shoulder straps are adjustable, but only to an extent. For this reason, make sure to try out the backpack with the clothes you intend to wear to ensure that it still fits you.
Storage, Organizatio, and Accessibility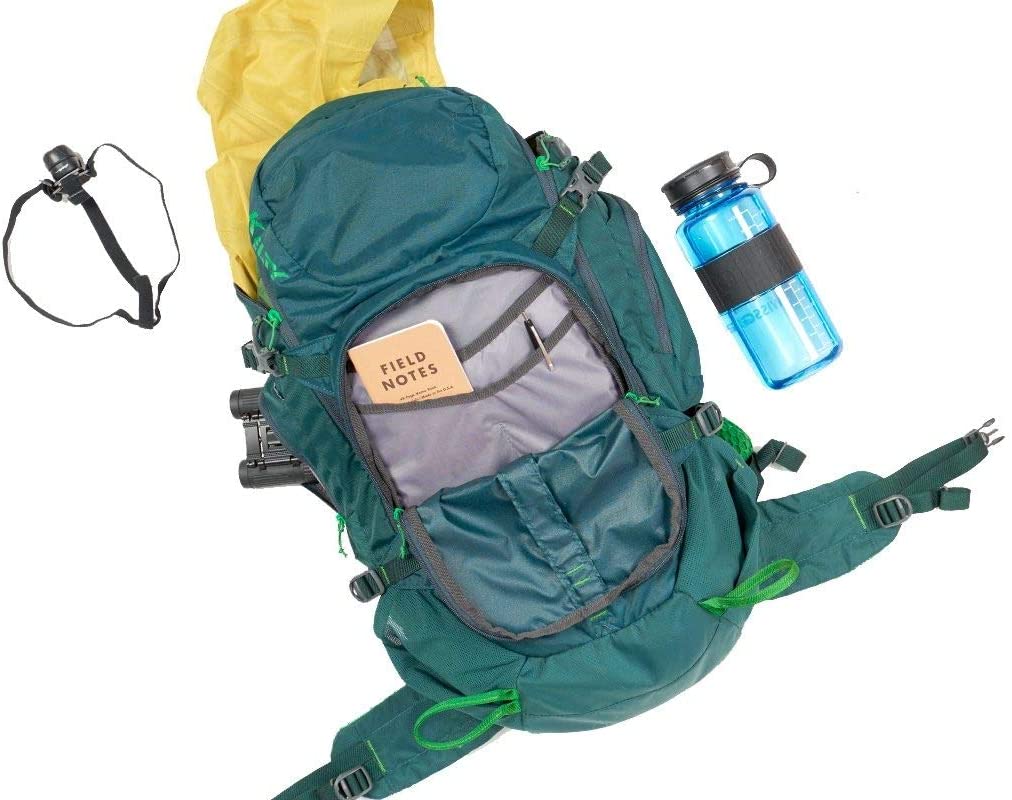 The overall dimensions are 22x14x11 inches, so it's a fairly small pack, and I have never found its size to be overwhelming or too floppy. The Kelty Redwing 32 is perfect for those days when you need to carry important gear but not too much. The compression straps help keep the pack compact, even when it's packed full of items.
While this pack may not be well suited for long treks where you require frequent hydration, the 32-liter water storage sleeve makes it a good option for a day or short weekend hike. It also has water bottle side pockets for added convenience. Note that these side pockets are mesh, so they can stretch out. Also, the hydration system itself is sold separately.
If you don't need to carry water, the padded sleeve can be used for flat electronics instead, such as a laptop. This feature makes the Kelty Redwing 32 a versatile pack, and it is useful for both hiking and commuting or school.
Another important storage feature of the upgraded Kelty Redwing 32 is that compared to the old model, there are now two attachment loops for trekking poles or ice axes, rather than just one. This is important for trekkers who need to store specialized safety gear for their adventure of choice.
Equipped with six exterior pockets, the Kelty Redwing 32 allows for effective organization of gear and keeps everything in its place. Compared to the previous model, the main pocket zips are even further down the side for easier access to internal items and the interior pockets.
The daypack is also equipped with a convenient front stash pocket with easy accessibility. This is perfect for stashing away lightweight, fabric items, such as a folded coat or blanket.
When it comes to the zipper, one thing worth noting is that if the compression straps are fastened along the sides, it is difficult to unzip the zipper fully along the sides without first unbuckling the straps. This can be a minor annoyance when attempting to unzip the pack while on the move. This backpack is missing loops for carabiners, which is a small feature I would have liked to see on this pack.
| Feature Type | Feature Specs | What This Means |
| --- | --- | --- |
| Weight | 2 lbs (0.9 kg) | This pack is ultralight. There is less risk of back pain when hiking with this pack for longer periods of time. |
| Capacity | 32 liters | This pack can hold enough water for day or easy weekend hikes, but is probably not the best option for longer, extremely rigorous hikes where regular hydration is important. |
| Frame | Internal framesheet | This pack has less suspension than heavier-duty backpacks, as the frame does not include an aluminum stay. |
| Frame Material | HDPE only | The lightweight frame has a lower load capacity than heavier-duty backpacks, as the frame does not include an aluminum stay. |
| Hip Belt Size | One size | This pack only comes in one size. |
| Torso Fit | One size | This pack only comes in one size. The straps are adjustable to an extent, but it is not as versatile as other packs for different sizes. |
| Number of Exterior Pockets | 6 | There are plenty of convenient pockets in which to store items. This model also has a new stash pocket in the front for easier accessibility. |
| Hydration Sleeve | Yes, and it doubles as a laptop compartment | This pack is great for on-the-go hydration or for carrying a laptop. |
| Main Pack Access | U-shaped zipper along the top and front | The zipper opens partially from the top, or it can open fully down the sides for easier access. However, the compression straps may get in the way if they are buckled. |
| Trekking Pole/Ice Axe Loops | Yes | Two built-in attachment loops make it easier to carry trekking poles or ice axes. |
| Materials | 420-denier polyester, reinforced with poly 75x150D Tasser Coal | Lightweight yet durable. |
| Gear Capacity | 1950 cubic inches | Larger than the previous model (1900 cubic inches). |
| Warranty | Lifetime of product | Guaranteed against manufacturer defects in materials. |
| Retail Price | Between $80-$120 | Reasonably priced and can be found on sale at times. |
What Other Buyer Says: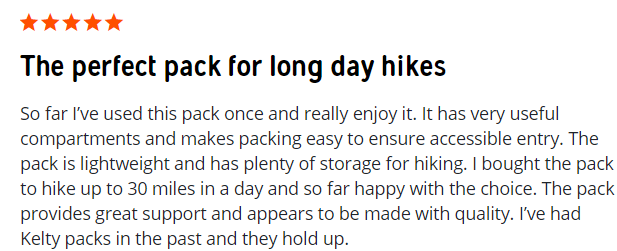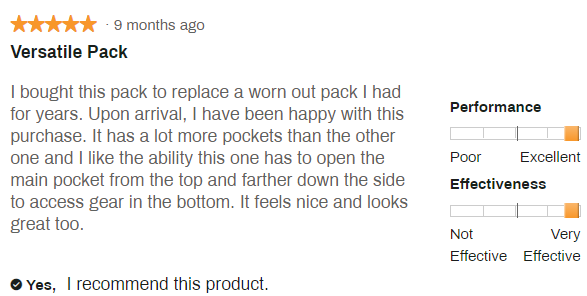 As I researched various daypacks and became more and more interested in the Kelty Redwing 32 for my own adventures, I decided to search the internet and was able to find some user reviews which seemed rather positive. In fact, most reviews I read stated that they would recommend this daypack overall.
Here are some screenshots of what some users have to say in praise of the product.
Alternative to Kelty Redwing 32
Kelty Redtail 27 vs Kelty Redwing 32
The Kelty Redtail 27 can carry 27 liters and has a volume of 1650 cubic inches. The Redtail 27 weighs a mere 1 pound 9 ounces, and it is even lighter than the already-lightweight Redwing 32. The Redtail lacks the Redwing's two zipper side pockets. However, both have a hydration sleeve.
Hikers who want to carry the bare minimum on a short day hike may find that the Kelty Redtail 27 is a better fit, as it is more lightweight and compact. It is also $20 cheaper.
Comparison
Kelty Redtail 27 is lighter
Kelty Redtail 27 holds less water and has a smaller gear compartment
Kelty Redtail 27 is cheaper
For those looking for an even lighter bag, check out the Kelty Redtail 27.
Kelty Redwing 32 vs Osprey Farpoint 40
The Osprey can carry 40 liters and comes in two sizes, while the Kelty is only available in one size. Both have a mesh back, compression straps, water bottle holders, a laptop sleeve, load lifter straps, a sternum strap, and a front stash pocket. Due to its larger capacity and stronger suspension, the Osprey may be a better choice for longer trips with large items. 
The Osprey is a true panel loader pack, which means it can be laid open suitcase-style, unlike the Redwing's U-shaped zipper opening, which is a hybrid. The Osprey has lockable zippers, stow-away straps, and a hipbelt. These features make the Osprey more appropriate for use as a luggage bag.
Comparison
Kelty is smaller, lighter, and cheaper
Osprey has a suitcase-like system, lockable zippers, and stow-away straps, which makes it more suitable for carrying luggage
Osprey can carry 40 liters and comes in two body sizes
If you're looking for a bag with more space for luggage, you should consider the Osprey Farpoint 40.
Kelty Redwing 40 vs Kelty Redwing 32
The Kelty Redwing 40 is marketed as a women's bag, with shoulder straps and a hip belt which comfortably fit a woman's shape. Apart from this, the two bags have nearly identical features.
The Redwing 40 has a higher capacity and weight. The Redwing 40 is also about an inch larger in each dimension. The Redwing 40 has an aluminum and HDPE frame, so its suspension is stronger.
Comparison
40 liters vs 32 liters
Redwing 40's shoulder straps and hip belt are geared more towards women
Redwing 40 has stronger suspension
For women who are looking for their next travel bag, check out the Kelty Redwing 40.
Conclusion: A Small, Versatile Option
It can be tricky to find a great daypack from the plethora of options and brands out there. Each one has its own set of features and limitations. Finding a bag which carries everything you might need while not going overboard on heaviness and discomfort can feel like a daunting task.
Thankfully, the Kelty Redwing 32 is a versatile, lightweight, comfortable, fashionable option that can make a great travel companion, whether you're on a quick day hike, a fun outing in the city, or commuting to work in style. Overall, I would give it a 8.5 out of 10 stars, as it fits many activities while not being too heavy but lacks the strength and space of some slightly larger packs.