Osprey Farpoint 55 backpack is a reliable pack for a long weekend. With heaps of space, this pack is designed to handle a load of up to 50 pounds.
If you love to go on long trips, then Farpoint 55 can be your perfect companion. A favorite amongst backpackers around the world, Osprey Farpoint 55 is a versatile 55-liter travel pack that comprises of a 42 Liter main pack and 13 Liter detachable daypack.
Let's check out the full Osprey Farpoint 55 review to see if this pack lives up to its fame or not.
Sale
Osprey Packs Farpoint 55 Travel Backpack
Large, lockable U-zip duffel-style access to main compartment - 55L total volume
Detachable daypack with designated laptop and tablet sleeve and scratch-free stash pocket
Stowaway backpanel, shoulder straps and hipbelt with zippered rear flap for protection when checking
Lockable zipper access to padded laptop & tablet sleeve (fits up to most 15" laptops)
Lockable sliders on main compartment zipper
Overview of the Osprey Farpoint 55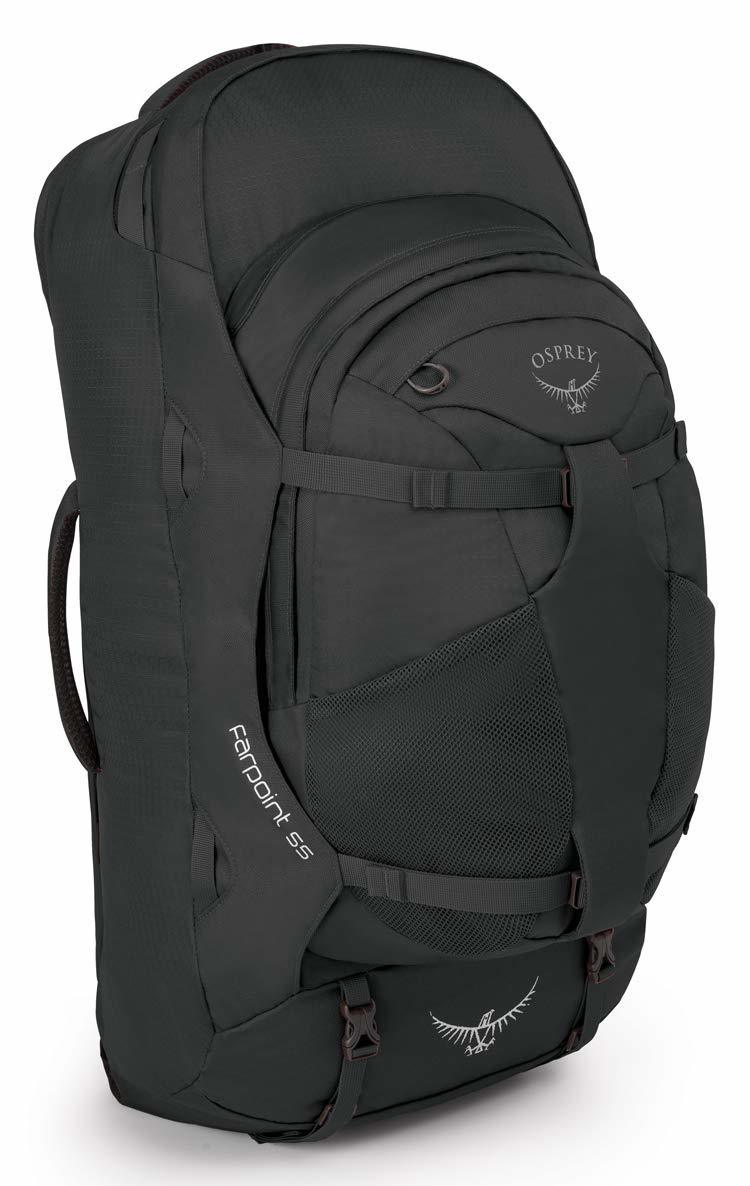 Osprey Farpoint 55 is two bags in one. You get a large pack to keep your extra clothes and waterproof boots, plus a detachable daypack that lightens your load when you set up a base somewhere. Plus, the entire pack is small enough to count single carry-on luggage.
Who is the Osprey Farpoint 55 for?
This pack is for anyone looking for a durable and comfortable pack for a long travel trip.
Osprey Fairpoint 55 is a unisex bag. Technically, it fits men with long torsos, but it also fits taller and broader women. But small or average height men and women are also carrying it comfortably around the world.
​The S/M will suit the shorter people better, whereas the taller people can use the M/L size.
Key Features and Benefits of Osprey Farpoint 55 Backpack
Design
The Osprey backpack luggage has a simple and clean design with two padded handles and front compression straps. The stowaway back panel allows you to stow and zip away the hip-belt, harness system and the back panel for a slimmer profile.
The size of the bag is good with lots of straps to easily add your extra gear to the exterior of the pack. The size of the day-pack is great for light travel, and it zips on and off easily.
This is a unisex backpack that comes in three colors: Lagoon Blue, Jasper Red, and Volcanic Grey. Also, it comes in 3 sizes – 40 Ltrs, 55 Ltrs, and 70 Ltrs, all with varying features.
Huge Storage Capacity
The size of the Osprey Farpoint 55 is perfect to fit everything you need for a long trip. The bag holds a ton of stuff and has enough room for clothes, shoes, tent, electronics, a sleeping mat, cooking gear, backpacking knife and more.
Suspension System and Comfort
The built-in suspension makes the backpack super comfortable and transfers the load from harness to hipbelt – which makes it convenient to carry for an extended period.
The bent shoulder strap fits perfectly to the body, while the hip straps hold the bag in the right place. The shoulder straps have good padding and can be well adjusted. Also, the back of the pack is well padded to offer lumbar support and extra comfort.
Suitcase Opening for Easy Access
The main compartment of the backpack opens up fully in a suitcase-style making it easy to pack and locate your stuff. Just put the bag down flat and open it up like a backpack suitcase and all the corners of the bag is instantly accessible. This means you don't have to dig around for stuff at the bottom of the pack.
Zip-off Daypack to Lighten your Load
One of the most loved things about Osprey Farpoint 55 is the detachable daypack. Once you checked in at a hotel, you can easily unzip the daypack from the large pack, swap your essentials and gear around, and travel much lighter.
The daypack can also be carried on your chest to protect your valuables or to help balance things out.
​The features of the daypack are also excellent. There are many small and useful pockets, padded laptop sleeve and a zippered pocket to keep your tablets and smaller electronics, secure and padded. The mesh water bottle holder outside the pack is big enough to hold your 1-liter water bottle.
Durable Fabric and Lockable Zippers
The bag is loaded with tons of advanced features that are hard to find in any other bags. The bag is made using a heavy duty 420D nylon fabric so that it can withstand any harsh condition.
The high-quality zippers of the large main compartment can be locked to keep your stuff safe.
Lightweight and Sturdy
The bag weighs only 1.7 kgs which is very lightweight. Also, you have the option to take the daypack off and enjoy a comfortable and light pack option for a day hike, short bike tour or toting around the town.
The pack is tough enough to survive scrapes, cuts, bumps, etc. Though the Farpoint 55 is not as rigid as other hiking backpacks, this is designed for general travel purposes, so it rather doesn't need to be.
Carry-on Luggage
The dimension of the pack is around 64 x 30 x 34 cm, which is a little large for the carry-on requirements of most of the airplane. However, you can still use it as carry-on luggage and get away with it, if it is not stuffed to the fullest or has stuff hanging off of it. Also, rather than presenting it as a 55L pack, you can detach the daypack so that the 40L pack goes to the overhead bin and put the 15L pack under your seat.
​The Farpoint 55 is very manageable when loading onto trains, buses, and taxis, especially when the daypack is detached.
Handy Features
The daypack has a padded laptop compartment to store your less than 15 inches laptop. It also has two mesh compartments outside and four other compartments of various sizes to hold your small stuff.
The zippers have rings on the head allowing you to loop a wire lock or lock with a padlock. The main pack has a mesh compartment to keep your loose items and the compression straps inside lets you to tighten the things inside.
​Pros and Cons of Osprey Farpoint 55
​Pros
​Easy to pack and unpack

​Detachable daypack

​Large capacity

​Good suspension

​Lightweight

​Comfortable

​It comes with a lifetime warranty
​Cons
​Lack of external pockets in the main backpack

​No water bottle holders on the large pack
Customer Reviews
The backpack has received hundreds of satisfied user reviews online. The users found this pack very comfortable and functional for long trips. They found the detachable daypack helpful to provide them with extra security during their trips, to keep their important documents, wallet, camera, etc. with them.
Technically, the main pack is said not to meet the size requirements of most of the airlines. But practically, many users have found the main bag to be perfectly fine to fit the overhead bin. Also, they appreciated the lightweight design and large capacity. Some customers took it for a long trip or even four weeks, and they found it the best backpack for Europe.
The only downside of this bag is the lack of pockets.
Price
The price of the Osprey Farpoint is below USD 190 in online stores. Some might feel the price a little bit high, but considering the quality, comfort, and versatility, it's worth every penny.
Where to get this pack?
​This backpack is available online across various websites. But you can get this backpack on Amazon.
Osprey's All Mighty Guarantee
The Osprey travel backpack is well made with a lifetime warranty. And Osprey is so confident about its quality that they offer an 'All-Mighty Guarantee.' This means you get full coverage for a lifetime. If anything goes wrong with this pack, Osprey will either repair or replace it if the repair is not possible.
FAQs – Frequently Asked Questions
Q.1. Is the backpack good for hiking?
A. Although the backpack provides excellent support, it is designed for travel not hiking. The hiking backpacks are sturdier and have more support with more handy pockets, provision for water bottles, etc. You can still use it for hiking, but it will be okay not the best.
Q.2. Is Osprey Farpoint 55 travel backpack waterproof?
​​A. The backpack is not waterproof, but it's water-resistant, so it provides some protection from light rain. Better to use a rain cover to protect the backpack from rains fully.
Q.3. Is it right for a 2-week trip?
​​A. Yes, it is fine for a two week trip depending upon how you pack. The backpack is pretty significant. And with the right organizational accessories such as packing cubes, you can go for much longer trips as well. Capsule packing is best for this bag.
Q.4. Is there a laptop sleeve?
​​A. Yes, there is a laptop sleeve inside the Osprey daypack to fit a small laptop (less than 15 inches).
Osprey Firepoint 55 Review – The Final Verdict
Osprey Farpoint 55 is highly recommended due to its well thought out design. It is functional, durable, comfortable and affordable. The price is a little high, but as it's backed with a lifetime warranty, so it's worth the investment. Overall, it's an excellent and versatile travel backpack.
​Also, if you don't want a daypack and looking for a carryon backpack only then the 40-liter version, i.e., the Osprey Farpoint 40 is too great to consider – with the same feature of Farpoint 55, but smaller in size.
If you are looking for travel backpacks for women, you can check the Osprey Fairview, which is the female-specific version of Farpoint.
If you are searching for other Osprey Backpack here is some of them: Osprey Fairview 40 Review, Osprey Aether 70 Review, Osprey Talon 22 Review, and Osprey Atmos 65 Review