Hiking becomes extra-fun when you have right kind of backpack to comfort and support you!
If you are a heavy packer and love to carry a significant amount of gear to your hiking trips, here's your ideal travel pack by Osprey. Osprey goes one step further to outshine its competitors by upgrading its travel-specific backpack design viz. Osprey Aether AG 70.
The pack is built to be rugged and durable enough to carry heavy loads during multi-day backpacking trips. But is it suitable for you? How's the size and fit? Is it comfortable? What is the suspension used?
We have put together this Osprey Aether 70 review to answer all questions and help you decide for yourself!
Let's begin but first with our quick review:
Osprey Packs Aether AG 70 Backpacking Backpack
Removable top-lid converts to DayLid daypack
Stow-on-the-Go trekking pole attachment
Integrated FlapJacket cover for lidless use
Additional main compartment access
Internal hydration reservoir sleeve
Overview
If you are a gear aficionado, you'll know Osprey is one of the prominent and top-of-the-line brands to build durable and sturdy packs. A solid lifetime guarantee has to be the biggest highlight about their brand.
Aether AG 70 is the brand-new, premium pack from Osprey's Hiking backpacks range. It's a multi-day backpack that strikes a perfect balance between being functional, innovative and stylish, all at the same time. All its technical features will offer amazing comfort and support to the hikers, throughout their journey.
Osprey's signature AG- "Anti-Gravity" Suspension system will endure heavy loads, while providing the utmost comfort to the user.
Detachable Daypack is another newly added feature that adds to its versatile design.
An extra side entrance provided for the main compartment is again a new and convenient feature.
Who is it for?​​​​
Osprey Aether 70 pack combines a rugged gear-hauling capacity with their amazing Anti-Gravity Suspension.
This Osprey pack is just perfect of extended backpacking, thru-hiking or even mountaineering expeditions, as it offers a whopping 4000+ cubic inches of storage space. It provides an extremely comfortable and dynamic responsive fit to the user.
More: Osprey Fairview 40 Backpack Review
​Osprey Aether has maximum weight carrying capacity of around 60 pounds! Its all-new convertible top lid is what makes this pack more versatile and ideal for a multi-day excursion. If you are looking for a bag that can haul heavy loads for nearly a week or more, Osprey Aether AG 70 is the one for you!
​Key Features of Osprey Aether 70 Hiking Backpack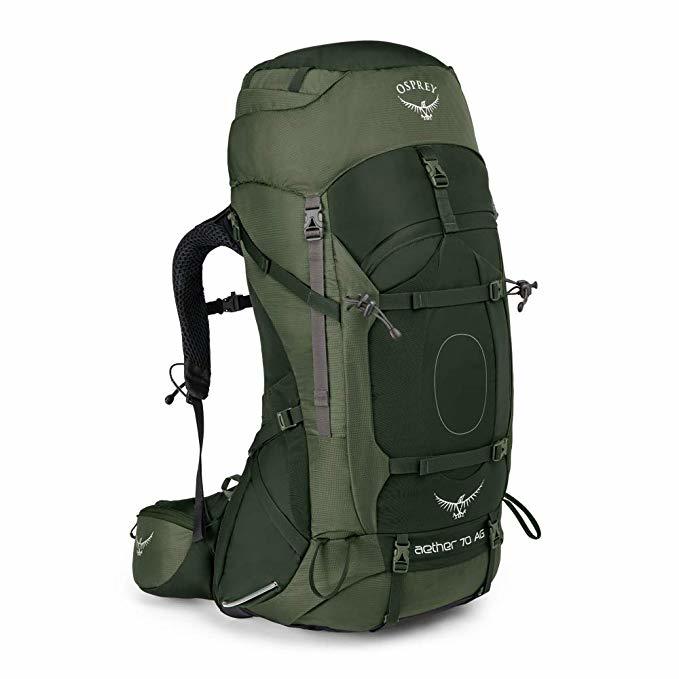 Carrying Comfort
Similar to all osprey backpacks, Aether 70 can carry significant loads quite comfortably, all credits to its unique AG viz. Anti-Gravity Suspension.
The back system integrates this premium AG suspension with Osprey's IsoForm hip belt. Such revolutionary design of the hip belt offers a nice, molded fit to the wearer.
On the other hand, the broad-mesh lumbar support features a harness system integrated with stiff load bars. This allows for precise distribution of weight, thereby taking pressure off your shoulders and back. That is so you can even climb steep hills while hauling heavy loads.
More: Garmin eTrex 10 Handhold GPS Review
The desirable gap between the pack and mesh itself promotes good breathability. Right beneath the mesh, there's a peripheral LightWire aluminum frame that gives shape to the pack and offers good support.
Sliding sternum strap and adjustable shoulder straps further add to its comfort level.
Durability and Functionality
Osprey Aether 70's main body frame is constructed from 201D Nylon Dobby material, which alone signifies its solid build and longevity.
All the accents on the pack are shaped from 201D High-tenacity Nylon Shadow Box. Whereas, the bottom of the bag is made from 500D Nylon Packcloth to resist wear and tear.
More: Exped Down Pillow Review
This 70 Liter Backpack comes with multiple compression straps on the sides and the front, so the pack's center weight stays close to your body. The Aether 70 is built to last, and you don't have to worry about over-packing this one.
​This pack is durable and very rugged, mainly designed to last you for years. And with Osprey's Lifetime warranty, it can be the last backpack you will ever buy for hiking.
​​​​Breathability
Osprey's revolutionary AG system not only offers great support but also allows for excellent ventilation. Open mesh back panel keeps your back slightly away from the pack, allowing better airflow. This will prevent your back from being sweaty and drenched.
Effortless Accessibility
When it comes to accessibility and organization, no doubt, Osprey Backpacks outperform its competitors in every aspect.
Likewise, this Osprey Aether AG 70 is one of the best backpacks for hiking, as it has got multiple pockets to store tons of your gear.
More: Fjallraven Kanken Classic Review
Not only does this Aether 70 opens from top lid, but it also has a large side pocket through which you can the access main compartment. Similar to most hiking packs, this one also has a bottom zippered compartment to store your sleeping bag.
​This sleeping bag compartment has a divider, which can be removed easily if you need extra space in the main compartment.
Organizational Pockets
The pocket-game of Osprey Aether 70 remains strong; a perfect option for those who like to stay organized.
Outer stretch-woven pocket at the front comes handy when you want to store your bathing suits, wet gear or clothes, flip flops or towels.
The hip belt has a high-capacity zippered pocket on both sides, so you can store small items like keys, wallet, phone, snacks, etc. or whatever you need quick access to.
Large pocket found on the top lid also has a zipper where you can store your books or other such gear.
Two expandable water bottle holders on both sides of the pack sort you out for being well-hydrated throughout the journey. Additionally, there's also an area at the backside to store hydration reservoir for quick access to a hose.
Detachable Daypack integrated into the top lid. Removable top cover also serves as a protection for inside content of pack.
Myriads of attachment points at the outer area of the pack to hang extra gear like ice axes and trekking poles.
sleeping bag compartment.
Myriads of Straps
Osprey Aether features myriads of compression straps so that you can tighten and reduce the entire profile of the pack as per your liking. As mentioned earlier, this will help the bag to stay at the center of your body for better support and comfort altogether.
Side compression straps can cinch down the pack completely to secure the backpack and safeguard the contents. These straps also double as lash points where you can hang additional gear.
Buckle straps pass across front pocket to further compress down the pack. These straps also provide space to lash extra gear.
Fit
Osprey Aether Backpacks are mainly offered in 3 sizes viz. Small, Medium and Large. Use your discretion and choose the one that fits your torso frame well.
The shoulder straps on this pack can be adjusted, so it adapts to your height. Not just that, even the Anti-Gravity 3D suspended mesh back panel has an adjustable design, so you can decide how close the pack sits to your shoulders and upper back.
​More: Osprey Atmos 65 Backpack Review
Custom Heat molders provided by Osprey for hip belt allow it to fit to your body closely. The CM hip belt and IsoForm5 harness are interchangeable, so if their size and the pack's size do not match each other, you can easily replace them and get the ones that suit you.
Weight
Osprey Aether AG pack goes over 5 pounds and is probably one of the heaviest hiking backpacks out there. This is the reason why this hiking backpack is not recommended for minimalist adventurers.
More: Osprey Talon 20 Backpack Review
It is a perfect option for those who carry tons of gear and want the experience to be comfortable and supportive. Large profile of the pack, detachable Daypack and cushioned hip belt, all of these features add to its weight.
Detachable Daypack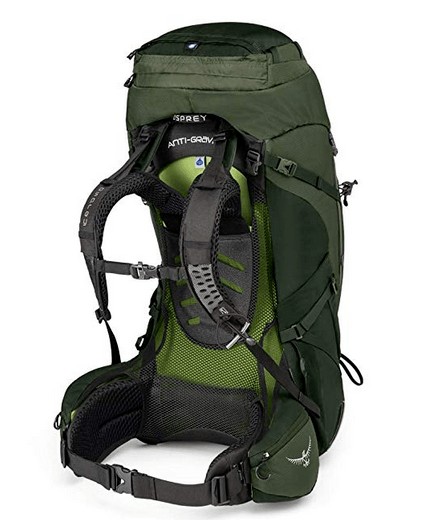 The newly designed top lid of Osprey Aether 70 smartly converts into a functional, stand-alone daypack.
This daypack is an excellent addition and perfect to carry 1 day's gear for short day hikes, side excursions or urban trips, while you're on a multi-day backpacking trip.
A huge bonus about this daypack is that it comes with its sleeve to store a hydration reservoir. How thoughtful is that?
Apart from this, this daypack features:
Dual access to the main compartment
Top zippered pocket
​Shoulder straps featuring edgeless wrap
Adjustable sternum strap
The Osprey Aether internal frame backpack is available in 3 different color and size options.
Cons and Pros
​Pros
Awesome Price to Value

Adjustable design and comfortable fit

​Extremely durable and comfortable construction to haul heavy loads

​Top lid doubles as a stand-alone, functional daypack

​Plenty of organization, dual access to the main compartment

​Very Spacious

​Lifetime Warranty
​Cons
​Weight goes over 5 pounds, so it's heavier
Customer Reviews
Several customers have found Osprey Aether 70 Internal frame backpack to be one of the best hiking packs, given its amazing comfort and support. Many say that it stays close to your upper back and shoulders while providing good ventilation. So, you don't feel like you're carrying heavy gear, even if you are.
On the negative side, few users found it annoying that the pack lacked exterior pockets. No doubt, Aether AG 70 has a spacious design and large internal space, but some people feel that it needs more external pockets.
More: Osprey Farpoint 55 Review
​Overall, customers have loved the quality, durability, and comfort of the pack. Most of them recommend it to heavy packers for their long adventurous trips. It is not ideal for ounce-counters or minimalist packers.
Frequently Asked Questions
Q. What is the price of Osprey Aether AG 70 pack?
The price range of Osprey Aether AG 70 is around $300 to $350, depending on the size you select.
Q. Does Osprey offer a rain cover along with the product?
Yes, Aether AG 70 comes with Osprey rain cover. It also includes a removable top lid that converts into a separate Daypack.
Q. How many days will the product take to ship?
​Aether AG 70 will be delivered to you within the time frame of 1 or 2 weeks.
Conclusion
Hands-down, Osprey Aether 70 is one of the best hiking packs featuring meticulous, travel-specific design.
Seeing its comfort, durability and plenty of space, Aether backpack will serve you best during long hiking adventures, mountaineering expeditions or any other backpacking trips. Its all-new, detachable daypack is that unexpected extra! This pricey backpack can be your lifetime investment, thanks to Osprey's amazing "All-Mighty Guarantee."