The Marmot Limelight 3p is a premium quality backpacking or car camping tent. It is known for its spaciousness and storm resistance. One sought after quality of this tent is that it has more headroom than even the most popular backpacking tents.
The Marmot Limelight 3p tent has two d-shaped doors, two vestibules, and an all-encompassing rain fly. Even more, it comes with its own footprint included in the price.
The Marmot brand was established in 1974 by a couple of friends who shared a love for the outdoors. The company took off rather quickly with a little help from the Hollywood film industry. However, they have never strayed from their commitment to distributing high-quality products.
Marmot has a three-fold philosophy: people, product, planet. Meaning, they are devoted to promoting fair working conditions and producing premium performance products, all while staying environmentally conscious.
This Marmot Limelight 3p review will dive deeper into the features that make this tent one of the best. Keep reading to find out why Marmot remains an industry leader in outdoor products.
Things To Consider Before Buying a Tent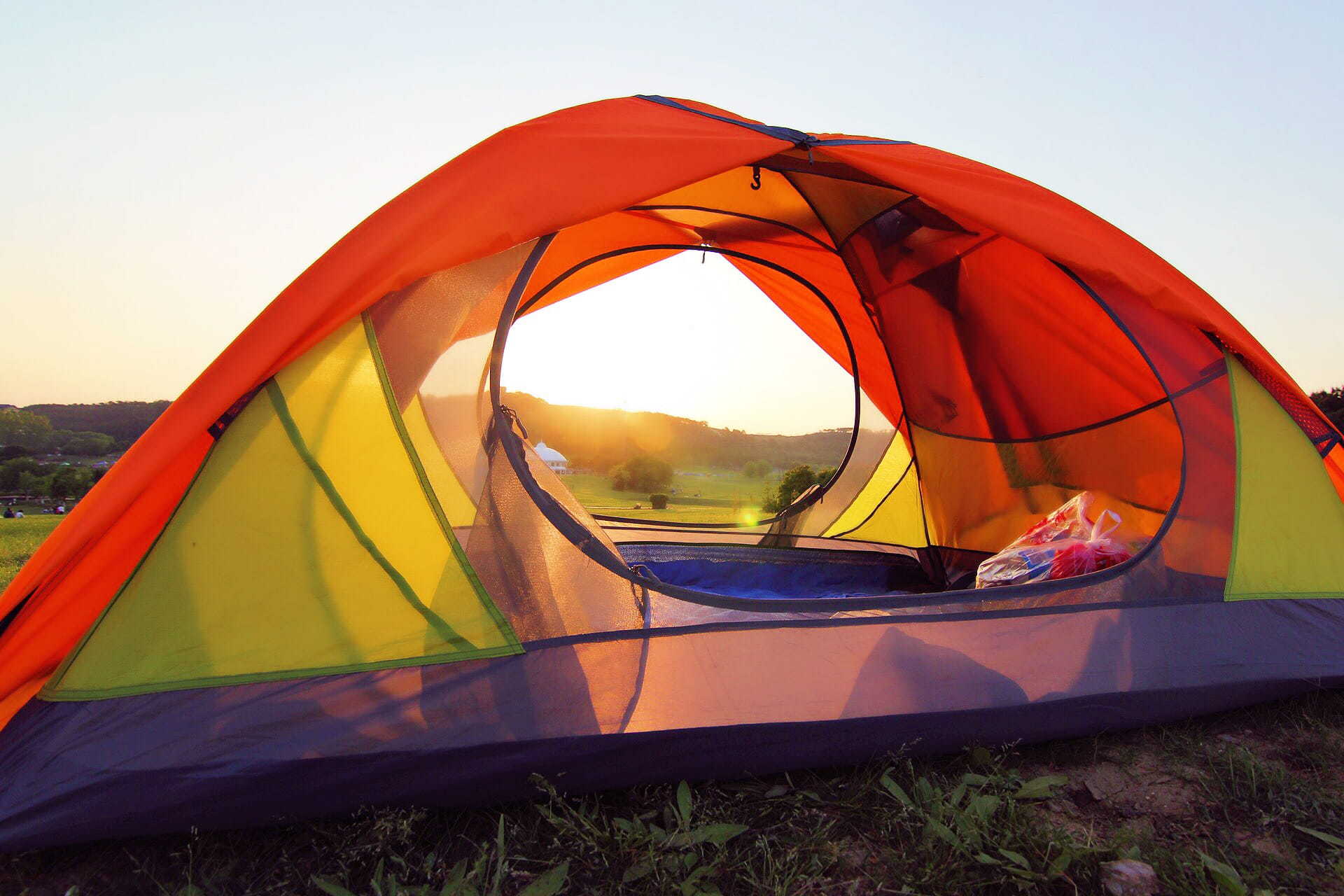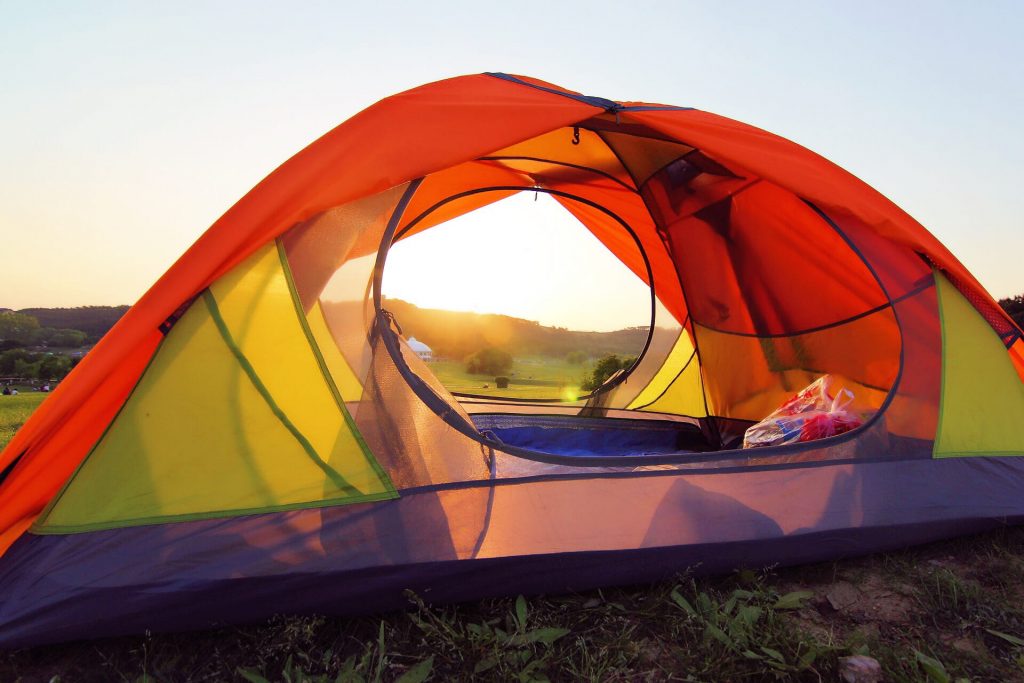 Before buying a tent it's important to keep your purpose in mind. Sounds easy enough right? Well, the purpose actually covers a lot more than you might think. We're talking everything from camping plans to material durability.
Ask yourself, what kind of camping will you be using this tent for? How many people will be sleeping in the tent? Do you need to be able to pack this tent on a hike? Is this a tent that you need to outlast several years of use?
The Marmot Limelight 3p is designed to be a backpacking tent and can sleep up to three people. It is made of longlasting, durable materials suitable for use in stormy conditions. Its innovative design allows for easy setup and optimal space from head to toe to improve your camping experience.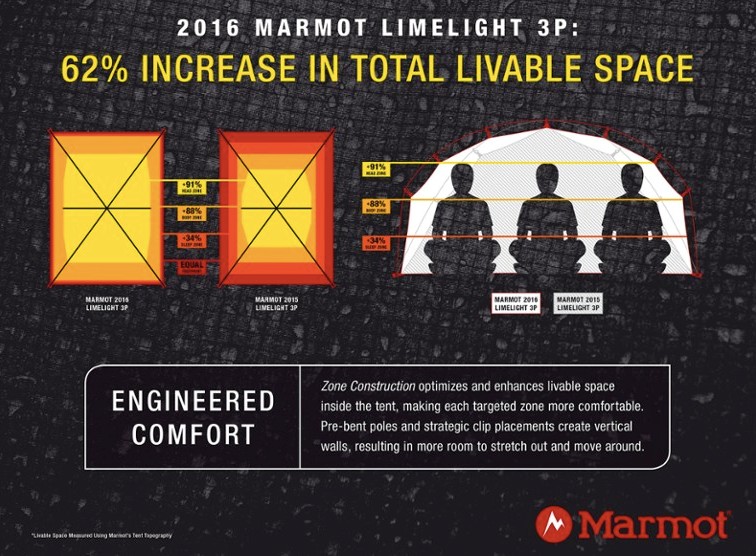 If you need a backpacking or car camping tent that will keep dry in stormy conditions, then the Limelight is a supreme candidate. However, if you won't be packing this tent on your back, then we recommend looking into a sturdier tent to optimize your protection during a storm.
Our Marmot Limelight 3p tent review will help you decide if this is the right tent for you.
Features & benefits
Setting Up/Pitching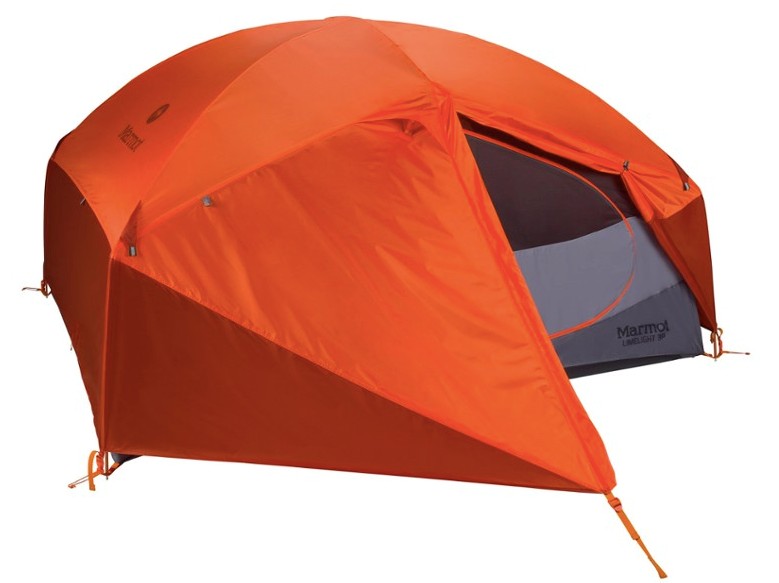 Marmot has designed the Limelight series to be extremely easy to set up. In fact, the set up of this tent may be my favorite feature. That's saying something considering that the set up is usually my least favorite part about camping.
There are only three poles and no sleeves that the poles need to be threaded through. Instead, there are a series of color-coordinated clips along the borders of the tent that hook onto the poles. This design eliminates the frustration that comes with poles breaking apart in the pole sleeves.
The rain fly also has color-coordinated tabs sewn into the front corners, so you won't be guessing which way is front or back.
This makes it so easy to set up. There's no need to pack the owner's manual with you and read directions after every step. The Marmot Limelight 3p setup process is so easy, even a valley girl could do it.
Size and Spaciousness
The Marmot Limelight 3p has pre-bent poles and strategic clip placements (no pole sleeves) to give you more room inside the tent. Unlike standard tents, the pre-bent poles and clips create vertical walls so you can use every inch of this tent.
In fact, the newest version of the Marmot Limelight 3p tent (released in 2016) increased its total liveable space by 62%.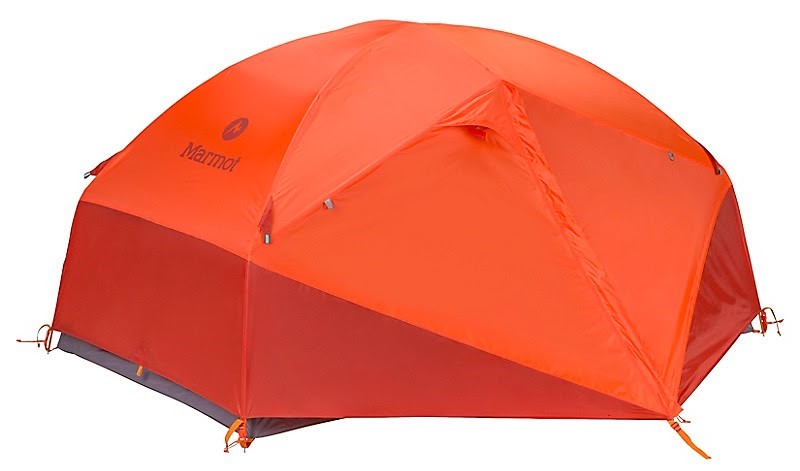 Marmot constructed this tent one zone at a time to optimize the liveable space. The sleep zone has 34% more space, the body zone has 88% more space, and the head zone has 91% more space. These are amazing statistics for a backpacking tent.
My favorite aspect of this new design is that I can sleep on the edge of the tent without an angled tent wall hitting my face.
The dimensions of the Marmot Limelight 3p tent are 48 x 68 x 90 inches. In other words, the center height is 48 inches, and the floor dimensions are 90 inches in length by 68 inches in width. The area of the floor is 42.5 square feet.
More: Best Pop-Up Tent To Make Your Vacation Enjoyable: Detailed Review
Vestibules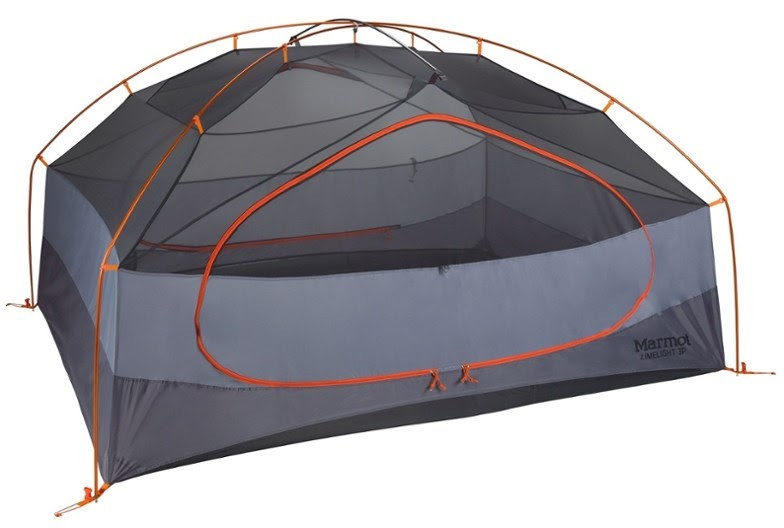 When the tent is fully set up with the rainfly attached there are two vestibules; one in front and one in back. These come in handy for storing bags and backpacks when you need the most possible space inside the tent.
Each vestibule is made up of two flaps that can be rolled back and attached on either side of the tent when not in use. A vent is located at the top of each vestibule with the ability to close from either side.
Additionally, the vestibules can zip tightly closed when settling in for the night. A storm flap covers the zippers to prevent water seeping into the storage area.
While the rainfly creates a vestibule that protects your gear from being rained on, there is no coverage on the floor of the vestibule. If you suspect wet or stormy conditions, you may want to bring an extra tarp to cover that area.
The area size of the vestibules is 11.3 square feet in the front and 7.5 square feet in the back.
More: The Best Cheap Backpacking Tent
Weatherproof
The Marmot Limelight 3p is a 3-season tent. This means that, although lightweight, it is designed to handle wind, heavy rain, and even light snowfall. However, this 3-season tent does is not built to outlast frigid temperatures, heavy snowfall, or extreme winter conditions. If you may be facing any of those conditions, then you will want to look for a 4-season or winter tent.
The tent has a bathtub style floor that raises up a few inches on all sides to protect from water. The footprint that comes included with the tent also adds another layer of groundwater protection.
There are several guy out points marked with reflective material on this tent. This is helpful when setting the tent up at night. Guying out the tent adds extra stability against wind and allows for heavy rain to slide off outward from the tent.
More: The Best Six-Person Tent Review On The Market
Ventilation
I like to say that the Limelight is as ventilated as you want it to be. Without the rainfly, the canopy of the tent is made completely of mesh. This allows for a high volume of airflow through the tent.
When the rainfly is secured in place, the two vestibules can be rolled back and the two large d-shaped doors can open wide to allow air to flow in and out of the tent.
There are also vents located at the top of the vestibule doors to prevent air from becoming stagnant inside the tent.
Weight/Packing/Materials
Because this is a backpacking tent, Marmot has chosen materials that are both lightweight and weather resistant.
The canopy of the tent is made from 40-denier polyester mesh. The floor and the rainfly are both made from 68-denier polyester taffeta, which is a non-transparent waterproof material.
The poles are made of a DAC aluminum. DAC is the specific brand of aluminum and is known for its high-quality materials.
The packed size of the Limelight 3p is 22 x 8 inches. The packed weight is 6 pounds and 11 ounces with a minimum trail weight of 6 pounds and 0.5 ounces.
Comfort
Marmot included several small features in the design of the Limelight 3p that go a long way in terms of comfort.
There is a gear hook at the peak of the tent along with several gear loft loops along the top of the tent. These hooks and loops allow you to hang your gear to free up more floor space. With that being said, a gear loft does not come included with this tent.
Additionally, there is a small lamp pocket at the top of the tent. You can place a flashlight or headlamp in this pocket, and it will disperse the light throughout the tent. I love this feature because it eliminates the need to pack an extra lamp.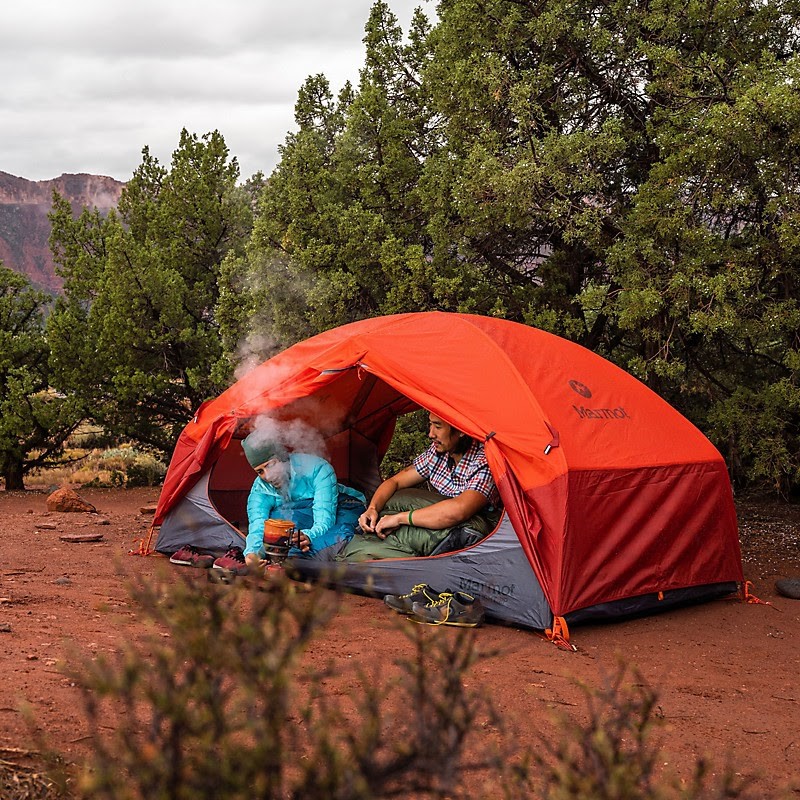 Last but not least, nylon zippers. I will forever be thankful to Marmot for using nylon instead of metal zipper pulls. There are few things more annoying than a sleepless night camping all because of metal zippers jingling in the wind. With this small feature, Marmot makes sure you are not only dry but also sound asleep during a storm.
More: How to Heat a Tent (Ways to Keep a Tent Warm)
Scenic Features
The Marmot Limelight 3p allows you to take in the view with its many scenic features.
The canopy of the tent is made of a thin mesh material. On a clear night, you can remove the rainfly and lay comfortably in your sleeping bag while taking in the night sky.
Additionally, the large front door allows for a summit view. The front door unzips almost 360 degrees and stores in a pocket at the base of the door. If you pitch your tent at the top of a summit of any sort, this allows for an amazing view and photo op.
Feature Type
Feature Specs
What This Means

Purpose

Backpacking

This tent is small enough to be packed in your hiking backpack.

Seasons

3 seasons

This tent holds up in all weather conditions except for frigid temperatures and heavy snow.

Sleeping Capacity

3 people

Three people can sleep side by side in this tent.

Dimensions

48 H X 90 L X 68 W

Ample space to improve liveability.

Floor Area

42.5 square feet

Spacious floor area

Vestibule Area

Front: 11.3 square feet
Back: 7.5 Square feet

Two large vestibules can be used to store your gear.

Weight

6 lb 0.5 oz – 6 lb 11 oz depending on how you pack

On the heavier side for a backpacking tent, but still light enough to pack.

Packed Size

22 X 8 inches

This tent compresses a lot to make it easier for you to pack.

Floor Material

68-denier polyester taffeta

This material is lightweight and waterproof.

Canopy Material

40-denier polyester mesh

Mesh fabric allows ventilation and a view of the night sky.

Fly Material

68-denier polyester taffeta

Durable, waterproof material to keep you dry.

Doors

2, one summit view and one D-shaped

Large tent opening to allow for easy entry and airflow.

Poles

3

Only 3 poles make setting this tent up simple to do.

Footprint

Included

Adds extra protection at no extra cost to you.

Zippers

Nylon

These zippers won't jingle in the wind.

Set-Up

Color coated pole clips

Setting up this tent is easy.

Ventilation

2 vents in fly, mesh canopy

Opportunities for airflow no matter how you have your tent set up.
Social Proof
As an avid outdoorsman myself, I know that when it comes to purchasing gear, customer reviews can be very helpful. I've scoured the internet and found a few reviews to show you how the Marmot Limelight 3p tent performs in real-life situations.
Check out these reviews from campers and hikers just like you.



Alternatives
Marmot Limelight 3p vs 4p
The Marmot Limelight 3p and 4p are identical in design. The only differences between the two tents are size and weight.
The Limelight 4p is larger to sleep one more person. Its dimensions are 54 x 81 x 92 inches. The Limelight 4p has a floor area of 51.8 square feet, whereas the Limelight 3p has an area of 42.5 square feet.
The Limelight 4p weighs in between 7 pounds, 15 ounces and 8 pounds, 8 ounces depending on how it is packed. Its minimum weight is almost 2 pounds greater than the minimum weight of the Limelight 3p.
Marmot Tungsten 3p vs Limelight 3p
The Marmot Tungsten 3p is very similar to the Limelight 3p in terms of materials and design.
One noticeable difference is, the Tungsten 3p weighs slightly less than the Limelight 3p. However, the Limelight offers more elbow and headspace. The bends in the poles of the Limelight are located higher off the ground than the bends in the poles of the Tungsten. More vertical space means that the tent wall won't be slanting down and reducing the livable space.
Additionally, the Limelight has more guy out points than the Tungsten. This small detail can be the difference between wet and dry in a harsh storm.
Marmot Limelight 3p vs MSR Elixir 3
The MSR Elixir 3 is another very similar tent to the Marmot Limelight 3p. The materials and layout of the two tents are very close in comparison. Additionally, the Elixir also comes with a footprint.
The Limelight is slightly larger than the Elixir. It's only a 3 square foot difference, but if you're truly using your backpacking tent to sleep three people then you need every square foot you can get.
The Elixir has more privacy than the Limelight because it doesn't have as much mesh material on the tent canopy.
The Elixir set up requires more strategy than the Limelight because the Elixir's poles are permanently connected. This does require you to be more strategic in how you set the tent up but gives the tent added value in versatility.
The connected poles add versatility to this tent because it allows you to set the tent up without using the tent body. If you are camping in summer conditions, you can use the footprint, poles, and fly without the tent body. This comes in handy when you need to pack light and helps keep you cool while you sleep.
One small detail that I like about the Elixir is its large mesh pockets sewn into the interior tent wall. As opposed to the small pockets in the Limelight, and most tents, the pockets inside of the Elixir are located up higher and are large enough to hold something like a jacket or towel. In my opinion, the pockets in the Elixir are much more useful than your standard interior tent pocket.
Conclusion
The Marmot Limelight 3p tent is great for backpacking or car camping in stormy conditions. Marmot is a company that is highly trusted for the quality and performance of their products. They designed the Limelight 3p with weather, portability, liveability, and customer satisfaction in mind. To take this tent on your next outdoor adventure, check it out here.