A day pack is essential for every outdoor enthusiast. In addition, a small hiking backpack makes an extremely convenient travel bag for days spent in more urban settings.
When shopping around for the perfect backpack for you, it's likely you will come across the Osprey Daylite.
The Osprey Daylite stands out because of its comfort, convenience, and low price point. This small travel backpack is one of the best of its kind. It is strategically designed to be attached to larger Osprey packs and detached for use as a day pack for shorter hikes or everyday use.
This product is made by an outstanding company which has built up a reputation of trust among its customers ever since it started in 1974. Osprey is well known as a market leader for creating the most reliable and long-lasting backpacks.
Let us help you with your small travel backpack search. We've compiled this Osprey Daylite review which will answer any questions you might have about this product.
Things to Consider Before Buying the Osprey Daylite
Whether you are looking for a small backpack for day hikes, a personal item sized travel bag, or a small pack for everyday use, the Daylite is the perfect fit for you.
I've even seen this backpack used on college campuses.
With that being said, if you're looking for a travel bag that can store personal essentials on a weekend trip or short get-away, the Daylite is probably too small for you. In that case, we would recommend a slightly larger backpack, such as the Kelty Redwing 44 or the Osprey Farpoint 40, instead.
Before buying this product, it's important to consider its size, materials, and the most common customer complaints. Read on for more details.
Features and Benefits of the Osprey Daylite
Osprey Daylite
Large panel loading main compartment provides accessibility to inside contents
Dual stretch mesh side pockets provides additional storage options
The multi-function interior sleeve can be used for either a reservoir, tablet or laptop (up to most 14" laptops); attaches to a variety of compatible Osprey Packs
Front panel shove-it pocket is great for stashing a light rain shell and other smaller items
Mesh-covered die-cut foam back panel provides both comfort and ventilation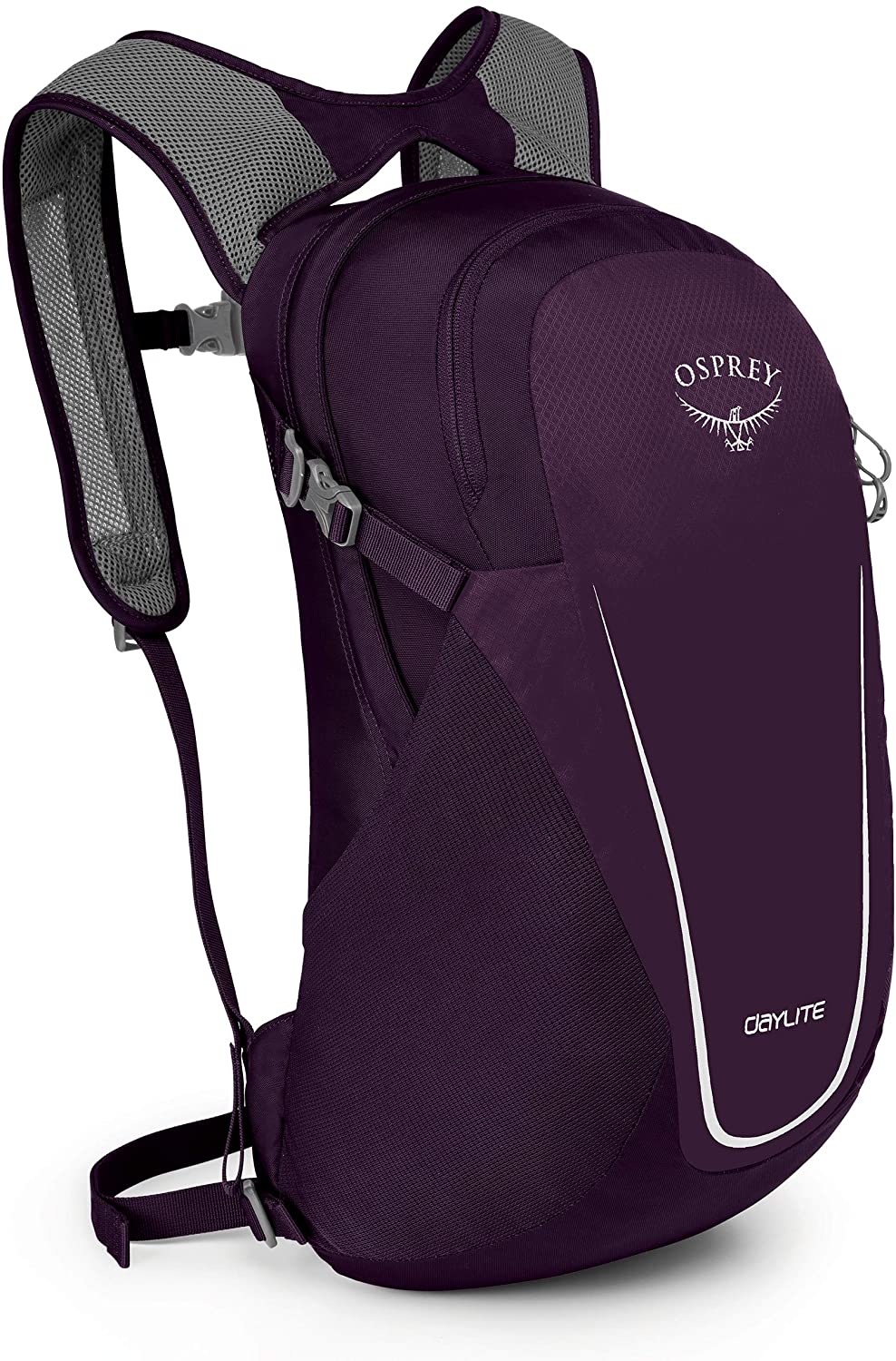 Weight and Materials
The Daylite is extremely lightweight and weighs exactly 1 lb.
The Osprey Daylite's dimensions are 18 in x 9.5 in x 8.5 in.
The Daylite is primarily made from a material called 210D double diamond ripstop and accented with 400HD nylon packcloth. This basically means that it is a water-resistant material that is both flexible and lightweight. If the material gets punctured, the diamond ripstop design will prevent the fabric from tearing.
Breathability and Comfort
The back panel of this pack is equipped with a thick foam pad. Within the foam are various slits which allow airflow and increase breathability.
The straps are padded and slightly curved in order to improve comfort when carrying the Daylite at full capacity. In addition, there is an adjustable chest strap that can be removed when not in use.
Additionally, the pack is designed with a thin hip strap to keep the pack in place. This is extremely helpful when snowboarding, mountain biking, or rock climbing, as it prevents the pack from throwing you off balance at every turn.
You should remember that the hip strap is solely designed for security, not support. The strap does not transfer any of the pack's weight or increase comfort when carrying.
Storage, Organization, and Accessibility
The Osprey Daylite has one main pocket, one quick-grab pocket, two external mesh pockets, and a hydration sleeve.
The main pocket is a good size for storing the basic items you need for the day. This makes it great for activities such as hiking, mountain biking or rock climbing, as you won't be tempted to pack more than you need. Also, your items won't be thrown around in empty space in your bag.
The small quick-grab pocket is perfect for items such as your wallet, keys or passport if you're using this bag for an in-flight carry-on.
The two external mesh pockets are designed at an angle so you can grab your water bottle at any time without needing to take the pack off. If you're someone who takes minimal breaks, this feature will really come in handy.
External Hydration Sleeve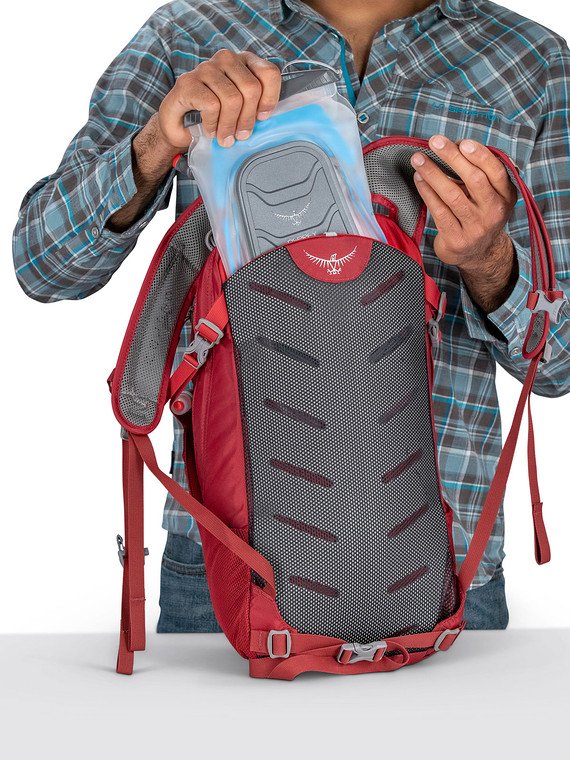 The hydration sleeve on this pack is located right behind the main pocket, closest to your back when wearing the pack.
I am a big fan of this design, as it allows for maximum storage space, which is a necessity in small day packs. You won't even notice that the pocket is there when you choose to use the pack without a hydration bladder.
One of the most ingenious features of the Daylite is the small hole at the bottom of the hydration sleeve. This allows water to drain out if your hydration bladder leaks for any reason.
Yes, the water will drain onto your lower back, but if you ask me, that's better than it soaking the entire contents of your bag.
I'll never forget my early hiking days when I once stopped for a lunch break only to find my snacks floating around inside my pack.
Straps and Handles
The Osprey Daylite has a built-in safety whistle on its chest strap. The whistle is small so as to not cause any discomfort, but it's a good accessory to have.
I've used my safety whistle to scare off a couple of curious California black bears in the past, so some would say that this feature is, in fact, a lifesaver. I know I would!
Secondly, there is an easy grab handle at the top of the pack. However, it is not the traditional design that you'll find on most backpacks.
Instead of attaching a loop at the top of the backpack, Osprey built the handle into the straps. I like the sleek look of this design, but some might consider it an annoyance against their back. It really depends on how you wear your pack.
Compression Straps
Osprey designed the Daylite with two external compression straps. These straps conveniently allow you to cinch down the bag to secure the contents inside.
I found this feature particularly helpful on short day hikes when I didn't need to pack the backpack completely full. Tightening the compression straps, in this case, ensured my belongings didn't jiggle around inside the pack.
Compatibility
One key feature of the Osprey Daylite is its compatibility with several larger Osprey bags, meaning it can be attached to them.
The bag was originally designed as an accessory for larger packs and to serve as a detachable daypack.
I would have loved this feature on my last backpacking excursion because we went on several day hikes. An attachable daypack like this would have saved me from having to repeatedly yank out and stuff my day pack into my larger hiking pack.
The Osprey Daylite can be attached to the following bags:
Aether/Ariel AG series
Aether/Ariel Pro series
Volt/Viva series
Shuttle series
Sojourn series
Farpoint 80
Farpoint/Fairview Wheeled Travel Pack series
Farpoint/Fairview Trek series
Porter series
Customer Complaint
The number one customer complaint about this product is the external water bottle pockets.
Osprey designed the pockets at an angle with a dipping hem which allows users to access their water bottles while the pack remains on their back.
This design does prove useful with smaller water bottles. However, larger water bottles tend to fall out of the pockets.
As someone who has lost their water bottle on an all-day hike, you can take it from me, you don't want this to happen to you.
This slight miscalculation is an extremely unfortunate flaw in an otherwise perfect day pack.
However, Daylite owners have found a solution. Large water bottles, such as Nalgenes or Hydro flasks, can be placed in the external mesh pockets and secured to the compression straps by hooking the lid around the strap.
| Feature Type | Feature Specs | What This Means |
| --- | --- | --- |
| Weight | 1 lb. | This pack is super lightweight, which makes it great for outdoor activities. |
| Materials | 210D Nylon Double Diamond Ripstop, 400HD Nylon Packcloth | This material is lightweight, flexible, and water-resistant. |
| Capacity | 13 L | Enough space for day hikes or day-to-day errands. |
| Retail Price | $45-$60 | One of the lowest prices for a pack of this quality. |
| Breathability and Comfort | Foam back panel with slits for airflow, lightly padded shoulder straps | Sufficient padding for a day pack to ensure comfort when carrying. |
| Main Pack Access | U-shaped zipper across the top with two zipper pulls | Two zipper pulls allow you to access the pack from either side, depending on your accessibility preference. |
| Admin Pocket | Mesh organizers, key clip, shallow in depth | This small pocket does not extend for the full length of the pack. It is designed for you to easily organize and access small items (keys, sunglasses, wallet, etc). |
| Exterior Pockets | Two mesh pockets on either side of the pack | These pockets are designed for you to access your water bottle while wearing the pack. They can also be used for items such as trekking poles or tripods. |
| Hydration Sleeve | Located externally | Your hydration bladder won't take up any storage space. |
| Straps and Handles | Lightly padded straps, thin hip belt, a removable chest strap | The weight of this pack rests on your shoulders, the hip belt is solely for stability purposes. |
| Compression Straps | Two external compression straps | Keeps your pack close to your body and secures contents inside. |
| Compatibility | Attachable to several larger Osprey bags | Hike to base camp with your Daylite strapped to your pack and detach for use on day hikes. |
Customer Reviews
I understand that reviews are possibly the most useful information when you are considering buying a specific product. I wouldn't advise you to purchase a backpack without reading a few of them.
People all across the globe have shared what they love about the Daylite. Our research suggests that the Osprey Daylite is convenient and reliable. These reviews confirm this assertion.





Alternatives
Osprey Talon 11
Osprey has essentially used the Daylite design as the bare bones for the Talon. The Talon 11 looks quite similar to the Daylite, but with a few added perks which are beneficial in a hiking environment. 
The Talon has a supportive hip belt and Stow-On-The-Go trekking pole attachments which make this pack one which is highly favored by hikers. In addition, the Talon has several external pockets and adjustable bungee storage on the front of the pack which ensure optimal organization.
These added specs suggest that the Talon 11 might be a better match for you if you're looking for a day pack primarily for outdoor recreational use. It's definitely worth checking out. Check our review of Talon 22 here.
Comparison
Osprey Talon 11 is smaller
Osprey Talon has a fully supportive hip belt
Osprey Talon has more external pockets
Osprey Talon is twice the price of the Daylite
Osprey Hikelite 18
The Hikelite is almost indistinguishable from the Daylite. The biggest difference is that it has an 18-liter capacity, whereas the Daylite has a 13-liter capacity.
In addition, Osprey has tweaked the mesh side pockets on the Hikelite to solve the pesky problem which causes water bottles to fall out of the Daylite pockets. The Hikelite also has trekking pole attachments.
These few changes raise the price of the Hikelite to around $85 while the Daylite retails at $50.
Take a look at the Hikelite if you require a little bit more space and don't want to risk losing your water bottle.
Comparison
Osprey Hikelite has a greater capacity
Osprey Hikelite is more expensive
Osprey Hikelite has trekking pole attachments
 Marmot Kompressor 18
Marmot makes a comparable daypack called the Kompressor 18. This bag is similar to the Daylite in size and price but completely different in design. 
The toploading Marmot Kompressor 18 can be stuffed into its own lid and reduced down to about the size of a 40-liter water bottle. The caveat to this is that the pack does not offer any back or hip support.
This pack may be beneficial to you if you prefer a top-loading pack, are looking to store it when it's not in use, or simply if you don't like the traditional look of the Osprey Daylite.
Comparison
Marmot Kompressor 18 is larger
Marmot Kompressor 18 is slightly more expensive
Marmot Kompressor 18 is top-loading
Marmot Kompressor 18 offers no back or hip support
Conclusion
Finding a travel backpack which is simplistic enough for everyday use but versatile enough for outdoor adventures can be difficult. However, you need look no further, because the Osprey Daylite checks both these boxes.
The Daylite has a sleek appearance and its size is perfect for day-to-day errands and day hikes.