Looking for a multi-use backpack that's just not for traveling but also can serve for daily usage? Can't find a lightweight backpack to carry loads of stuff and also weather resistant? Your search is over! Osprey 22 is here to cater to all your problems. It is the best daypack for hiking as well as serves as a laptop backpack.
The Osprey Talon 22 pack is spacious with a wide array of pockets to keep things safe. The osprey backpack sizing is sure to impress you with different sizes of compartments and 22 liters capacity. The durability of Talon 22 keeps you dry in rainy days and cool in hot summers.
​The product is a must have as its experimented by us in all ways of usage. Let us have a more comprehensive review of the product.
Osprey Packs Talon 22 Hiking Backpack
Dual-zippered access to main compartment
External hydration sleeve accommodates up to a 3L reservoir (sold separately)
Adjustable shoulder harness to dial in perfect fit
Stretch mesh pockets on both sides of pack provide convenient storage for bottles and smaller items.
Two zippered hipbelt pockets and LidLock helmet attachment
Overview
Osprey is one of the most reputed companies providing excellent packs for ages. It has come up with handy backpacks which are gaining popularity day by day.
The good reason for its popularity is manifold. If you are looking for a bag that can do all this, then your search is over! Osprey Talon 22 is a multi-utility bag offering comfort and adaptability. It is lightweight and flexible possessing tons of features.
I find the bag very light and comfy. It has many pockets that enable to keep things of different kinds in the right place.
Who is it for?
If you are adventurous and travel loving person than Osprey Talon 22 is for you. I use it for all my outdoor activities as it is flexible and lightweight.
Osprey bag is best for mountain biking, day hiking, riding or for simply moving into the woods, parks or towns. It is also preferred for urban commuting and shopping as it has a 22-liter capacity.
I use it daily for commuting as it keeps my gadgets like laptop and iPad safe and sound. Moreover, it keeps me cool during hot days due to its air space back panel.
​Thus, its multi-utility makes it a perfect buy for me. It is agile and perfect for outgoing persons.
Key Features of Osprey Talon 22 Backpack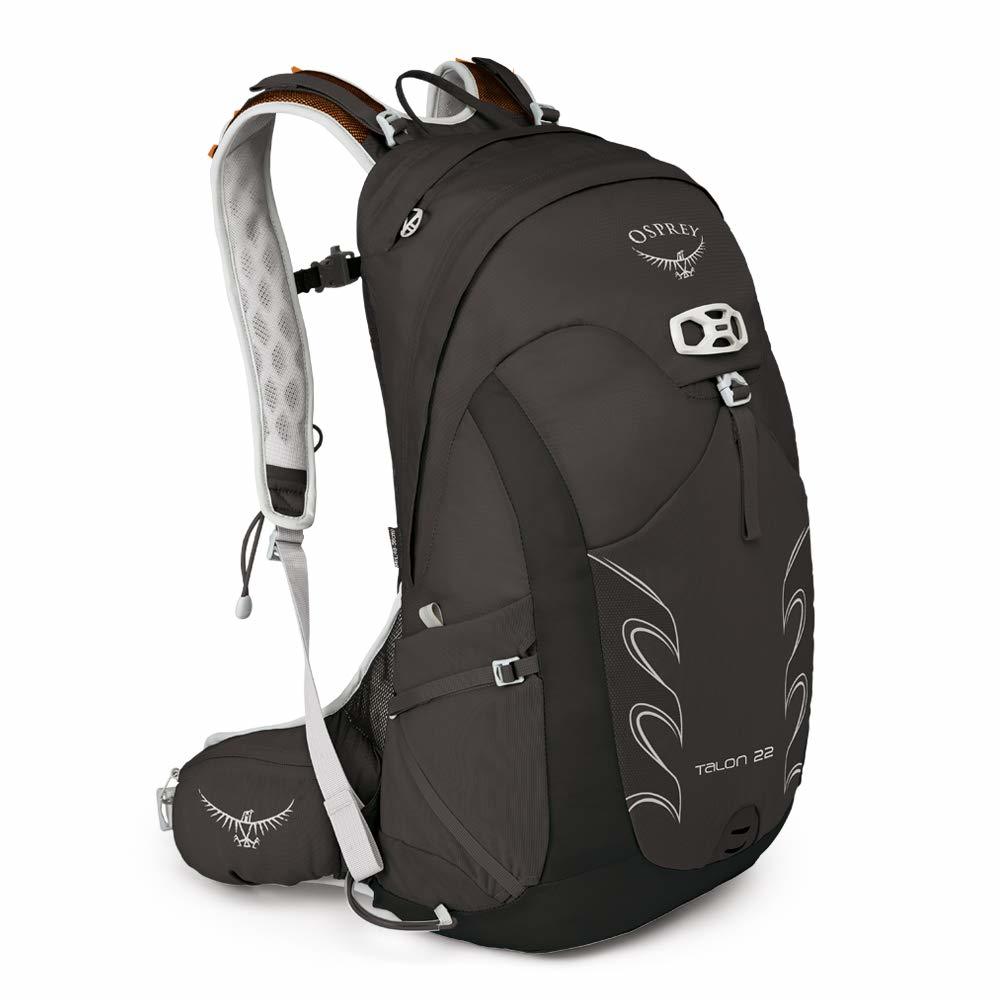 Unimaginable Comfort
Talon 22 is covered with soft mesh that provides support from head to neck. It gives skin comfort because of the adjustable torso. It easily hugs your back and can be adjusted enough to get the hip belt fit right on the hips. It has adjustable shoulder straps that flex according to the body movement.
The backpack comes in various sizes like small/medium and medium/large. You can buy the bag according to your height and body built. It is simplified design gives flexibility and comfort.
Durable and Water Resistant
Osprey Talon 22 backpacks are tough and stylish at the same time. They provide bio stretch harness and have an air space panel. It works extremely well in harsh weather conditions. It keeps your stuff dry in the rain as it is completely water resistant. It also keeps the body cool in summers and avoids sweat on the back. It is made of high-quality material and comes with lifetime guarantee.
Lightweight
The backpack has less weight due to materials used in making it. It is light even when heavily loaded which makes it perfect for long traveling on mountains and into woods. Soft mesh and air space panel provides comfort and makes it lightweight.
Accessories and style
The backpack doesn't come with accessories but is compatible with some sold by Osprey. A rain cover fitting the bag is available and protects from the weather. The Osprey Talon 22 pack has a separate compartment for keeping reservoir. The hydration bladder is not included and has to be bought separately.
It is stylish as it comes in many colors like dark grey, green, blue and red. It has a round shape with the Osprey logo on the front and the sides.
It has helmet and bungee attachments which makes it aside from other backpacks. This is the best daypack for hiking as it is equipped with attachments to carry trekking poles and blinker clip patch. These features will make your traveling easier.
Stay Organized
Different types of pocket are present on Osprey Talon 22 to keep things easy and organized. It has plenty of pockets to store everything inside. It has a single compartment to hold clothes and gadgets. A small slash pocket present on the top helps to keep delicate and quick to use items. I found the organization of the backpack fairly simple and handy.
Two stretch mesh side pockets and one big stretch pocket are provided for extra layers to keep water bottles, earphones, cameras, snacks, etc. The most useful pockets, i.e. on the waist belt is the best feature where money, medicines, and items for immediate use can be carried.
Comfortable
Comfort and ease of use are the two key features a good day backpack must possess. Surprisingly, Osprey 22 provides both. Lightweight suspension system and lightweight materials used in the pack makes it as light as a feather. The shoulder straps are adjustable and offer a nice flex to work according to you. A mesh cover, hip belt, and bio stretch harness are used to create a perfectly formed fit. The seamless hip belt body wrap creates extra support for those long days on the trail. It helps to carry a heavy load easily.
Durability
Durability is promised with Osprey daypack. It has a nice round shape made of durable and water resistant material. The side pockets are also very waterproof. In my experience, when I was completely out in the rain, only a few top items got slightly wet. The rest of the items were perfectly dry and safe. The rain cover is also there with it.
​Cons and Pros
​Pros
​Provides multi-use

​Comfortable and Lightweight

​High capacity of 22 liters

​Adjustable straps to offer flexibility

​Plenty of pockets

​Keeps cool in warm weather

​Water resistant
​Cons
​No rigid frame so drops in heavy load

​Lightweight mesh impacts durability

​Size of pockets is small
Customer Reviews
Users are impressed by the versatility offered by the backpack. It is one of the best daypack rated on product websites.
Many customers are of the view that it is very simple and not complicated like other backpacks. They love the compartments and pockets available on it for different kinds of things.
Ventilation is another feature which is loved by the customers. The back webbing and shoulder straps help to negate a lot of moisture.
It is highly adjustable as it comes in various sizes. Moreover, it has adjustable hip straps and shoulder straps.
It is tough and durable which makes it a perfect outdoor gear for adventure and travel. It is very spacious and carries lots of stuff.
Frequently Asked Questions – FAQs:
Q. What is the material of mesh pockets?
Osprey packs back mesh pocket is made with nylon which is tough and durable
Q. Where can you buy Osprey Talon 22 from?
The Osprey Talon 22 is available for purchase directly from their official website. Or, you can even buy it from Amazon.
Q. What is the price of Osprey Talon 22?
The Osprey Talon 22 has the price range of $100 to $150, depending on the size you will select.
Conclusion
Osprey Talon 22 review suggests that the backpack is a combination of versatility and comfort.
It is well ventilated due to air space cable provided at the back and shoulder straps.
The hip belt provides a stable carry system and allows you to carry heavy loads. These are the two best features that hikers and trekkers love.
Stow on the go trekking pole system keeps your hand free while climbing steep slopes. Its lid lock system keeps helmet and other gadgets safe.
​Not to mention, Osprey's All Mighty Guarantee covers you for life!
Like It, Pin It