Osprey packs, founded in 1974, guarantees its gear for a lifetime with its signature All Mighty Guarantee. With its custom-fit philosophy, the Osprey pack promises to build comfortable, robust backpacks which are suitable for all sizes and genders.
Compared to the previous model in 2016,
The new 2019 Osprey Kestrel 38 has more padding and ventilation along with the back panel, large hip belt pockets, and dual mesh side pockets for water bottles. Not only is the new version more comfortable, but it's also more durable and versatile.
Marketed as a men's backpack that's best for day pack hiking,
Osprey Kestrel 38 is a great option for all-day or all-night outdoor adventures. This comfortable backpack features a special zippered compartment for your sleeping bag, an external hydration pouch, a foam back panel, mesh pockets on the sides, removable sleeping pad straps, a built-in rain cover, and several attachment loops for your gear.
Osprey Kestrel 38 pros:
Incredibly adjustable harness
Side compression straps
Quite lightweight considering the amount of gear it can hold
Any damage will be repair free of charge regardless of the reason
Osprey Kestrel 38 cons:
Doesn't hold as much gear as some other backpacks
Missing a front zipper pocket
You can read our full review here and find detailed information about this backpack before you head out on your next hike.
Check Today Price
Things to Consider When Buying a Backpack
Before you purchase a hiking backpack,
You should consider the activity that you have planned.
How much gear will you need to carry? Have you checked the weather forecast?
Are you planning on a day hike, or will you be camping overnight?
How much water will you need to carry?
The Osprey Kestrel 38, with its integrated rain cover, is a good choice if you might encounter some rain.
If your trip will involve camping,
The Osprey Kestrel 38 is also a great fit, as it's equipped with a sleeping bag compartment for easy storage of your bed.
Also,
If you plan on carrying a moderate amount of gear, this bag is an excellent choice, as it can carry a respectable load range of 20 to 35 pounds.
However, if you're looking for a bag that can hold even more gear for longer hikes,
You might want to check out some other options, such as the Osprey Levity 60 or Rook 65 pack. These backpacks are built for trips that last from two to five nights and have a much higher gear capacity than the Kestrel 38.
Overall, if you're looking for a versatile, durable, and comfortable backpack that's perfect for various outdoor activities, the Osprey needs to be on your radar.
Features and Benefits
Osprey Kestrel 38
Breathable AirScape ridged foam backpanel with adjustable torso length
External reservoir sleeve accommodates up to a 3L reservoir (sold separately)
Integrated removable raincover and zippered hipbelt pockets
Zippered sleeping bag compartment with floating divider
Fixed top lid with external zippered pocket and under lid zippered mesh pocket
Weight and Materials
The main body is made from 210-denier x 630-denier nylon dobby and the bottom of the pack is made from 500-denier nylon packcloth, so the Osprey Kestrel 38 is built to be durable, and it can withstand even rugged hikes. In addition to hiking, the bag's smaller size makes it great for use as an Osprey pack carry-on.
When empty, this bag in small/medium size weighs 3 pounds 3.5 ounces, while the medium/large weighs 3 pounds 6.4 ounces.
I found the backpack to be slightly heavier than other packs I've tried, such as the Osprey Kamber 22, but I didn't find it too heavy. The Kestrel 38 has a very sturdy but quite lightweight feel to it.
Breathability, Comfort, and Suspension
The Osprey Kestrel 38 backpack features plenty of overall padding. The back panel is made from a thick, foamy mesh called AirScape, and this also increases the breathability and ventilation of the pack along the entire back surface.
This helps keep a user's back feeling cool, even during warmer weather.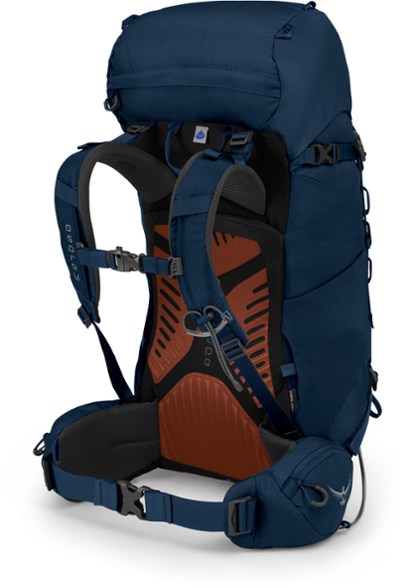 There's also a generous amount of padding on the shoulder straps and hip belt, which gives the pack an overall soft feel. The shoulder straps are also very wide, keeping the straps in place and distributing the weight more evenly across the shoulders.
Not only that,
I feel that the Osprey Kestrel 38 is a great option for all-day hikes when normally I might feel fatigued from carrying an uncomfortable bag all day. I found the bag to be lightweight too, which also helps in the comfort department.
In addition,
The back panel is adjustable to fit a torso length range of 16 to 23 inches, which makes it a versatile, comfortable fit for people of many sizes. The waist strap also adjusts to fit a range of 26 to 50 inches, depending on whether you purchase the small or large size option.
Moreover,
The four-side StraightJacket compression straps help hold the Osprey Kestrel 38 tight against your body, which increases the comfort level and prevents the bag from swaying or swinging. This helps make the pack feel unnoticeable on your back, even when carrying more weight.
The aforementioned AirScape back panel promises to achieve better weight distribution, in addition to the lightweight internal frame. The overall weight is held closer to your body, as the back panel keeps the bag flat.
Check Today Price
Storage, Organization, and Accessibility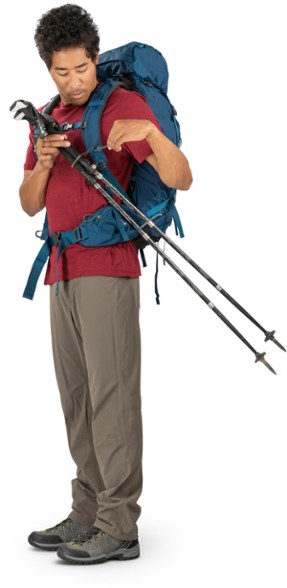 Equipped with two stretchy side mesh pockets for holding water containers, as well as an external hydration sleeve that holds up to 3 liters of water, the Osprey 38 is built with hydration in mind. This is important when on longer day hikes.
There's also a built-in sleeping bag compartment with a divider, so you can easily keep your bed separate from the rest of your gear. This makes it easier to access your sleeping bags when you're feeling tired after a long day on the trail.
Aside from this,
The built-in, bright green rain cover promises to protect your gear in the rain. This is particularly important when carrying food, electronics, spare battteries, or other valuable gear.
Dual ice tool attachments and trekking pole attachment points make it easy to store your special equipment for more technical trails.
This pack offers side, bottom (through the sleeping bag space), and top access to the main compartment. There's a front hybrid "shove-it" mesh pouch on the bag, which is great for storing items you want to keep separate from your other gear, such as a wet towel.
Unfortunately,
The Osprey Kestrel 38 does not have a zippered front pocket. This is a feature I have enjoyed with other bags and I felt it was missing here, as it would provide easier, quicker access to the main contents of the bag when on the go and be more secure than the mesh pouch.
Instead of a front zipper, there's a fixed top lid with a zipper and, in addition, a zippered mesh pocket underneath, where you can store your keys.
In order to achieve top access,
You must unclip the fixed (not removable) top lid. The top lid itself can be used to store smaller items you want to access quickly, such as a first-aid kid.
There are also roomy zippered pockets on the hip belts, which are perfect for holding a large smartphone or snacks. I felt that the waist belt pockets were easy enough to access while on the move.
All these features help compensate for the lack of a front zipper. It was easy enough to unzip the side pockets to access the main compartment and find what I needed without having to remove all my gear from the top.
Osprey Kestrel 38 Specification Table
Feature Type
Feature Specs
What This Means
Weight
S/M: 3 pounds 3.5 ounces
M/L: 3 pounds 6.4 ounces
The backpack is not too heavy but is slightly heavier than some other options.
Capacity
S/M: 2197 cubic inches (36 liters)
M/L: 2319 cubic inches (38 liters)
The full-sized medium/large option holds 38 liters of gear, while the small/medium option holds 36 liters.
Frame
Internal frame
The internal frame increases the backpack's overall suspension.
Frame Material
3.5 mm LightWire aluminum
The frame is lightweight but strong.
Hip Belt Size
S/M: 26-45 inches
M/L: 28-50 inches
With an adjustable hip belt, the backpack is versatile and can be adjusted to fit you as comfortably as possible.
Torso Fit
S/M: 16-20 inches
M/L: 19-23 inches
The Osprey Kestrel 38 is adjustable and fits people of different sizes, which makes it a comfortable fit for almost anyone.
Number of Exterior Pockets
6 + main compartment
Equipped with many pockets, the Osprey Kestrel 38 is a great option if you're looking for a bag with an organization as a top priority.
Hydration Sleeve
Yes
The Osprey Kestrel 38 has an external hydration sleeve that can hold up to 3 liters of water.
Main Pack Access
Top, side, and bottom
The bag is equipped with a fixed top lid with a zipper as well as side zippers and a sleeping bag compartment with a divider at the bottom. All of these provide access to the main compartment.
Attachments
Two ice pole attachment points and trekking pole attachment points, two daisy chains, two sleeping pad straps (can be removed)
The attachment points make the pack versatile and a good option for use on technical trails.
Materials
210-denier x 630-denier nylon dobby/500-denier nylon packcloth
The Osprey Kestrel 38 is a durable backpack. The main body is made from 210 denier x 630 nylon dobby, while the accents are 420HD nylon Oxford and the bottom of the bag is 500 denier nylon packcloth.
Warranty
All Mighty Guarantee
Guaranteed for life: Osprey will repair or replace the backpack, no matter when it was purchased.
Retail Price
$150-$200
Moderately priced
Customer Review
When I started looking for a new backpack to take with me on my adventures, I found the Osprey Kestrel 38 and was immediately intrigued. So, I scoured the internet and came across several reviews from users who seemed to have had rather positive experiences with the pack.
You can read a few of these users' experiences below: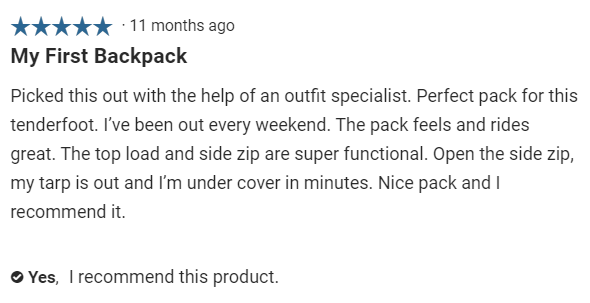 Alternatives
Osprey Kestrel 38 vs Stratos 36
The Kestrel 38 and the Stratos 36 share many of the same features, including the zippered sleeping bag space, gear loops points, mesh bottle pockets, rain cover, waist belt pockets with zippers, and removable sleeping pad straps.
One main feature that the Stratos 36 brings to the table is an AirSpeed Suspension Backpanel, which promises additional suspension against tension for even greater comfort and support
Comparison
Kestrel 38 has a slightly bigger gear capacity
Stratos 36 is lighter and offers better suspension
If it's suspension you're after, check out the Osprey Stratos 36.
Osprey Kestrel 38 vs Talon 44
As an ultralight pack, the Osprey Talon 44 is better suited to shorter hiking days when you aren't carrying a lot of equipment and want to protect your back from pain.
Both the Kestrel 38 and Talon 44 feature an adjustable harness for your torso, stretchy hydration bladder, a sleeping bag space, and attachment points for trekking poles and ice tools. The Kestrel has the advantage of being weatherproof due to its rain cover. Check our review of Talon 22 here.
Comparison
Kestrel 38 has an integrated rain cover
Talon 44 is more lightweight
If you're interested in a lighter bag for easier hikes, check out the Osprey Talon 44.
Osprey Kestrel 38 vs Exos 38
The Exos 38 is marketed as an ultralight bag and weighs just 2.46 pounds for the small size, 2.48 pounds for the medium, and 2.51 pounds for the large size. The more lightweight style makes it better suited for quick and easy hikes.
However, the Kestrel 38 has the advantage of being more adjustable and has an integrated rain cover and sleeping bag compartment for added versatility. The Kestrel 38 also has more pockets.
Comparison
Exos 38 is $20 more expensive
Exos 38 is lighter
Kestrel 38 is more weatherproof and adjustable
If you are looking for an extremely light bag that's still suited for all-day hiking trips, you should consider the Osprey Exos 38.
Osprey Kestrel 38 vs 48
Both these bags are built for day hikes, although the higher capacity of the Kestrel 48 makes it a better choice for trips lasting longer than a couple of days.
Both models have stretch mesh side water bladder, a divided sleeping bag compartment, hip belt pockets, trekking pole attachments, ice tool loops, and a shove-it front pocket. The Kestrel 48 also features a full-length zipper along the sides for better access to the main compartment.
Comparison
Kestrel 48 is $20 more expensive
Kestrel 48 holds more gear and has an additional access point for the main pocket
If you're looking for a bag that's slightly larger but still very similar to the Kestrel 38, check out the Osprey Kestrel 48 here.
Conclusion
For your hiking excursions, it can be a difficult task to find the perfect backpack.
Thankfully,
There are several great options, including the Osprey Kestrel 38. This bag is moderately lightweight with several pockets. It boasts several attachment points for gear and a rain cover to protect against the elements and is built for comfort.
Overall,
I would give the Osprey Kestrel 38 a rating of 9.2 out of 10 stars for its versatility, comfort, and durability.
If you're looking for a great backpack for your adventures – this is an excellent choice of investment for you!