If you're the outdoorsy type, you may be seeking a do-it-all, trusty backpack to accompany you on your adventures. The Osprey Kyte 46 backpack may fit this bill perfectly.
Marketed as a women's backpack, the Osprey Kyte 46 is equipped with many practical features, such as a rain cover, hydration reservoir, sleeping bag stowaway compartment, and stabilizing compression straps for your comfort and security on the trails.
The Osprey Kyte 46 stands out in its category as a multi-featured backpack with plenty of space to carry your technical gear while not being too bulky in size or weight.
The 2020 version has improved upon the previous version from 2017, featuring enhanced breathability through its AirScape back panel, improved padding on the hip belts and shoulder straps, two ice tool attachments instead of one, and additional pockets for more organizational power.
Since 1974, Osprey has produced quality outdoor products backed by their "All Mighty Guarantee." By emphasizing sustainability and ensuring that all of its workers are treated fairly, Osprey, as a company has focused on maintaining ethical business practices while promoting a healthy outdoor lifestyle.
Things to Consider Before Buying a Backpack
As any outdoorsy woman knows, a backpack is essential for carrying equipment on the off-road trails while being comfortable and durable. To choose a backpack, you should consider the types of tools, gear, food, and water you'll need to carry with you, how heavy the pack may be, and what kind of weather you'll be facing.
If you are planning a hike with a forecast of showers, the Osprey Kyte 46 may be a great option. The integrated rain cover will help keep your gear dry when the clouds come.
Built with durability and practicality in mind, the Osprey Kyte 46 can carry a respectable amount of weight and is built with suspension and multiple attachment points for a versatile assortment of gear. This makes it an excellent option for the technical trails.
For hikers looking for a simpler day pack, there are more compact options that may be a better fit for holding only the essentials for simpler hikes. Osprey makes some of these smaller bags, such as the Osprey Kamber 16. Also, while the Osprey Kyte 46 is marketed towards women, Osprey also makes unisex or men's bags, including the Osprey Volt 75.
Features & Benefits
Osprey Kyte 46
Breathable AirScape ridged foam backpanel with adjustable torso length
External reservoir sleeve accommodates up to a 3L reservoir (sold separately)
Integrated removable raincover and zippered hipbelt pockets
Zippered sleeping bag compartment with floating divider
Fixed top lid with external zippered pocket and under lid zippered mesh pocket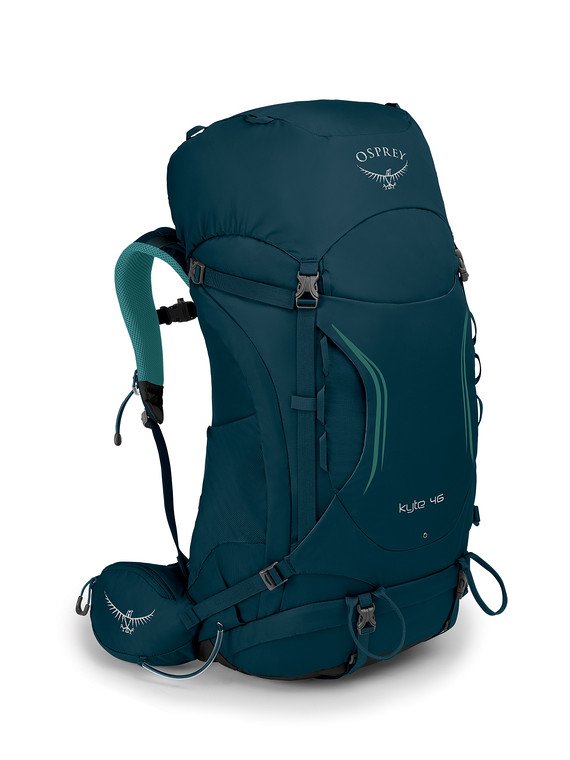 Weight and Materials
The Osprey Kyte 46 is made of durable 210-denier x 630-denier nylon dobby/500-denier nylon packcloth. These nylon fabrics are known to be sturdy, making this backpack ideal for all-day carrying capacity while withstanding the weight of your technical gear.
The Osprey Kyte 46 is available in two sizes: XS/S and S/M. With a weight of only 3 pounds, 3.8 ounces for the XS/S and 3 pounds, 6.1 ounces for the S/M, the backpack should be comfortable no matter which size you choose. Further, the Osprey Kyte 46 is adjustable to fit a wide range of sizes, all the way from 13 to 20 inches in the torso to 24 to 45 inches in the waist and hips.
Breathability, Comfort, and Suspension
The Osprey Kyte 46 is designed to stay close to your back for comfort and balance even when carrying heavier loads on the trail. I found this to be a very comfortable feature and helped the pack to feel like its weight was evenly balanced when carrying it. I didn't have to shift my weight too much to keep the backpack centered, and it didn't swing wildly as I walked or jogged.
For additional comfort, the AirScape back panel is ridged with foam, keeping the backpack breathable and softly lined.
Side compression straps helped keep the bag compact and cinched closed to prevent bulkiness. Also, the adjustable load lifters and sternum strap help you with the close fit, compact feeling of the bag, keeping it stable even on wobbly or scrambling trails.
Constructed with an internal frame with 3.5-millimeter LightWire aluminum, the Osprey Kyte 46 is built to comfortably transfer the weight of heavier loads to your hips rather than your shoulders, so the backpack feels even lighter than it is. This helped the bag to feel comfortable even over hours of hiking, when normally my shoulders might have been screaming.
The recommended total load weight for the bag is 20-35 pounds, which I found to be adequate enough to fit all of my desired equipment, some extra snacks, and the necessities, such as water.
Check our guide to Best Osprey Backpack here
Storage, Organization, and Accessibility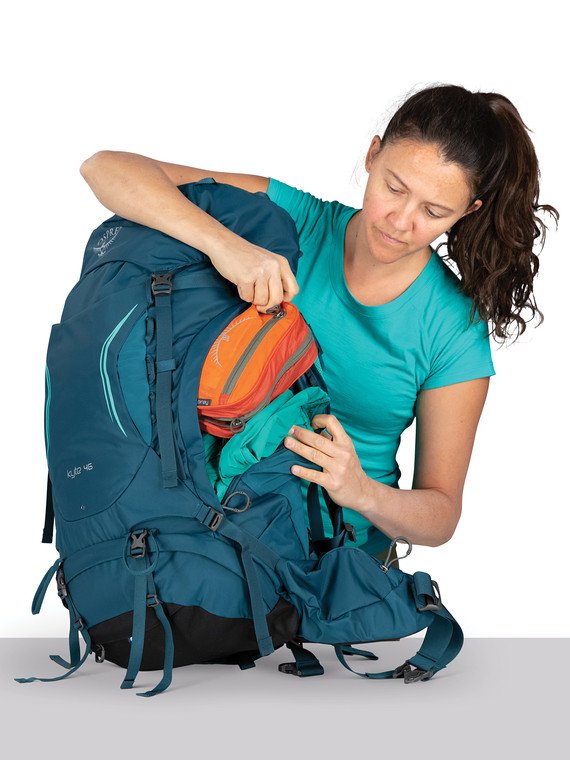 The XS/S size of the Osprey Kyte 46 promises to hold 2,685 cubic inches of gear, while the slightly larger S/M holds 2,807 cubic inches. This translates to 44 liters and 46 liters, respectively.
The Osprey Kyte 46 is a top-loading bag with a widely spaced opening and long side zippers with easy access to the main body unencumbered by side compression straps. There is also a large zipper to the main compartment on the backside of the pack. These are nice features because they allow easier access to your gear when on the move.
This image shows the convenient accessibility of the pack's main compartment provided by the side zippers.
The zippered sleeping compartment is conveniently separate from the rest of the gear. That way, when it's time to wind down for the night, and your eyes are feeling heavy, you won't need to clumsily remove the contents of the entire backpack to gain access to your sleeping bag.
For easy access to important gear, such as a first aid kit, there is also an attached top lid for quick access. Hopefully, you won't need this, but it's nice to know that you can get to your first aid kit quickly.
The hydration reservoir is external and situated at the back of the pack, so it's even quicker to access it. Because of this, you won't need to unzip the entire bag and shuffle through the rest of your gear when you need to refill your water supply. Also, the built-in side mesh pockets hold water bottles for extra, easy access to your hydration needs.
I found that the front shove-it pocket was a great place to quickly store away a wet rain jacket or towel. Also, the hip belt is equipped with its own zippered pockets, which are perfect for storing snacks on-the-go. The Osprey Kyte 46 seems to be built with convenience in mind.
Additionally, the integrated rain cover of the Osprey Kyte 46 is an important feature that helps keep your important gear safe and dry if you encounter some showers in the middle of your hike.
The Osprey Kyte 46 is also equipped with two ice tool attachments, which tuck away, and two bungees, one found at the shoulder harness and one on the body of the bag. These serve as "stow-on-the-go" trekking pole attachments for easy, quick access to the poles as you need them.
Overall, I found that the Osprey Kyte 46 has a vast array of different pockets and compartments to store a variety of gear securely and conveniently.
Pros and Cons of Kyte 46
Osprey Kyte 46 Specifications Table
Feature Type
Feature Specs
What This Means

Weight

XS/S: 3.24 lb
S/M: 3.38 lb

The pack features two different sizes, depending on how large the carrier is and how much weight you want to bring. This makes it adaptable for women or men to carry.

Capacity

XS/S: 2685 cubic inches (44 L)S/M: 2807 cubic inches (46 L)

Depending on how much equipment and snacks you need to carry, the backpack holds a respectable amount of gear. The two sizes to choose from make the backpack an adaptable option.

Frame

Yes

The frame helps with the comfort and suspension of the backpack.

Frame Material

Internal 3.5 mm LightWire aluminum frame

The peripheral frame helps in transferring the weight of the load from the shoulder harness to the hipbelt.

Hip Belt Size

XS/S: 24-45 inches
S/M: 26-45 inches

The backpack is adjustable for a more comfortable range of sizes.

Torso Fit

XS/S: 13-17 inches
S/M: 16-20 inches

The backpack is adjustable for a more comfortable range of sizes.

Number of Exterior Pockets

6 + main compartment

There are multiple ways to gain access to the backpack and organize your gear.

Hydration Sleeve

Yes

The backpack holds up to a 3 L water reservoir (sold separately).

Main Pack Access

Top, side, and bottom

The bag is equipped with large zippered openings to the main compartment for easy access from various sides of the bag.

Attachments

Two ice tool attachmentsTwo "stow-on-the-go" trekking pole attachments

Easy storage of ice tools and trekking poles.

Materials

210-denier x 630-denier nylon dobby/500-denier nylon packcloth

Durable and sturdy for backpacking on the trails and all-day wear.

Warranty

"All Mighty Guarantee"

Osprey promises to repair or replace the bag at any time.

Retail Price Range

$160-$200

More expensive than other bags, but considering its durability, many pockets, and features, it may be worth it.
What Other Customers Say
Here you can find other people's opinion of the Osprey Kyte 46 pack that sounded somewhat positive.
You can read about a few of these users' experiences below: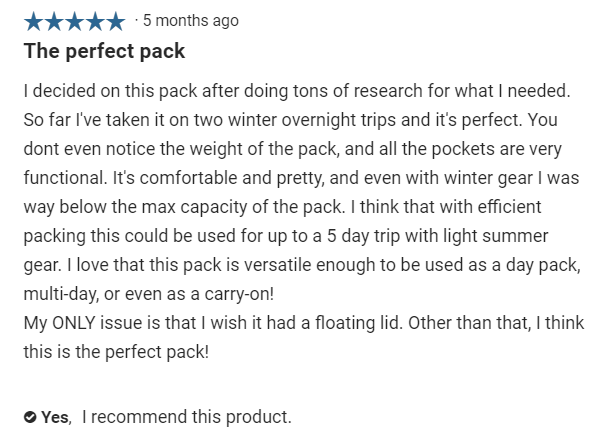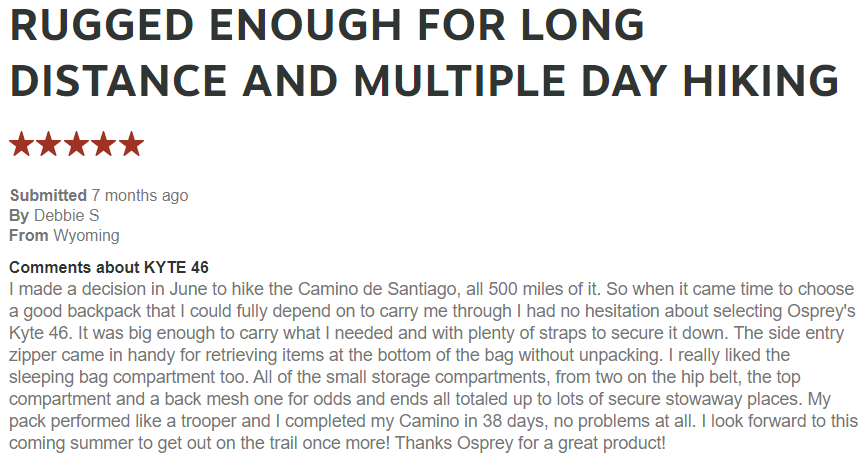 Alternatives
Osprey Kyte 46 vs Aura 50
The Osprey Aura 50 promises to be the most comfortable and well-ventilated women's backpack. Its main selling point is its patented AntiGravity suspension, a well-padded, contoured back panel of mesh, which makes the weight of the bag feel nearly unnoticeable.
Kyte has the advantage of the built-in rain cover, making it more suitable for rainy weather. However, the Aura has several other features that make it stand out.
The Aura is equipped with a floating lid, as opposed to the Kyte's fixed top lid. This floating lid can be removed or replaced to make the pack more lightweight and versatile. Also, while the Kyte comes in two sizes, the Aura is available in three for more fit options.
Of course, these additional features come at a higher price point. However, if the extra comfort and versatility are important to you, the Osprey Aura 50 can be found here.
Comparison
Aura 50 is better-ventilated and has better suspension, making it more comfortable overall
Both have trekking pole attachments, hydration sleeve, many pockets
Kyte 46 has a raincover
Aura 50 has a removable floating top lid
Aura 50 comes in three sizes; Kyte comes in two
Aura 50 is more expensive
Osprey Kyte 36 vs 46
The smaller version of the Kyte, the Osprey Kyte 36, is also a women's backpack with most of the same features of the Kyte 46, including the sleeping bag compartment, trekking pole attachments, mesh side water pockets, rain cover, and daisy chain. The Kyte 36 is lacking the additional side access to the main compartment, however.
The main difference between the two bags is that the Kyte 36 has a smaller carrying capacity of 2,075 cubic inches (or 34 liters) for the XS/S and 2,197 cubic inches (or 36 liters) for the S/M size. This makes the Osprey Kyte 46 better equipped to carry more gear for longer hiking trips.
However, some hikers may prefer the more compact size and slightly cheaper price of the Kyte 36.
Comparison
Kyte 46 can carry more gear
Kyte 46 has additional access to the main compartment
Kyte 46 is $20 more expensive
Osprey Kyte 46 vs Sirrus 50
Coming in at $190, the Osprey Sirrus 50 is a women's backpack that carries slightly more gear capacity than the Kyte 46. Like the Kyte, the Sirrus also comes in two sizes. Both packs have a raincover, sleeping bag space, mesh side water pockets, and an adjustable torso harness.
The Sirrus 50 has a tensioned, seamless, more adjustable mesh back panel for added suspension compared to the Kyte 46. However, the Kyte will carry the weight of the bag closer to the back, making it feel more compact.
Comparison
Sirrus 50 has stronger suspension and carries 50 liters compared to 46 liters
Kyte 46 fits closer to the back, possibly making it feel less unwieldy
If you're looking for a bag that holds a little more weight than the Osprey Kyte 46
Conclusion
As you know, it can be a challenge to find that perfect backpack for your hiking needs. The Osprey Kyte 46 fits comfortably in that sweet spot of durable, compact, moderately weighted, adjustable, versatile, all-weather packs that will prove trusty on even the more vigorous hiking trips.
Overall, I would rate the Osprey Kyte 46 at a 9.5 out of 10 stars, for its versatility, rainproof features, storage capacity, and comfort level.
If you're seeking your next hiking backpack, the Osprey Kyte 46 is a solid option. You can check it out here.