Packing the right tent is critical to any good outdoor adventure. With the right ​Multi Room Tent, you can relax at the end of a long day in the mountains, rest, and recharge for the next adventure. Choose the wrong tent, however, and you might end up squeezing into an uncomfortable night of sleep.
Unfortunately, choosing the right tent can be a bit of a challenge. Especially for people who travel with large groups or who need a lot of personal space, finding the perfect large multi room tent is often tricky. That's why we've created this ultimate buyer's guide to the best multi room tents to help you find the shelter of your dreams.
Let's get to it!
Reviews of the Best Multi Room Tent
Vango Capri 400 Tent – Best Small Multi-Room Tent
The Vango Capri 400 is a stylish 2 room tunnel style tent that's designed to give you a premium camping experience in any weather conditions. The Vango Capri 400 has an easy set-up, thanks to the connected flysheet and inner tent, which can be pitched together, saving you precious time.
Thanks to the Vango's patented TBS II tension band system, the tent can hold its own in all weather conditions, providing you with the peace of mind you need to get out and explore. Plus, thanks to its Protex 70 denier polyester rainfly, the Vango Capri offers an exceptional amount of waterproofing abilities, making it the reliable shelter you want with you on a camping trip.
Oh, and the Vango Capri 400 even comes with a pre-attached front extension that offers plenty of extra living space for the best camping experience. With PVC windows and privacy curtains, the Vango Capri 400 maximizes natural light, while the darker interior fabric makes it easier to sleep at night.
The Vango Capri 400 is a four person tent with an array of fantastic features, making it one of the most functional multi room tents in this review.
Things We Liked:
​Airbeam construction and connected flysheet and inner tent make set up easy
​TBS II technology provides ample stability in high winds
​Large screened porch increases living space
​Lights-out interior makes it easy to sleep in the outdoors
​Clear windows for more natural light
Things We Didn't Like:
​Heavy
​Expensive
​Only two rooms
Browning Camping Big Horn Tent – Best Budget Multi-Room Tent For Family Camping
A free-standing tent for the modern camper, the Browning Camping Big Horn is a 2 room shelter for any adventure. Made with sturdy fiberglass poles and steel upright supports, the Browning Big Horn tent is designed to keep you comfortable, even in foul weather.
Plus, the Big Horn tent comes with a wall divider, to allow for maximum privacy and personal space for all of the tent's occupants. An extra tall center height and re-designed straight sided walls allow everyone to stand up straight, without the need to hunch over. This structure also allows plenty of room for your cots, sleeping bags, and inflatable mattress, so no one needs to feel crunched for space in the Big Horn tent.
With its six large windows and a mesh roof, the Big Horn allows for plenty of airflow, giving you maximum ventilation to minimize the risk of condensation. The tent also has two doorways to make it easier to get in and out – no need to crawl over anyone to answer the call of nature!
If we had to choose something to ding the Big Horn tent on, it would be the rainfly design. The fly on the Big Horn only covers the mesh roof, leaving the large windows relatively exposed to the elements. Thus, this tent is best used in dry climates or when there's little chance of a storm blowing in.
More : Best Dome Tent
Things We Liked:
​Two doors allow for easy entry and exit at night
​Six large windows and mesh roof provide plenty of ventilation
​Two rooms with a divider offer lots of privacy
​High center height and straight walls for more living space
​Mesh roof lets in a lot of natural light
Things We Didn't Like:
​Rainfly only covers the roof, so doesn't protect well in a storm
​No vestibule or screen porch
Vango 6 Person Odyssey 600 Tent
The Vango 6 Person Odyssey 600 Tent is a fan favorite among campers everywhere, thanks to Vango's proprietary AirBeam technology. With AirBeam, your tent easily inflates, setting itself up as you sit back and relax. What could be easier?
Besides being one of the fastest pitching tents in the world, the Vango Odyssey 600 packs up in-situ, which means you don't need to disassemble the shelter after every camping trip. Just deflate, roll it up, and off you go!
If all of that wasn't good enough, the Vango Odyssey 600 features Vango's new Sentinel Active Plus fabric for maximum durability. This high-performance fabric is robust and windproof, as well as waterproof to a 4,000mm HH rating, which means you won't need to worry about your Odyssey 600 in the rain.
Moving inside the tent, the Odyssey 600 has Vango's patented TBS II Tension Band System built right in to provide better stability in high winds. Plus, the toggled inner divider and privacy curtains allow you to choose exactly how you want to set up your shelter to maximize personal space inside.
A plethora of ventilation panels, factory taped seams, lantern hanging poles, a "lights out inner," and plentiful gear storage options round out the Odyssey 600's collection of awesome features. With all of those great characteristics, it's hard to beat the Vango Odyssey 600.
More : Best Waterproof tent
Things We Liked:
​AirBeam technology makes pitching the tent super easy
​Built with the ultra-durable Sentinel Active Plus fabric
​Fully waterproof and seam-sealed
​Has a large porch/vestibule area
​Toggled inner divider and privacy curtains for maximum customization
Things We Didn't Like:
​Only one inner door
​Very heavy
​Expensive
​Large packed size
CORE 12 Person Instant Cabin Tent – Best 3-Room Multi-Room Tent
With the CORE 12 Person Instant Cabin Tent, you can bring all of the comforts of home into the great outdoors. Built using CORE's famous stress-free set-up technology, the 12 Person Instant Cabin pops up in just 2 minutes by unfolding and extending the pre-attached poles.
Once assembled, the CORE 12 Person Instant Cabin has a spacious 18' x 10' layout, as well as zippered privacy panels on both the doors and windows for maximum comfort. Plus, the Instant Cabin has a large double door so you can easily get in and out of the tent, without having to jump over your camping companions.
If all of that wasn't enough, you can even store your gear in one of the ten's four hanging storage pockets or the gear loft to clear up space on the floor so you can stretch out and relax. With an 80-inch center height and steep-sided walls, the Instant Cabin offers plenty of liveable space, without feeling too cramped.
The Instant Cabin's water-repelling rainfly is removable for those summer camping trips when you want to expose the mesh ceiling for fantastic star gazing opportunities and ample ventilation. This tent even includes an advanced venting system that has an intake vent built-in to draw in fresh, cool air from the ground while allowing hot air to rise up through the ceiling.
Perfect for a large family that wants plenty of space to hang out in their tent, the CORE 12 Person Instant Cabin brings all the luxuries of home on your next camping trip.
More : Best 4-season tent
What We Liked:
​Easy two minute set up is quick and efficient
​Advanced ventilation system with mesh roof helps keep things cool inside
​Double door makes it easy to get in and out
​Removable room dividers and zippered privacy panels for personal space
What We Didn't Like:
​No porch or vestibule for exterior living space
​Rainfly doesn't cover the whole tent, so it's not great for foul weather
​White interior fabric can be harsh in the morning
Ozark Trail Base Camp 14 Person Cabin Tent – Best 14-Person Multi-Room Tent
Built specifically with the active family in mind, the Ozark Trail 14 Person 4 room base camp tent is your ultimate home away from home. With enough space for fourteen campers tucked into their cozy sleeping bags or five queen-sized airbeds, the Ozark Trail Base Camp 14 is ideal for even the largest of groups.
While many large multi room tents suffer from an extensive set up process, the Ozark Trail Base Camp 14 can be pitched in just under 20 minutes when you have an extra set of helping hands. If that wasn't enough, this tent has an amazing ventilation system, thanks to its four large doors and 12 massive windows. Oh, and with its mesh room, the Base Camp 14 also allows for some pretty spectacular stargazing on those clear nights.
The Base Camp 14's straight wall construction and large center height make it easy to walk around the tent without feeling cramped in the shelters' 235 square feet of living space. You can even customize the Base Camp 14's layout with the help of Ozark Trail's sewn-in center zip room dividers. These dividers let you convert the single large living area into up to four separate rooms.
Plus, with four doors, everyone can easily get in and out of the tent without having to jump over their tent mates. The Ozark Trail Base Camp 14 also comes with an ePort so you can easily connect an extension cord to all of your gadgets while you sit in the tent.
Oh, and with a raised gear loft and two gear hammocks, it's easy to store all of your gear in the Base Camp 14 so that it's out of the way of your living space. With all of these great features, it's hard to imagine that you can find a better multi room tent than the Ozark Trail Base Camp 14.
More : Best Beach Tent
Things We Liked:
​Can customize the layout to have up to four different rooms
​Four doors allow for easy access in and out of the tent
​12 windows and mesh room provide ample ventilation
​Gear loft and gear hammock make gear storage simple
​Can fit up to 14 sleeping bags or 5 queen mattresses
Things We Didn't Like:
​Very heavy
​Set up takes a while and requires two people
​No privacy panels for windows
​Rainfly only covers the roof, so it's not great in a storm
Ozark Trail 20 Person Cabin Tent – Best 20-Person Multi-Room Tent
If you want to have all the luxuries of a cabin without sacrificing your quality time in the great outdoors, the Ozark Trail 20 Person Cabin Tent just might be for you. This massive tent can accommodate up to twenty people in their sleeping bags, or an astonishing six queen-sized airbeds, making it the perfect shelter for your large group camping trip.
Built specifically to provide ample amenities for your camping experience, the Cabin Tent has three entrance doors so everyone can easily get in and out without having to crawl around their friends at night. Plus, three removable room dividers help you customize the Cabin Tent to perfectly suit your needs.
With the ability to turn this huge, 283 square foot tent into a four room cabin, you can make sure everyone has the privacy they need while you're enjoying time in the outdoors. With two gear hammocks and four convenient pockets, it's even easy to keep everyone's gear organized to maximize your living space in the Cabin TEnt.
An attached mud mat at the entrance helps reduce the amount of dirt that gets tracked into the tent, too. At the same time, eight large windows and a mesh roof allow for plenty of ventilation on those hot summer days.
Oh, and a large bathtub-style floor with taped seams and bound fabric means this tent will keep your gear dry, even on wet ground. What more could you ask for?
More : Learn More About Tent Type
Things We Liked:
​Can create up to four rooms with removable room dividers
​Three doors make it easy to get in and out of the tent
​Gear hammocks and pockets keep gear organized
​Mud mat at the entrance to reduce dirt in the tent
​High 83" center height for maximum livability
Things We Didn't Like:
​Takes 20 minutes or more to set up
​Very heavy
​Fly doesn't cover the whole tent, so there are some waterproofing concerns
POD Tent Maxi Elite – Premium Multi Room Tent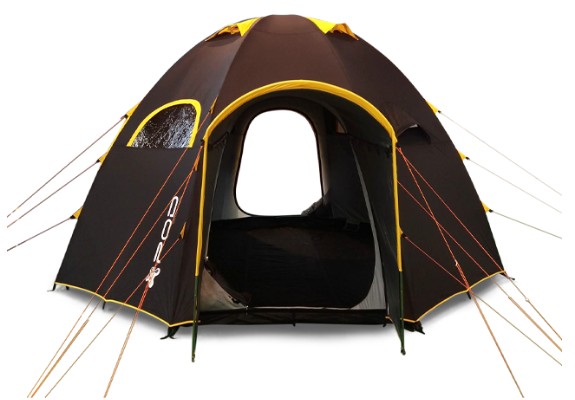 The ultimate in customizable outdoor living, the POD Tent Max Elite is set to revolutionize how we enjoy time outside. This tent is part of a larger modular system, where you can buy whatever you need to create a social outdoor living space like no other.
With the POD Tent Maxi Elite, you get a 16.4-foot diameter circular tent with an 8.85 ft center height that can sleep up to eight people in an open living space. Or, if you'd rather have some more privacy, you can set up the internal divider to make a second room.
This tent is easy to set up, thanks to its 8 identical poles and central 8 fingered attachment point for a simple pitching procedure. The best part about this tent? You can get multiple PODS Tent Maxi Elites and connect them at the door to create a network of tunnels to each tent.
With the POD Tent Maxi Elite, you can have a social gathering, even in foul weather. On a group camping trip, you can enjoy a nice dinner in one tent before each group retreats to their own sleeping shelter for the night. That's pretty awesome.
Things We Liked:
​Modular system means you can completely customize the tents to meet your needs
​Large 8.85 foot center height
​16.4 foot diameter circular tent with options to convert into two rooms
​Can sleep up to eight people
​Fully waterproof with a great rainfly
Things We Didn't Like:
​Very expensive
​Takes 20-25 minutes to set up
Buying Guide
Finding the right multi room tent for your camping needs is no walk in the park. With so many different options to choose from, it's easy to feel overwhelmed. So, to help you out, here are some of the top things to consider when buying a multi room tent:
The advantages and disadvantages of multi room tents
Multi room tents have become more and more common among outdoor enthusiasts, thanks to their plentiful space and ease of use. However, like all good pieces of gear, multi room tents have their advantages and disadvantages. Here are a few:
Benefits of using a multi room tent
The main benefit of a multi room tent is, quite simply, the divided rooms. These divided rooms allow:
The different people in your camping group to go to bed at different times. This lets everyone maintain their own unique routine for a more comfortable and personalized camping experience.
Everyone to keep their gear more organized. With multiple rooms, people have more space to organize their belongings, helping to avoid the mess of gear that usually ensues while camping.
More privacy for everyone. The multiple rooms in these tents provide ample amounts of privacy, which can be important for older children and adults. This is especially important if you're camping with another family.
You to still take shelter if your tent is leaking. If a multi room tent starts leaking, you'll probably be able to move to another room and avoid getting wet.
Disadvantages of using a multi room tent
While multi room tents are awesome, they do have some important disadvantages that we ought to note before you head out:
Multi room tents tend to be relatively unstable in the wind. This is thanks to their high profile, which makes them act like a bit of a sail when a storm rolls in.
These tents are often very heavy. All of those rooms come with a lot of materials, which means a heavy tent to lug around. Thus, these tents aren't really practical for backpacking, only car camping.
The highest quality multi room tents are often incredibly expensive. But, you often get what you pay for when it comes to tents, so this extra cost just might be worth it.
Multi room tents often take a long time to set up. Generally, multi room tents are easier to pitch with multiple people, but if you are camping with a lot of young children, you might have a hard time finding someone to help you!
Now that you understand the advantages and disadvantages of a multi room tent, here are some of the key features to look out for:
Capacity
One of the most important things to consider when buying a tent is its capacity. If you buy a tent that isn't large enough for your group, people will feel squished and have a less enjoyable overall experience.
Tent capacity is almost always expressed in terms of the number of people a tent can reasonably be expected to fit. So, a 6 person tent would be able to sleep 6 people.
However, many people find that the capacity rating on a tent just isn't as comfortable as they would like. More often than not, these capacity ratings leave little room for gear storage, which can be important on a family camping trip.
Additionally, many larger multi room tents list their capacity in terms of people and/or queen-sized air beds. So, if you're the type of camper that prefers to sleep on an air bed, you'll have less room for people inside your tent.
Our advice? Choose the multi room tent that has a capacity just higher than what you actually need. This will allow you to sleep comfortably and store your most important pieces of gear.
Number of Rooms
With a multi room tent, one of the most important features is, well, the number of rooms. Depending on the tent you buy, you may get a shelter with just two rooms, or you may have a 5 room tent.
The number of rooms you need in your large tent really depends on how many people you're camping with and how much privacy you're used to. If you're looking forward to giving the kids their own space but you also want all the adults to have their own rooms, you're going to need a bigger tent.
That being said, tents with a large number of rooms will cost you a pretty penny. So, if you're looking for a particularly spacious multi room tent, be prepared to pay up.
Extra features
Multi room tents are made to be comfortable, so it should be no surprise that many of them come with a selection of awesome features. Perhaps the most popular feature is a screen porch, which provides campers with a nice place to relax outdoors without being exposed to the bugs or the rain.
Additionally, many multi room tents have large screen windows with zippered panels for extra natural light or even a sunroof to brighten things up during the day. Of course, be prepared for a hefty price tag on any tent with these features.
Waterproofing
A tent's main purpose is to protect you from the elements. Thus, all good tents should be fully waterproof and ready to shelter you from a torrential rainstorm.
However, many larger tents provide less waterproofing in exchange for a cheaper price or added ventilation. Unfortunately, this means that you're at a higher risk of getting wet at night and having an uncomfortable camping experience.
Our advice? Look for a tent that's highly waterproof, unless you live in the desert.
The best tents will have a strong, durable ripstop nylon rainfly to protect you. These rain flies will be fully seam sealed and treated with a DWR (durable water repellent) to stop water from soaking through the fabric.
Wind Resistance
In addition to protecting you from the rain, a good tent should provide ample shelter from the wind. The wind is very good at blowing away your body heat, so long term exposure to strong winds could lead to hypothermia, even in relatively warm conditions.
However, many large multi room tents are particularly susceptible to the wind because of their large height and less-then-stable frame. Thus, many people find that their multi room tents get damaged in a wind storm, even if they pitched them well.
The trick is to find a tent that's built with strong, durable materials and to pitch it correctly. You can try pitching your tent in a naturally sheltered area, such as in a stand of trees or behind a large boulder to protect it from the wind.
Ventilation
No one likes feeling hot and sweaty, which is why many of the best tents come with plenty of ventilation options to help keep you cool at night. A significant number of multi room tents have large mesh windows that can be zipped closed to keep you warm on a chilly night.
Others make use of a large mesh inner tent, which allows plenty of airflow without exposing you to the elements. Regardless of what kind of tent you buy, it's important to make sure you'll get plenty of ventilation to avoid condensation on the inside of your shelter.
Ease of Set Up
Pitching a tent is often the least favorite part of many people's camping experience. Many tents are unnecessarily tricky and annoying to set up, which means you spend more time trying to place a stake than you do enjoying the great outdoors on your trip.
Thankfully, there are plenty of easy to set up tents out there that make pitching a walk in the park. Generally speaking, tents with fewer poles will be easier to set up, but this isn't always the case. Additionally, some tents can set up on their own, but you'll often pay a premium for this feature.
Materials
The materials that a tent is made of can have a huge impact on the long term durability and quality of the shelter. Tents that are made from high denier ripstop nylon are going to hold up better in tough conditions than tents made from cheaper fabrics.
The same is true when it comes to poles. High-quality aluminum or carbon poles are, quite simply, going to hold up better than their low-quality counterparts.
Of course, you'll pay more for these high-quality materials, but if the tent lasts longer, wasn't it worth it in the end?
Weight
If you spend most of your time car camping, you might not care too terribly much about the weight of your tent, but when it comes to multi room tents, weight is important. These tents tend to be quite large, so you want to be sure that you're not getting a tent that's too heavy for you to transport.
With some multi room tents tipping the scales at closer to 50 pounds, you won't want to overlook the weight of your shelter. Generally, the larger the tent, the more it will weigh, but weight is also a factor of the quality of materials and the efficiency and simplicity of the tent construction.
Packability
With large tents, like a multi room shelter, packability is always a concern. Even though you're probably not transporting these tents in a backpack, if a tent is excessively large, you might have trouble fitting it to your car along with all of the other gear you need.
Thus, when we buy a tent, we always want to be mindful of how well it packs. Often, tents will come with an included stuff sacks, so take a look at this to get an idea of how big the shelter is when you pack it. If it's too large, it might spell trouble for you down the line.
Privacy
It's a common misconception that camping means no personal space. While you do have to sacrifice some personal space in order to sleep in a tent with others, you don't have to give up all of your privacy.
In fact, privacy is where multi room tents shine. While single room tents allow minimal personal space for changing, multi room tents allow you to go into another room to have personal space.
But, not all multi room tents are created equal. Although a tent may claim to be "multi room," it may not have privacy dividers to physically separate the rooms.
Plus, some tents even have mesh windows with zippered fabric panels to offer you extra ventilation or privacy whenever you need them. What more could you want?
The Verdict
At the end of the day, you're only going to take one multi room tent with you on your next camping trip, so it's important to pick the right one. If we had to choose just one of the amazing multi room tents in this review, we'd have to go with the POD Tent Maxi Elite.
The POD Tent Maxi Elite really wowed us with its unique and revolutionary modular system, which completely redefines how we camp outside. With the ability to turn a single tent into a two room abode or connect as many PODs together to create a social shelter area for a large group, the POD is an awesome multi room tent. Plus, it's fully waterproof, so you never have to worry about getting hosed in the rain.
What more could you ask for? Happy camping!