Imagine this: you're camping out under the stars, and you start to feel drops of water hit your face. The wind picks up, and you see a crack of lightning. At this point, you probably wish you had a tent. A proper high-quality Types of Tents can protect you from the wind and the rain, all while insulating you from the cold.
Plus, a tent can keep you away from mosquitos, ticks, snakes, and other critters while you sleep. So, a tent is an integral part of any camping gear list.
But, with so many different kinds of tents out there, how could you possibly know which one is right for your needs? To make things easier for you, we've got the ultimate guide to the different types of tents for camping. Here we go!
Types of Tents
1. Dome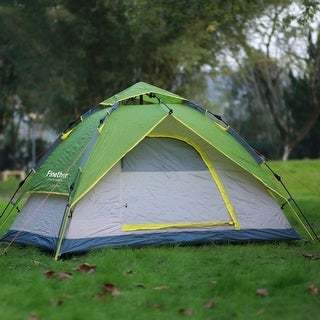 A dome tent is a tent that's designed to be in the shape of, well, a dome. Most dome-shaped tents feature two to three poles, with two of them crossing to create a half-dome appearance.
Often, there is a third pole designed to prop up the rain fly for a larger vestibule space in a dome tent. Most dome tents have a rectangular floor, and they come in a variety of sizes.
For the most part, dome tents are simple and easy to set up. They are available in many different styles, including lightweight options and the more spacious car camping varieties.
Many dome tents are built of quality materials that can hold up in strong winds. Additionally, the design of the dome tent makes it an excellent choice for stormy conditions.
Plus, a dome tent can be freestanding, which means that it can be pitched without stakes. But dome tents have sloping sides, which can feel constraining when you're inside. here is one of best dome tent the Coleman Dome tent
Pros
​Simple and easy to set-up
​Fairly strong in stormy conditions
​Can be pitched without stakes
​Can have a large vestibule
​Cons
​Often a heavier option
​Sloping sides can feel constraining
2. A-Frame and Wedge Tents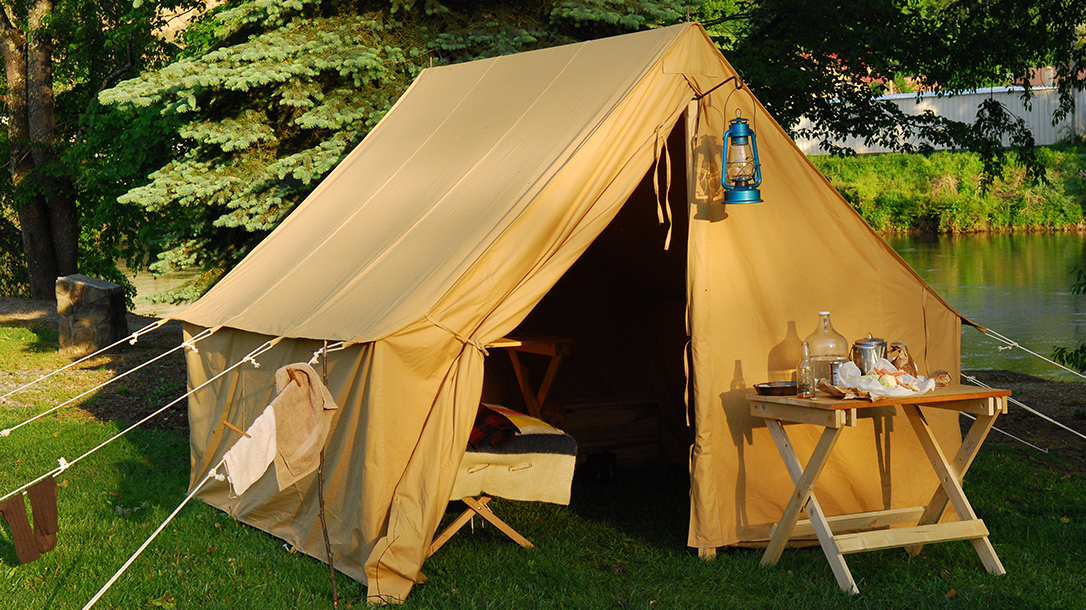 When most people think of a tent, they think of an a-frame tent. A-frame tents are those traditional ridge tents with a triangular (A-shaped) frame.
These tents have rectangular floors and steeply sloping sides. Unfortunately, these sloping sides can minimize the amount of livable space in your tent.
However, steep sides to make it easier for rain and snow to slough off of your tent in a storm. Plus, a-frame tents are usually pretty hearty in foul weather.
​Pros
​Simple assembly
​Great in the rain and snow
​Holds up well in a storm
​Cons
​Relatively small amount of headspace
​Often fairly heavy
3. Geodesic and Semi-Geodesic Tents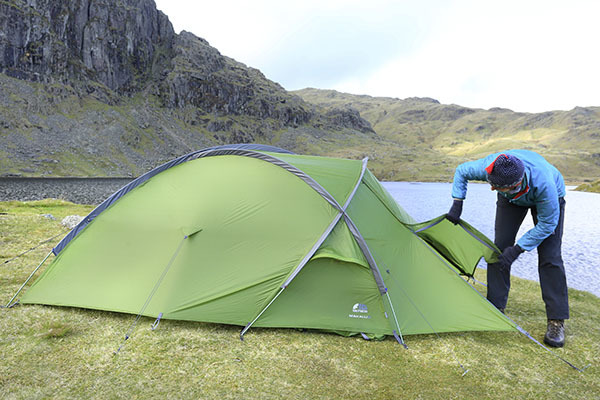 A geodesic or semi-geodesic tent works on the principle that the more poles that cross each other, the better. Generally, crossed poles are solid, so a geodesic tent features many (think 4-8) crossed poles for added strength.
These tents are very popular among mountaineers and family car campers, alike, because they provide lots of livable space and a strong foundation. Geodesic tents are often made from some high-quality materials and, as such, tend to be expensive.
Usually, the best geodesic tents won't hold more than four people as the larger options tend to be less stable. But, if you need a shelter that can hold up in nearly any conditions, the geodesic tent just might be for you.
Pros
​Sturdy in high winds and big storms
​Generally very durable
​Lots of livable space
​Cons
​Difficult to set up
​Expensive
​Not great for large groups
​Can be very heavy
4. Backpacking Tents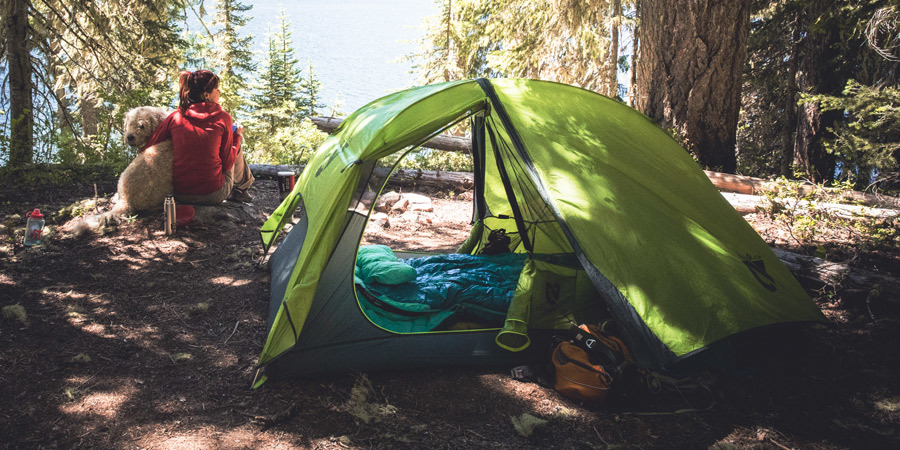 A quality backpacking tent is lightweight and compact, so it's easy to carry in a pack for days on end. Usually, backpacking tents are strong and durable to weather any storm.
These days, backpacking tents come in many designs, but the dome tent style is one of the most common. A backpacking tent will often be made with very high-quality materials to reduce the overall weight while remaining durable.
Often, this means backpacking tents are reasonably expensive, though they're worth every penny. Some, depending on their rating, are better for three-season use, while others can be used in the winter. Here you can find our list for best backpacking tent under $100.
Pros
​Lightweight
​Compact
​Durable
​Made from high-quality materials
​Cons
​Expensive
​Generally very small
​Not ideal for car camping
5. Multi-Room Tents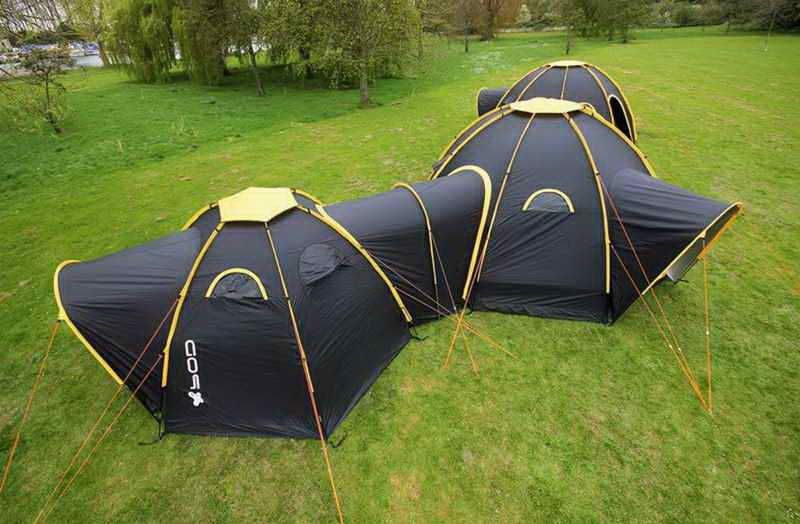 A multi-room tent is one of the best options for families and large groups. Aptly named, multi-room tents have a number of different rooms to ensure that everyone has their own space.
Often, a multi-room tent will have a cabin or tunnel shape, with plenty of space to stand up in. Sometimes, they have several entrances and interior room dividers to maximize privacy inside.
That being said, they are usually very heavy and bulky. Plus, Multi-room tent doesn't handle bad weather very well, so they're best for fair weather car camping trips with the family.
Pros
​Plenty of room for personal space
​Interior room dividers for privacy
​Tall enough to stand up in
​Cons
​Heavy
​Cheaply made
​Bulky
​Not great in a storm
6. Beach Tents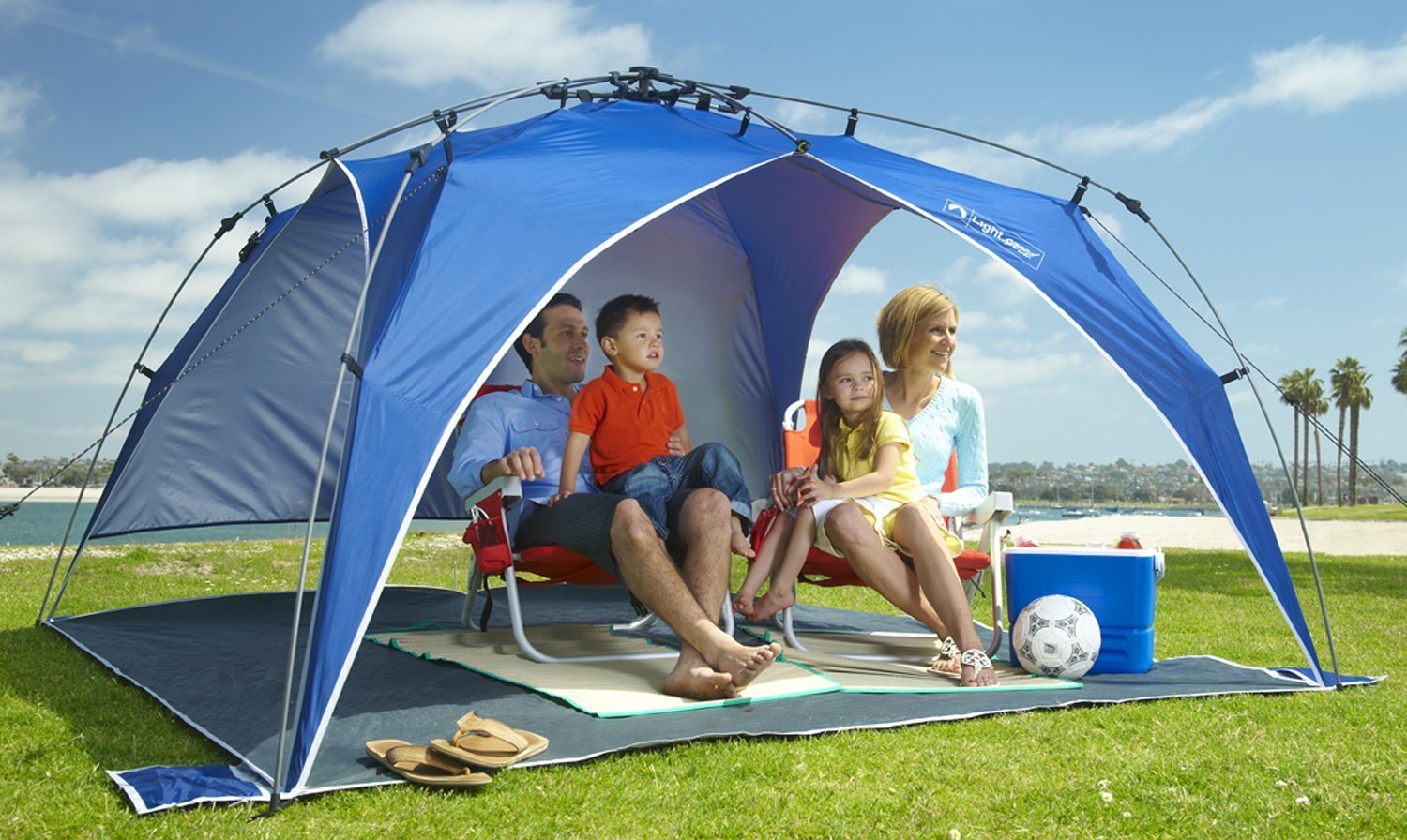 Although tanning in the sun is a highlight of any beach trip, sometimes, you need a break in the shade. With a beach tent, you can retreat to shelter whenever you need to.
Beach tents come in a variety of shapes, including dome or geodesic. Some beach tents look a lot like a camping tent, while others don't offer full protection from the elements.
The main point of a beach tent is to provide some shade from the sun and wind. So, you shouldn't expect them to hold up well in the rain or a storm. Here is the Best Beach Tent.
​Pros
​Provide protection from sun and wind
​Generally easy to set up
​Often come with windows
​Cons
​Not designed for camping
​Often not waterproof
7. Hammock Tents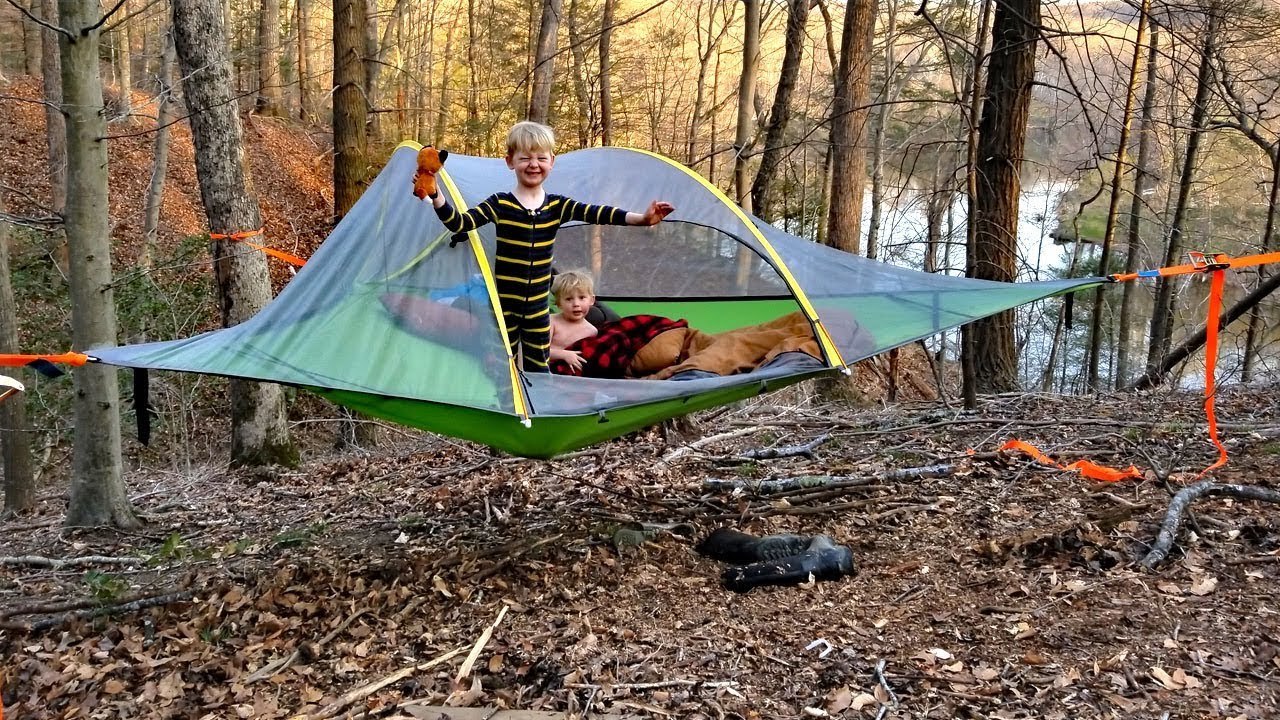 Hammocks are a great alternative to traditional tents as they keep you off of the cold, wet ground. However, hammocks often expose you to the wind, rain, and bugs of the great outdoors.
But what if you could enjoy the wonders of a hammock without the downsides? Enter: the hammock tent.
A hammock tent is basically a small tent that's suspended off the ground as a hammock could be. These tents are great for inopportune campsites with nowhere to pitch a tent.
Often, a hammock tent has some bug net and rain fly that can pitch over a hammock to protect a camper at night. They are best for single campers who like to hammock in any conditions.
​Pros
​Converts hammock into a pseudo-tent
​Easy to set up
​Built-in bug net
​Protects from the rain
​Maintains comfort of hammock
​Lightweight
Cons
​Hard to find
​Only sleeps one
​​8. Cabin Tents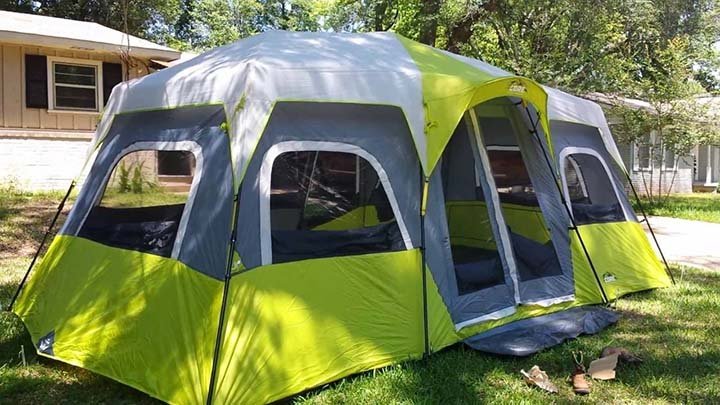 A cabin tent is the closest thing you'll get to a cabin when you're sleeping under the stars. These tents usually feature aluminum poles and a large multi-room design, which makes them look a whole lot like a cabin.
Cabin tents have a lot of livable space and are often tall enough to stand up in. However, cabin tents don't usually hold up well in bad weather and aren't always the highest quality.
They do tend to be cheap, though, and with so much space, are an excellent choice for family car camping. Here is The Best Cabin Tent.
​Pros
​Very spacious inside
​Relatively cheap
​Have multiple rooms
​Tall enough to stand up in
Cons
​Often very heavy
​Usually made with cheap materials
​Can be tricky to set up
9. Pop-up and Instant Tents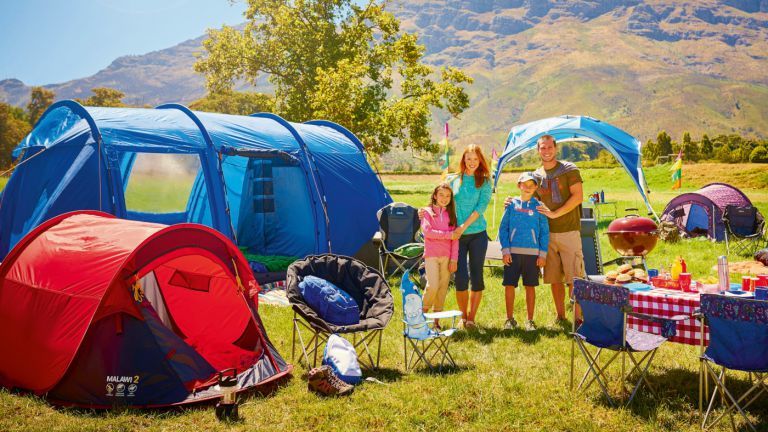 If you need a tent set up quickly, a pop-up tent might be one of your best options. Designed to literally pop-up, a pop-up tent needs to be taken out of the bag, and it'll spring into place.
These tents are very easy to set up, but they are almost always very cheaply made. They usually can't withstand any kind of bad weather and are very unstable, especially in the larger sizes.
But, if you need an easy-to-set-up tent for a few nights at a music festival, it's hard to beat a pop-up tent.
Pros
​Instant set-up
​Cheap
​Can be very large
Cons
​Unstable
​Can't handle foul weather
​Poor quality materials
10. Inflatable Tents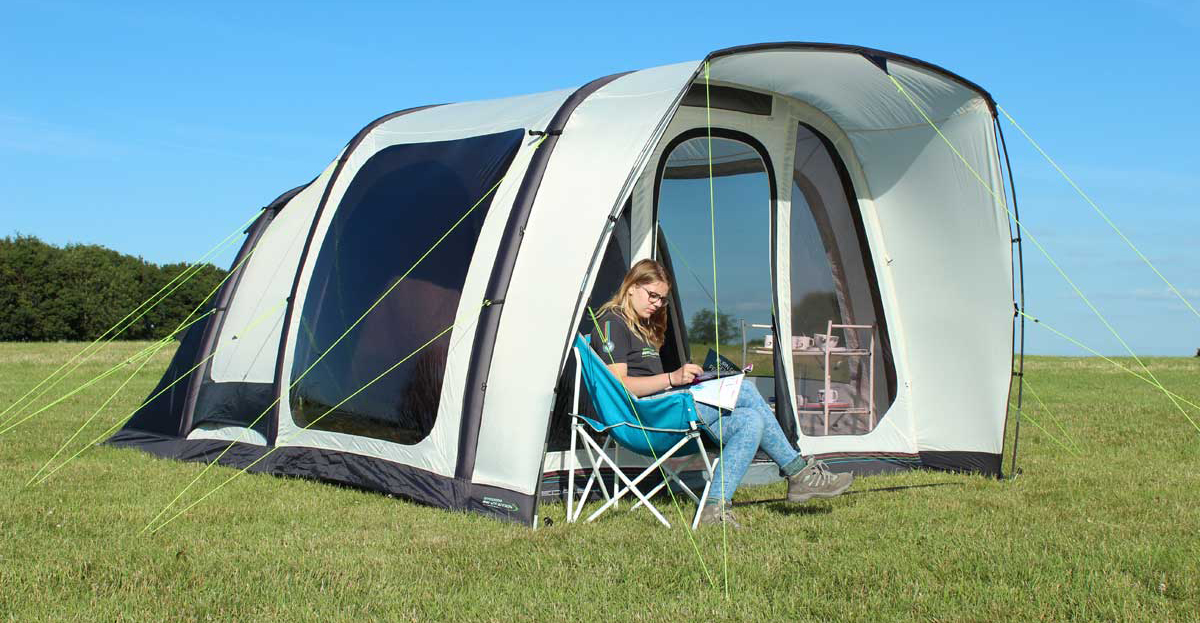 Inflatable tents are a new kind of tent that has recently revolutionized the camping market. While you wouldn't want to take an inflatable tent with you in the backcountry, they can be useful when you need to pitch a shelter quickly.
Music festivals and overnight car camping trips are both good places to try out an inflatable tent. They come in all sorts of shapes and sizes, so it's not difficult to find one for your needs.
The main advantage of an inflatable tent is the quick set-up and their packability. However, inflatable tents can pop, rendering them useless, and they don't work in windy conditions.
But inflatable tent technology is constantly changing, so perhaps their design will improve with time!
​Pros
​Very quick set-up
​Lightweight and packable
​No poles to break
​Many different size and style options
​Cons
​Can pop
​Not good in the wind
​Not practical in the backcountry
​Need to pump it up
11. Car Top-Roof Tents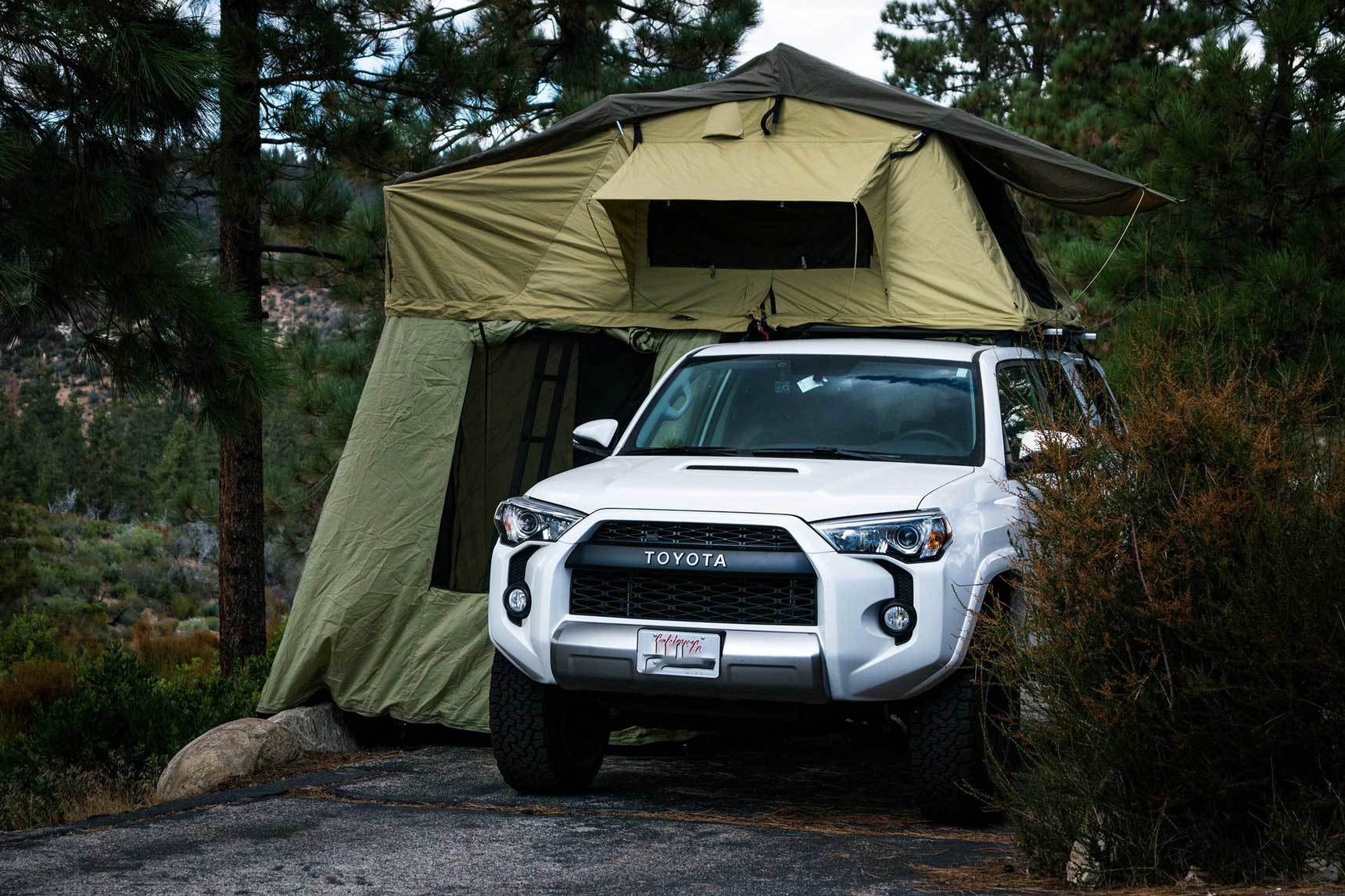 Thanks to the advent of the American road trip, car top tents have improved drastically in quality. These tents, as you can imagine, are built onto the roof of your car.
Car roof top tents offer you the same protection as a regular tent while keeping you off of the ground. This is ideal in places with wet ground or with a plethora of dangerous critters, such as snakes and scorpions.
Generally, once you mount the car top tent to your vehicle, they're pretty easy to set up. However, they are very heavy, and you need to make sure that your car can handle your weight and that of the tent.
Finally, you'll need a ladder to get into most car top tents, so don't leave it at home!
Pros
​Keeps you off of the wet ground
​Can set up camp anywhere
​Protection from dangerous animals
​Cons
​Heavy
​Expensive
​Time-intensive to install initially
​Requires a ladder
​Not suitable for all vehicles
12. Tunnel Tents
A tunnel tent is easily distinguishable, thanks to its long, caterpillar-like design. Tunnel tents feature many flexible poles that attach to both sides of the tent and form a tunnel shape in the rainfly.
Tunnel tents require guy lines and stakes for stability in high winds. But, when set-up properly, tunnel tents can handle some pretty bad weather.
Plus, tunnel tents provide lots of headroom for extra comfort. You can also get a tunnel tent with a large vestibule, making them great for longer expeditions.
​Pros
​Great amount of livable space
​Very comfortable for larger groups
​Strong in the wind
​Simple to pitch
​Cons
​Heavy
​High-quality models are very expensive
​Not great in the rain and snow
13. Teepee Tents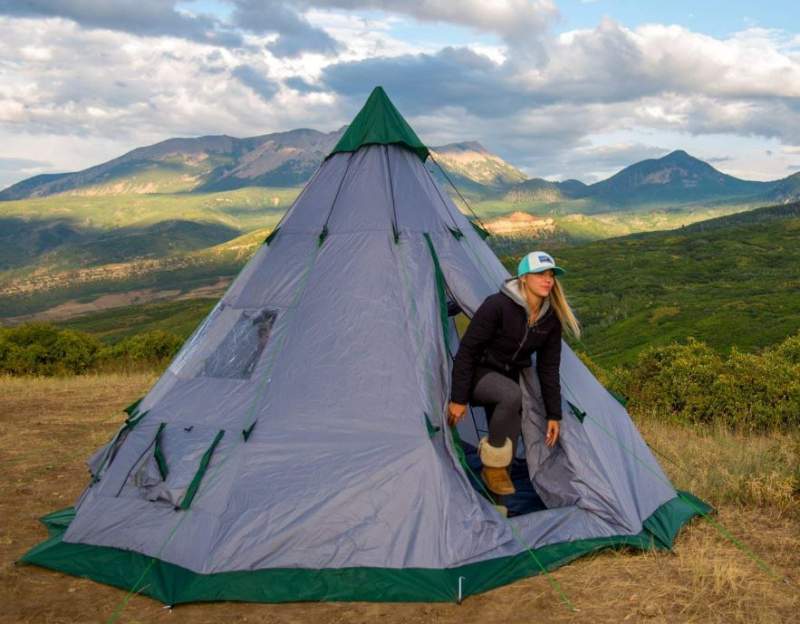 Teepee tents build upon the original teepee design for use during modern outdoor camping. These tents are ideal for semi-permanent camping situations as they are heavy and not very easy to assemble.
​However, they provide a lot a livable space and are tall enough to stand up in. Generally, a teepee tent is best used in a glamping situation, and they are great for use with wood stoves.
Pros
​Offer ventilation from the top
​Can be used with a wood stove
​Tall enough to stand in
​Provide a lot of livable space
Cons
​Usually very heavy
​Not easy to set-up
14. Bivvy Tents/Bivvy Sacks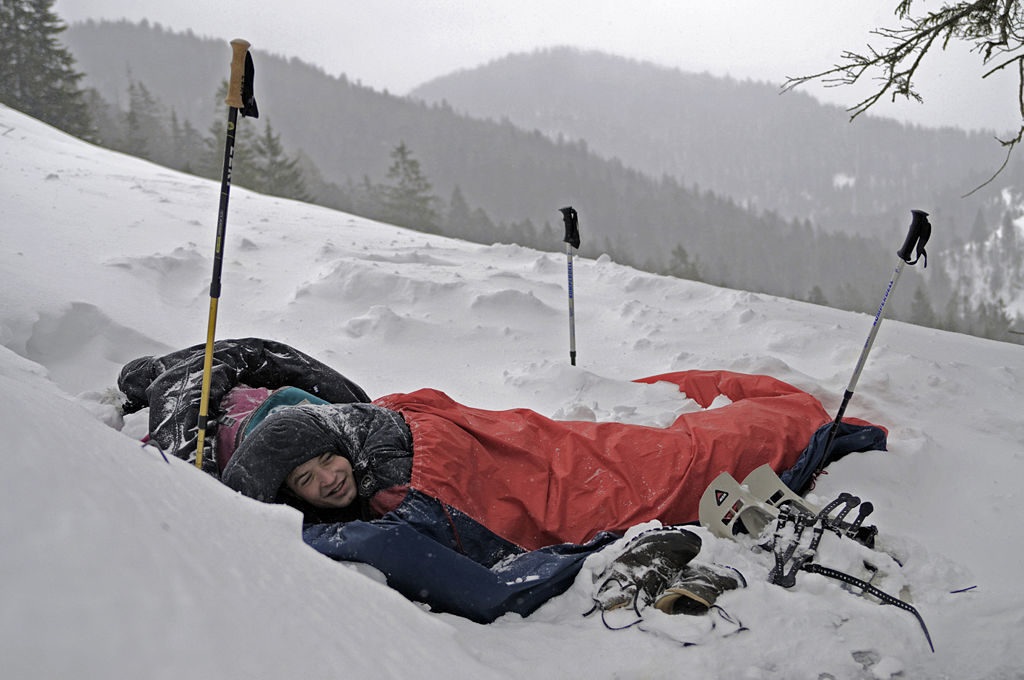 Many climbers and ultralight backpackers opt for a bivvy tent to save weight. These tents are often very tiny, featuring just enough material to shelter a single person from the elements.
Bivvy tents are decidedly low-profile and aren't meant for luxury. They use the lightest, most durable materials possible to minimize pack weight on the trail.
Usually, this comes with an expensive price tag, so this kind of quality doesn't come cheap. Oh, and they're tiny, so they're not recommended for people with claustrophobia. Here is The Best Bivvy Sacks
Pros
​Lightweight
​Very compact
​Great for small campsites
​Cons
​Very small
​Not great for claustrophobic people
​Can only fit one person
15. Canopy Tents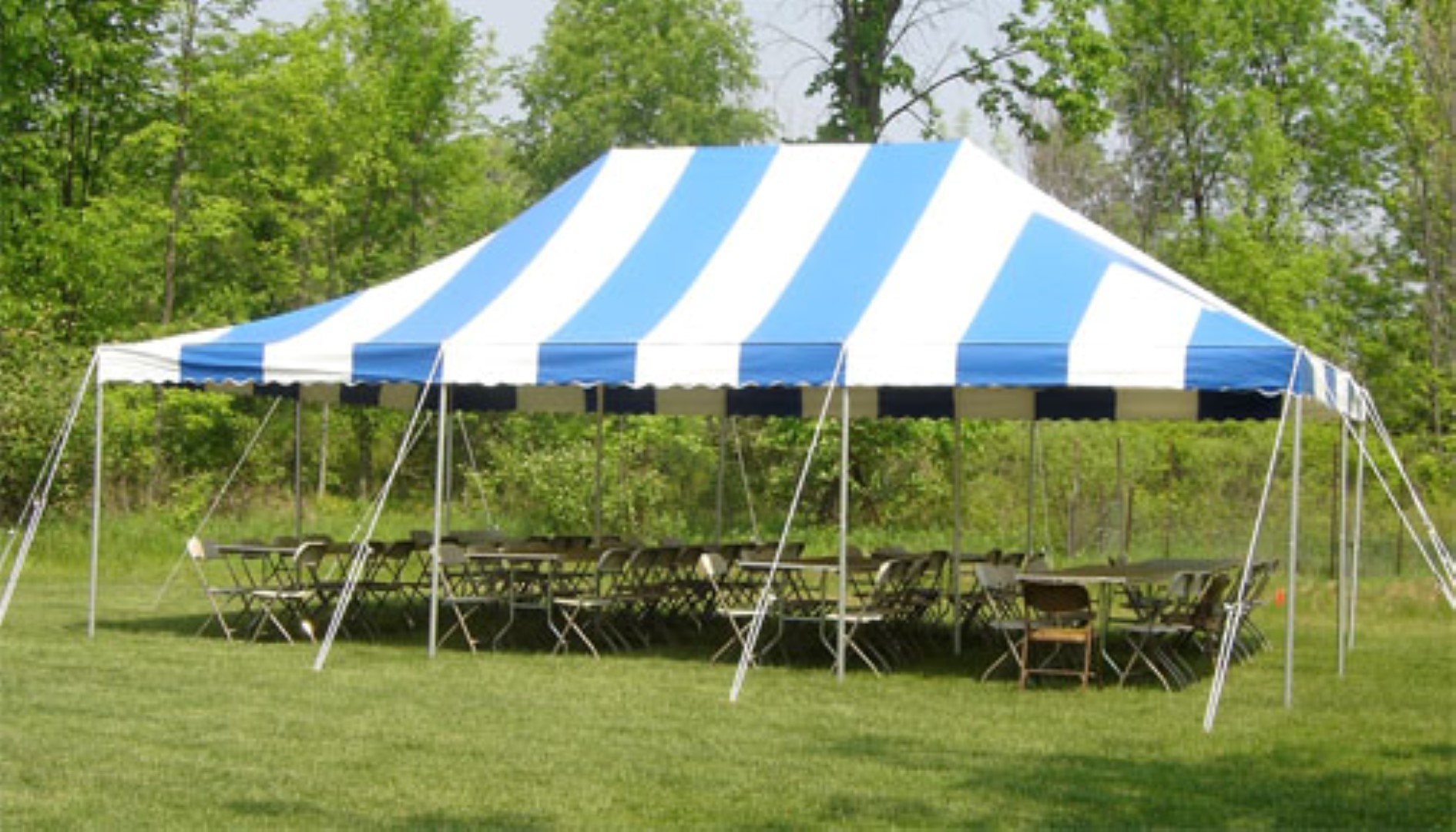 A canopy tent is a very versatile style of tent. They feature a roof and 0-3 sides to protect you from the rain or sun.
Thus, while they won't protect you completely from the elements, a canopy tent can be great as a kitchen or hang-out tent in camp. They usually come in a cabin or dome shape and are easy to assemble.
While most canopy tents are fairly affordable, they are not, however, designed for a storm. Although they can handle rain, high winds aren't great for a canopy tent.
Pros
​Very easy to assemble
​Good as a kitchen or hang-out shelter
​Lightweight
​Protection from the rain and sun
​Cons
​Doesn't protect fully
​Not good in high winds
Tent Features to Consider
Before you decide on a specific type of camping tent, you must understand the different kinds of tents available to you. Even more importantly, however, is that you recognize the different features of tents and why they're important.
Here are the top things to consider when shopping around for a tent:
Use
Perhaps the number one thing that dictates what kind of tent you'll need is the type of camping that you do. For example, the kind of tent you'd want as a backpacking tent in the desert will be very different from a tent for mountaineering in the Himalaya.
Generally speaking, your intended use dictates whether you want to look for a compact, ultralight model for use on backcountry hiking trips. On the other hand, a large, spacious tent might be better suited for a car camping trip.
Thus, whenever you buy a tent, you need to do so with your intended use in mind. While one tent can be used in a variety of situations, you'll likely be happier with several different models for various camping needs.
Weight
Depending on the kind of camping you do, weight may or may not be an essential factor in your tent-buying decision making. While some tents are purposefully designed to be lightweight, others opt for heavier materials that are more durable.
Indeed, lightweight tents are often the least durable options, so they require extra care when in use. Additionally, lightweight tents tend to be the most susceptible to damage in a storm, so you need to be careful when using them.
But, if you're going to carry around your tent on your back, you'll probably want to choose a lightweight, yet durable option. If you're car camping, you'll likely be fine with a heavier model.
Materials
For the most part, all tents are made with similar materials. They usually have some sort of mesh interior for bug protection and a durable nylon floor to keep you off the wet ground.
Additionally, almost all tents have a ripstop nylon tent fly to protect you from the rain. Finally, tents usually require some sort of metal pole system to keep them upright in high winds.
However, some tents use fancier materials, like Dyneema or carbon, to minimize tent weight while maximizing strength. These materials can be awesome for backpackers and mountaineers but will often cost you a pretty penny.
Thus, when deciding what materials to choose for your tent, it's often a trade-off between cost, weight, and durability. Usually, you can only choose two of those three factors for your tent materials, so you need to decide what your tent priorities are.
Capacity
When it comes to tents, "capacity" refers to the number of people a tent can hold. Often this is denoted as a number at the end of a tent name. For example, the MSR Hubba Hubba 2 can hold two people.
That being said, this number doesn't always reflect the number of people a tent can comfortably hold. While, sure, a two-person tent can hold two people, when you add gear into the mix, it's not always a comfortable set-up.
Therefore, if you're the type of person that loves to have personal space, you may want to opt for a slightly bigger tent than you actually need. This does come at the expense of extra bulk and weight, but you might find that it's worth it.
Additionally, you can add extra space to your tent without much extra bulk by getting a tent with a large vestibule. A vestibule is the space between the tent fly and body at the door, which is a great place to store gear and shoes to protect them from the rain.
Thus, if you need more space in your tent, but don't want to carry a four-person tent for three hikers, a tent with a large vestibule might be a good option.
Rating
These days, most tents are rated for the conditions that they are designed to face. Usually, tents are rated as either "three-season" or "four-season" tents. Let's look at what that means here:
3 Season
Three season tents are designed to be warm and comfortable during the spring, summer, and fall months. That being said, they are often well ventilated to allow for camper comfort in the heat of midsummer.
Therefore, most three season tents feature a mesh bug net shelter with a nylon rain fly on top. This system is fairly lightweight and breathable, while still protecting campers from the wind and the rain.
Four Season
Unlike three-season tents, the four-season model is designed for use all year round – even in the winter. Four season tents are meant to be warmer than a three-season model for use during colder conditions.
This means that a four-season model usually has a "double-wall" construction. Double-walled tents typically have a layer of nylon instead of mesh on the inner tent, in addition to a nylon rain fly.
The extra nylon in a four-season tent does reduce breathability and adds weight but keeps you warmer at night. Ultimately, the extra weight and bulk of a four-season tent are only justifiable, however, if you camp a lot in the winter months.
Tent Windows
Many modern tents, especially those for car camping, feature windows that allow you to look out into the beauty of the great outdoors. These windows are great for the stunning views, though they often add weight and bulk to your tent.
Additionally, most tent windows decrease the durability of your tent substantially. So, you may not want tent windows if you camp in harsh environments.
Tent Ventilation
Adequate ventilation in your tent is essential for a comfortable camping experience. Often, three-season tents have more ventilation than four-season tents because of the have plenty of mesh in the tent body.
All of this mesh allows for adequate airflow while also keeping you protected from the bugs. Four season tents, however, feature double-wall construction, which keeps you warm but reduces breathability.
Waterproofing
A waterproof tent is a must-have for any outdoor adventure. If your tent is not waterproof, it will not keep you protected from the wind and the rain during a storm.
Thus, when looking for a tent, you'll want to be sure that the tent fly is made from a durable waterproof fabric. Additionally, this tent fabric should be "seam sealed" so that water can't sneak in through the seams of the fly.
Finally, good tents also feature a durable waterproof floor. This is to keep you dry, even if the ground is wet.
The best tents will have a "bathtub" floor, which features waterproof material that reaches a foot or two up the wall of the tent. This helps ensure that you stay dry, even in heavy rain. here you can find the comprehensive guide to the best waterproof tent.
Tent doors
Tent doors may seem like an insignificant feature, but they greatly affect your tent experience. Some tents have only one door while others have two, or even three.
Generally speaking, the more doors you have, the easier it is to get in and out of the tent. But, every tent door adds weight (thanks to the zippers), so that's a consideration, too.
For a one or two-person tent, one door might suffice. However, for three or more person tents, you'll probably want multiple doors or one large door to make it easier to get in and out.
Tent poles
All tents require some form of tent pole to keep them upright. Tent poles also provide superior stability in heavy winds and rain.
However, some tents have multiple small poles, while others have only one large, beefy pole. The one pole system usually weighs less but can be less stable than the alternative.
On the other hand, having multiple poles increases the difficulty of set-up and the likelihood that you'll lose one of the poles. So, there are pros and cons to each system.
Tent footprints
Some tents come with the option for an additional "tent footprint." A tent footprint is effectively a heavy-duty tarp that protects your tent from the ground.
This tarp is often made from ripstop nylon and helps prevent rocks and sticks from poking holes in your tent floor. It can also keep your tent floor dry, even when the ground is wet.
Tent footprints do add weight to your tent, though, so they might not be ideal for lightweight backpackers. However, they are also great ground cloths for those nights you choose to sleep out directly under the stars.
Tent pockets and hooks
Some tents come with a number of different pockets and hooks to store gear when you're inside. Anyone that's spent time in a tent knows how messy it can get in there, so pockets and hooks can really help.
Many people use tent pockets and hooks to store their headlamp, book, and other small items when they're in the tent. This prevents people from losing these items in the chaos of all the gear.
But, pockets and hooks add weight to your tent, so there's a trade-off for this added organization.
In Conclusion
A tent is one of the best shelters for outdoor living. Whether you need a tent for backpacking or a tent for the beach, there's a model out there for you. Happy camping!