Outdoor adventurists and fix-it-all individuals know that a multitool is quite a handy device. The Leatherman Signal Multitool is an incredibly versatile piece of equipment for nearly any outdoor scenario, from camping and starting fires to backpacking trips and even emergency situations.
Tim Leatherman founded the Leatherman Tool Group in 1983 along with Steve Berliner to design and produce multi-purpose, compact tools that are more useful than a simple pocket knife. Their first creation was the Pocket Survival Tool prototype, the first folding multitool, and featured thirteen different tools.
Since then, the company's designs have evolved, and Leatherman Tool Group has reached vast success and fast growth. In 2015, Leatherman won the "Best of What's New" Award for their innovative designs.
Today, Leatherman Tool Group creates a plethora of multitools styles equipped with knives, wire cutters, crimpers, bottle openers, and more, all included in a compact device meant for everyday use as well as for law enforcement and military personnel.
The Leatherman Signal Multitool is extremely versatile, featuring 19 different tools in a compact body style designed to last many years. We will review the specific tools and other useful device characteristics below in our full Leatherman Signal review.
Pros of the Leatherman Signal Multitool:
Extremely functional with 19 included tools
Long-lasting and reliable, made of durable materials
25-year limited warranty
Made in the USA
Compact size and lightweight
Includes nylon carrying sheath
Cons of the Leatherman Signal Multitool:
Somewhat expensive
No scissors included
Can be hard to open the tools (stiff)
Things to Consider Before Buying a Multitool
Leatherman Signal
READY FOR ANYTHING: The Signal combines everyday functional tools with new outdoor features. With tools like a fire-starting rod and an emergency whistle, you'll be prepared no matter what nature throws at you.
FIT MORE FUNCTIONALITY: A variety of pliers, wire cutters and stripper, knife, saw, hammer, a variety of bit drivers and wrenches, bottle and can openers, carabiner, safety whistle, ferrocerium rod, diamond-coated sharpener, and awl with thread loop.
LET'S BE PRACTICAL: Sometimes you only have one hand to spare. The Signal only requires one hand to open and use all the tools, even the ones that aren't accessible from the outside. And with all locking features, you can multitask with confidence.
ALWAYS ON HAND: The Signal is equipped with a pocket clip and carabiner so it's always within reach and ready for adventure. Clip it on your backpack or in your pocket.
: Our 25-year limited ensures that your Leatherman will give you many years of dependable service. Just send it in and we'll fix it up. All Leatherman multitools are made and repaired right here in the USA.
Because a multitool is designed to take the place of several other devices in your toolbox, you want to make sure that you are getting the best bang for your buck. Before you purchase a multitool, consider what tools and features you will actually use so that you are equipped effectively.
The ideal customer of the Leatherman Signal is looking for a multi-purpose, everyday multitool that can also be used for outdoorsy activities. Suppose you want a multitool with general-purpose tools, such as a carabiner, bit drive, combo knife, sharpener, and more, combined with more specialized tools such as a ferrocerium rod. In that case, the Leatherman Signal Multitool is an excellent choice.
If you are looking for a more specialized multitool (for example, if you want to purchase a multitool to clean your assault rifle), there are other better equipped options for this purpose. For instance, check out the Leatherman Mut, which we also discuss below.
Features & Benefits
Weight, Materials, and Design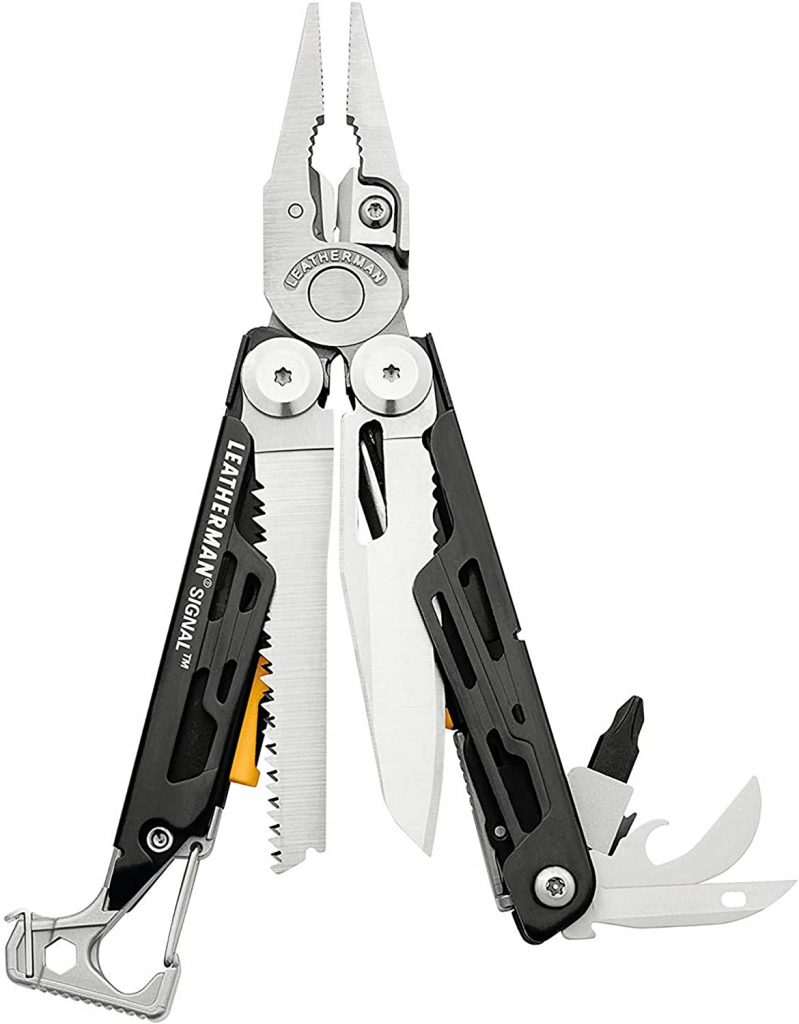 The Leatherman Signal is fairly lightweight as far as multitools go, weighing in at only 212.6 grams (7.5 ounces). It is also quite compact, with a closed length of only 4.5 inches (11.43 cm).
Its lightweight, small stature makes the Leatherman Signal Multitool a great choice for backpacking trips when you want to bring along your trusty multitool without taking up a lot of space or weighing you down. It is a great option for hiking trips or stowing away in your pocket and forgetting about it.
Featuring 420HC stainless steel, the Leatherman Signal is also extremely rugged. This type of stainless steel is reliable and strong, and it also resists rusting over time. Furthermore, knives made of 420HC steel sharpen easily, so the Leatherman Signal's blades will last you longer than standard knives.
More: Leatherman Sidekick Review: Full Features, Specs
For even more durability, the Leatherman Signal Multitool also features a diamond-like carbon coating to prevent corrosion and abrasion. This diamond-like carbon coating has a high hardness level and reduces friction for better performance. There is also a cerakote protective ceramic coating for further strength and resistance to wear.
The Leatherman Signal is designed to be used as an all-purpose multitool with an easy-to-access folding body style. Its one-handed design allows you to open and use any of the tools with ease. Each tool also locks into place for safety, so you can feel secure knowing that the knives or other sharp tools will not open unintended.
The image below shows the Signal's folding, compact design.
Because the multitool also features an integrated carabiner and removable pocket clip, the Leatherman Signal's design makes it easy to transport and access quickly when you need it the most.
Number and Types of Tools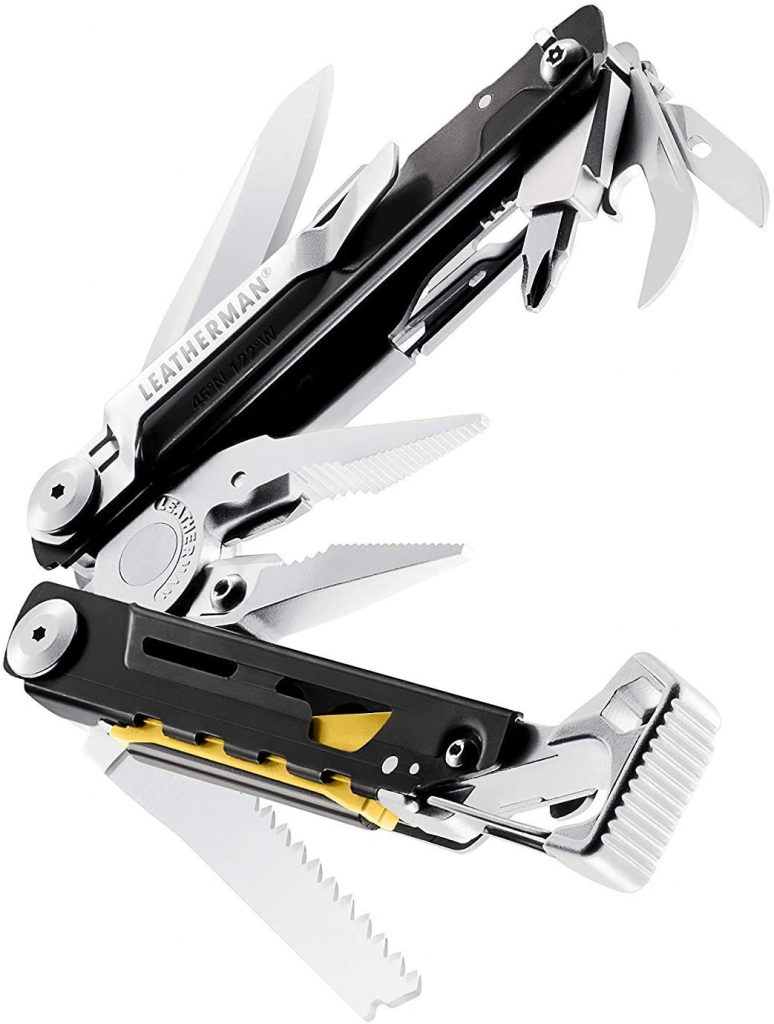 The Leatherman Signal features 19 different tools. Here, we will go over each one in brief detail.
Needle-nose pliers are built with a pointed tip that allows you to more easily grasp tiny objects and hold them in place tightly. There are also regular pliers included for all-purpose use. These tools are very useful for making small repairs or adjustments.
The Leatherman Signal Multitool also features both premium replaceable wire (meant for lighter gauge wires) and hard-wire cutters, meant for thicker electrical hard wires. The multitool also features a wire stripper for removing electrical insulation from wires.
Also included is a 420HC combination knife, featuring both serrated and straight-edged sides. This adds to the versatility of the multitool. The Signal also boasts an open-toothed saw, as well as a functional hammer with a textured grip. There is also a diamond-coated sharpener, which is great for sharpening steel knives or other blades.
More: Best AR 15 Multi-Tool: Best All In One Multi-tool for All Your Need


The Leatherman Signal also has an awl with an included thread loop. An awl is useful for quickly punching holes into wood or leather without damaging the material, and the thread loop makes sewing much easier and faster.
The Signal also includes both a can opener and a bottle opener, both of which are quite useful when on the go. There is also a ¼ inch hex bit drive and a bit driver, which you can customize by inserting different bits. Also, the ¼ and 3/16 inch box wrenches are perfect for adjusting bolts and nuts easily.
A ferrocerium rod is also present. This tool is essential to quickly start fires, especially if moisture is present. This can make the difference between life and death in an emergency situation when you need to get warm quickly.
There is also a carabiner for attaching the Leatherman Signal to your backpack or belt loop to keep it where you can easily access it. Lastly, the Signal includes a safety whistle for alerting others of an emergency.
More: The Complete Review of Kershaw Leek Pocket knife
Leatherman Signal Specifications Table
Feature Type
Feature Specs
What This Means

Weight

212.6 g (7.5 oz)

The Leatherman Signal is fairly lightweight, making it ideal for carrying easily.

Size

2.73 in. blade length (6.93 cm)
Closed length: 4.5 in (11.43 cm)

Its small size makes it easier to transport in a backpack.

Number of tools

19

The Leatherman Signal is rather versatile and can take the place of many other tools that you no longer need to carry.

Other accessories

Carrying sheath included

The Leatherman Signal is even more transportable.

Warranty

25 year limited warranty

The warranty will replace or repair defects to the device within 25 years due to manufacturing or quality control issues. It does not cover any alterations, theft or loss, or unreasonable use of the device.

Retail Price

$90 – 120

The Leatherman Signal is somewhat expensive.
Social Proof
When I was searching for a new multitool, I was looking for a device that would be useful and practical and well-reviewed. So, I scoured the internet and found some user reviews of the Leatherman Signal that seemed rather positive.
Here are some screenshots of testimonials of those who have written about their excellent experiences with the Leatherman Signal Multitool: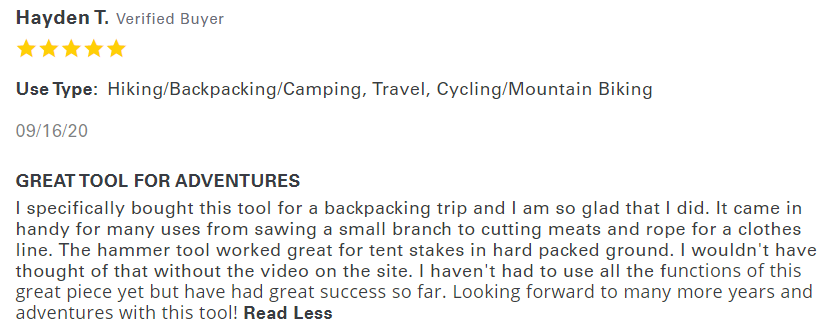 Alternatives
Leatherman Signal vs Wave
The Leatherman Wave is another excellently built Leatherman multi-tool, although it features 18 tools instead of the Signal's 19 tools. Another difference is that the Leatherman Wave does not feature the Signal's removable pocket clip, so it may be slightly less convenient to carry if you prefer that.
The Signal and Wave also differ slightly in their materials. While the Signal is made of 420HC stainless steel with a cerakote and DLC coating, the Wave features a black oxide coating. Both coatings are corrosive–resistant and shouldn't chip.
Both multitools feature everyday, basic tools such as wire strippers, knives, and a saw. The Wave also includes spring-action scissors, an entirely separate serrated knife, electrical crimper, a metal file, and an 8-inch ruler. Still, it does not have the Signal's safety whistle, ferrocerium rod, carabiner, hammer, or awl with thread loop.
Also, the Wave is slightly less expensive than the Signal. The Wave is also heavier at 8.5 ounces, although its closed length is slightly more compact at 4 inches.
If you are looking for another versatile multitool with slightly different tools, check out the Leatherman Wave here.
Comparison
Leatherman Wave has 18 tools (Signal has 19)
Leatherman Wave does not have the pocket clip
Leatherman Signal is 420HC stainless steel with a cerakote and DLC coating
Leatherman Wave is 420HC stainless steel with black oxide coating
Leatherman Wave features scissors, separate knives, electrical crimper, metal file, and ruler
Leatherman Signal has a safety whistle, ferro rod, carabiner, hammer, and awl
Leatherman Wave is slightly less expensive at $99.95.
Leatherman Signal vs Surge
The Leatherman Surge is slightly more complex than the Leatherman Signal, with an included 21 useful tools. It also weighs significantly more at 12.5 ounces, compared to the Signal at only 7.5 ounces.
Both of these multitools feature needle nose pliers, regular pliers, and wire cutters (although the Surge also features stranded-wire cutters). The Surge also has an electrical crimper, while the Signal does not.
Also, the Surge is built with a completely separate serrated and straight knife, while the Signal's knives are combined. The Surge also has scissors, a ruler, and a blade exchanger. Finally, the Surge does not have a hammer, whistle, or carabiner.
Those looking for a more hefty multitool with a few more tools included should check out the Leatherman Surge.
Comparison
Leatherman Surge is more expensive
Leatherman Surge is heavier but the same closed length
Leatherman Surge has 21 tools, while the Signal has 19
Leatherman Surge has electrical crimper, separated knives, scissors, ruler, blade exchanger
Leatherman Signal has a hammer, carabiner, safety whistle
Leatherman Signal vs Mut
The Leatherman Mut is meant for both general use as well as maintaining military gear, as it includes several tools specific for that purpose which are not found on standard multitools like the Leatherman Signal.
These specialized tools featured on the Leatherman Mut include a cleaning rod and brush adapter for attaching firearm cleaning tools, a front sight adjustment accessory, a bronze carbon scraper to remove carbon from the firearm, a firearm disassembly punch, and a bolt override tool meant for an AR-15.
These are all incredibly important tools for proper maintenance and cleaning of an assault rifle.
Like the Signal, the Mut also includes a saw, combination knife, bottle opener, carabiner, needlenose and regular pliers, and wire cutters. The Leatherman Mut is also larger with a closed length of 5 inches and a weight of 11.2 ounces. Note that the Mut is also more expensive than the Signal.
For those who are more firearm-inclined and don't mind a larger, more expensive multitool, check out the Leatherman Mut.
Comparison
Leatherman Mut is more military-purpose than the Signal
Leatherman Mut is larger and heavier
Leatherman Mut is more expensive than the Signal
More: Leatherman Skeletool CX Multi-tool Review: Is it Worth the Price?
Conclusion
A multitool solves the problem of lugging around a heavy toolbox, as it includes enough tools to replace several others in your arsenal, such as screwdrivers, hammers, and various knives. With the Leatherman Signal, all of this and more is available in a compact, lightweight package.
The Leatherman Signal's folding one-handed design makes it incredibly easy to use when you need it most. This multi-functional device is useful in nearly any scenario you may encounter, from starting fires for s'mores in your backyard, to life-altering emergencies when you need to move fast. It is lightweight, compact, and will last for years to come.
If you are looking for a reliable, well-crafted multitool, click here to check out the Leatherman Signal.