If you are a modern outdoorsman, then tools are a must. Thanks to technology, now there is a more handy way to carry all the tools that you need.
Multi-tools are an all-in-one tool that you can take with you on any outdoor trip. They integrate many types of essential tool function that is required during the outing as well as everyday use.
Today, in this article, we will be reviewing one of the most popular and best-selling leatherman multitools – The Leatherman Skeletool CX Multi-tool.
LEATHERMAN Skeletool CX Lightweight Multitool
READY FOR ANYTHING: Let's get back to basics. The Skeletool CX has only the most necessary features, making it the perfect tool for everyday use and carry.
FIT MORE FUNCTIONALITY: Needlenose and regular pliers, hard and regular wire cutters, 154CM knife, carabiner/bottle opener, and large bit driver.
LET'S BE PRACTICAL: Sometimes you only have one hand to spare. The Skeletool CX only requires one hand to open and use all the tools, even the ones that aren't accessible from the outside. And with a locking blade, you can cut with confidence.
ALWAYS ON HAND: With its lightweight design and pocket clip, your Skeletool CX is always within reach and ready to work. Store an extra bit right in the handle for even more capability.
GUARANTEED: Our 25-year limited warranty ensures that your Leatherman will give you many years of dependable service. Just send it in and we'll fix it up. All Leatherman multitools are made and repaired right here in the USA.
Leatherman Skeletool Review
Overview of the Leatherman Skeletool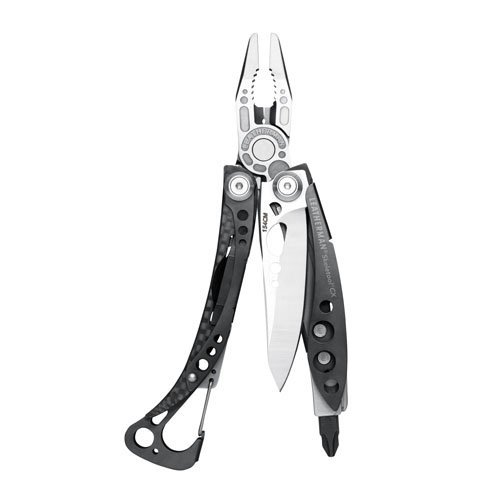 If you have ever owned a Skeletool, then you would know why you'd like the Skeletool CX multitool better.
The Skeletool CX is the premium and advanced model from Leatherman, designed to be smaller, lighter, and more minimal than their other models like Charge or Wave.
It features butterfly-style pliers, a one-handed opening blade, pocket clips, and carabiners with integrated bottle openers. The metal finishing style and the DLC coating frame adds a rich and premium look to this multi-tool.
​Whether it is to act as a bottle opener or to cut a wire, bend a nail, or tighten a screw, Skeletool CX will always be there and ready to help. Carrying too is convenient.
Who is the Leatherman Skeletool Multi-Tool For?
​The Leatherman Skeletool CX is the ideal multi-tool for casual Everyday Carry (EDC) or EDC enthusiasts who are looking to invest in a compact size, reliable, and lightweight multi-tool.
You can carry this multi-tool as you work on small projects in your home and shop. Rather than running for pliers, knife and screwdriver bits, you can just pull this one out.
The Skeletool CX is found to be well-suited for EDC in office environments and laboratories.
Leatherman Skeleton Multi-tool Specifications
The Skeletool CX only has the most necessary features that you need in a multi-tool.
The built quality of the Skeletool CX is quite impressive. The blade locks up rock-solid, with practical design and no loose tools or odd rattling sounds.
The first thing you notice about the Skeletool CX…
…is that it is mostly black. The pocket clip and the handles are anodized in matte black, while, the pivots, blade, and back springs are steel, for a striking contrast.
There are two double-sided bits included with the tool. The one bit is with Philips No.1 and No.2 tips for hard and regular wire cutting, and the other bit is with ¼ in and 3/16 in slotted tips.
It features 7 tools in one, namely:
154CM knife blade
Soft and hard wire cutters
Regular plier tool
Needlenose pliers
Large Bit Driver
Carabiner/Bottle clip
Pocket clip
Leatherman Skeletool CX Multi-tool: Key Features
154CM Locking​​​​ Knife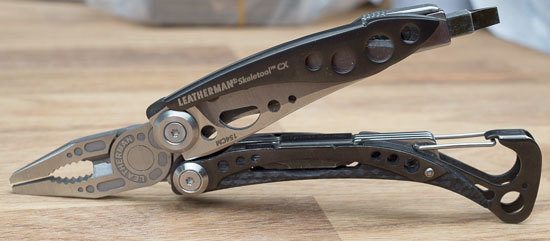 The Leatherman Skeletool is 2.6 inches long, and the blade is made 154CM stainless less. The 154CM stainless steel is high carbon and moderately corrosion-resistant steel that provides better edge retention and toughness.
As a matter of fact…
…the 154CM hold its edge three times longer than the 420HC stainless steel used on the Skeletool CS models or other Leatherman tools and standard Skeletools.
Compared to lesser steels, the 154CM steel stays sharper for longer, though it's not a serrated blade. Also, you can sharpen the blades, but that would require extra effort and the right equipment.
The Leatherman razor sharp knife can be easily used single-handedly.
It can be deployed with the thumb hole and can also be closed with a single hand. When the blade is fully deployed, the 'liner lock' locks the blade into place and needs manual unlocking to fold it away. This offers a safer user experience.
Though not a half serrated blade, it's very versatile in the things you can do with it.
Carbon Fiber Insert and DLC coating
Another unique feature that makes the Skeletool CX stand out from others is its carbon fiber handle insert.
Where regular Skeletool has aluminum inserts, Skeletool CX has a carbon fiber insert which adds an interesting decorative touch to the tool while contributing to the stiffening of the device.
​Furthermore…
…there is a DLC finish in some parts of the tool. The DLC (diamond-like coating) looks decorative, but it's functional too. It is meant to improve the scratch and wear resistance of the tool.
Leatherman Skeletool CX Large Driver with Bit Storage
The Skeletool has a large bit driver that can hold any of the Leatherman's full-size tool bits in place and allow you to use different bits for different jobs.
This is only one of many tools this innovative multi-tool has! There are also pliers, a knife, screwdrivers, wire cutters, scissors, and more – all with easy access.
On the other hand, compared to other tools, you lose one flat head bit while it's replaced by a carbide tip breaker.
Ergonomics and Comfort
Skeletool CX pocket knife is comfortable to hold and use. Although the handles of the tool are not symmetrical, you can hold them in either way.
The length of the Skeletool when closed is 4" which is just right to fit in your pocket. Also, it weighs only 142 g which is even lighter than your Smartphone.
Strong Pliers
Though the pliers are a little shorter than other Leatherman products, still they are large and durable enough for almost every purpose. Due to its smaller size, it can be easily used in tight spaces and smaller working environments.
​Also, it is worth mentioning here about the pliers that the soft wire cutter and the hard wire cutters are phenomenal too. They do the job correctly.
The Carabiner/Bottle Opener and Pocket Clip
The idea of the carabiner clip in this multi-tool is excellent irrespective of how many people use it. And as the feature doesn't add any extra weight to the tool, so it is superior to have this feature.
The pocket clip is curved to have this tool in your pocket all the time without any discomfort.
​Also, this pocket knife can be attached to your belt. And despite being the clip of small size, it will feel surprisingly secure when you'll carry it in that way.
​Pros
​Lightweight
​Sleek and nice looks
​Small size
​Convenient carry options
​Solid and sturdy
​Advanced material like a 154CM blade and Carbon Fiber
​Large driver with bit storage
​Cons
​High Price
​The pocket clip is weak
​Limited function
Customer Reviews
The Leatherman Skeleton CX Multitool has received hundreds of positive reviews due to its durable yet lightweight built.
According to some customers, the multi-tool is small enough to carry all the time. It is pretty much effective to use it for everyday tasks. Though not a partially serrated blade, it's still strong enough for thick objects.
The customers also loved the bottle opener and the pocket clip that makes it convenient to carry the tool without the sheath or box.
​But there are also some customers who are not satisfied with the small size of the wire cutters. Also, some found the pliers a little stiff when using it for the first time.
Frequently Asked Questions – FAQs
Q.1. What is the difference between the Skeletool CX and the regular Skeletool?​
A. The Skeletool CX has a 154CM stainless steel blade, whereas, the regular Skeletool has a 420HC blade. 150CM is better for holding an edge. Also, the CX has a carbon handle insert, making it much lighter than the standard Skeletool.
Q.2. Are the pliers are also 154CM or just the blade?
A. Just the blade is made of 154CM, not the pliers.
Q.3. What is 154CM Stainless Steel?
A. 154CM is high carbon and high-quality stainless steel with the addition of Molybdenum. It is tough and provides better edge retention than standard steel. So, it is a good choice for blades that need a heavier cutting application. It is fairly corrosion resistant and less expensive than BG-42 and S30V.
How to Clean and Maintain your Leatherman Skeleton CX Multitool?
There are many ways to clean your Leatherman CX.
Use water and mild detergent to clean debris and sticky substances from your Skeletool's blades.
But if your tool has been exposed to salt water or marine environments, rinse it with fresh water and air dry it. After drying the tool, apply machine oil to protect your Skeletool CX from corrosions and stickiness.
Price
The price of the Skeleton CX is reasonable compare to high quality multitools. The Skeleton CX have a price range of $70-$100 on Amazon.
Where to get the Leatherman Skeletool Multitool CX?
The Skeletool is available in almost all hobby stores that have Leatherman brand. Also, it is widely available online on Amazon as well as Leatherman's website.
25 Year Warranty
​Another great thing about this multi-tool is that the tool is backed with 25 Year Limited Warranty where the company will repair or replace it if it breaks under normal use. You need to send the tool, and the company will fix it up. All Leatherman multi-tools are manufactured and repaired in the USA.
Final Verdict
Regardless of the price, the Leatherman's Skeletool CX proved to be a phenomenal and recommended choice for many. It is a compact and lightweight multi-tool with just essential features.
Overall…
…it is highly functional for almost all your everyday needs, a perfect tool box staple. Purchase a Leatherman Skeletool CX, and it will instantly become your best buddy, always at your fingertip for help.
Hope our Leatherman Skeletool review helped you with all the information that you need. If you like to find more about other Leatherman tools, check these Leatherman Raber Review, Leatheman Wingman Review, and Leatherman Sidekick Review.