​A multitool is a very light, compact-sized gear that comes handy at all kinds of situations!
Be it during outdoor adventures like camping, hiking, or any light-duty garage or household tasks, a good-quality multitool does a great job in replacing your heavy toolbox. It can handle small fixes, loosen or tighten screws, cut wires and even open bottles when needed.
With heaps of multitool companies pooling around in the market, Leatherman is one of the leading and trusted players out of all! Their Sidekick multitool is a great option for budget-concerned people out there looking for a full-sized tool.
If you're thinking to get yourself an entry-level multitool, this Leatherman Sidekick review will help you make an informed decision.
Let's get to know how:
LEATHERMAN Sidekick Pocket Size Multitool
Your sidekick: A clean and versatile multitool that fits in your pocket and has all the features you need to get projects done
14 tools in 1: The Sidekick is equipped with 14 tools, including knives, pliers, screwdrivers, wire cutters, bottle and can openers, a file, a saw and a ruler
Our guarantee: We're proud to stand behind every product that leaves our factory in Portland, Oregon; That's why we offer our 25-year warranty, so you can be confident your Leatherman lasts a lifetime
One-hand access: Enjoy a mix of outside-accessible blades you can open with one hand and rounded handles that make gripping the spring-action jaws easy and very comfortable
Always on hand: Its compact size and lightweight design makes it easy to slide into a sheath or your pocket; Alternatively, attach your Sidekick with its integrated lanyard ring
Leatherman Sidekick Review
Overview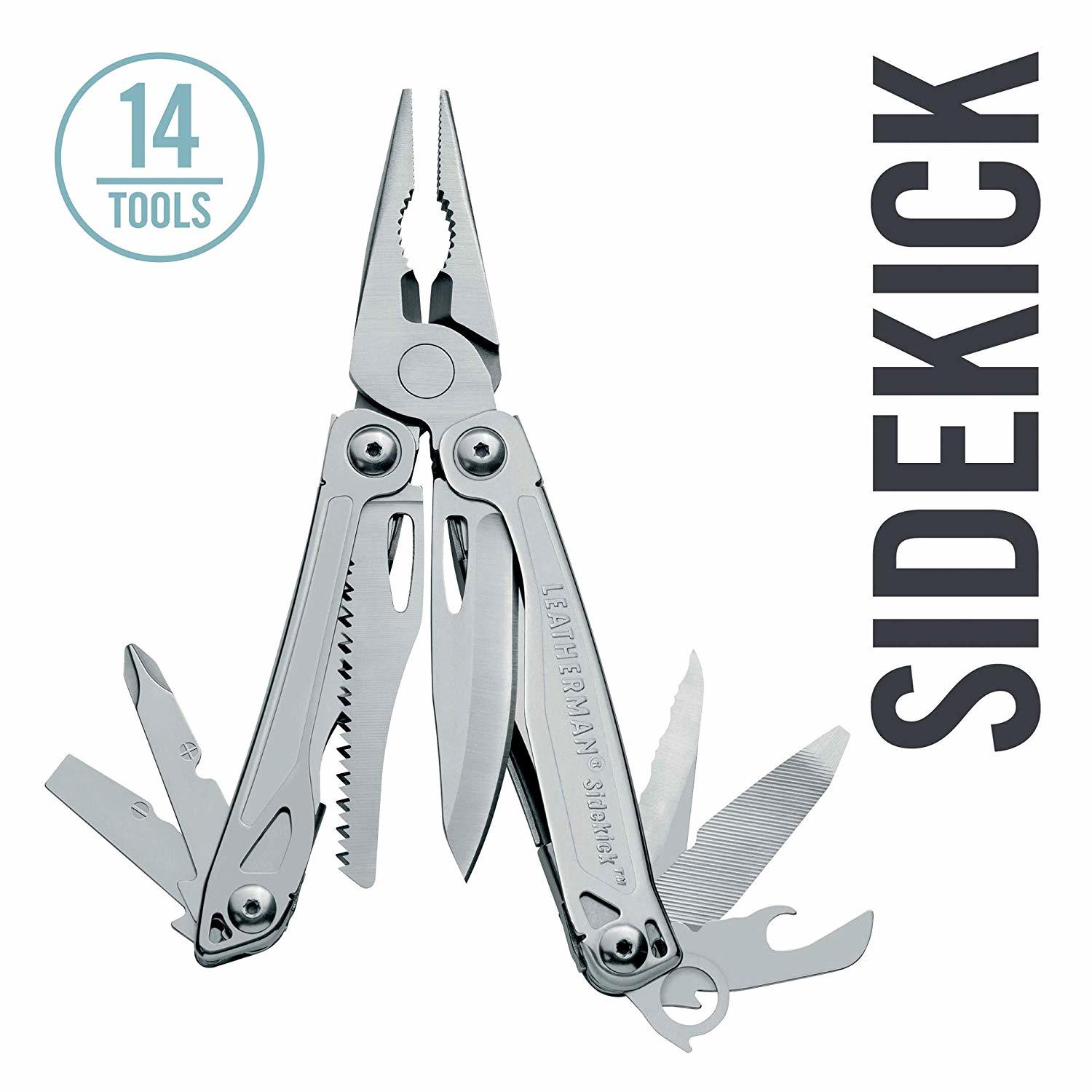 When it is about multitools, we know Leatherman is one big conqueror.
Established in 1983, Leatherman has created myriads of handy, multipurpose tools that swept the market with their performance.
One such innovative, low-priced versatile multitool from Original Leatherman is the "Sidekick."
It retains most features found in Leatherman's high-end multitools while being affordable. And, that's the best thing about Sidekick!
All Stainless-steel built makes it an ideal first choice or a handy backup tool. Anyhow, you just cannot beat its value!
Who is it fo​​​​​r?
Now, Leatherman markets their Sidekick model as it's made for "first-time users."
But really, it is suitable for every budget-minded customer out there, looking for an easy-to-tote, feature-packed multitool.
All in all, this Leatherman multitool is a great option for workers, builders, pioneers, adventurers, problem solvers and just about anyone who wants a handy, pocket-sized multitool.
You can use it during camping, hiking, traveling or just carry it around every day to perform light-duty tasks.
And, 25 years of warranty offered by Leatherman is like a huge bonus!
Leatherman Sidekick Key Features
Build
Made in the USA, the Sidekick feels well-built and extremely solid while handling, despite its low price.
High-carbon HC420 stainless steel construction enhances the strength of the tool and offers longevity.
Silver metallic finish further provides rust-resistance and aids long-lasting use.
With around 7 oz. weight, it is quite light and easy to tote around when you head outdoors. When closed, the multitool compacts down to just 3.8" length.
With 3.8" length, 1" width, 1" thickness, Sidekick feels fairly small and unobtrusive.
To access the pliers, both handles open quite smoothly. All the other tools and knife blade also deploy in one swift motion.
Leatherman's trademark viz. the Mix of Outside-accessible blades makes it easier upon you to open the knife one-handedly.
Ergonomically-designed rounded handles allow easy and comfortable grip around all-new spring-action jaws.
Inside blades lock in place with that reassuring "click" sound so that you can cut with confidence.
Knife and Saw Blade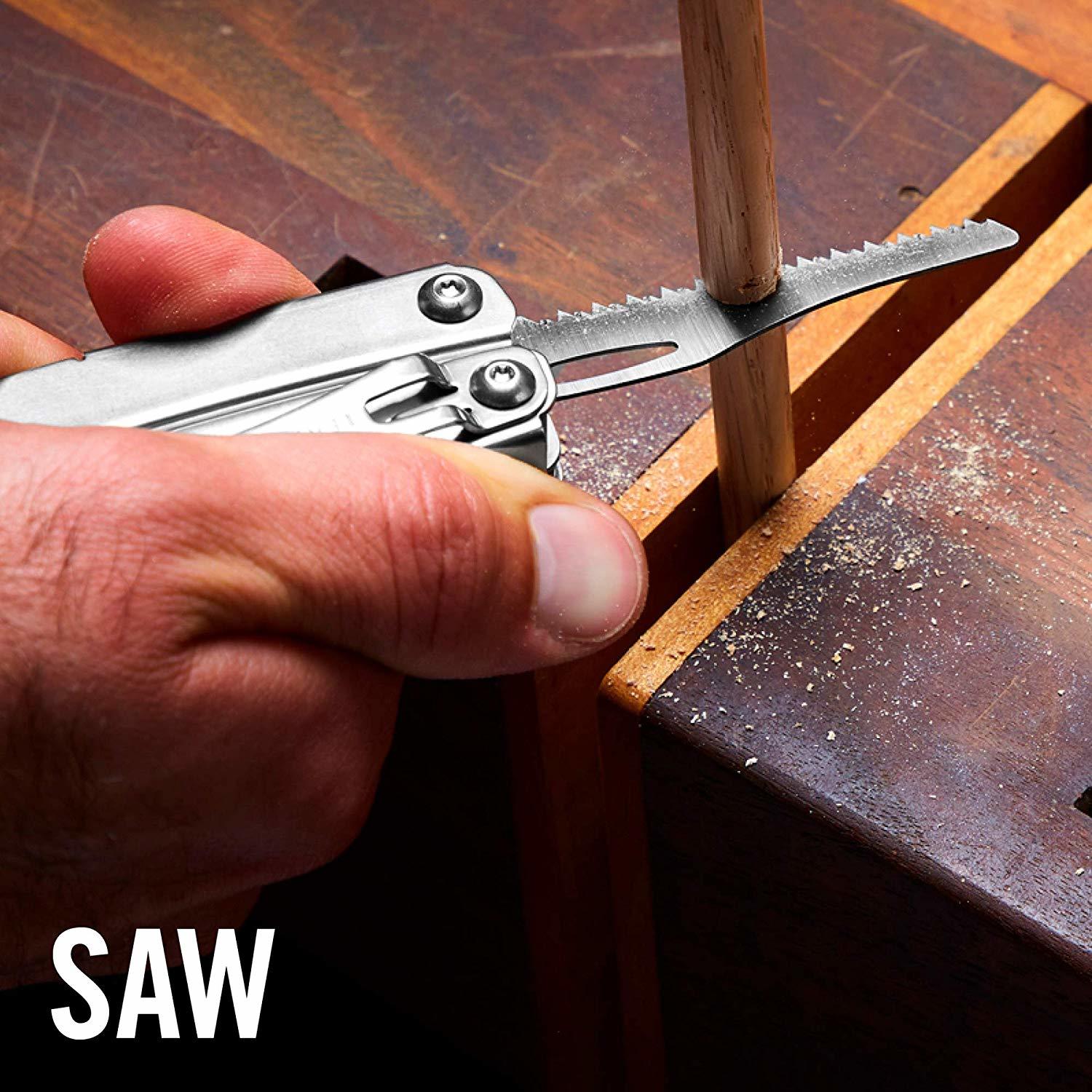 The retractable, sharp-edged knife blade and a saw blade are built right into the outer case of Leatherman Sidekick. That is so they can be readily available for action, whenever needed.
Leatherman has practically designed Sidekick, so you can open the knife blade using just one hand, with the help of elongated thumb-hole.
This plain-edge knife blade is around 2.6" long and entirely made out of 420HC Stainless steel to offer durability.
​On the other hand, wood-cutting saw with liner-lock has an impressive, sleek design. It features sharp teeth and is capable of sawing through tough materials.
Pliers
If you unfold the outer case, it will form the handles of spring-action needle-nose pliers, which also have a niche section for regular pliers.
Spring-loaded action aids the operation of pliers to make it smoother and easier.
Spring-action needle-nose pliers can be used to access narrow spaces or to hold small objects.
Spring-action Regular pliers allow you to grasp and manipulate rounded objects.
Spring-action wire cutter is used to cut through regular-gauge wires and soft metals.
The wire-cutter comprises two cutting edges, meeting at the center. They're not extremely sharp, so the cutter is ideal to slice through small wires but requires effort to cut nylon cables or thick wires. Overall, the cutter is functional and can get its job done.
Both the pliers viz. Needle-nose and regular pliers have well-grooved gripping sections, with no defects or burs. Edges of pliers' handles are rounded and offer firm grip when you squeeze them tightly.
Tools
Inside both the handles, there is an assortment of foldable tools which are to be used for different purposes.
Following tools are concealed within the handle featuring knife blade:
Serrated Knife: There's a short serrated knife inside the handle which can be used to cut a rope, fiber or other such thick objects. This knife blade is also made from heavy-duty HC420 Stainless steel for durable use.
1.5" Ruler: With a 1.5" (3.8 cm) ruler, you can precisely measure and determine the length of objects (in inches or cm).
Small screwdriver: Tip of the ruler has a ⅛" small, flat-head screwdriver, having right shape and size to loosen or tighten small, flathead screws.
Wood/Metal File: The opposite face of the ruler has a file to perform filing or smooth the edges of any wood or metal surfaces. It cannot remove material rapidly but is apt for emergency deburring.
Bottle/Can Opener: Can opener works well enough to open canned goods when in the wilderness. And, the bottle opener is equally handy to pop the cap on your favorite beverage.
Wire stripper: V-grooved wire stripper is sharp and allows you to strip wires of different type and different gauge securely.
Other Handle featuring saw blade comes with following inside tools:
Medium screwdriver: Flat-head ¼" screwdriver is ideal for tightening or loosening flat-head, medium-size screws.
Phillips screwdriver: #2 Phillips screwdriver is extremely functional to loosen or tighten Phillips head screws.
At the back of each tool, there's a "nib" with which you can extract them out using the thumbnail.
Locking Mechanism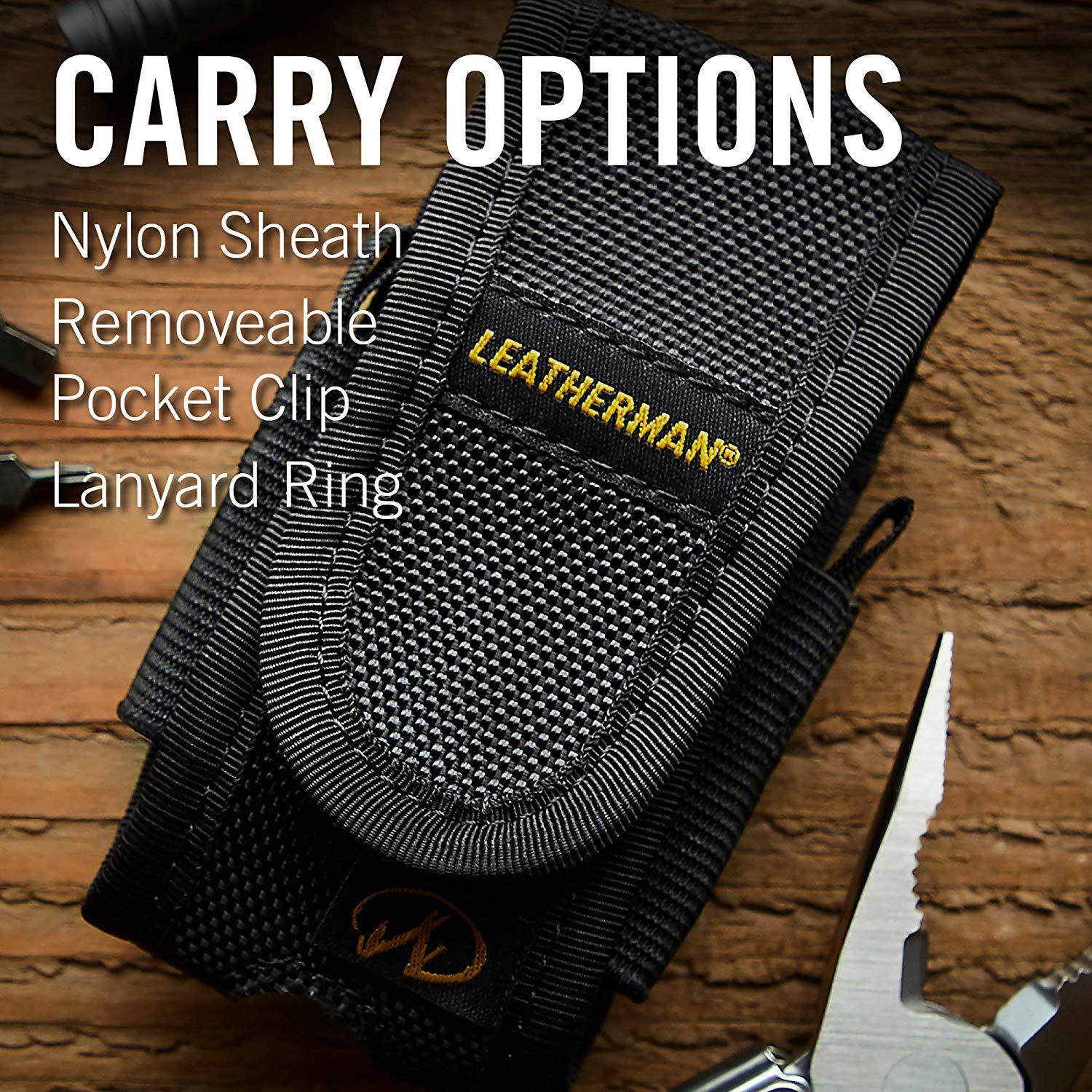 The knife blade and saw blade both lock firmly in place, and you need to press on metal spring tabs to close them. Safety-wise, this is an excellent feature.
But, inside blade and tools only "click" into place via the slip-joint-like system, and they can get closed when knocked with force. These have no manual lever to be pressed for closing. However, none of the tools feel too loose or unsafe to use.
Accessories and Carrying Options
You can choose to wear Sidekick on your belt or pocket via a removable pocket clip provided. It can fit onto belts that are nearly 1.75" wide.
Leatherman includes a Nylon sleeve so you can pack the multitool inside and carry it in your pocket. Or there's also a Lanyard loop provided if you'd like to attach it.
Leatherman includes a mini-carabiner along with the package. The Carabiner in itself is quite nice and functional, as it comes with a ¼" hex wrench and a bottle opener.
​Pros
​Lockable knife and saw blade

​Inner Latching mechanism for inside tools

​Affordable price

​High-quality, Stainless steel build

​25 years warranty

​A thoughtful set of 14 tools

​Smooth rounded handles go easy on your hands and pocket
​Cons
​The ruler is not long enough

​Phillips screwdriver has 2 tiny nubs

​The saw is short and cannot cut anything larger than 2"
Customer Reviews
Customers have highly appreciated the compact, light and ergonomic design of Leatherman Sidekick multitool.
They've liked how the tools are lockable and stay firm in place; nothing feels too unsafe or loose whatsoever.
Many have used the multitool to cut tapes, strip wires and perform various tasks outdoors, in garages as well as home, and it works equally well in all conditions. Few of them feel like it's an excellent tool for everyday carry.
On the downside, one of the reviewers didn't like the fact that the file did not come with a diamond-coated side, instead came with a short, poorly-marked ruler.
Also, few customers have found their Sidekick tool to catch rust just within a few months of use.
FAQs
Q. What is the warranty provided on Leatherman Sidekick multitool? How does the warranty work?
Leatherman Company has backed their Sidekick model with 25 years of limited warranty.
If you happen to break the tool, the company will fix it or replace it for you.
All you need to do is:
Go onto the warranty page
Select a warranty option
Fill the provided form
Send out your Sidekick multitool
All the tools are created and repaired in the USA itself. If you live outside Canada or USA, you need to contact any of the local distributors.
The warranty does not cover theft, alteration, abuse, loss, unreasonable and unauthorized use of the product.
The warranty does not apply to accessories, cover sheath, color finishing, sharpening, cleaning or imprinting.
Q. Is Leatherman Sidekick available for purchase outside the USA?
Yes, it's available on 90 countries outside the US. Check authorized distributors, on the Dealer Locator page on Leatherman's website to find them.
These distributors will then help you in finding retailers in and around your area. And, this will even help you fix any warranty issue.
Q. Where can you buy Leatherman Sidekick multitool?
You can buy Leatherman Sidekick tool directly from Leatherman's official website. Or, it is also available for purchase on Amazon.
For offline purchase, you can get your hands on this multitool from authorized retailers.
Final Verdict
The Leatherman Sidekick review tells us that it is an excellent tool for first-time and experienced users alike.
This multitool feels equally well-built and solid as its high-end, bigger brothers. The main highlight about the Sidekick is the pliers that are easy to use, and of course the sharp, plain-edge knife.
Rest of the inside tools are also thoughtfully-designed and quite functional to use for small tasks.
Standard 25-year Leatherman warranty is an added perk!
You Can check other leatherman products here Leatherman Wingman Review, Leatheman Skeletool Review, Leatherman Wave Review and Leatherman Raber Review.
Like It, Pin It