The NEMO Riff 15 is a side style spoon-shaped sleeping bag built for keeping you toasty in the winter months, rated down to 15 degrees Fahrenheit. The NEMO Riff 15 is filled with warm down and is appropriate for three seasons, making it a versatile option for your camping adventures.
Because of its spoon-shaped design, there is more room at the knees and elbows, giving side sleepers the freedom to sleep comfortably all night rather than being forced to sleep mummy-style.
Founded in 2002, NEMO Equipment is based out of Dover, New Hampshire. The company received the ISPO Brand New award in 2005 for its craftsmanship and unique designs.
NEMO aims to make sleeping bags that are not only durable and well-crafted but also ergonomic. NEMO designs its sleeping bags with science in mind because seventy percent of people are actually siding sleepers.
If you're on the lookout for a cozy sleeping bag, check out our full review of the NEMO Riff 15 below.
Things to Consider Before Buying a Sleeping Bag
Finding a sleeping bag can be more complex than you might imagine. There are various factors to consider, such as the kind of climate you will be camping in, especially the nightly low temperatures and wind chill.
With a rating down to 15 degrees Fahrenheit, the NEMO Riff 15 will keep you warm enough for fairly chilly nights. However, if you are looking for a sleeping bag that is adequate for the coldest of the cold, you might want to look at bags rated for even lower temperatures, such as the NEMO Canon -40 Down Sleeping Bag.
Also, consider any extra features that the sleeping bag offers. The NEMO Riff 15 comes equipped with a pillow pocket, Thermo Gills, and a full-length zipper. Also, a men's and women's style bag can be zippered together to form a double sleeping bag for extra warmth.
If you prefer to sleep on your stomach or side, most of the mummy-style sleeping bags may not be the best fit for you. The NEMO Riff 15 has extra roominess, so you can stretch out more with freedom of movement. This will help you feel less restricted throughout the night, adding to the quality of your sleep.
When selecting a sleeping bag, it's important to understand the fill power, which measures the amount of loft produced by one ounce of down. Bags with a higher fill power will have a higher level of insulation with less heaviness. In other words, less down is required to achieve the desired level of insulation.
Features & Benefits
Sale
NEMO Riff 15
ULTRALIGHT -  Backpacking sleeping bags are all about weight, which is why we made the Riff ultralight and ultra-compressible. With a minimum weight of 2 lb 6 oz and a packed size of in 12 x 7.5 in dia, you'll have plenty of room in your pack for other essentials. Plus, the Riff offers luxury features, like an integrated pillow pocket.
TECHNICAL DOWN - Backpacking is better after a great night's rest and the 3 season Riff is designed to give you the best sleep in the backcountry. 800 fill power hydrophobic responsible-sourced down is feather-light and toasty warm even when damp.
UP TO THE GILLS IN WARMTH - Worried about getting too warm? Thermo Gill technology allows you to vent body heat without letting cold drafts in your sleeping bag. We don't stop there. Our Blanket Fold functions as an external draft collar for tucked-in comfort and temperature regulation.
LET'S SPOON - Side sleepers, we've got you covered. Our Classic Spoon shape contours your body for comfortable side sleeping and limited weight. You'll wake up refreshed and ready to tackle your next backpacking adventure.
Features & Design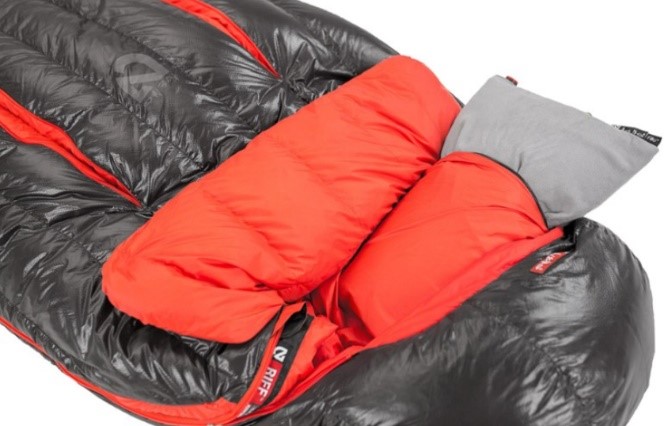 The NEMO Riff 15 has a stash pocket built into the side near the zipper. This is the perfect little stow-away place for small items, like your keys or phone, so you won't have to fumble around for them in the middle of the night.
There is also a built-in pillow pocket. Here, you can stuff some soft clothing or a small folded blanket or towel inside, creating a soft space for your head to rest at the end of a long hiking day.
I found the zipper on the NEMO Riff 15 to be extremely easy and quick to use. This is a double-sided YKK zipper running the full length of the bag. Another cool feature is that the men's and women's Riff 15 zippers run along opposite sides, so you can actually zip a men's and women's sleeping bag together to create one giant sleeping bag. How cool is that?
Warmth and Waterproofing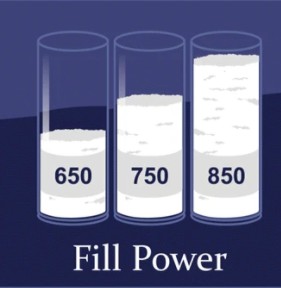 The NEMO Riff 15 consists of 800-fill-power down treated with Nikwax for waterproofing. With its 800-fill power, the down in the NEMO Riff 15 is very high quality.
Since down itself is not waterproof and takes forever to dry, it is important to purchase a down sleeping bag that has been given a hydrophobic treatment. This will prevent your sleeping bag from staying wet for long periods. Because the down in the NEMO Riff 15 is treated with Nikwax, it promises to be water-resistant.
With a temperature rating down to 15 degrees Fahrenheit, the Riff 15 is a moderately warm bag rated for three seasons. Because of the roominess at the shoulders and legs, I was able to sleep comfortably even with several clothing layers on. This makes the sleeping bag more versatile for even colder nights.
As a side sleeper, I didn't feel that the bag was too roomy at all. However, back sleepers may find that there is too much open space, leading to potential cold spots. If this is your style of sleeping, you may want to consider a more traditional mummy-style sleeping bag.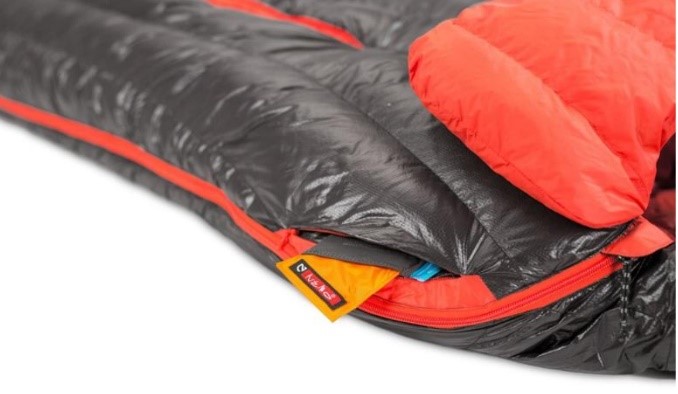 The Riff 15 is built with head-to-toe warmth in mind. The draft collar and blanket fold help protect you from drafts of cold air around your face. Also, the footbox is breathable and prevents condensation and sweating.
Also, the zipper is surrounded by draft tubes that also keep cold air out.
Thermo Gills are running vertically that help increase ventilation and prevent you from overheating. These gills can be unzipped to release heat if you become too warm. In this way, these Thermo Gills help the bag to be comfortable in warmer temperatures.
Lastly, the shell of the bag itself is water repellent to keep moisture at bay.
More: The Best Budget Sleeping Bag Choices On The Market [Review And Buying Guide]
Comfort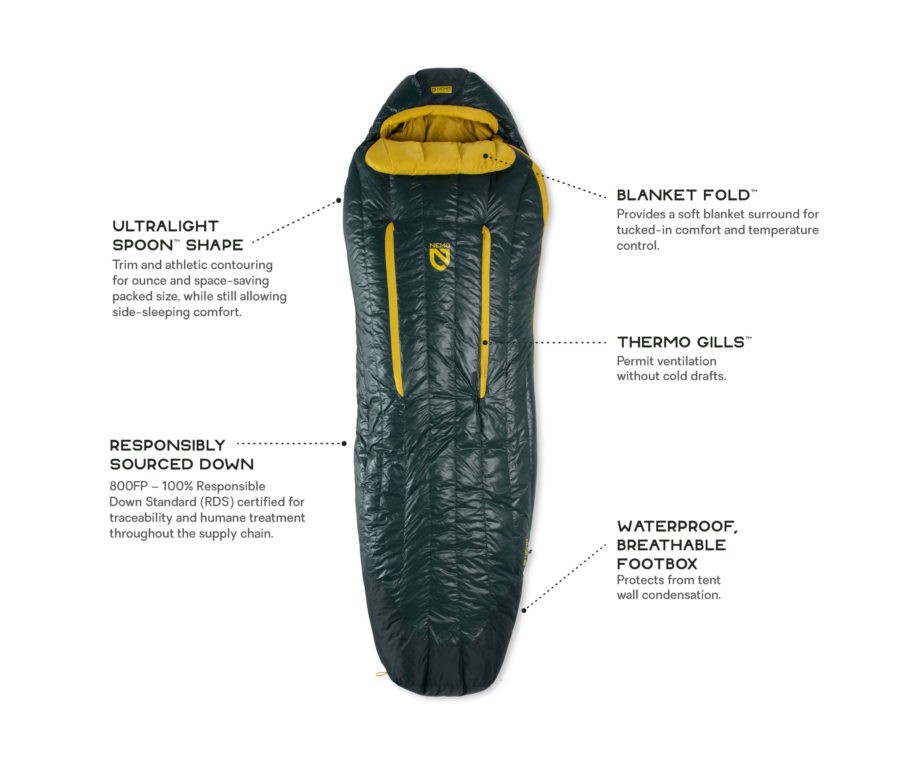 The NEMO Riff 15 offers a quite different sleeping experience than your more traditional mummy-style sleeping bags, which expect you to sleep on your back all night. With its athletic, spoon-shaped orientation, the bag has extra roominess at the torso and legs, so you can more easily move around in your sleep.
The overstuffed hood, or draft collar, helped the bag feel more comfortable, as it felt like I was being tucked in. I also found that the interior of the bag was very plush and soft.
I enjoyed the pillow pocket, because I prefer to sleep with my head slightly elevated. I was able to easily stuff a folded jacket or small blanket inside. This increased the overall comfort of the bag.
Total Weight and Packed Size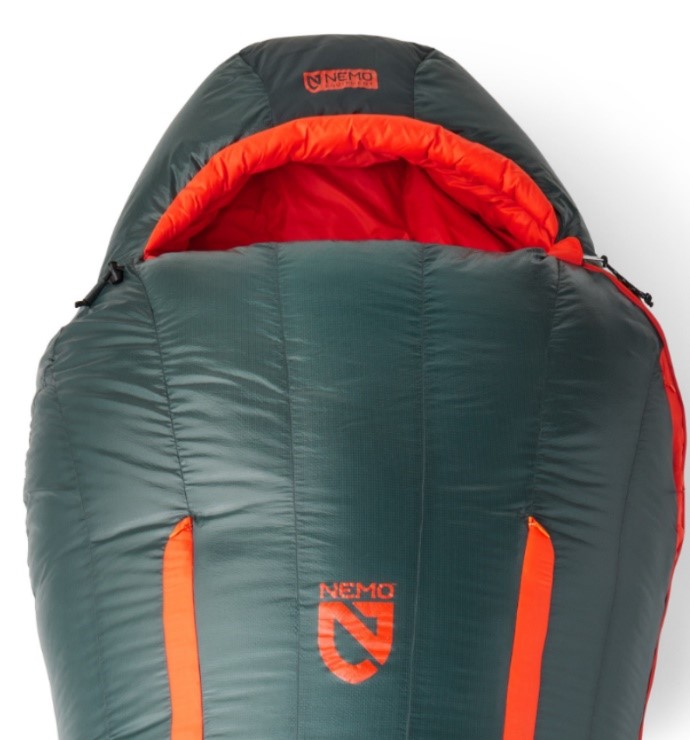 The NEMO Riff 15 was built with backpacking and technical trails in mind. The bag is advertised to have a "shaved down" weight and size wherever possible. It's technically an "ultralight spoon" bag.
The regular version weighs only 2 pounds 6 ounces, while the long version is 2 pounds 9 ounces. The regular size has a compressed volume of 7.2 liters, while the long size is 7.8 liters.
I found that the bag was pretty light and unnoticeable during hiking trips. It was easily compressed into my hiking day pack and didn't seem to get in the way while on the move.
More: How to Wash and Clean a Sleeping Bag Like A Pro?
Versatility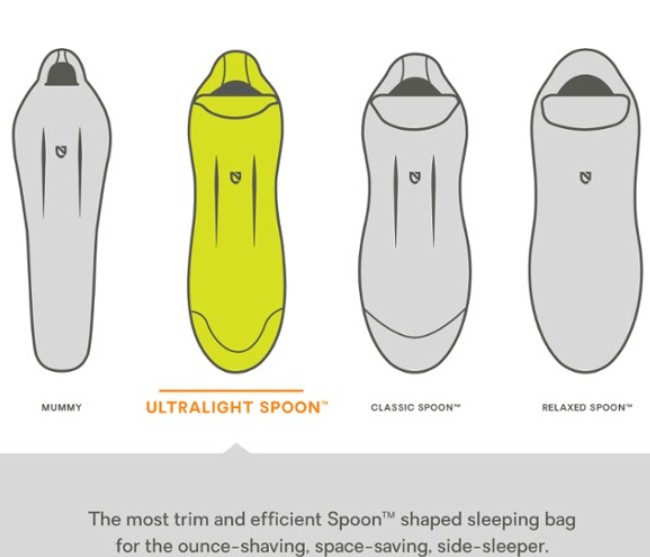 While it's rated for 15 degrees Fahrenheit, the Riff also has Thermo Gills, so it can be used in either colder or warmer weather. Also, its roomy, unique shape has enough space for side, stomach, and back sleepers alike.
Versatility also comes into play with the zipper design, because of the ability to create a double sleeping bag.
Near the end of this video, you can see a demonstration of two bags being zippered together.
More: Best Large Sleeping Bags for Big People
NEMO Riff 15 Specifications Table
Feature Type
Feature Specs
What This Means

Weight

Regular: 2 pounds 6 ounces
Long: 2 pounds 9 ounces

The bag is moderately lightweight

Insulation

Yes; 800-fill-power down

The bag is insulated with 800-fill-power high-quality down

Temperature rating

15 degrees Fahrenheit

The bag is rated for cold nights down to 15 degrees Fahrenheit

Waterproofing

Yes

The down is treated with Nikwax for water resistance

Zip style

Full-zip. YKK zipper

The YKK zipper is full-length and anti-snag. The zipper can also be zipped together with another bag

Pockets

Yes; zippered stash pocket

The zippered stash pocket can hold an ID card, phone, wallet, and keys

Warranty

Lifetime warranty

NEMO offers a lifetime warranty on all of their gear

Retail Price

The bag is slightly expensive but can still be a good deal
Social Proof
When I started looking at sleeping bags, I was immediately drawn to NEMO's spoon-shaped styles, because I am a side sleeper and tend to move about in my sleep. I scored the internet and came across some user reviews that seemed to be rather positive.
Here are some screenshots highlighting these users' experiences with the NEMO Riff 15.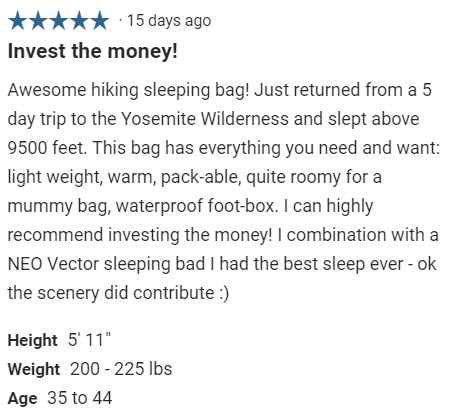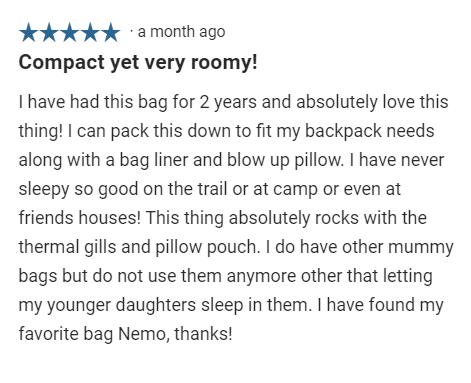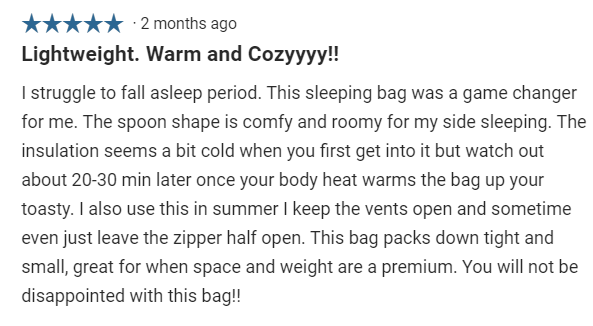 Alternatives
NEMO Riff 15 vs 30
Rated down to only 30 degrees Fahrenheit, the NEMO Riff 30 is another "ultralight" spoon-shaped bag. The Riff 30 is also built with 800-fill down that has been treated with Nikwax for waterproofing.
The regular Riff 30 weighs slightly less at 1 pound 13 ounces, compared to the 2 pounds 6 ounces of the Riff 15. The Riff 30 also packs down smaller than the Riff 15.
Both Riff bags are equipped with the Thermo Gills for ventilation, the blanket fold design, and stash pocket along the side.
Comparison
The Riff 30 is more lightweight
The Riff 30 is more compact when packed down, so it fits into bags more easily
The Riff 15 is more appropriate for colder nights
If you are on the lookout for a side-sleeper bag but don't need as cold of a temperature rating, perhaps the NEMO Riff 30 will be a good option.
NEMO Disco 15 vs Riff 15
The NEMO Disco 15 is another spoon-shaped bag. Although there are several similarities, some key differences between the Disco 15 and Riff 15 are the fill power and weight.
The Disco 15 is the "classic" spoon shape rather than ultralight. This means it weighs slightly more, weighing in at 2 pounds 11 ounces for the regular and 2 pounds 13 ounces for the long size.
Also, the Disco 15 consists of 650-fill-power down, compared to the Riff 15's 800 fill-power-down. This is the reason the Disco 15 weighs more. While it has the same temperature rating as the Riff, it requires more down (and hence, weight) to achieve the same level of insulation.
With that said, the Disco 15 is less expensive than the Riff 15. Here is a detailed review of NEMO DISCO 30.
Comparison
The Disco 15 weighs more than the Riff 15
The Disco 15 is the less expensive option
If you are looking to save some cash but want to find a bag with the same temperature rating and spoon shape as the Riff 15, check out the NEMO Disco 15.
Conclusion
Finding that perfect sleeping bag can be overwhelming, with all of the various styles, temperature ratings, and materials to consider. Thankfully, the NEMO Riff 15 offers a warm, comfortable style for nearly anyone interested in a water-resistant down sleeping bag.
For its roomy style, durable zipper, comfort, and extra features like the pillow pocket, I would give the NEMO Riff 15 a 5 out of 5 stars.
If you're in search of a new sleeping bag, check out the NEMO Riff 15 here.