​When you're planning for a road trip, camping expedition, or even a simple picnic, you know you need a way to keep your food close and your fluids closer.
Ever felt the disappointment of reaching into the cooler you offered to pack for your all-guy's camping trip, only to find that all of the drinks were just lukewarm? Or of dropping a cooler, and discovering that all of its contents have been destroyed – and the cooler itself, cracked?
I have.
I researched and took various coolers on my trips around the countryside and mountains, and found out that it was no simple task to narrow down a single cooler which would fulfill all my basic needs: successful at keeping my drinks cold, sturdy and rough in nature, lightweight and mobile to carry around.
I did not give up on my search though, and eventually came across the Pelican 20 QT Cooler.
I am not one who is convinced about a product's worth until I try it for myself, so I decided to test it out. I was amazed at the utility and value from this classic-looking cooler, which does a whole lot more than just look cool.
Read on, you will learn all there is to know about the cooler in this article!
Pelican Elite 20 Quart Cooler
VOLUME: True 20 quart internal volume (holds 15 cans or 3 wine bottles)
EXTREME ICE RETENTION: 2 inches of polyurethane insulation with a 360 degree freezer-grade gasket delivers extreme ice retention
FEATURES: Overmolded carry handle, 3 inch locking latches, reinforced lockable hasp, stainless steel bottle opener, anti-shear hinge system, molded-in tie-down slots
FEATURES: 4 self draining cup holders, non-skid rubber feet
MADE IN USA: Includes Pelican's legendary lifetime guarantee - "you break it, we replace it. Forever!"
​Pelican 20 QT Cooler Review
​A Brief History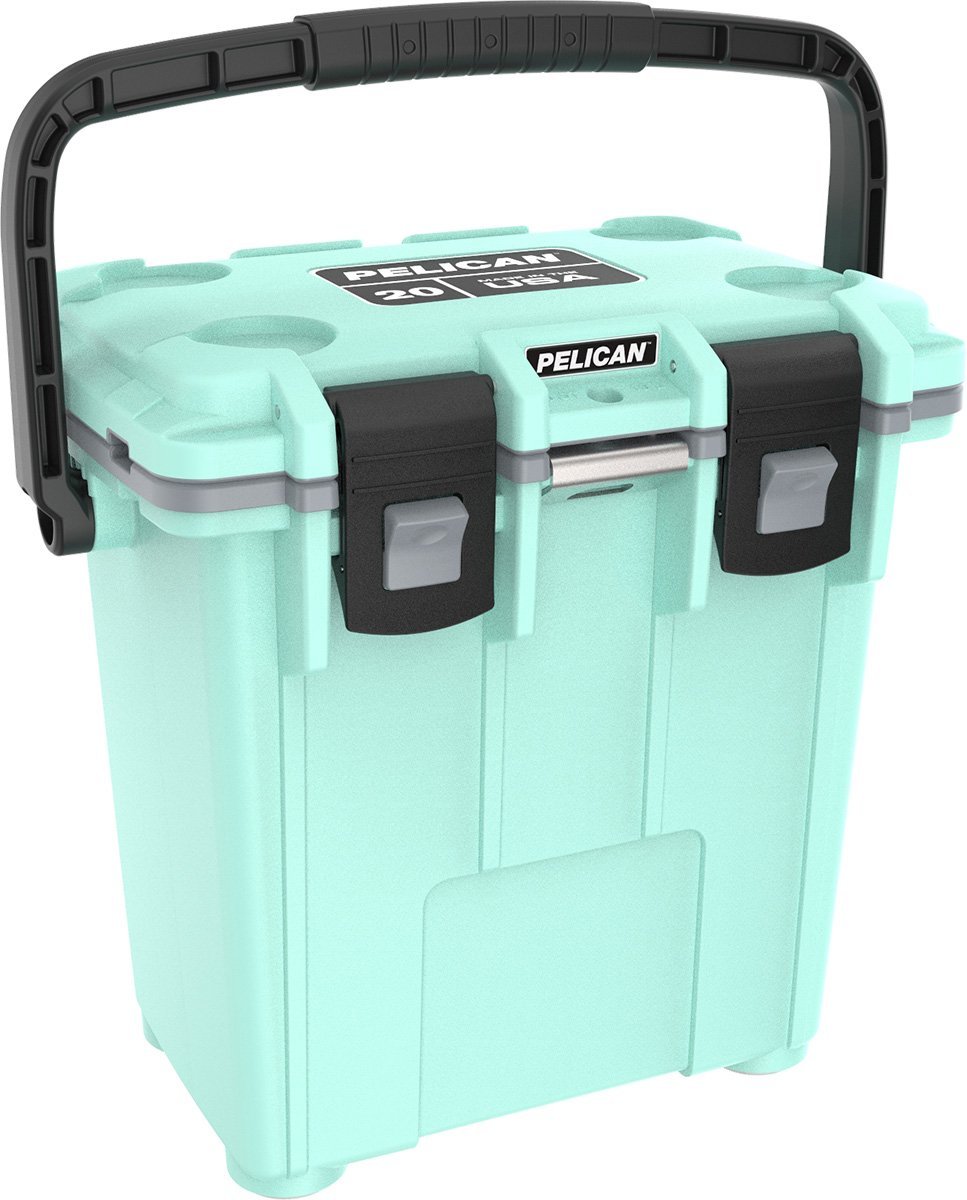 Pelican introduced the newer version of its 'Pelican Elite Water Cooler', the Pelican 20 QT Cooler, in 2017 with the intention of adding new and improved features to the 'Pelican Elite'. We were not disappointed.
Pelican was started by Dave and Arlene Parker in their garage in Torrance, California, and after years of success they were acquired by Behrman Capital, which has set them on a new path of growth and success.
Who is it for?
The Pelican 20 Quart Cooler is for the adventurers and travel enthusiasts, who go on long camping trips and need a durable cooler for rough use.
Pelican coolers are similar to Yetis in their ice-retention capabilities, and perform well for people who need to keep their drinks cold and safe for longer periods (7 – 10 days) of time.
More: Yeti Roadie 20 Cooler Review
​Features​​​​
Smart Design
The Pelican Cooler is made via a rotomolded construction, and has a strong outer body. It has a stainless-steel hardware and has press and pull latches for easy access and secure closing.
The cooler is easy to carry around too, because it has lift bar handles which are molded in.
The Pelican Cooler markets itself a 'bear-proof' cooler for a reason; when tested, two fully-grown Grizzlies could hardly do anything to damage the cooler. So, clearly, durability is not an issue.
The Pelican 20 QT Cooler has a bottle opener which is built-in, because Pelican understands it is far too easy to forget something as simple as a bottle opener at home.
The lid of the Pelican Cooler also has self-draining cup holders, which drain any additional liquid from the cup holder area – these are great if you are having a party or a camping barbeque.
Have you ever been frustrated by finding broken bottles or soiled food in a cooler that fell on rugged tracks? The Pelican cooler has 'non-skid' and 'non-marking' skid feet, which ensure that even on a slippery, wet surface, the Pelican cooler balances upright.
​​More: Yeti Rambler Tumbler Review
Good Capacity
Pelican Elite 20qt Cooler measures 20.6 x 15.4 x 15 inches and weighs 13.9 pounds, with the internal dimensions being 12″ X 6.7″ X 14.1″ inches, ensuring your family plenty of space for all your food and drink needs.
As the name indicates, the Pelican 20 qt Cooler holds, well, 20 quarts, which is pretty impressive. You can also opt for higher capacity coolers in the Pelican range, if you desire extra space:
The Pelican 20 QT can accommodate approximately 15 cans of food or drinks, and its upright design ensures that champagne/wine bottles also easily fit in the cooler.
These features ensure that your drinks not only stay cold but are also easy to carry around – all within an arm's reach.
With the Pelican Cooler, you will never be faced with the issue of packing too little due to space restrictions – you will have room for all that you need.
Good Ice Retention
Pelican claims that the Pelican Ice Chest has an ice retention capability of 10 days, which makes it ideal for camping for long periods.
The Pelican Elite Cooler can be trusted to keep your drinks cool for a long picnic, or even for a cross-road trip, thanks to its ice retention.
The Pelican Ice Chest has an insulation of two inches of polyurethane foam, which itself is a waterproof material and is not at all affected by moisture.
How annoying is it to open your cooler and find that the cold drinks you placed inside just hours before have lost their refreshing temperature and are now much warmer?
Customers have reported that the Pelican 20 qt Cooler has kept ice in the cooler for a good 9 – 10 days, with some reporting that their ice supplies lasted even longer thanks to the innovative capabilities of the Pelican Cooler.
​​More: Top Cooler Like Yeti
Highly Portable
Have you ever been too lazy to lug a big cooler over to your best friend's party and then regretted the decision later?
Well, worry no more!
The Pelican Cooler comes with two different sets of handles, making transporting it easy and effortless.
The handles also make sure that the cooler is safe; even if you do happen to drop it, it does not cause much damage to what's inside because of its protective polypropylene material.
The cooler's two handles evenly distribute its weight, meaning the days of having to awkwardly hug your cooler to carry it are gone – it couldn't be easier to move the Pelican!
Pelican has a tagline for their warranty, which says "You break it, we replace it. Forever." Forever: this pretty much sums up the confidence Pelican has in its coolers.
Keep it Clean!
The Pelican 20 QT is super easy to clean and keep clean because the upper surface of the Pelican Cooler is made from smooth stainless-steel, which, as the name indicates, is repels stains and stays polished.
The stainless steel make of the Pelican Cooler is corrosion-resistant, meaning that any contact with mud, sand, moisture, or heavy rain does not have any effect on it.
The non-porous make of the cooler ensures quick and easy cleaning, and let's be honest – returning from a rough trip is much more relaxing without the worry of having clean your cooler right away to avoid erosion of its quality.
More: Best Backpacking Knife
Warranty
Pelican has gone a step further than most when it comes to the warranty of its products: they offer a lifetime warranty on their coolers.
The warranty that Pelican offers on all its coolers shows their true colors: a total assurance of quality, and willingness to replace any cooler in case of breakage, leakage, or wear & tea
Strong Build and Add-ons
Your cooler is a vital piece of your outdoor activity equipment, and it's no fun to have to worry about dropping it on hard or rugged surfaces.
Luckily, with the Pelican 20qt Cooler, you can transport your cooler worry-free.
It has a metal locking hasp to prevent any accidental spillage. The base of the Pelican Cooler has thick rubber feet, which help it to stay balanced and firm in one spot – even if the surface on which it is kept is slippery.
The Pelican 20qt also has an anti-shear hinge system, along with 3-inch locking latches.
​The Pelican Cooler is extremely tough, and has achieved the Grizzly Bear Certification by the Interagency Grizzly Bear Committee (IGBC). Essentially, this cooler is made to withstand almost anything, and that's not an exaggeration.
Pros and Cons
Pros
​Upright design ensures good capacity

​2 inches of polyurethane insulation increases ice retention

​ABS latches make sure that the cooler maintains a tight seal

​Includes a molded lock hasp, for increased security

​Has 4 self-draining cup​​ holders on the lid

​Has a lifetime warranty
​Cons
​Is pretty heavy at 13.9 pounds

​Upright design makes the cooler topple easily

​Some customers complain of a faulty rubber seal
​Customer Reviews
"The photos do not show the actual size of this thing, it is HUGE and keeps my food safe and cold for longer than I could hope for! Once I forgot to eat my food in the afternoon and thought my food would go bad – I open the cooler at night and it was super fresh thanks to the Pelican." – Samantha Holding
"The molded handles on this thing are helpful, because the cooler is pretty heavy to carry around. Although it works well when you have to travel, because it is sturdy and the rubber on the bottom maintains good grip. I would give it 4 on 5, deducting a mark for its heavy weight." – Dominic Cooper
"It is crazy how the Pelican 20 quart Cooler is brilliantly set up to keep the ice cold for 10 days, so I thought I would give it a try and I was amazed. I kept ice in the cooler and waited for 5 days. When I opened the case there was barely any change in the ice's shape. Unreal really. It is a tad bit heavy but that's okay, something with so much insulation and durability should be." – Christopher Fleming
"The Pelican Elite is a well-built cooler that, compared to other coolers with its capacity and features, is pretty cheap. I purchased the cooler for camping in the Colorado Rapids, and before that it has pretty much lived up to the hype it created in all the advertisements."– Shinzoki Nakamura
"It is a great cooler for someone who is always on vacation and mountaineering or something, but I wanted a cooler to keep my food in the office cold enough to eat in lunch, and ordered the Pelican Elite 20 qt from their official website. Pelican got it delivered within 4 days, and I was disappointed because in the pictures online it looked much smaller – and I did not require a cooler this big in size, though it is the smallest cooler that Pelican offers. It definitely does the job, but it is too big for my liking" – James Babel
"The cooler is built like an SUV, and makes me wonder how Pelican can make something so state-of-the-art. I keep my Beer in it for a week, and it is magic to see it cold even after." – Benjamin Mukendi
​FAQs and Tips
Have some questions about the Pelican 20 QT Cooler? Don't worry guys, we have got you covered! Here are some Frequently Asked Questions about this product, with answers provided:
Q: What is the cost of the cooler?
A: The Pelican 20 QT Cooler is available at prices between $149 – $199, the price ranging due to different color availabilities.
Q: What are the internal dimensions of the cooler?
A: The internal dimensions for the 20 QT model of the cooler are 12 x 6.7 x 14.1.
Q: Can I take it on a simple family picnic? I have read it is difficult to carry around.
A: The cooler weighs 13.9 pounds without anything in it, so while it is not super light, its utility makes carrying it very worthwhile. And yes, it can be taken in a simple family picnic because it has lot of capacity.
Q: Does the cooler easily tip over?
A: No, it does not. It has good balance because of its evenly distributed weight.
Q: Can I use it as a chair/stool to sit on? Will it take my weight (145 lbs)?
A: You can sit on the top of the cooler with no issues. Customers have mentioned how they have used the cooler as a short chair, if required.
Q: Should I buy a more expensive cooler to make my drinks maintain their temperature?
A: The Pelican keeps drinks cold for 9-10 days, if you keep the lid closed. Not sure what expensive cooler you are looking at but the Pelican does a pretty good job, for cheap.
Final Verdict
The Pelican 20 QT Cooler is a cooler that does everything you could ask from it, and sometimes more.
It displays impressive features for something so small and simple in make; its hardware can be too good to believe at times.
With its ice retention capabilities and durability, and its low price as compared to the competition, Pelican has introduced a new, value cooler to the market that does so well what others cannot.
We highly recommend buying the Pelican 20 QT Cooler if you want a cooler that is designed subtly yet packs a powerhouse performance when it comes to keeping your food and drinks cold for days, without fail.
Planning your dream weekend getaway? The Pelican 20 QT Cooler is the ideal answer for your cooler needs. It will do a GREAT job not only for the weekend, but for your entire lifetime – guaranteed!