Are you fond of going on road trips? If you are, then you probably like carrying a small cooler for drinks and other edibles for the trip. Alas! There are not many coolers available in the market that last longer than the companies claim to be.
After trying a lot of such coolers while traveling, I have found Yeti's Roadie 20 Cooler to be up to the mark. Of course, it is not perfect and has a few drawbacks, but I believe we can ignore some of the minor defects when the cooler offers numerous other handy features.
Let's check out the detailed Yeti Roadie 20 cooler review to know whether it is worth the price or not!
YETI Roadie 20 Cooler
The YETI Roadie is BYOB's new best friend with a capacity of up to 14 cans with recommended 2:1 ice-to-contents ratio
Ice stays ice thanks to up to 2 inches of PermaFrost Insulation and an extra thick FatWall design which is certified bear-resistant
The Rotomolded Construction makes the Roadie armored to the core and virtually indestructible so wherever you decide to take it, this portable cooler's sturdy construction will stand up to the rigors of the journey
The Roadie, like the Tundra, features T-Rex Lid Latches constructed of heavy-duty rubber so you'll never see another busted latch and has patented keeper technology
The Roadie dimensions are 19 in long x 13 3/4 in wide x 14 3/8 in high with an empty weight of 15 lbs
Overview
This portable cooler is well-known for its exceptional performance. Whether you are going on a road trip, or a BOYB house party, Yeti Roadie can keep your drinks cold for a long time, more than 48 hours, which means now you do not have to worry about your drinks getting hot, nor you have to discard them out of the fear of having gone bad.
The remarkable product comes with the famous label of Yeti, which happens to be a well-established company, based in Austin, Texas. The company masters in offering products related to outdoor lifestyle. They have provided a variety of Yeti ice chest, stainless steel drinkware, and soft coolers. Yeti has always tried to target people who are interested in outdoor sports such as hunting, fishing, etc.
Who is it for?
If you are one of those people who love going on road trips, or who participate in outdoor activities such as camping because that is what they live for, then YETI Roadie 20 Cooler is for you. Do you ask me why?
Because the cooler is one of the best one available in the market, it can keep your drinks cold for more than two days. Secondly, it is easily portable, and thus, you can easily put it at the back of your car or carry it while you are walking to the desired place for camping.
YETI Roadie 20 Cooler is for:
People interested in outdoor sports
Families or individuals who love traveling to far off places by road
Party-goers of any age, who want to take their drinks
Key Features of Yeti Roadie 20 Cooler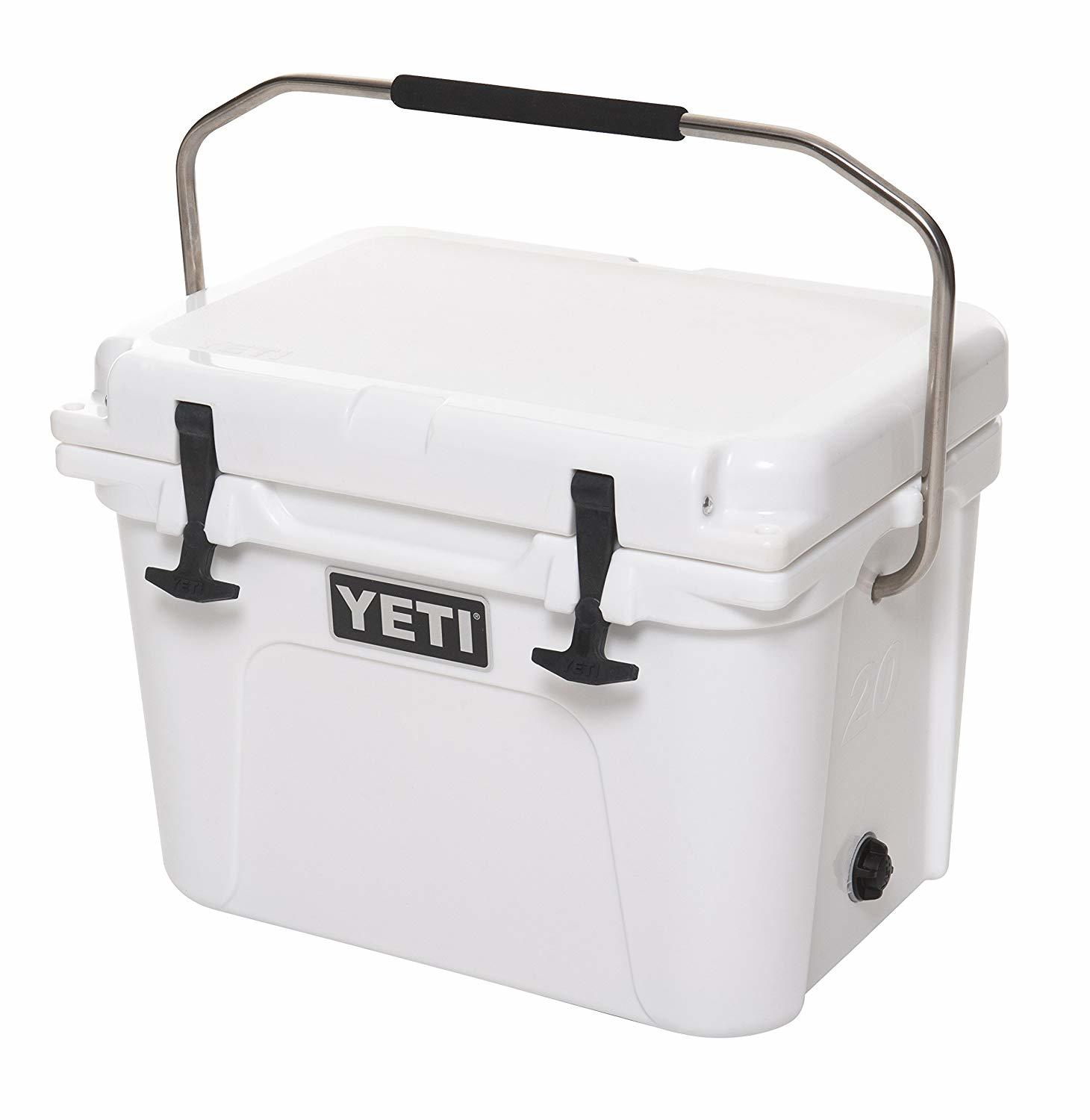 Designed to Last
If you are looking at Yeti Roadie 20 Cooler's main features, we shall first talk about its construction. The cooler has been built with Rotomolded Construction, which makes sure that the cooler is covered to the inner core. Also, it is UV resistant so that you can leave it under the sun without any fear of UV penetration in the outer wall.
The design and construction of the cooler make it everlasting, and so you do not need to worry about its durability on any journey you want to take it with you. You can sit or stand on it or throw it around, and it will stand up to it all with ease.
​More: Yeti Ramble Tumbler 20 Review
Superior Ic​e Retention Capacity
The 3 inches of PermaFrost Insulation, combined with a very thick fat wall design, is an excellent way of keeping the inside cool for a long time. The Yeti cooler is well-insulated from all sides, which therefore is the reason for more extended performance timings.
The cooler offers a 2:1 ice to contents ratio, which means that you can put 14 cans in the cooler for optimal performance. If need be, you can put more contents as well.
Compact and Portable
One of the most prominent features of the Yeti cooler is portability. Due to its compact design, it can be easily stored and transported in the trunk of your car, or back of your bike. This will be your on-the-go-fridge. The top handle makes it easy to carry without any hassle. Even though it looks small, but it has a good storage capacity of 20lbs of ice or 16 beer cans.
The Yeti cooler dimension is 19 x 14 x 15 inches, making it compact, portable and comparatively smaller than other available yeti cooler sizes.
Multi-Purpose
Yeti Roadie 20 is very versatile. You can take it on road trips or use it for daily use as a lunch cooler. This can be used to keep meat products while going on a picnic or camping with your friends.
More: RTIC 65 Cooler Review
Additional Features
There are tons of features added to Roadie 20 to make your life a little bit easier. The cooler has a Vortex drain system specifically designed to quickly drain the accumulated water while at the same time protecting the cooler from leaks. Another essential feature of the Roadie Cooler is the T-Rex lid latch, which has been made of heavy-duty rubber and so you don't need to worry about losing the latch to minor accidents.
There are two small holes in the front of the cooler that you can use to lock up to secure it from thieves or bears.
​The cooler is available in six colors; charcoal, white, pink, desert tan, ice blue, and LE coral. You can pick your favorite color among these colors for your handy cooler.
​Cons and Pros
​Pros
​The Yeti Roadie 20 Cooler is very durable.

​Can hold dry ice.

​Roto-molded construction makes it UV resistant.

​It is great for long trips, outdoor sports, and parties.

​The cooler can outperform other portable coolers due to its effective PermaFrost Insulation.

​Smallest cooler in Yeti's line

​It does not take up too much space in a car so that you can put other groceries and stuff beside it.

​Good for more than 2 people using it on a trip

​5-years warranty
​Cons
​Little heavy

​Relatively more expensive than the other portable coolers available.
Customer Reviews
A lot of people have been using this cooler, and have commented on its good and bad features. According to Amazon, the cooler has a high rating, which implies that a majority of users have found the Yeti roadie handy and effective.
People have found the cooler great as it seems to have kept ice in it for long trips. It has kept the drinks cool for as long as two days in a car, without being put in a cool space, and as a result, the drinks are ice cool. Even when the cooler has been placed outside in the sun while being on a beach or a field, the ice has remained ice, and the food and drinks did not go bad.
Apart from keeping ice for more than two days straight, the roadie cooler is also very durable. The rubber walls, according to customers, make the cooler long-lasting and thus, suitable for hiking and camping trips where the cooler can be used without the need of taking extra care.
​More: Best Cooler Like Yeti Cooler
One of the drawbacks of the cooler has been the limited space it offers to keep the stuff inside, and honestly, it makes sense because of the thick insulated walls of the cooler to enhance its performance, without the need of putting a reusable ice pack.
​Some people also comment on the weight of the roadie cooler, which is comparatively heavier than other portable coolers.
FAQs and Additional Tips
Q. How long can you put the stuff in for?
You can put your drinks and other perishables in the cooler for around 3 days maximum if you are not planning to put any extra portable ice pack. If you do so, you can use it for a week-long trip too.
Q. How can I buy a Yeti Roadie 20 Cooler?
You can order it online at Amazon here.
Q. Does it have a warranty?
All the Yeti coolers come with 5-year limited warranty. The coolers are well tested to stand up to the extreme but still if you manage to ruin it, Yeti will replace it with another one.
Quick tip
According to some users, the cooler works best if you pre-cool it before using, you can do this for a couple of hours before leaving with your roadie cooler. If you do this, the cooler is seen to have performed well even during very hot days in summer.
​More: Pelican 20 QT Cooler Review
Conclusion
After seeing the Yeti Cooler Review, my final verdict is undoubtedly a cooler that will surprise you with its great performance.
The compact size, durability, security features and impressive ice-retention capacity with Yeti's warranty is what differentiates it from others.
And yes, it is a little expensive, but a lot of users have found it worth the money, so it is always better to spend more money on a good product than to spend less on a relatively bad one, which will, in the end, leave you at a disadvantage.
So yeah, you should buy it if you think you are a frequent traveler or camper who loves to take drinks and homemade food on long journeys and days out, or if you frequently throw or attend parties because you can keep your drinks cool in the cooler without having the hassle of finding a refrigerator for the drinks.
like it, pin it