For adventure seekers and avid travelers alike, an emergency radio is a worthwhile investment for safety and functionality.
For the ultimate option in versatility and battery power, the Midland ER310 is the best overall solution. This is a durable AM/FM radio with NOAA scanner for important weather updates. It has an intensely bright emergency flashlight with Morse code SOS capabilities, as well as an ultrasonic dog whistle to call for help.
The Midland has a 32-hour battery life and can even be powered using regular disposable batteries, which provides plenty of power to operate the flashlight and radio or power other devices.
Another excellent option, the Sangean MMR-88, is slightly more budget-friendly and more lightweight, compact, and ergonomic. With similar functionality to the Midland, the Sangean also has an adjustable, yet dimmer, LED flashlight with SOS capabilities and receives digital AM/FM and signal from NOAA weather channels.
The Sangean boasts an IPX3 water resistance rating. While it doesn't have an ultrasonic dog whistle, the Sangean is equipped with an emergency loudspeaker and buzzer to alert for help. While the battery life of the Sangean is much shorter, it does have an automatic shutoff feature.
In this comparison of the Sangean MMR-88 vs Midland ER310, we will dive into the specifications of both of these useful emergency radios so that you can find the best solution.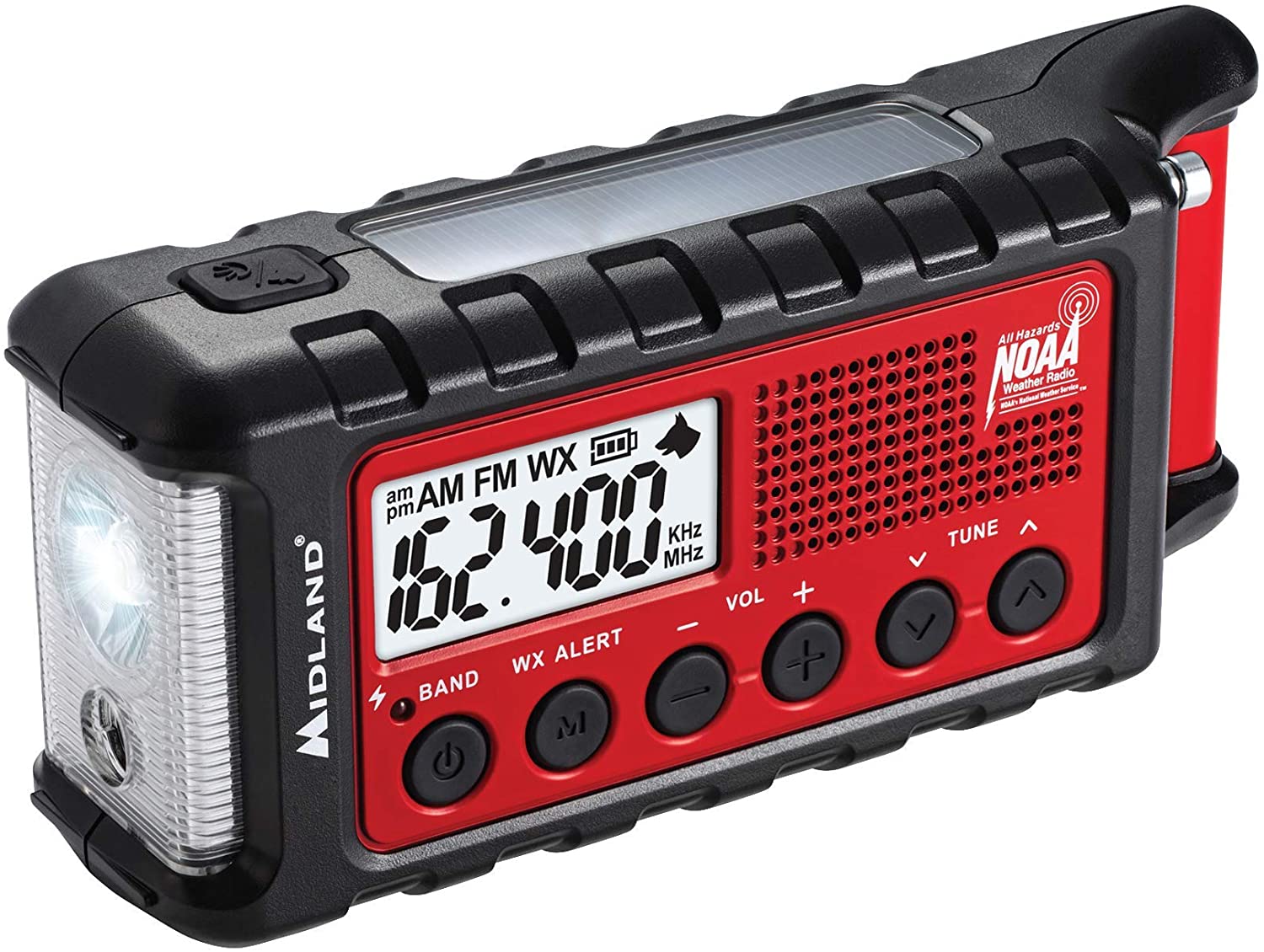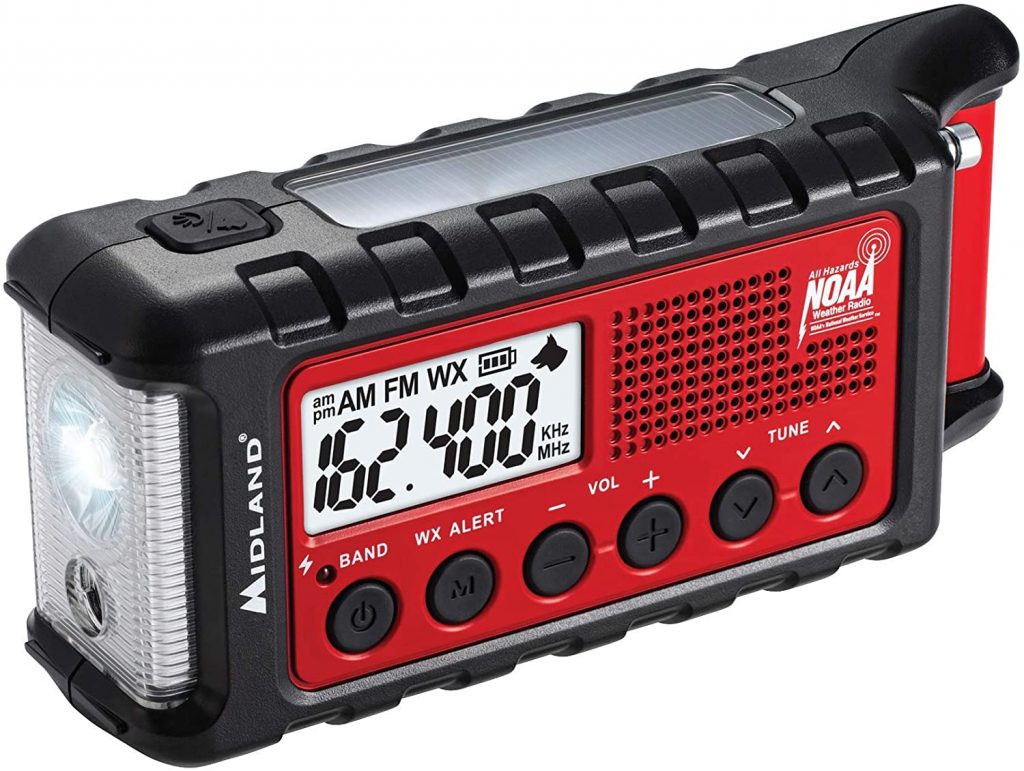 Midland has been designing and supplying radio technology, including emergency radios, weather alert radios, and two-way radios, for more than 50 years. They have a demonstrated history of crafting products with authenticity, quality, and reliability in engineering and design.
When purchasing an emergency radio, battery life and recharging are some of the most important features to consider. The Midland ER310 stands out thanks to its much larger battery and additional options for powering the device.
The Midland comes with a replaceable 2600 mAh lithium-ion battery rated for up to 32 hours of life. While both radios harness solar power, hand crank charging, and USB charging to power the integrated battery, the Midland also can be powered with regular AA batteries.
Another standout feature of the Midland ER310 is its inclusion of a high-frequency dog whistle, so in the case of a search and rescue situation, you will be able to alert rescue dogs of your location.
Also, the flashlight on the Midland ER310 is extremely bright. The radio is equipped with a Cree LED light that emits 1400 Lux, which is intensely bright for alerting rescue teams effectively.
The radio receives all seven NOAA weather band channels. Furthermore, it has a 3.5mm headphone jack for plugging in your favorite earbuds and can also charge other devices with USB charging. The Midland's overall dimensions are 8 x 3.4 x 2.4 inches with a weight of 1 pound.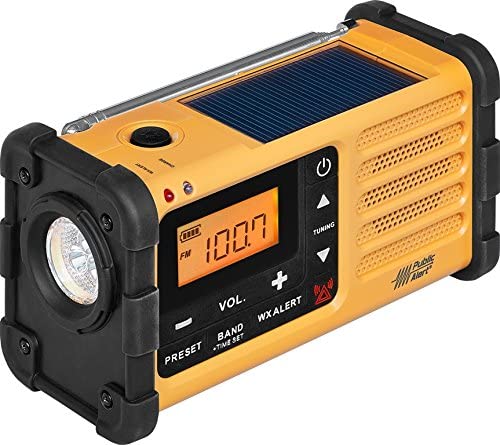 Expanded out of Taiwan, Sangean today is well-renowned for producing a wide variety of durable radios, including utility, portable, and emergency radios. As a company, they aim to improve radio communications with quality reception and reliability.
Weighing only 13.8 ounces, the Sangean MMR-88 is the better option if you're looking for an ultra-portable radio that won't weigh down your bag or pockets. When camping or backpacking, weight can be an important factor considering all of the equipment you may have to carry with you.
While it doesn't have an ultrasonic dog whistle or an intensely bright flashlight, the Sangean features an emergency buzzer and built-in loudspeaker so that you can alert search and rescue teams of your location in life-endangering situations.
Also, the Sangean features a 90-minute automatic shutoff feature to save battery, which is a stand-out feature that the Midland lacks. The Sangean also is IPX3 rated so that it can withstand some water exposure.
The Sangean features a small 850 mAh rechargeable lithium battery that lasts up to five hours of continuous use. The radio receives all seven NOAA weather channels and has 19 built-in preset stations. The compact radio measures only 2.71 x 5.98 x 3.3 inches, and it weighs 0.86 pounds.
The radio also has a 3.5mm headphone jack for listening to music with headphones and can also charge other devices. The Sangean's flashlight is a triple LED that emits up to 15 lumens. Lastly, purchase of the Sangean comes with a hand strap.
Features Face to Face
Weight and Size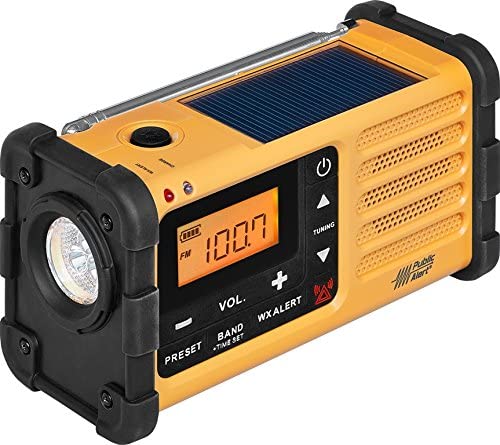 The Sangean MMR-88 is the more compact, lightweight option, measuring only 5.98 x 2.71 x 3.3 inches and weighing 0.86 pounds. Compare this to the Midland ER310, which measures 8 x 2.4 x 3.4 inches and weighs 1 pound, and the Sangean is the winner of this category if you're looking for extra portability.
Note that the Sangean also comes with an included hand strap for even easier carrying.
More: Leatherman Wave VS Wave Plus: What The Difference Between New and Old?
Water Resistance
While the Midland has no water resistance rating, the Sangean is IPX3 rated. This means it can withstand sprays of water, but it is not truly waterproof.
Although the Midland may hold up just fine to some water exposure, the Sangean wins this category due to its official water resistance rating.
More: Cold Steel Recon 1 Review: Is It a Good Pocket Knife
Power Sources and Batteries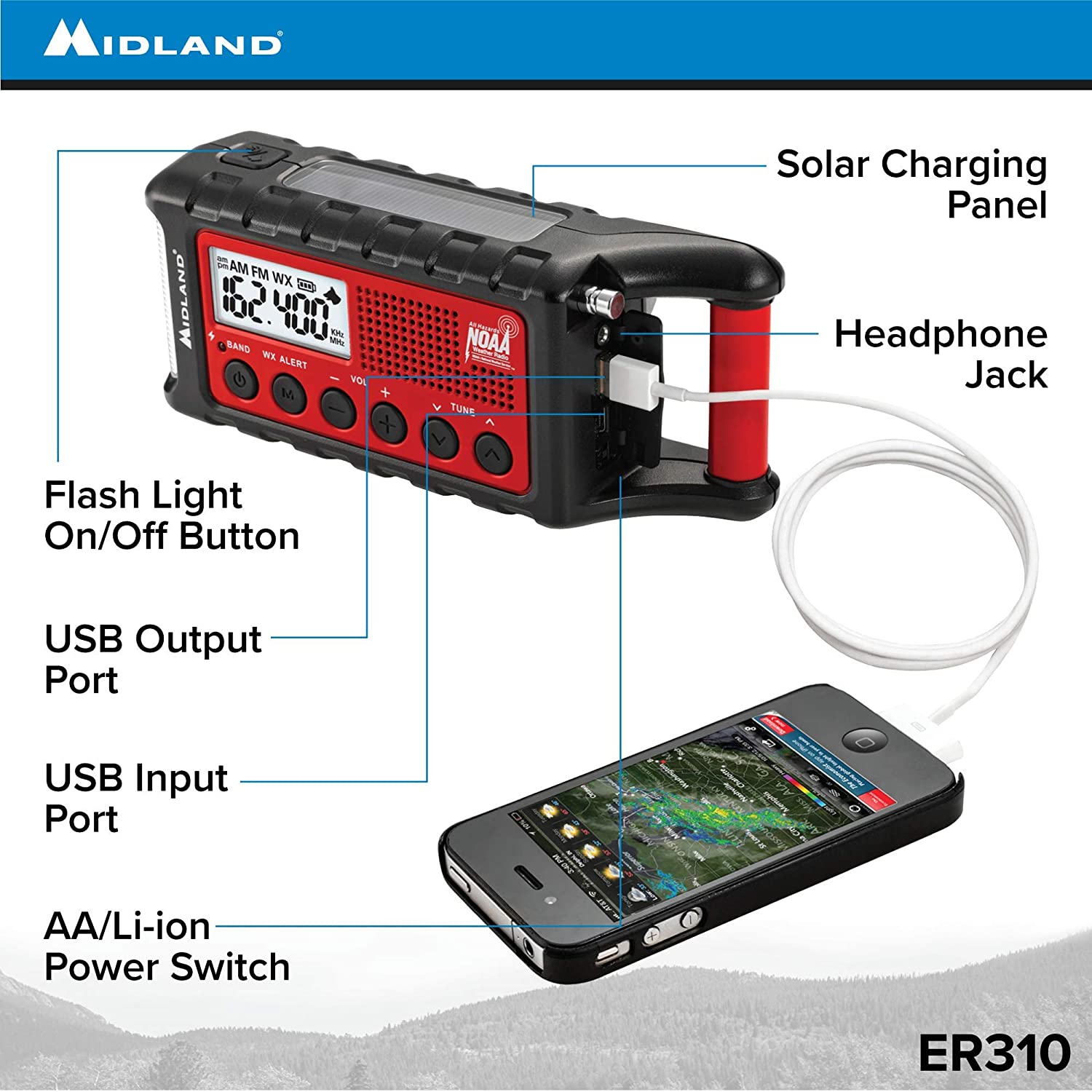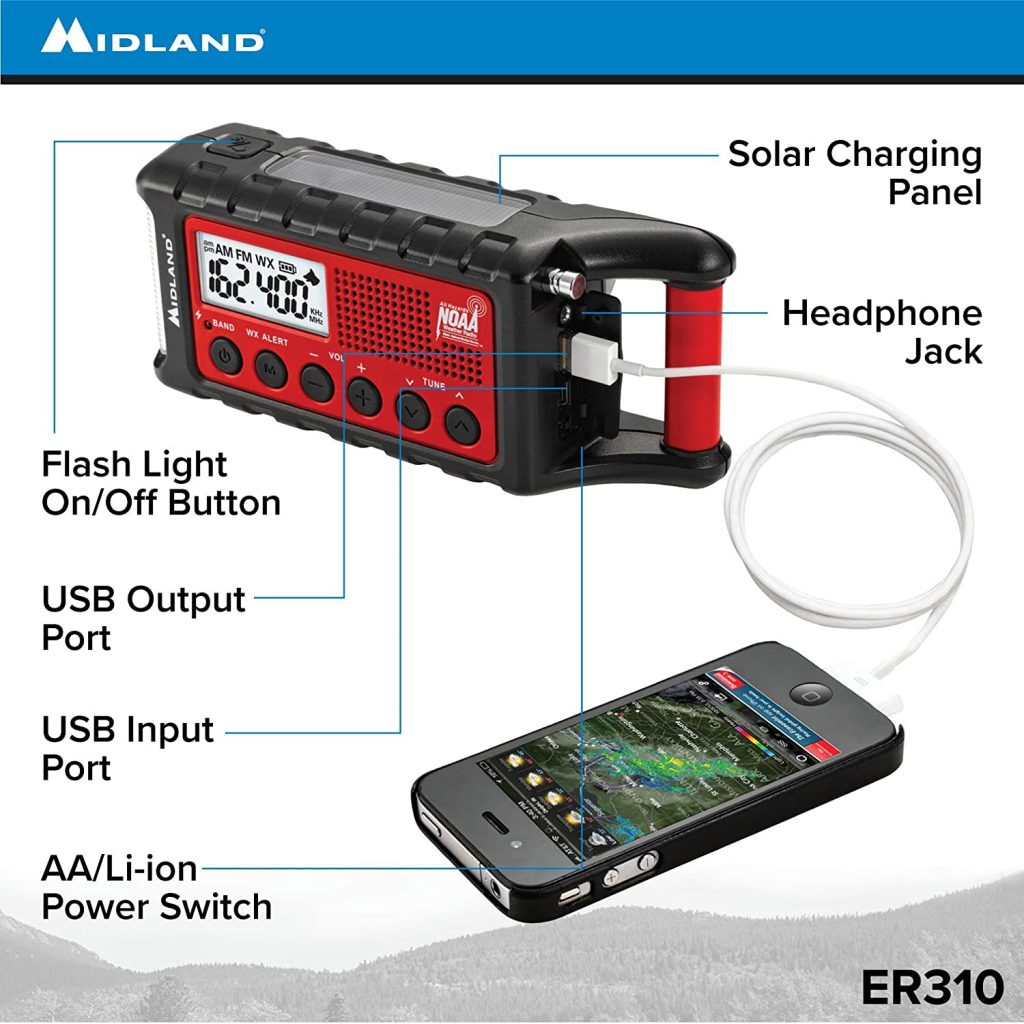 Both radios are rechargeable via solar power, as they come with a built-in solar panel that charges the device in sunlight. If you don't have a light source, you can charge them via the built-in hand crank. Alternatively, if you have access to an outlet or a portable charging device with USB cord, you can recharge the battery that way.
The main difference between these radios in power source is, firstly, the battery capacity.
The Midland ER310 features a 2600 mAh battery that provides around 32 hours of battery life, compared to the Sangean's much smaller 850 mAh lithium battery that gives only five hours of life. Thus, the Midland will provide much longer functionality before needing to recharge and can more effectively charge other electronics.
Additionally, as a back-up option, the Midland can be powered by six AA batteries. This gives it a slight edge over the Sangean, which cannot utilize regular disposable batteries at all.
One positive aspect of the Sangean's smaller battery is that it takes less time to fully charge, as it takes about 2 hours 50 minutes to charge the battery with a wall outlet fully. While its charge time is not stated, the Midland would likely take several hours to charge fully.
Overall, because it can be powered with disposable batteries and features a much higher battery capacity, the Midland ER310 is the clear winner in this category. Its larger battery not only gives the radio itself a longer life, but it also gives it more power to charge other devices, such as your phone, which may be vital in an emergency situation.
More: Leatherman Signal Review: Worth Buying?
Usefulness in Emergency Situations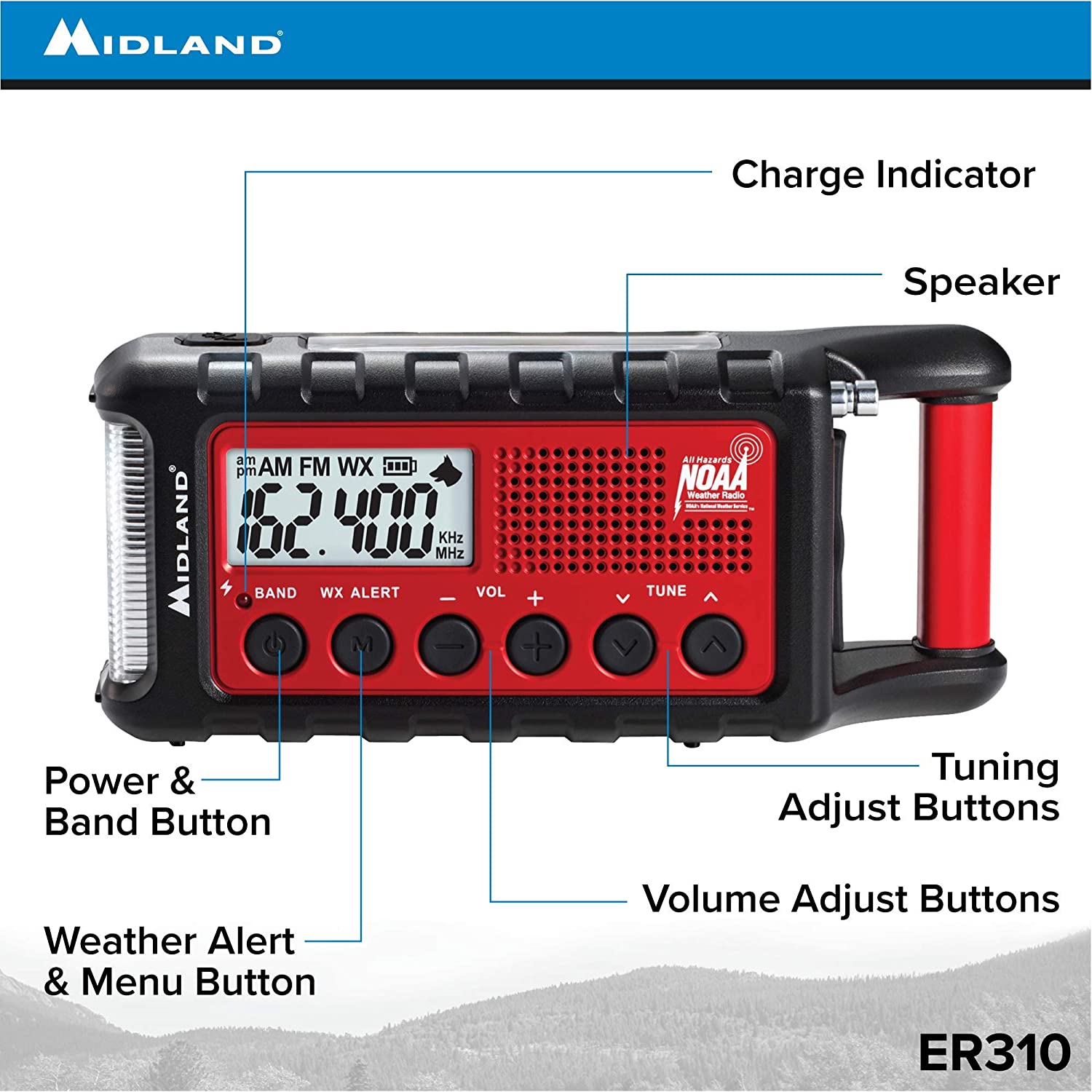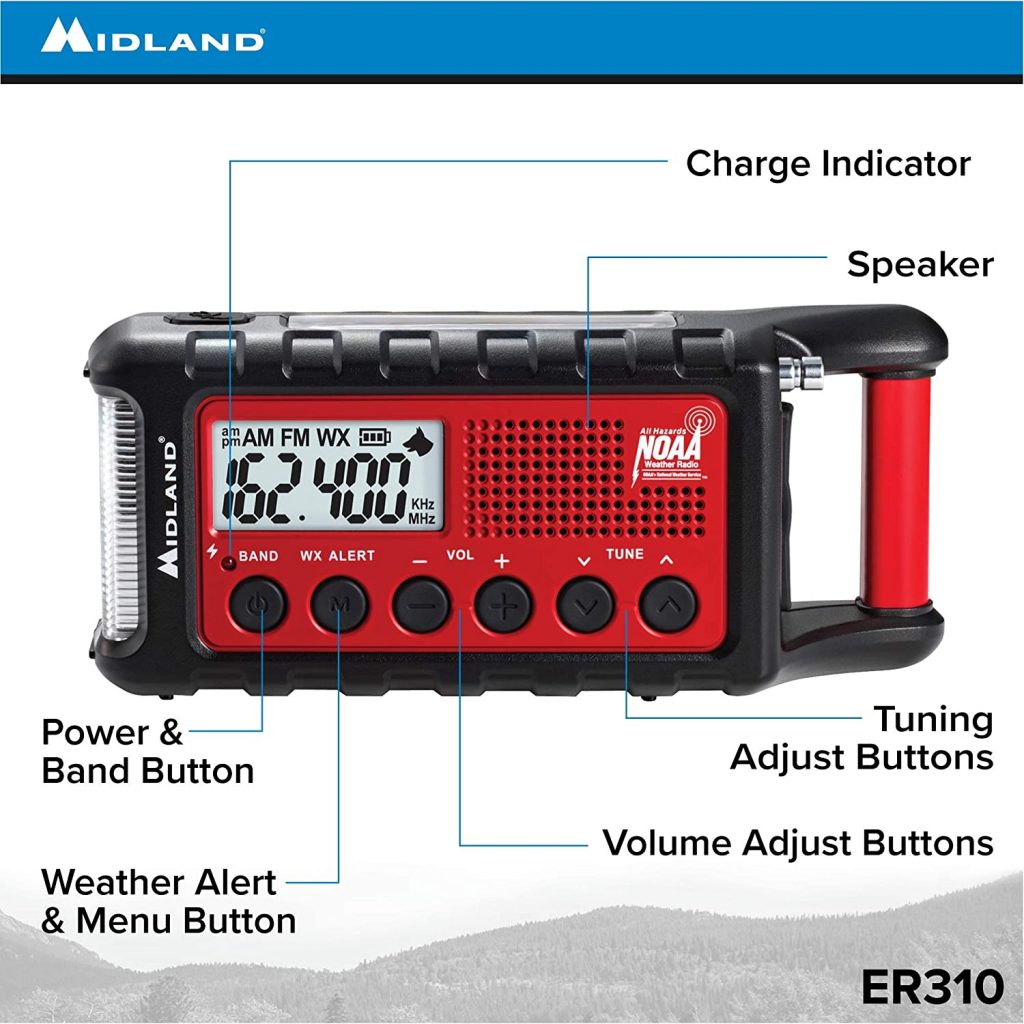 The included flashlight in both radios is essential for following your path in dark, dangerous situations or for flagging down emergency rescue teams.
The Sangean MMR-88 is equipped with an LED flashlight with four pre-set modes: SOS Morse code, high power for brighter light, low power for dim light, and a regular blinking setting. Similarly, the Midland ER310 has an SOS strobe beacon that flashes Morse code and separate high and low brightness settings.
While the Sangean, at high brightness, emits about 15 lumens of light, the Midland features a strong Cree LED that emits 130 lumens (1400 Lux) of light at its highest setting. This enables the Midland to give off a much brighter signal for rescue operations or to see in the dark.
Furthermore, the Midland is equipped with a high-frequency dog whistle that alerts rescue teams of your location. Because dogs have much better hearing and can hear at much higher frequencies than humans, this may be the difference between life and death in critical scenarios where the rescue dog is your last hope of being found.
To make up for the lack of an ultrasonic dog whistle, the Sangean features a loudspeaker with an emergency buzzer. This buzzer would be very useful in attracting attention in critical situations as well.
Both radios receive signals from all seven NOAA channels and are set up with weather alert functionality. The Sangean has 19 random preset stations and is a "public alert certified weather radio."
Because of its additional alert feature (the dog whistle) and the much brighter flashlight, the Midland comes out on top in this category.
More: The Best Camping Fan Review On The Market
Standout Features of the Midland ER310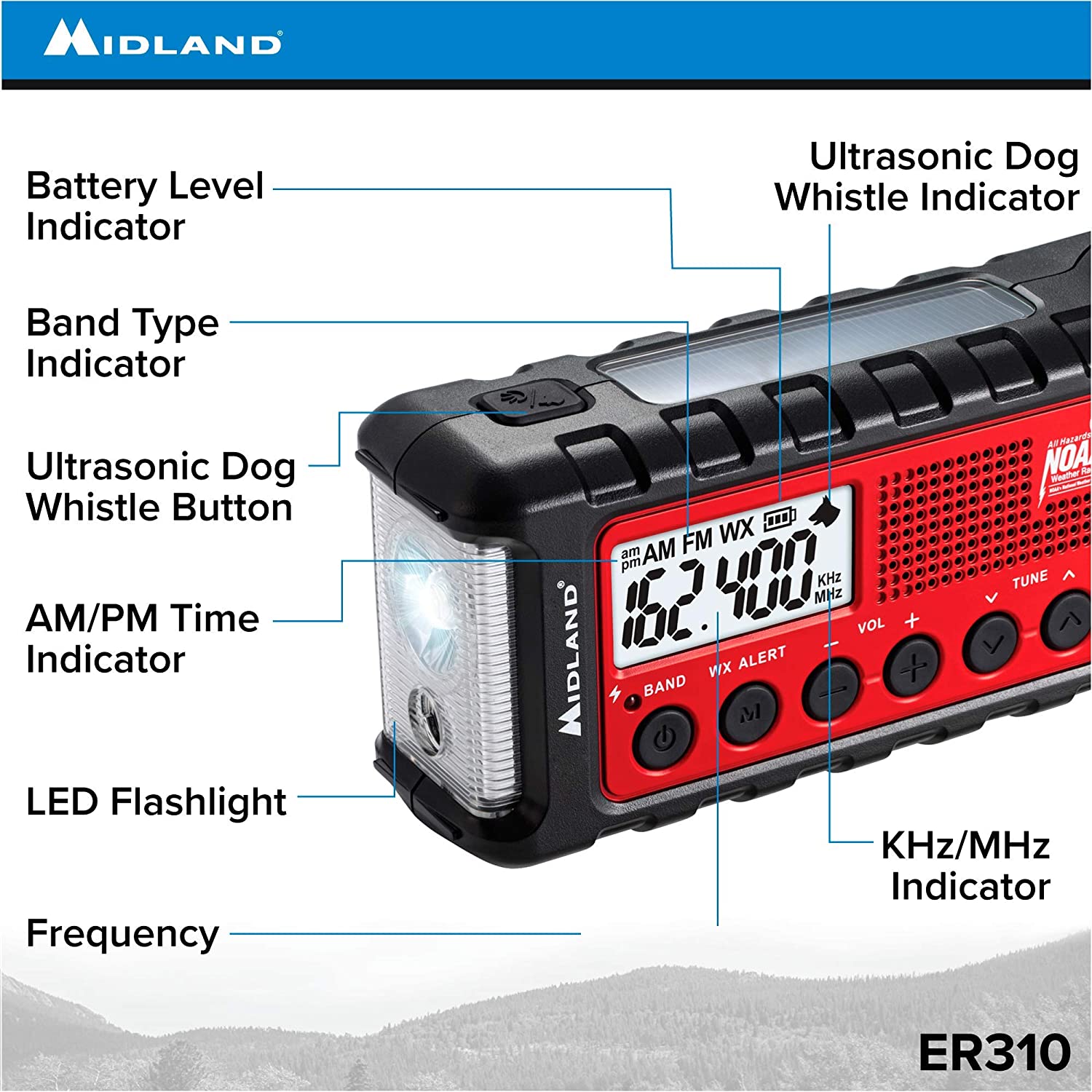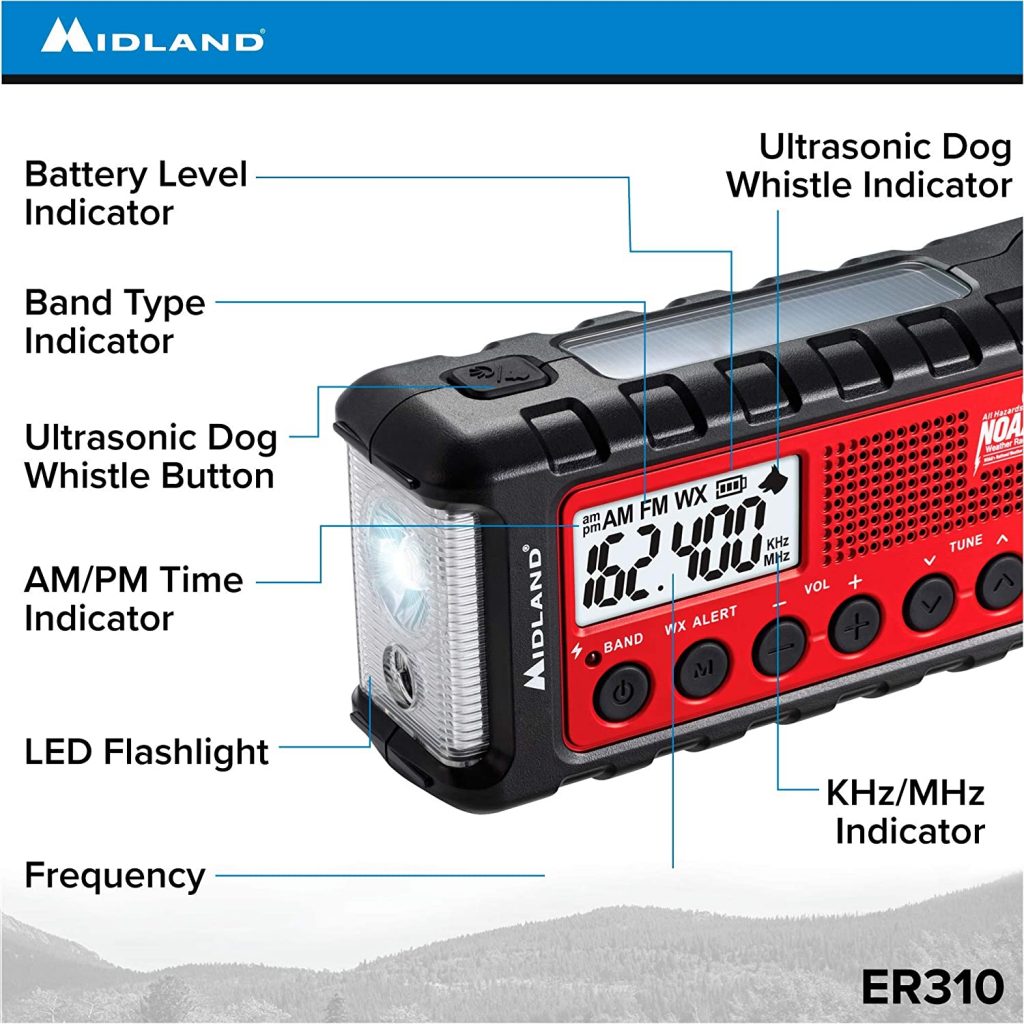 Much more battery power: The integrated lithium-ion battery of the Midland has a 2600 mAh capacity. Not only does this give the radio a longer life before needing to be charged, but it also enables you to more effectively charge your phone or other important devices with the included USB cable output.
Can be powered with disposable batteries: While both of these radios are equipped with lithium-ion batteries that recharge via solar power, hand cranking, or USB, the Midland can also be powered with AA batteries. This is important if you only have access to disposable batteries.
Much brighter flashlight: The integrated flashlight of the Midland emits up to 130 lumens at maximum brightness, making it incredibly bright. On the other hand, the Sangean emits up to 15 lumens, which is much more dim and not as easily detected by rescue personnel.
Ultrasonic dog whistle: The included high-frequency dog whistle on the Midland enables you to alert search and rescue canines to your location, which is an essential feature as dogs have much better hearing than humans.
Standout Features of the Sangean MMR-88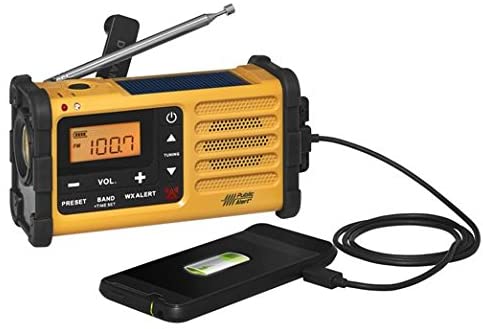 More compact and lightweight: Weighing in at 0.86 pounds and with small dimensions compared to the Midland's 1 pound and heftier size, the Sangean is easier to travel with. It also comes with a carrying strap for easier portability.
Emergency buzzer feature: The Sangean features an integrated emergency buzzer with a loudspeaker unit for alerting search and rescue teams of your location.
Automatic shutoff: The 90-minute automatic shutoff feature of the Sangean ensures that you won't accidentally waste precious battery life. This is especially important due to the smaller lithium battery that comes with the Sangean.
Water resistance: The Sangean has an IPX3 rating, meaning it has some resistance to light splashes or sprays of water. The Midland, while it may hold up to water just as well, is not officially rated at all for water resistance.
Conclusion
You need a radio with a longer battery life or want to use disposable batteries.
You want to alert rescue dogs in the case of emergencies.
You want a radio with one of the brightest flashlights on the market
Check out the Midland ER310 if you're looking for a versatile, well-built radio with a long battery life, an incredibly bright flashlight, and an ultrasonic whistle that may save you in a critical situation.
You are looking for a radio with an official water resistance rating.
You value easy portability.
You aren't worried about needing to alert rescue dogs.
You don't mind charging the device more often or don't need long battery life.
If you're looking for a water-resistant, portable, budget-friendly radio but don't need it to be a life-saver, the Sangean MMR-88 may be a great option.