For those with an adventurous or DIY spirit, a tactical folding pocket knife is a valuable tool to own. The Cold Steel Recon 1 knife promises to serve as a long-lasting, reliable, useful device for everyday ventures or military and law enforcement purposes alike.
Founded in 1980 and based in California, Cold Steel is committed to creating and designing useful, versatile, ergonomic knives made with high quality in mind. They sell knives, swords, and other blades as well as blunt weapons, walking sticks, and training gear for police and military personnel.
Cold Steel aims to create knives that retain their sharp edges over the years. The company backs their products with a limited lifetime warranty, promising that their designs are held to the highest construction and materials standards.
The Cold Steel Recon 1 is a durable, tactical folding knife made of premium steel that resists breakdown and stays sharp. It guarantees comfort and grip and is outfitted with Cold Steel's powerful, patented Tri-Ad locking mechanism that promises security and safety.
Read on for our full Cold Steel Recon 1 review below to determine if this pocket knife will fit your needs.
Things to Consider Before Buying a Pocket Knife
Sale
Cold Steel Recon 1
GREAT FOR THE TOUGHEST JOBS: The Recon 1 is a popular knife with Military and Law Enforcement Personnel, Fire and Rescue crews and civilians and is trusted to perform in even the toughest jobs and the most taxing conditions
PREMIUM STEEL: Features exceptional CPM-S35VN steel, which is very tough and durable, highly corrosion resistant, and able to take and hold a fine razor sharp edge; Commonly used steel in high-end, superior quality custom knives
COMFORTABLE, SECURE GRIP: Tough and durable G-10 handle material provides a secure and comfortable grip in all conditions
ULTRA-RELIABLE LOCKING MECHANISM: Features custom knife-maker Andrew Demko's famous TriAd lock that has been proven over time to be unsurpassed in strength, shock resistance and durability and gives unrivaled protection for your irreplaceable fingers
SPECIFICATIONS: Weight - 5.3 ounces; Blade Length - 4 inches; Handle Length - 5 3/8 inches; Overall Length - 9 3/8 inches
If you are looking for a knife that you can easily carry with you, a compact pocket knife is likely the best choice. Quality is another important factor in any knife, of course, as you'll want to purchase a product that guarantees long-lasting reliability. Thus, you'll want to find a blade that is strong enough to last the years but isn't too bulky.
The Recon 1 addresses both of these concerns.
Trying to cut something with a dull knife is a rather frustrating process. To combat this, the Recon 1 is constructed with an upgraded CTS-XHP blade steel that will uphold its sharpness over the years. Likewise, the CTS-XHP steel is also easy to sharpen for overall longevity and optimal performance.
The blade also promises not to buckle or break, and the overall construction is defined with heat-treated attachment points for overall stability and slip prevention. The new blade on the Recon 1 has also been upgraded with DLC coating that prevents chipping and wears over time. Thus, if you're looking for longevity, the Recon 1 is a solid option.
Size and weight are also important features of any portable knife, as we mentioned, as you'll want to choose one that won't feel too heavy in your pocket.
With the Recon 1, Cold Steel has created a lighter version that is nearly unnoticeable when carrying it. However, with a blade of 4 inches, folded size of 5 ⅜ inches, and an overall unfolded length of 9 3/8 inches, the Recon 1 is slightly large for fitting into some pockets or usage in compact spaces, although it is not unmanageable.
If you're looking for an ultra-lightweight or ultra-compact option, there may be other knives that will better fit your needs, such as the Cold Steel Micro Recon 1.
More: Leatherman Wingman Review: Everything You'll Need to Know
Features & Benefits
Weight, Materials, and Design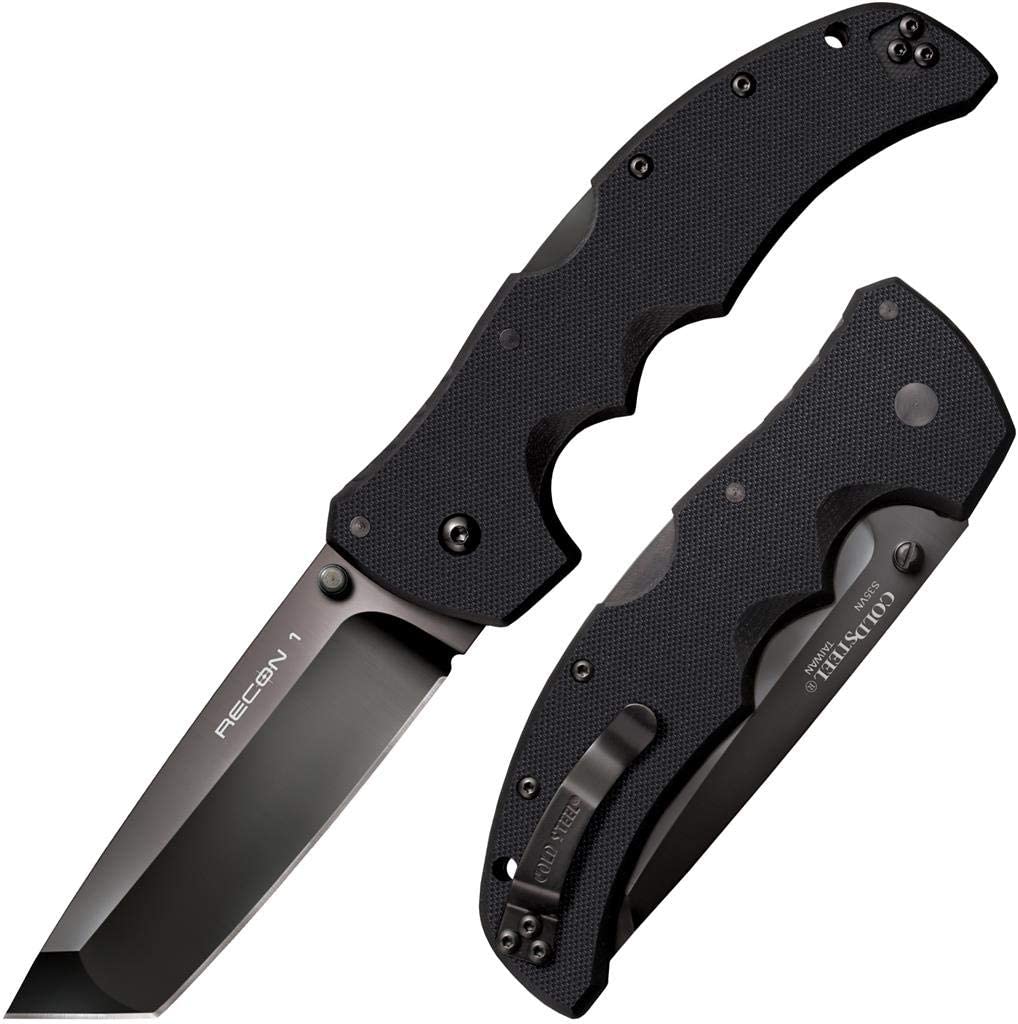 The Cold Steel Recon 1 weighs 5.3 ounces, which is decently lightweight, perfect for pocket storage without considering you down.
As mentioned, the most updated version of the Recon 1 features a blade constructed of CTS-XHP steel, which promises longer durability and reliability. The blade is designed not to break or buckle under its intended uses. While the blade resists dullness, as an extra advantage, CTS-XHP steel can be easily sharpened to increase its longevity even further.
Along with the upgraded steel, the newest Recon also has a blade coated with DLC (diamond-like carbon), which is highly durable and resistant to friction, chipping, and corrosion. This DLC coating also contributes to the blade's shiny black color, making it a rather attractive looking knife.
The Recon's design is rather comfortable and easy to use with a flip-out style of opening and closing. The contoured handle is overall textured, and the knife feels solid, strong, and well balanced when holding and using it.
Handle, Ergonomics, and Pocket Clip
The Cold Steel Recon 1 features a handle made out of G-10 material, a type of long-lasting laminate composed of filament glass and epoxy resin. The handle feels quite durable and is slightly rounded around the edges, preventing any sharpness in hand. The Recon's handle also has contours built-in for finger hold spaces and features a rough, grippy texture to prevent slippage or dropping during use.
The picture below shows a fully unfolded Recon 1 with its grippy, contoured handle style.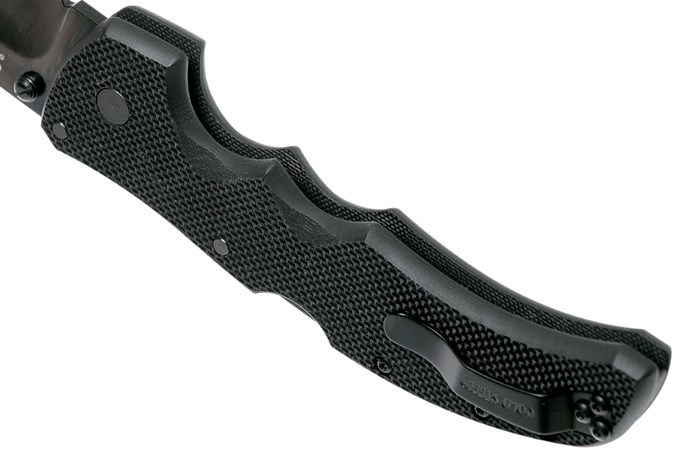 The Cold Steel Recon 1 weighs only 5.3 ounces, so it is rather lightweight. Combine this with the G-10 handle with plenty of grips, and this pocket knife feels rather ergonomic in your hand. Its blade length is 4 inches, with an overall length of 9 ⅜ inches, making it somewhat large when completely unfolded. The folded length is a much shorter 5 ⅜ inches.
This is not to say that the Recon necessarily creates a cumbersome feeling in the pocket, but it isn't as compact as other pocket knives especially when completely unfolded. It is convenient that it folds down to nearly half of its unfolded size, of course, and this is helped by the fact that the knife folds down easily as well.
More: Leatherman Sidekick Review: Full Features, Specs
Furthermore, the Recon features two integrated pocket clips for ambidextrous usage. This makes the Recon 1 rather easy to carry in a pinch.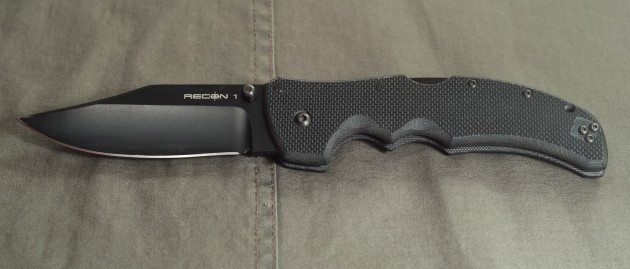 Deployment and Lockup
With the Recon 1, deployment is completed with a thumb stud flicking mechanism, and the knife can be used ambidextrously by left or right hands. This makes it quite a versatile option in the world of pocket knives.
Here is a video showing examples of deploying the Recon:

The Recon is secured and locked by the patented Tri-Ad locking system, which has been thoroughly tested for safety and breakage resistance.
The TriAd system is secure and built for shock resistance, withstanding movement or jiggling that can cause locks to fail in less secure knives. This TriAd system uses a stop-pin device that keeps pressure from causing the blade to open or shift unexpectedly and dangerously cut your hands.
With the TriAd system in place, the Recon is a safe knife that you can feel secure in using and storing in your pocket. With that said, at first, the Recon may feel stiff or difficult to unfold due to the strength of the locking mechanism. However, we found that over time, this problem resolved.
More: The Complete Review of Kershaw Leek Pocket knife
Cold Steel Recon 1 Specifications Table
Feature Type
Feature Specs
What This Means

Weight

5.3 ounces

The knife is rather lightweight and easy to carry around.

Size

Unfolded size: 9 ⅜ inches
Folded size: 5 ⅜ inches
Blade length: 4 inches

The knife is somewhat large for pockets.

Other accessories

Has two pocket clips

The Recon's double pocket clips ensure easy ambidextrous usage and portability.

Warranty

Limited lifetime warranty

Cold Steel will repair or replace due to manufacturing or design defects (not normal wear and tear).

Retail Price

$85

Somewhat expensive.
Social Proof
When on the hunt for a new pocket knife, I was intrigued by the durability and design of the Cold Steel Recon 1, but I always seek out customer reviews first to ensure I'm making a well-informed decision.
I scoured the internet to find some user reviews of this knife that sounded rather positive. Here are some screenshots detailing some of these real-life experiences with the product.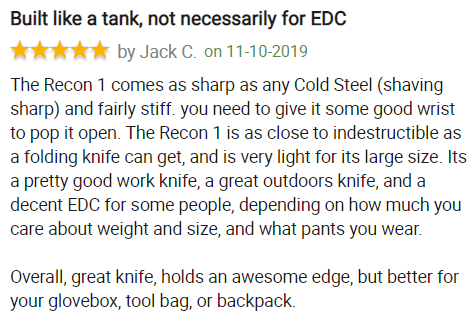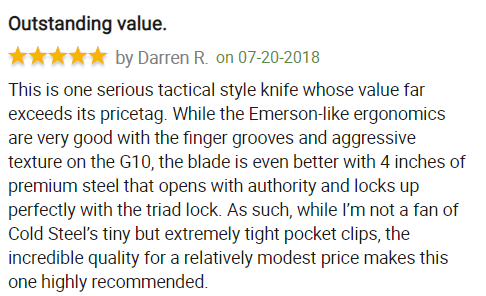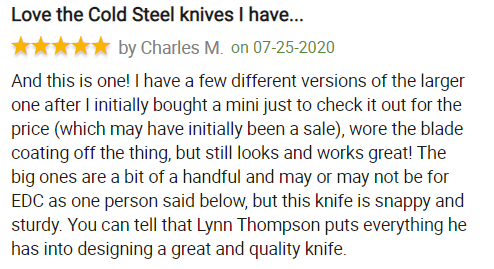 Alternatives
Cold Steel Recon 1 vs SR1
Marketed as a no-nonsense survival knife, the Cold Steel SR1 is a thicker, heftier knife weighing in at 7 ounces compared to the Recon's 5.3 ounces. Both knives are durable and reliable, with blades made out of high-quality steel materials that will last you several years of usage.
Both are equipped with a 4-inch blade and have a 5.4-inch handle, although the Recon 1's handle is more contoured for finger grip placement. This makes the Recon 1 slightly more ergonomic in hand. The Recon 1 also has the two pocket clips.
Likewise, both feature a handle made of G-10 for grip and durability. They also both are equipped with the Tri-Ad locking system for safety.
Comparison
Cold Steel SR1 is more expensive and is more of a survival knife
Both have the Tri-Ad locking system and G-10 handle.
SR1 is heavier at 7 ounces
Recon is more ergonomic in hand with a contoured handle.
Recon has pocket clips.
If you're looking for a more heavy-duty survival knife, check out the Cold Steel SR1 here.
More: Best AR 15 Multi-Tool: Best All In One Multi-tool for All Your Need
Cold Steel Recon 1 vs Code 4
Built with a similar design to the Recon 1, the Cold Steel Code 4 also features a contoured handle with a quick folding body style. However, Code 4 does not feature the G-10 grippy handle type of the Recon. Code 4 is also missing the DLC coating of the Recon 1, meaning it may be less durable and chip-resistant over time.
Compared to the Recon's 4-inch blade, the Code 4 features a slightly shorter 3.5-inch blade with a slightly shorter handle as well, making the overall length 8.5 inches compared to the Recon's 9 ⅜ inches total length. The Code 4 is also slightly thinner and more lightweight than the Recon.
Both knives are furnished with the Cold Steel Tri-Ad locking mechanism for safety as well. The Code 4 also features a pocket clip, as does the Recon 1.
Comparison
Code 4 is thinner, shorter, and more lightweight (more pocket friendly)
Code 4 is slightly less expensive.
Recon has a grippier handle.
Recon features DLC coating on the blade for more durability.
If you are looking for another useful pocket knife that is even more lightweight and compact at a similar price point to the Recon 1, you can check out the Cold Steel Code 4.
Cold Steel Recon 1 vs Spyderco Paramilitary 2
The Spyderco Paramilitary 2 signature folding knife is another durable option with a slightly shorter blade at 3.44 inches. It also features an ergonomically shaped G-10 handle, like the Cold Steel Recon 1, and has a slightly more compact unfolded length.
Both knives are built to last and have safety locking features, with the Recon 1's Tri-Ad system and the Spyderco's compression locking clip. Also, both knives can be used ambidextrously and have a pocket clip.
Comparison
Both have locking features and textured handles for grip.
Spyderco is slightly shorter.
Recon is less expensive
For a knife with a similar style from a different company, you can check out the Spyderco Paramilitary 2.
More: Leatherman Signal Review: Worth Buying?
Conclusion
If you're seeking a long-lasting blade that fits easily into your pocket and resists dullness or loosening over time, the Cold Steel Recon 1 is an excellent solution. Balancing durability and weight with compact size and longevity, the Recon 1 promises to stay sharp throughout the years so that it's ready to use when you need it most.