Camping with young children is fun and totally worth the added chaos, but it isn't always easy. The key to family camping with little kids is to camp smarter not harder. Part of that includes finding the best tent for camping with toddlers.
In this post, we will review five of the best tents to take camping with toddlers.
If you're in a hurry, the CORE 9-Person Instant Cabin Tent is the best overall tent for camping with toddlers. Read on for more of our favorite family camping tent and how it worked for us.
IMAGE
PRODUCT
DETAILS
Rating
Price

Best Overall

CORE 9-Person Instant Cabin Tent

Instant set up
Ground ventilation
Large windows and doors

Best Value

Ozark Trail 11-Person Instant Cabin Tent

Private room
Removable room divider
Large living space

Budget Friendly

Coleman Evanston 8-Person Tent
Coleman Elite Montana 8-Person Tent

Angled windows
Room dividers
Built-in lighting
Hinge door

Coleman WeatherMaster 10-Person Tent

Hinge door
Weather protection
Products
CORE 9-Person Instant Cabin Tent
Instant 60 Second Setup; Sleeps 9 people; Fits two queen air mattresses; Center Height:78
CORE H20 Block Technology and adjustable ground vent
Features room divider and wall storage pockets keep items neat and off the tent floor
Electrical cord access port (port is fully closable when not in use)
Includes rain fly, tent stakes, and carry bag
The CORE 9-Person Instant Cabin Tent is the best all-around option for camping with toddlers. Its large, 14' X9', floor plan; removable room divider; dual entry; and easy setup make this tent exceptional for family camping. The price of this tent is $269.99.
This tent has telescoping poles that are pre-attached to the tent body, so the setup process is complete in just a few short steps.
In fact…
…CORE advertises that this tent sets up in only 60 seconds. If you're familiar with toddlers, this means — in theory — that you could have the tent set up before the kids even manage to get out of the car.
The material is durable and water-resistant, too.
In addition, CORE designed this tent with added H20 Block Technology to make sure your family stays dry. And, two adjustable ground vents are built into the tent to prevent condensation from building up on the inside of the tent.
The CORE 9-Person Instant Cabin Tent has earned 4.6 stars from purchasing customers.
Pros
Instant set up
Advanced venting
Pockets to keep trinkets and accessories safe
Fits two queen size airbeds
Removable room divider
Large opening with alternate entry
The runner up for the best tent for camping with toddlers is the Ozark Trail 11-person Instant Cabin Tent.
This tent has the best value out of the five on this list. The separate living spaces, covered porch, and easy set up are great qualities to have in a family camping tent. This tent retails for $280.99.
The layout of this tent is both spacious and practical.
Within the large, 14 X14 floor area, there are up to three separate living areas created by room dividers. Two queen size air mattresses can fit inside this tent. One of these living areas is a dome pop out that serves as a private room. This space is especially fun for kids because it gives them their own extension of the tent.
Like the CORE Instant Cabin Tent, this tent has poles that are pre-attached for easy set up that only takes about two minutes. The pop-out room and added porch make the set up of this tent slightly longer, but easy enough all the same. This tent has one large entry, several windows, and a thin (yet, water-resistant) material to aid in airflow.
Reviewing customers have given the Ozark Trail 11-Person Instant Cabin Tent 4.4 stars.
Sale
Coleman Evanston 8-Person Tent
Weatherproof: Welded corners and inverted seams keep water from getting in; Included rainfly offers extra weather protection
Conventional pitch: Sets up in 15 minutes
Bug-free lounging: 10 x 5 feet full-floor screen room
Roomy interior: 10 x 9 feet with 5 feet 8 inch center height; Fits 2 queen-size air beds
Carry bag: Included for easy storage
The Coleman Evanston 8 Person Dome Tent is a great budget option. Priced at only $146.99, you get a lot of bang for your buck with this tent.
This main portion of this tent is a classic dome style with a floor area of 10 X 9 feet. This area is spacious enough to fit two queen-size air mattresses. A 10 X 5-foot screen room extends outward from the front of the tent. This feature is a huge asset to people camping with toddlers. Not only can it be used to increase ventilation or as a warm-weather sleeping area, but it can also be used as a secure play area that is visible from both inside and outside the tent.
This tent does not set up instantly like the CORE and the Ozark Trail do. However, its standard pitch, snag-free pole sleeves, and Insta-Clip pole attachments make this tent easy to set up in under 15 minutes.
Coleman designed this tent using their WeatherTec system which features welded floors with inverted seams to keep out the rain. Additionally, extended awnings allow you to ventilate the tent by keeping the windows open while it rains without letting the rain seep in.
The Coleman Evanston 8-Person Tent with Screen Room has received an overall rating of 4.4 stars.
Coleman Elite Montana 8-Person Tent
16 ft. x 7 ft., fits eight people or three queen airbeds, 6 ft. 2 in. height, room to stand and move
Sets up in 15 minutes or less
LED tent light with 3 settings high, low, nightlight
Hinged door for easy entry and exit
4 Pole modified dome design with color-coded pole sleeves and poles
The Coleman Elite Montana 8-Person Tent has the best extra features. When camping with toddlers, these extra features can make a world of difference.
This tent has a single entry, D-shaped door. The door is unique in the fact that it is structured and swings on a hinge, allowing you to open and close the door more easily. Velcro fasteners latch the door to the tent when it swings shut so you don't have to zip it closed after each use. This will save you from hollering, "Zip the door!" at your kids every five minutes.
Inside the tent are six built-in LED lights, so you can save your flashlights strictly for outdoor use. These lights can be powered by four D batteries of a rechargeable power cartridge that comes included with the tent. The power cartridge also comes with an energy pack to recharge the cartridge if needed. And, this energy pack can be used to charge anything with a USB.
The Coleman Elite Montana 8-Person Tent has received a rating of 4.3 stars. The lower rating possibly comes from the small windows that lead to poor ventilation or the floor area that is only 7 feet wide.
Sale
Coleman WeatherMaster 10-Person Tent
Cabin-like 10-person tent has enough room for 3 queen size air beds
WeatherTec system with patented welded floors and inverted seams to keep you dry
Hinged front door for easy entry and room divider for extra privacy
Sets up easily in 20 minutes
Measures 17 x 9 feet with 6-foot 8-inch center height
The Coleman WeatherMaster 10-Person Tent is the most resistant tent on the list, making it one of many parents' favorite family camping tents
Coleman succumbs all their tents to a thorough weather test to ensure peak performance.
The 10-Person WeatherMaster is designed with inverted seams, storm flaps that cover the zippers, and waterproof floors. Additionally, this tent features redesigned poles and guy-out triangles to combat strong winds.
This tent has two doors: one hinged door on the front and one D-shaped door on the back. When camping with toddlers, it's nice to have an additional tent opening that you can use to avoid stepping over sleeping kids or gear that is scattered throughout the tent.
This backpacking tent has received a 4.2-star rating amongst customers.
Cons
High windows mean less ventilation in the sleeping zone of the tent
Tent poles are not pre-attached, so set up takes longer
Buying Guide
There are many factors of a tent that need to be considered for the safety and satisfaction of the whole family. This buying guide will help you make an educated decision on whichkids camping tents are the best for your family so you can have fun, be comfortable, and stay safe while tent camping.
What do tent sizes really mean?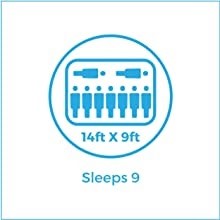 Tents are sized by the maximum amount of people that can sleep inside. Because of this, it is important to think in terms of space rather than the number of campers.
Most backpacking tents provide a visual aid on the outside packaging to show exactly how they measured out, let's say, nine people for a 9-person tent. More often than not nine people can only fit in a 9-person tent if they sleep with the majority of the people side by side, alternating directions, and the remaining few along the outer edges. Quite literally like a pack of sardines.
To ensure you have all the space you need for air mattresses, baggage, and extra gear you might consider getting a tent that is double in size (based on people) than the number of campers. For instance, if you have four campers, then you will want at least a 6-person tent to fit everything and everyone comfortably inside.
If anyone in your family is tall, then you may also want to take peak height into consideration. The peak height is the tallest point of the tent. Many larger tents (8-person or more) have a peak height taller than six feet. This is nice because it allows tall people to fully stand up inside the tent.
Shape: Cabin vs. Dome Tent
The shape of your tent determines how the space is laid out. Poor tent shape can make a large tent feel very small and awkward. And on the contrary, a well laid out tent shape can maximize the amount of livable space.
There are typically two styles of tent: cabin and dome tent.
A cabin tent is boxier than a dome tent because the poles are structured vertically to optimize interior space. This creates vertical tent walls that don't hang down on you when you sleep and allow you to use the corners of the tent more so than the standard dome-shaped tent.
And as a bonus, many cabin tents come with their poles pre-attached for an instant set up. The CORE 9-person tent and the Ozark Trail 11-person tent, reviewed earlier in this post, are both cabin style tents with instant set ups. These tents are generally preferred for family camping.
A dome tent is more common than a cabin tent, partly because the cabin style is a newer design. However, dome-shaped tents are still popular and praised amongst campers because they have proven their worth and are more cost-effective.
Dome-shaped tents have a pole structure that creates an X at the peak of the tent with the poles bending down towards each corner. The Coleman Evanston 8-Person Tent, mentioned in this review, is a good example of a standard dome-shaped tent.
Larger dome-shaped tents, such as the Coleman Elite Montana and the Coleman WeatherMaster, feature extensions from either side of the primary dome to create separate sleeping areas.
Should You Consider the Weight of the Tent Before Purchasing?
If you're camping with toddlers, then you are most likely car camping and not carrying your tent in a hiking pack. Thus, there is no need to take the tent's weight into consideration.
However, if you are hiking into camp with toddlers in tow, we are thoroughly impressed.
In that case, you may want to sacrifice tent size and ease-of-set-up for a lighter weight option. Of all the tents on this list, the Coleman Evanston 8-Person Tent is the most lightweight option by far, weighing in at 20.9 pounds.
How Durable Are Family Camping Tents?
Family camping tents are in a class separate from backcountry tents. Family tents are made to be large and easy to set up and have extra features to make your camping trip easier. Because of this, family camping tents use cheaper materials than backcountry or hiking tents.
This is beneficial in the fact that it gives family camping tents a lower price tag than if they were to be made with the same materials as backcountry tents. However, you should not expect your family camping tent to handle extreme storm conditions.
It may be helpful to keep in mind the denier count of the tent fabric while you are shopping. A higher denier count means the fabric is more durable.
All three Coleman tents that were reviewed in this post have a denier count of 75D, whereas both instant cabin tents only have a denier count of 68D.
Denier count, as well as other weather-resistant features, can make your tent more durable against weather. Seam tape, bathtub style floors, and sufficient guy-out points are other weather-resistant features to look for when shopping for your family camping tent.
What Are the Advantages of Having Multiple Tent Doors?
When camping with family, multiple tent doors is one of those small details that goes a long way.
Let's face it, camping with toddlers is messy. No matter how prepared and organized you try to be, the inside of your tent is likely to turn into a mess at some point.
Multiple tent doors allow for an easy exit in the dark hours of the day. Whether you're tip-toeing out of the tent for a midnight bathroom break or to start an early morning fire, you don't want to have to step over bags and bodies to get to the tent door. A dual entry allows you to easily exit at the tent door nearest you.
More: Tentsile Stingray Tree Tent Review: Is It Good Tent To Have?
Ventilation: The Secret to Comfortable Tent Camping
Many tents do a good job of keeping external moisture from entering your tent. However, not all tents can keep moisture from creating condensation on the inside of your tent.
Good ventilation is the key to preventing internal tent condensation.
Windows are one form of ventilation. For the windows to properly ventilate, they need to allow for good airflow even when it's raining. Negatively angled windows such as the ones on the Coleman Montana 8-Person Tent are a good example.
Additionally, windows that are placed low to optimize airflow in the sleeping zone of the tent can properly ventilate a tent. Although low windows may not be able to be left open when it's raining, they can aid in ventilation at other times.
Ground ventilation is an innovative feature that exceptionally ventilates a tent. It works by allowing airflow to enter through mesh material at the base of the tent. Most ground vents are located at corners and are adjustable. The CORE Instant Cabin Tent, our best overall option in this review, has two large ground vents.
The Benefits of Multiple Room tents
Camping with toddlers can get tricky at bedtime. Toddlers usually have earlier bedtimes than adults, even on camping trips. That is why it is nice to have a room divider inside the tent.
Room dividers allow your toddler(s) a place to sleep of their own. In addition, when you are ready to go to bed, it is easier for you to sneak into the tent without waking any sleeping children. Although it is far from a regular wall, room dividers will keep out enough light and sound for you to sneak into bed when you please.
The Ozark Trail 11-Person Instant Cabin Tent is a great option for camping with toddlers. It has a small private room that will make your toddler(s) feel like it was made just for them.
More: How to Keep a Tent Cool in Hot Weather
The Best Overall Tent for Camping with Toddlers
The options we've laid out for you are all reliable and each has special features to make your family camping trip a true success.
However…
…the CORE 9-Person Instant Cabin Tent is the best overall option for camping with toddlers and as an overall family tent with the Ozark Trail 11-Person Instant Cabin Tent a close second. B
Both kids camping tents perform well in poor weather conditions and have proven to make family camping easier with their easy to set up and innovative designs.
Either tent is sure to keep your family full of happy campers and it's just up to your preference what will be the best choice.
Happy camping!
fiberglass poles
6 person tent own tent