Selecting a suitable camping tent can be overwhelming and buying the wrong one can be an expensive mistake.
​Before heading out to backcountry, refer to our best tent for camping guide. We'll highlight key product features and benefits, as well as include a buying guide and valuable FAQs.
| Image | Product Name | ​Size (floor area) | Season | ​Accommodation | ​Rating |
| --- | --- | --- | --- | --- | --- |
| | | 29 ft2 | ​3-season | ​2-person tent | |
| | | 30 ft2 | ​3-season | ​2-4 person tent | |
| | | ​35 ft2 | ​3-season | ​2-4 person tent | |
| | | ​​20 ft2 | ​3-season | ​1 person tent | |
| | | ​88.6" L x 47.2" W x 37.4" H | ​3-season | ​2 person tent | |
| | | 83.3 ft2 | ​3-4 season | ​6-person tent | |
Reviews of The Best Tent for Camping
To make the most of your camping adventures, you need the best gear like, Sleep bags, Pillow (learn more here), foldable chair, table, etc. For some, that might be a budget tent for quick overnight trips or a one-person tent suitable for when you need to get away.
​We cover all tent types in this roundup.
MSR Hubba Hubba NX 2-Person
MSR's award-winningHubba Hubba NX 2-person tent is one of the best on the market. From its combination of lightweight materials and quality design to its ease of setup and packability, this 3-season tent is a great overall bargain.
The best tent for camping is designed with livability in mind; the Hubba NX is a prime example. It's compact with an interior space measuring 84 x 50 in. It features two large StayDry ™ easy-entry doors that include rain gutters. For storage and organizational purposes, there are two sizable vestibules and two interior pockets for small items.
Campers have three setup options: The rainfly and footprint (sold separately), just the canopy, or just the rainfly. All Hubba NX tents utilize a freestanding unified pole system for easy, fast setup.
The Hubba NX is a 3-season tent, perfect for mild storms, light rain and snow showers, and minimal winds. Both the canopy and rainfly are made of high-tenacity ripstop nylon with MSR's signature Durashield™ polyurethane waterproof coating.
Weighing in under four lbs., the Hubba NX is one of the lightest options on the market.
Consumer Reviews
From its compact design to its unified pole system and ease of setup, many consumers have deemed the Hubba NX the best tent for camping and a favorite amongst other camping gear. As one consumer put it, the tent is "Easy to pitch, roomy, lightweight and packs well. I have nothing but good things to say.
​Things We Liked
​Painless setup and breakdown

​Spacious

​Quality craftsmanship

​3-season weather protection

​Versatile setup options

​Fair price
​Things We Didn't Like
​Not equipped to handle severe weather

​Does not include extra guy lines, guy cords, and stakes

​Seam tape tends to dry rot after a few years of use

​Needs more interior storage options

​The rainfly allows for a considerable amount of moonlight
Final Impression
For campers looking to get the most from their purchase, the Hubba NX may be your best bet. It's engineered to handle the elements of the outdoors as well as enhance the camping experience.
​​More: Best Four Season Tent Review
Kelty Grand Mesa Tent
The freestanding Grand Mesa is suitable for most terrains. This 3-season, 2-4 person backpacking tent is constructed to accommodate the needs of a small family or a group of campers. It provides a sense of security and protection against the elements.
Kelty, known to use top-quality materials, features 7000 Series Aluminum poles and a combination of 40D and 68D breathable polyester taffeta and mesh throughout the tent. These provide outstanding structural stability, strength, and protection against condensation and pesky insects.
​The Grand Mesa includes a traditional wedge shape, 2-pole design for ease of setup. It also includes color-coded clips, an intuitive post/grommet point assembly, and painless rainfly attachments.
This family tent houses four with a floor area measuring 54 ft2 . It contains factory sealed seams for out-of-the-box weather protection, one large D-style door, a 14 ft2 vestibule for storage, four interior storage pouches, and gear loft loops. The mesh lends to great breathability.
Kelty's Grand Mesa is a not a cheap tent, but it is a cost-effective option that will satisfy most 3-season campers.
Consumer Reviews
​Collectively, consumers point out the quality, durability, and ease of use. Most say it is worth the price due to the tent's quick setup and large interior.
​More: Best Waterproof Tent For Camping In Rainy Weather
​Things We Liked
​Value over quality

​Easy setup

​Strong and stable

​3-season versatility

​The heavy-duty stuff sack
​Things We Didn't Like
​Designed for four, but more suitable for three adults, or two adults and two children

​The mesh screens can pose an issue in cooler, more severe weather

​One door to accommodate four people is not ideal
Final Impression
With few cons, the overall value of the Kelty Grand Mesa should not be overlooked. It's sturdy and performs as expected with a lot of positive reviews.
​Coleman Dome Tent
Popular amongst outdoor activists, the entry-level Coleman Dome is a user-friendly backpacking tent. It is spacious, heavy-duty, and built with the Coleman WeatherTech™ system.
Equipped to house up to four people, this dome tent has enough room to place two queen-sized air mattresses inside. Depending on the number of people, there is still space to store gear, backpacks, and pets. Campers also get excellent airflow due to the ground vent and big windows.
This freestanding Dome is stable and easy to assemble, as it features polyester fabric, 3 shock-corded, snag-free fiberglass poles, and 10 stakes. With a glance at the instructions or Coleman's video, you'll have your tent pitched in under 15 minutes.
The Coleman camping tent is dome-shaped, offering a 4 ft. 11 in center height and measures 9 x 7 ft. overall. Other notable features include: interior storage pouches, an electrical port, an attached doormat, and patented welded floors and seams.
Consumer Reviews
​Coleman has a loyal following, as a large number of consumer reviews are positive. Most owners like its quick assembly, spaciousness, and ability to withstand rainy weather.
More: Best Cabin Tent
​Things We Liked
​Excellent price

​Easy setup

​An available E-port

​Roomy

​Good ventilation
​Things We Didn't Like
little bit Heavy – packaged weight just under 8 lbs

​More suitable for spring and summer camping

​Not fitting for extreme weather

​Only has one door
Final Impression
The Dome is a bargain, entry-level tent. It offers tons of useful features but is missing sought-after inclusions like vestibules and a full-sized rainfly. Overall, this may be a top choice for novice or seasoned campers.
ALPS Mountaineering Lynx 1-Person Tent
Designed to offer everything you need for a solo hiking adventure, the Lynx 1 has a range of features. It's a well-designed, lightweight, and boasts a host of other add-ons.
The Lynx 1 comes with easily assembled aluminum poles and pole clips, allowing for a quick setup. There is an attached vestibule, which is essential for added storage. The included fly has factory-sealed seams and two vents for increased airflow.
It's light and portable for a solo traveler with a packaged weight of 4 lbs. 4 oz.
Repair swatches, interior mesh pockets, a gear loft, and a 3-season design are other mentionable features.
Consumer Reviews
According to consumer reviews, the Lynx 1 is the best tent for camping when it comes to solo travelers. Many would recommend this tent to their friends and family because of its features and price.
​More: What Is The Best Tent For Beach Camping? The Answer
​Things We Liked
​Lightweight

​Lifetime warranty

​10 ft2 vestibule space
​20 ft2 floor space

​Equipped with a rain tarp
​Things We Didn't Like
​Not suitable for extreme weather

​Footprint sold separately

​Small opening
Final Impression
​The Lynx 1 is an elementary, middle of the road solo tent that will satisfy the needs of an avid backpacker. Aside from missing a few luxuries, the Lynx 1 offers some must-haves at an affordable price.
Abco Pop-up Tent
Suited for spring, summer, and fall months, the Abco is an instant 2-person pop-up tent.
The Abco takes seconds to set up. From the carrying case, it pops into a ready-to-use shelter. It's conveniently designed with breathable double doors and windows, which are outfitted with nylon flaps for privacy.
This functional pop-up tent is ideal for the beach, a casual camping excursion, or tailgating. Also, the floor of the tent is padded for extra comfort.
Consumer Reviews
Consumers are in love with this compact, pop-up tent. The attractive characteristics include its lighting-fast setup and breakdown, its fairly spacious interior, and the double doors.
Consumers are also a fan of Abco's versatility, as it can go from the backyard to the beach to the campground.
​Things We Liked
​Lightweight

​Instant shelter

​Double doors

​Added nylon privacy layer

​Versatility
​Things We Didn't Like
​Not durable enough for all terrains

​Not designed for severe weather

​Low ceiling

​Seemingly short, flimsy stakes

​Zippers are not secure
Final Impression
The Abco falls in line with the saying, "You get what you pay for." While having access to an instant shelter is convenient, it's not built for rough and rugged camping. If you're looking for a quick tent option for casual camping, you may enjoy the Abco.
REI Co-op Kingdom 6 Tent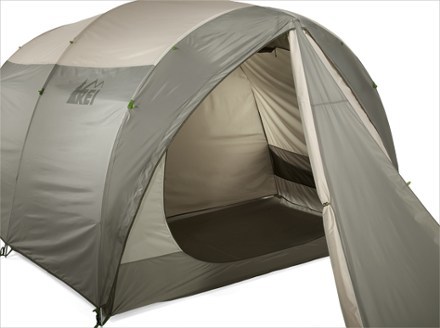 Designed to sleep six people and with two private rooms, the Kingdom 6 might be the best family tent on the market.
The freestanding Kingdom 6 can transform the interior into two private rooms. It's ideal for three seasons. There is 83 ft2 of interior space and a peak height of 75 in.
The Kingdom 6 has double doors and several handy storage options. It has a screened canopy, a single vestibule, rain-blocking awning, and mesh wall panels. All seams are factory sealed to ward off leaks.
An optional garage attachment provides an additional 61 ft2 for extra storage or living space.
Consumer Reviews
Quality materials, ample living space, private rooms, and tons of storage are just a few characteristics consumers love. They also appreciate the Kingdom 6's durability in rough environments.
​Things We Liked
​Customizable

​Optional garage feature

​Extremely spacious

​Well-designed

​Sturdy stuff sack with backpack straps
​Things We Didn't Like
​Difficult to set up

​Catches wind easily due to its height

​Rainfly is a bit short

​Limiting instructions

​Heavy
Final Impression
​REI is known for producing quality products, and the Kingdom 6 is just that. Although pricey, the value and features are unmatched. It's one of the best family tents available. If you're looking for a tent to use over the years, you may love the Kingdom 6.
Buying Guide
A tent is your home base while you're braving the outdoors. You need to consider the following aspects of your trip may be lackluster.
Key Features
The amount of space is essential when purchasing a tent. Keep in mind how many people will be utilizing the tent at once. Often, you may need to scale up when including space to store gear.
Be open-minded when it comes to price. Saving a few dollars may result in disappoint. Do your research to find the most budget-friendly tent for your needs.
Be mindful of the type of camping you will be doing and how long you'll be away. You may be heading out for a 10-mile mountain hike to camp for a week. This may require a heavy-duty tent that's comprised of heavier, thicker material.
Do your due diligence and research the setup process before making any purchase. Some tents are instant pop-up shelters, while others come with several components, requiring time and detailed attention.
Common Tent Types
To find the best tent for camping, you must first be aware of what's on the market. Below are a few common tents.
These are convenient and designed to sleep 2-3 people. It's an instant pop-up shelter, requiring no assembly.
Mountaineering tents (or 4-season tents)
These tents are typically comprised of strong fabrics and other heavy-duty materials to combat severe weather. Most have a dome design to protect against collecting snow and heavy downpours.
Engineered to handle mild weather conditions during the spring, summer, and fall. Though durable, they are made of lighter fabrics and materials and include mesh panels for ventilation.
Usually heavier in weight, these tents are known as hybrids. They are customizable to fit all kinds of conditions.
​Not for the faint of heart, tarp tents provide the bare minimum – a sheet of polyester or nylon that can be tied or rigged to a tree or fixed pole. A hammock is typically used beneath the tarp.
FAQs
Below are a handful of commonly asked questions in regards to purchasing a new tent.
Should I purchase a tent with a specific fabric?
Common fabrics used for tents are polyester, nylon, GORE-tex, and cotton. Each offer different level of insulation, breathability, and water resistance.
Consider your environment to find the best choice.
Does the type of material make a difference when it comes to tent poles?
Yes, it does. Commonly used materials include aluminum, fiberglass, and carbon fiber. Aluminum poles are light, yet durable and robust.
Fiberglass poles, typically found on cheap, light-duty tents, are heavier, delicate, and cheap.
Carbon fiber is more expensive than aluminum and fiberglass and is found in high-end tents. They are not as durable as aluminum, but they are extremely strong.
How long will my tent last?
The lifespan of a tent depends on how much it's used, the exposure to extreme weather conditions and UV rays, and how well-maintained it is.
How do I prevent condensation and mildew?
Mildew can be very damaging to your tent. The best way to combat mildew is to ensure your tent is completely dry before packing it up.
Turn it inside out and hang it outside or in a dry place for a few days.
Condensation is another huge issue, which depends on certain variables like weather, the environment inside the tent, and respiration.
Use your tent's built-in breathable doors and windows to allow ventilation. Leave wet gear outside of the tent to dry.
​If it's possible, avoid camping directly near water sources.
Is cleaning my tent necessary? If so, how do I clean it?
Unless it is filthy or begins to smell bad, there is no need to clean your tent.
If you must, pitch your tent and use a regular garden hose to rinse and loosen any dirt.
For heavily soiled areas, use a mild, non-detergent soap, a sponge, and warm water to tackle them.
Be sure to dry the tent before packing it.
Conclusion: The Winner
Buying your first tent or upgrade is not an easy task. The best tent for camping means something different to everyone.
That said, we believe the Coleman Sundome 2-4 Person Dome Tent is the winner.
It offers everything you need, from accommodating multiple people to being easy to pack away. If you're the casual camper, then this tent will likely be your optimal choice.
​The other tents are designed for specific cases, such as solo camping or quick assembly, but the Coleman Sundome provides something for everyone.