When you plan a camping trip, there are some essentials to pack: a tent, sleeping bag, bivy sacks to keep you warm, water bladder to keep you hydrated, and of course, the best camping pillow.
In this guide, you will discover the best pillows for camping, road trips, or any kind of excursion where you'll need a little extra comfort to make it that much more enjoyable.
​Why Do You Need a Camping Pillow?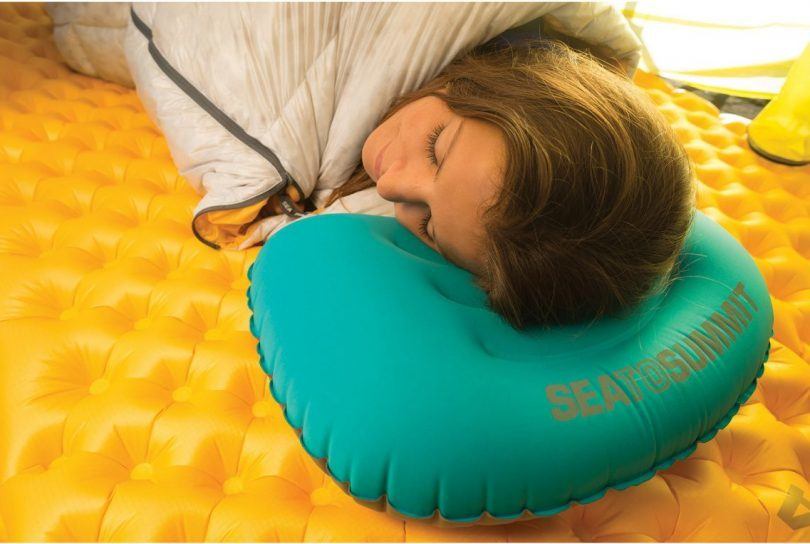 Some of you might not find it necessary to get a camping pillow when you can make your own one during the trip like using a stack of dirty clothes, climbing ropes, folded jacket, or even your arm as a pillow.
We all know that all of these options can make a very lousy pillow for a good night's sleep. Waking up with an aching neck is not a good morning start for hiking or for any kind of camping activities that you might do for the whole day.
This is why it is indispensable to grab a suitable pillow for your trip before you go to your camping destination.
​Choosing the best backpacking pillow will depend on how you camp
Before you head out on your next camping trip, you should assess how you camp outside to find the best product.
Do you tend to hike all day while carrying all your things? Or do you prefer car camping and use parks? These are some examples of a typical camping situation.
Assessing your camping situation will help you find the best product for you.
| Image | Product | ​Material | ​Type | Our Rating | ​Price |
| --- | --- | --- | --- | --- | --- |
| | Therm-a-rest Compressible Pillow -Best Camping Pillow | Urethane Foam | ​Compressible | | |
| | | ​Polyester | ​Inflatable | | |
| | | ​Fiber | ​Compressible | | |
| | | ​Polyester | ​​Inflatable | | |
| | | ​Urethane Foam | ​Hybrid | | |
7 Things to Consider When Choosing the Best Camping Pillow
If you are looking for the perfect pillow for a comfy, great night's sleep, then you should consider several things like:
1. The Fabric
The fabric is one of the most important factors that you should consider when picking out the best pillow to camp with. An ideal camping pillow comes with high-quality fabric that can ensure a relaxing sleep.
2. Weight
If you tend to do more hiking than staying in one place, you should buy the lightest option possible to keep your bag light. Carrying a light pack is important during a camping trip.
​3. ​The Shape and Sizes
The first thing that you have to consider is the shape and size of the pillow; these characteristics play a huge role in a late-night comfort, and as well as its portability when on backpacking trips or if you change camping spots often.
​4. ​Warranty
If you are buying a product in the higher price range, you might want to look at the warranty to see what terms are offered.
​5. ​Choose User-Friendly Products
At the end of a long, tiring day of traveling, you shouldn't have any trouble with your pillow, or else it might just cause you to snap because of frustration. It would be better for you to buy an easy to use one that won't give you any kind of trouble.
​6. ​Neck Support
Consider buying a pillow that offers an adequate amount of neck support. There are tons of soft options available on the market, but many of them can end up giving you a stiff neck, ruining your trip.
​7. ​The Size of Your Pack
The pillow's size and characteristics that you are looking for will depend on the planned size of your pack. If you are planning to pack a lot of stuff with you, you should probably look for a small pillow.
​3 Types of ​Comfortable ​Pillows
There are three kinds of camping pillows that you should know about; this will help you choose the perfect one that is suitable for your needs.
​1. Compressible Camping Pillows
Pillows such as the compressible ones from Therm-a-rest are usually filled with synthetic fibers, various foams, and down feathers, sometimes it's filled with a combination of these.
These are the most comfortable types of camping pillows, which are somehow closer to the type we use at home.
Pillows that are filled with down feathers are the most compressible, lightweight, softest. However, these features make them more expensive than those filled with foams and synthetic fibers.
​2. Inflatable Camping Pillows
An Inflatable pillow is the kind of pillow where you'll need to blow in the air before you can use it. This makes them lighter and firmer than compressible and hybrid pillows.
To use this type of pillow, you'll need to remove it from its sack and blow air into its valve. You can adjust its thickness by letting some of the air out through the valve. There are self-inflating options available as well if you are low on puff after a hard day hiking.
However, these types of pillows can also be less comfortable than other types. But they do make a good choice for camping as it only takes up a fraction of the space needed for the compressible and hybrid types.
​3. Hybrid Camping Pillows
Hybrid pillows are some of the best rated camping pillows in the market. They are a combination of both compressible and inflatable pillows, so you get the best of both worlds.
These types of pillows have a compressible top layer where you can comfortably lay your head, and an inflatable bottom layer to increase its ability to support your head.
Because of its ability to provide comfort, it has become one of the top-rated pillows in the market.
The Best Camping Pillows Reviews
In this section, we have selected and reviewed five of the best camping pillows for you to choose from. This shortlist of products is one of the best pillows on Amazon, and I hope that you get the perfect pillow for yourself in this shortlist.
Here are some of the highest-rated pillows in the market:
1. Therm-a-rest Compressible Pillow – Best Pillow for Camping
Therm-a-Rest Compressible Travel Pillow for Camping, Backpacking, Airplanes and Road Trips
Ultralight (9 ounce) compressible travel pillow with soft foam filling that packs down small for road trips, plane travel, camping, and backpacking
Foam filling expands into a 4-inch thick pillow for head, neck, and back support in tents, cars, planes, and other tough-to-get-comfortable places
Compact design packs into a backpack, duffle, suitcase, or tote; drawstring and cord lock keeps pillow securely compressed when not in use
Brushed polyester cover is soft against skin for comfort; lofty urethane fill is an upcycled byproduct of Thermarest mattresses
Pillow measures 14 x 18 x 4 inches (14 x 5 x 6 inches compressed) and weighs 9 ounces; before use, shake and fluff to restore loft; machine washable; made in the USA
This Therm-a-rest compressible travel and camping pillow is truly camping and travel essential for those who love to camp, travel, road trips, and such. This is an ideal pillow for those who are looking for a comfy sleep while on-the-go.
The pillow expands to a 4-inch thickness and is soft and squishy for the head, making it easily compressible to pack in a tote, duffel, camping bag, and more.
This top-quality pillow will provide you with the best comfort; it has its own bedding cover that is soft against the skin, providing its user comfort, good sleep, and relaxation in the most uncomfortable places.
More: Therm-a-rest Compressible Travel and Camping Pillow Review
​Specifications
Sizes: This product is available in Small, Medium, Large, and Extra Large sizes. The smallest size measures 14 x 18 x 4 inches when expanded; when compressed, it measures 14 x 5 x 6 inches.
Weight: The pillow will weigh from 7 to 15 ounces depending on its size.
Color: The product is available in Amethyst, Bluebird, Cardinal, Clover, Denim, Gray, Pistachio, and Furry Camo.
Material: Memory Foam
Type: Compressible
​What We Like
​It can be compressed when not in use

​It is machine washable

​Its 4-inch thickness can provide support on both the head and neck

​Very light and comfortable

​Convenient for travelers

​Available in different colors

​It has a brushed polyester cover which is soft and velvety against the skin
What We Do Not Like
​It takes time to remove excess water after being washed completely

​It is still a bit bulky when compressed
​2. Trekology Ultralight Inflating Camping Pillow – Best Inflating option for Camping
Sale
Trekology Ultralight Inflating Travel/Camping Pillows
Small in Size - Big on Comfort! This is the most compact & lightweight inflatable camp pillow on the market – folds down to 5x2 inches, smaller than a soda can! Inflates to a comfortable pillow for head or lumbar support. Deflating back down in only seconds. This backpacking pillow can easily be carried in your backpack or pocket for convenient access. Weighing a mere 2.75oz (78g), lighter than a can of soda! This is the only travel pillow you will ever need period!
Newly Designed with Your Ultimate Comfort in Mind - Improved Ergonomic Design with Enhanced neck support for a restful night's sleep! The Dreamer Comfort Air Pillow is ideal for back, side and stomach sleepers alike. Inflates to a generous 16 x 12 x 4 inches, in a mere 3-5 breaths (approx.). Ergonomically designed for superior neck and back support while you travel—sleep like at home. The only thing left to decide is where to go. You can Rest easy with our 100% Satisfaction Guarantee!
Now More Durable Than Ever! Enhanced design with added layers for head support that is constructed from highly durable elastic TPU fabric that boasts water resistance. So, whether sleeping under the stars in the mountains, in your boat on the open seas, tenting at your favorite national park or staying at a hotel on holiday—your Dreamer comfort travel pillow is the perfect travel companion.
Ease Of Use! With the simple click of a button, Inflate pillow by mouth with approximately 3-5 breaths. Once you are done you can conveniently deflate the pillow with the Quick Deflate feature which rapidly releases air after use in only seconds. With the unique technology in this compact and light pillow, you are able to adjust firmness to your personal sleep preference.
Sleep Without Worry with Our Propitiatory Slip-Resistant Design - No more slipping off your pillow in the middle of the night! The Dreamer Comfort pillow back is made up of a slip resistant material to prevent your head from moving around while you sleep. Always ensures you have a good night rest! Pairs well with air inflatable sleeping pads.
Here is one of the cheapest Ultralight camping pillows available in the market- the Trekology Ultralight Pillow; they may be inexpensive, but they are said to provide you with the best comfort for outdoors.
It might be a budget option, but it is made out of high-quality materials, making it a great camping solution. The pillow can be inflated and deflated anytime you wanted to make it very convenient to carry around.
Another great thing about this inflatable pillow is that it contours around your neck, which would give you the best comfort and support regardless of your sleeping position.More: Trekology Ultralight Pillow Review
​Specifications
Size: When inflated, can measure up to 16 x 12 x 4 inches
Weight: This product can only weight to up to 2.75 oz
Color: Buyers can choose from black, orange, green, pink, deep blue, brown, blue camo, and blue
Fabric: Made from 80% Polyester and 20% TPU
Type: Inflatable
What We Like
It can be deflated which can be stored inside a tight bag

It has multiple available colors depending on your preference

​Cheaper than other camping pillows

Provides better comfort and support on neck, head, and shoulder

​It has extra inter-layers

​It is very lightweight

Much more comfortable than any other inflatable pillows
What We Do Not Like
​Air may leak

​It can be too dense when fully inflated
​3. Teton Sports Comfortlite Camp Pillow – Best Budget/Cheap Camping Pillow
TETON Sports Camp Pillow
SMALL PILLOW THAT'S BIG ON COMFORT: Extra soft travel pillow is the perfect support when it's time to relax; Just right for camping, backpacking and road tripping
WASHABLE: Designed to be taken anywhere; This travel pillow and pillowcase can be washed together or separately
NO INFLATING NECESSARY: Pillow lofts up on its own; Whether you're sleeping under the stars, driving cross-country or on an airplane, you'll rest easy
MATCHING CAMPING GEAR: Each pillow matches the lining of one or more TETON Sports Sleeping Bags and packs down tight
TETON SPORTS PROMISE: Reach out to our AMAZING product support team if you have any questions or concerns; YOU CAN COUNT ON US to get you taken care of and back OUTDOORS with TETON Sports
This inflatable camping pillow by Teton Sports has the same fiber filling of SuperLoft Elite, which is also used in comfortable sleeping bags. Even when the product is compressed tightly, its loft can remain even.
One of the product's great features is its poly-flannel-designed pillowcase; the fabric is very soft to the touch and can match some of your Teton sleeping bags if you have one.
Another good thing about the product is that they have a limited lifetime warranty. If you receive a defective item, and the manufacturer has concluded that it has a defect in workmanship, they will repair and replace it without any added charges. You can find more details about Teton Sports Comfortlite Camp Pillow here.
​Specifications
Size: When not packed in its sack, it can measure to up to 12 x 18 x 18 inches
Weight: The small pillow's pack weight is about 10 oz.
Colors: Teton camping pillows have four optional colors, which are Green, Grey, Brown, and Black
Storage: The pack is included with a stuff sack with a drawstring closure
Material: Fiber
Type: Compressible
What We Like
Its pillowcase can be removed and is washable

It comes with a stuff sack that has a barrel-lock drawstring

It has a very soft fabric that would feel cozy against your face

Four optional colors

Lightweight, highly convenient for travels

​It has a limited lifetime warranty

​Very affordable
What We Do Not Like
Might be a bit small for those who have large heads

The pillow cover isn't made out of cotton.
​4. Sea To Summit Aeros Pillow Premium
Sea to Summit Aeros Pillow Premium
Inflate pillow in just a couple of breaths with the multi-functional valve. Brushed 50D polyester knit is very soft and durable
Synthetic fill between pillow case and TPU bladder increases comfort and wicks away perspiration
Curved internal baffles create contours that cradle your head
Scalloped bottom edge centers pillow around your shoulders whether you are sleeping on your back, side or upright in a chair
Regular: 14 x 10 x 5 in. (2.80oz / 79g)
The Aeros inflatable camping pillow from Sea To Summit is one of the most comfortable pillows in the market. Aside from providing comfort, it is also one of the bestselling products of Sea To Summit.
The product is highly durable and a luxurious option for such a compact and lightweight package. The outer layer is made of brushed 50D Polyester knit. Thus it's a soft feeling against the skin.
One of the best features of this product is that it comes in two sizes: perfect for those who often move around in their sleep and those who camp that want a little bit of luxury while sleeping.
More: Sea to Summit Aeros Inflatable Camping Pillow Review
​Specifications
Size: This product only has two sizes, regular and large
Weight: it could weight to up to 3.7 oz
Colors: The product only comes in two colors, green and blue
Material: Polyester
Type: Inflatable
What We Like
It is effortless to inflate and deflate

Very comfortable to be used as a pillow

It has a soft touch to the skin

It has a curved internal for the comfort of your neck, shoulders, and head

It has a multi-functional valve which could inflate the pillow with just a couple of breaths

Doesn't consume a lot of space when packed
What We Do Not Like
​You can sometimes receive a defective item

Some of these products cannot hold air for a long time
5. Nemo Fillo Inflatable Travel Pillow – Best Hybrid Camping Pillow
Nemo Equipment Fillo Luxury
ADJUSTABLE COMFORT - Thick luxury foam provides soft and yielding feel, while the 3" I-beam baffled air cell offers support substantial enough for side sleepers
LIGHTWEIGHT & COMPACT - Weighing in at a mere 12 oz and collapsing to the size of a grapefruit, you won't have to sacrifice pack space for comfort
MACHINE WASHABLE - The Fillo's ultrasoft microsuede pillowcase is easily removable for machine washing
INTEGRATED STUFF SACK - The Fillo's integrated stuff sack protects the microsuede surface from ever-invasive camp dust
MULTIPURPOSE DESIGN - Though designed for camping, the Fillo's portability and cushioning makes it a go-to solution for lumbar support on redeye flights and car trips
For luxury, when staying outdoors, the Nemo Fillo is said to provide you with all the comfort that you need. Sleeping in a tent or sleeping bag is not actually the most comfortable place to sleep in, but it can make everything more bearable and comfier with a camping pillow.
One of the great features of this inflatable is that it is soft and machine washable. Since the product can be deflated, you can even pack this product in your pocket after use.
You'll hardly notice the product's presence during your journey until it's time for you to use it. The product's portability and great comfort make it one of the best pillows in the market.
More: Nemo Fillo Inflatable Pillow Review
​Specifications
Size: The pillow has a dimension of 5.8 x 4.5 x 4.2 inches
Weight: It weights to up to 15.8 ounces
Colors: You several optional colors for this item, the colors include Moss Green, Nimbus Grey, Sapphire Stripe, Stalker Stripe, Sunrise Stripe
Type: Inflatable
What We Like
It is very compact; it only has a measure of 4 x 6 inches when packed

​Machine washable

Ultra-soft fabric pillowcase

The locking valve and inflatable baffles can control the pillow's height

​It has an integrated stuff sack

The pillow has a multi-purpose design
What We Do Not Like
​The pillow creates noise with the slightest of movement

It is a bit small
​Conclusion
The winner is Therm-a-Rest Pillow, and the reason why we chose the Therm-a-Rest Compressible pillow is that it can provide more comfort for the user. It may be a bit bulky when packed and hard to dry, but it provides comfort, no matter your sleeping position or where you are camping.
Unlike the other compressible pillows out there, this product has the perfect size for adults and children. The foam filling can expand to up to 4-inch thick, providing more comfort to the neck and head.
Aside from camping, the pillow is also great for long plane rides, car rides, and more. Another great feature of the product is that it has a very compact design. If you have a bit more space in your backpack or other kinds of bags, you can still fit in this product.
Also, the polyester cover of the pillow makes the product more soft and comfortable to the touch.