The bkr water bottle promises a leak-free, easily cleansed, quality hydration experience, perfect for travel or carrying around the city. With its glass body and protective, soft, removable silicone sleeve, the bkr water bottle is durable and provides a pure taste.
If you are seeking a stylish water bottle, the bkr may be just the ticket. This water bottle is a stand-out in its category for its variety of sizes and antimicrobial, all-glass body style that doesn't hold onto undesirable flavors like a plastic water bottle does.
Based in San Francisco, California, bkr was founded in 2011 by two best friends who wanted to positively impact the environment by creating a reusable water bottle targeted towards fashionable, health-forward women. They created the bkr water bottle as an eco-friendly, clean, stylish option.
Along with water bottles, bkr as a company has also created a lip balm that snaps onto the water bottle lids, as well as a compact storage container. The company aims to make hydration easy and luxurious.
Read on for our full bkr bottle review below to find out if this is the best water bottle to fit your needs!
Things to Consider Before Buying a Water Bottle
Before you go out and buy a new water bottle, you need to consider how much water you want to carry. The bkr glass bottle comes in 8 ounce, 16 ounce, and 32 ounce options, so it is quite versatile in a range of day-to-day activities.
You should also think about the various water bottle materials and their potential drawbacks to determine which type of water bottle is right for you.
Glass is naturally antimicrobial, doesn't leach chemicals into the water, is resistant to cold and heat, and doesn't hold onto flavors or smells. On the flip side, glass is more breakable if dropped and is usually more expensive. 
Also, consider that a glass bottle may be heavier than a plastic or stainless steel option. This may make a large glass water bottle less comfortable to hold all day or to carry around in a backpack.
When plastic bottles heat up in the sun or in your car, they leach chemicals, such as phthalates and polymers, into the water. This can be toxic to our health over time. Bisphenol A, one of these chemicals, is even linked to breast cancer. You can find plastic bottles that are free of such chemicals with the added benefit of being shatterproof and more lightweight and rugged. 
Stainless steel water bottles, as long as they are lead-free, are safe to drink from. Like glass, stainless steel does not leach chemicals. However, some users may feel that stainless steel bottles have a metallic taste.
With the above information in mind, you may want to consider a glass water bottle, such as the bkr, if you plan to drink flavored waters or other flavored drinks, as glass will not absorb and hold onto these flavors undesirably. The bkr or other glass bottles are also a great option if you want to ensure that your hydration experience is chemical-free.
Features & Benefits
bkr Water Bottle
YOUR HYDRATION ESSENTIAL - The original glass water bottle and ultimate solution to disposable plastic bottles. bkr is your daily hydration habit in a clean, clear water bottle that is durable enough to handle anything life throws at you.
ENDLESSLY REFILLABLE, TRACKABLE HYDRATION - Meet your water bottle soulmate. A 500mL glass water bottle that will change the way you hydrate forever, a bottle that's endlessly refillable, beautifully sustainable, and truly loved.
CLEAN EXPERIENCE - Your 100% dishwasher safe glass bkr gives you the most authentic hydration experience. Our water bottles hold no scents, are inert, and naturally BPA-free so your hydration is never tainted by residues, stains, or leaching.
SILENT SET DOWN - Sip comfortably on the go without a splash. bkr's blissfully smooth, removable silicone sleeve sets down silently and provides everyday durability for little bumps, while offering a soft feel and a no-slip grip. To top it off, our leakproof cap with a carrying loop provides easy leverage to twist, tighten, and carry your Little wherever you go.
CULT FAVORITE - bkr is a magical accumulation of little details that together feel like luxury. It's like the perfect t-shirt of water bottles. It's soft and pretty, it feels right and fits right, you want it in every color, it's effortless, you can't help but love it, and it becomes an extension of you.
Health-Conscious Hydration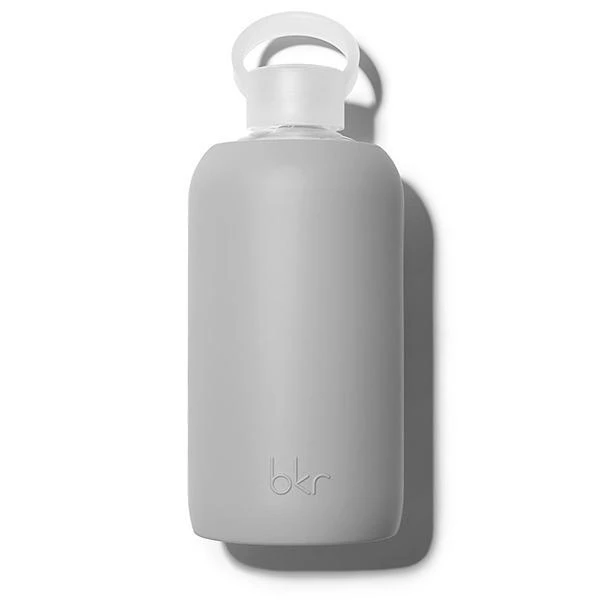 The bkr water bottle claims to promote healthy, soft, smooth skin by making hydration more sustainable and pure, as the body of the water bottle is constructed entirely of glass and can be easily refrigerated without holding onto unwanted flavors or smells. This makes the entire hydration experience more enjoyable.
It's important to note that the bkr water bottle is a healthy option, because glass is free of chemicals and naturally antibacterial. It is non-reactive, impermeable to gases and liquids, and easily cleaned in the dishwasher to remove any potential microbes.
Note that this product is advertised to be limited edition.
More: Best Cooler Like Yeti
Size and Weight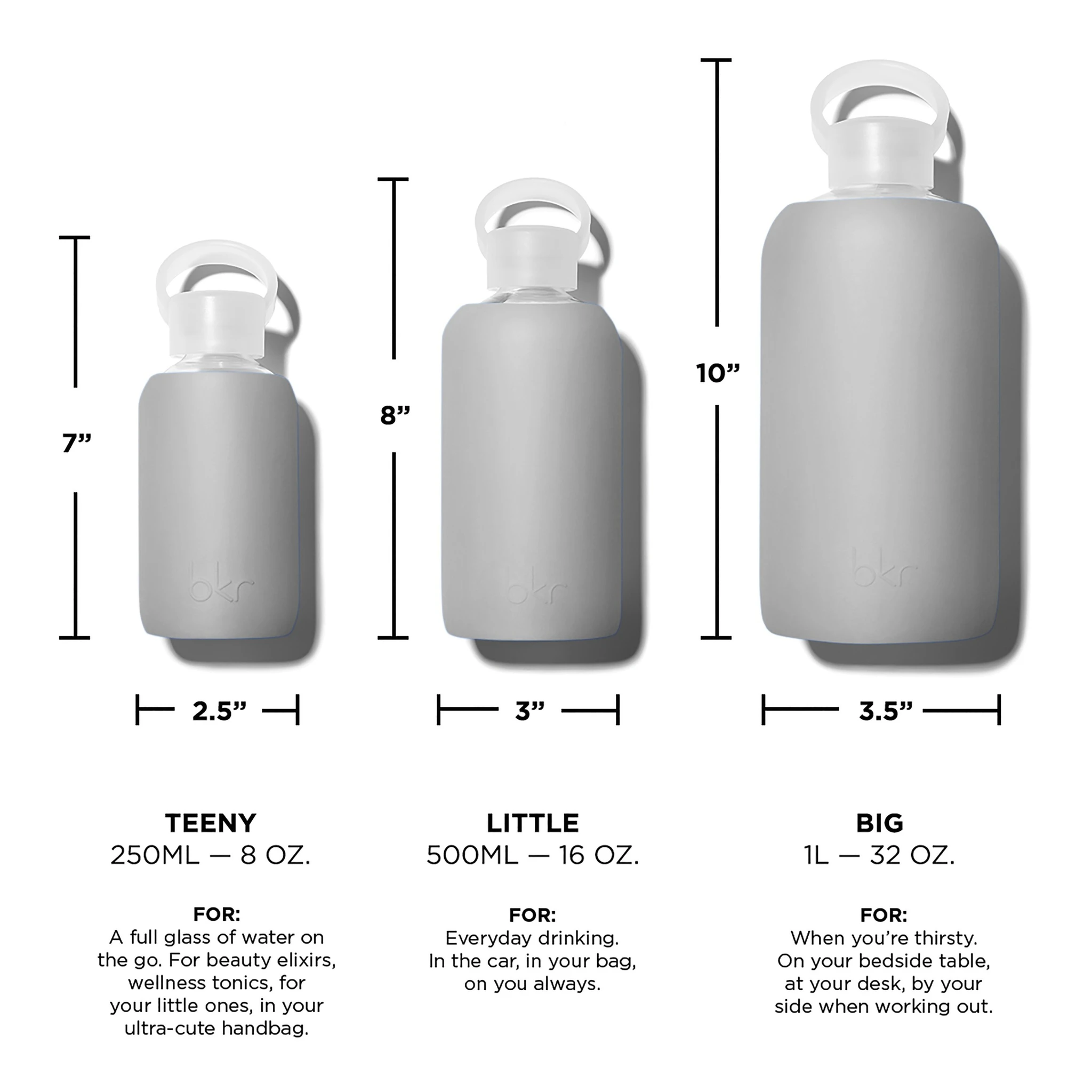 Available in three different sizes, the bkr glass bottle is versatile, depending on your hydration needs for the day. 
The 8 ounce option, the "teeny," holds just enough water for a quick drink when you're heading out the door or busy at home. This is a compact size perfect for carrying in your purse, or it may serve as a small water bottle for your kids.
The medium or "little" size, which holds 16 ounces, is an easy size for general everyday use, although it is likely too small for all-day hydration and would need multiple refills throughout the day.
The largest size, called the "big," holds 32 ounces of water. This is a great option if you're looking for a water bottle that holds enough for continuous home or gym use. Keep in mind that the large size is unlikely to fit in the cup holder of your car.
When filled with water, the largest size weighs approximately 3.5 pounds, which is fairly heavy. However, as we'll discuss below, the silicone sleeve adds grip to prevent dropping it.
Ergonomics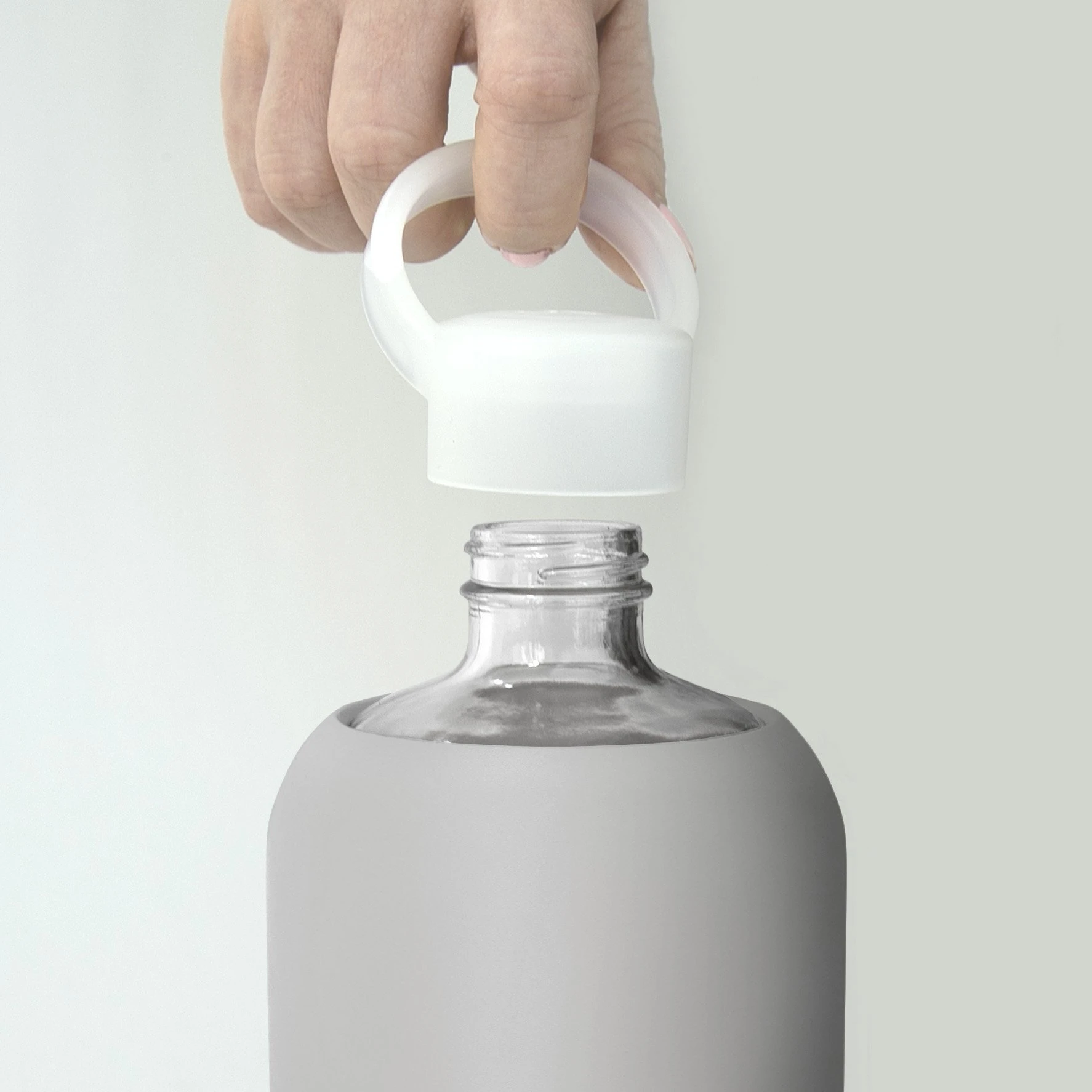 Promoted as "no-spill," the bkr glass bottle has a small mouth opening. This makes splashing and sploshing of water a thing of the past, and you can more easily drink from it when on the go.
The bkr water bottle features a removable silicone sleeve around its entire body. This soft, grippy silicone sleeve helps to keep the bottle feeling sturdy in your hand.
The water bottle cap turns easily to unscrew, which feels quite ergonomic. It has a silicone loop grip on it. Bkr also makes a special "Paris water balm." This lip balm snaps right onto the top of the bottle cap, so you can conveniently access your lip balm throughout the day without fear of losing it.
Care and Cleaning
Be careful to remove the silicone body piece periodically to clean it, as mold could build up underneath it over time. As for the glass body of the bottle, it is dishwasher safe, as long as it's placed on the top rack.
More: RTIC 45 Cooler Review
Appearance
Marketed towards fashion-conscious women, I found the bkr water bottle to be quite fashionable and trendy. Its muted colors are unique and look very presentable, whether in the business setting or out on the town with friends. There are many colors choices available, including navy, black, lavender, peppermint, periwinkle, pale peach, coral, and grey, pictured below.
bkr Water Bottle Specifications Table
Feature Type
Feature Specs
What This Means

Size

8 ounce: 2.5 x 7 inches
16 ounce: 3 x 8 inches
32 ounce: 3.5 x 10 inches

Various size options are available, making the bkr water bottle versatile.

Weight

32-ounce bottle weighs 3.5 pounds when full

This water bottle is slightly heavy for carrying all day.

Materials

All glass, BPA-free, phthalate-free; silicone sleeve

Glass is non-permeable and non-reactive, doesn't leak chemicals, and is dishwasher safe.

Warranty

90-day warranty

Replaceable up to 90 days after purchase. Purchaser should email bkr a photo of the broken bottle, the receipt, and details explaining how it was broken.

Retail Price

$25-$50

These water bottles are kind of expensive compared to other options.
Customer Reviews
In my search for my next water bottle, I scoured the internet and found some user reviews that sounded rather positive. Below, you can read some of these users' experiences with the bkr glass water bottle to determine if it sounds like a good option for you.



Alternatives
bkr vs Nalgene Tritan
The Nalgene Tritan, with its more lightweight and durable body, is better suited for hiking compared to the glass bkr bottle. The Nalgene does not require a sleeve to be extremely rugged.
Also, the Nalgene is available in both wide and narrow mouth sizes and fits a variety of lid styles.
While the Nalgene is constructed of plastic, it is marketed as Bisphenol A-free and phthalate-free, so it should be safe to drink from.
Both the bkr and Nalgene are dishwasher-safe and can hold either cold or warm drinks. However, because it's constructed of glass, the bkr water bottle may taste more pure than plastic bottles. The bkr's glass body is also naturally antimicrobial.
More: YETI Rambler 20 OZ Review
Comparison
Nalgene is more utilitarian, lightweight, and durable, making it better suited for hiking
bkr has a purer taste and is naturally antimicrobial
If you're looking for a more rugged option, the Nalgene may be a great option.
bkr vs Soma
Another glass option, the Soma BPA-free glass bottle also comes with a fitted silicone sleeve and muted, mature colors.
The Soma is available in only two sizes: 17 and 25 ounces. Note that the Soma's 25 ounce option may be a better fit for those who wish to carry a more moderately sized bottle, compared to the bkr's 32-ounce option, which may feel too heavy throughout the day.
Lastly, the Soma doesn't have the versatility of the bkr's lip balm attachment built into the cap.
More: YETI Roadie 20 Cooler Review
Comparison
The Soma doesn't come in the very small 8 ounce or larger 32 ounce option
The Soma is available in 25 ounces, which is a great "in-between" size
Both are made of glass
If the Soma sounds like a better fit for your everyday use, you can check it out here.
bkr vs Hydro Flask
The Hydro Flask is equipped with vacuum wall insulation to prevent condensation and maintain the desired temperature of your beverage. The Hydro Flask will also be more durable and lightweight than the glass bkr.
While the HydroFlask promises not to retain flavors, some have reported a slightly metallic taste. However, this may be something that you get used to over time.
Lastly, while the bkr is dishwasher safe, the body of the Hydro Flask must be hand-washed and only the lid is dishwasher safe.
Comparison
Hydro Flask is made of stainless steel and is more durable and lightweight
Hydro Flask is insulated
bkr is easier to clean
If you are seeking a water bottle that is more lightweight and durable than the bkr but don't want to purchase a plastic bottle, the Hydro Flask may be a good choice.
Conclusion
Water bottles can be extremely complicated, and once you start to research the various options and materials available, it can be overwhelming to choose one. The bkr bottle is a health-conscious, all-glass option that can simplify your choice. With its versatile sizes, silicone sleeve, and lip balm attachment in the lid, it is an interesting, fashionable, and healthy choice.
I'd give the bkr water bottle a 9.4 out of 10 stars for its eco-friendly, slightly heavy, all-glass body style.