Marketed as being your "home away from home," the Browning Big Horn Tent promises to be roomy and comfortable enough for eight people to enjoy camping together. Equipped with six wide windows and two doors, the tent is comfortably ventilated in the warmer months, while its strong fiberglass poles and durable rainfly help the tent to hold its own against storms and wind.
In the box, the tent comes with a fabric wall divider, extra pole clips, a rainfly, guy ropes, and stakes.
Browning Camping, licensed under ALPS Mountaineering, was founded in 1878 in Utah as a firearms appreciation marketplace. Today, the company creates durable camping and fishing gear, firearms, knives, bows, flashlights, hiking clothing, bags, and other accessories. As a company, Browning stands for outdoor recreation and protection of the natural habitat.
To find out if this tent would be the perfect match for you and your family, please read the article below for a full Browning Big Horn Tent review!
Things to Consider Before Buying a Tent
Before you purchase a tent, it's important to consider various aspects of your camping needs. First, determine how many people will be camping with you. If you have a large family or group and want to camp with everyone under the same roof, the Browning Big Horn may be one of your best options.
Another important factor when choosing a tent is the weather you will be facing. With its waterproof rainfly, durable construction, and 3-season rating, the Browning Big Horn is equipped to handle rainstorms or windy days.
An important note about the Browning Big Horn is that it is not the kind of tent you want to take on longer hiking journeys. Weighing 30 pounds, the Big Horn will quickly become tiring on your back. If you are planning a backpacking adventure, you may want to consider bringing several lighter tents so that each person (or couple) can carry their own, rather than one person hiking with a large, heavy tent for several hours.
Features & Benefits
Browning Big Horn Tent
Our Browning Big Horn Series is a free-standing tent with fiberglass poles and steel uprights, giving ultimate extra strength and stability
Two-room wall divider, extra tall center and straight side walls gives more room for cots, sleeping bags and extra gear
Six large windows, two doorways and mesh roof offer easy entry and ultimate ventilation
Fully equipped with mesh storage pockets, polyester fly, guy ropes and steel stakes
Base Size: 10' x 15', Packed Size: 12" x 30", Center Height: 87", Total Weight: 34 lbs. 11 oz.
Setting Up/Pitching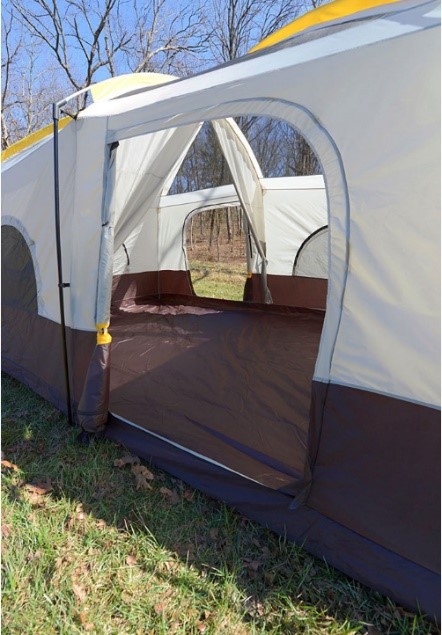 Although the Browning Camping Big Horn Tent is very large, you will find that pitching the tent is incredibly easy, thanks to its free-standing hub design with built-in pole clips and attachments that make pitching the tent a breeze. Because the tent is made with fiberglass poles and steel uprights, the base feels incredibly strong and stays in place despite high winds or movement. Overall, it feels very sturdy and reliable.
To set up the tent, first open the box to organize all of the contents. Layout the tent on flat, even ground. Stake it down at each corner to begin. Take out your poles and click them straight to elongate them. Feed the poles through the pole inserts along the sides and top of the tent, which are color-coordinated. As you feed the poles through, the tent will begin to pop up.
Next, attach the vertical poles to the tent so that it stands up taller. Insert the ends of the poles through the stakes in the ground to keep them securely in place. Then, attach your rainfly at the corners, and drape it over the top of the tent as well. You can also velcro the rainfly in place at the sides for extra security.
Lastly, it's time to set up the doors. Insert the rods into the front of the doors. You can then insert the rods into their corresponding eyelets nearby to hold them in place.
More: The Best Tent for Camping with Toddlers and How to Find Them
For This video goes through the unboxing and setting up of the Big Horn tent:
Here's another video demonstrating set up of the tent and an overview of the details:
Size and Roominess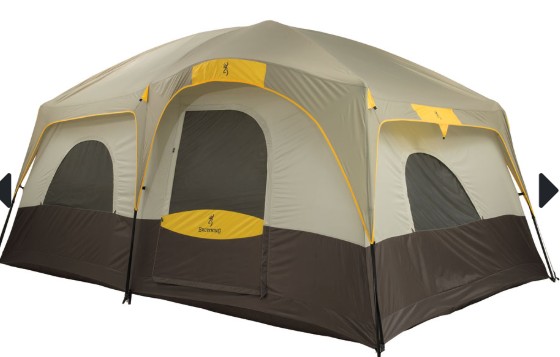 The Big Horn tent, marketed as a " person cabin tent style," stands 7 feet 3 inches tall in the center, so there is plenty of space for adults to stand upright and move around comfortably. Also, the tent is equipped with six windows and two doors to even further increase the feeling of roominess. The ample room and doors make it much easier for the tent to host a family.
This picture shows how large the doors are and how spacious the tent looks:
Overall, the dimensions of the interior are 10 feet x 15 feet x 7 feet 3 inches, so it really does feel like a small cabin. Its total floor area is 150 square feet. Also, the tent is constructed with straight walls instead of slanted walls like most tents on the market. This also helps the tent to feel very open and spacious inside.
TheBig Horn Tent can be split into two separate rooms or sleeping spaces as well. You can easily put up the fabric wall divider for privacy to accomplish this, making the tent rather versatile. The wall divider zips closed and can be draped back when not in use. Also, there is a door on each side of the privacy divider so that each space has its own entrance and exit.
It is also worth noting that there are mesh storage pouches, Storage Pockets, and gear loft inside the tent for extra organization of all your essential items.
Weatherproofing and Ventilation
For weatherproofing, the Big Horn is equipped with a rainfly, which is coated in a waterproof 750-denier polyester material and stays secure to protect from heavy rainstorms. Also, the floor of the tent itself is made of polyester and is factory-sealed to keep moisture from the ground from seeping into your sleeping space.
The Big Horn tent is built with plenty of mesh. Its large roof, wide doors, and six windows really allow for a lot of airflows, especially when you open the panels that run along the roof of the tent. Effective ventilation makes sure that condensation doesn't build up inside your tent, which can cause mold and mildew.
I never felt the tent to be stuffy at all, not only because of how spacious it is, but also due to the ventilation that it offers. Another cool feature of the windows is that the flaps can be partially zipped down as well, if you want some airflow but not as much as an entirely open window provides. The doors are also equipped with zippered flaps to regulate the airflow.
More: Tentsile Connect Tree Tent Review: Is It a Good Tree Tent?
Weight, Packing, and Materials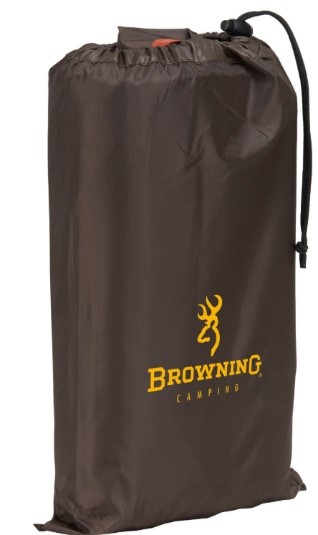 While the Browning Camping Big Horn 2 large room tent is durable, with its 75 denier polyester waterproof rainfly, 150 denier, factory sealed polyester tent floor, large door with large zipper, and fiberglass tent poles, all of this makes for a rather heavy tent. The overall weight is 30 pounds 11 ounces.
Its heavier weight means that it is probably not a great option if you're planning a backpacking trip. After all, most family tents are not the best option for this. Instead, the Browning BigHorn would better fit if you're planning to sleep at a campsite that you can drive to.
Even with its large size, the Big Horn Tent packs easily into a portable carrying bag.
Browning Big Horn Tent Specifications Table
Feature Type
Feature Specs
What This Means

Size

8-person tent 150 square feet

The Big Horn tent has enough space for eight adults, meaning that your entire family can camp together.

Weight

30 pounds 11 ounces

The tent is rather heavy and would be difficult to hike all day while carrying it on the trails.

Materials

Rainfly: 75 denier polyester with 2,000 mm coating
Floor: 150 denier polyester oxford floor, factory-sealed seams

The rainfly is sturdy and waterproofed. The floor is sealed to keep water out of the tent.

Warranty

Lifetime warranty

With proof of purchase, the lifetime warranty covers flaws or defects in manufacturing or materials. ALPS Brands will replace or repair the tent as long as it is not caused by normal wear and tear.

Retail Price

$299.99

The Browning Big Horn tent comes with a fair price range.
Social Proof
When I was on the search for a larger tent that can fit my whole family, I came across the Big Horn Tent and found that it has plenty of space. I then scoured the internet for user reviews of the tent, which seemed to be rather positive.
Here are some screenshots detailing some of these users' experiences with the Big Horn tent: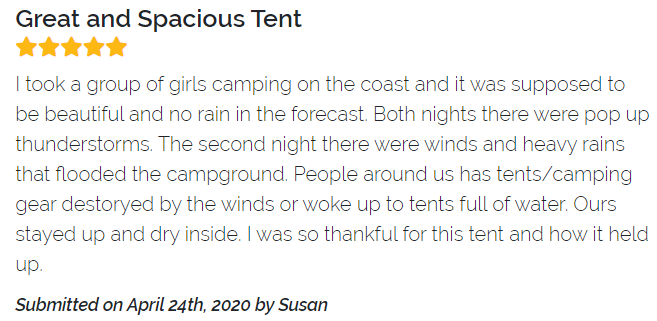 More: Tentsile Stingray Tree Tent Review: Is It Good Tent To Have?
Alternatives
Browning Big Horn 8-Person vs Browning Big Horn 5-person tent
Another family tent is the Browning BigHorn 5-person tent, which also shares many of the features of the 8-person BigHorn, such as mesh doors, fiberglass poles, and large windows.
The 5-person tent measures 8 x 10 feet and also has straight walls for spaciousness, even though overall it is smaller than the 8-person version. The smaller version has only three windows instead of six, and also has only one door.
Comparison
Both are well-ventilated and durable
Both have a rainfly and are weatherproofed
The Browning Big Horn 5-person tent is slightly smaller
The Browning Big Horn 5-person tent is more lightweight
The Browning Big Horn 8-person tent is equipped with a room divider
If you want to camp with your family but don't need all the space of an 8-person tent, perhaps the Browning Big Horn 5-person tent is a better option.
Browning Big Horn 8-Person vs Coleman 8-Person Instant Tent
While the Browning Big Horn has a floor area of 150 square feet, the Coleman Instant Tent measures 140 square feet total. The Coleman is also slightly shorter vertically but is still tall enough for an adult to stand up in it.
Both of these 3-season tents are weatherproofed with a rainfly, tub floors, welding at the corners, strong fabrics, and durable seams.
The Coleman Instant Tent also markets an easy set up, as the poles come already attached. All you have to do is extend the poles.
Comparison
The Coleman is slightly smaller inside
Both tents can hold up to rain and wind
Both tents are easy to set up
Browning Big Horn vs Ozark 10-Person XL Family Cabin Tent
The Ozark Trail 3-Room XL Family Cabin Tent is even larger than the Big Horn camping tent, with a floor area of 200 square feet. Hence, it can sleep ten people with three queen mattresses inside, so it's a better option if you want to camp with a huge family.
Comparison
The Ozark Trail has three rooms and fits ten people
Both tents have six windows
Both tents have a rainfly
The Ozark Trail is 50 square feet larger
If you are planning a camping trip for ten people, check out the Ozark Trail tent here.
Conclusion
It can be a difficult task to try to find a tent suitable enough for a large family. Thankfully, the Browning Camping Big Horn family camping tent is large enough for eight people to sleep comfortably inside.
With its durable frame, spacious interior, convenient privacy divider, multiple mesh windows and doors for ventilation, and protection from the rain, the Big Horn offers a comfortable, long-lasting option for family camping trips. .
If the Browning Big Horn tent sounds like the perfect tent for you and your camping group, you can check it out here.