The Tentsile Connect Tree Tent provides a camping experience akin to a hammock, but with more durability and space. Rather than traditional ground sleeping, the tree tent enables you and one other person to sleep in the trees for an experience that is truly one with nature.
Since 2012, Tentsile has harnessed the unique design of their patented three-point anchoring system to create a wide array of versatile tree tents and hammocks, creating an interesting camping experience versus traditional ground camping.
The Tentsile Connect Tree Tent stands out as a more lightweight option than their other tree tents, as it is meant to house only two people. However, its versatility is also worth mentioning, as the tent can be attached to other Connect tents to create an even larger sleeping space.
Tentsile designs and produces tents and hammocks with sustainability always in mind by using sea shipping to reduce pollution and utilizing only 100% recyclable paper materials. The company works towards forest preservation and conservation, planting twenty trees with each tent purchase towards the goal of 1 million trees by the year 2021.
With the tent comes the rainfly, bungee cords, ratchet snaps, poles, pegs, spare parts, and the user manual.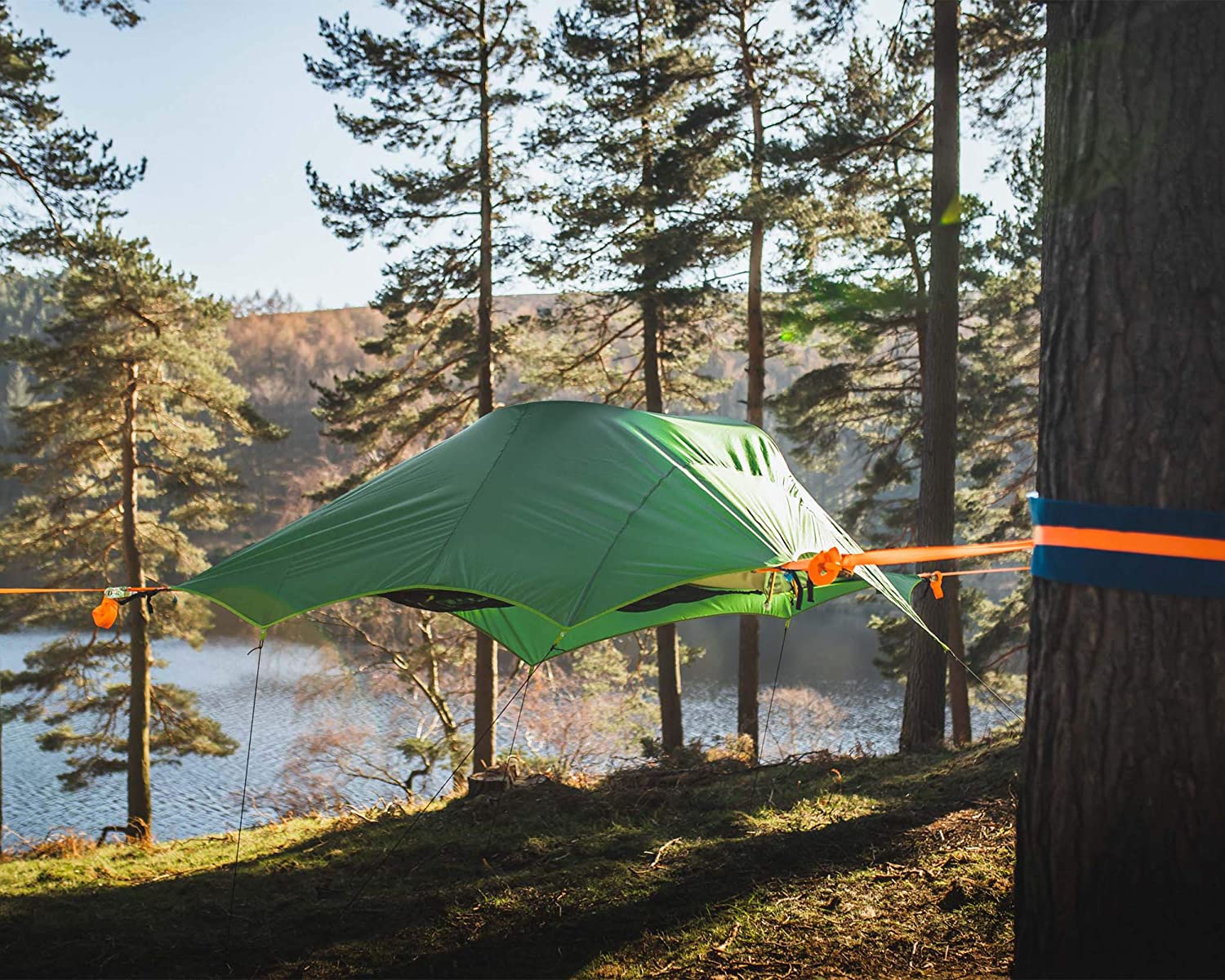 Check out our full Tentsile Connect Tree Tent review below.
Things to Consider Before Buying a Tent
Before you purchase a new tent, there are various aspects to consider. What kind of weather will you be facing? How many people will be camping with you? Will you be traveling far on foot with the tent? How much do you want to spend? Do you need protection from insects?
The Tentsile Connect Tree Tent might be your best bet if you plan to camp with just one other person in the spring, summer, or fall. It does have a rainfly, so you can feel protected in case of showers. You will also be protected from insects with the mesh net that also allows for breathability.
Overall, if you are interested in a unique style of camping but don't need to purchase one of the larger styles, perhaps the Tentsile Connect Tree Tent is a good option.
Features & Benefits
Setting Up/Pitching
While setting up the Tentsile Connect Tree Tent for the first time may seem daunting, it isn't all that complicated and gets easier with practice.
To begin, find a space with three trees in a triangular shape from one another. Layout your tent on the ground with the corners pointed towards the trees. Attach the ratchets through the d-rings of the corners of the tent, and cinch them tightly.
Next, take out the tree wraps, and wrap them around each of your trees. This will protect the tree bark from any damage. Wrap the straps around the tree wraps and loop them tightly. Then, attach the straps to your corners of the tent through the ratchets. Cinch them tightly as well. As you cinch, the tent will be raised up gradually higher and higher off the ground.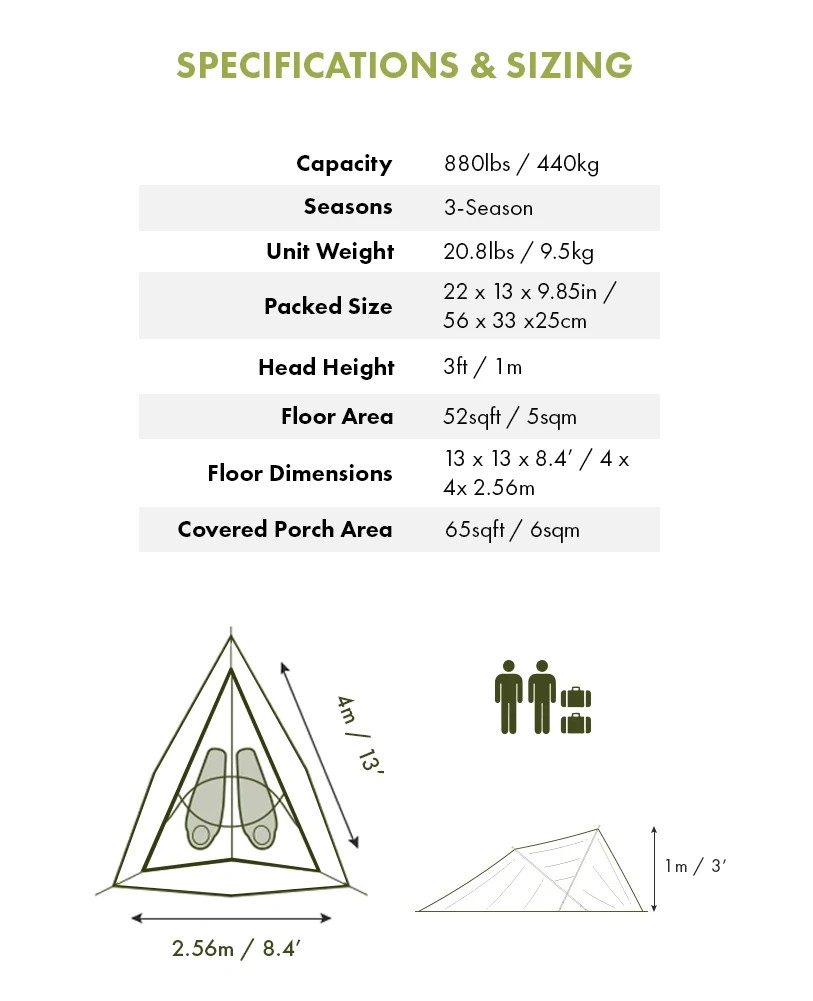 Next, set up your two poles by snapping the segments straight and inserting them through the pole sleeves. Once the poles have been inserted, push them upwards to pop up the tent. Put the poles into their sockets along the side of the tent.
To attach the rainfly, find the tail (the skinny section), and attach the c-shaped clips to the ratchet handle at one of the corners. Drape the rainfly over the tent. Then, attach the other c-shaped clips to the other corners.
Lastly, loop both ends of a bungee cord. Attach the bungee cord to the rainfly, stretch the bungee to the ground, and screw the peg into the ground through the end of the bungee loop. This will keep the rainfly in place.
For a visual demonstration of how to set up the Tentsile Connect Tree Tent, watch this video:
Size and Roominess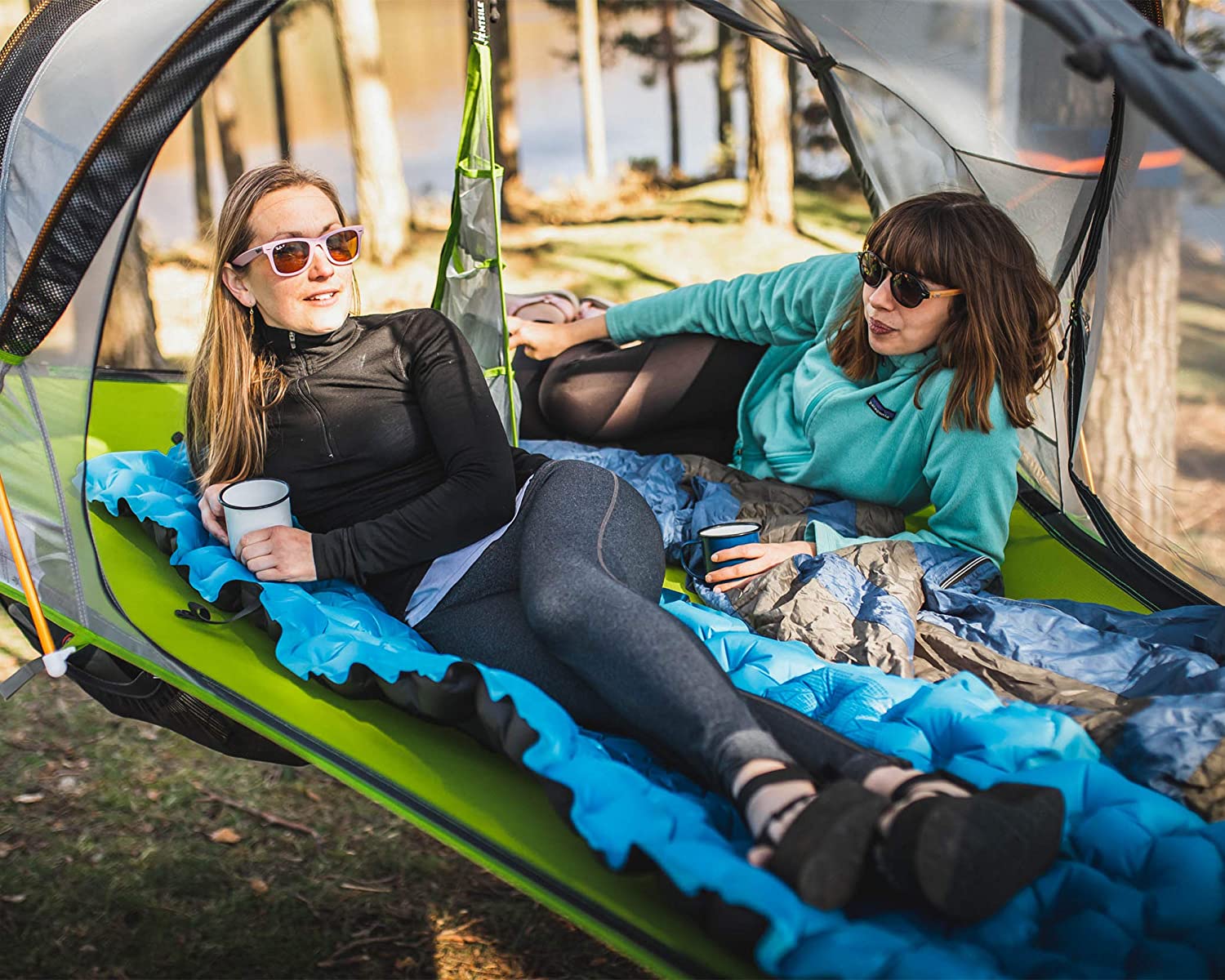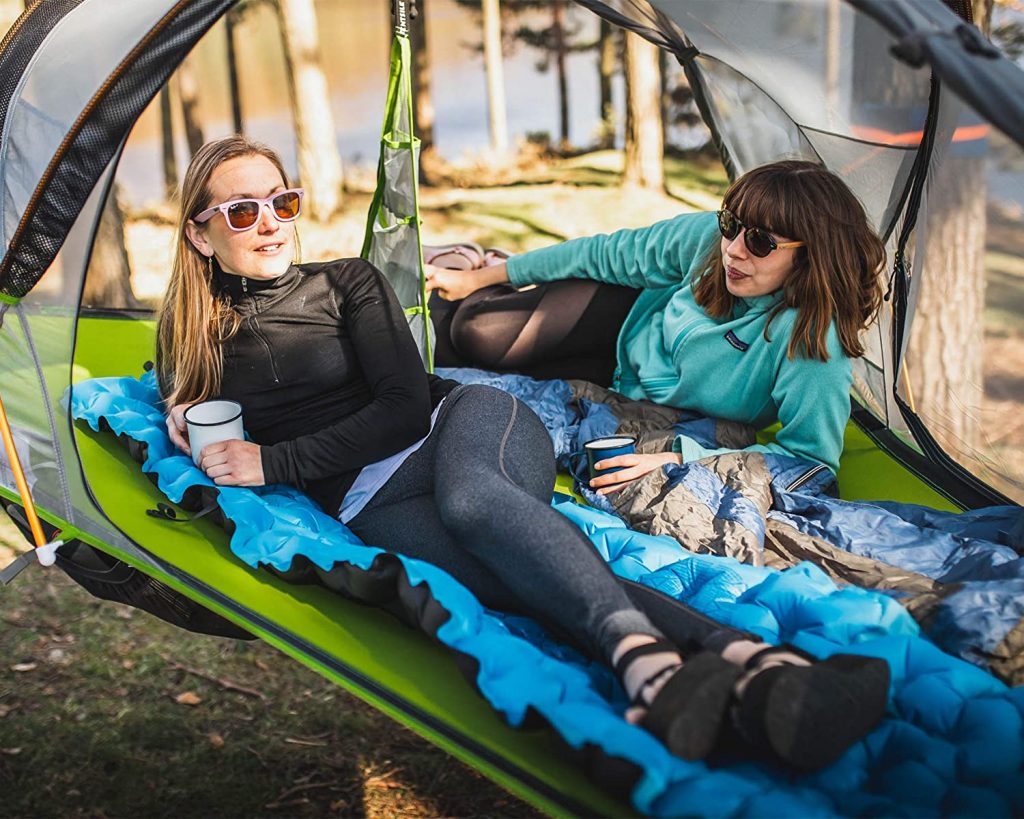 The Tentsile Connect Tree Tent is meant to hold two adults comfortably, with a load strength of up to 880 pounds.
The tent has a head height of only three feet, so it's a little short on the inside, but not so much that you'll feel claustrophobic or cramped. It makes for a cozy camping experience. Since the tent is 8.4 feet long, you essentially have an 8-foot-long bed, which allows you to stretch out your legs entirely.
The total floor area of the Connect is 52 square feet, with the floor dimensions of 13 ft x 13 ft x 8.4 ft, which is a reasonable amount for only two people. The total covered area of the tent is 65 square feet.
Despite its smaller size, one cool feature of the tent (in fact, the feature that gives it its name) is that the Connect can "connect" to other Connect tents to create a larger sleeping space called a Trilogy 6-Person Super Tree Tent, as shown in the image below. This makes the Connect tree tent a versatile option. With the Super Tree Tent set up, you can camp with your whole family.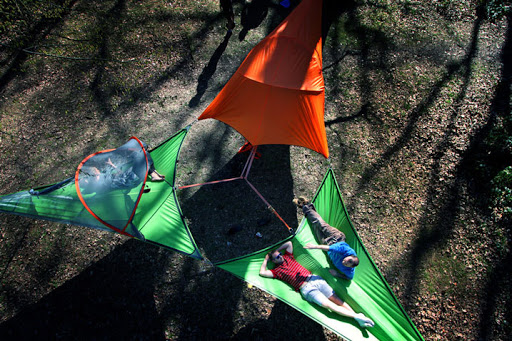 More: The Best Tent for Camping with Toddlers and How to Find Them
Another convenient aspect of the Tentsile Connect Tree Tent is that it comes with two storage area nets underneath its floor, as well as two internal pockets for storing all your important gear and keeping it organized effectively.
Here's a video that shows a demonstration of real-life usage of the tent, some tips, and how two campers can fit inside the tent:
Weatherproofing and Ventilation
The Tentsile Connect Tree Tent is rated as a 3-season tent, meaning it is best used in spring, summer, and fall.
The tent's removable rainfly is constructed of a polyurethane-coated polyester, making it hydrophobic, so you won't have to worry about showers ruining your camping experience.
The built-in insect mesh, keeps your insect friends out of your sleeping space where they don't belong. The mesh also allows for a great amount of ventilation, making sure you won't feel stuffy and hot while you sleep.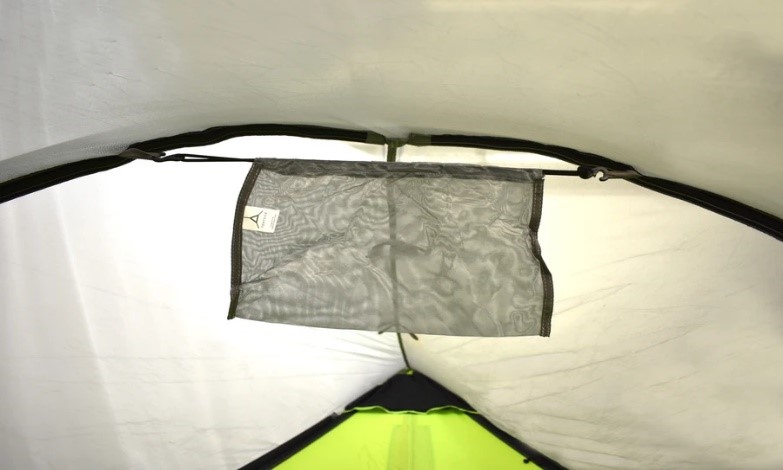 Also, the nature of the tree tent is that it is more ventilated, because being lifted up off the ground allows air to circulate under and around your tent more effectively.
Weight, Packing, and Materials
While the Tentsile Connect Tree Tent is more lightweight than some of its counterparts, it still weighs 20.8 pounds. This makes it a pretty hefty option if you're planning on hiking with the tent in your backpack all day.
The Connect can be packed down into a decently compact size of only 22 x 13 x 9.85 inches.
The tent floor is sturdy and durable, as it is constructed from 250 denier inclined joint nylon-polyester blended fabric. The strength of the fabric ensures that you won't sag through the bottom of the tent as you sleep. The rainfly is made of waterproof material, and the insect mesh is breathable and durable as well.
More: Marmot Limelight 3p Review: Is It A Good Tent To Buy For Camping?
Tentsile Connect Tree Tent Specifications Table
Feature Type
Feature Specs
What This Means

Size

13 ft x 13 ft x 8.4 ft
Floor area: 42 square feet
Covered porch area: 65 square feet

The Tentsile Connect Tree Tent is smaller than other Tentsile tents. However, as its name implies, it can "connect" to other tents of its type to create more space

Weight

20.8 pounds

The Tentsile Connect Tree Tent, while more lightweight than other Tentsile tree tents, is still quite heavy for long hiking trips

Materials

Rainfly: 70 denier polyurethane-coated polyester
Floor: 250 denier inclined joint nylon-polyesterInsect mesh

The Tentsile Connect Tree Tent is built to withstand rain and is also breathable and durable

Warranty

1 year

Contact Tentsile to use the 1-year warranty for manufacturing faults or issues with functionality

Retail Price

$499

Slightly expensive
Social Proof
Intrigued by the concept of the tree tent as an alternative to standard ground camping, I scoured the internet and was able to find some user reviews that praise the Tentsile Connect Tree Tent for its versatility and unique camping qualities.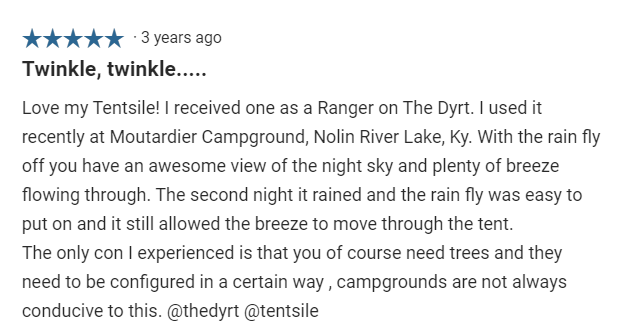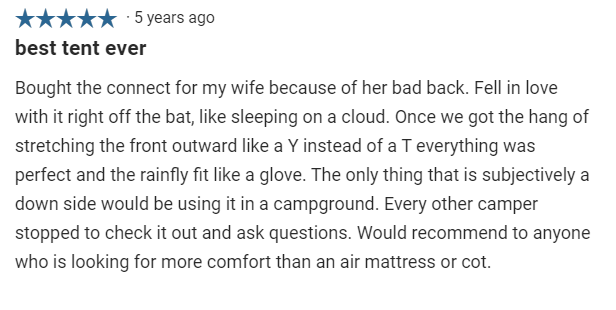 Alternatives
Tentsile Connect vs Tentsile Flite
The Tentsile Flite, like the Tentsile Connect, is a tree tent meant to camp two people, although it is slightly smaller than the Tentsile Connect in surface area and floor dimensions. The Tentsile Flite holds only 485 pounds compared to the Connect's 880 pounds, which means that you might not be able to sleep with some of your heavier gear inside your tent if you choose the Flite model.
Both of these Tentsile models are three-season tents that come with a rainfly for protection from the elements and an insect mesh overlay to keep the bugs at bay.
The Tentsile Flite is considerably less heavy, with an overall weight of just 8.4 pounds compared to the Tentsile Connect, which weighs in at 20.8 pounds. This makes the Tentsile Flite a much more lightweight option for all-day hiking trips when you need to carry your tent with you.
Comparison
Both have a rainfly, insect mesh, and are built to withstand three seasons
Tentsile Flite holds about half as much weight (for gear)
Tentsile Flite is much more lightweight (better for hiking)
If you are looking for a more lightweight tree-style tent for a camping trip for two, the Tentsile Flite may be a better option.
Tentsile Connect vs Tentsile Stingray
The Tentsile Stingray is a slightly larger tent with room for three adults compared to the Connect's two. With an overhead height of 3 feet and floor area of 52 feet, the Tentsile Connect is shorter and smaller on the inside than the Tentsile Stingray, so it might feel a little more claustrophobic. However, the Tentsile Connect, with its ability to link up with other Connect tents, is perhaps the more versatile option.
The Stingray is also heavier, which is a drawback if you will be hiking with it.
Both tents come with the rainfly and insect mesh and are built to withstand three seasons.
Comparison
Tentsile Connect has a smaller internal space but is more lightweight
Tentsile Connect can comfortably fit two people, while the Stingray can fit three
Tentsile Connect can link with other tents of its kind for versatility
Both are three-season tents
Tentsile Stingray is more expensive
If you are seeking a roomier tent than the Tentsile Connect yet one that shares many of its features, the Tentsile Stingray may be a great option for your adventures. Also, you can check our detailed review of Tentsile Stingray Tree tent here.
Conclusion
There are so many varieties of tents these days that it can be a challenge to choose one. Thankfully, the Tentsile Connect Tree Tent brings a unique style of camping to the table.
With the Tentsile Connect, you have the chance to sleep in the midst of the trees. With its comfortable sleeping bay arrangement, breathable mesh cover, and rainfly, the Tentsile Connect is a durable, versatile option to make your camping trips more enjoyable. You can even create a series of multiple connected tents so you can have space for the whole family.
Because of its versatility, unique design, comfort level, and weatherproofing, I give the Tentsile Connect Tree Tent a 10 out of 10 stars.