Whether you are a newbie camper or a seasoned pro, camping in the state of Alabama can be exceptionally fun.
That's because there are various campsites and spots here, right from primitive sites, new RV sites, cavern spots to luxurious resorts.
When it comes to a satisfactory camping experience, choosing a campsite becomes quite puzzling. To make it a little easier for you, here we have mentioned 25 best campsites in Alabama campgrounds for you to go over.
Learn More : ​
Best ​Camp-​Grounds in Alabama 2019
1. Oak mountain state park
Oak Mountain State Park is situated nearly 20 miles south of Birmingham, in the city of Pelham, Alabama, U.S.
It is Alabama's largest state park with around 9940-acres area and is home to myriads of campsites. It also houses Alabama Wildlife Center, Oak Mountain BMX Track, Oak Mountain Interpretive Center, fishing lakes, boat rentals, Peavine Falls, and much more.
For camping, this park has up to 85 RV sites (with electric, water and sewer hookups) and 65 primitive campsites. And, it also has several backcountry sites for backpacking. Dogs are allowed but must be on a leash. Know that dogs are not permitted in the beach area, any building or cabins.
Entrance fee is $5 each for adults, $2 each for age 4-11.
2. Gulf State Park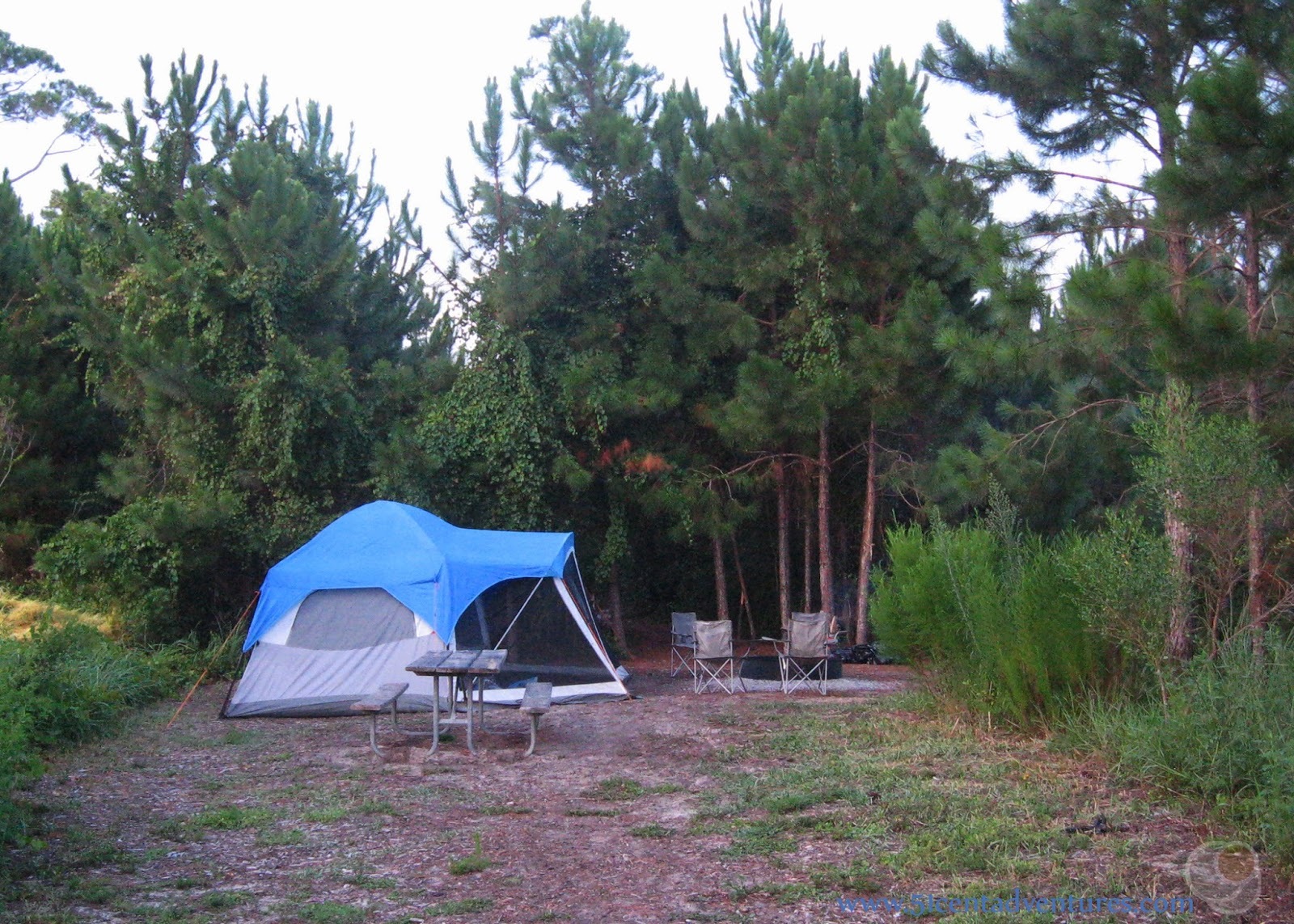 Gulf State Park is a popular campground in Gulf Shores Alabama in southern Baldwin County. The 6500-acre state park has three fresh-water lakes, 2.5 miles of beach, pine forests, a scenic nature trail, and many more natural attractions.
For campers, it has got 496 campsites including canvas tent sites, full hookup RV sites, 11 modern bathhouses, 3 glamping sites, 11 primitive camping sites, etc. There are paved camping pads that can accommodate large RVs and provide sewer, electric, water hookups with pedestal grill and a picnic table. Gulf state park allows pets.
3. Cheaha State Park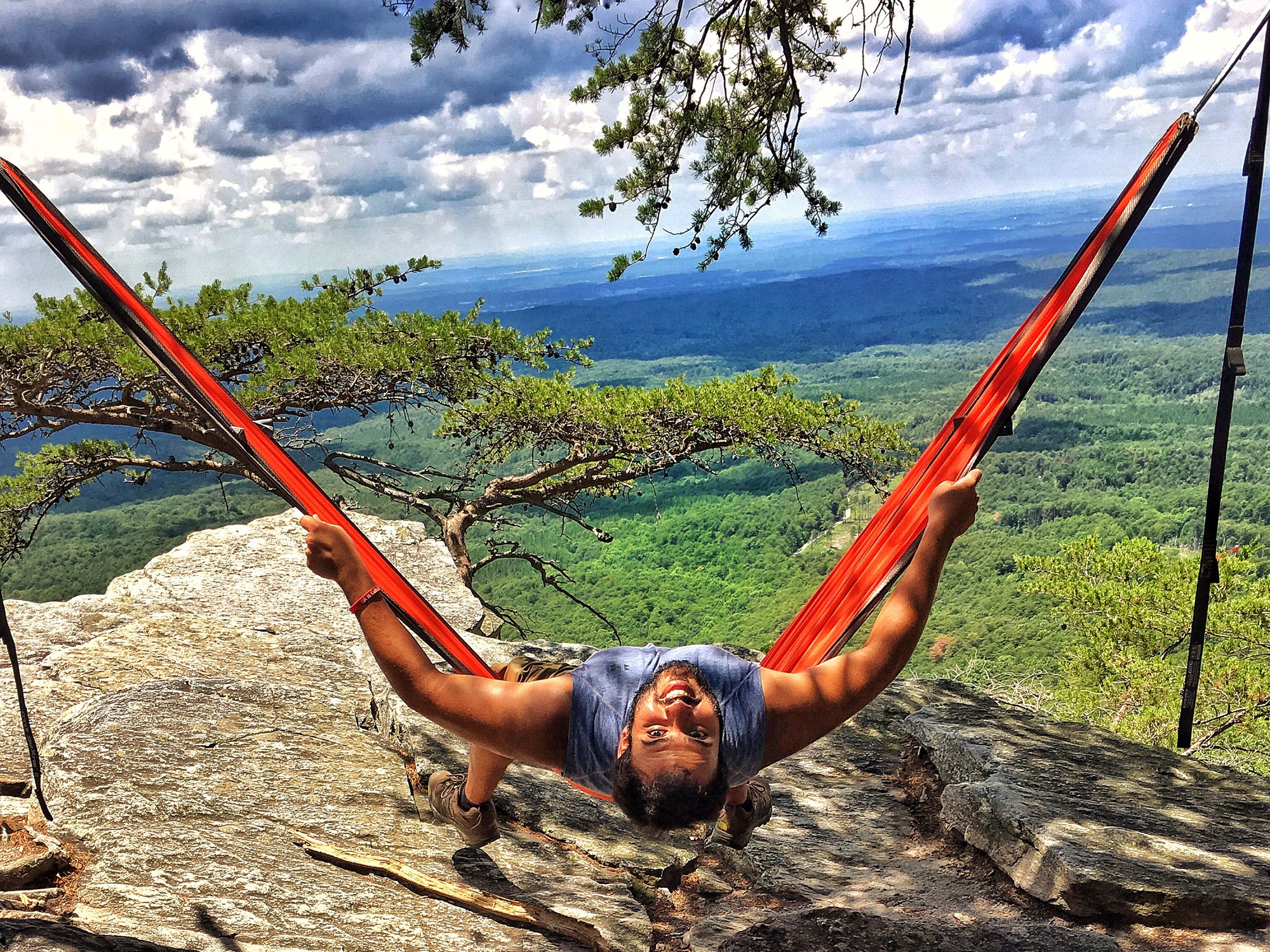 Cheaha State Park is located in Cleburne and Clay Counties, on the southernmost tip of the Appalachian mountain chain, Alabama. The 2799-acre park comprises of Cheaha Mountain, which is the highest point in Alabama. Since it stands 2407 feet above sea level, you'll get to see breathtaking views, sunsets, and waterfalls here, surrounded by Talladega National Forest.
For camping, the park offers semi-primitive, RV as well as primitive camping sites.
Park Entrance fee (day use) is $5 each for age 12 and older. And, it is pet-friendly as well.
4. DeSoto State Park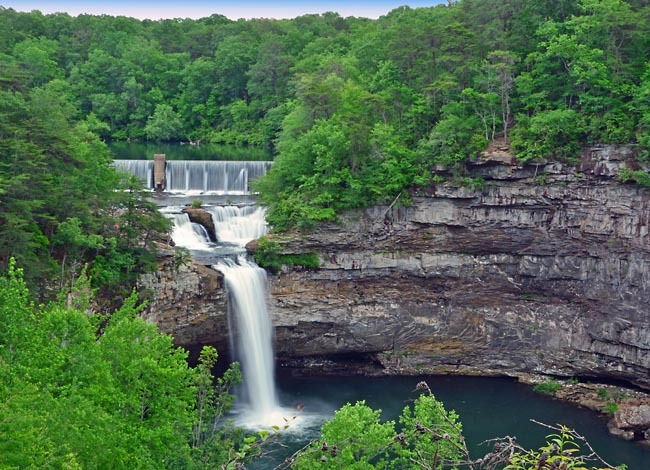 DeSoto State Park is located on Lookout Mountain, up to 13 km (8 miles) northeast of Fort Payne, Alabama and around 75 miles east of Huntsville.
This 3502-acre state park is home to mountain terrain, rivers, gushing waterfalls and vibrant forests. The pet-friendly park features 94 full-hookup sites for RV and tent campers nestled in a beautiful setting.
These sites either have pull-through or back-in parking pads to accommodate large trailers.
DeSoto has a primitive tent campground offering 16 sites with fire pits, for those who would like to have a rustic feel.
Campsite rates for DeSoto are from $15 to $36, as per type of site.
5. Monte Sano State Park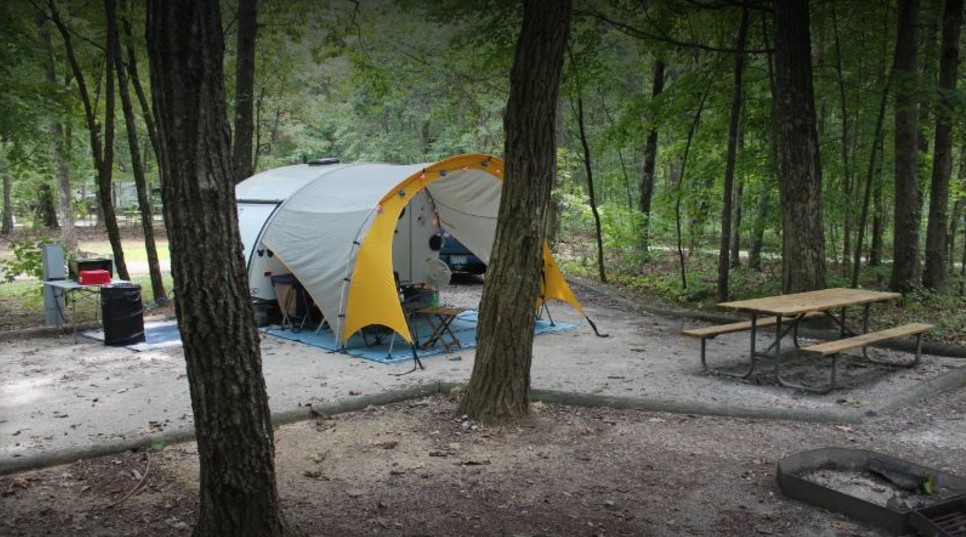 Monte Sano State Park is one of the serene parks in Huntsville, Alabama. It is located in northeast Alabama near Huntsville and offers spectacular views, mineral springs, and fresh air.
The dog-friendly park also features 21 primitive (tent only) campsites, backpacking campsites, 15 full hookup sites and 59 improved (water & electric) campsites. It is one of the best parks in North Alabama.
DeSoto's biggest attraction is the DeSoto Falls, a 104ft waterfall located around 7 miles north near Mentone, Alabama.
The park fee is $5 for age 12+.
6. Chewacla State Park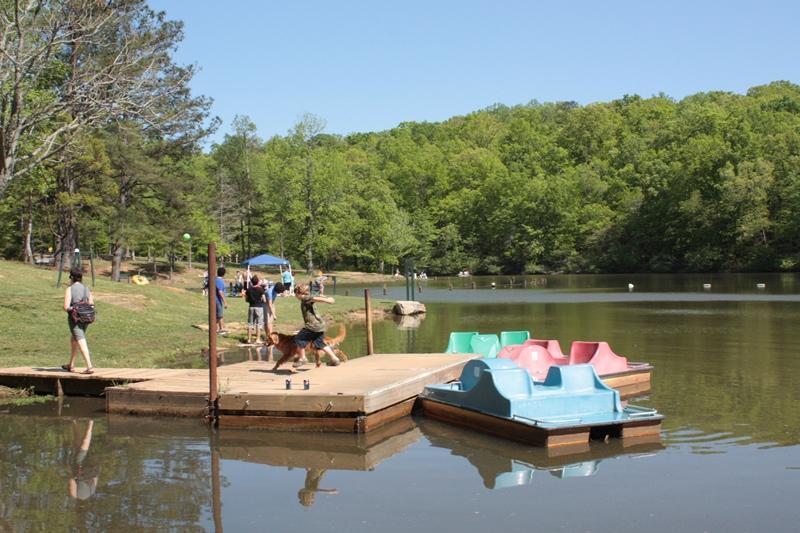 Chewacla State Park is one of the mesmeric parks in Alabama with waterfalls. It resides in Auburn, Lee County, Alabama and occupies around 696-acres to the south of Interstate 85. It is a short drive from the Auburn-Opelika area.
The main attraction of the park is its 26-acre Lake Chewacla that offers many activities like swimming, fishing, and non-motorized boating.
The park allows pets. It also offers 36 full hookup campsites (for RV and tent) and 10 primitive ones.
7. Lake Guntersville State Park
For peaceful camping in north Alabama, Lake Guntersville State Park is the best option. It is located along the banks of the Tennessee River in the city of Guntersville, Marshall County, Northeast Alabama.
Occupying 5909-acres, the park offers many modern campsites (for tents and RVs) and cabins on the lake. Few of them are dog-friendly as well.
8. Wind Creek State Park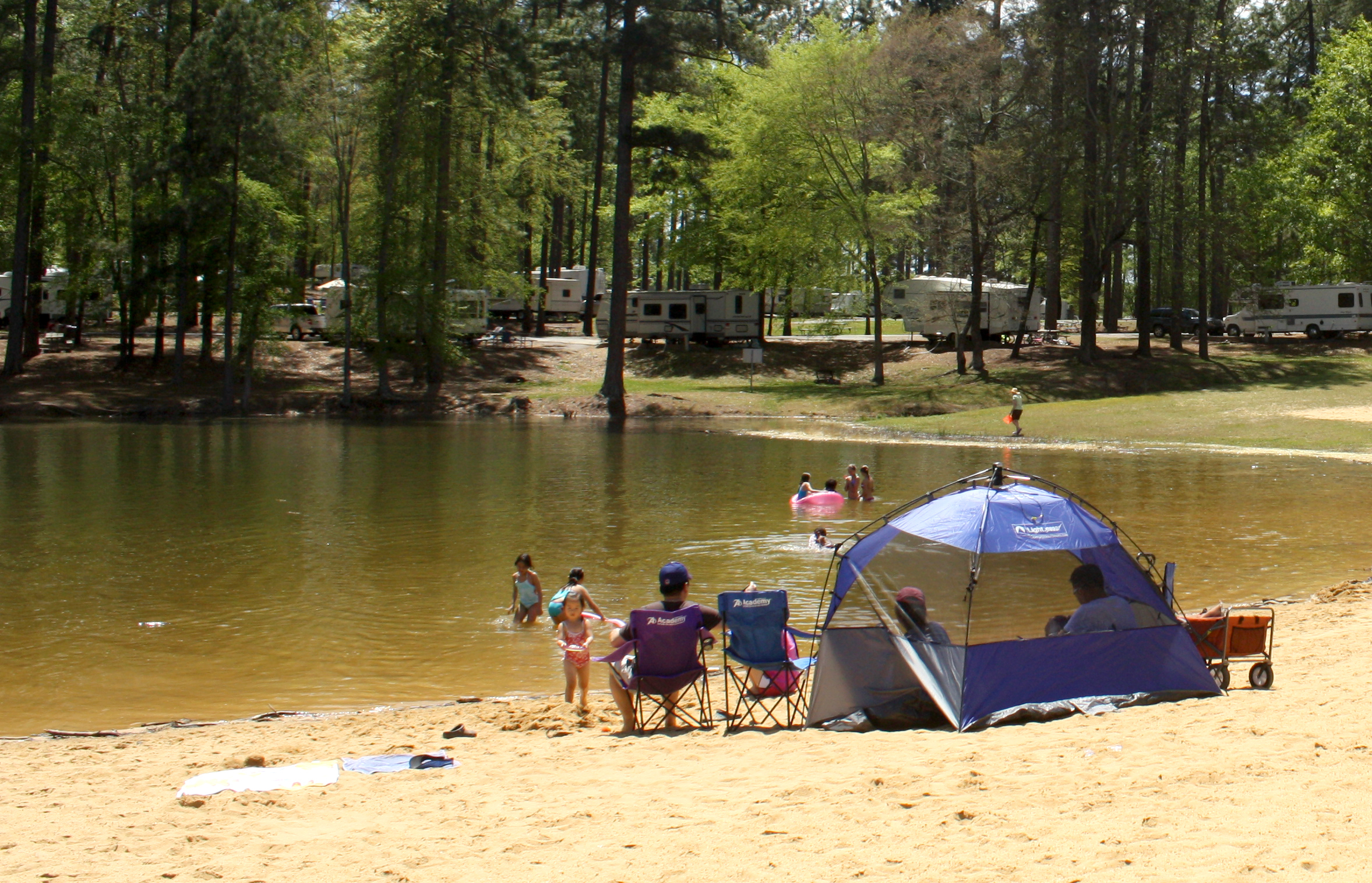 Wind Creek State Park occupies 1445 scenic acres and is located 7 miles (11 km) south of Alexander City on Alabama Highway 128, right on the western side of Lake Martin.
It is one of the largest state-owned Alabama campgrounds, and it can be termed as an angler's paradise.
There are up to 586 campsites spread across 320 acres, including 102-30 amp waterfront campsites, 211-30 amp sewer campsites, 18-30 amp sewer waterfront campsites and 216-30 amp base campsites. There are plenty of RV and primitive campsites here.
Playgrounds and bathhouses are strategically located across the park. The park also has 20 campsites restricted to equestrian camping.
Entrance fee for one adult is $4. The place is pet-friendly as well.
9. Tannehill Ironworks Historical State Park
Tannehill Ironworks Historical Park is 30 miles southwest of Birmingham in McCalla, Alabama. The main highlight of the park is the Tannehill Ironworks, which supplied iron for the Confederate artillery.
The park offers 195 improved campsites with several dump stations, two bathhouses and water/electric hookups. There are 100 separate primitive camping sites here as well. Many Tannehill campsites can accommodate RVs, large as well as small.
Tannehill is a pet-friendly park.
The fee for full hookup sites is $30 per night (for 4 people).
Power and Water sites: $25 per night (for 4 people)
Primitive camping: $20 per night (for 4 people).
10. Cherokee Rock Village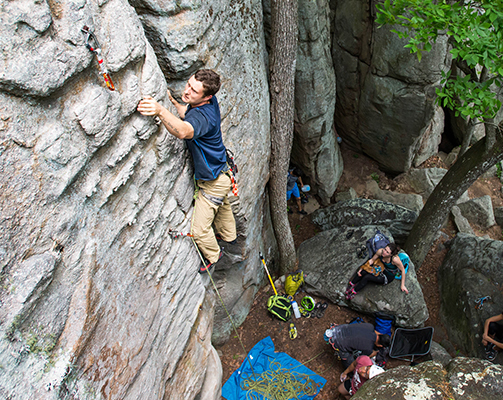 Cherokee Rock Village is a large formation of sandstone boulders, situated in the foothills of the Appalachian Mountains. At the southernmost tip of the Lookout Mountain range, this 200-acre park offers mesmeric views of the valleys and Weiss Lake.
To reach Cherokee Rock Village, take exit 205 from I-59 in DeKalb County, follow it for 7 miles until you reach Valley Street. Turn south onto Valley Street, go 1.5 miles, turn left onto Rock City Avenue. From here, Cherokee Rock Village is 2.8 miles ahead.
The park offers tent, RV as well as primitive camping options. Camping fee here is $15 per vehicle for standard trucks and cars, $20 per vehicle for passenger vans and $25 per vehicle for RVs and buses.
Cherokee allows pets, but they must be on a leash at all times.
11. Noccalula Falls Campground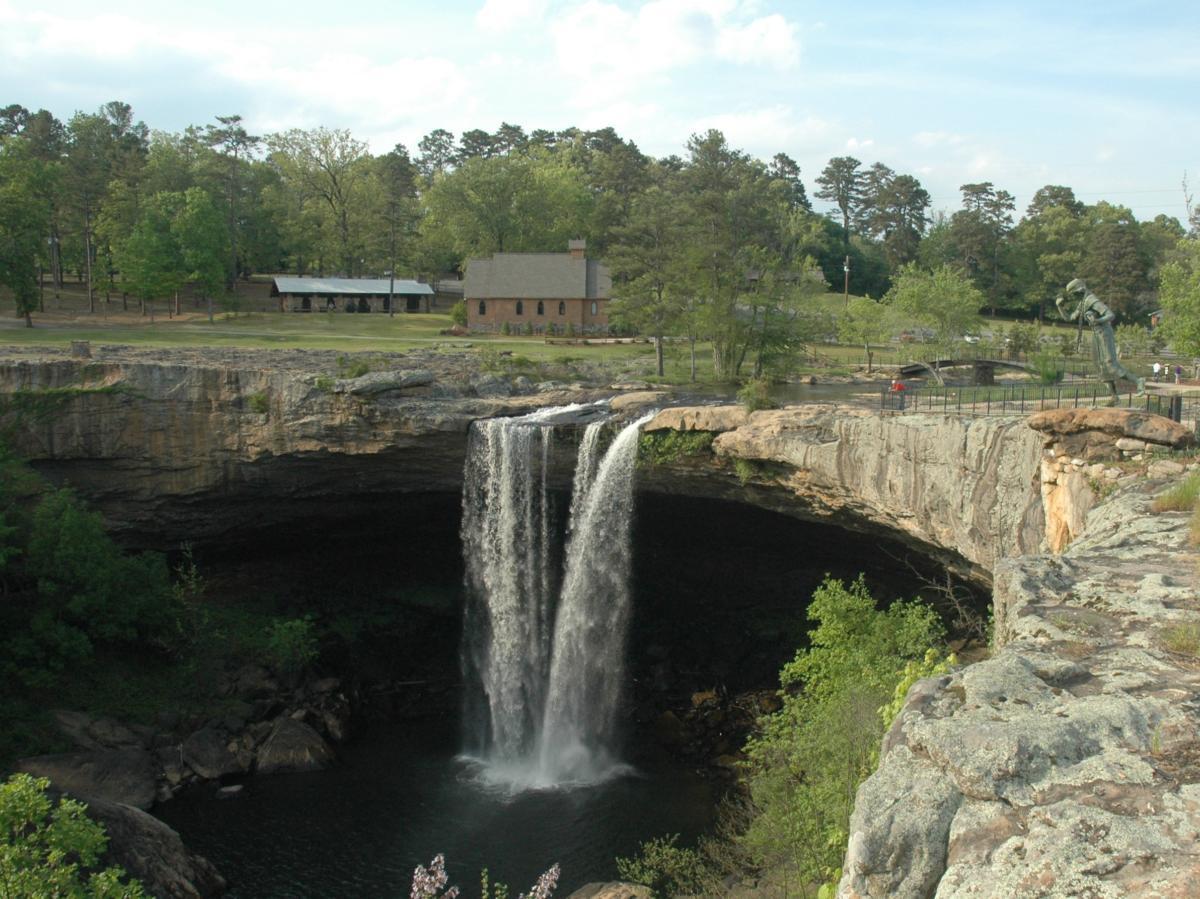 Noccalula Falls is a 250-acre park located in Gadsden, Alabama. The best feature of the park is its 90-foot waterfall winded with a trail through Black Creek Gorge.
It also features a mini-golf course, petting zoo, the Gilliland-Reese Covered Bridge, etc.
For camping, it has 71 back-in sites, 6 pull-through sites and 43 tent sites with 30 amp and water hookups. All RV sites here have cable and differ in lot spacing and length. Some can accommodate 25 feet RVs, whereas other sites can hold 36 feet and above RVs.
Noccalula Falls is a pet-friendly campground.
12. Blakeley State Park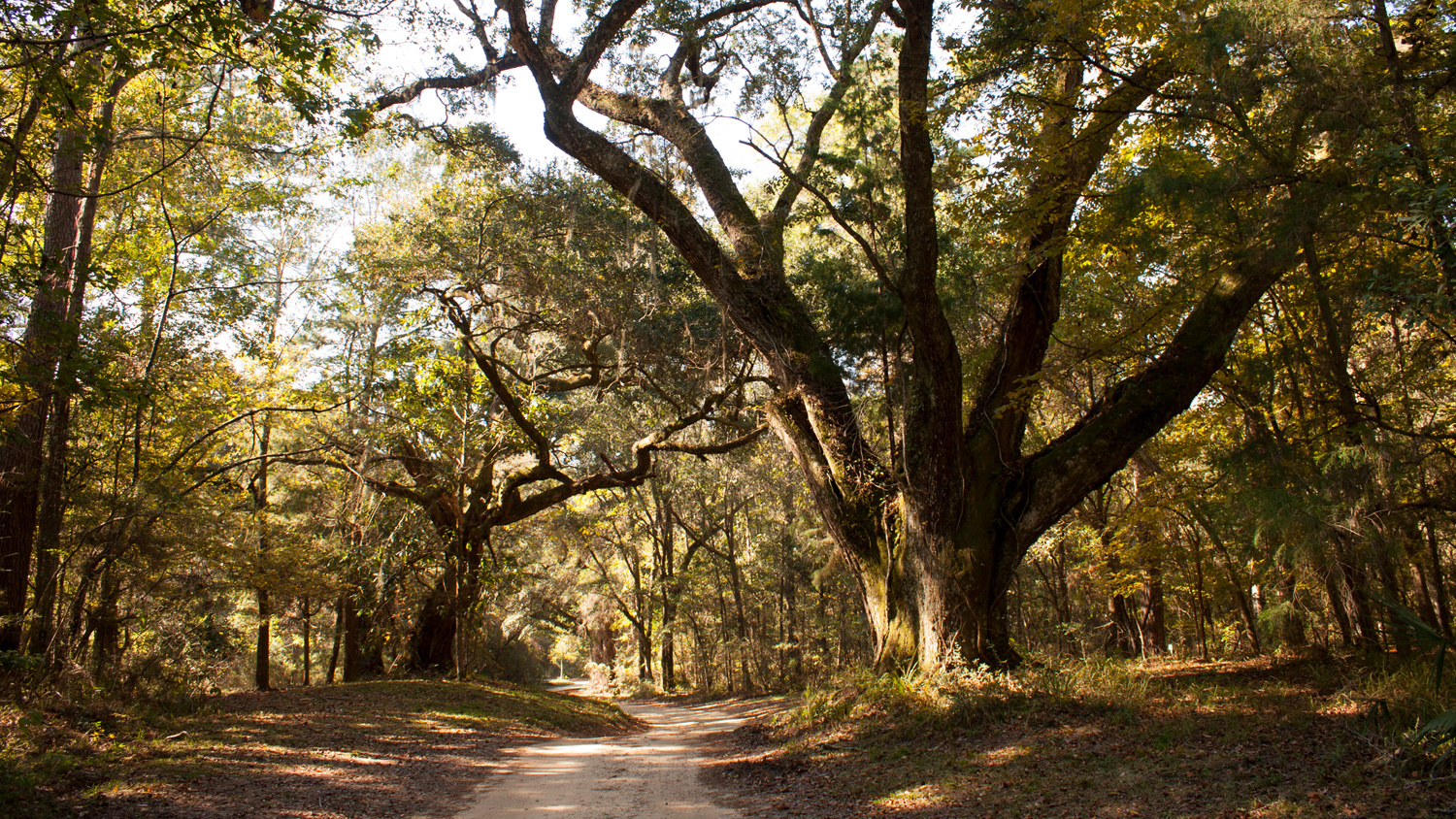 Nestled in a scenic Mobile-Tensaw Delta within Baldwin County, the Blakeley State Park is one of the most diverse and largest attractions in Gulf Coast region. It is located on Alabama 225, just 7.2 km (4.5 miles) north of the Spanish Fort town, Alabama.
The 1400-acre park has full hookup RV sites, 2 fully-furnished cabins, improved tent camping with water/power and primitive camping facilities. Ground campsites and horse trailer camping are also available.
Admission fee is $4 for adults and $3 for kids from age 6-12. RV camping is $30 a night.
Pets are welcomed here but must remain on a leash at all times.
13. Gunter Hill
To reach Gunter Hill, take exit 67 onto US-80 west from I-65. Go on for 9 miles, then turn right on County Road 7 and you will see signs to reach the campground.
This campground offers scenic trees and company of nature on the backwaters of the Alabama River. It offers 142 campsites with electric hookups all year-round.
1-75 sites are newly renovated and include sewer and concrete pads to accommodate RVs. Amenities include a dump station, drinking water, showers, flush toilets, and laundry.
Camping fee is around $18 to $26, depending on site type.
14. Dauphin Island Park and beach board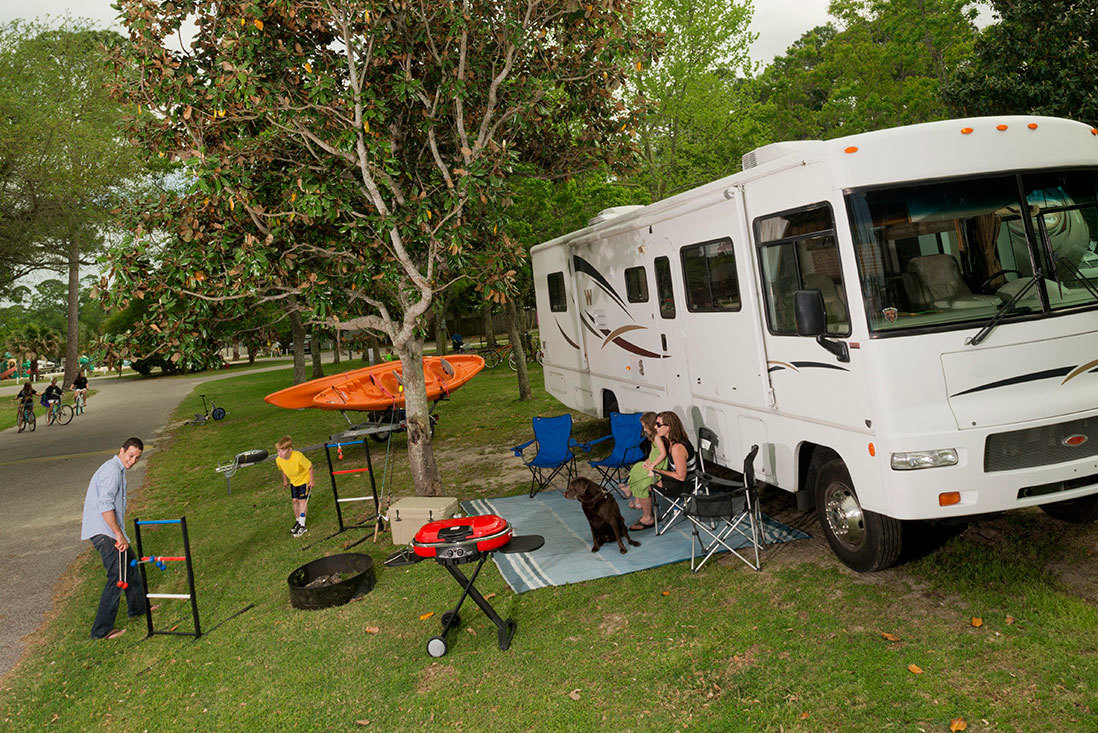 Dauphin Island Park and Beach board is a 155-acre park with abundant natural beauty and recreation opportunities. There is a secluded Dauphin Island campground on the beach in Alabama, where guests can also get access to public boat launches and Audubon Bird Sanctuary.
Campers will find 151 campsites here with 30/50 Amp service, out of which 99 sites are full hookup RV sites. Other amenities include free Wi-Fi, picnic tables, full-service campground store, dump station, laundry station, new bathhouse, etc. There are primitive campsites available as well.
There's an off-leash dog park provided for pets.
Camping fee is approximately $27.
15. Deerlick Creek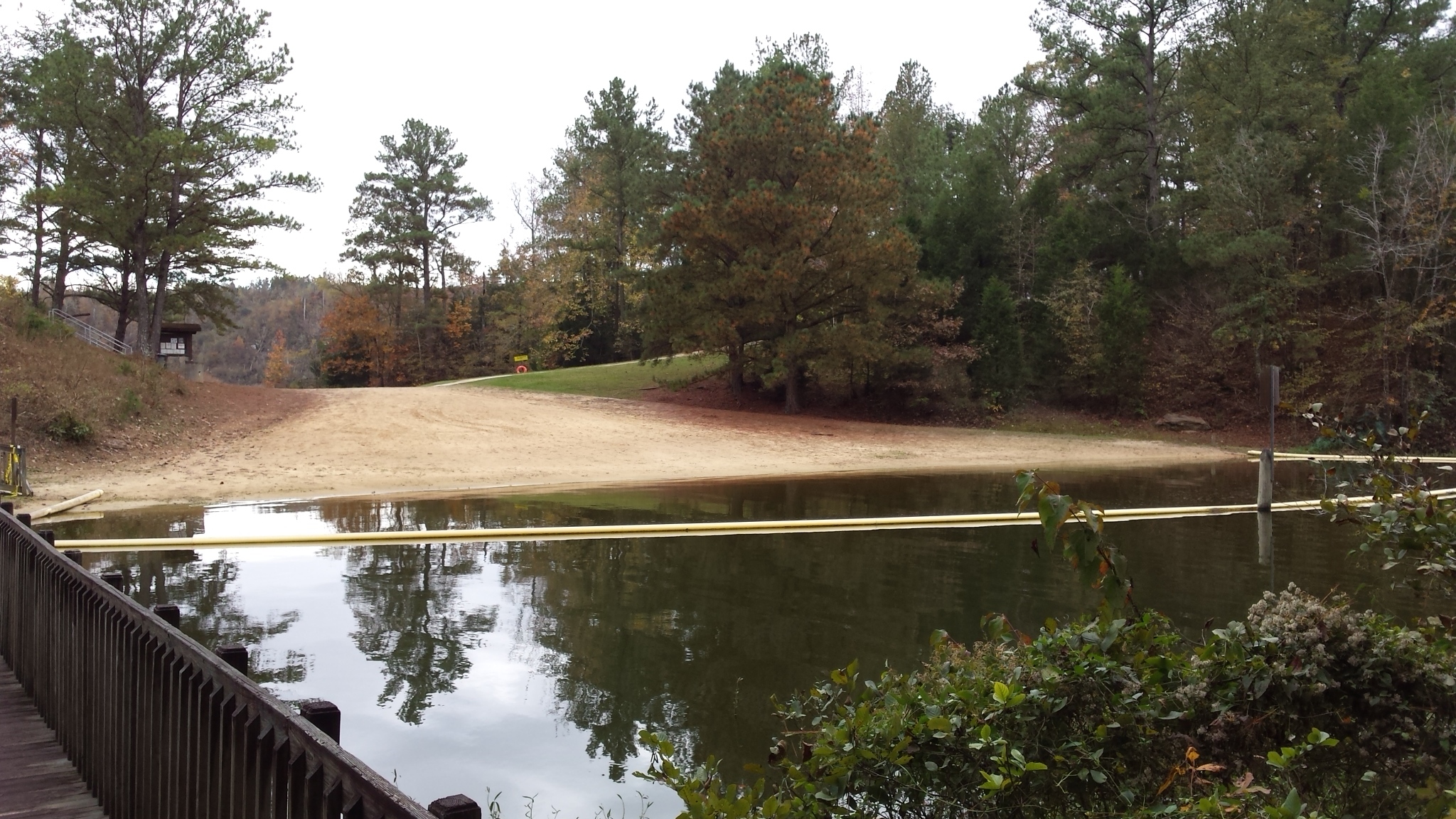 Deerlick Creek Campground is situated within Holt Lake in the Black Warrior-Tombigbee Waterway, northeast of Tuscaloosa, AL.
It is one of the remarkable parks in Tuscaloosa, Alabama to offer access to fishing, swimming, biking, hiking, water sports, camping, and boating.
It sits along the shoreline amidst a beautiful forest where campers can enjoy the ambiance. There are around 47 campsites here with electric and water hookups, out of which 6 are tent-only sites.
Camping price is from $20 to $30 per night, depending on the season.
The best thing is that the park is pet-friendly.
16. Turnipseed Campground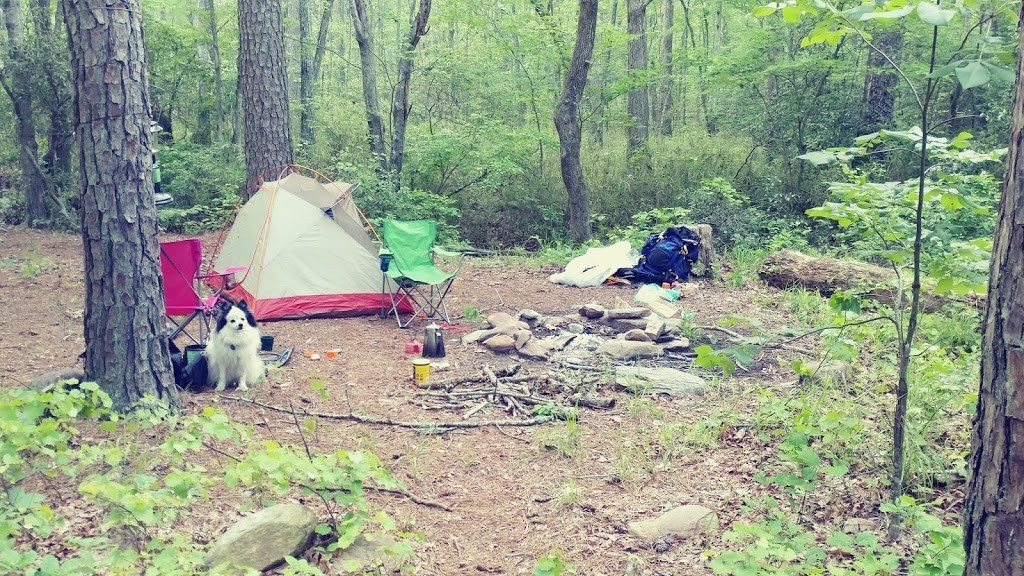 Turnipseed Campground is in Lineville, Alabama. Car campers are going to love this campground, as it serves as a base camp to go on hikes during the day in the area.
If you head north on the Chinnabee Silent Trail, in just a mile, you will reach Cheaha Falls.
You will find 8 primitive (tent) campsites, all of which have lantern poles, iron fire ring (with grill), picnic tables and vault toilet.
The campground allows pets and fires.
17. Brushy Lake Recreation Area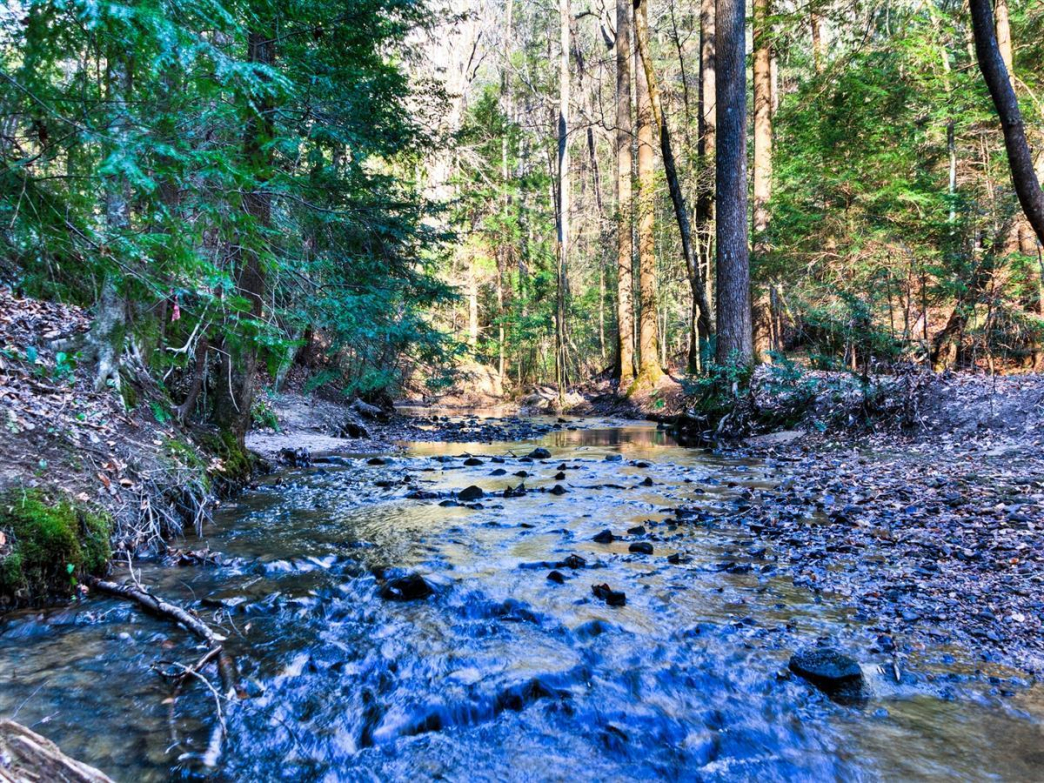 Brushy Lake Recreation Area offers myriads of fun opportunities to do such as fishing, camping, boating, picnicking, along with sanitary facilities including a bathhouse.
Brushy Lake, a 33-acre lake provides 13 campsites that can accommodate tents and small RVs. Campers can occupy these sites on a first-come, first-serve basis.
Camping fee is $5 per night and $3 per vehicle (day use).
The pet-friendly area has showers, picnic tables, toilets, drinking water, water hookups, etc.
18. Amity- West Point Lake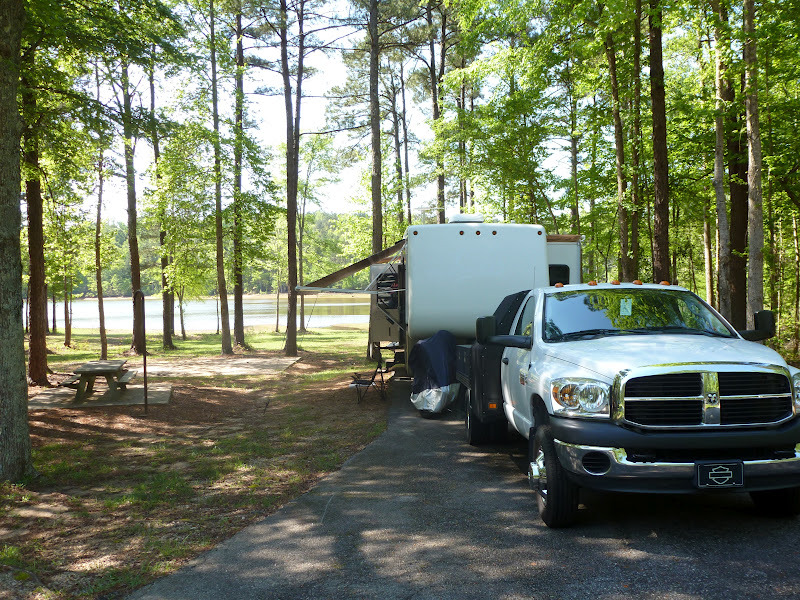 Amity is one of the man-made water parks in Alabama and Georgia. Amity sits on the western shore of West Point Lake (25,900-acre lake) which has 525 miles of shoreline. You can go camping, fishing, boating and do many other recreational activities in Amity.
The campground offers 75 campsites, most of which provide water and electric hookups. There are also a few non-electric, tent-only sites.
The fee ranges from $24 to $28.
Pets are allowed here.
19. Joe Wheeler State Park
Joe Wheeler State Park is located on Wheeler Lake, which is an impoundment of the Tennessee River, AL.
This 2550-acres resort park offers many recreational opportunities like camping, fishing, swimming, tennis, 18-hole golf course, full-service marina, etc.
Joe Wheeler has a total of 116 campsites, out of which 110 sites have full hookups with electricity, water, and sewer. Whereas only a few sites are provided for primitive (tents-only) camping. Most sites can accommodate RVs of any size.
Each section has 3 bathhouses, and each campsite has picnic tables, fire grills or pedestal. Selected campsites even allow pets.
20. Meaher State Park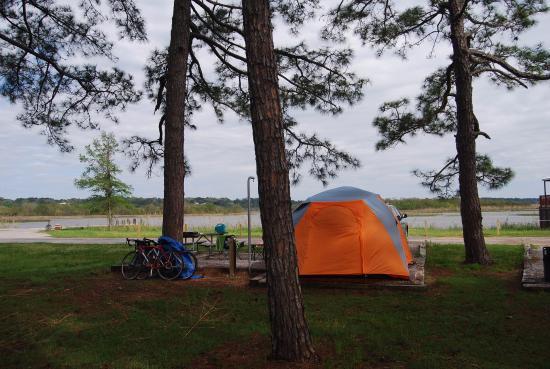 Meaher is a 1327-acre State Park lying in the wetlands of north Mobile Bay. It is a beautiful scenic park with modern camping hookups offered for overnight guests.
Meaher has about 61 RV campsites with 20, 30 and 50 amp electrical, water and sewer hookups.
Each RV site is paved around 65′ in length to accommodate large trailers. There are 10 improved tent sites as well, with 20 amp electrical and water connections. The campground has a modern bathhouse with laundry facilities.
Pets are allowed here, as long as they are controlled and on leash at all times.
RV camping fee is $37 per night. And for improved tent sites, the price is $24 per night.
21. Cathedral Caverns State Park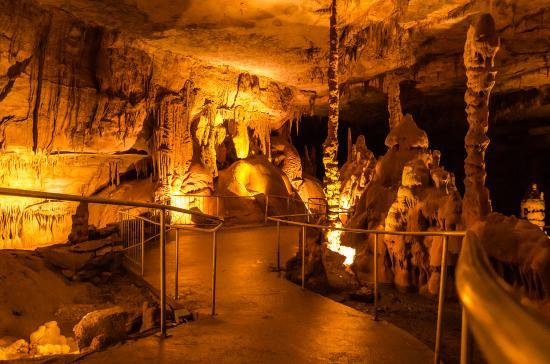 Cathedral Caverns is one of the unique Alabama Campgrounds to have massive cave entrance measuring 126 feet wide and 25 feet high.
Inside this cavern, you will discover some beautiful natural formations such as 'Goliath'- one of the largest stalagmite in the world. Not just that, you will find many stone formations, a frozen waterfall, and other such exciting sites here.
Cathedral Caverns Park offers primitive as well as improved (with water/30 amp electric hookups) camping areas. Most tent sites here have fire rings.
Cost for the improved site is $20 per night.
Cost for the primitive site is $13 per night.
One-time registration fee of $4.75 is also charged for all campsites.
The park is pet-friendly.
22. Thompson Creek Trail Campsites – Bankhead National Forest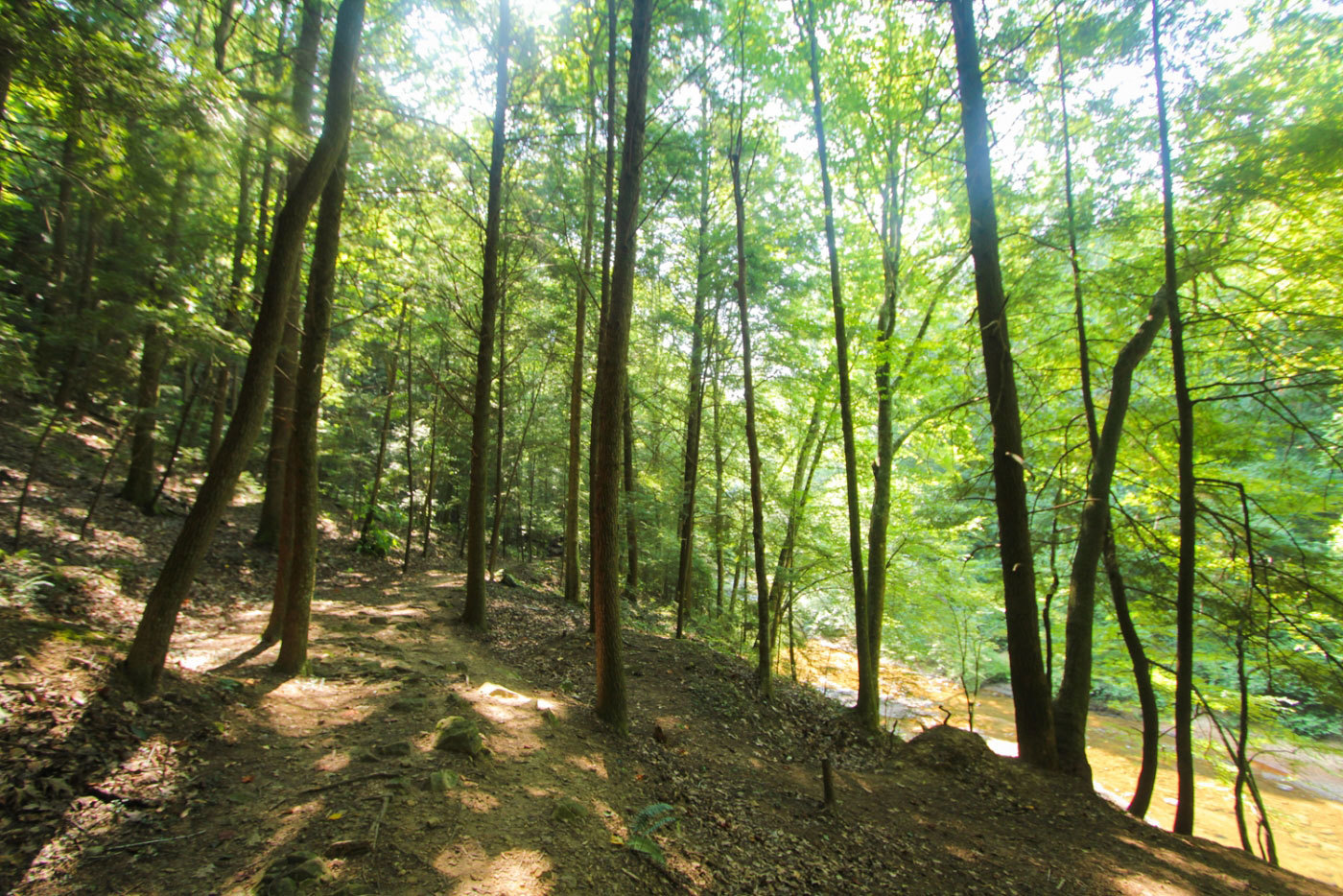 Thompson Creek Trail Campsites are located just a few miles southwest of Carbondale, along Thompson Creek. Low-lying sites along Thompson Creek and nearby Whiteoak Hollow are popular areas for camping here.
There are 4 shaded campsites here, all of which provide metal fire rings. There are no electric hookups, no showers, no sewer hookups, no picnic table, no water hookups, no showers provided here.
Pets are allowed in the campground.
23. Little River RV Park and Campground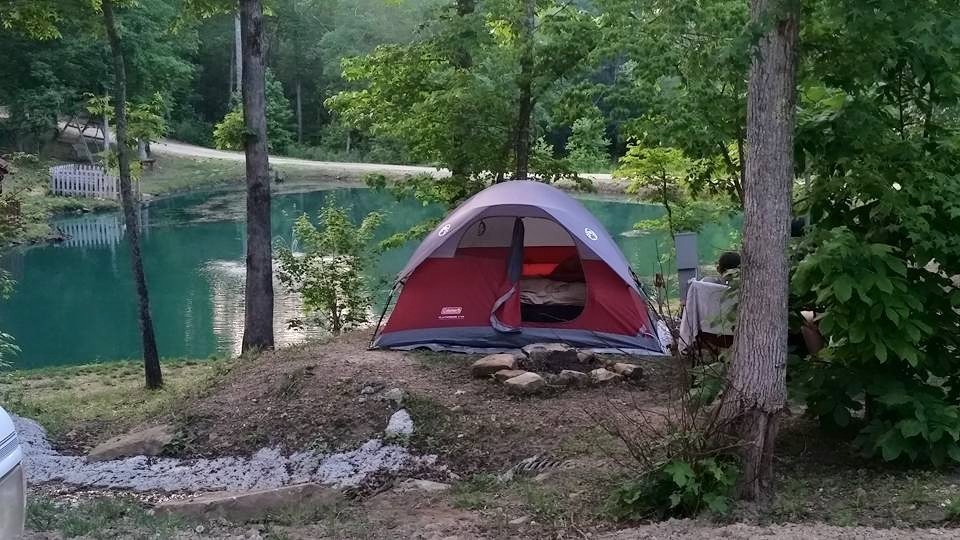 Little River RV Park and Campground sit on the mesmeric Lookout Mountain in DeKalb County, Northeast AL. It is just 2 miles from Little River Canyon National Preserve.
For camping, they have 42 sites- each site having fire rings. Out of these, 26 sites feature full hookups, and 8 tent sites have power and water facilities. There are also 8 tent sites with NO power and water connections.
This pet-friendly campground requires you to put your pet on a leash.
The daily rate is $35 for a pull-through full hookup site.
$30 for back-in full hookup site.
$20 for tent site with water and power.
$15 for tent-only, primitive sites.
24. Caney Creek Falls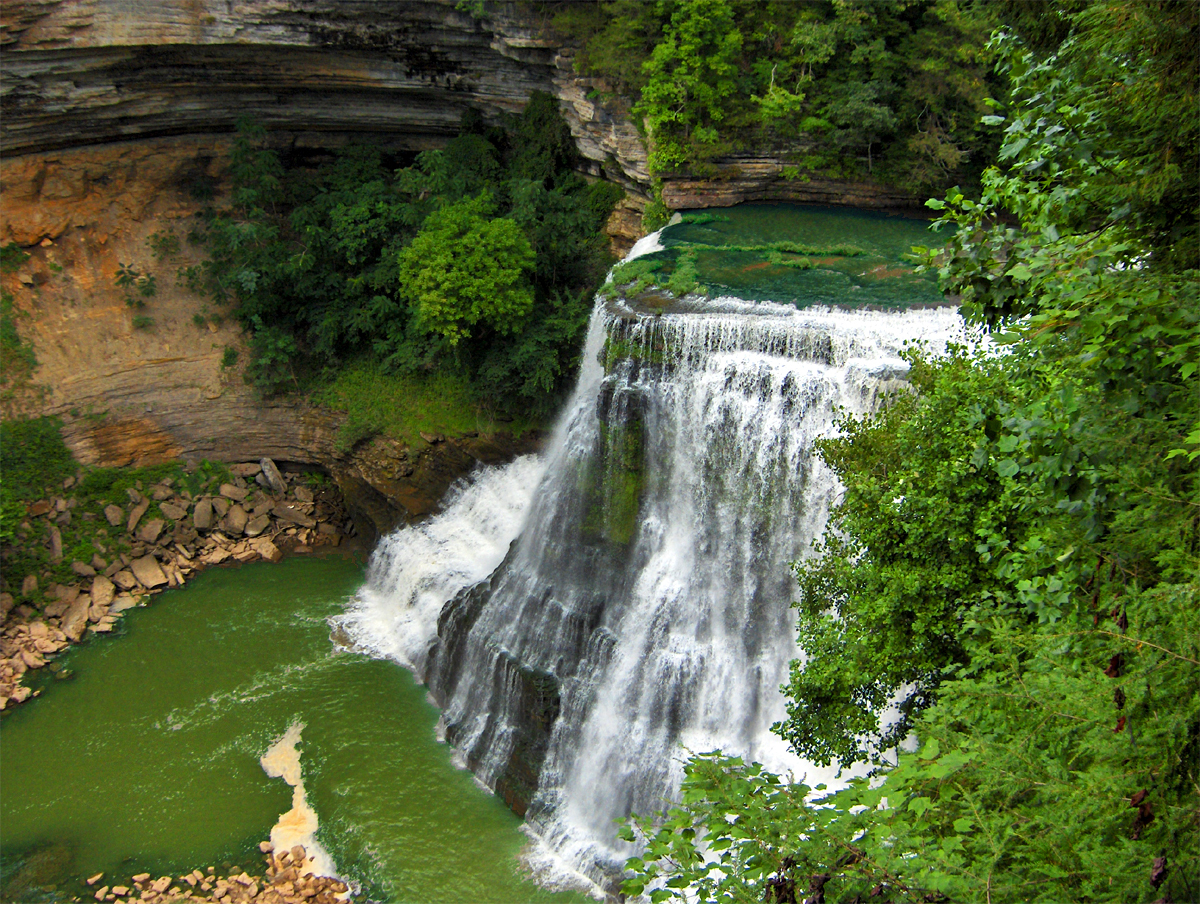 Caney Creek Falls is near Double Springs in Bankhead National Forest, Alabama- where the water is always flowing. It's a 1.5 mile hike to reach the site.
It offers primitive camping areas at Corinth and Clear Creek Campgrounds, where there are sites with electrical and water hookups.
Non-hunters are allowed camping here, but require a permit from the Bankhead Ranger District Office. The campsites are pet-friendly, and there's no camping fee.
25. Dismals Canyon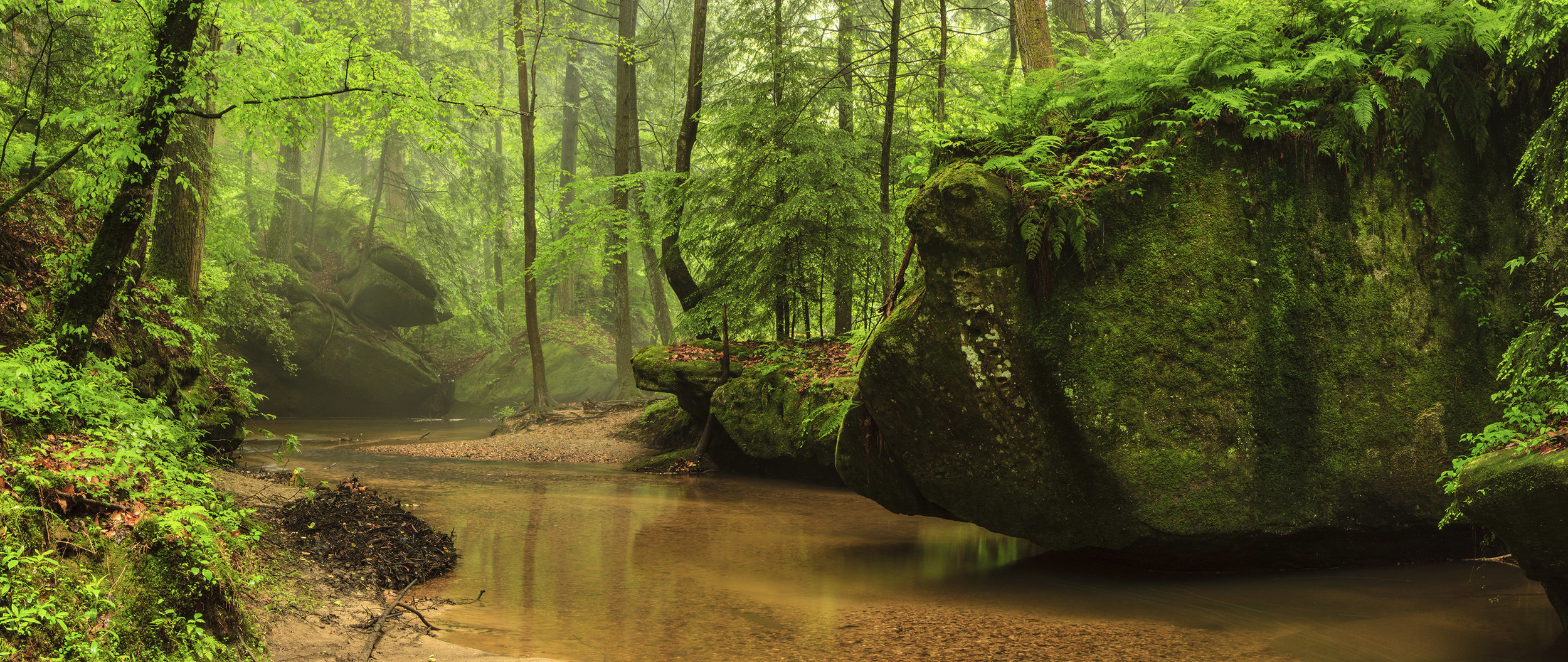 Dismals Canyon Campground offers various primitive campsites to give a rustic feel to the campers.
Limited campsites here provide excellent privacy and maintain the beauty of the pristine wilderness. There are no RV sites here.
Camping fee for primitive sites is $27/night for 4 people.
All pets must be kept on a leash.
Conclusion
Alabama is one of the nature-rich places in the U.S where you can try out camping adventures. There's no feeling equal to camping in Alabama hills or beach, where you will witness peace, beautiful forests, crashing waves, calm lakes, and much more.
Hope these reviewed Alabama campgrounds will motivate you to head on this challenging yet admirable camping experience of your life. Above mentioned are the 25 best places to go camping in Alabama, choose the one that suits your camping needs.
Sharing Is Caring