Virginia has always been seen as a diverse and rich environment with loads of natural attractions. Camping ​in Virginia Beach provides a blissful company of nature, wilderness, and a quiet break from the hustle and bustle of the urban crowdedness. Imagine being under open skies, sipping coffee with friends and family, or watching the sunrise at high peaks. There's nothing like it!
Today at Virginia campgrounds, you get to explore historical as well as modern sites including local wildlife, bubbling streams, wildlife refuges, state parks, national parks, and much more.
If you are planning for a weekend getaway or searching for the best RV campgrounds near Virginia Beach, you are at the right place.
As camping season is around the corner, let's have a look at the best places for Virginia and Virginia Beach camping:
Read More:
Best Places to Camp ​Near Virginia Beach
​1. False Cape State Park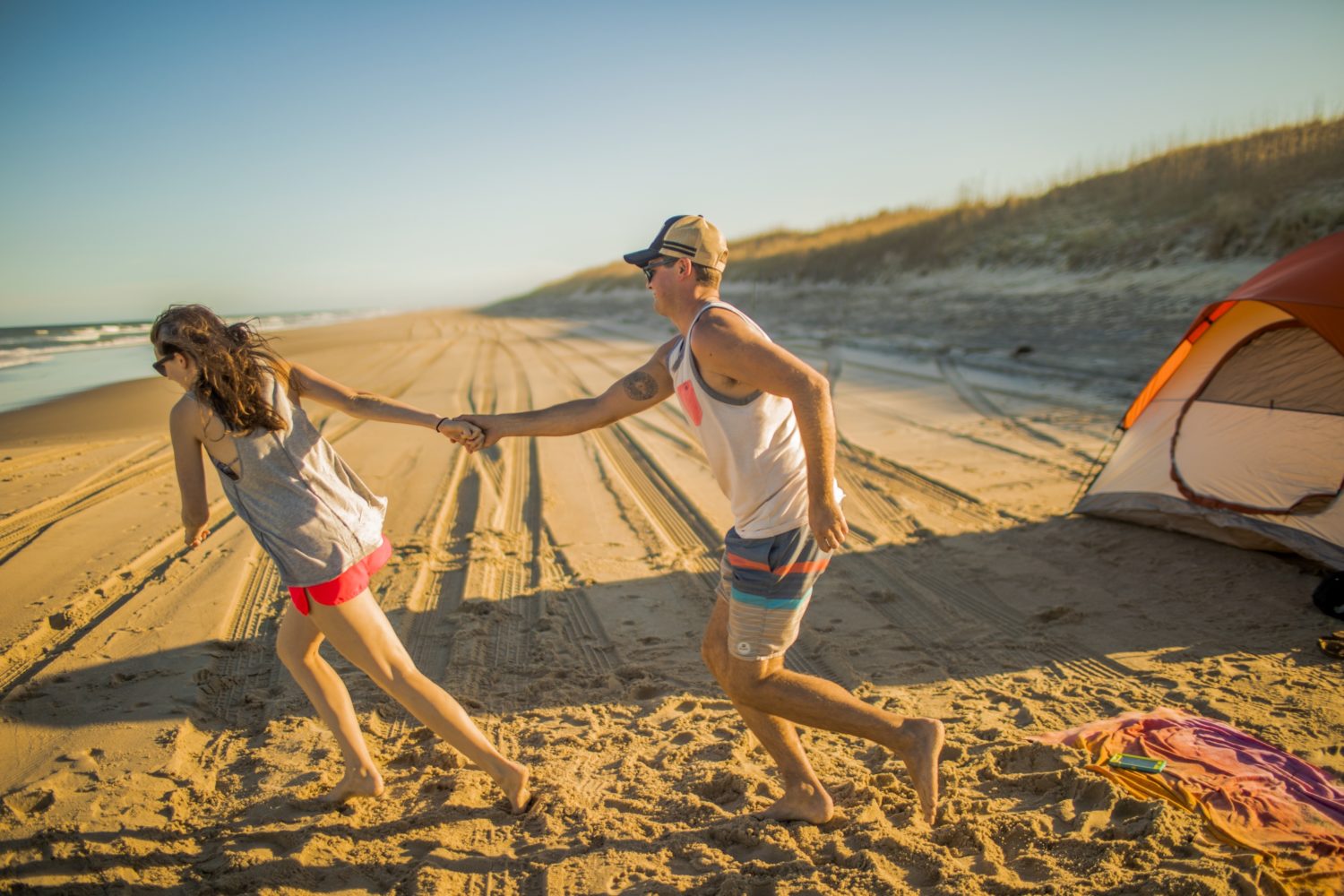 False Cape State Park sits on the Currituck Banks Peninsula, nestled between the Atlantic Ocean and Back Bay within Southern Virginia Beach. It's a 4321-acre state park with up to 12 primitive campsites and tents only. Access to False Calpe is possible via Back Bay National Wildlife Refuge and only by biking, tram service, hiking, or boat. So, you won't be able to park there.
Camping here is allowed all year round and it's a must-do for avid campers (reservations required). Drinking water is accessible at 3 locations; campers need to bring their coolers. And, there are many pit toilets available as well.
The fee is $20, and the park is pet-friendly.
​2. First ​Landing ​State ​Park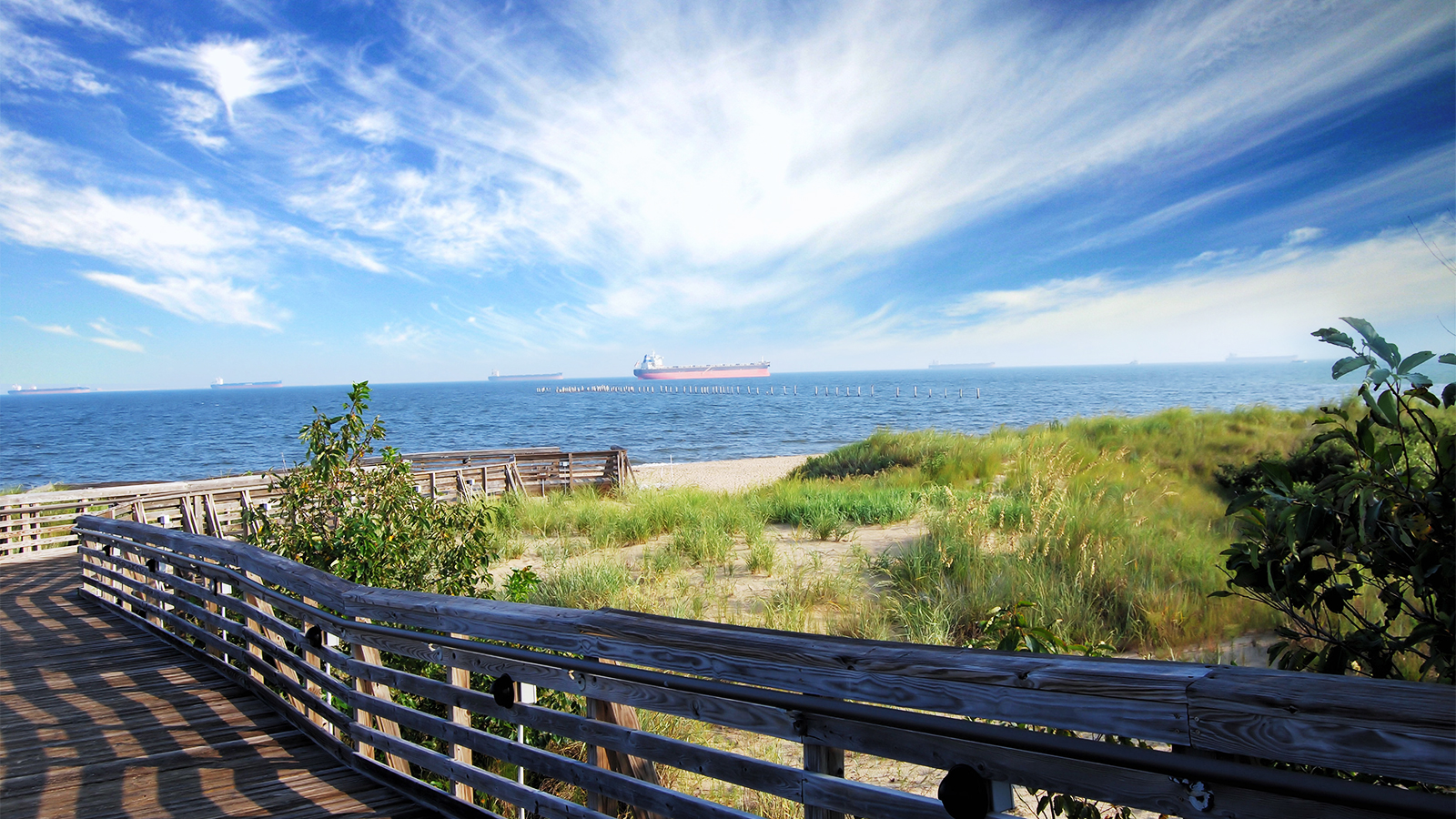 First Landing State Park is located on Cape Henry within North Virginia Beach and has myriads of historic sites, nature-loving activities, and attractions to its core. The park has 20 miles of trails and 1.5 miles of sandy Chesapeake Bay beach.
The main entrance to the park is situated off of Shore Drive/Route 60.
This 2888-acre state park offers nearly 200 campsites, both smaller as well as larger ones that can accommodate 50-foot RVs. Most of the larger campsites have basic amenities such as water and electricity hookups. For more comfortable stays, First Landing has around 20 cabins with electricity, AC, heating as well as running water facilities. Also, There is a small laundry facility.
Fees for campsites range from $28-$35.
Campers can find plenty of RV sites and secluded tents here, without much urban crowdedness. The best thing is that it is pet-friendly and allows fires!
​​​3. North Landing Beach RV Resort & Cottages
You will cite North Landing Beach RV Resort & Cottages near the North Carolina Border, on the south end of Virginia Beach.
It offers an exceptional remote camping experience while providing high-end amenities such as swimming pool, canoe rentals, kayak, etc.
The campground has nearly 150 RV sites, free internet, and cable, with 30/50 Amp service, several tent campsites as well as rental cottages. All of these are situated along the North Landing River banks.
The main highlight of North Landing is that it owns a private beach for the visitors for boat launch and other such water fun games.
At an extra charge, North Landing provides pet-friendly cottages as well.
Camping rates range anywhere from $50 to $120, depending on the season.
4. Holiday Trav-L Park
With more than 700 RV and traditional campsites, Holiday Trav-L Park is one of the best VA beach campgrounds with beach parking. The spacious area has around 44 rustic cabins just around the south of the Oceanfront with dog park, game room, 18-hole golf course, bike paths, and up to 4 swimming pools.
The park delivers an amazing resort-like experience in a campground ambiance. Basketball, hayrides, bingo, corn hole, and other nightly events add to the fun further.
The fee ranges from $35 to $100. The park has electric hookups, phone service, drinking water, toilets, sewer hookups, Wi-Fi, water hookups, etc. And it is pet-friendly.
5. Virginia Beach KOA
You can reach Virginia Beach KOA through a quick bike ride or drive from the Oceanfront, and it has many impressive, pet-friendly camping options.
Virginia Beach KOA offers premium tent sites and upgraded RV camping sites. You can go for a luxurious cabin or a camping cabin to get the rustic feel. Amenities here comprise of a dog park, paintball, free Wi-Fi across the campground, swimming pools, bike rentals, baths for camping, etc.
Up to 120 Pull-Thru RV sites include a KOA Patio to enhance your outdoor experience.
If you stay there, they do charge a modest visiting fee.
If you are looking for camping in comfort, this is one of the high-end campgrounds for camping at Virginia Beach.
6. Sandy Bottom Nature Park
Sandy Bottom Nature Park is a 456-acre oasis comprising of two lakes, forest, marshy and wooded wetlands, nature programs and an observation tower. Other activities include fishing, trail hiking/biking, picnic areas, camping, boat rentals, etc. It's located in Hampton, bordered by Interstate 64 on the northeast side.
The park is pet-friendly and family-friendly!
The camping Fee per night is:
Individual campsite: $10.60 (2 four-person tents provided)
Group campsite: $31.80 (10 four-person tents provided)
Tent Cabins: $42.40 (two bunk beds for 6 people provided)
Best Places to Camp ​​Near Virginia
1. Big Meadows ​Campground
Big Meadows Campground is the best option for secluded camping in the rolling hills and thick trees of Shenandoah National Park.
The park rests in the middle of Skyline Drive, and you will get to see some beautiful scenery, wildlife, bright wildflowers during spring and mesmeric color hues during fall.
Big Meadows is a popular tent camping area in Virginia with wooded sites equipped with picnic tables and fire grates. There are 3 waterfalls at a walking distance along with many hiking trails for adventurers.
This broad campground offers over 200 campsites, with few modern picnic spots that offer showers, dump stations, and flush toilets. The campground allows pets as well.
The fee for Big Meadows is around $20 to $45.
2. Shenandoah National Park
Shenandoah National Park is a vital part of the Blue Ridge Mountains in the US state of Virginia. Skyline Drive, the 105-mile-long National Scenic Byway, is the main highlight of this National Park.
The park is long and narrow; all sites lie within 5 to 10 miles of Skyline Drive. And, many campgrounds here are family-friendly and pet-friendly.
Shenandoah National Park is a 196,000-acre area. Ideal for wilderness and backcountry camping. It has 4 full campsites that are open 3 seasons a year. The park has entrance fees though.
Amateur, as well as pro campers, can equally enjoy this refuge, as it hosts plenty of recreational opportunities.
3. North Bend Park and Campground
The North Bend Park and Campground are stationed on the John H. Kerr Reservoir (a 50,000-acre lake). This lake extends 39 miles up the shoreline of Roanoke River in North Carolina and Virginia.
It is a large 70,000-acres campground, suitable for camping, relaxing, fishing and boating. It has hookup as well as primitive sites near the lake. It is one of the best spots for tent camping in Virginia, as it features 3 boat launches, swimming beaches, pier, playgrounds, etc.
North Bend is the largest park located at Kerr Dam, offering various lakeside views and wildlife exploring. It has more than 243 campsites for RVs or tents with excellent amenities like dump station, flush toilets, hot showers, etc. The park allows pets.
The North Bend fee ranges from $20 to $52, based on site type and season.
4. American Heritage RV Park
Situated close to Colonial Williamsburg, the American Heritage RV Park offers a rustic cabin camping experience for up to 4-6 people. It takes over an hour to reach the park from Virginia Beach.
The campsites offer various amenities like picnic tables, grills, deck furniture, full showers, and some even have fully-stocked kitchens.
This RV Park is accessible through boat-in or drive-in. And, it also allows pets and fires.
Camping Fee is from $59.25 to $125 per day, depending on site type and season.
5. Crabtree Falls Campground
Located midway between Virginia, Lynchburg and Charlottesville, Crabtree Falls happens to be the largest vertical drop waterfall (over 1500 feet) east of the Mississippi River. It is just 6 miles off the scenic Blue Ridge Parkway.
All the cabins are half-mile off to the beginning of Crabtree Falls trail. All camping cabins here allow fires, pets and have picnic tables, electric hookups, firewood, drinking water, toilets, showers, etc.
Camping fee is around $28 to $55 per night.
6. Horseshoe Flats Campground
Horseshoe Flats Campground is a family-oriented area on the James River, nearly 33.3 miles away from Virginia via State Route 602.
It is recognized for fishing on the East Coast along with tubing, picnicking, swimming, canoeing, etc. It offers around 25 RV sites/ primitive campsites with water, electric, and bathroom amenities. These sites can hold up to a 35-foot length RV.
The campground is pet-friendly, but only pets with 25 lbs. Or less weight. And, they should be on a leash all the time.
RV sites are open all year round, while tent sites are available from April to November.
Camping fee starts from $10 up to $55, based on duration period and site.
7. Lake Fairfax Park Campground
Lake Fairfax Park Campground is 476-acres of parkland where you can find many basic amenities and variety of family-friendly activities to do. It is situated in Reston, Fairfax Country, and Northern Virginia. Within the park, the 18-acre area is taken by Lake Fairfax.
Campgrounds, several hiking/biking trails, Water Mine Family Swimmin' Hole, Skate Park, and athletic fields are few main highlights of Fairfax.
The park is pet-friendly, RV-friendly and has 136 campsites, out of which 54 have electrical hookups (forty 50amp sites/fourteen 30amp sites).
Family Camping fee ranges from $18 to $50, as per site type.
8. Pocahontas State Park
Just 20 miles away from Richmond (capital of Virginia), the 7950-acres Pocahontas State Park is one of the largest and most popular campgrounds inVirginia.
Pocahontas State Park campground has around 165 RV-friendly campsites. All these sites have water and electric hookups, picnic tables, grills and lantern holders, a dump station, drinking water, hot showers, and flush toilets.
Campers can visit nearby amusement parks, Jamestown, Colonial Williamsburg, Civil Conservation Corps Museum, and mesmeric James River plantations.
The campground is pet-friendly with per night per pet fee.
9. Misty Mountain Camp Resort
Misty Mountain Camp Resort sits at the foot of the Blue Ridge Mountains, close to Charlottesville, Virginia.
This scenic 50-acre park has many full hookup sites, private sites secluded in the trees, tent sites, RV sites, bunkhouse, and cabins. You can explore nature trails, go fishing, shoot hoops, climb hills, play at myriads of playgrounds, and do much more fun at this park.
Around 1-4 cabins are pet-friendly.
Here, RV sites can accommodate campers of any size, whereas Creekside tent sites are for 6 people and backcountry tent sites are for up to 100 people. Most of these sites have Wi-Fi, fire rings, picnic table, and hookups.
Camping fee is $25 to $65, as per site type.
10. Camp Karma Campground
If you want to experience primitive camping at stunning Smith Mountain Lake, come to Camp Karma Campground. This 42-acres primitive campground is located in Bedford region, Virginia near Smith Mountain Lake. It sits between Roanoke and Lynchburg in the north eastern part of Virginia.
The place is ideal for newbies as well as seasoned campers. It has around 36 primitive campsites, suitable for small trailers and tent campers. And, there are also around 25 to 28 feet popups.
The campground sits on the borders of 2100-feet Goose Creek so that you can enjoy swimming and fishing. Additional amenities included are outhouses, 20/30 amp electric hookups, graveled parking, private bathrooms, etc.
The camping fee is $28 per night/per site (for 6 people and 1 vehicle). $3 extra charge per additional car. Most of the campsites here are pet-friendly.
11. Douthat State Park
Douthat State Park is situated in the Allegheny Mountains, Virginia. This 4545-acres park has a 50-acre lake and myriads of beautiful campsites. Some of them even offer a stunning view of Douthat Lake.
The campgrounds are pet-friendly, but at per night per pet fee.
Most campsites here have picnic tables, lantern posts, grills, campfire, etc. Adventure lovers can go boating, hiking, mountain biking, and swimming here.
12. Chickahominy Riverfront Park
Chickahominy Riverfront Park is home to over 120 campsites, including sites for larger groups. Most of the sites provide scenic views of Gordon Creek, Chickahominy River, and some even offered access to water.
There are basic tent sites as well as full hookup RV sites to choose from. And, campers get to access 2 bathhouses with a slop sink at each. Each site is limited to 6 people (up to 4 adults) and only up to 2 tents. The park also offers year-round RV/Boat storage on a monthly basis for $55/month.
This park is dog-friendly, but they must be on a leash at all times.
Camping fees range from $22 to $45, as per residency type.
13. Christopher Run Campground
Christopher Run Campground borders the shores of 13600-acre Lake Anna in Mineral, Virginia and is a beautiful family-oriented campground.
It has around 200 campsites, 9 cabins, 3 rental RVs and a lakeside group camping area. Jon boats and canoes are available for rent as well. There are bathhouses, a beach area, playground, a game room, 6 boat ramps, putt-putt golf, basketball court and much more in this campground.
Several sites here can accommodate larger RV or trailer.
The campground allows pets as well.
14. Grayson Highlands State Park Camping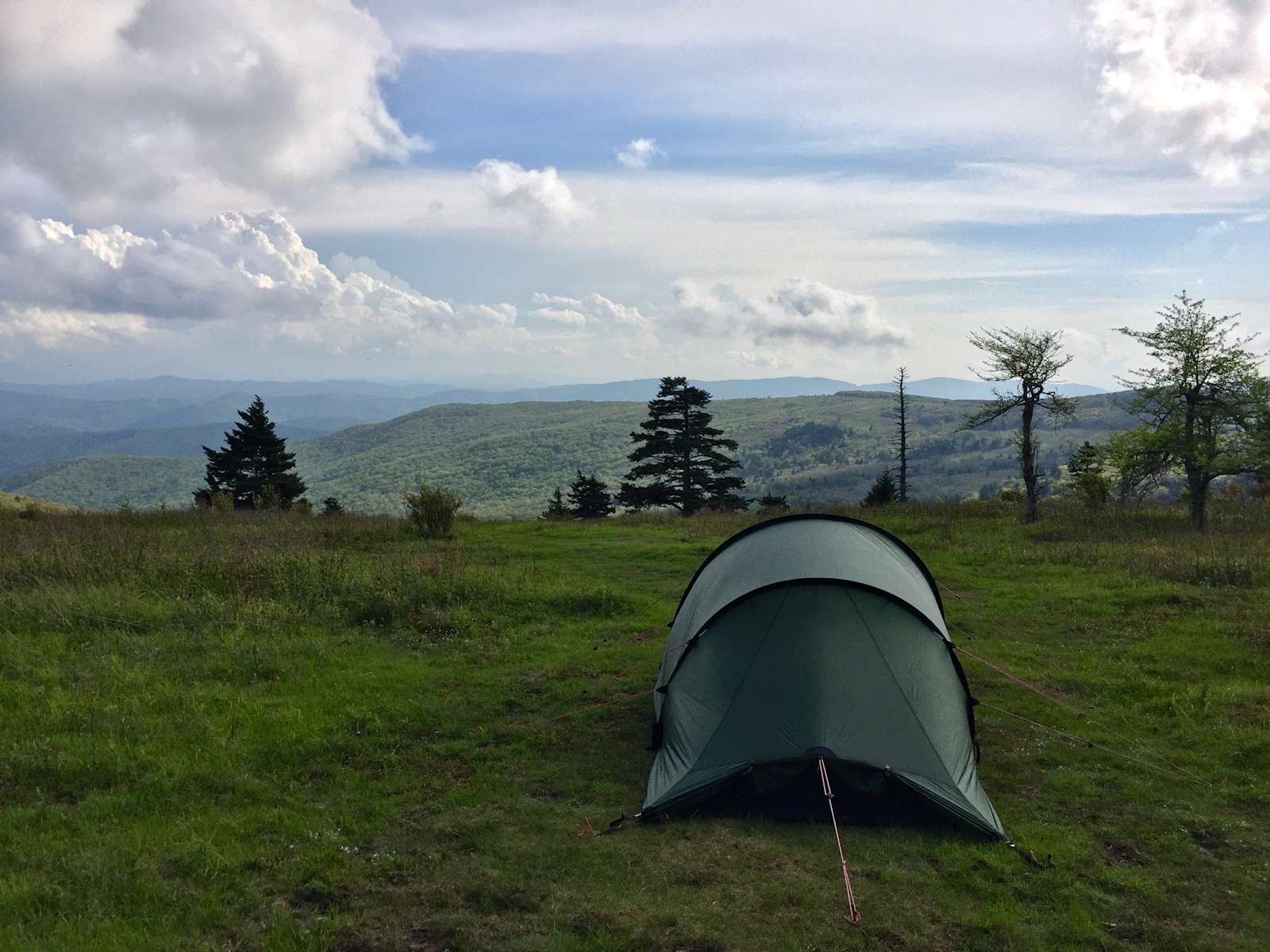 Grayson Highlands State Park is located within Jefferson National Forest, eastern Virginia. It is a 4500-acre area full of mountain meadows, forested hills, high peaks, viewpoints, and streams.
It is about 25 miles west of Independence, off US Highway 58. The park offers 2 seasonal campgrounds for horse, tent and RV campers.
Hickory Ridge Campground has 65 RV and wooded tent sites, group tent site and 4 yurts. Whereas, Chestnut Hollow Horse Camp has over 24 sites.
All sites have fire pits and picnic tables, whereas only RV and horse sites have electrical and water hookups.
Pets are permitted in the park, but at a minimal fee. Campsite fee ranges from $15 to $40 per night.
15. New River Trail State Park
New River Trail State Park is located in southwest Virginia and is a wonderful 57.7-mile state park and rail trail.
It extends from the trail's southern terminus in Galax to northeastern terminus in Pulaski. If you travel from Fried or Galax, head north and you will see mileage markers beginning countdown at the 57-mile marker.
To reach the Galax trailhead, go Interstate 77 to US 58 Exit (Exit 14) towards Hillsville. The trailhead is on the right, right where you cross Chestnut Creek.
There are many tent sites in the New River Trail State Park that are pet-friendly.
16. Loft Mountain Campground
Settled on top of Big Flat Mountain, the Loft Mountain Campground is one of the largest campgrounds in the park. This spacious campground has 200 campsites with good amenities like water/dump station, flush toilets, etc.
The park rises above Shenandoah Valley to its west and Virginia Piedmont to its east. All the sites here are standard nonelectric and nonelectric tents only.
The park can accommodate 31-foot RVs; plus it allows pets.
Camping fee is $15 nightly or daily.
Wrap Up ​​To Camping in Virginia
Virginia is hugely camping friendly and provides the most cost-effective ways to stay in and around Virginia Beach.
Most Virginia campgrounds are pet-friendly, RV-friendly, and family-oriented. From the above-given sites, you can choose the one that is ideal for your camping needs.
I hope this guide helps you find your best campground to get out there in the wilderness and relax.
Read More: