The birth of your next go-to tool…
Your next Wingman on the roll!
If you can't decide if Leatherman Wingman Tool is right for you or not? 
Is Leatherman Wingman the best Leatherman tool? 
Look no further, because you have visited the right place.
Today, I'm going to give you a detailed review of the Leatherman Wingman so that you'll be able to: 
Determine if this product is a nice investment and works best for you or not;
Have an idea about other's insight and opinion towards this product, and;
Lots more…
So, if you want to know more about this multi-tool, then let's get started.
LEATHERMAN Wingman Multitool
ONE OF OUR BEST: A classic, designed and assembled with premium materials; The Wingman is your go-to tool for projects around the house, on the job or at the campsite
14 TOOLS IN 1: Equipped with 14 tools to handle almost anything: knife, pliers, screwdrivers, wire cutters, a wire stripper, scissors, a package opener, bottle and can openers, a file and a ruler
OUR GUARANTEE: We're proud to stand behind every product that leaves our factory in Portland, Oregon; That's why we offer our 25-year warranty, so you can be confident your Leatherman lasts a lifetime
ONE-HAND OPENING: Open all the tools with one hand, even the ones that aren't accessible from the outside; And with a locking blade, you can cut with confidence
ALWAYS ON HAND: With its compact size, lightweight design and removable pocket clip, your Wingman is always within reach and ready to work
Leatherman Wingman Review
Overview of the Leatherman Wingman
The Leatherman Wingman is one of the most affordable yet excellent multi-tools with a lightweight design. A very popular brand when it comes to manufacturing the world's highest quality multipurpose tools.
This multi-tool is equipped with 14 tools that are all useful and get the job done.
Who is The Leatherman Wingman Multi-Tool For?
The Wingman is highly recommended for EDC or everyday Carry Enthusiasts looking for reliable, solid, and strong multiple tools that they can add to their inventory.
It's also ideal for individuals planning to invest in a Leatherman multi-tool but has a tight budget.
Check Today Price
Leatherman Wingman Multi-tool Specifications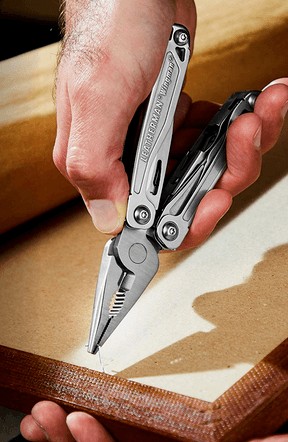 Like other tools that are currently available on the market, the Wingman is also a convenient tool that is a great buddy for outdoor activities.
Weighing 6.88 ounces and has a total dimension of 3.8" by 1" by 2", this medium-sized multi-tool looks like big Swiss Army knives.
On the other hand, the Wingman doesn't have as different tools as other Leatherman multi-tools such as Rebar and Wave. Either way, it still features an enormous 14 tools such as:
Small Screwdriver
Medium Screwdriver
Phillips driver
Wood or Metal File
Bottle Opener
Can Opener
1.5 inches ruler
Package Opener
Spring-action pair of scissors
Wire Stripper
Spring-action wire cutters
Spring-action pliers
420HC Combo Pocket Knife and
 Spring-action needle nose pliers
Leatherman Wingman Multi-Tool: Key Features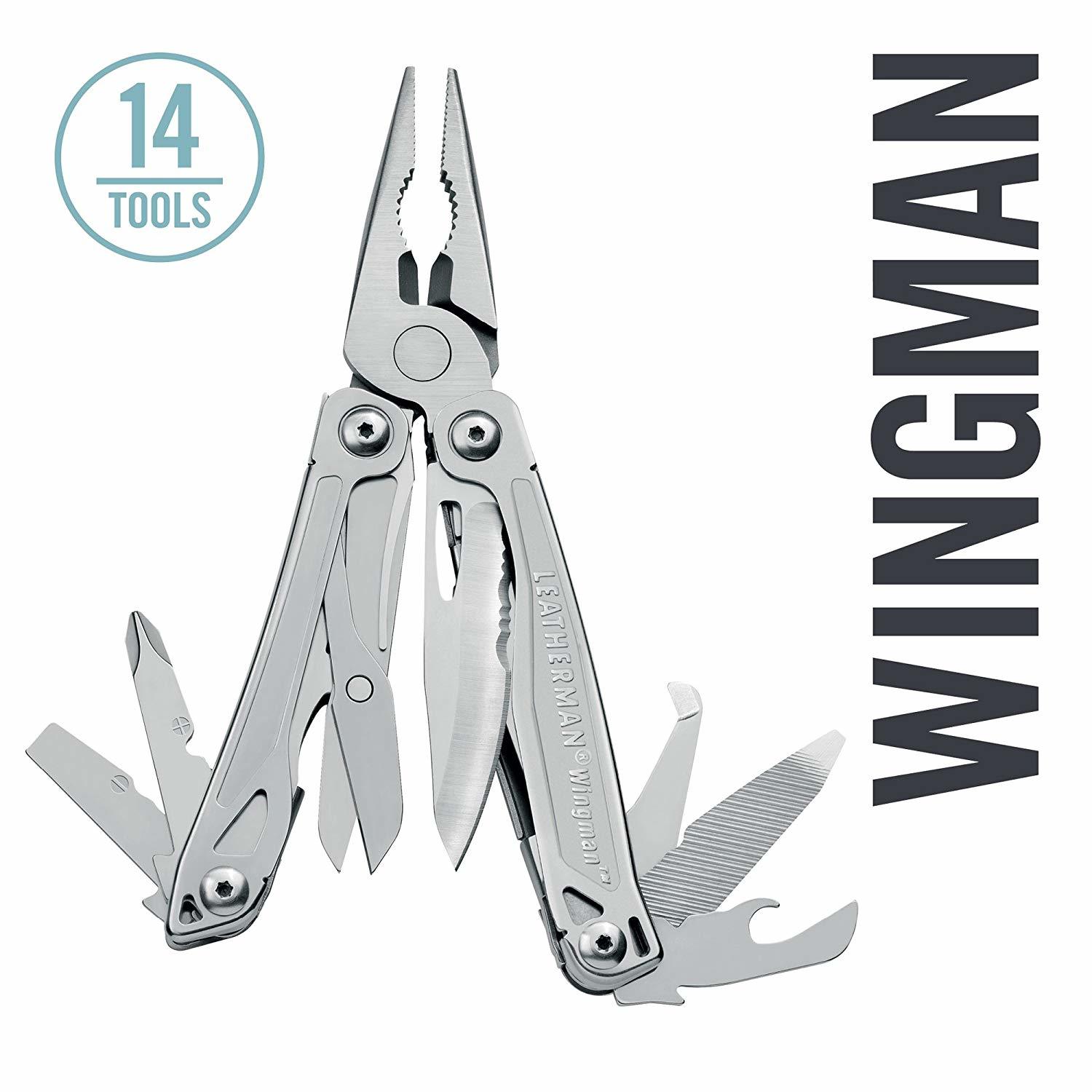 Build Quality
When it comes to the overall quality of Wingman, it's actually up to average the brand name. 
Even though it's not on the same level as some of their costlier multi-tools, it still has a solid feel, especially while you are using it.
Also, this multi-tool is constructed using 420HC stainless steel. Thus, you'll get incredible sturdiness while keeping the lightweight feel which is important if you're carrying it in your pocket. 
Price
As we mentioned a while ago, the Wingman is inexpensive, provided that it came with a horde of functions and is made of 100 percent high quality stainless steel.
Without a doubt, this beast is a great multi-tool that brings lots to the table, considering its price.
Check Today Price
Durability
This multi-tool is more durable and sturdier compared to other models that are partly made of stainless steel.
In addition to that, its sophisticated stainless steel finish makes this item high-end and very sleek, which several customers like.
Accessibility
This is one of the best Leatherman tools equipped with a pocket clip that makes carrying and transporting on the belt easier.
Also, it's light enough, as a result, it will not be too inconvenient, even though you're carrying it on your waist.
Nevertheless, it's also worth mentioning that the Wingman has a one-hand opening feature, which makes accessing the tools much easier.  
Safety
Another good thing about this multi-tool is that it comes with a locking feature. It means the Wingman will remain in place even if you are using it. So, you don't have to worry about hurting yourself while utilizing its blades.
Pros
Well-made spring mechanism
Inexpensive – surprisingly affordable price
Ideal for EDC enthusiasts -super handy
The inner tools and outer tools lock into place with a liner lock
Reliable locking mechanism
It feels comfortable and good in the hands
Easy to transport
Easily accessible
Cons
It doesn't include a belt sheath
The ruler is too short
The hybrid blade is also short – straight knife edge and small serrated edge
Check Today Price
Customer Reviews
The Wingman Multitool receive lots of excellent reviews due to its affordable price as well as great performance.
According to some customers, the Wingman's scissors and package opener are much better compared to Charge. Moreover, others are amazed at its overall quality. Unlike Rebar, Wingman's spring-loaded pliers.
On the other hand, customers also love the pocket clip or belt clip as it allows them to carry and transport the tool with ease.
Though a few customers aren't satisfied with how the small knife works.
Check Today Price
Frequently Asked Questions
1. Where to Get the Leatherman Wingman Multi-tool?
This multi-tool is accessible at almost any shop that brings the Leatherman brand. Also, the Wingman is widely accessible online from Amazon.com as well as the Leatherman website.
2. How much is this multi-tool?
For this model, usually, prices range between 40 to 50 dollars.
3. What is 420HC Stainless Steel?
This type of stainless steel used in making the Wingman doesn't only endure corrosion, but it's also easy to clean.
420HC Stainless Steel is commonly used in making tableware, knife blades, surgical tools, and scissors.
How to Clean Your Wingman Multi-tool Properly?
There are several ways to clean your Wingman Multi-tool.
If you want to remove the debris and sticky substances accumulated in your Wingman's blades, you can use water and mild detergent powder.  
But if your tool has been exposed to either marine environments or salt water, rinse your Wingman with fresh water and dry it afterward. When your tool is dried already, make sure to apply a machine oil or water-displacing product to protect your tool from corrosion as well as sticking.
Final Verdict
Of course, other models have the same features on the market or a nearby hardware store.
But…
I highly recommend the Leatherman Wingman Tool to everybody. It's not only an excellent tool for the money, but it's a great tool as well.
The spring-loaded pliers, spring-action scissors, and knife are very easy to access. And the same goes for the wire stripper and wire cutters. The package opener, can opener, bottle opener, pocket knives, diamond-coated file, and the small screwdriver serve their purpose well.
Overall, 
It's an inexpensive yet well-built multi-tool. Purchase a Wingman and discover something cool to build up. 
Nevertheless, this review that I've prepared answers all the questions running on your mind about this multi-tool. 
If you'd like to find more about other tools particularly Leatherman products – check Leatherman Raber Review, Leatherman Skeletool Review, Leatherman Wave Review and Leatherman Sidekick Review.
Check Today Price