The Exped Down Pillow, designed for campers, is an inflatable pillow and packs down to a small size. It has a soft surface which maximizes comfort and ensures that you enjoy a sound sleep on your trips. But is it the right choice for you?
Well, with so many Camping pillows available in the market, it is difficult to determine which one will be good for us.
To ease out your work, this article about Exped Down Pillow will help you make an informed decision.
Read on to find all the information you need, from features to FAQs to Customer reviews, all at one place.
Exped Down Pillow for Camping and Travel
Ergonomic 3-D design, height adjustable; luxurious down-filled cover; ergonomically shaped
Combo valve with one-way flap and deflation pin; Fabric eyelets allow attachment to a mat
Cover and air-core can be used individually, or separated for washing and repair
Material: brushed tricot nylon
Insulation: 700 cu in down RDS certified
A Brief Overview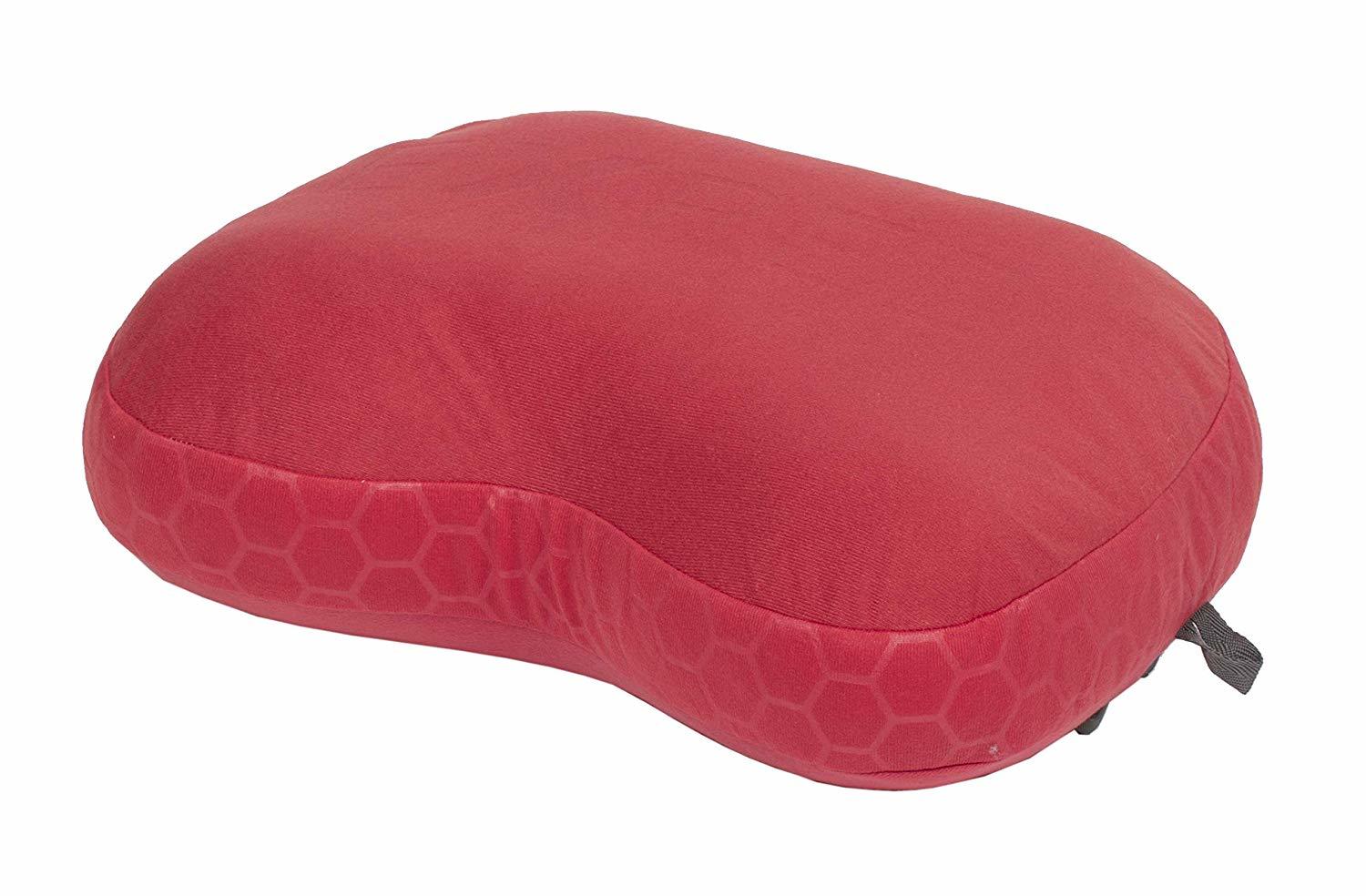 Since 1997 the Exped Company has been manufacturing camping gear to make outdoors as comfortable as indoors.
It strives to achieve the objective of providing comfort, no matter how far you are from your home.
The Exped Down Pillow is one of Exped product. It is an inflatable pillow which packs down to the size of a small football to facilitate packing.
More: Klymit Pillow-X Review
The pillow has a soft surface with an insulation system, making it a good choice for winter camping.
So if you are a frequent camper in search of a one of the best camping pillow, read on to know if this one might fulfill your needs.
Who is it for?
Would you rather go camping than spend your free time in the comforts of your house?
Are you among those who frequently go for camping and end up missing out on their peaceful sleep?
Then, this product might be the right choice for you.
It has a soft surface and thus provides maximum comfort. It may provide you with a sound sleep on your trips.
Also, since the pillow can be easily reduced to a small size, this is an excellent choice for backpackers and those who travel frequently, especially in winter.
It weighs around 6-8 ounces. And this won't add much weight to your Osprey backpack.
The pillow can be inflated to a good height and is equipped with a neck notch, making it appropriate for side-sleepers.
So, if you like the above features, you may be the right person for this product.
Exped Down Pillow Review: Key Features
Expands to a comfortable size
Let's answer the first question that comes in your mind when buying pillows.
How large is the pillow?
The Xped pillow, when inflated, is large enough to cradle your head.
More: Thermarest Compressible Pillow Review
It is not as large as a regular pillow, but it is big enough to ensure comfort.
Packs down to a small size
No one wants to drag an extra bag from his house just for a pillow. So, this pillow can be compressed in a stuff sack to the size of a small football.
The pillow is also fitted with a drawstring, which ensures that the pillow stays in the compressed form.
This can easily fit into your bag without occupying much space. It takes up almost no space if rolled along with the Exped sleeping pad.
More: Exped Air Pillow UL Review
​So, now you don't need to leave other essentials just to fit the pillow in!
Extremely light in weight
I am sure you do not want to trouble your shoulders with extra weight.
After all, you want to carry a pillow and not dumbbells!
The pillow weighs around 6 to 8 ounces (depending upon the size you purchase), considerably lighter than other pillows of its kind.
So even if you are planning to pack light, the Exped Down Pillow has got you covered.
Easy to use
No need to spend hours to figure out how to expand the pillow.
The mechanism is quite simple.
The pillow is equipped with a flat valve with a one-way flap. All you need to do is twist the valve to open it and then blow air into it.
​More: Trekology Ultralight Inflating Pillow Review
When you want to compress it to a smaller size, the built-in deflation pin is definitely of great help.
You need to use the pin, and the air will ooze out of the pillow, thus compressing it to a compact size which can be easily packed.
Available in two sizes
The Exped Pillow is available in two sizes.
The Medium size measures 15*11*5.1 inches when inflated and 5.1*3.5 inches in the packed form. It weighs around 5.3 oz.
The large size, on the other hand, has dimensions 18.9*11.4*5.9 inches in the inflated state and measures 5.5*3.9 inches when compressed. The weight of the Large Exped Pillow is approximately 6.7 oz.
More: Nemo Fillo Luxury Camping Pillow Review
In short, you need to choose between more comfort and smaller packing size and lightweight.
Available in various colors
I am sure you do not want all the Exped Down pillows to look the same, right?
To provide against such monotony, the pillow is available in four beautiful colors.
These are:
Ruby Red
Moss Green
Sea Blue
Granite Grey
In addition to this, it has a beautiful geometrical pattern on its sides, which gives it a fabulous finish.
So, which is your favorite color among these?
Adjustable Height
Are you a side sleeper? Or do you like to lay flat on your back?
Regardless of your preferences, this pillow has got you covered. You can adjust the height of the pillow by filling the right amount of air it.
More: Sea to Summit Aeros Pillow Premium Review
Do you want it to be thick? Blow more air into it.
Do you think it's too thick and thus uncomfortable to you? Deflate it a bit and adjust it however you deem fit.
The filling ensures maximum comfort
None of us likes pillows which feel like balloons.
Softness is our priority, right?
This pillow by Exped has an internal air chamber covered by soft cushioning.
The air filling also ensures that the pillow doesn't make any sound when you move around your head.
This crinkly noise is a major drawback with foam based pillows. This air-core pillow helps in overcoming this problem.
Soft surface
The Ergonomically designed pillow has a tricot surface which feels soft against your face.
In addition to this, the surface has an insulation mechanism so that the pillow feels warm even in low temperatures. This makes it a good companion for camping in winters.
​More: Sierra Designs DriDown Pillow In-depth Review
Therefore, you can enjoy a peaceful sleep even at a place where a small nap is a far cry.
The Pillow does not slip under your head
A major disadvantage of a pillow which is small in size is that it the chances of it slipping from beneath your head is more.
To cover this drawback, the pillow has two fabric eyelets on its back. This will allow you to attach the pillow to a mat. These eyelets also ensure friction which covers all the drawbacks that come with a small size.
Easy Maintenance
Cleaning camping pillows can be an annoying task if you do not have the right pillow.
This pillow has a removable cover. This cover can be easily washed, so you don't have to worry about getting that dirt off your camping pillow.
Also, unlike foam based pillows, you don't need to store the pillow in the uncompressed form to utilize it to its full potential.
You can easily store it in the compressed form. It will inflate in the same manner the next time you use it.
So the pillow will not even occupy much space in your house!
Is the pillow worth its price?
The pillow costs around $55 to $65 USD depending upon what size you purchase, and from where you buy the product.
This may seem a bit expensive compared to other inflatable pillows.
But the soft tricon cover and fabric eyelets give this pillow an edge over classic inflatable pillows.
More: Therm-a-rest Lumber Travel Pillow Review
Also, the 3D design and beautiful colors in which the pillow is available makes it stand apart from the rest of the lot.
​Pros and Cons
Pros
​Two fabric eyelets at the back of the pillow help in attaching it with sleeping pads and hoods of many sleeping bags, thus making it non-slippery

​The valve is flat, which helps in inflating the pillow quickly

​The height can be adjusted according to your preferences

​Has a stuff sack to ensure protection while traveling. This also facilitates packing

​Extremely light in weight, so it can be carried for long trips

​The cover is removable and can be easily washed
Cons
​You have to inflate it on your own by blowing air into it

​Does not have memory foam filling and thus is not that soft

​Quite small in size, when inflated
Customer Reviews
Customers who had bought the product had varied opinions on its performance
Most of the users loved the product and recommended it to others. They appreciated the soft fabric and the fact that the pillow does not make crinkly noise, unlike some foam based pillows.
The users were happy that the pillow packed down really small. This facilitated packing. Also, a few of them rolled the pillow us with their Exped sleeping pad and claimed that the pillow is a really good addition to their Exped camping gear.
More: Klymit Luxe Pillow Review
However, some customers have also complained that the pillow was not satisfactory. They complained that the pillow was expensive compared to its features. Some also complained of faulty stitching at the sides.
Frequently Asked Questions (FAQs)
Q. Is the pillow warm enough for camping in winter?
A. Yes. The pillow has an insulation system on its surface. This keeps it warm and ensures a comfortable sleep even when the temperature is low.
Q. How much does the pillow cost?
A. The pillow costs around 55 to 65 American Dollars.
Q. Where should I buy the product?
A. You can buy the product from various e-commerce sites. It is always recommended that you buy it from trusted e-commerce sites like Amazon as they provide you with the genuine product.
Q. Does the carry pouch contain a velcro strip for closing?
A. No. The carry pouch has a drawstring, instead of a velcro strip. This ensures that the package is more secure.
Q. Is the pillow inflatable?
A. Yes. The pillow has a flat valve to blow in the air.
Q. How small does it pack? Can it fit in a backpack?
Answer. The pillow is about the size of a small football in the compact form. Yes, it can fit into a backpack.
Q. Does the product last long?
A. It depends on how you use the product. If you don't maintain it properly, then, of course, it won't last long. But if you handle it with care and follow the instructions, then customers have claimed that it is quite durable.
Final Verdict
I hope the above review helped you to know everything about this Exped Down inflatable Pillow.
In my opinion, this pillow is a perfect choice for campers. I recommend buying this Exped pillow.
The fact that it is not noisy is what I love the most. This covers the drawbacks of a foam based pillow. At the same time, the soft surface makes the pillow as comfortable as one filled with memory foam.
Also, the valve mechanism is easy to use, and it was strong enough to ensure the durability of the pillow.
I believe this pillow is worth every penny.
Like the post?
Don't forget to Pin it.