A sure-fire way to avoid getting lost is with a trusty GPS device, a reliable little gadget that promises to help you navigate your way through all your adventures.
Whether you're a geocaching enthusiast, a biker, or an avid road tripper, the Garmin Oregon 600 will meet all your directional needs.
The Garmin Oregon 600 stands out due to its sunlight-readable touchscreen display, portable size, barometric altimeter and 3-axis compass, dual battery system, and easy-to-customize maps, map screen, and routes.
Purchase of the Oregon 600 comes with the USB cable charger and a carabiner clip.
Time and time again…
…Garmin has proven itself a worthy leader in the market of GPS devices.
The company creates and designs a variety of handheld gadgets and wearables built for a long-lasting, reliable navigational experience whether you're hiking, biking, running, snowboarding, or driving.
To learn more about the device's specifications and features, read our full Garmin Oregon 600 review below.
Things to Consider Before Buying a Handheld GPS Unit
Sale
Garmin Oregon 600
3-Inch sunlight-readable, touchscreen display with multi-touch capability
Dual-band GPS/GLONASS satellite positioning
Sensors (3-axis compass, accelerometer, barometric altimeter)
ANT or Bluetooth technology -wirelessly share routes, tracks, waypoints, geocaches, custom maps and photos between units Dual orientation - auto switching between landscape or portrait views
Dual battery system -2 AA batteries or NiMH battery pack charged by the Oregon (battery pack included with 650/650t; optional with 600/600t)
As you hunt for a new GPS gadget, consider what type of screen you want.
While the Garmin Oregon 600 features an easy-to-use touchscreen, you can find navigational devices that use only button navigation (and no touchscreen).
Another critical aspect of the screen is its level of readability and colors.
The Oregon 600 features a transflective, full-color touchscreen that is easy to read even in direct sunlight without getting washed out or needing to turn on a backlight.
Also…
…consider whether or not you need the device to hold up to moisture. If you might be biking in the rain, for example, you should look for a handheld GPS device with a waterproof rating.
The Oregon 600 has IPX7 waterproofing, which means it is rated to withstand being immersed 1 meter underwater for up to half an hour. If you need a device with even more waterproofing, look for a device with an IPX8 rating.
Next, consider the technological advancements of the device, as you want to make sure that the navigation is accurate and fast. The Garmin Oregon 600 features GPS and GLONASS satellite system technologies, which are accurate and quick to find your location.
This will lead to a less frustrating user experience.
Another major feature of a navigational device is its battery life.
The Garmin Oregon 600 features 16 hours on a full charge using lithium or nickel-metal hydride rechargeable battery pack. However, you can also insert two AA batteries if you need more life.
Features & Benefits
Weight and Size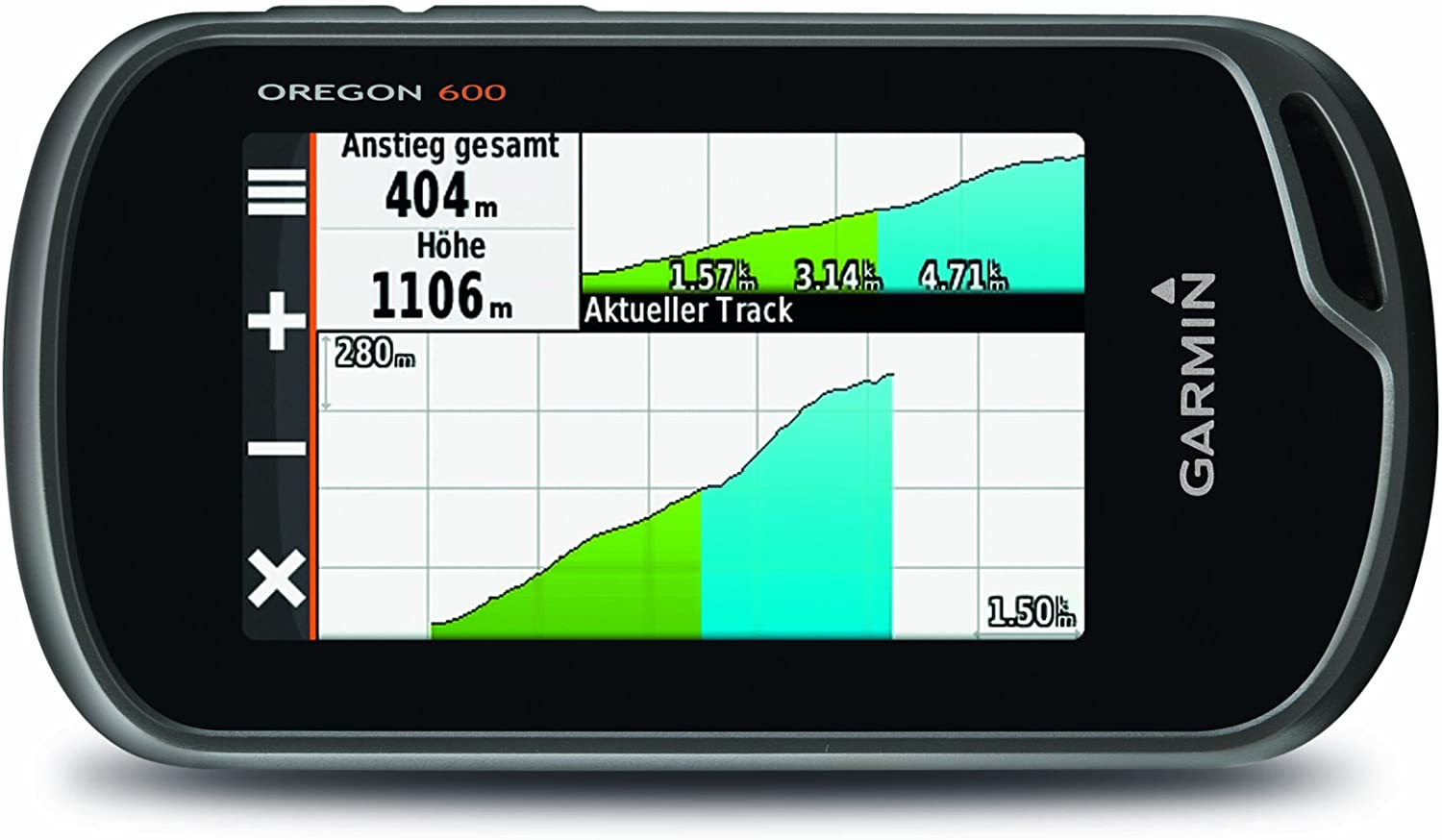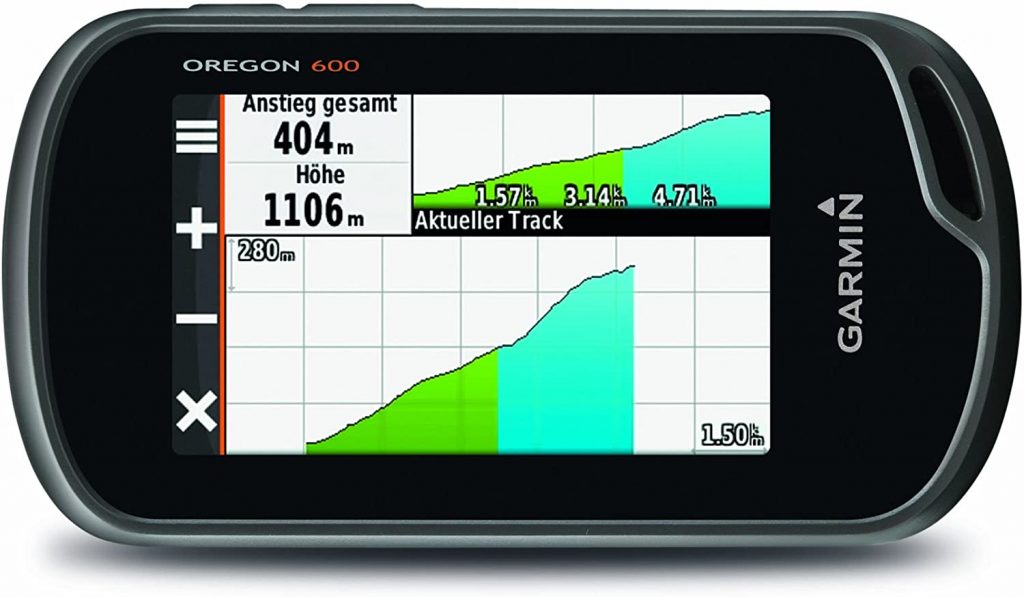 As it weighs only 7.4 ounces (209.8 grams) and measures 2.4 x 4.5 x 1.3 inches, the Garmin Oregon 600 is a fairly small, lightweight device overall that should be easy enough to carry around.
Despite this, it is somewhat thick compared to modern-day smartphones, so be aware that it might not be as comfortable if you plan to carry it around in a pocket.
Navigational Technologies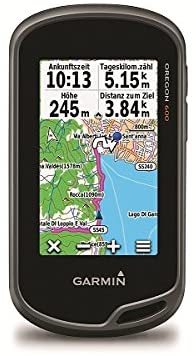 GPS + GLONASS
The Garmin Oregon 600 features two satellite system technologies: GPS and GLONASS. These technologies are the United States' and Russia's global navigation satellite systems, respectively.
Because the Oregon 600 can send and receive information between two satellite systems, it can find your coordinates more quickly than if it could only communicate with one.
It also features HotFix satellite prediction to speed up the satellite selection process and maintain the signal.
Map Customization
You can also add your own maps onto the device, including up to 24,000 U.S. topo maps or trailhead series maps for exploration.
There are also BlueChart maps for water navigation, as well as City Navigator maps.
This enables turn-by-turn directions while en route to your destination. You can also use a BirdsEye Satellite Imagery subscription to incorporate detailed satellite images into your maps.
More: Garmin Montana 680t Review: Worth Buying as Hiking GPS?
Map Sharing
Using Bluetooth, you can quickly share your custom routes, maps, and geocaches with other Garmin devices. You can even share photos.
Geocaching
The Garmin Oregon 600 has enough space to store up to 4 million geocaching maps. This way, you will have all of your favorite maps in the palm of your hand when you need them most.
Barometric Altimeter
The device also has a built-in barometric altimeter to track pressure changes to help find and track your altitude. This is especially helpful on mountainous terrain when you want to track just how high you climbed. You can also use the barometric altimeter to track the weather.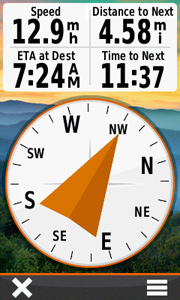 3-Axis Compass
The Garmin Oregon 600 boasts an integrated 3-axis electronic compass featuring an accelerometer with tilt compensation.
This means that the device will still find your location and successfully navigate even if the device isn't level.
More: Garmin inReach Explorer+ Review: Your Companion for a Wonderful Expedition
BaseCamp Software
With BaseCamp software, you can effectively organize all of your custom routes, waypoints, and geocache tracks all in one easy-to-see place. You can also share your routes with friends for easier trip planning.
Map Storage Space
All in all, the Garmin Oregon 600 can store up to 4,000 favorite locations and waypoints, as well as 200 saved tracks, 200 routes, and 3500 map segments. It has 1.7 GB internal storage and can accept up to 32 GB extra space via a microSD card.
Waterproofing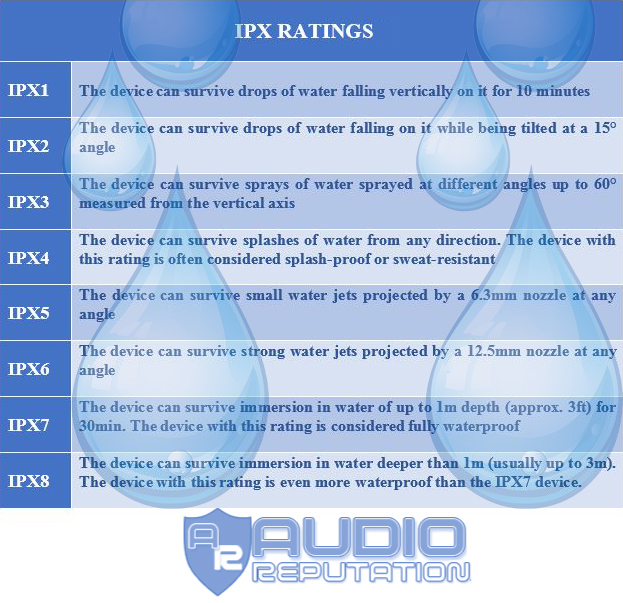 Because the Garmin Oregon 600 features an IPX7 waterproof rating, this means it can be submerged at a depth of up to 1 meter for 30 minutes without being damaged.
Because of this, the Garmin Oregon 600 is an excellent choice if you need a waterproof device that will stay functional in the rain.
More: Check our guide to Garmin GPSMAP 64st Review here
Battery Life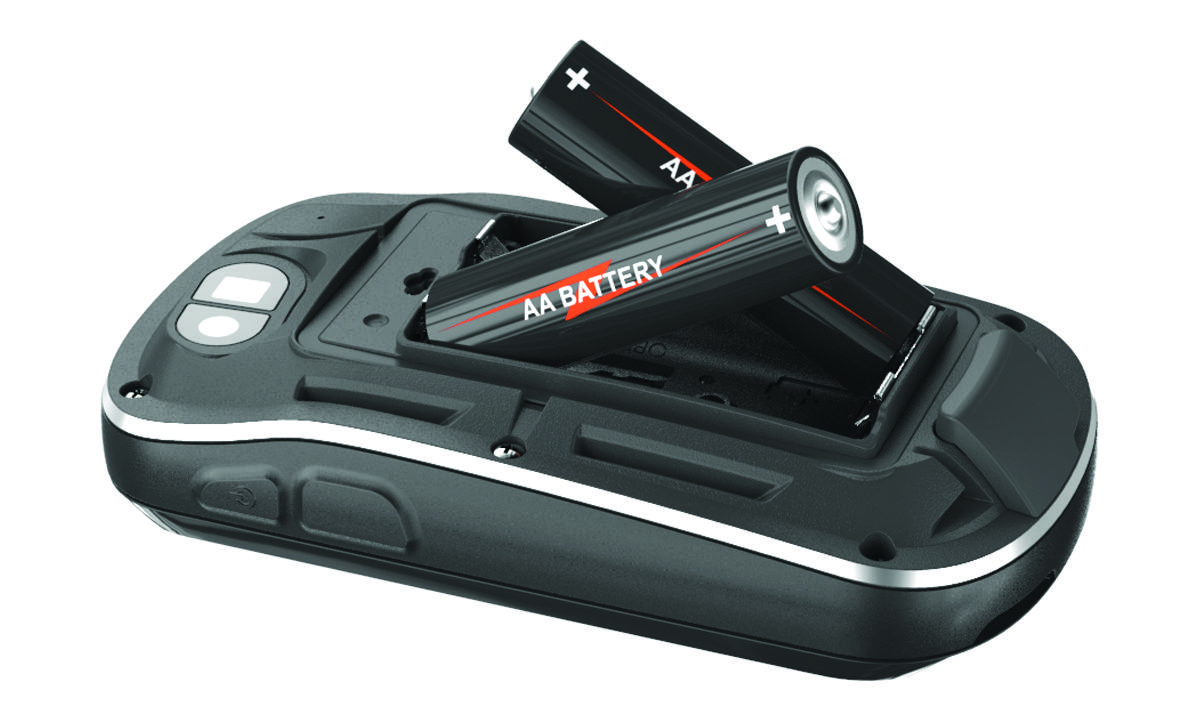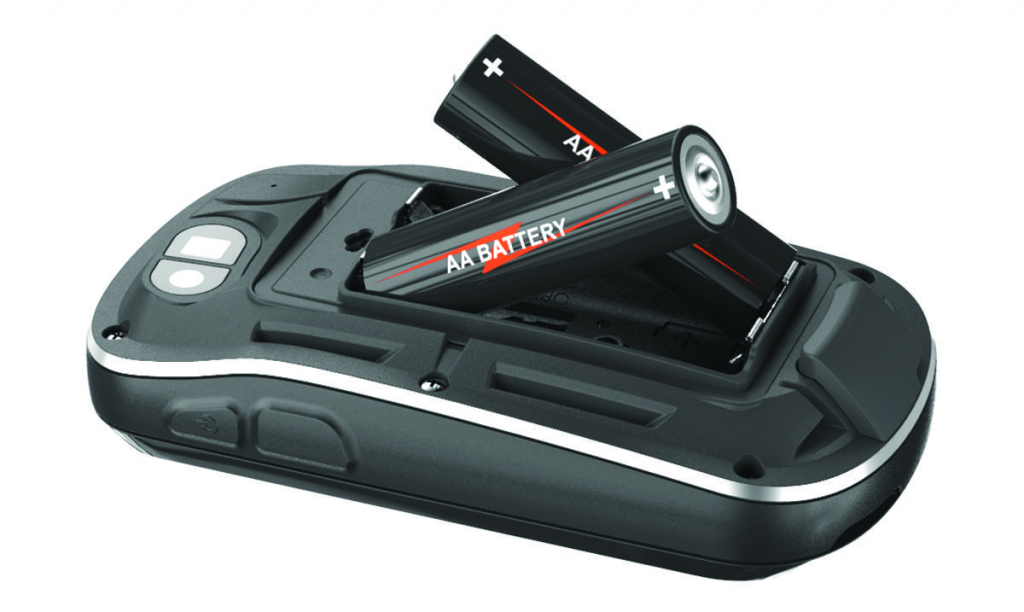 With a rechargeable Garmin battery pack accessory, which you can recharge via USB charging cord, the device should get 16 hours of battery life. As an alternative, you can simply insert two AA batteries to power the device for an additional 16 hours.
Screen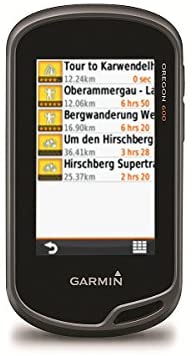 With its transflective display quality, the Garmin Oregon 600 is easily viewable even in bright sunlight without needing to utilize a backlight, saving precious battery life.
The display size measures 3 inches diagonally, with rectangular dimensions of 1.5 x 2.5 inches. The resolution is 240 x 400 pixels.
The screen overall is very bright with touchscreen functionality, which I found easy to use.
In addition to this…
You can easily create shortcuts on the screen with its customizable main menu to show your most-needed apps and settings within easy reach.
You can also rotate the screen into portrait or landscape orientation for ease of use thanks to its dual orientation screen.
More: Is the Garmin GPSMAP 66i Worth Buying? In-depth Review
In the settings, you can adjust the backlight timeout, orientation lock (landscape or portrait, or rotating), screen capture (screenshot of an image), and battery-saving options by turning off the screen and backlight after a certain amount of time.
Here is a video demonstrating how to set up the display options of the Garmin Oregon 600:
Other Features
The Garmin Oregon 600 is equipped with a carabiner clip for even easier portability by clipping onto your belt or pockets. The following video demonstrates the use of the carabiner clip:
| Feature Type | Feature Specs | What This Means |
| --- | --- | --- |
| Weight | 7.4 oz (209.8 g) | Lightweight for easier portability |
| Size | 2.4" x 4.5" x 1.3" | Compact size, if not slightly too thick for pockets |
| Display | Transflective, sunlight-readable 3-inch touchscreen display | The screen is relatively compact and easy to read, even in the sunlight, without requiring a backlight |
| Waterproofing | IPX7 | Withstands immersion in water of up to 1 meter for 30 minutes |
| Navigational tech | GPS + GLONASS | Uses U.S. and Russian satellite systems for fast, accurate pinpointing of location |
| Maps | Stores up to 3500 map segments, 4000 waypoints, 200 tracks, 200 routes | Has plenty of storage for all your favorite maps and tracks |
| Battery Life | 16 hours with rechargeable battery or two AA batteries | Can be recharged or easily used with standard batteries |
| Automatic turn-by-turn navigation | Yes | Easy to find your way from one place to another |
| Barometric Altimeter | Yes | Tracks your altitude by monitoring changes in pressure |
| Compass | Tilt-compensated 3-axis compass | The Oregon 600 is able to find your location accurately even if the device is tilted |
| Retail Price | $$$ | Mid Level Price |
Social Proof
When I decided to get a new GPS device, I knew that Garmin is a trusted brand, and I came across the Garmin Oregon 600. So, I scoured the internet and came across some user reviews that spoke positively of the device.
Here are a few of these users' experiences below: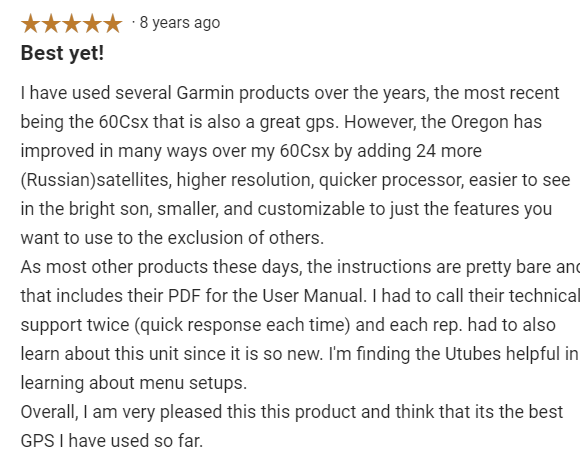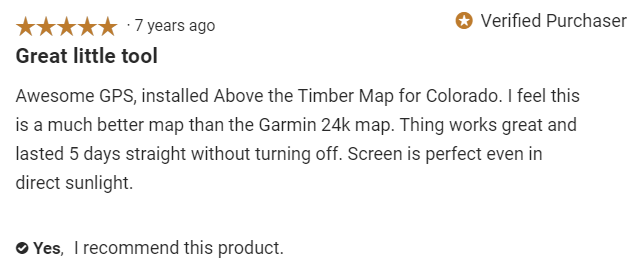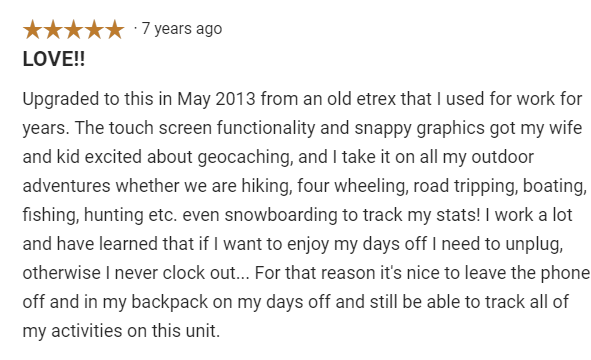 Alternatives
Garmin Oregon 600 vs Oregon 700
Oregon 700
Touchscreen - 3-inch sunlight-readable touchscreen display with Dual orientation (landscape or portrait view)
Abc sensors - 3-axis tilt-compensated electronic Compass with accelerometer and Barometric altimeter sensors. Display size - 1.5 W x 2.5 H (3.8 x 6.3 cm). 3 inch diag (7.6 cm). Battery life - up to 16 hours
Ruggedized for the outdoors - ergonomic, rugged design that Stands strong against dust, dirt and humidity -and it is water-rated to Ipx7
Activity profiles - simplified multi activity menu interface - including climb, hike, hunt, bike, geocache, fish and more
Connect IQ - connect IQ compatible to customize the Device with data fields, widgets, and apps; find what you like or build your own.Display resolution, WxH:240 x 400 pixels
Both the Oregon 600 and 700 feature a 3-inch touchscreen and IPX7 waterproof rating. Both also feature GPS and GLONASS satellite reception technologies, although the Oregon 700 has redesigned and slightly updated antennas for faster signal finding.
Also…
…while both devices feature Bluetooth connection capabilities, the Oregon 700 also has smart notifications via Bluetooth with your smartphone and can download custom apps, data fields, and widgets.
The Oregon 700 also has more built-in memory (3.4 GB) and can store up to 15,000 map segments, 10,000 waypoints and locations, and 250 tracks and routes.
Moreover, the Oregon 700 is also equipped with a TracBack feature that helps you navigate back to where you started from in case you get lost.
Comparison
Same 3-inch touchscreen, IPX7 waterproofing, and navigational systems
Oregon 700 has smart notifications.
Oregon 700 has upgraded antennas.
Oregon 700 can store more tracks, routes, and waypoints.
Oregon 700 features customized data fields and apps.
Oregon 700 has a TracBack feature.
If you're on the hunt for a GPS device with smart notifications, slightly faster satellite signal, and more built-in storage, you should consider the Garmin Oregon 700.
Garmin Oregon 600 vs 600t
Garmin Oregon 600t
3-Inch sunlight-readable, touchscreen display with multi-touch capability
Dual-band GPS/GLONASS satellite positioning
Sensors (3-axis compass, accelerometer, barometric altimeter)
ANT or Bluetooth technology -wirelessly share routes, tracks, waypoints, geocaches, custom maps and photos between units Dual orientation - auto switching between landscape or portrait views
Dual battery system -2 AA batteries or NiMH battery pack charged by the Oregon (batteries not included)
The Garmin Oregon 600 and 600t are extremely similar devices. They are the exact same physical size and weight, with the same 3-inch transflective color touchscreen. Both can be powered with a battery pack or with two AA batteries and have a battery life of up to 16 hours.
Also, they are both IPX7 rated for waterproofing and use GPS + GLONASS.
The main difference between these two devices is…
…that the Garmin Oregon 600t comes with 100,000 preloaded U.S. topographical maps. This is very useful for geocaching. On top of this, the 600t can store slightly more map segments.
Comparison
Both use GPS and GLONASS
Same size, weight, and screen
600t can store more map segments
600t comes with preloaded U.S. topographical maps for geocaching
In the end, if you're looking for an incredibly similar device that is even more geared towards geocaching, check out the Garmin Oregon 600t.
Garmin Oregon 600 vs eTrex 30x
eTrex 30x
UPGRADED DISPLAY Features a 2.2" 65K color sunglight readable display offering increased resolution (240 x 320 pixels). Physical dimensions: 2.1" x 4.0" x 1.3" (5.4 x 10.3 x 3.3 cm)
LOAD MORE MAPS Large 3.7 GB of internal memory and microSD card slot lets you load a variety of maps, including TOPO 24K, HuntView, BlueChart g2, City Navigator NT and BirdsEye Satellite Imagery (subscription required)
PRELOADED BASEMAP Includes a worldwide basemap with shaded relief
BUILT IN SENSORS eTrex 30x adds a built in 3 axis tilt compensated electronic compass and a barometric altimeter which tracks changes in pressure to pinpoint your precise altitude, and you even can use it to plot barometric pressure over time
WIRELESS Wirelessly share your waypoints, tracks, routes and geocaches with other compatible devices simply press "send" to transfer your information also wirelessly connects to compatible Garmin devices, including VIRB and accessory sensors
The Garmin eTrex 30x is a more compact device, with dimensions of 2.1 x 4 x 1.3 inches and a 2.2-inch transflective screen (although it is not a touchscreen).
Also, the eTrex is more lightweight, weighing in at only 5 ounces. The eTrex also has a slightly longer battery life of 25 hours compared to Oregon's 16 hours.
The Oregon can store 3500 map segments, while the eTrex can store slightly less at 3000. Likewise, the Oregon can store more waypoints and favorite locations.
Both devices use GPS and GLONASS satellites and have a built-in tilt-compensated compass and barometric altimeter.
The eTrex 30x is built to be a more rugged option, with its smaller body style, lack of touchscreen, and resistance not only to water but also to dust, humidity, and dirt. This makes it a better option for ATV or other off-roading adventures.
Comparison
Both have IPX7 waterproofing
eTrex also resists humidity, dust, and dirt
eTrex has a smaller screen, smaller overall dimensions, and weighs less
eTrex has a longer battery life
Oregon has a touchscreen
Oregon has more storage for waypoints, favorite locations, and map segments
eTrex is more compact and lightweight
For a smaller, simpler device that weighs less, lacks a touchscreen, has a slightly longer battery life, and boasts a more rugged body style more suited for offroading adventures, look at the Garmin eTrex 30x. Check our guide to Garmin eTrex 30x here
Conclusion
If you're seeking a trusty, well-designed, long-lasting GPS device, the Garmin Oregon 600 is an excellent choice.
Wrapping it up…
It offers a responsive, bright touchscreen that works even in direct sunlight, a long battery life, fast and accurate satellite technologies, compass and altimeter, a MicroSD slot for more storage, and waterproofing.
With all this, you can be confident that the device won't let you down.
At the end of the day, you should use what works best for you and the Garmin Oregon 600 is for you who want to go a long way.
To check out the Garmin Oregon 600, click here.