For your next road trip or wilderness excursion to go as smoothly as possible, a handheld GPS device can be a great gadget to bring with you. The Magellan eXplorist 310 Summit is equipped with navigational features to make your next adventure stress-free.
Standout features of this little device include a compact body style for easy portability wherever you go, a sunlight-readable screen, preloaded World Edition basemap and geocaching capabilities, 18-hour battery life, and trusty IPX7 waterproofing for a rugged design.
As a company, Magellan has been lauded for their innovative, reliable GPS navigation devices since 1986. They create a variety of long-lasting, trusty GPS gadgets, from portable car navigation gadgets to handheld devices meant for outdoor explorations.
For a full discussion of all the specifications and features of this little device, check out our complete Magellan eXplorist 310 Summit Series review below.
Things to Consider Before Buying a Handheld GPS Device
Magellan eXplorist 310 Summit
The World Edition includes a detailed road network, water features, urban and rural land use, and a realistic shaded relief background
Brilliant, Sunlight Readable Color 2.2" Screen
Summit Series Topographic Maps
Paperless Geocaching Download
18 Hours of Battery Life
One of the most important aspects is the screen, as it needs to be easy to read in any condition and simple to use. Thankfully, the Magellan eXplorist 310 has a transflective color screen that maintains its brightness even in direct sunlight without getting washed out. The screen resists breakage, as it is recessed slightly into the body, making it less likely to be hit upon impact.
While the Magellan's screen is small, the interface is easy to use with buttons and a multidirectional joystick. While the interface is a little outdated, since it is not a touchscreen, this can be a benefit if you are trying to use the device in chilly weather when you're wearing gloves.
In terms of navigation, the Magellan eXplorist 310 communicates only with GPS satellites, which is the global navigation satellite system (GNSS) in the United States. For more accuracy and speed when finding your location, however, other devices can also interface with GLONASS (Russia's) and Galileo (Europe's) navigation satellite systems.
The eXplorist 310 is also slightly lacking when it comes to tracking altitude. While the device will attempt to calculate altitude using its GPS signal, this process will be less accurate than a device with an integrated barometric altimeter, such as the Magellan eXplorist 610.
In terms of a compass, the eXplorist 310 features a GPS-based compass, which is only accurate when you are walking in open areas with good signal. For more accuracy, look for a device featuring a 3-axis compass, such as the eXplorist 610.
If you need your device to resist water, the eXplorist 310 is a good option. It features IPX7 waterproofing and withstands being submerged in 1 meter of water for up to 30 minutes.
Battery life is another important variable to consider. While the Magellan eXplorist 310 cannot charge via USB port, it is powered on by two AA batteries that are easy to replace. The two batteries give 18 hours of continuous use.
Features & Benefits
Weight and Size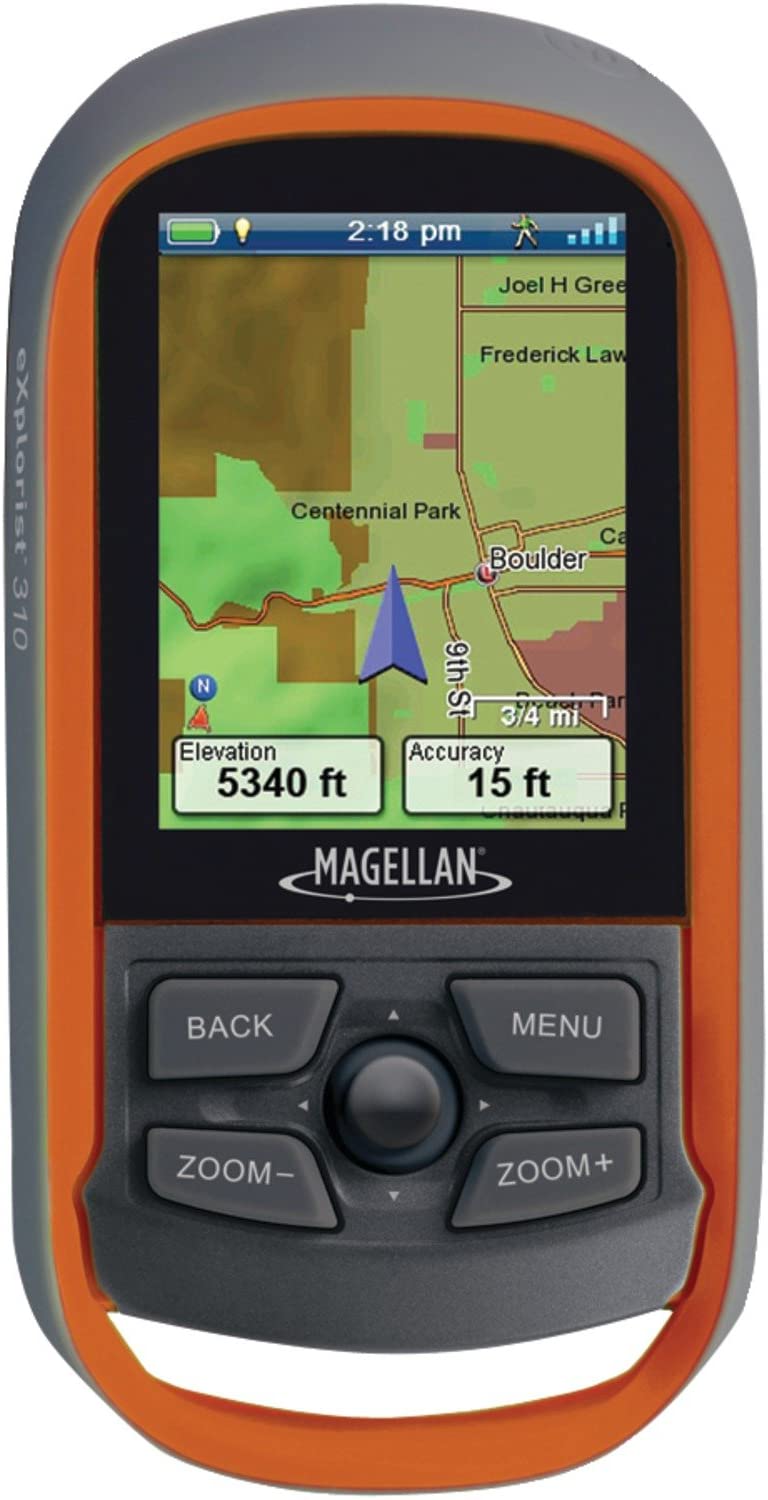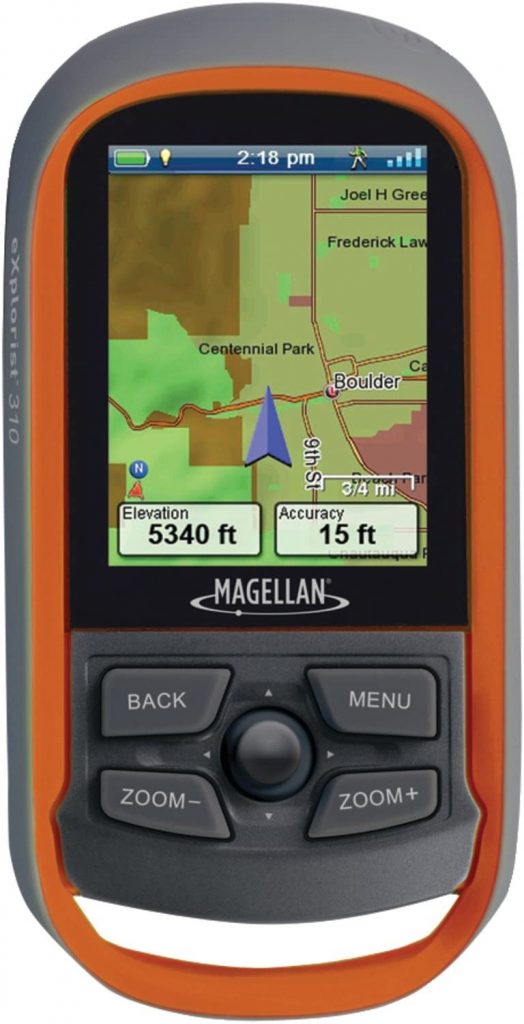 Weighing only 5.2 ounces (147 grams), the eXplorist is relatively lightweight and easy to carry. The device measures 2.2 x 4.4 x 1.4 inches, so it is compact in the palm of your hand. It feels very sturdy and rugged to hold, as it is thicker than a smartphone.
Navigational Technologies
GPS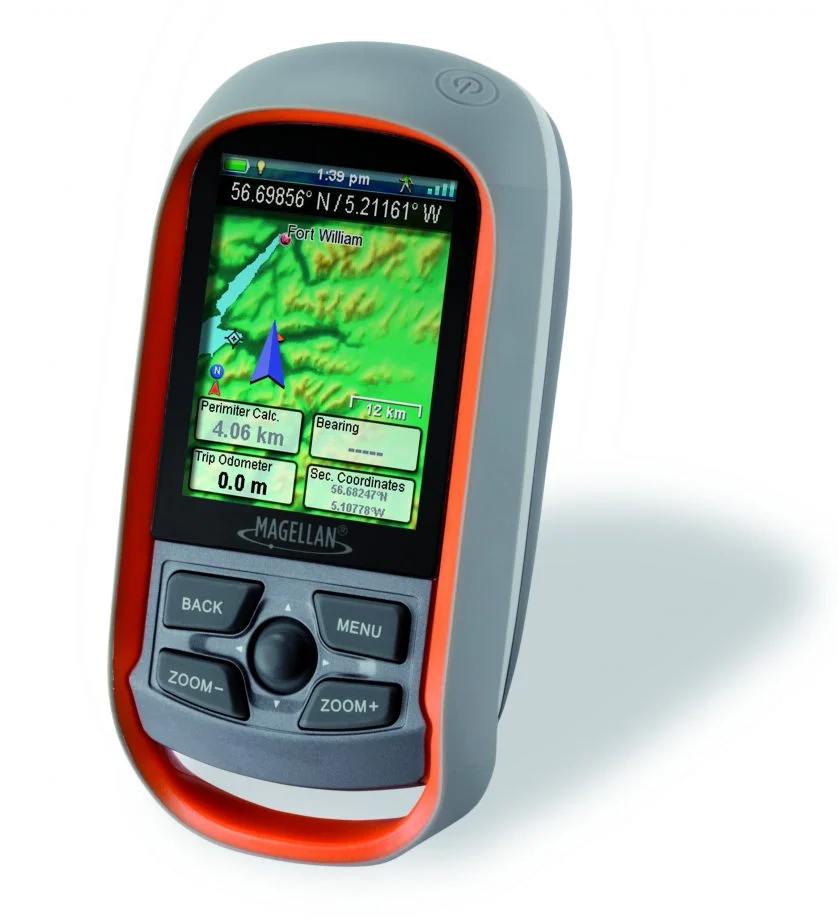 The eXplorist makes use of the GPS satellite system for communication to find your coordinates. However, this process is less accurate than a device that can interact with more than one global navigation satellite system, such as GLONASS and Galileo.
This does not mean that the eXplorist is unreliable, however. It simply means that it may take longer to find your location or have more trouble maintaining the signal in low-signal areas. In practice, the chipset in the GPS receiver is fairly new and usually locks onto a signal in less than 1 minute.
Compass
The compass on the eXplorist is, unfortunately, not 3-axis or tilt-compensated. This means that the device will have trouble guiding you if it is not held level, and the compass itself relies upon the GPS signal for the compass to function. It may struggle to get a signal inside buildings or in other obscured areas.
More: Garmin Montana 680t Review: Worth Buying as Hiking GPS?
Software and Storage
Preloaded Maps and Storage Space
The Magellan comes preloaded with the World Edition basemap. This detailed map illustrates a complete road network of North America, Western Europe, and Australia, as well as many major roads, bodies of water, rural land areas, and large cities throughout the rest of the world.
Additionally, you may download Magellan's Summit Series topographic maps for even more detail. This is especially useful for geocaching.
A drawback is its small storage size. While the device has 2 GB of internal storage, only about 512 MB is actually available for you to upload maps, geocaches, and additional tracks. Also, it does not feature expandable storage via microSD, which feels like an oversight. In all, the Magellan can store up to 1,000 waypoints, 50 routes, 10,000 geocaches, and 50 tracks.
Geocaching
The Magellan features paperless geocaching capabilities, meaning that you can upload geocaching files from geocaching.com onto the device using a USB connection to your computer. When using the geocaching feature on the device, you can easily search for the geocache you desire and view hints and descriptions.
More: Garmin Oregon 600 Review: Is It A Good Hiking GPS
Waterproofing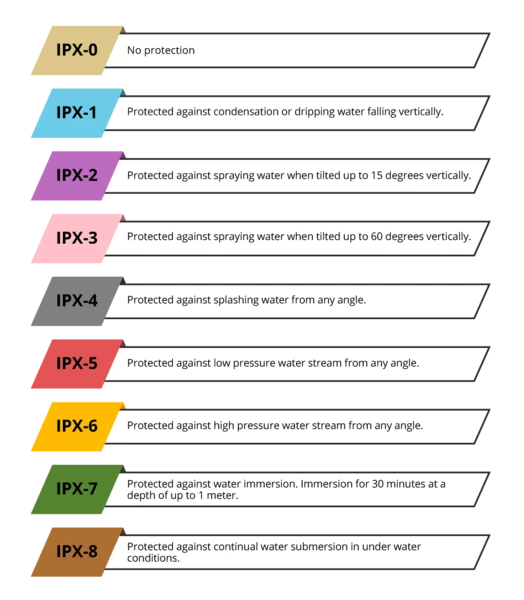 Because it features an IPX7 waterproof rating, the Magellan is an excellent choice if you may come into contact with moisture. It can be immersed in water up to 1 meter for 30 minutes.
Battery Life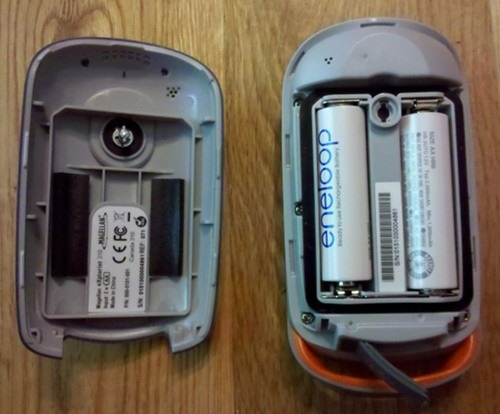 There is no rechargeable battery built into this little gadget, and there is also no charging cable. The eXplorist must be powered using two AA batteries, which are thankfully easy to insert and replace. The device promises 18 hours of battery life with continuous use.
Screen Type and Interface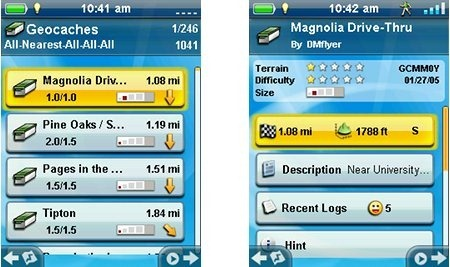 The Magellan is equipped with a transflective display, promising to be easy to read even in direct sunlight without needing to use a backlight, saving battery life. The screen itself is fairly small at only 2.2 inches, and it's recessed slightly into the body to reduce the risk of cracking in case of a fall.
The screen is a full color, vibrant display with a 240×320 resolution. Note that it is not a touchscreen but, rather, the interface is navigated using a multidirectional rotating joystick in the bottom part of the device.
The Magellan also features a back, menu, zoom in, and zoom out button surrounding the joystick. The buttons themselves are somewhat stiff at first but became easier to use over time. Overall, they feel rugged and well built.
More: Garmin eTrex 22x Review: Is It the Best Mid-Range Hiking GPS?
Here is a video demonstrating how to use the interface to navigate around the screen:
Social Proof
Reading customer reviews is generally a great idea to get a better sense of the advantages and disadvantages of the product, as well as practical viewpoints of using the device in real-life scenarios. We've rounded up a few reviews for you below: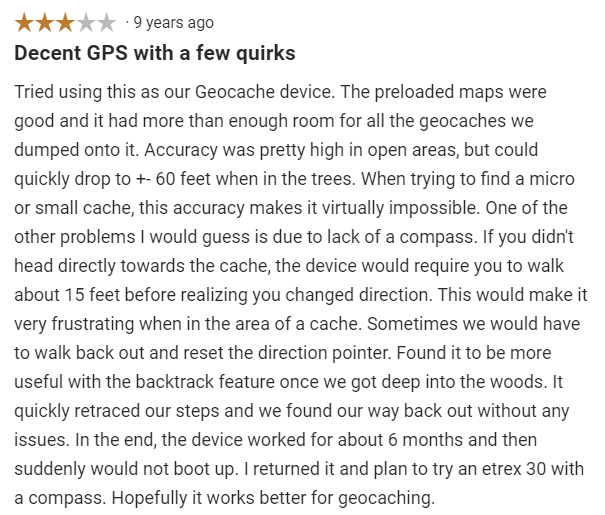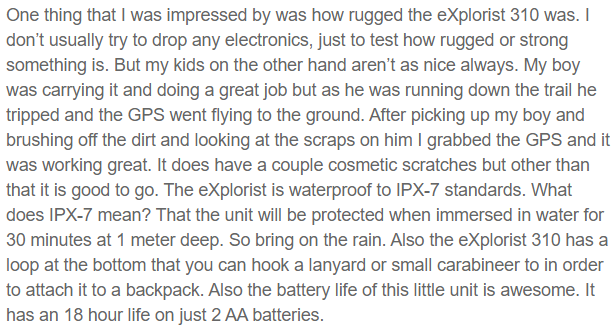 Alternatives
Magellan eXplorist 310 vs 110
Magellan eXplorist 110
The eXplorist 110 GPS receiver provides core outdoor navigation with a sunlight readable color display and waterproof design
A vibrant 2.2" color transflective screen provides the best readability in direct sunlight
The World Edition includes a detailed road network, water features, urban and rural land use.
Download and view more than 20 unique characteristics of each cache and view, search, filter on the device. Details include name, location, description, hider, size, difficulty, terrain, hint, and recent logs created by other geocachers
Both of these devices feature a 2.2 inch transflective color screen and an 18 hour battery life powered by two AA batteries. They are also the same size and weight. Like the Magellan eXplorist 310, the 110 allows easy uploads of geocaching maps straight from your computer. Both devices also feature the preloaded World Edition maps.
As it is the upgraded version, the eXplorist 310 has some advantages. It can store more waypoints, more geocaches, more routes and tracklogs, and has a built-in base map. The 310 also has a picture viewer and audible proximity alerts, which the 110 lacks.
Comparison
Both great options for geocaching
Same screen, overall size and weight, battery life and preloaded World Edition maps
310 can store more geocaches, routes, waypoints, and tracklogs
310 has a picture viewer and audible proximity alerts
110 is slightly less expensive
If you're looking for a similar but less expensive device that's missing a few features, check out the Magellan eXplorist 110.
Magellan eXplorist 310 vs Garmin eTrex 32x
Sale
Garmin eTrex 32x
Explore confidently with the reliable handheld GPS
2.2" sunlight-readable color display with 240 x 320 display pixels for improved readability
Preloaded with Topo Active maps with routable roads and trails for cycling and hiking
Support for GPS and GLONASS satellite systems allows for tracking in more challenging environments than GPS alone
8 GB of internal memory for map downloads plus a micro SD card slot
These two devices are similar in overall size and weight. Also, they both sport the non-touchscreen transflective screen for easy sunlight readability, a joystick and buttons to navigate the on-screen interface, and IPX7 waterproofing.
However, the Garmin is a more advanced device in various ways. It features not only GPS but also GLONASS communication for a more reliable and faster signal. Also, it has an integrated barometric altimeter for more accurate altitude tracking as well as a 3-axis compass for a more reliable compass experience.
The Garmin also has 6 GB of internal storage and features expandable storage space via microSD card, which the Magellan lacks. Lastly, the Garmin features a slightly longer battery life at 25 hours.
Comparison
Both have IPX7 waterproofing.
Garmin has a barometric altimeter and a 3-axis compass.
Garmin has GPS and GLONASS.
Neither are touchscreen (both use a joystick and buttons)
Both take AA batteries, but Garmin has a longer battery life.
Garmin has more internal space and a microSD card slot.
If you search for a more advanced navigational device with upgraded satellite capabilities, more accurate altitude tracking and compass, and more internal storage space, check out the Garmin eTrex 32x. Check our review for Garmin eTrex 32x here
Magellan eXplorist 310 vs Garmin GPSMap 64sx
Sale
Garmin GPSMap 64sx
Rugged and water-resistant design with button operation and a 2. 6" sunlight-readable color display
Preloaded with Topo Active maps (U. S. and Australia only) featuring routable roads and trails for cycling and hiking
Know where you're at with a high-sensitivity receiver with quad helix antenna and multi-GNSS support (GPS, GLONASS and Galileo) and 3-axis compass with barometric altimeter
Wireless connectivity via BLUETOOTH technology and ANT+ technology available on GPSMAP 64sx and GPSMAP 64csx models
Battery life: up to 16 hours in GPS mode
The Garmin GPSMap 64sx is another advanced navigational device that differs from the Magelllan through its body style and technologies.
The Garmin is much taller and heavier with a more advanced "quad-helix" antenna that can interface with not only GPS but also GLONASS and Galileo. Because of this, the Garmin will likely be much faster and more reliable in searching for a signal to find your location. Also, the Garmin screen is slightly larger at 2.6 inches, so it is a little easier to read.
Also, Garmin equipped with GPSMap with a barometric altimeter and 3-axis tilt-compensated compass. It also has more onboard storage space and expandable storage. The Garmin also features Bluetooth connectivity, so it can pair with your smartphone to receive smart notifications for your convenience.
Despite these differences, both devices feature IPX7 waterproofing, 16 hours of battery life, and preloaded maps.
Comparison
Both have IPX7 waterproofing.
Garmin has barometric altimeter and 3-axis compass.
Garmin has more advanced antenna with GPS, GLONASS, and Galileo.
Garmin has more storage space and expandable storage.
Magellan is smaller and lighter.
Garmin can receive smartphone notifications via Bluetooth.
Same battery life
For a much more updated, larger device with more high-tech antennas, more storage, a better compass and altimeter, and Bluetooth connectivity and smart notifications, the Garmin GPSMap 64sx may be a great option.
Conclusion
To accompany your outdoor adventures, a handheld GPS device is an excellent idea. While the Magellan eXplorist 310 Summit isn't the most advanced navigational gadget on the market today, it is a well-constructed piece of tech offering an easy-to-read screen, rugged body style with IPX7 waterproofing, accurate GPS, and a lightweight size.
If you're on the market for a trusty GPS device, you can find the Magellan eXplorist 310 Summit here.