If you're looking for a great multi-tool, then the Leatherman Wave deserves your attention. This multi-tool is Leatherman's number one selling multitool to date. However, if you want to know more about this great tool, then check out this Leatherman Wave review that I've prepared for you.
​In this review, I will show you a brief overview about the product, its key features, the things I liked and didn't like, and other relevant information that can help you decide whether this tool is the right one for you or not.
LEATHERMAN Wave Multitool
READY FOR ANYTHING: The Wave is hands down our most popular multitool. With larger knives, longer wire cutters, and all-locking blades, the redesigned Wave is perfect for any job, adventure, or everyday task.
FIT MORE FUNCTIONALITY: The Wave is equipped with 17 tools, including knives, pliers, screwdrivers, a small bit driver for eyeglasses, wire cutters, a wire stripper, scissors, bottle and can openers, files, a saw, and a ruler.
LET'S BE PRACTICAL: Sometimes you only have one hand to spare. The Wave only requires one hand to open and use all the tools, even the ones that aren't accessible from the outside. And with all-locking blades, you can cut with confidence.
ALWAYS ON HAND: With its compact size and lightweight design, you can stash your Wave in your pocket and always have it when you need it.
GUARANTEED: Our 25-year limited warranty ensures that your Leatherman will give you many years of dependable service. Just send it in and we'll fix it up. All Leatherman multitools are made and repaired right here in the USA.
​Leatherman Wave Review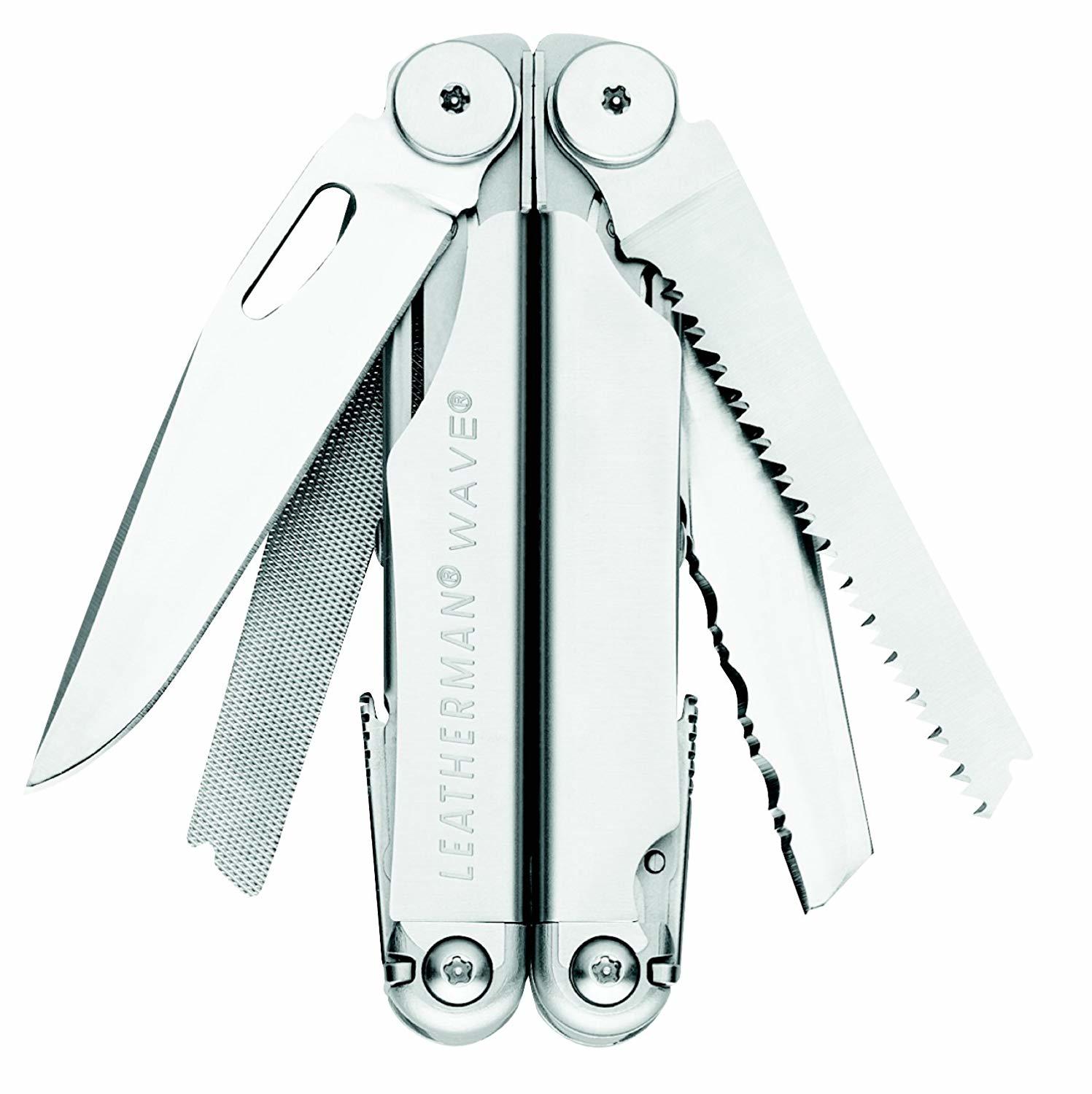 Overview of the Leatherman Wave
The Wave multi-tool is one of the best and most popular units made and sold by Leatherman, a renowned company when it comes manufacturing great multi-tools today. To learn more about the best leatherman tools out there click here.
Without a doubt, a lot of individuals love this Leatherman multi-tool for its dependability and, multiple specifications, and affordable price.
This multi-tool also provides a range of bigger knives, wire cutters, pliers, and each blade is locked for security and safety.
Who is The Leatherman Wave Multi-Tool For?
The Leatherman Wave is ideal for travelers and outdoorsman alike. It is also a perfect option for backpackers as well as hikers.
Even power line workers, construction workers, and road workers can also use this multi-tool from Leatherman.
General Specifications
The Leatherman Wave provides a small yet durable design, and it weighs 8.5 ounces. Its main blade measures 3.9 inches and has a closed length of four inches.
​This multi-purpose tool is backed with 25 years warranty to change the item if needed and of course at their discretion. However, The Leatherman Warranty doesn't cover unreasonable usage of your multi-tool, loss or theft, alteration, and abuse.
Key Features
Quality of Construction 
This multi-tool is made from premium quality stainless steel and provides plenty of features for your essentials.
​When it comes to great multi-tools, you can always count on Wave because it will get your job done efficiently and properly.
Either way, the Leatherman Wave features several tools including:
A medium sized screwdriver that has a flathead for mid-sized screws.
Small bit drive that perfectly fits in any small driver heads from Leatherman
Big bit driver which allows you to swap drivers with ease
A diamond-coated file of honing hard blades
File for metal and wood
A bottle opener that can open several types of bottles
Can opener that has a punch or lever style which allows you to open various cans
An eight-inch ruler for correct measuring
Saw w/ tooth design for lesser clean up and easy manipulation
420HC Serrated Knife for cutting fibers and ropes
420HC Stainless Steel knife that's easy to maintain and corrosion resistant
Wire strippers that strip several kinds of wires
Hardwire cutters for cutting bigger gauge wires and hard wire
Wire cutter for standard gauge wires
Regular pliers that are made for manipulating and holding objects
Needle nose pliers for holding small objects.
​Portability
In spite of being loaded with great features, the Leatherman Wave Multi-tool folds up nicely as well as is compact.
On the other hand, this best survival multi tool is comfortable in the hands. As mentioned above, it, measure 2 inches thick and four inches long as well as 8.5 ounces making it more portable and ideal for frequent travelers.
​In addition to that, it comes with a nylon/leather sheath.
Ease of Use
Most of the time, people need a knife that they can easily and comfortably place in their pocket.
Either way, the Leatherman Wave is very easy to set up and can be used using one hand. Moreover, the tools that positioned inside are easy to use as well.
Plus, it comes with a separate and safe locking system which allows you to unlock any tools with ease.
Durability
For durability, you can never go wrong with Leatherman Wave. As a stated above, this is made from premium quality stainless steel materials. Also, its screwdriver can be replaced with ease.
Overall Performance
When it comes to best multi-tools, there's no doubt Leatherman is a reliable name today.
​However, if you are l​​​​​ooking for a great and all-around multitool then Wave is for you. It comes with several tools which can help you a lot in finishing your tasks with ease.
​Pros
​It comes with 17 useful tools
​Extremely durable
​Backed with 25 years warranty
​It has a secure and safe locking mechanism
​Its blades can be accessed with ease
​Versatile
​Cons
​It's a bit heavy
​Pricey
​Inadequate carrying options
​Customer Reviews
Similar to other Leatherman multi-tools, the Wave also receives lots of good customer feedback.
The majority of Wave user love how great and versatile this tool is. They also praised the knife blades since they remain sharp even after several and harsh usage.
Apart from being versatile, this tool is also reliable, portable and offers a great overall performance, said customers from Amazon. But some customers find it costly.
​Frequently Asked Questions
​1. How much is the Leatherman Wave?
​For the latest and best prices, you can visit Amazon or leatherman.com.
​2. Why Should I Purchase This Product?
​Aside from being a versatile, portable, reliable, efficient, and useful multi-tool product, it also comes from a renowned and steadfast company.
​3. Since I Cannot Live Without My Wave, Can The Manufacturer Just Send The Parts I Need?
As stated in the Leatherman's website, their multi-tools are specifically designed to be fixed and disassembled by their technicians.
Repaired tools, on the other hand, are reassembled to make sure correct tension for optimal tool performance.
​Also, if you try to disassemble your tool, you may compromise its functionality and lost important components. Most importantly, the warrant protection will be canceled.
​Final Verdict
If you're looking for a multipurpose tool that can perform almost anything and go anywhere, consider purchasing the Leatherman Wave.
Also, I would like to recommend this product to outdoor enthusiasts since it is ideal for outdoor activities such as camping, hunting, fishing, hiking, and traveling.
On the other hand, it's also perfect for repair projects, DIY projects, home improvement jobs, and maintenance. Road workers, power line workers, and construction workers can also use this great multi-tool.
But if you're looking for an affordable multi-tool, unluckily this is not for you. Though you may want to consider Wingman Multi-tool, don't worry, this tool is also one of the best products of Leatherman.
Hopefully, this Leatherman Wave review gives you a better understanding of what exactly and how great this multi-tool is. If you like to find more about other leatherman products check these Leatherman Raber Review, Leatheman Skeletool Review, Leatherman Wingman Review and Leatherman Sidekick Review.