Osprey Packs are quite popular around the town, known for their rugged look, functionality and amazing design patterns.
But, every Osprey backpack is created to serve a different purpose, each being ideal for specific outdoor activity. Picking a pack for hiking adventures can be overwhelming, as it's a significant investment of money as well as time.
If you're wondering- is Osprey Atmos AG 65 perfect for me? You are right where you need to be!
In a nutshell, Osprey Atmos AG 65 is optimal for backpackers, hikers, campers and every load hauler.
With hours of research, we've put together this Osprey Atmos 65 review, so you'll know every single detail about this fantastic backpack. And, you can then decide whether it's right for you or not.
Let's dive into its detailed review, but before here is our quick review:
Osprey Packs Atmos AG 65 Backpacking Backpack
Anti-Gravity suspension - feels like you are carrying less weight than is in your pack
Adjustable harness and Fit-on-the-Fly hipbelt to dial in perfect fit
Front stretch mesh pocket for quick storage of rain gear or extra layers
Removable floating top lid with dual zippered pockets and web attachment points
Internal hydration reservoir sleeve accommodates up to a 3L reservoir (sold separately)
​Overview of the Atoms AG 65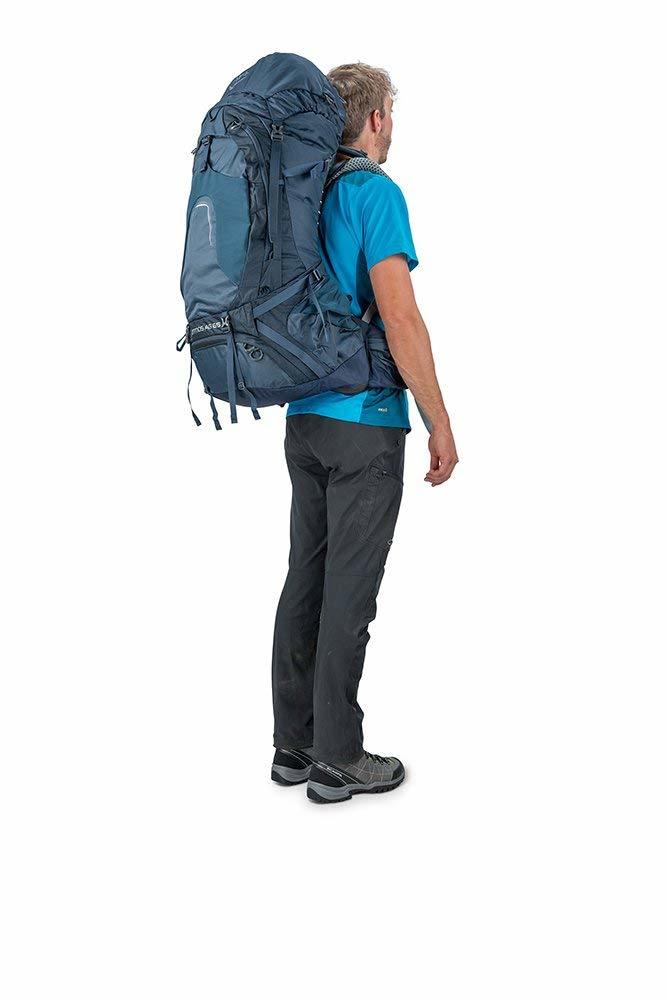 Osprey Packs are one of the leading players in the pack-making industry. They have been in the game for more than 40 years now.
With the notion of making functionally-sound, durable and comfortable packs, Osprey continues to appeal backpackers in all aspects with their legacy and branding.
One such amazingly designed pack is their very-famous Osprey Atmos AG 65.
Equipped with Osprey's inventive features such as "Fit-On-The-Fly" hip belt, the "Stow-On-The-Go" trekking pole system and removable lid, this pack will appeal novices as well as pro backpackers alike!
Atmos AG 65 is one of the most versatile packs that conforms to the shape of your back and efficiently transfers weight to the lower body.
Who is it for?
Weekend hikers, ridge-runners, or any adventurer for that matter is going to make most out of this versatile backpack.
The Atmos 65 flaunts a revolutionary design, all credits to the new AG (Anti-Gravity) Back system. This model is deliberately designed for men, whereas Osprey's "Aura" with a similar design is tailored for women.
Boasting 65 liters of maximum load capacity, Osprey Atmos AG 65 is ideal for 2 to 5 days of an adventure trip, but not more than that.
If you are a serious hiker, Atmos 65 won't be enough to haul all your gear needed for long trips.
Osprey Atmos AG 65 Review
AG (Anti-Gravity) Suspension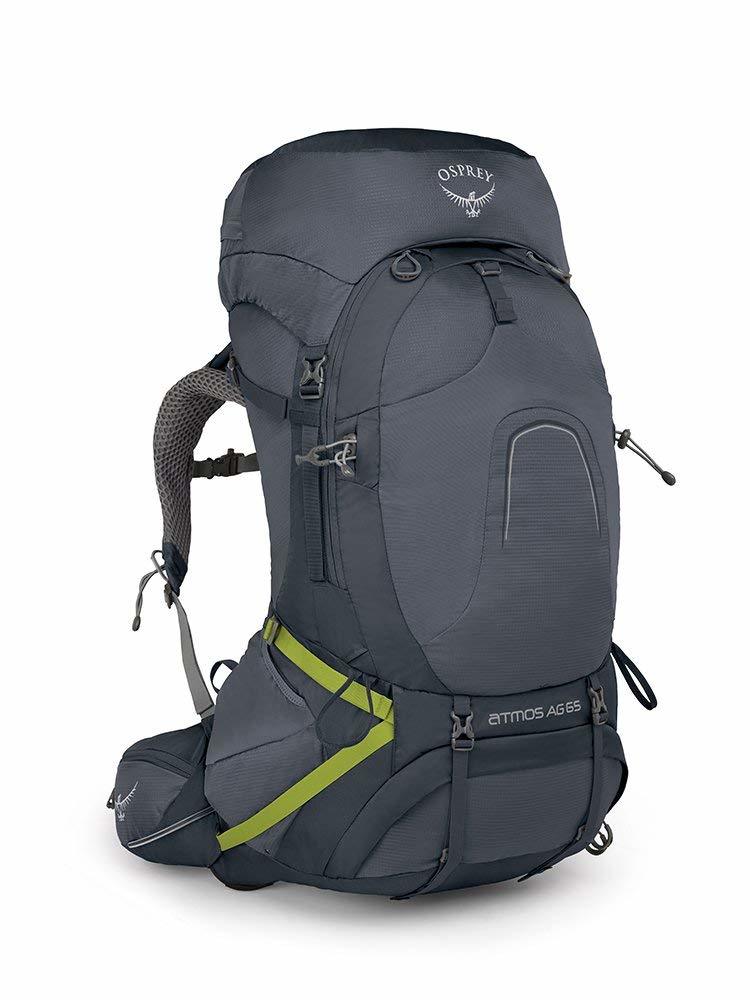 Atmos AG 65– in which "AG" stands for "Anti-Gravity," is the main highlight of this pack.
Such design features trampoline-style (suspended) suspension. You will find this feature in many backpacks. But Atmos AG 65 goes one step further and outshines its competitors. That's because, here not only its back panel is suspended, but the hip belt & mesh harness is suspended as well.
In other words, the entire back panel has lightweight mesh extended right from the top up to hip belt, to provide ultimate comfort and breathability.
Revolutionary AG structure conforms to your back, thereby allowing unobstructed movements and amazing fit. Open-mesh, suspended back pad, hip belt and peripheral frame are truly designed to hug your torso entirely.
The hip belt has its built-in tension, with which it fits around your hips snugly. Even when packed to the fullest, the Atmos won't shift or throw you off balance at all.
​More: Osprey Fairview 40 Review
"Fit-On-The-Fly" hip belt has a hook-and-loop adjustment so that you can customize its length as per your convenience.
One thing that stands out about the hip belt in Atmos 65 is its stiffness. It does not flop downward at all.
It's quite impressive how such LightWire-tensioned, peripheral-wire frame suspension spreads out load evenly, making you feel as if you're carrying less weight than what is packed. Overall, this load transfer to the hip gives a nice and even feel, with no pressure points whatsoever.
​​More: Osprey Aether 70 Review
Improved Shoulder Straps
Unlike the older model, new Atmos AG 65 comes with thicker shoulder straps around the shoulder area, which gradually become thin and perforated near to the chest area.
​Shoulder straps are made out of open-mesh, soft foam. The padding on the straps feels comfy and supportive, without being too soft to fold over.
Load Capacity
No doubt, Atmos AG 65 excels in comfort, but only when it is loaded with around 40 to 45 pounds of weight.
The frame and suspension of Atmos AG 65 begin to feel heavy and unsupportive when loaded with more than 50 pounds of weight.
If you are planning to use this Osprey AG for extended trips or want to carry more than 50 to 55 pounds of load quite often, you might want to look elsewhere!
​More: Fjallraven Kanken Classic Review
Weight
At 4.83 lbs. weight, the Osprey Atmos 65 AG is fairly lightweight pack as compared to its competitors.
​Even when fully loaded, you won't feel the weight, thanks to the amazing load transfer capability. Unlike few other backpacks that drag down from shoulders when fully loaded.
Flap Jacket
The Atmos AG 65 has a detachable two-pocket floating lid. It comes handy when you don't want to take everything with you while taking a walk away from the camp. Just pack whatever you need in this lid, and you're all set to go.
You can even replace this removable lid with a Nylon Flap built into the draft collar, to prevent inside gear and minimize weight to some extent.
"Stow-On-The-Go" Pole attachments is another thoughtful feature integrated into Atmos 65. Anyone who carries trekking poles quite often is going find this useful.
​More: Osprey Talon 22 Review
Adjustability
Atmos 65 is offered in three sizes viz. Small, Medium and Large.
Its unique "Fit-On-The-Fly" adjustment system allows you to adjust the shoulder straps vertically for up to 4 inches, providing a perfect torso length.
Atmos 65 AG also allows hip belt adjustment for up to 6 inches, thereby providing a customized fit and reducing pressure points.
​Regardless of your body shape, the Atmos 65 is going to feel well-balanced, light and comfortable to carry!
Features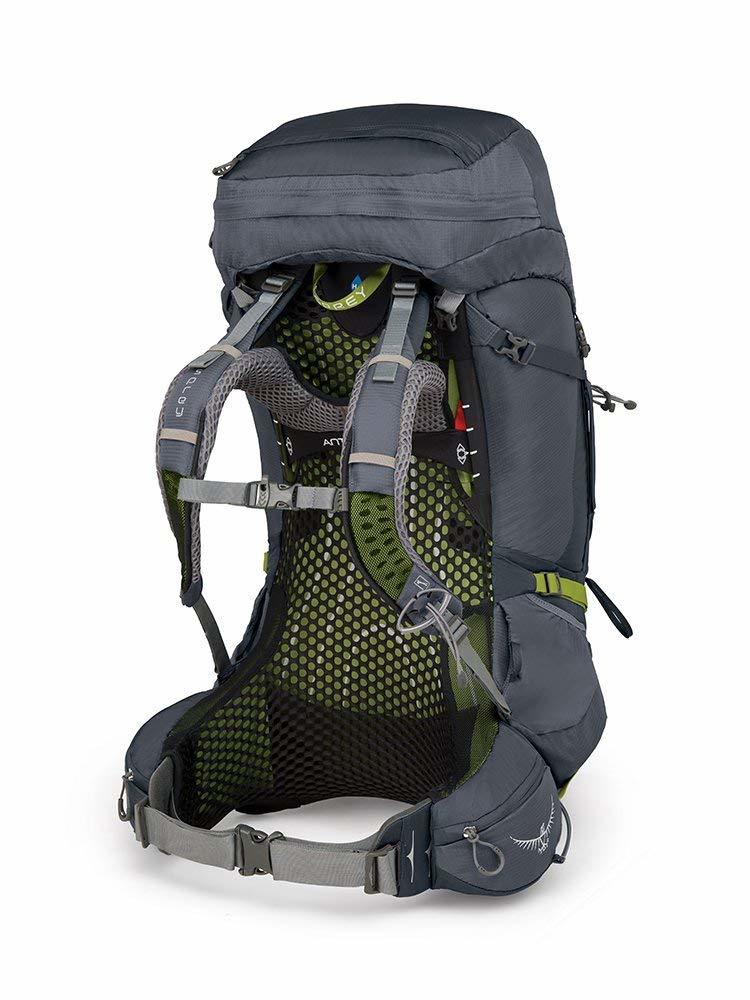 The Atmos 65 AG is designed with a thoughtful set of features, an array of pockets and proper top access.
Oversized zippered pockets on the hip belt are quite reliable to carry items like a small camera, GPS, phone and so on. Again Atmos 65 can be termed as one of the best hiking backpacks, as these pockets can be easily opened and closed, without breaking your strides.
Dual-side mesh pockets will accommodate your water bottles, either angled in forward position or placed vertically. Hence, accessing them becomes a breeze!
Stretch mesh "beavertail" pocket lets you store uneven items like sandals, Frisbee, etc. Right behind this pocket, there are 2 large zippered pockets for precise organization.
Zippered sleeping bag pocket at the lower side of the pack comes with a removable divider. If not sleeping bag, you can store your dirty gear or wet rain gear here as well. It also has 2 zippered lid pockets to store small items and two straps that wrap over the compartment. These straps are designed to store roll mats, foam pads, and other such items. If you want a neat look, you can remove these straps and tuck it up inside the rucksack. You'll find two ice ax attachment loops at the bottom of the pack as well.
Front large stuff-it pocket accommodates the wet gear or wet rain cover after the downpour has stopped.
Osprey Atmos is hydration compatible, featuring an internal sleeve that can hold up to 3L reservoir.
The included rain cover can withstand one or two downpours, but it will eventually start to penetrate water inside the pack during torrential storms.
Osprey provides a rescue whistle on the sternum strap as a bonus.
​To favor a more streamlined look of the pack, Osprey provides you with dual upper and lower side compression straps to balance the load.
​Pros
​Well-designed Ventilation system

​Excellent carrying comfort

​An array of organization pockets for precise stuffing

​Premium quality materials used for construction

​Adjustable shoulder straps and hip belt

​Lifetime guarantee
​Cons
​The rain cover cannot withstand heavy rains or stormy winds

​Packs feel uncomfortable when loaded with more than 50 pounds
Customer Reviews
Many customers are of the view that Atmos AG 65 is an extremely functional and versatile pack, suitable for all backpackers.
Large access, myriads of thoughtful pockets, attachment points and AG suspension system is what makes it one of the best backpacking backpacks.
Unique AG system transfers load evenly across the hips, shoulders and back, say users.
The comfort level and ventilation of this pack work wonders, especially during warmer climates.
On the negative side, few users claim that this trampoline-style suspension tends to collect snow. Thus, you cannot carry it during climbing trips.
Other than that, Atmos 65 AG is a perfect choice to carry on general mountaineering trips.
​More: Osprey Farpoint Trek 55 Travel Backpack Review
Frequently Asked Questions
Q. Does Osprey Atmos AG 65 come with a guarantee?
Osprey Packs back all of their products with their very popular "All Mighty Guarantee."
They offer a Lifetime guarantee on all their products, covering you at any time, for any reason.
Q. Where can you buy Osprey Packs Atmos AG 65 from?
The Atmos AG 65 is available for purchase directly from their official website. Or, you can even buy it from Amazon.
Q. What is the price of Atmos 65?
The Atmos AG 65 has the price range of $200 to $280, depending on the size you will select.
Conclusion
Osprey Atmos AG 65 review suggests that this backpack reaches the pinnacle of support and comfort, despite being large.
Its rave-worthy Anti-Gravity suspension offers excellent ventilation and keeps sweat off your back like a pro.
Massive external pockets, "Fit-On-The-Fly" adjustment system and a plethora of thoughtful features make it one of the best hiking backpacks.
If you haul loads quite often, the Atmos AG 65 is highly recommended for you. Avid hikers and trekkers are going to love the well-ventilated design of the pack.
Not to mention, Osprey's All Mighty Guarantee covers you for life!
Like it, Pin it