​Are you an adventure freak looking out to buy that perfect tarp for your next trip? Are you dazzled at the number of choices available out there?
If yes, then you can count on us. We're sure you don't want to spoil your adventure trip by choosing the wrong tarp. Let us help you select an ultralight tarp that will stand strong and help let you enjoy to the fullest.
There are a lot of aspects that you need to consider before you pick the best ultralight tarp. Scroll ahead and find out about the top tarps in the market.
​Best Ultralight Tarp Reviews
MSR-Thru 100 Wing Canopy
Ultralight: ample rain Protection with Minimal impact on total pack weight
Adaptable: set up with trekking or Accessory poles, or suspend from a tree
Compact: both wings pack down tiny and fit in the smallest of backpacks
Compatible: either Wing can be paired with thru-hiker mesh house 2 or 3
Weight: 70 Wing (0.38kg)/100 Wing (0.49kg)
A lightweight tarp with multiple features is an ideal product for hikers and adventure lovers. Weighing less than 1lb, this MSR Thru 100 Wing tarp is one of the best ultralight tarps for backpacking out there. It packs as small as the size of 2 soda cans with some really thoughtful features.
Keep the Rain Away
This wonderful tarp is made with a 20 Denier Ripstop nylon material to protect you from rains. The material is coated with long-wearing DWR treatment that enables it to repel water too. Thus, it is easier to get rid of all the water accumulated while you are packing.
Adjustable Cords
Another reason to love this tarp is the adjustable cords that are attached to the corners. The cords help you to easily set up the tarp, no matter how exhausted you are. The ends are adjustable, and so you need not tie any knots. The cords are red in colors, which makes them easily visible in the dark too. Isn't it a very thoughtful feature?
The Size
Ideally speaking this tarp is suitable for accommodating 3 people. You can use it in the "tent shape" if you want 3 people to fit it comfortably. However, if you want more shelter from the wind, you can create a Tee Pee shape as well.
Compatibility
One of the most important features that a good tarp should possess is compatibility. The MSR-100 wing shelter consists of a simple design that can be used with mesh tents and hammock tents too.
What we liked
​Ultralight

​Multi-purpose

​Protects against sun, wind, and rains

​Adaptable

​Best for minimalist, thru-hikers, and backpackers
What we didn't like
​Not a very affordable option
The Verdict
Ultralight, versatile, and highly protective, this tarp is the product that will leave you impressed. If you are ok to spend a bit extra, then there is nothing that can beat the MSR Thru-100 shelter.
Rab Siltarp2 Grey
Truly Minimalist | This ultralight shelter was developed for adventure racing, which demands a shelter that blends weather protection and ease of use with minimal weight.
Two-Person Size | The wider profile of this shelter provides enough space for two.
Ultra Tough | Although it only weighs 14 ounces, this shelter is built from Sil-Coat impregnated Cordura for outstanding resistance to abrasion and tearing.
Configure As Needed | Multiple attachment points and reinforced corners allow for setup using cordage, trekking poles, and trees, depending on where you're camping.
Stuff Sack Included | Packs down small for easy transport with the included lightweight sack.
If you are looking out for a lightweight and versatile tarp for your next adventure trip, then the Rab Siltarp2 can be a great companion. The tarp will protect you from light rain and heavy summer dew. It has several features that you will really love.
It's Big
Measuring 8ft by 10ft, this large tarp can happily take 2 people in with the best protection. So, if you love taking adventure trips with your partner/spouse, this will be an ideal choice. The tarp can also be useful for one person. It will give you ample of space while also giving lots of protection from outside elements.
Strong Fabric
Don't get fooled by its weight. Though the tarp is lightweight, the fabric is durable and sturdy. The tarp features silicone impregnated 30d Ripstop Cordura material, which provides wonderful strength.
Also, the center and corner loops have Hypalon reinforcement. This makes the shelter durable in strong windy conditions too.
Feather Light
Weighing as less as 13 ounces, the Rab Siltarp2 is every adventure lover's to go tool. Being lightweight you can travel with it just like a pro. It is easy to compress and can be carried with absolute easy.
Versatile
A good adventure tool is versatile one. The Rab Siltarp2 features multiple webbing loops that enable you to set it up in numerous ways. You can use guylines or trekking poles, or trees to set the shelter up on the go.
Storage
An easy way to carry the shelter is to stuff it into the storage sack. This way, you can store it safely when not in use, and carrying it to your hiking and camping trips is also hassle-free.
What we liked
​Large coverage

​Affordable

​Light on backpackers

​Extremely versatile

​3-season protection
What we didn't like
​Not very easy to pitch

​Not freestanding

​No bug protection
The Verdict
The Rab Siltarp2 is a budget shelter consisting of all the essential features. It can protect you from external elements while you enjoy your camping/hiking adventure. Simple, yet sturdy, this tarp is definitely a must-have tool.
Sea to Summit Escapist Tarp
Ultralight and compact
Made from tape seam-sealed waterproof 15 denier Ultra-Sil Nano nylon
Eight hypalon and bar-tack reinforced tie-out points
Reinforced corners with cord lock and guy lines (which can be adjusted from under the tarp)
Tarp can be pitched in a variety of configurations using trees or trekking poles, and adjusted for extra protection in changing weather conditions
This Sea to Summit tarp is perfect for an escape into the wilderness. It's versatile, compact, and also makes a wonderful tool for the minimalist adventurers. Set it up in A-frame, an awning, or as a trap, you will enjoy your adventure to the fullest with this tarp shelter in tow.
Compact and Light
This tarp is exactly what all adventure lovers look out for in a shelter. It is lightweight and compact and hence, easy to carry along. It does not add weight to your baggage nor does it take up too much space.
Durability Factor
Durability is the key feature to look out for in any tarp. This Sea to Summit shelter is made from tape seam-sealed waterproof 15 denier silicone/polyurethane-coated Ultra Sil Nano fabric. Thus, it helps to protect you against the outside environment, including rains.
Easy to Use
A good tarp is one that is easy to use and set up. The Sea to Summit tarp shelter can be set up in 5 minutes once you get the hang of it. An easy to use shelter saves you time and energy and lets you enjoy your trip.
Ventilation
You can enjoy the right amount of ventilation with this tarp. The A-frame mode keeps the shelter well-ventilated.
Roomy
The medium size (2 x 2.6 m) shelter is perfect for accommodating 2 people when setting up near the ground in an A-frame. Whereas, the large size (3 x 3m) can also accommodate 2 people with added space to spread out and store your gears.
What we liked
​Hassle-free set up

​Lightweight

​Attached tie-outs

​Versatile

​Guyouts can be adjusted from the trap

​8 stake points make it wind-resistant
What we didn't liked
​Not bug proof

​Pitching needs some practice
The Verdict
The Sea to Summit Escapist Tarp is a product that can well fulfill your shelter needs on your next outing. Durable, waterproof, and lightweight, it surely deserves a place in your adventure gearbox.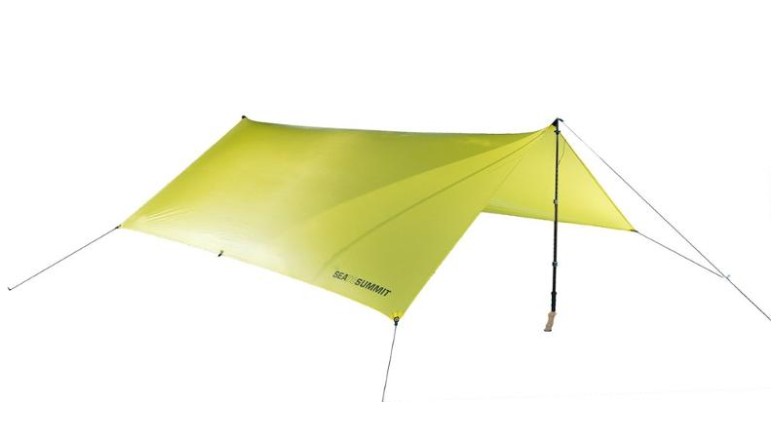 REI is best known for its quality products. The REI SL Tarp is yet another wonderful product from the manufacturers. The rectangular shape of the tarp can be configured for days and is an ideal choice for lightweight backpackers.
Impressive Material
One of the best features of this product is its wonderful material. It is made out of polyurethane-coated Ripstop nylon material that is super durable and also tested to be waterproof. It also comes with seam-sealed for weather protection.
Also, the guyout corners are reinforced with an added layer of fabric to keep it standing strong against the weather.
Versatile
You have the freedom to use the REI Dome tarp in multiple ways. Its rectangular shape allows you to set it up as an A-frame tent, a hammock shelter, a flat shelter, and several other ways.
You can also pitch the tarp with the help of trekking poles, trees, and branches too. Each side of the tarp has 5 tie-outs giving you plenty of options to experiment with the pitch.
Quick and Easy to Set Up
This tarp is accompanied by 8 stakes, 6 guylines with tighteners, which help you to set up the shelter very quickly. The tarp can be efficiently packed away in the stuff sack that is provided.
Ultralight
At 12 ounces, this tarp is an ideal one for light backpackers. It is easy to carry along on all your adventure trips.
What we liked
​Reflective guylines

​Multiple uses

​Durable and waterproof

​Stakes included

​Rectangular shape

​Reinforced anchor points
What we didn't liked
​Not very spacious

​May not withstand very harsh weather
The Verdict
This tarp from REI is perhaps the best ultralight hammock tarp that you have been looking out for. It is lightweight, affordable, and has all the essential features that an adventure enthusiast would need. When it comes to REI, you can trust its products completely.
Aqua Quest Guide Tarp
Truly Minimalist | This ultralight shelter was developed for adventure racing, which demands a shelter that blends weather protection and ease of use with minimal weight.
Two-Person Size | The wider profile of this shelter provides enough space for two.
Ultra Tough | Although it only weighs 14 ounces, this shelter is built from Sil-Coat impregnated Cordura for outstanding resistance to abrasion and tearing.
Configure As Needed | Multiple attachment points and reinforced corners allow for setup using cordage, trekking poles, and trees, depending on where you're camping.
Stuff Sack Included | Packs down small for easy transport with the included lightweight sack.
Enjoy a memorable outdoor experience with Aqua Quest Guide Tarp. The Guide series from Aqua Quest is one of the most lightweight tarps which are ideal for excursions where light packing is a must.
Waterproof
This tarp is made out of 40D Ripstop nylon fabric and coated with non-toxic silicone and polyurethane. This ensures appropriate waterproofing to keep you dry and safe under all weather conditions. Aqua products are known to exceed the standards of waterproof ratings in providing you perfect shelter even in torrential rains.
Durable Material
Adventure trips call for sturdy and durable gears that would last long. This tarp from Aqua Quest is incredibly durable and stands strong against the forces of nature, keeping you safe.
Manufacturers have used 40D Ripstop fabric with silicone and nylon coating. It also features reinforced stitching and heat taped seams. This makes the tarp ultra-durable and can be your best companion.
Compact and Light
Weighing only 1.9 pounds, this tarp is like a ghost in your gear. It packs down to a size of 12 x 6 x 3 inches making it absolutely compact. It can further be compressed for easy storage in a very small space.
Adaptable
This Aqua Quest Guide tarp gives you total coverage of 92 sq. ft. It comes with an array of reinforced webbing loops. These are spread all around the perimeter and across the ridgelines too. There is one in the center for overhead hanging too.
You can make a teepee, attach side loops to a fence, or even peg it inside the ground. In short, you can set it up using anything that is available. This tarp is very versatile, and you will be able to set it up in a variety of terrains.
What We Liked
​Lifetime warranty

​20,000mm hydrostatic resistance

​Environment-friendly

​Compact and lightweight

​Made with robust fabric
What We Didn't Liked
​Durable material makes it heavy

​Not the biggest tarp
The Verdict
The Aqua Quest Guide tarp is one of the finest products in the market. With an impressive waterproof rating and robust material, this surely is one of the best ultralight tarp.
Whether you want to go camping, sporting, or a family picnic, this Yuedge Camping tarp is a wonderful product. It can be used for multiple purposes without any hassle. Carrying this tarp and storing it is quite simple too.
Water-Shedding Capacity
This portable camping tarp is made with water-resistant polyester. And hence, you don't have to worry about the rains playing the spoilsport on your adventure trip. The tarp is long-lasting and exhibits some wonderful water-shedding capabilities.
Lightweight and Portable
Since the tarp is made with lightweight nylon, you can very conveniently carry it to most of your outdoor activities. When not using, the tarp can be stored in the storage pouch that comes along. Weighing as less as 610 g, this camping tarp will allow backpackers to travel light.
Multiple Uses
The Yuedge camping tarp is a highly versatile product. It makes an excellent shelter for protecting your hammock or shelter equipment, clothes, and even serves as a remote kitchen. Thus, you can take advantage of its versatility and make the most out of it.
Additional Accessories
You get 6 nylon ropes with adjusters, 4 aluminum stakes and a carrying bag with this tarp. With the help of stakes and ropes setting up the tarp is a breeze. You don't need to carry any additional tools to set up the tarp.
Large Space
The Yuedge camping tarp measures 300 x 300 cm. The large size provides you with plenty of space for cooking and storing your additional gear. With this large tarp, you won't be feeling any space crunch throughout your stay.
What we liked
​Water-resistant polyester

​Useful for various outdoor activities

​Lightweight tarp for backpackers

​Beautiful green color

​Available in 2 sizes

​Great quality
What We Didn't Liked
​Not suitable for extreme weathers

​Fewer features than other tarps

​Relatively expensive
The Verdict
If you require an all-rounder tarp to fulfill your camping and hiking needs, then this product will suit you just fine. It is lightweight, and hence carrying it around is a breeze. You can make some wonderful memories with Yuedge Portable camping tarp.
7. W-Up Bird Tarp – Best Budget Ultralight Trap
W-Up Bird Tarp
Made of 210T Dacron,the tent tarp offers long-lasting wear with excellent water-shedding capabilities.
8 Nylon Ropes with adjusters,8 Aluminum Stakes and a dark green carrying bag.
Size: 10 x 10 Feet,The fly tarp weights 1.86lbs. Making it convenient to take on trips or store when not in use.
IDEAL FOR MULTIPLE USES - The rain tarp is versatile and durable, making it an excellent shelter for your hammock or to shelter equipment, clothes, your backcountry kitchen or your dog.
BUY WITH CONFIDENCE - We stand behind our products and offer a full one-year manufacturer warranty.
Are you searching for a budget-friendly shelter tarp? Then the W-Up Bird tarp is apt for you. This tarp is a wonderful option for outdoor activities like backpacking, hiking, camping, picnics, etc.
Large Size
It measures 10 x 10 ft. this W-Up Bird Tarp is a large one. The large size of the tarp makes it the best option for your adventurous outings. Also, the square shape of the tarp makes it convenient to be set up in many different ways.
Quality Material
The tarp is made out of 210T Dacron material. Thus, it will accompany you for a longer duration. It comes along with 8 nylon ropes that have adjusters, and 8 stakes made of aluminum. You don't need to carry any additional tool for setting it up.
Portable
The tarp is accompanied by a carrying bag too. Storing the shelter and all the gear is easy. The bag also makes the tarp portable. You can simply take the bag and get going. Even when the shelter is not in use, you can store it in the carry bag.
Versatile
You can use this tarp to make a shelter for your hammock, a backcountry kitchen, a shelter for your pet, or even for your clothes, and additional equipment. There are numerous ways to use it, and we like this feature.
Water-Shedding Capability
The 210T Dacron material gives the tarp an excellent capacity to shed water. This keeps you safe and dry in case you encounter rains on your trip.
What we liked
​Reasonably priced

​1-year warranty

​Water-shedding

​Multi-purpose

​Weighs only 1.86 lbs.
What we didn't liked
The Verdict
The W-Up Bird Tarp is a very budget-friendly shelter with the basic features. Though it has no out of the box features, it can very well take care of your shelter needs. So, if you are tight on a budget and looking for a tarp then this is a good option.
Tarp Shelter Buying Guide For Hikers and Campers
Many families around the world enjoy going on camping and adventure trips. It gives a wonderful time with near and dear ones away from the hustle and bustle of city life. One of the first equipment that you will want to buy for your trip will be a shelter.
Thru-hikers and minimalist backpackers prefer using a tarp instead of a tent. Since tarps are lightweight and require less space they are a more feasible option.
If you have previously bought a tarp, you will have an understanding of how to go about picking the best one. If not, then we'd suggest you read our buying guide below.
Features of Tarp Shelters
Tarp shelters have reinforced loops at the corners and along the edges. They allow you to stake them down or attach guylines. You can also use them to attach guylines to trees or other such objects.
Each side of the tarp consists of grommets in the middle for pole tips.
Many tarps will also have extra loops. They enable you to attach guylines that hold the tarp in strong weather.
​Things To Consider When Buying A Tarp For Your Next Camping Adventure
Material
Tarps are available in several types of materials like Silnylon, Cuben fiber, Poly, Tyrek, etc. Each material has distinct features and advantages that make it different from the other.
Silnylon
One of the most popular materials used in tarps is Silnylon. Being lightweight and waterproof, this is the best choice for light backpackers. However, it stretches when wet, thus you need to keep tightening it from time to time.
Cuben Fiber
This type of material is lighter than Silnylon and more expensive too. It is 100% waterproof, and won't stretch when wet. However, it is prone to abrasion.
More: Best Pop-Up Tent
Poly
Though Poly material tarps are more affordable than Silnylon tarps, they come on the heavier side. This may not be an ideal choice for thru-hikers and light backpackers.
Tyrek
There are many versions of tarps made with this material. But the main feature of this material is that it is lightweight, waterproof, and does not take too much space. Most importantly, they are very affordable.
Dimension and Shape
Depending upon what type of coverage you are looking for, the size and shape of the tarp should be decided. You can choose to configure your tarp in A-frame, Half Pyramid, Flying Diamond, etc.
Each shape requires a different number of stakes, guylines, and other tools. Another important aspect is the number of people that will occupy the tarp. Having a small tarp may not be able to give you full coverage.
Make sure to note the shape of your tent floor. Don't end up investing in a rectangular-shaped tarp for a square tent.
More: The Best Portable Camping Shower
Durability
Durability is one of the most important factors that you should consider while buying a tarp. You surely don't want to buy a tarp that gives way in between, landing you in trouble for shelter. Choose a tarp that is durable and will protect you against harsh weather conditions like rain, wind, and snow too.
Portability
Lightweight tarps are easy to carry along. However, many tarps consist of a carry sack or pouch for more convenience. You can simply carry them on your shoulder or attach them to the backpack.
Price
Lastly, don't forget your budget. There are many amazing tarps available at very reasonable prices. Look for options that are under your budget and also fulfill your shelter requirements.
More: Garmin GPSMAP 64st Review
What Are The Supplies Required To Setup A Tarp?
The Best ultralight tarp shelter needs very few tools and supplies to set up. The following are a few basic supply needs that you should carry in case your tarp does not contain them.
Stakes
Most of the tarp shelters consist of a few stakes. However, you may want to carry a few extras to give you more set up options. Having extra stakes can also come handy in case you lose one or two.
Guylines
Guylines are typically included with most of the tarps. Some are pre-attached, while some are provided with tensioners to be attached by the user.
Poles
Tarps are designed to work with trekking poles that are often not included in the shelter. In exceptional cases, the tarps come with their own shelter poles.
Cord
You can use a cord to create a ridgeline or add extra guylines.
More: The Best Summer Sleeping Bags
​Different Ways to Setup a Tarp
One of the best features of tarps is that they are highly versatile. You can set it up in several ways and enjoy your camping experience.
A-Frame Setup
This is the classic style to set up your tarp. All the four sides of the tarp are attached to the ground giving you appropriate shelter. For more space and ventilation, you can just raise the entire tarp, including the poles and guy out the corners and sides a few inches away from the ground.
You can also set up the A-frame without the trekking poles. If you have trees around, you can make use of a ridgeline to set up the tarp.
More: Garmin GPSMAP 66i Review
Closed-End A-frame Set Up
For added protection form rains and wind you can set up the tarp in a closed-end style. The back-end of the tarp is closed, and so there is no way for rain to come in.
Wind-Shed Set Up
If you are camping in a windy place, then this type of set-up is an ideal one. Being closed from one direction, this will also maximize your view if there is a lake or mountain nearby.
C-Fly Set Up
The C-fly setup is more or less similar to the wind-shed setup. While giving you coverage from one side, it also gives you an added benefit of the ground sheet. This protects you from soggy soil too.
More: Best Camping Stove
​Benefits of Tarps for Camping
Lightweight
Tarps are lightweight and thus are a great option if you are a backpacker or a thru-hiker. Traveling light is one of the most crucial requirements for adventurers. And hence, tarps are a perfect option for such trips.
Water-Resistant
Most importantly, tarps are effective against rains, and thus they can keep you dry on your excursions. If you are traveling in an unpredictable weather zone, a tarp can save you from sudden downpours. This allows you to enjoy your trip to the fullest without getting wet.
UV-Protection
Several tarps offer UV protection. They are made out of durable material to protect you against harmful UV rays while you indulge in some great adventurers.
More: The Best 0 Degree Sleeping Bag For Cold Weather Camping
Final Words
The list above consists of the best ultralight tarps for the adventure lover in you. All the products serve as a good option for your next camping or hiking trip. But to simplify the process further, we have a couple of recommendations for our readers.
If quality material and waterproofing is what you are looking for, then we recommend the MSR-Thru 100 Tarp. It is made of robust material and works excellent against the water with 20,000mm hydrostatic resistance.
But you are looking for a budget tarp, then the W-Up bird Trap would be a good buy. It is highly versatile and offers 3 season protection too. This tarp will have you covered and not be too harsh on your pocket.
I hope this article helps you in buying the best tarp for your future excursions.
Stay safe, stay adventurous!