The natural beauty of Arkansas is a gift to camping enthusiasts, as it is home to crystalline lakes, beautiful rivers, forested areas and various national and state parks. What makes it unique is the picturesque glory of bluffs, waterfalls, and cliffs. Arkansas Campgrounds are spread all across Ozark Mountains, Ouachita Mountains, and even to the Mississippi Delta. And since the temperature is quite moderate there, you can go camping all year round.
Vast national forests cover Arkansas, and here you will get to see breathtaking overlooks and even natural habitats of bald eagles and bears. Which is why it is also known as the "Natural State."
So, if you want to camp near Arkansas campground and around it, here are your 24 best options in the state.
​Top 24 Best Campgrounds in Arkansas:
Petit Jean State Park is the only park in Arkansas to have its own airport. It is located on the Petit Jean Mountain Road Morrilton, AR.
The campground has over 125 campsites, out of which 26 are pull-throughs. There are up to 35 Class AAA sites with sewer, water, and 30/50 amp electrical hookups. And, 90 Class B sites with water and 30 amp electrical hookups. Each campground has flush toilets and improved bathhouse with hot showers.
You will also find a 44-unit Rally-style camping area for camping clubs, with 20 amp electrical hookups. For those who don't have any camping gear, can go for Yurts.
You can bring your tent or RV.
Campsites are pet-friendly, as long as they are leashed at all times. But, some unique lodging sites won't allow dogs.
​Attractions :
​Stunning 95-foot Cedar Falls

​Stouts Point Overlook

​Seven Hollows Trail
Lake Catherine State Park is quite peaceful, as it's situated on Lake Catherine in the beautiful region of Ouachita Mountain.
This park has over 70 campsites (including 47 Class AAA and 23 Class B), one Rent-A-Camp, one Rent-A-Yurt, and six primitive tent sites. Most of these campsites lay on the lakeshore itself.
Dogs are allowed here.
Attractions :
​Falls Creek Falls

​Lake Catherine

​Garvan Woodland Gardens
Nestled within Lee Creek Valley, the Devil's Den is one of the iconic Arkansas campgrounds known for its natural beauty, rock formations, and rustic-style wood.
This park's mountain biking, hiking, and backpacking trails will lead you to the Ozark National Forest.
Devil's Den offers 135 campsites, including 8 tent-only sites, 44 Class AAA, 4 Class B, 13 Class C, and 24 Class D campsites. Most of these campsites come with hookups, except for Class D which has no hookups. There are 42 sites in the horse camp with basic hookups, providing a bathhouse and easy access to horseback riding trails.
Most sites here are RV-friendly and dog-friendly.
Attractions :
​Devil's Den Dam

​Fossil Flats Trail

​Lake Devil (for fishing and boating)
If you want to enjoy the Ozark National Forest Camping, the Ozark-St, Francis National Forests is your ultimate option.
It is composed of two different nature-rich forests viz. Ozark National Forest in the Ozark Mountains and St. Francis National Forest within Crowley's Ridge. Each forest has its own geological, biological, and topographical perks.
The Ozark National Forest is located north of Arkansas campground, surrounded by myriads of recreation areas. It has over 320 campsites spread across streams, lakes, and high atop beautiful Mt. Magazine.
Camping fees range from $4 to $10 per night per site.
Attractions :
​Mississippi River- "Father of Waters"

​Bear Creek Lake

​Blanchard Springs Caverns
Lake Ouachita is the largest lake of Arkansas, offering 40000-acres of clean, clear water surrounded by the mesmeric Ouachita National Forest. It is located near Hot Spring and Hot Springs Village.
Lake Ouachita camping offers various recreational activities such as boating, kayaking, skiing, swimming, scuba diving, and fishing.
The park has over 93 campsites including 12 tent-only, walk-in sites, 58 Class AAA sites, and 23 Class D sites. Most of these sites are pet-friendly, RV-friendly and offer facilities such as picnic tables, swimming areas, a marina, Caddo Bend Trail, etc.
If you want to dwell in Ouachita National Forest camping, this state park is your best option.
Attractions :
​Lake Ouachita

​Mid-America Science Museum

​Funtrackers Family Park
Ozark Campground- Buffalo National River is situated up to 3 miles off a graded gravel road down Highway 7 to the north of Jasper, Arkansas.
The campground has around 31 campsites at a fee of $20 per night. At each site, you'll find a lantern hook, fire ring, and picnic table provided. RVs are allowed here, but there is no dump station and no hookups provided. A vault toilet is offered throughout the winter, whereas flush restroom is kept closed from November to March.
Dogs are allowed at the campsites but not on the trails. And, they must be leashed and under physical control at all times.
Attractions :
​Buffalo River (for floating, kayaking or tubing)

​Ozark Mountain

​Buffalo NR (for biking options)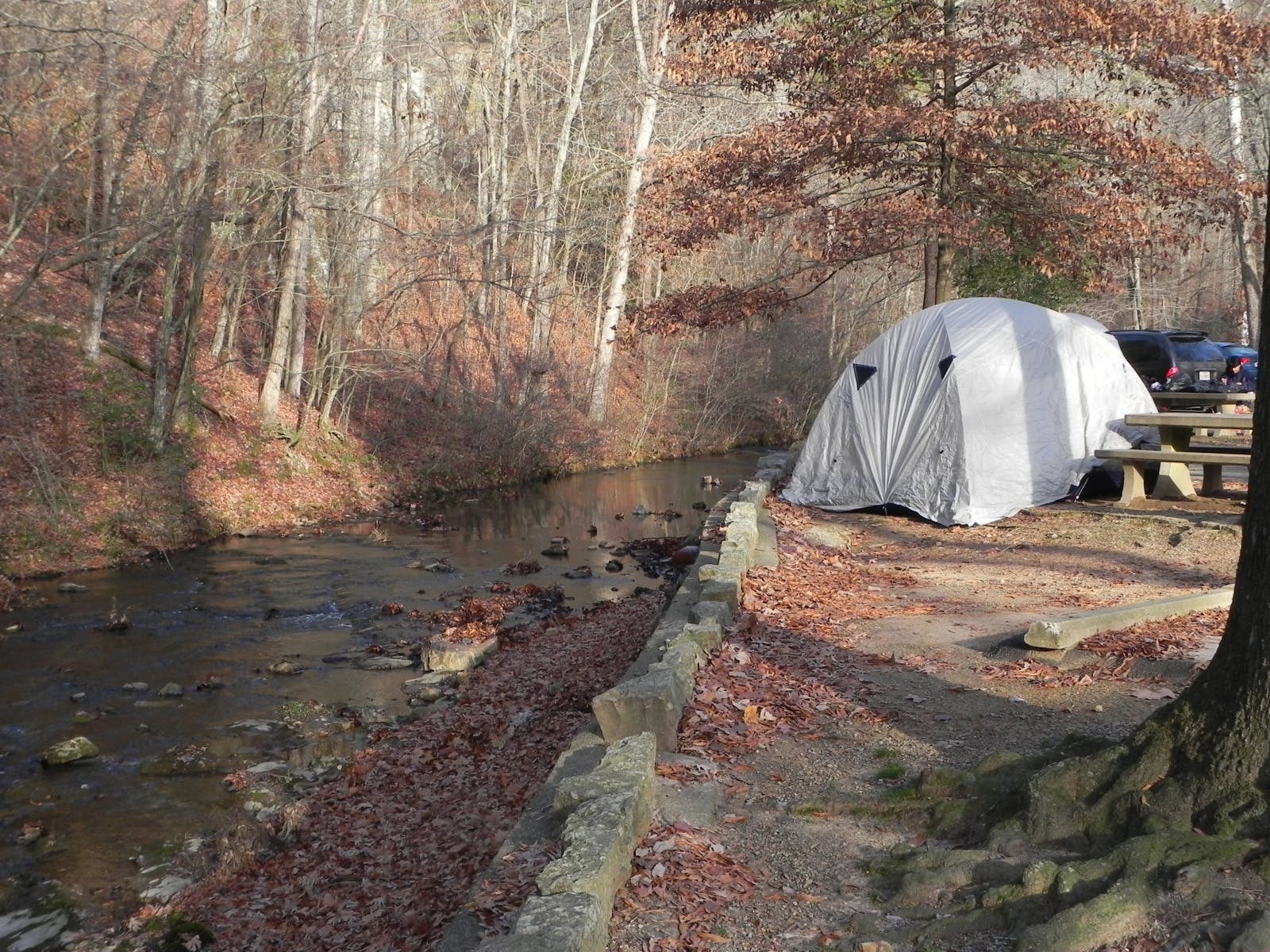 Gulpha Gorge Campground is located off US Highway 70B to the east of Hot Springs. Campsites at Gulpha Gorge can occupy both RVs as well as tents. Camping fee is nearly $30 per night.
All campsites in Gulpha Gorge have full hookups viz. Water, sewer, 30 and 50 amp electric connections. Each campsite is equipped with water, a pedestal grill and a picnic table. Each site only allows one RV (up to 36') or 2 tents with maximum occupancy of 8 people.
Dogs are allowed in the campsites, but they must be on a leash of 6 feet or less.
Attractions :
​Adventureworks Hot springs

​Pirate's Cove Adventure Golf

​Garvan Woodland Gardens

​Ouachita National Forest
Buffalo Point campground is one of the most fun-filled areas, equally ideal for adventure lovers as well as families. Perched along the beautiful Buffalo National River, the campground offers various hiking and river sports opportunities to visitors. The Buffalo National River flows for 135 miles through the Ozark and down to the White River without any dams.
Buffalo Point offers 112 campsites with electricity (30/50 amp) and water hookups for RVs. And, there are a few walk-in, tent-only sites as well for primitive camping.
Camping fee ranges from $20 to $50, depending on the site type. All drive-in sites are $30 per night.
Attractions :
​Buffalo National River

​Rush Historic District

​Indian Rockhouse Trail
Crater of Diamonds State Park is one of the only places in the world where the general public can search for real diamonds from the original eroded surface of volcanic crater. The park is located in Murfreesboro, Arkansas.
Here you can search across a 37-acre plowed field, and you can keep any gemstone, rocks, and minerals that you find. For that, you can either rent tools from the park or bring your own mining tools (no motor-driven or battery-operated equipment allowed).
As for camping, there are 47 Class AAA campsites (with 30/50 amp electricity, water, and sewer hookups), five walk-in tent sites, picnic sites, and walking trails. The campground is pet-friendly.
Attractions :
​Diamond Discovery Center

​Diamond Springs Water Park (seasonal)
Popularly known for its trout fishing, Bull Shoals-White River State Park sits on the shore of White River and Bull Shoals Lake.
You will get to see beautiful scenic views from the 15,744-sq ft — visitor center atop Bull Shoals Dam.
As you go down the park along the White River, you will see nearly 113 campsites, out of which 20 are tent-only sites with no hookups, 63 are class AAA, and 30 are Class B. Moreover, there are 3 Rent-an-RV sites as well.
At the riverside marina, you can get access to bait, boat rentals, supplies and tackle for trout fishing.
The campground is pet-friendly.
Attractions :
​James A. Gaston Visitor Center

​Bull Shoals Dam

​White River marina
Located on Lake Greeson, Daisy State Park is one of the most beautiful destinations for outdoor recreation and camping. Right in the mesmeric Ouachita Mountains, the Little Missouri River, and Lake Greeson create a peaceful ambiance for campers.
At the Daisy State Park, one can engage in kayaking, trout fishing and floating via rentals provided. Or, you can enjoy magnificent rock formations at the Lake.
For camping, there 102 campsites here, including 20 tent sites, 26 Class A sites and 56 Class B sites. The campground allows pets as well.
Attractions :
​Rock formations at Lake Greeson

​Little Missouri River

​Bear Cycle Trail
Snuggled between Ozark National Forest to its north and Ouachita National Forest to its south, Mount Magazine State Park features the highest point (Mt Magazine) at 2753 feet in the Arkansas State.
Located about 100 miles northwest of Little Rock, this state park has a fully-equipped RV pad, cabin, rustic campsite, and even spots for you to play and stay at Mt. Magazine.
The dog-friendly campground has over 18 sites with partial or full hookups and hot showers, a dump station, and flush toilets amenities. Out of these 18 sites, two are Class AAA sites, and 16 are Class AA tent-only sites.
Attractions :
​Mount Magazine overlooks

​Huckleberry Mountain Trail

​Will Apple's Road Trail
Situated right within Arkansas' part of the Ozark Mountains, Withrow Springs State Park features various trials that will lead you to beautiful natural attractions.
Camping is a quiet, peaceful and relaxing experience, as mostly there are shaded and wooded campsites here. But there are few fully-equipped campsites with hookups for RVs. To be specific, there are 29 Class AAA and 10 walk-in primitive campsites, along with three hiking trails.
This is a pet-friendly campground.
Attractions :
​Class I freshwater stream

​War Eagle Creek

​Limestone bluffs and Bat caves
This Arkansas State Park Resort sits on the shores of the stunning DeGray Lake, near Hot Springs and Little Rock.
DeGray Lake Resort State Park offers 3 Rent-A-Yurts campsites, 22 Class AAA campsites and 81 Class B campsites for RVs and tents. The full-service marina offers boat rentals, fuel, bait, and tackle, etc. for fishing activities.
DeGray Lake allows dogs.
Attractions :
​DeGray Lake

​Iron Mountain Trail system
To reach Crystal Springs, take US 270 west from Hot Springs, about 15.4 miles to North Crystal Springs Road. Go right and follow the access road 3 miles north until you reach the park.
Perched on the shores of Lake Ouachita, the Crystal Springs campground is a perfect destination for couples, families, and friends to hang out. Scenic mountain landscapes and crystal clear springs are its main attractions.
The pet-friendly campground offers 68 sites, out of which 63 sites have water and electric hookups. Few amenities here include a fish cleaning station, boat ramp, dump station, hot showers, swimming beach, and a playground.
Camping fee varies from $14 to $80, as per site type.
Attractions :
​Lake Ouachita

​Ouachita National Recreation Trail

​The Ouachita Mountains overlooks
Located just 45 minutes away from Arkansas Wine Country, Mount Nebo State Park is within Arkansas River Valley and sits atop 1350-foot Mount Nebo.
Most of the campsites here are located along the bluffs and provide beautiful river valley views. The pet-friendly campground has over 34 campsites, out of which 10 are tent-only sites, and 24 are Class B sites. RVs are allowed here, but not over 24 feet.
Attractions :
​Mount Nebo Ride

​Lake Dardanelle

​Arkansas River Visitor Center
Woolly Hollow State Park is a classic destination on 40-acre Lake Bennett, up to 18 miles north of Conway in Greenbrier. The lake offers a launch ramp for pedal boats, kayaks, fishing boats and canoes for rent at the park.
The park facilitates up to 10 tent sites, 30 AAA sites (with water/sewer/electrical hookups) and a modern bathhouse with hot showers.
The campground here is RV-friendly, tent-friendly, and pet-friendly.
Attractions :
​Enders Fault

​Lake Bennett

​Cadron Creek
Experience nature at its best and adventure at White Rock Mountain Recreation Area, which offers eight primitive family camping sites.
To reach here, take Arkansas 215 north for 15 miles from Mulberry, then go on Forest Service Road 1505 for 8 miles and turn left onto Forest Service Road 1003 for 2.5 miles.
These shaded campsites are easily accessible and come with grills, fire rings, tent pads, picnic tables, water, and restrooms.
Few of these sites can accommodate small RVs or pop-up tents. But, these sites do not have water or electric hookups.
Camping fee is $10 per day, year-round.
Attractions :
​Ozark Highlands Trail

​Shores Lake Recreation Area

​National Scenic Mulberry River
The Blanchard Springs is one of the best Arkansas campgrounds to offer recreational tours to visitors. Walk on the paved trail and witness the beauty of Blanchard Springs as they gush as a waterfall from the hillside.
Blanchard Springs Caverns provides three tours viz. Discovery tour, Dripstone Tour and Wild Cave tour.
To reach here, take Arkansas Highway 14 West from Mountain View for 12.1 miles, then turn north when you see Blanchard Springs Caverns sign. Just follow the signs to reach the campground.
Here there are up to 32 campsites with tent pads, tables, lantern poles and grills with no electrical hookups. And, there are two campsites for group camping as well. RVs are allowed up to 32 ft., but there are no hookups for RVs. You can find only restrooms with hot showers and RV sewage dump station.
Camping fee for this campground is $10 per night.
Attractions :
​Blanchard Springs

​North Sylamore Creek

​Mirror Lake
Lake Wedington is located on State Highway 16, up to 13 miles west of Fayetteville, Arkansas. The 102-acre lake offers recreation area and a peaceful company of nature for camping lovers.
It offers a group camp area, 18 campsites, 19 picnic sites, and many other accommodations. To reach here, take Arkansas 16 west from Fayetteville and continue for 13 miles.
Camping fee is $20 per night.
Pets are not allowed in the swim beach area. And, Off-Highway vehicles and ATVs are not permitted in Wedington. RVs are allowed up to 32 ft., but there are no hookups provided. You can only find grill, campfire ring and picnic table here.
Attractions :
​Lakeshore Hiking Trail

​North Twin Hiking and Mt. Biking Trail
Located right where the Mississippi Delta connects to Coastal Plain, the Cane Creek State Park has a remarkable trail system to dwell in. Just nearby, you can explore the world's longest bayou viz. Bayou Bartholomew.
The park offers 29 campsites consisting of 1 Rent-an-RV site, 11 Class A sites (water and 50 amp electric hookups), 18 Class B sites (water and 30 amp electrical hookups) and a few picnic sites.
Attractions:
​Cane Creek Lake

​Bayou Bartholomew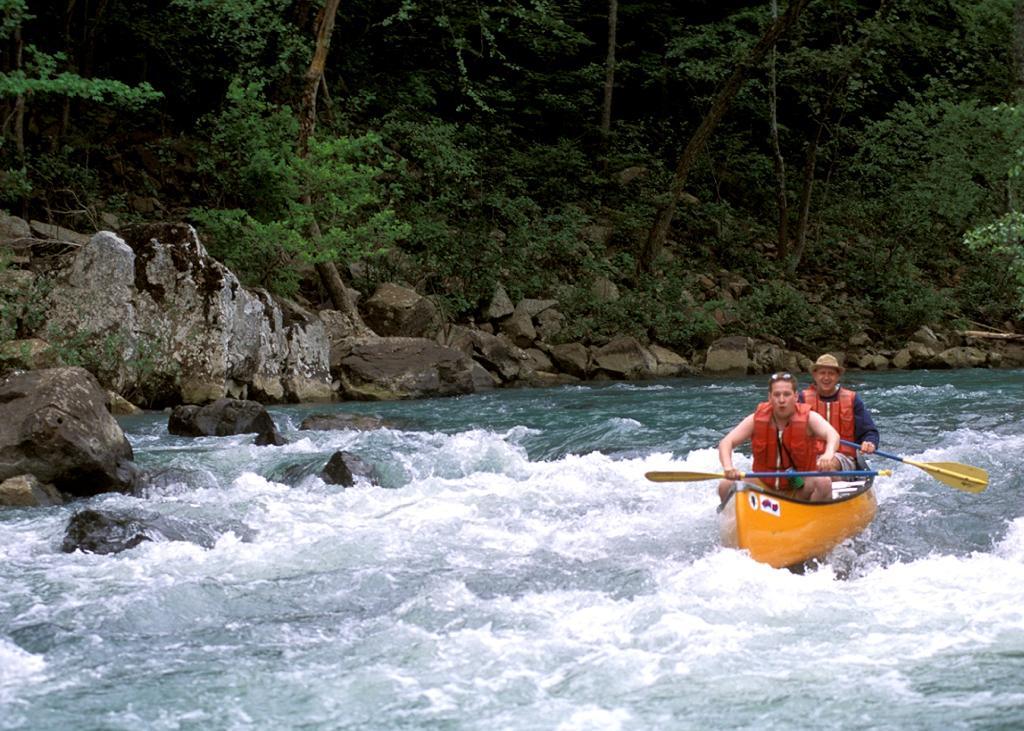 The Mulberry River is one of the best whitewater destinations which runs from the upper Ozarks through rock outcrops and forested hills and meets Arkansas River.
Scenic views and huge boulders are the main highlights of this river.
For camping, there are over 16 full RV hookup sites and eight tent-only campsites. And, dogs are also permitted here.
The fee varies from $15 to $35, depending upon the site type.
Attractions :
​Mulberry River

​DeSoto Boulders

​Herrod's Creek
Long Pool Recreation Area sits alongside stunning Big Piney Creeks and offers various recreational opportunities.
Recent camping loop in Long Pool Recreation Area provides 20 campsites (single as well as double) with electrical and water hookups. Few sites also have 50 amp service. There are other 20 primitive campsites as well with NO hookups.
RVs are allowed here with water/electric hookups and sewage dump station provided.
Camping fee is $15 for sites with no electricity; $20/day/site for single sites with electricity and $35/day/site for double sites with electricity.
Attractions :
​Steep Rock bluffs

​Big Piney Creek
Brady Mountain Campground is a Class A Park featuring up to 74 campsites- all having electric hookups. The park is situated on Lake Ouachita.
Out of these campsites, there are 57 RV sites, some of which provide 50 amp service. Most campsites here have ground grill, pedestal grill, concrete table, shade and lantern post.
Pets are permitted in the campground.
Attractions :
​Arkansas Lake Ouachita

​Hot Springs National Park
Conclusion
Arkansas is home to beautiful forests, gushing rivers, crystal clear lakes, and nature-rich mountains. In these Arkansas campgrounds, each area has something unique to lure camping lovers and engage them in outdoor recreation. Hope these camping choices help you find your ideal Arkansas campground across the state.
If you are searching for other awesome compgrounds in other states check out guide for Alaska here and Alabama here. Also, you can check out guide for best hydration bladder here and compact umbrella here