The Marmot Halo 6 has all the simplicity of a standard tent with a few added features that make it comfortable and versatile. Marmot is an industry leader in outdoor tents. Their tents are made of high-quality materials that are weatherproofed to outlast your outdoor adventures.
The Halo 6P has a unique pole structure that optimizes its interior space, especially in the upper tent zone. Its square floor area is large enough to sleep six people. Two large vestibules can be used as storage or to catch wet and muddy clothes before entering the tent.
There are many more details that make this tent a high-performance product. Keep reading our Marmot Halo 6 review to find out more.
Things to Consider Before Buying a Tent
Marmot Halo 6 Person Tent
One Super-Sized Double Door and One Side D Shaped Door with Large Front Vestibule for Gear Storage
Interior Pockets for Small Gear Organization
Zip Open / Close Canopy Panels
Pole Sleeve-Clip Combo
Seam Taped Full Coverage Fly with Vents
Tents are all about sheltering you from the great outdoors. Adequate shelter should be your main focus when looking for a tent. That means more than just putting a roof over your head. Most importantly, you want to be sure your tent is durable enough to rely on and weatherproofed properly for the conditions you plan to camp in.
Other important things to consider include the number of doors and windows, room dividers, interior storage, and setup.
The Marmot Halo 6 fulfills these needs and is most suitable for an intermediate or advanced camper. The full-coverage rainfly and large vestibules are not absolutely necessary for average family camping trips. However, these features make all the difference in the sometimes harsh conditions of the backcountry.
If you are looking for a tent for low key family camping, something on our 8-person or 10-person tent guides may be more suitable. However, if you need a tent with vestibule storage and protection that can stand up to whatever the backcountry throws at you, keep reading our Marmot Halo 6 person tent review to learn more about this high-quality tent.
Features and Benefits
Pitching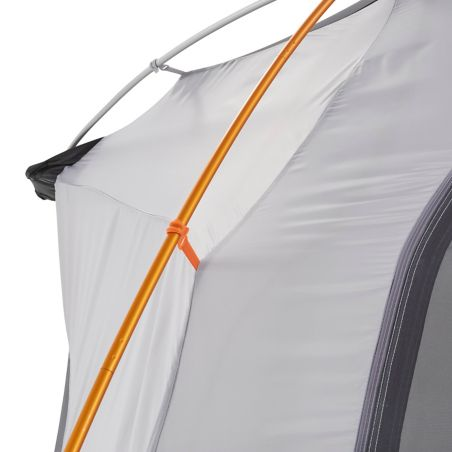 Setting up the Marmot Halo is slightly more complex than your average tent. The two main poles cross through pole sleeves at the top of the tent and secure into place at the bottom corners. Then two halo poles affix to the front and the tent's back to draw out the tent body.
The benefit of this pole structure lies in the halo poles. These poles draw out the top portion of the tent body to create more space inside the tent. You will find that you have more room in the head zone or standing zone of the tent.
The rainsheet has color-coded clips to ensure you orient it correctly on your first try. The fly secures at the corners of the tent. In addition, there is one pole that threads through a sleeve on the rainfly. This pole provides a structure for the front vestibule.
Some people prefer not to have poles in the fly. However, in this case, the pole is highly beneficial. It heightens and widens the vestibule to maximize storage space. For a base camp or family camping tent like the Halo, the extra weight and space used to pack this pole is not an issue. Having a fly pole increases the livability factor of this tent.
Size and roominess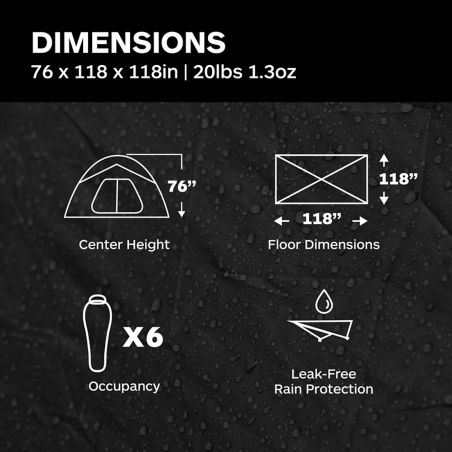 The floor area is a perfect square and measures 9 feet 10 inches on all sides. Square tents tend to feel larger inside because there is no part of the tent that is visibly more narrow than the rest.
The center height measures 6 feet 4 inches. The standard dome-style tent maintains its center height only in the precise center of the tent and then the walls slope down. However, the halo structure of this tent provides substantial height no matter where you are standing.
More: Tentsile Una Tree Tent Review
Storage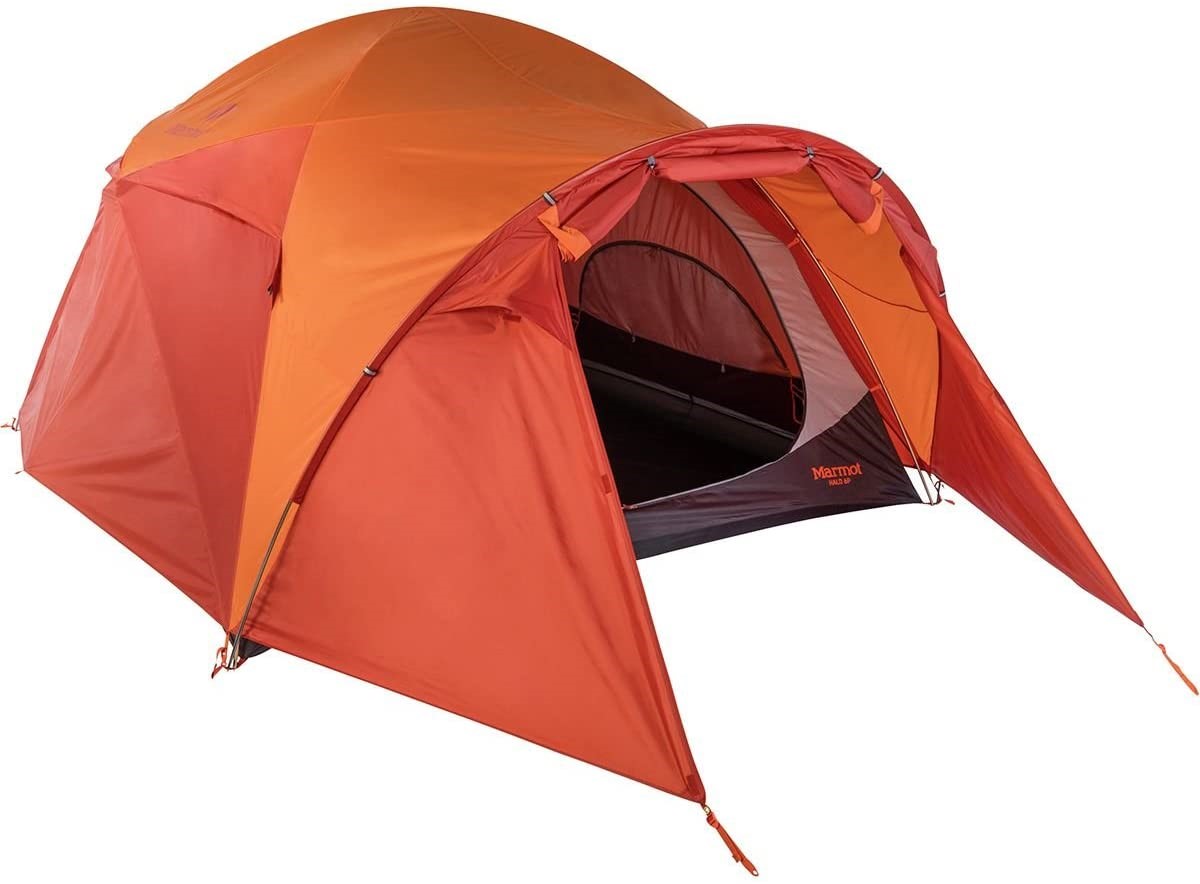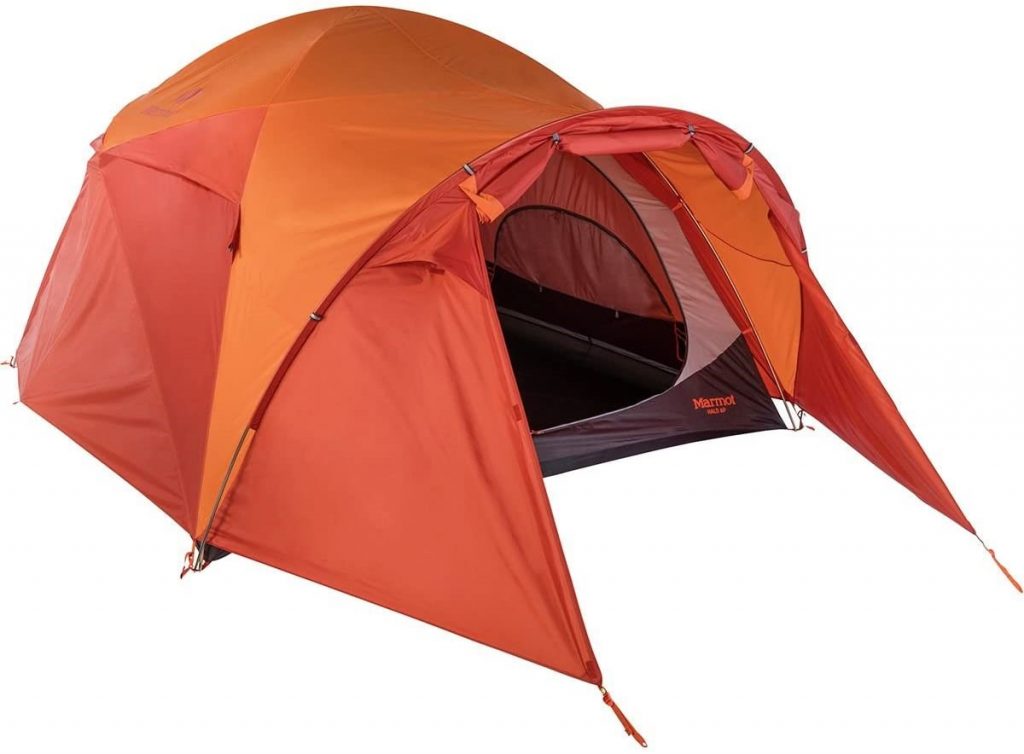 Storage space is a key factor in this tent. Of course, you have the two vestibules, but there is also plenty of storage space inside.
The vestibules are located at the front and back of the tent when the rainfly is on. The front vestibule measures 43 square feet and the back measures 32 square feet. That gives you a good amount of space to store coolers, shoes, or any other gear you don't want taking up space inside the tent.
You will love the interior storage components of this tent. There are the traditional small-item pockets that you see in any standard tent. However, Marmot also includes several stacked storage sleeves along the tent walls. This series of four mesh sleeves on opposite walls can house any number of things, including clothing, flashlights, and small articles.
There are two storage accessories for lighting. The first is a gear loop at the top, center of the tent where you can hook a lamp or flashlight. The second is a light-diffusing lampshade pocket. As an avid headlamp user, I look for tents with these because they diffuse the light nicely and I always know where my headlamp is.
Weight, Packing, Materials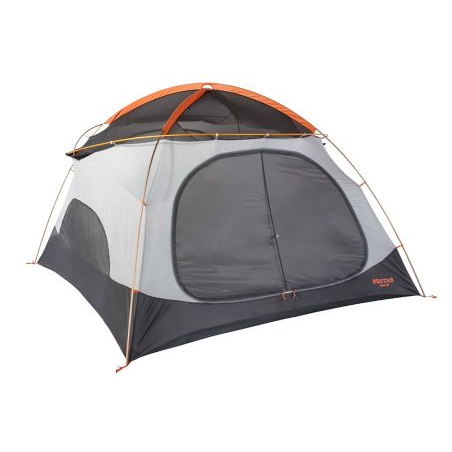 The Marmot Halo 6 is made with impressive materials, weighing in at a total of 19 lbs 5 oz.
Halo's canopy is made of no-see-um mesh, and the lower tent body is polyester taffeta. This combination provides both privacy and airflow.
The floor is a thick oxford material, and the rainfly is durable polyester ripstop. Having these materials outside the tent creates a strong barrier from water, wind, and abrasions.
All materials used in the Marmot Halo 6-person tent are fire retardant as an extra measure of safety.
The Halo and all of its parts and accessories pack nicely into its gear bag. The gear bag even has two compression straps that can be cinched to condense the tent to its smallest possible size.
More: The Best Canvas Tents [Review And Buying Guide]
Weatherproofing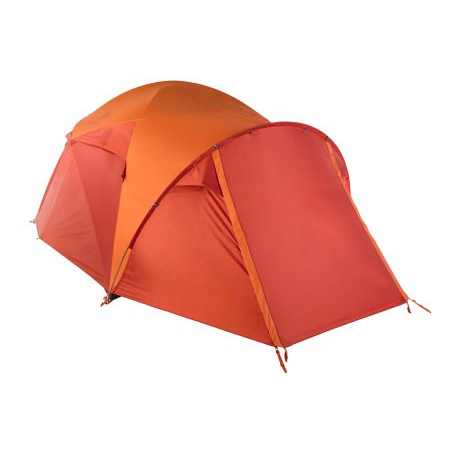 The mesh of the tent body has a denier count of 40D, and the polyester taffeta has a count of 68D. This is pretty standard for these materials and provides an ample amount of durability and weatherproofing.
The floor is a thick 150D polyester oxford. This particular material has a waterproof rating of 3000mm. Water would have to put up a big fight to make its way through that.
Lastly, the flysheet is made of 68D polyester ripstop. The waterproof rating on this material is 1800mm, which is slightly higher than the standard rating for tents. This means that the Marmot Halo is weatherproofed better than most tents.
Having thick polyester oxford and 68D polyester ripstop as the first point of contact effectively keeps the tent protected in a storm. These materials can take a beating.
Ventilation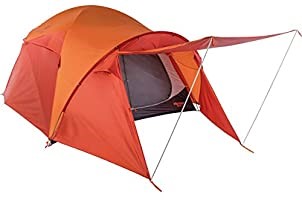 The Marmot Halo 6-man tent is equipped with various ventilation features. A mesh canopy, two large mesh windows, and two large screened doors allow a lot of air to flow through the tent.
Ventilation is also possible with the rainfly attached. The vestibule doors can be opened and rolled up to expose the screen doors of the tent. In addition, several fly vents can be opened to air out the tent and reduce condensation.
More: What is The Best Teepee Tent [Review and Buying Guide]
Feature Type
Feature Specs
What This Means

Tent Type

Dome

The main body of this tent is similar to the standard dome style tents.

Size

6-person

The floor area measures 118" x 118", which can sleep a maximum of six people.

Rating

3-person

This tent is not recommended for use in winter conditions.

Material

Tent body: 40D polyester No-See-Um mesh and 68D polyester taffeta
Floor: 150d polyester oxford
Fly: 68d polyester ripstop

The materials used on this tent are durable and weather resistant.

Weight

19 lbs 5 oz.

This tent is best for car camping.

Star Rating

Customers are highly satisfied with this tent.
Social Proof
We know, the first rule to buying products online is to read customer reviews. We've read them all, and have found a few that give helpful feedback.






Alternatives
Marmot Halo 6 vs Limestone 6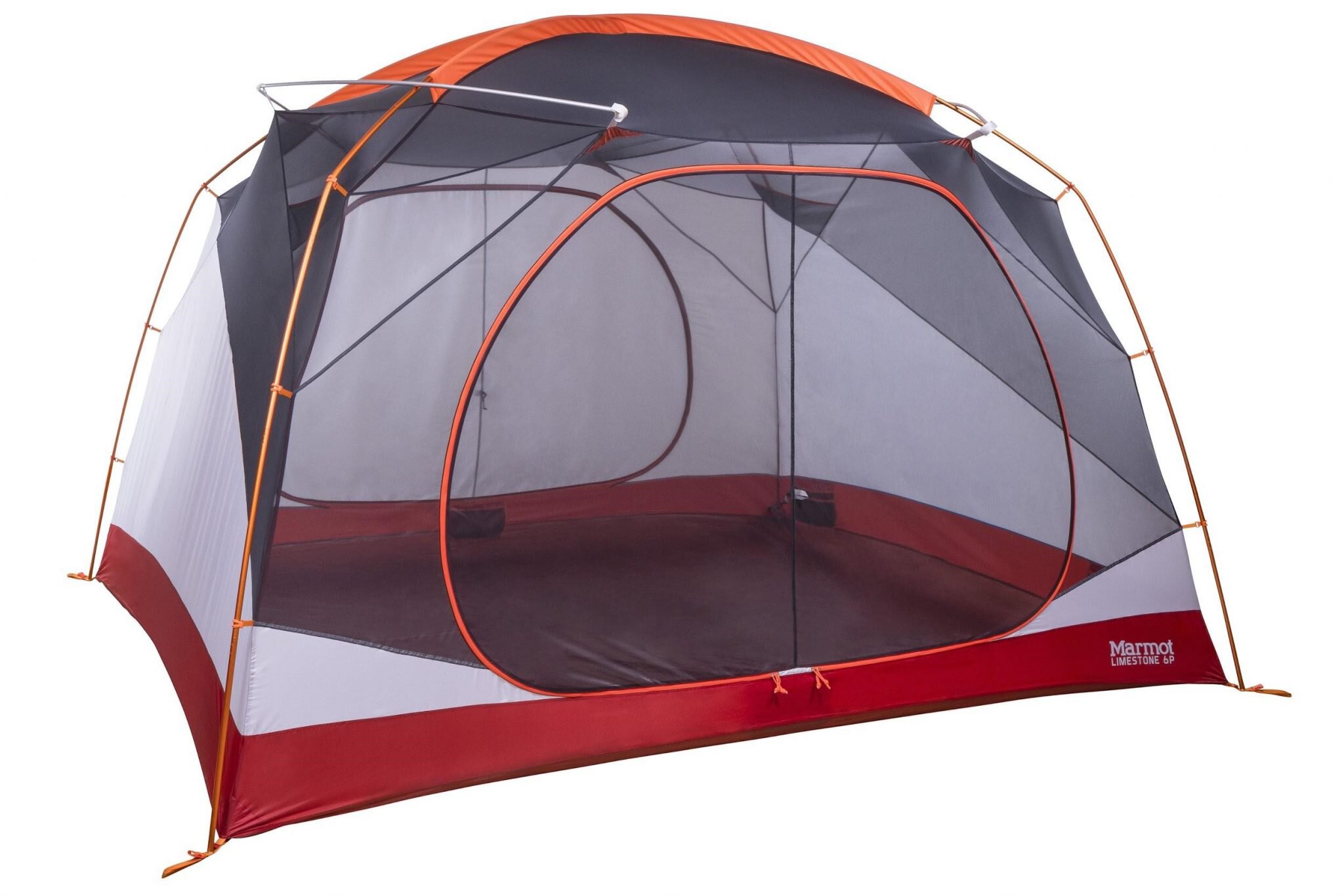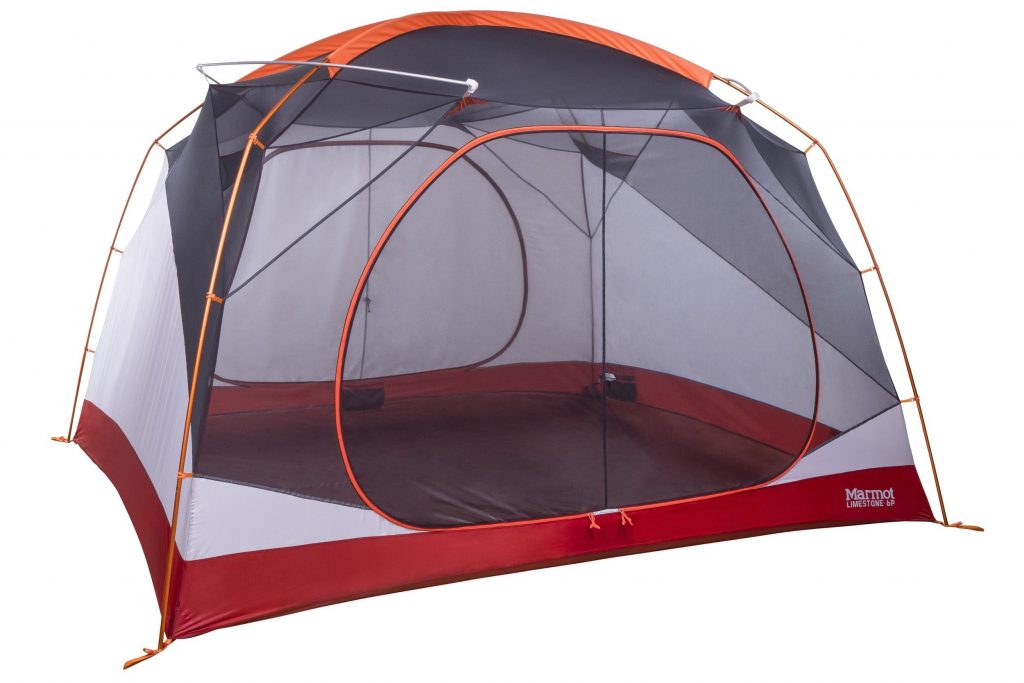 The Marmot Limestone 6P is very comparable to the Halo 6. Both tents have curved "halo" poles to draw out the tent body.
The Limestone 6 is slightly smaller than the Halo 6. Its floor area measures 120" x 100" whereas the Halo measures 118" on all sides. And the vestibules of the Limestone are almost half the size of those on the Halo.
Like the Halo, the Limestone is weatherproofed and ventilated extremely well. These tents can both be tailored to the way you like to camp.
Comparison:
Both tents have halo style poles
Halo is slightly larger
Halo has larger vestibules
Limestone has more mesh on tent body
Halo has more privacy
Marmot Halo 6 vs REI Kingdom 6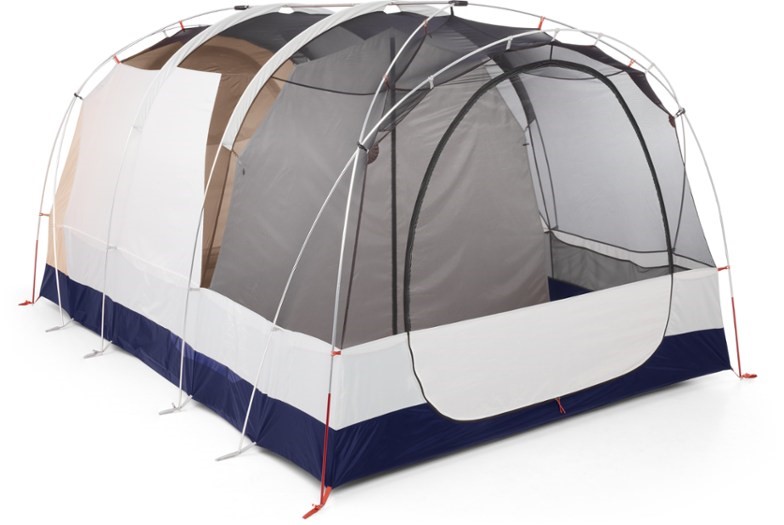 The REI Kingdom 6 is a beast of a tent. It has that look that makes you think you could hunker down in it long-term. It's comparable to the Marmot Halo 6P in price, design, and functionality.
On the downside, setting up the REI Kingdom 6 tent can be difficult and is much easier with two people. This tent has a more complex pole structure than the Halo. However, the pole structure does add an extra level of stability.
The floor dimensions are 100" x 120", and the peak height is 75". In addition, there is a 29 square foot vestibule at the back of the tent when the rain fly is attached.
Two things we like better than the Halo are the pockets and the denier count. The interior walls of the Kingdom 6 have mesh pockets around the entirety of the tent. This adds a huge amount of interior storage without taking up space. Additionally, the flysheet has a denier count of 75D. 75 is obviously higher than 68, which adds a little bit more weather protection.
Comparison:
Halo is easier to set up.
Kingdom has a more complex pole system.
Kingdom has a better stability.
Halo has two vestibules
Kingdom has room dividers
Marmot Halo 6 vs Orbit 6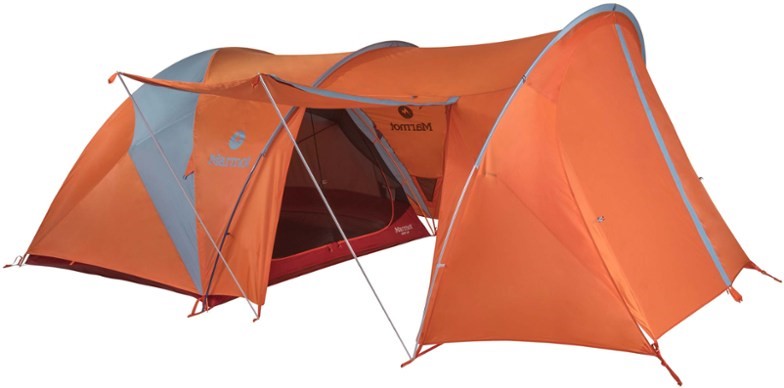 The tent body of the Marmot Orbit 6 is very similar to that of the Marmot Halo. It has two main poles that cross at the peak of the tent and only one halo pole that attaches over the door.
With that being said, the Orbit transforms into an entirely different tent with the rainfly attached. The rainfly extends and is structured by two poles to create a huge vestibule. The vestibule has an area of 104.5 square meters.
Additionally, the vestibule has two different points of entry. One of which is a set of large double doors that can be removed to create a tunnel-like canopy. The other entry can be propped up with accessory poles to create an awning.
The orbit is made of durable polyester taffeta, is spacious inside, and provides ample storage space. This tent performs well as a basecamp tent or stormy weather camping tent. Check it out if you plan to camp in stormy terrain.
Comparison:
Halo has a more spacious tent interior.
Halo has two tent doors.
Orbit has a larger vestibule
Orbit has more outdoor versatility
Orbit is more expensive.
The Marmot Halo 6 Could be Your Next Tent
The Marmot Halo 6 is a great car camping tent that is more durable and protective than the standard car camping tent. Marmot only uses high-quality materials and thoroughly weatherproofs their tents.
The Halo 6 has an innovative design to maximize interior space and it has a full coverage rain fly with vestibules to keep you and your gear safe and dry in a storm.