Tentsile is the market leader for tree tent camping since 2013.
Its founder, Alex Shirley-Smith, used his expertise in sustainable, low impact architecture to design and manufacture the first tree tent. His prototype was featured in the MOMA New York where it took off and led to many more of its kind. Tentsile continues to pioneer new and innovative tree tents, like the third generation Tenstile UNA.
The Tentsile UNA is a 1-person tree tent. Unlike hammock tents, Tentsile tree tents use a three-point anchor system to ensure a comfortable sleep. The UNA comes complete with interior and exterior storage, insect repelling mesh, and a removable rain fly.
This Tentsile UNA review will dive deep into the UNA's specs and features. Read on to find out why so many people have converted to tree tents. And, see if the UNA is the right fit to upgrade your outdoor adventures.
Things to Consider Before Buying a Tree Tent
Tentsile Una Tree Tent
Next-level solo tent camping: engineered for 4 season, ultralight backpacking among the trees. Combining the best of both hammock and tent camping, with removable rainfly, tear-resistant mesh.
Lighten your load: set up in less than 10 minutes with a single pole design, Less than 5 lbs. Of trail weight. When it's time to pack up, Use the included compression stuff sack/Dry bag To pack out.
Spacious interior: The Una accommodates 1 adult comfortably while keeping all gear secure - weight capacity of 330lbs/150, head height of 1. 7ft/50cm, floor area 24sqft/2. 2Sqm
Featuring a front entryway, see-through mesh netting and a removable water- and UV-resistant rainfly enclosure that protects against the elements, UNA's insulation can be increased with our cushiony Sky Pad Mattress to help combat cold weather conditions.
UNA's dynamic rainfly also creates a shaded porch/two-story campsite to keep gear dry, and a wind breaking thermal buffer for when the weather turns… Tensile even saves forests by planting 18 trees for all tents and hammocks our nature-loving clients buy!
Before you buy a tree tent, please think of how it would fit into your preferred camping style. Tree tents are great because you can take them virtually anywhere.
There have been several times where I've found the perfect nature cove only to discover no flat surfaces for a tent in sight. My options were either to regretfully find a less favorable location or sacrifice my comfort to sleep on uneven ground. With tree tents, that is no longer a problem.
You can camp in untreated territory, surrounded by the beauty of nature and the happenings of wildlife underneath you.
However, tree tents may not be ideal for camping with children, because you don't want so much movement inside the tent that the straps loosen. And, I can all too easily picture one of my kids falling out of a tree tent.
Additionally, Tentsile recommends setting your tree tent up four feet off the ground. You'll want to be sure that hopping into a tent is something you can do at this height. You can put pressure on the tent to lower it ever so slightly. Nonetheless, a small level of agility is required.
Features & benefits
Pitching the UNA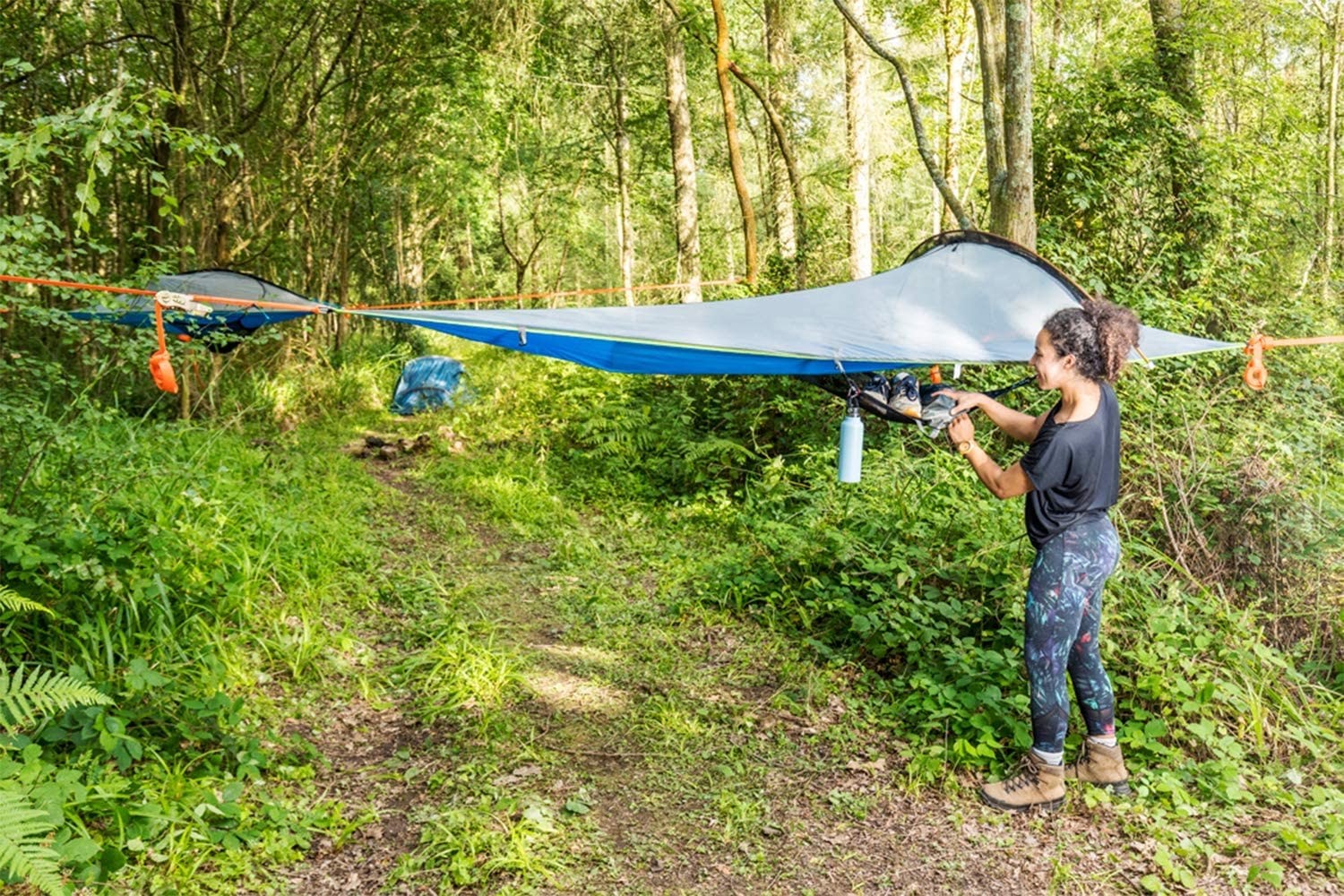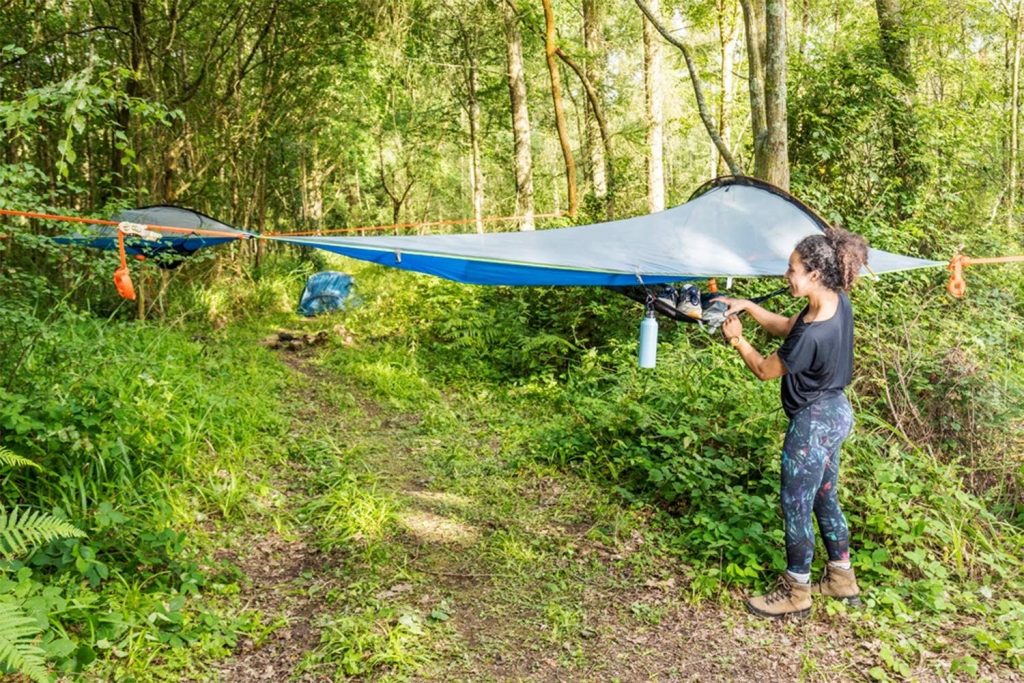 Pitching the Tentsile UNA Tree Tent is not as hard as it looks. The first setup may require some extra time, as well as a learning curve. However, after you've set the tent up once, it will be easier and quicker to set up the next time.
The Tensile UNA comes with everything needed to set it plus a few replacement parts. That alone speaks to the character of the Tentsile company. How many of us have found ourselves out of luck on a camping trip because of a faulty tent piece, only to find that the company charges for every little replacement? Let me tell you, I've been there, and it is frustrating.
More: What is The Best Teepee Tent [Review and Buying Guide]
Inside the tent bag, you will find the tent, rainfly, protective tree straps, tent straps, one pole, a ratchet, a web lock. Stakes, a ground conversion kit, and — of course— the replacement parts are also included.
The ratchet and web lock make this tent a breeze to set up. Both of these parts are user friendly in that they do all the hard work for you. You don't need to use all your strength to pull the straps taught, nor do you need to tie every strap in a knot. Not to mention, you won't have to stress about the straps coming loose when they are secured with the ratchet and the web lock.
Remember, in order to achieve optimum comfort in a tree tent, you must commit to setting up the tent properly. Failing to set up the tent properly may cause the tent to sag, droop to one side, or even let water into the tent when it rains. Any of these situations would make the tree tent less comfortable to sleep in.
It may not always be easy to find three trees in alignment or at an ideal distance apart from each other. Tentsile has graciously created self-help videos on how to set up your tree tent in these circumstances.
Just How Spacious is the UNA?
The third generation UNA tent has a couple of features that optimize the interior space of the tent.
First, Tentsile has designed a double-layered floor. When outside of the tent, you can separate the two layers and slide your sleeping pad between them.
This is convenient for two different reasons. One, if you were to sleep directly on your pad inside the tent, it would slide around and be noisy when doing so. And two, sleeping pads are usually 1-2 inches thick, so having it under the tent floor gives you that much more space inside the tent.
The second feature that aids in the roominess of the tent is the underhanging storage net. This comes in handy most when you get in the tent and need somewhere to store your shoes. Instead of cramming them at the foot of the tent, you can store them underneath.
Lastly, the hanging tent can act as a canopy, providing shelter underneath it. Especially when the rain fly is on, the UNA makes for a good canopy. Using the space underneath the tent allows you to do some activities that you might do in a standard tent. This includes, eating meals, getting dressed, organizing your pack, and more.
More: How to Repair Tent Mesh Like Pro [Complete Guide]
Is the Tentsile UNA Weatherproof?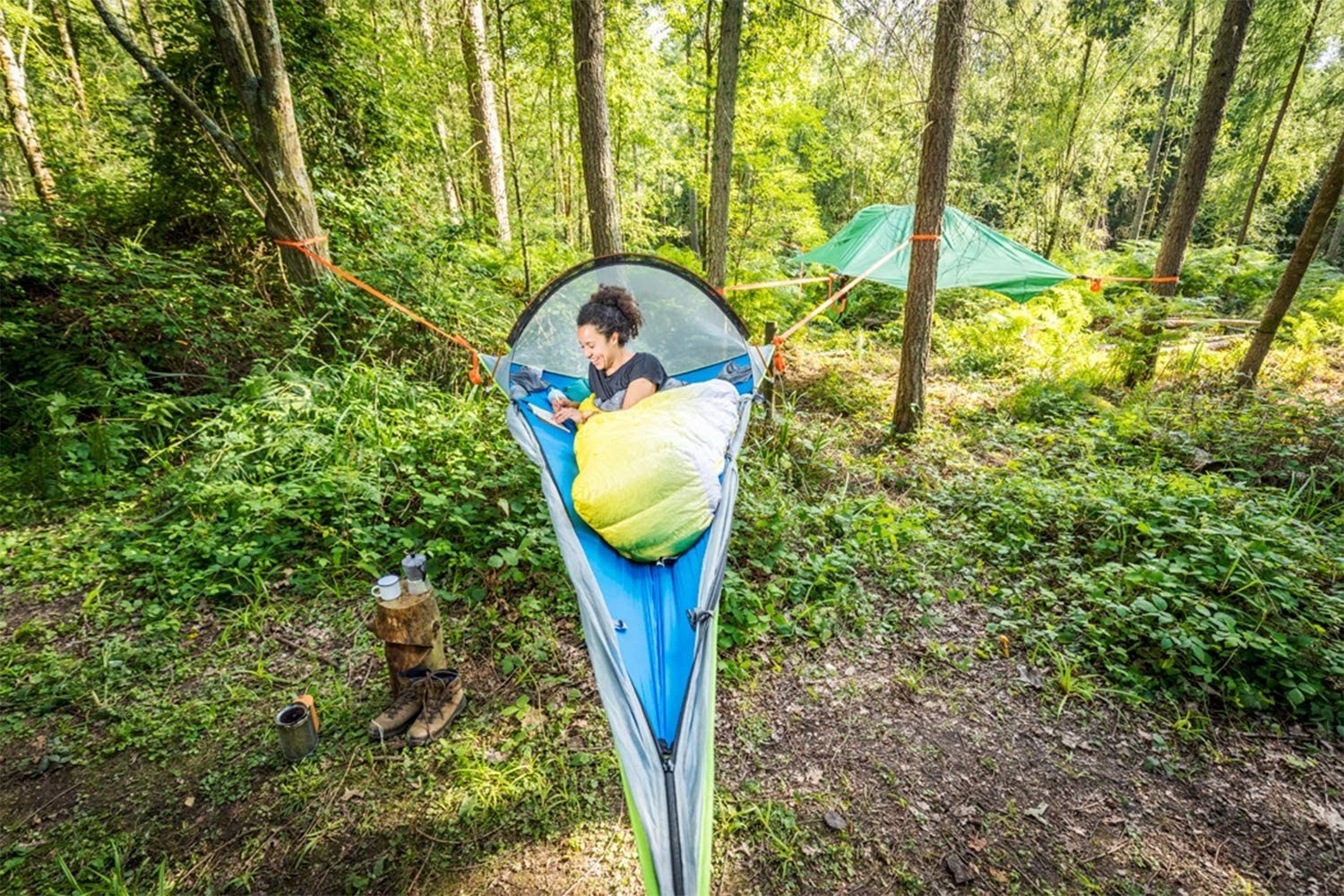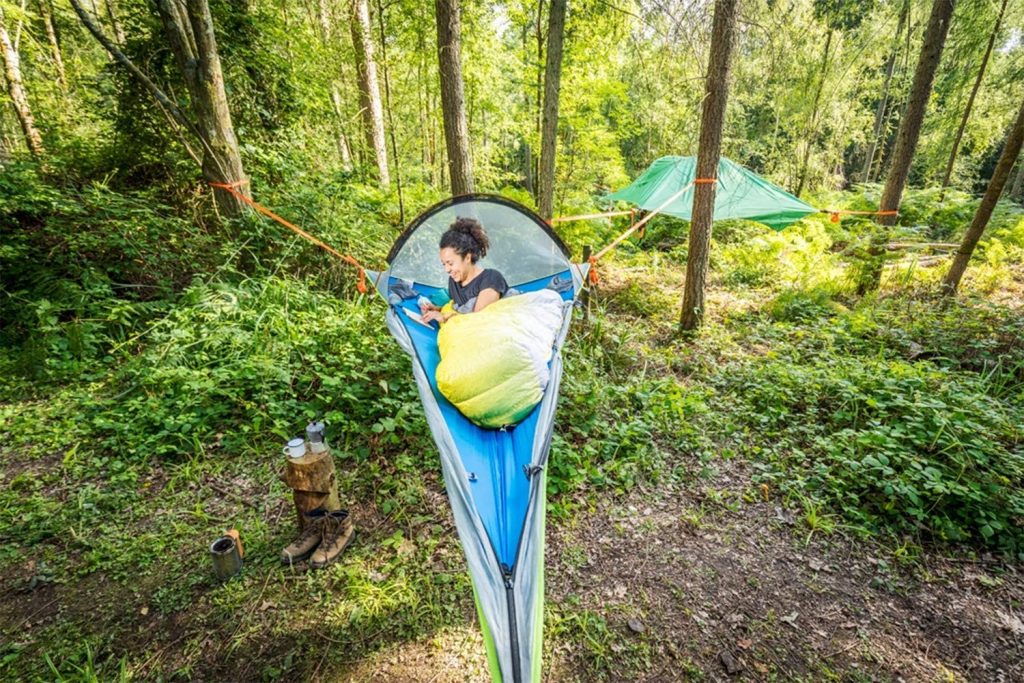 As far as ventilation goes, tree tents don't get much more ventilated than the UNA. Aside from the floor, the UNA is made completely of mesh to let in as much air as possible. The tent's floor is made of a 20D nylon ripstop polyester composite material, which means it is thin, durable, and highly breathable.
The rainfly is made of 20D PU-coated Nylon Ripstop, which is extremely water-resistant. More specifically, the water-resistant rating on this rain fly is 2500 hydrostatic head. This means the rainfly can withstand an immense amount of water pressure and is virtually 100% waterproof in layman's terms.
More: Tentsile Stingray Tree Tent Review: Is It Good Tent To Have?
The UNA can still receive airflow when the rainfly is attached. There is a small loop at the top of the rainfly that you can guy out to create space between the two tent layers. This will allow more air to flow up and into the tent when the rainfly is on.
Also, keep in mind that the tent is suspended in the air. Unlike ground tents, this allows air to flow through the bottom of the tent and boost ventilation.
There have been reported problems of water seeping into the Tentsile tent straps and traveling into the tent's stitching. This leads to a small amount of water getting inside the sleeping area of the tent. To combat this problem, Tentsile has engineered rubber WaterGates that can be secured to the strap base during set up. These water gates create a barrier and stop water from seeping inside.
Is the Tentsile UNA Lightweight?
The Tentsile UNA is extremely lightweight. This can be attributed to the materials used. Tentsile has used nylon and polyester on this tent to ensure durability without adding unnecessary weight. Additionally, there is only one small pole used for this tent.
It's packed weight is only 6 pounds with all components inside. You can lighten the load by removing the ground conversion kit if you don't plan to use it.
And no need to worry, the UNA can easily be re-packed to be as light as when you carried it in. The dry bag, stuff sack allows you to stuff the tent in and cinch it down to its smallest capacity.
More: The Best 10 Person Tents and How to Find Them
Storage Features of the Tentsile UNA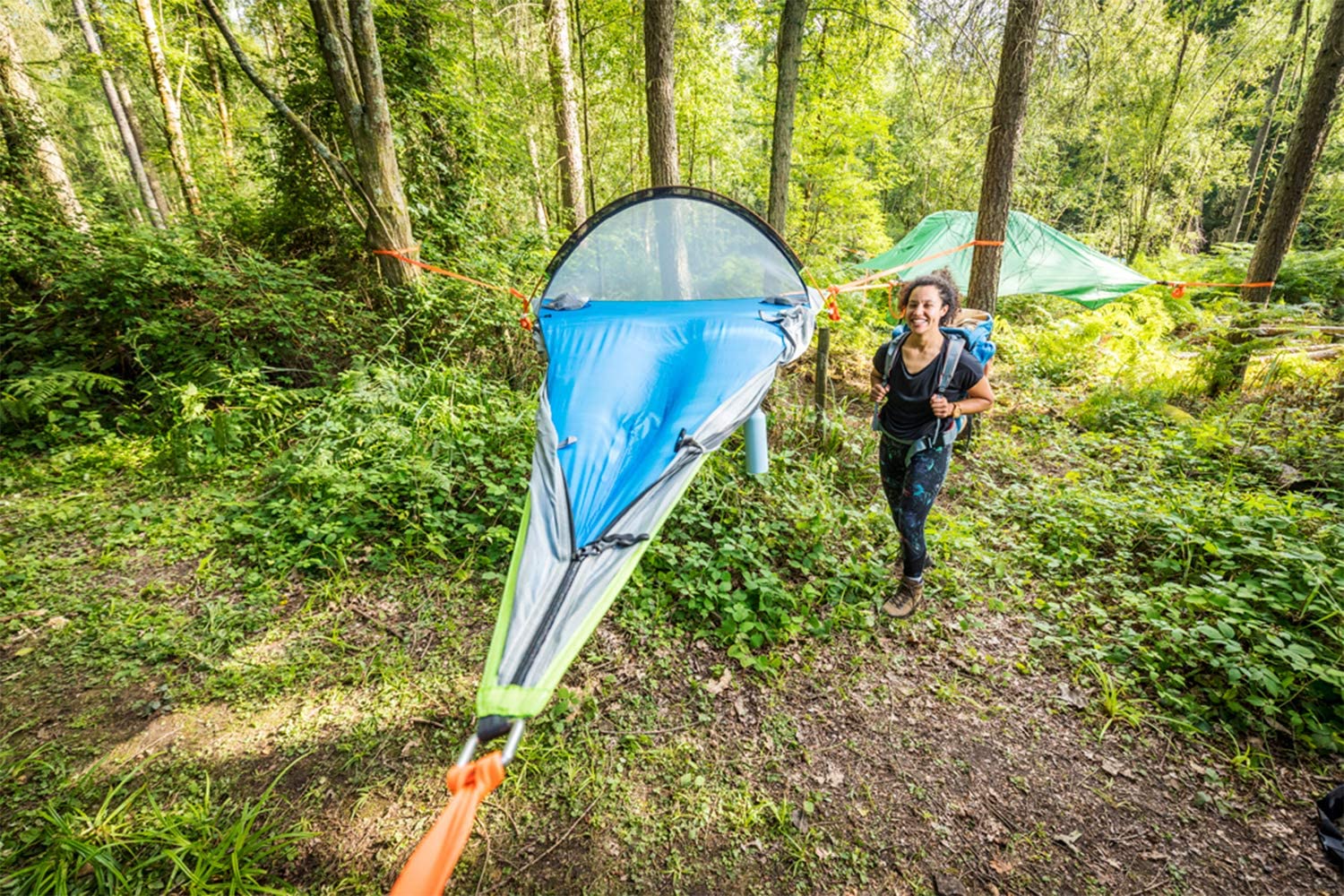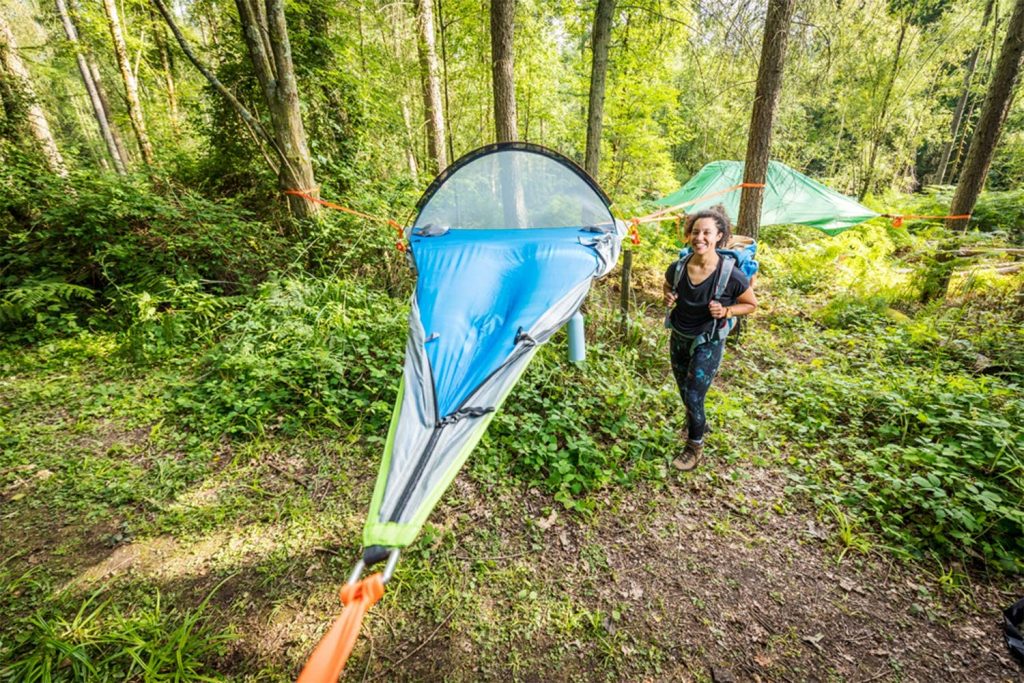 In addition to the under storage net, there are two interior storage pockets. These pockets are located on the floor of the tent above your shoulders when you're laying down. These pockets come in handy when you need an easy-access spot to hold your phone, wallet, flashlight, etc. Additionally, there are two loops on the tent ceiling to hang lights from.
More: The Best Inflatable Tent On The Market [Review and Buying Guide]
Feature Type
Feature Specs
What This Means

Tent Type

Tree Tent

This isn't your ordinary tent. It is suspended above ground using three tree anchors. It does not sag like a hammock.

Size

1 Person

This tent is spacious enough for one person to sleep in with some extra room for belongings. Floor area measures 24 square feet.

Rating

4-season

This tent can be used year-round.

Materials

Floor: 20D nylon-polyester
Tent body: No-see-um mesh
Rainfly: 20D coated nylon-polyester

This tent has features for both ventilation and weatherproofing.

Weight

6 lbs

This tent is light enough to carry in your backpack or on your bike.

Star Rating

Customers have been highly satisfied with this product.
Social Proof
It's always a good idea to check out customer reviews before purchasing a product, especially one that you're planning to rely on in the woods. We've rounded up a few thoughts from experienced Tentsile customers to give you an idea on how this product performs in real life.




Alternatives
Tentsile Flite
Unique camping option for 2: unparalleled overnight sleeping experience combining the best of tent, hammock, and ultralight camping. 4 season COMFORT and capability for seasoned campers and newcomers alike with this oversized two person suspended hammock
New for generation 3, the Flite features abundant storage options with an internal mesh pouch and an underfloor storage Net for those bulky items.
The Flite Plus accommodates 2 adults comfortably while keeping all their gear secure – weight capacity of 485lbs/220, head height of 2. 7ft/90cm, floor area 43sqft/4Sqm.
Heavy duty ratchet straps maintain adequate tension coupled with thoughtful three point DESIGN, providing you with enough room to sleep (or frolic) in comfort. Setup time in about 10 minutes.
Suitable for year round use with 5000HH removable waterproof rainfly, strong 240D nylon-polyester composite fabric, and lateral extensions of the rainfly keep the gear and ground Dry below – no more soggy camping.
Let's take a look at the Tentsile UNA vs Flite. The Tentsile Flite can be considered the 2-person version of the UNA. This is a good option if you need a tree tent suitable for two people.
Whether you're hiking with friends or family, you can accommodate the sleeping zone to your liking. A center divider can split the sleeping area into two separate zones or can be removed for one large zone.
The Flite weighs 8 lbs in total. The floor area measures 43 square feet, and the head height reaches 2.7 feet. Additionally, the Flite has a cross pole design to accommodate two campers. This means you'll have more space to sit up inside the tent.
Like the UNA, a storage net hangs on the underside of the tent. This feature comes in handy for shoe and clothing layer storage. Using the storage net keeps the inside of the tent tidy and optimizes space.
Unlike the UNA, the Flite does not have a double-layered floor. The lack of this feature means that you will need to put your sleeping pad inside the Flite.
Comparison:
The Flite is larger (43 sq. ft. vs 24 sq. ft.)
The Flite has a cross pole design
The Flite is heavier (8 lbs vs 6 lbs)
The UNA has a double-layered floor
Both the Flite and the UNA have storage nets
Tentsile Connect
Evolution of the original tree tent: The connect features abundant storage options with an internal mesh pouch, a pocketed three tier dividing screen, and an underfloor storage Net.
Spacious interior: The connect accommodates 2 adults comfortably while keeping all their gear secure – weight capacity of 880lbs/400kg, head height of 3ft/1M, floor area 52sqft/5Sqm.
Adapt to the elements: suitable for year-round use with 5000HH removable rainfly, 240D nylon-polyester composite fabric, and lateral extensions of the rainfly keep the gear and ground Dry below.
Built to last with quality components: patented 3-point design, 2. 5 ton minimum breaking strength ratchets, double stitch seams, and precision-engineered, anodized aluminium poles for challenging weather conditions.
Ground conversion compatible: connect Gen 3 is fully compatible with the new ground conversion kit, making your Tensile the only tent you will need in your line-up.
Tentsile is the market leader in tree tents. In fact, I would say they have a monopoly on the tree market. No other company has yet to manufacture quality, tri-anchored tree tents. Thus, our second alternative is yet another Tentsile tree tent.
The Tentsile Connect is a larger 2-person tree tent. In fact, according to Tentsile, there is room enough in this tent for two adults, one small child, and gear.
This tent is quite a bit heavier than the UNA and the Flite. It weighs 20.8 lbs. However, the weight can be attributed to the extra features and benefits of this tent. The weight capacity is a whopping 880 lbs. There is 52 sq. ft. of floor area, and the dual-pole roof makes for a roomy interior.
Four interior storage pouches give you ample space to store your smaller items. And, packing the Connect is simple because the tent bag can be worn as a backpack. This makes it easy to take the Connect with you whether you're hiking, biking, or kayaking. Check our guide to Tentsile Connect here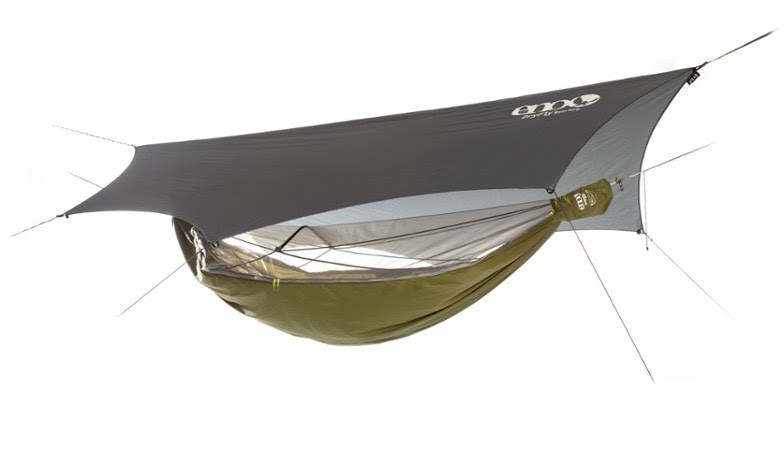 Tree tents get a reputation for being an upgrade from hammock tents. However, if you rather like sleeping in a hammock. There are hammock tents that are very similar to the Tentsile UNA. The ENO JungleLink Hammock System is probably the closest hammock alternative.
The primary difference between the two is that hammock tents use two anchors, whereas tree tents use three. In turn, hammock tents have a more cocoon or swaddled feel when you are sleeping, and tree tents are easier to move around in.
The ENO JungleLink Hammock System is easy to set up because you don't have to worry so much about spacing, aligning, and tightening the straps. It is also very easy to carry in because it only weighs 3 lbs.
This hammock tent sleeps one person and is rated for three seasons. A no-see-um mesh is covering zips on to enclose the hammock. Plus, a waterproof rainfly with 8 guy out points can be secured over the hammock for weather protection.
Comparison:
The Eno system is a hammock tent with two anchors.
The UNA has a flat tent bottom with little sag.
The Eno is lighter than the UNA (3 lbs vs 6 lbs)
Both the Eno and the UNA have a waterproof rainfly.
The Eno has less storage areas.
Conclusion
UNA is a revolutionary outdoor product. It completely eliminates the need to find level ground to sleep on. This means you can sleep in the best locations that nature has to offer. Customer reviews confirm that UNA campers have upgraded their camping experience by leaving their ground tents at home. Click here to check out the new, third-generation Tentsile UNA tree tent.