Fjallraven Kanken Classic was first introduced in the year 1978 and was designed for students, so that they could carry their school essentials with comfort and ease in a lightweight yet durable backpack.
Although the company has released multiple updated versions since the original hit the market (such as the Kanken Laptop and the Kanken Mini) the Kanken Classic remains the most timeless in their collections. The Classic is closest in design to the first bag ever produced by the Swedish company and, according to many a Fjallraven Kanken product review, the Classic is still the most popular among the company's nine models.
Through this review, we are going to find out how this Classic backpack compares to the hundreds of other popular brands on the market today. Is it a superior backpack to Northface and Osprey, or does its 'Classic' design mean it's lacking modern innovation? Let's find out!
Sale
Fjallraven Kanken Classic Backpack
ICONIC: Same classic Kanken design since 1978. Stash everyday essentials in the main zippered compartment, front zippered pocket, and two open side pockets.
PRACTICAL: Meet the material: Vinylon F. It has a weird name but it's dirt-resistant, water-resistant, and wipes clean.
FUNCTIONAL: Two-way zipper with rain flap for protection. Ergonomic shoulder straps for the long haul. Dual top snap handles for quick carry. Sitting pad for impromptu seating. Reflective logo.
ROOMY: 16 L of storage space for everything you need and some things you don't. Measures 14.9" (38 cm) x 10.6" (27 cm) x 5.1" (13 cm). Weighs 0.7 lb.
HERITAGE: Durable, timeless, functional. Since 1960.
​Fjallraven Kanken Backpack Review
Overview
Fjallraven is a name known in every Swedish household. It was first crafted as a school bag for children who had to carry a lot of books, so that they would not feel the weight. But its attractive design and useful features soon made it popular with adults as well.
With its rapid sales and consistent quality amongst all the versions it has launched, Fjallraven is one of the most popular backpacks all over the world.
More: Osprey Talon 22 Pack Review
Design and Specs
The design of most Fjallraven Kanken backpacks can be described as 'pedestrian'. The frames of the bags are quite square, which provides them with easy recognition amongst other brands whose bags tend to display a more elliptical frame. Furthermore, the red-colored logo which they stamp at the center of every bag makes it easy to spot any Fjallraven bag in a crowd.
The Fjallraven backpack is tall enough to fit most school textbooks and slimmer, 13" laptops. Fitting a regular-sized laptop (typically 15.6") might get a little tight.
In terms of its capacity, the Kanken backpack holds less than most standard backpacks of today. For instance, the average volume on the market is between 20 – 30 liters while the Kanken big backpack has a volume of close to 16 liters. Sufficient for school purposes without a doubt, but the Kanken is lacking in volume to fit clothing, a jacket, or other bulkier items. On the other hand, this bag is conveniently super light due to its minimalistic design. Other available bags on the market typically have such an intricate design that they themselves weigh around 2 lbs.
Dimensions: Length: 15 Inches, Breadth: 5.1 Inches and Height: 10.6 Inches
Weight (Shipping): 10.6 Ounces
Capacity: Approx: 16 Liters
Colors Available: 30+
Comfort and Durability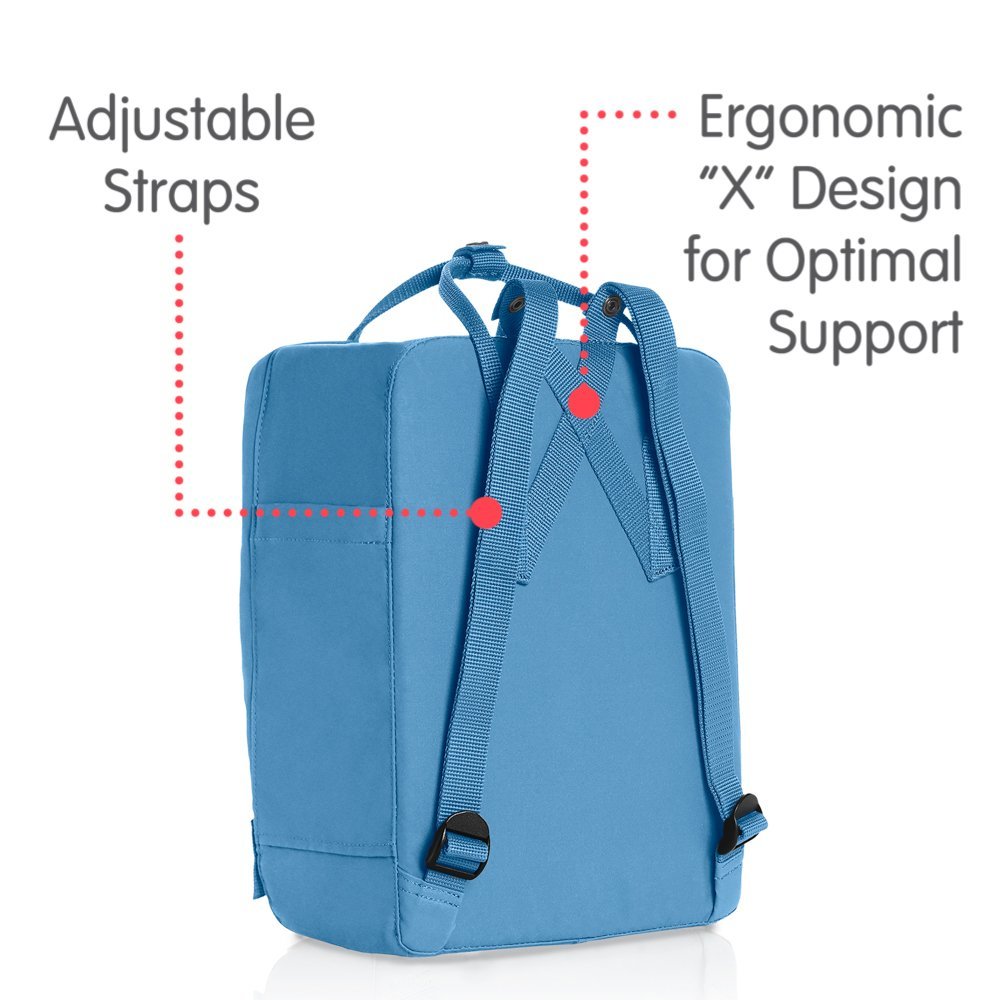 The fabric used in the making of the Fjallraven Kanken Mini and Classic bags is Vinylon, a material produced by the company itself. It is one of the three types of fabrics used in the making of the Fjallraven backpacks. The material is known for its water resistance capabilities and for its strength; even under stressful conditions, it cannot be torn easily.
The feel of the fabric is not the most pleasant; that is, it is not soft and comfy like other fabrics. But comfort has never been the main motive of Kanken backpacks – their bags are designed for durability, not luxury.
More: Osprey Atmos AG 65 Backpack Review
Another benefit of the strong fabric is that while it may seem to scuff easily, a damp towel can remove all marks without leaving a trace on the Fjallraven bags.
There are four compartments in the Classic backpack, held together by two broad shoulder straps running from the top to bottom. There is actually a fifth compartment if you also include the inside sleeve that has a seat pad. On each side of the main compartment are two open pockets and at the front of the bag is a zipped one.
An additional factor that makes these Swedish backpacks stand out from other backpacks of today is the way in which the shoulder straps are arranged. Unlike the straight pattern which one often sees on other brands today, the shoulder straps on the Kanken bags are mounted in a cross pattern.
It is because of this innovation that the weight of the bag feels even lighter compared to the same weight carried in a backpack of a different design.
The Kanken bag has two handles, one at the front and other at the rear. It gives the backpack the feel of a tote as well, distributing the weight evenly across the four joints of the bag. The two handles give it a more balanced handling.
Storage and Organization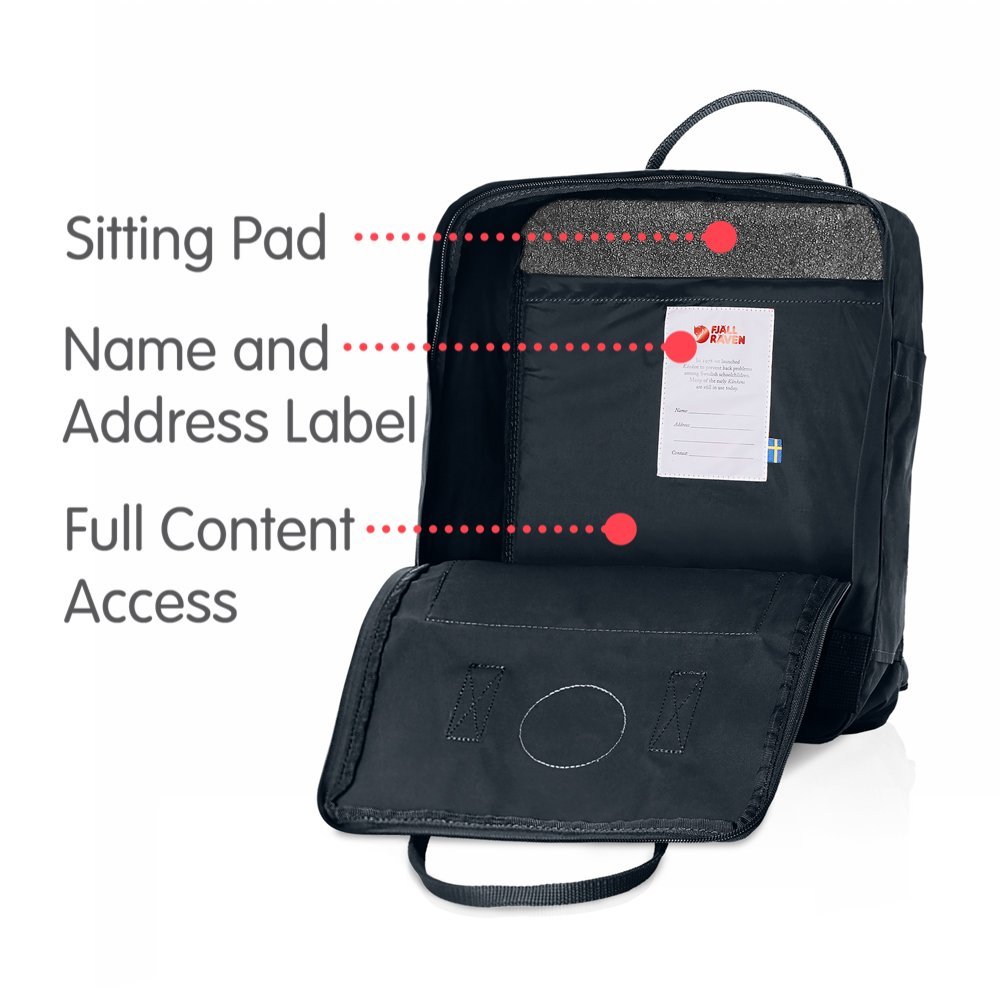 The main compartment is large enough to accommodate most essential items for a school student or for an average business worker. The zipper mounted on the compartment is two-way and once you unzip it, you can easily access everything inside the bag at once.
The bag's accessibility is seamless because the inside does not have sleeves or pockets, though this also makes it difficult to organize your various items in there. One hack for this is to remove the foam cushion that is placed inside the main zip, and place any electronic device there.
More: Osprey Farpoint 55 Travel Backpack Review
But then again, the flat surface of your electronics felt through your bag while you wear it can make it quite uncomfortable. The lack of organizational options is one downside of this bag.
The front pocket placed at the center of the main frame is much larger than the average front pocket of bags today. It is great for placing smaller and less important items – less important because the bag does not have anti-theft features so it would be all-too-easy for someone to unzip and take something from your bag undetected.
The side pockets on the either side of the main zipped compartment are tall enough to fit items such as a water bottle close to 1 liter in capacity, gloves, or an umbrella.
If you are a traveler, these sides are convenient to store your airport essentials such as your passport and boarding pass; since the pockets are open, you can take them out and put them in anytime. But one thing to note is that the pockets cannot be stretched, so be sure not to stuff anything in too tight as it can tear the stitches.
​Versatility
The foam that is placed inside the main compartment also acts as a seating cushion. It can come in handy on outings and in situations where you don't have access to a chair, or simply need some extra comfort.
You can also remove the foam if you need the extra space in there; then again, if the bag is feeling a little hard against your back, you can just put back the foam in its place.
More: The Best Cargo Boxes
The carry handles are not padded. Hence, if you overstuff the bag and then lift it, it might feel hard on your fingers. But there is a hack to this problem: you can better secure the handles with the help of a snap, which can both help with comfort and can also serve as an added security measure.
​No one would be able to access the main zipper without messing around with the snap, and you can catch anybody doing that easily.
​Pros and Cons
​Pros
​The design of the Fjallraven Kanken Classic Bag is one of the first-ever designs produced by the company, so its historical and iconic design never goes out of style.

​The material used in the Fjallraven Classic Mini and Classic Backpack is resistant to both water and dirt, and even if a stain takes hold, it can be easily wiped away with a damp napkin or towel.

​There is a foam sleeve which can be removed specifically for placing a laptop inside of it.

​The bag is light-weight and convenient for everyday use, for work or for traveling.

​It is convenient to convert the Fjallraven Mini into a shopping tote due to the unique design of its top handles.

​Plenty of color options are available on various e-commerce sites.

​The shoulder strap design reduces the weight on each shoulder and arm, thus one can carry more weight but not feel its pressure.
​Cons
​Organization inside the bag is difficult due to its lack of, or smaller-sized, pockets.

​The front compartment is not very safe for storing valuable items.

​The bag is smaller as compared to other bags in the same line and range, thus bigger sized electronics and clothes might not fit nicely inside.

​Side pockets can tear easily as they are non-stretchable. In some cases, they have space just enough for hands to fit in.

​Although the fabric is durable, other materials such as G-1000 or Spindye have the same output in terms of durability and are also softer to the touch.
​Customer Reviews
Customers have typically used the bag for adventures and traveling, and have commented that the bag is superb, as long as there is not much technical gear to fit in. They have praised the style and called it perfect for almost all occasions.
Customers are happy that it can be used as both a shopping bag and a travel bag, able to easily replace over-the-shoulder bags and handbags too.
They have liked the fact that the bag is durable and lightweight, and that it allows one to carry more weight with less stress on the shoulders.
More: Osprey Fairview 40 Review
One of the only features about which customers have complained is the size, as not too many items can fit in and for the size, it is a bit pricey as well.
​FAQ
​ > Is the Fjallraven Kanken Classic Bag Waterproof?
No, the bag is not waterproof but the material that is used for the bag is water resistant. If you want to wash the bag or remove any stains, you can dip the bag in lukewarm water and use a soft brush to remove the dust.
> Can you machine wash Fjallraven Classic Bag?
No, it is never recommended to wash the bag in the washing machine. This is because the colors will fade through machine-washing, since they are created using a special dyeing technique. Instead, soak the bag in warm water and use a mild detergent to rub off the dust.
More: Osprey Aether 70 Review
Final Thought
Let our Fjallraven Kanken Review leave you with a few final thoughts. Apart from its glorious history, what stands out most about this bag is its design that is both retro and minimalistic. The vast assortment of colors tends to push buyers to purchase at least a couple of bags for their usage and collection, because it is so hard to choose just one! It is an incredible bag for school children and also for everyday usage, as long as you do not have a too much bulk to carry in it.
You can even purchase the add-on shoulder strap to further reduce the weight falling on your shoulders, if you are going to carry laptops or heavy textbooks every day.
It's true; one could argue that the bag is on the expensive side. In today's market, one can get plenty of bigger-sized bags, with more pockets and advanced security features, for the same price or even less. But such bags surely won't have the look of Kanken Classic or the history to support it.
If you are not too concerned with the price tag and want a bag that will make you stand out from the crowd, then this is the bag for you. The Kanken Classic will serve you for many years to come; you don't have to worry that it will wear out, stain, or break – this bag is a long-lasting choice!
Like It, Pin It