For the adventurous at heart, tree tents offer a much more unique camping experience than traditional ground-based tents. Tree tents are usually versatile and can be set up for ground camping as well.
Our pick for the best tree tent is the Tentsile Stingray 3-Person Tree Tent, with its durable design and reliability. However, there are plenty of options for comfortable tree camping. In this review, we'll go over the pros and cons of various options in detail so you can pick the best tree tent for you and your family.
Product Reviews
Tentsile Stingray Tree Tent
The Tensile Stingray is a 3-Person tree tent that motivates you to explore the whole world. Setting up in 15 minutes next to rushing rivers, on palm tree-laden beaches and in tropical rainforests, our portable treehouse leaves zero Footprint behind!
Perfect for 3 adults or 2 adults and 2 children, Stingray offers 75 sq. Feet of space with an 880-lbs. Max weight capacity and a total pack weight of 20 lbs.—All of which hovers over hard, wet, rocky and uneven terrain All year round.
Using 3 powerful Ratchet straps to anchor to 3 strong trees, this portable Shelter is safely secured by heavy-duty industrial webbing, giving you the freedom to establish environmentally-conscious campsites suspended above the earth!
The Stingray features a front entryway, central floor hatch, mesh netting and a removable water- and UV-resistant rainfly enclosure to guard against the elements—which also forms a shaded porch and wind breaking thermal buffer once pegged to the ground.
Hang out near stunningly beautiful lakes or sleep in secluded jungle lairs, from backcountry to backyard The Stingray is the perfect multi-person hangout. We also save forests by planting 18 trees for all tents and hammocks our nature-loving clients buy!
The Tentsile Stingray 3-Person Tree Tent, retailing at $699, is our pick for the best overall tree tent in 2020. This tent is built with ergonomics, durability, and weatherproofing in mind.
This durable tree tent is built to last and can withstand the weight of up to 880 pounds (400 kilograms). The total floor area of 78 square feet provides plenty of space for three adults to sleep without being too close together. The Tentsile's unique design, with its anti-rolling strap system, ensures each sleeping area is separated and the weight of the tent is balanced overall.
When set up, the Tentsile Stingray stands 4 feet high in its center, so you can move around comfortably. There are also three doors, which makes leaving and entering the tent less congested as each individual can have their own designated door.
Suitable for 4-season camping, the durable, polyurethane-coated rainfly protects you in stormy weather. The Tentsile Stingray's invisible insect mesh is dual-purpose: the mesh covering protects you from pesky bugs while allowing extra ventilation to keep you cool and comfortable.
This tent doesn't neglect storage, either. With underfloor storage nets as well as pockets on the interior of the tent corner walls, you will have plenty of space to organize your most important gear and keep it in handy. check our detailed review of Tentsile Stingray here
Tentsile Stealth
The Tensile Stealth is a 3-person tree tent that inspires you to experience all that Mother Nature offers. Setting up over hard, wet, rocky or uneven ground in just 15 minutes, Our innovative all-terrain campsite leaves zero Footprint behind!
Our 20-lbs. * Tree Tent has an 880-lbs. max weight load and uses 3 powerful ratchet straps to anchor to 3 strong trees—where it's safely secured by heavy-duty industrial webbing
Dynamically designed with a 75 sq. -Foot reinforced triangular nylon polyester Tensile Trillium floor, stealth offers 3 spacious sleeping havens with their own separate meshed entryways, and a central shelf tower for additional storage space.
The all-season Stealth features a removable water- and UV-resistant polyester rainfly enclosure that protects against storms, sunlight, wind and rain—and its rainfly flaps can create a covered porch, two-story campsite and a wind breaking thermal buffer!
Gaze into Golden sunsets with your family or hang out with your crew on a trip into the forest. From backcountry to backyard, stealth is the perfect multi-person hangout. We also plants 18 trees for all tents and hammocks our nature-loving clients buy!
The Tentsile Stealth 3-Person Tree Tent is our choice for the runner-up in the tree tent category for its versatility, as it converts fully into an open hammock. Also, its easy set-up only requires you to deal with one pole, so it is a breeze to put together in a pinch.
This tent features three separate entrances and has three adjustable hammock spaces on the inside, with plenty of room for three adults. It can hold up to 880 pounds (400 kilograms). The interior is also protected from insects and rain with the mesh and removable rainfly. The Stealth also features a center storage pocket to keep your important gear in place.
A unique aspect of the Tentsile Stealth tent is that the roof can be completely removed from the body of the tent, leaving a hammock style that's open to the night sky.
Lawson Hammock Blue Ridge Tent
RATED #1: By Backpacker, Outside and American Survival Guide. Winner of the prestigious Gear Of The Year Award.
HAMMOCK AND A TENT IN ONE: Patented design with a unique arch pole/spreader bar system that allows for use suspended between two objects/trees as a hammock
USE ANYWHERE: Most versatile tent hammock in the world. Perfect for all types of camping; car camping, backpacking, bike camping, Scouting, kayak/canoe camping
HAMMOCKING COMFORT REDESIGNED: Design keeps hammock bed flatter, eliminating much of the "cocoon/banana" effect created by other hammocks.
EASY SETUP, LIGHT WEIGHT, WATERPROOF & BUG-FREE: Has detachable/waterproof rainfly, bug netting (straps sold separately/works w/all types of straps or webbing/rope). Packs to 22"x6", 4.25lbs w/poles
The winner of the "best budget" option is the Lawson Hammock Blue Ridge Camping Hammock. Sitting at only $199 base price, this tent provides comfort and a unique tree camping experience without the hefty price tag. Even if you need to purchase the suspension straps, the total price is only $229.95.
As a three-season tent, the Blue Ridge Hammock is equipped with a removable waterproof rainfly and an insect mesh to keep you comfortable as you camp.
While the Lawson is not a family tent as it holds a maximum weight of only 275 pounds, it is also much lighter in weight than the Tentsile Stingray and Stealth models. The Lawson weighs only 4 pounds 15 ounces with straps. This makes it a better option for long backpacking trips.
Tentsile Flite Plus Tree Tent
The Tentsile Flite is a lightweight 2-person portable backpacking Tree Tent. Weighing only 7 pounds, this sleek treehouse style tent lets you build suspended campsites over hard, wet, rocky, and uneven terrain anywhere around the world!
Utilizing 1 industrial-grade ratchet and 3 six-meter long powerful webbing straps, our all-terrain camping shelter anchors to 3 strong trees—where it combines the slumber-inducing comfort of a hammock with the coziness of a traditional tent.
Flite fits 2 campers under 6'1" and all their gear perfectly. Featuring a 40 sq. -foot triangular layout, 485-lbs. max weight capacity, 2 entryways and an elevated cross brace for extra headroom, Flite+ is suspended camping efficiency at its finest!
The Flite protects against storms, sunlight, wind and rain with a fully-enclosed water- and UV-resistant removable rainfly — which can also create a covered porch/two-story campsite, as well as generate a windbreaking thermal buffer.
And during those serenely beautiful nights, Flite+'s see-through mesh netting keeps insects at bay as you bask in gorgeous starlight… Tentsile also saves and protect forests by planting 18 trees for all tents and hammocks our nature-loving clients buy!
The Tentsile Flite Plus Tree Tent provides the best balance of size and durability, as it is a 3-season, 2-person tent designed to be durable yet lightweight. The maximum load weight of the tent is 485 pounds (220 kilograms), perfect for a couple and all the camping necessities while still maintaining a compact size for hiking.
The Flite Plus' two sleeping bay areas are outfitted with a removable divider, so you can easily create a single larger or two smaller sleeping spaces. There are also two doors, so each person can have their own entrance to the tent's interior. The total floor area of the tent is 40 square feet, which is a good size for a couple.
The Tentsile Flite Plus also features the insect mesh top for ventilation and protection from bugs, as well as a removable rainfly for weatherproofing.
Hammock Bliss Sky Tent 2
HAMMOCK TENT HEAVEN IN FULLY PATENTED DESIGN - Sky Tent 2 brings hammock camping to a new level of comfort and convenience. Sky Tent 2 allows you to stay dry from the rain, safe from the bugs and provides ample space for you and your gear. Our innovative design can accommodate up to 2 hammocks so both you and a friend can hang together in a cozy hammock tent shelter.
STAY DRY AND BUG FREE - Oversized ripstop nylon rain fly provides complete protection from the rain for both your hammock and your gear and 2100 holes per square inch no-see-um netting keeps out even the smallest bugs and reduces the chilling effect of the wind
INSULATED - Ripstop waterproof nylon base layer helps retain body heat, provides storage for light weight items and creates a tough floor for using Sky Tent on the ground. New loops on corners of the floor allow floor to be staked to the ground.
RIDGELINE - 138"/ 350 cm of 6mm climbing rope provides a secure ridgeline below the rain fly and then extends 80" / 203 cm outward on each side to securely hang your Sky Tent - 100" / 250 cm of cord on each corner of the rain fly with ladder lock buckles for easy tensioning
TECH SPECS: Oversized waterproof stuff sack for easy pack and go storage. Stuff sack accommodates both Sky Tent and any sized hammock for added convenience on the trail - Dimensions 138" long x 73" wide x 43" high / 350 cm long x 185 cm wide x 110 cm high - Weight 42 oz / 1200 grams - Sky Tent Fully Packed - 12" x 12" x 4" / 30 cm x 30 cm x 10 cm - NOTE - Hammock is not included with the Sky Tent.
The Hammock Bliss Sky Tent 2 is not so much a tent as it is a shelter for your hammock. The Sky Tent is the perfect size for a romantic getaway for any couple, and its lightweight body style is a great option for those planning a longer hiking day. The Sky Tent 2 is our pick for the easiest to carry on backpacking trips, as it weighs only 2.66 pounds.
The Sky Tent is designed to enclose your hammock in a bug-free, rain-free area, with enough space to fit two adult hammocks inside. It is equipped with an anti-insect netting, as well as an oversized rainfly for protection from stormy weather. The tent's ripstop nylon base ensures durability as well.
The dimensions of the Sky Tent are 138 inches long x 73 inches wide x 43 inches tall, which provides a comfortable and cozy interior sleeping space. It conveniently packs down to a compact 12 inches x 12 inches x 4 inches size inside its included stuff sack, so you can easily fit it into your hiking day pack.
The Sky Tent also features a newly designed V-shaped door, which can be rolled up and toggled over the top of the tent to hold it in place. This way, you can more quickly and easily enter the door when you need to without having to adjust it every time.
Sale
OrangeA Hanging Tree Tent
Main Parameter: Material: Heavy-Duty 600D Polyester Canvas ; Color: Green ; Suit For Ages: 4 and up ; Weight Capacity: 440 lbs ; Upper: 27.6 inch ; Bottom: 43.3 inch ; Height: 47.2 inch ; Metal Tube Diameter: 0.98 inch ; Air Cushion: 2.2 lbs (include a pump) ; Adjustable rope: 3.28 ft.
High-quality Material: The hanging tree tent is made of heavy-duty 600D polyester canvas, which is water-proof and UV blockers. It comes with three porthole-style windows, a velcro flap door, and a plump removable PVC cushion. In addition, it is equipped with a reinforced metal ring for suspension that can carry a weight of 440 lbs, enough to accommodate 2-3 children at the same time.
Thoughtful Design: The hanging tree & ceiling hammock tent features a classic hangout shape with a string of LED lights inside to add to the atmosphere. Close the curtains, the flashing LED lights are like the stars in the night sky, and the children can enjoy their own world.
Easy To Carry & Use: Light and easy to hang almost anywhere. This kid-friendly play space is made to travel wherever your family goes.Take it camping, the beach, grandma's, or to the backyard. All you need is a sturdy tree branch or pole. No screws required, it even comes with its own hanger! Lightweight boning pops it back into its classic hangout shape during set up.
Wide Application: Big enough for multiple kids, the swing tent is made for maximum playtime enjoyment. Kids of all kinds benefit from this enclosed, comfortable spot where they can curl up for a quiet moment to read or relax, or play games with their friends and family. When children become over stimulated, the peace of hanging safely in air soothes them. Give your kids those calming benefits anywhere your family goes with this special ultra-portable hanging tent.
The OrangeA Hanging Tree Tent is our pick for the best choice for kids. With its unique pod-like design, decorative lights, and bright color options, kids are sure to have fun in this tent whether they're camping on the trails or sleeping in their own backyard. It is easy to set up, as you only need one sturdy tree.
This tent is designed for kids aged 4 years and older. Made from 600-denier polyester, it is durable and has a weight capacity of up to 220 pounds, with enough space for two or three kids. The OrangeA Hanging Tree Tent is UV resistant and waterproof.
The OrangeA features a flap door and three windows, so kids can have fun pretending they are in a real treehouse. A string of flashing LED lights adorns the interior of the tent, adding to the fun. There is also a removable, inflatable cushion for the bottom of the tent to make sure the kids are comfortable.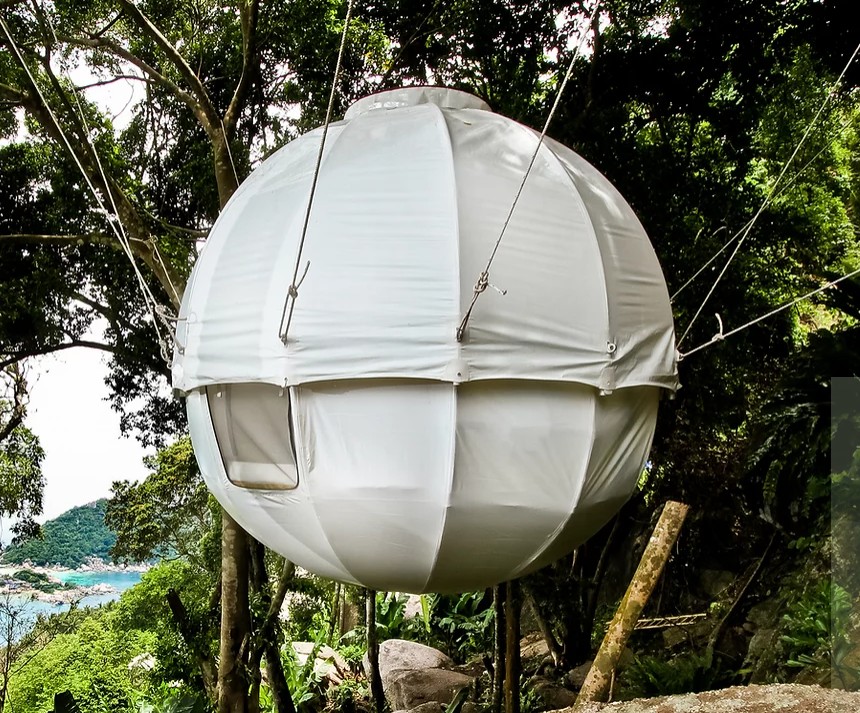 The Coon Home Tree Cocoon Tree Bed is our pick for the fanciest, most luxurious option among the available tree tents. It has enough space to comfortably sleep two adults and two kids in the included foam double bed, providing a glamorous camping option in a unique style. It also can hold up to two tons of weight, so it is durable.
The tent has a diameter of 3 meters and features a removable zippered door and two windows. It is waterproof and is designed to last several years with its aluminum frame.
The enclosing spherical shape keeps the wind and cold out, although the tent does not have a seasonal rating. However, it is possible to set up air conditioning and heat using solar power generator kits.
Note that assembly of the Cocoon Tree Bed is marketed to take three hours with three people working together, which is slightly longer and more complex of a task than the other tree tents. The base model of this tent weighs 120 kilograms and is suspended at six anchor points around two or three trees. Thankfully, there is a service that will set up the Cocoon Tree for you.
More: The Best Tent for Camping with Toddlers and How to Find Them
Buying Guide: What to Look for in a Tree Tent
Quality
When searching for a tree tent, you want to make sure that your purchase is constructed with high quality materials and durability in mind.
Many of these tree tents and their rainflys will be made with ripstop nylon, which is very strong and resists tearing. Ripstop nylon, which was originally developed during World War II, consists of a thicker thread of fabric woven right into the nylon itself, forming a grid-like pattern of overlapping threads.
This construction provides some level of waterproofing and prevents unraveling. This is a great option for outdoor camping products and gear. For even more secure waterproofing, look for a polyurethane coating applied to the outside of the tent or rainfly.
Also, consider the weight capacity of the tent as well as its set-up components. For example, the Tentsile Stingray can hold up to 400 kilograms with its three-point design, double-stitched seams, anodized aluminum alloy poles, and industry-grade, 2.5 ton-rated ratchet buckles. These are high-quality materials that ensure durability over time.
More: Browning Big Horn Tent Review: Is It a Good Tent?
Look for Comfort
When considering the comfort level of a tent, be sure to choose a tent that is appropriate for the weather. Look for a tent that is rated to meet the nightly temperatures you will be facing.
A three-season tent is designed to keep you comfortable in fall, spring, and summer temperatures and should be more lightweight and ventilated than a four-season tent. Four-season tents are made for more extreme cold temperatures.
Another aspect of comfort is keeping your sleeping area free of insects. A quality tree tent should be made with insect mesh or netting, allowing for ventilation while protecting you from bug infestations inside the tent.
More: The Best 8 Person Tents [Review and Buying Guide]
Ease of Assembly
At first, it may seem difficult to set up a tree tent. However, with practice, it may only take 15-30 minutes. Most tree tents can either be set up in the air (tied to the trees) or on level ground, making these tents a versatile camping option.
While the specific steps will vary slightly between different models, the first step of tree tent set-up is generally to find three trees spaced out in a triangle. Attach a corner of the tree tent to each tree. As you cinch the straps through the ratchets, the tent will gradually be raised off of the ground until it reaches the desired height. Then, insert the poles and attach the rainfly.
To make things easier, Tentsile actually created an iPhone app to help guide you in setting up your tree tent. Here's a video on setting up the Tentsile Stingray tent specifically:
As discussed above, the Cocoon Tree Bed is much more challenging to set up and takes several people with a few hours of commitment time, as it is a much heavier tent meant to be set up once and left in place for the entire camping season. Note that the company does offer a set-up program to help you with this process.
More: Tentsile Connect Tree Tent Review: Is It a Good Tree Tent?
Conclusion
The Tentsile Stingray Tree Tent is the overall winner of this product roundup, with its durable construction, high load capacity, protective rainfly, and spacious and comfortable interior for three adults. The Tentsile Stealth Tree Tent is another solid option if you're looking for a reliable tent, as is the Lawson Blue Ridge Tent for those with a budget.
The Tentsile Flite Plus provides the most lightweight yet durable experience and is great for backpacking. The Hammock Bliss is another lightweight option and would be a great choice if you already have a hammock.
The OrangeA Hanging Tree Tent is the perfect option for kids to camp out in the backyard. Lastly, for the ultimate luxury experience, look no further than the Cocoon Tree Bed.