Are you tired of resting your head on uncomfortable backpacks? The Klymit lightweight pillow is a great replacement for those old and boring backpacks that we carry to our trips and outdoor adventure.
As we all know, good sleep is essential, and it is the key to good health. And after an adventurous and tiring day what you look forward is a peaceful sleep.
Only a sleeping pad is not enough for a good sleep on the trail; a comfortable pillow is what we want for a restful sleep under the stars. And this is where Klymit Pillow-X becomes essential.
This Klymit Pillow-X review focuses on every minute detail about its design, style, and performance. Let's get into its detailed review and find whether it is worth your money.
Sale
Klymit Pillow X Inflatable Camp & Travel Pillow
SUPPORTIVE and ULTRALIGHT, DURABLE and INCREDIBLY COMFORTABLE: Perfect inflatable pillow for camping, backpacking, hunting, and traveling; Also makes a great seat cushion
SLEEP COMFORTABLY WHILE CAMPING: Features an innovative self centering X design to keep your head perfectly oriented on the pillow
FEATHER-WEIGHT and PACKABLE: Weighs only 1.95 oz. and packs to an ultra compact 4.5" x 2.5"x 1"– about the size of a lighter - INFLATED SIZE: 15 x 11 x 4 Inches; 1-2 breaths; Fit inside a mummy bag's hood for secure comfort
ADJUSTABLE HEIGHT and PRESSURE: Simply add or release air to raise or lower pillow height and adjust firmness for customized comfort
Overview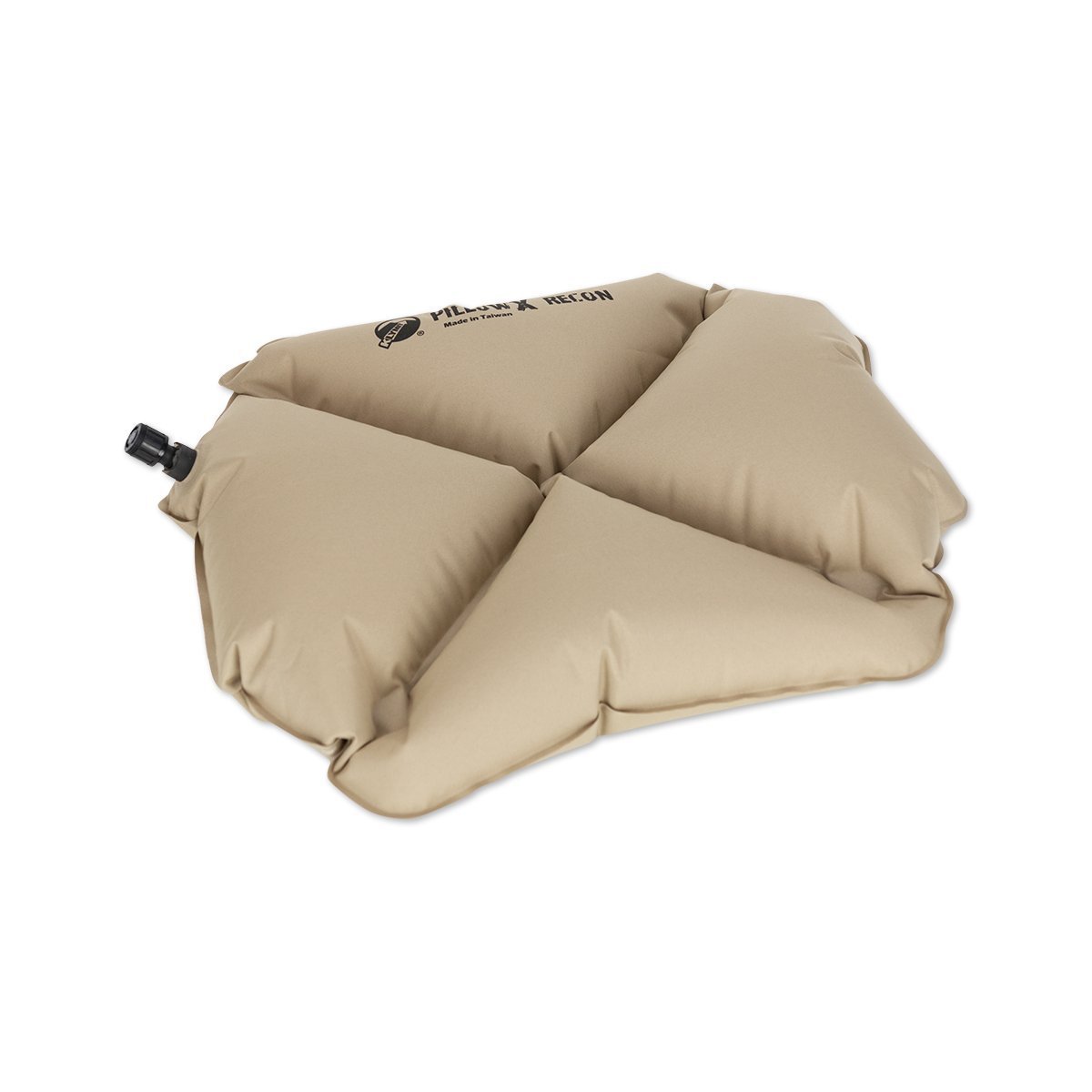 Klymit is one of the renowned brands which work for people who sleep outdoors. There are various valuable products produced by Klymit. From sleeping pads to the travel pillows, Klymit has satisfied thousands of customers throughout the world.
The Klymit Pillow-X is designed to be one of the most technically advanced pillow that is a luxurious necessity for backcountry camping.
Who is it for?
Are you the kind of backpacker for whom every ounce matters?
If yes, then this ultralight pillow is just for you.
The Klymit Pillow-X is a great companion for backpackers, hikers, travelers, and campers who want lightweight and packable camp comfort. The incredible X design supports and gives your head the extreme comfort. It's a great pillow for car camping too.
Just use it for a nap in the park or use it as a seat cushion, its tiny size easily fits in your briefcase or purse for easy accessibility.
Klymit Pillow-X: Specifications
This Klymit Pillow-X measures 15" length x 11" width x 4" height. It weighs 1.95 oz. That's pretty light!
It folds to a size of 4.5" * 2.5" *1", allowing the users to carry them in their backpacks easily while traveling.
There is a storage bag specifically designed for the pillow to maintain its compactness and provide protection to it while carrying.
The pillow made of the fabric "Polyester," a synthetic fiber which gives flexibility to the pillow and prevents from any physical damage.
Klymit Pillow-X Review: Key Features
Customized Comfort
You can adjust the height of the pillow for maximum comfort. Lower the height by releasing some air or raise it simply by blowing air to it to customize the height as per your comfort needs.
Also, the pillow is large enough, providing a large surface area. You will not have any pressure on ears or neck while resting your head on it.
More: Therm A Rest Lumbar Pillow Review
Additionally, the pillow is sleeping bag compatible and is intelligently designed to easily fit inside the hood of a mummy bag for secure comfort.
Supportive
The unique X patterned design cradles your head. With its "X" design and structure, the pillow self-centers your head and keep it perfectly stable on the pillow, offering superior comfort for your nights in the outdoors.
It has a simple valve to inflate and deflate so that you can adjust the firmness of the pillow.
You can also use this pillow as a cushion while sitting on the ground. This feature will be useful for the fishers and hunters who spend a lot of their time sitting outdoors.
Incredibly Lightweight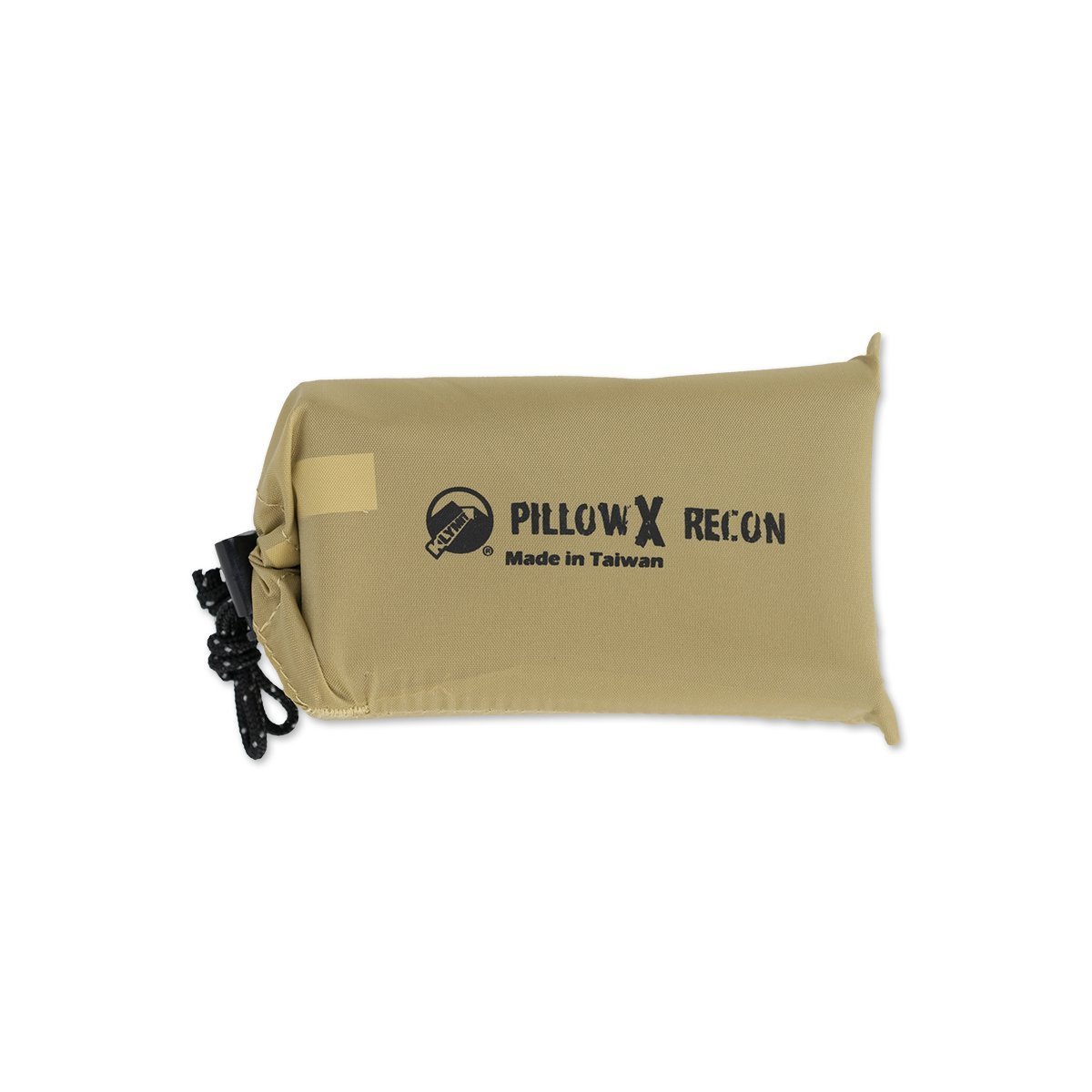 In the world of backpacking, every ounce is counted as pounds and considered as pain. This is where the Klymit pillow stands out. It is one the lightest pillow I have ever seen in this price range as the pillow lighter than this one has double its price.
The 30D polyester material on the top of the pillow makes it incredibly lightweight, shedding grams while still maintaining the required durability.
More: Exped Air Pillow Review
With the weight of just 1.95 oz. The pillow is ultra light and packs down to an ultra compact size of 4.5"* 2.5"*1" which is as small as the size of a lighter. This pillow is a luxurious necessity that doesn't take any extra space in your pack.
Construction and Durability
Made with the most advanced technology and using an advanced material, the pillow is designed to offer high durability.
It has 75D polyester at the bottom to help it resist punctures and abrasion while the 30D polyester at the top makes it soft and sheds grams.
The Klymit pillow-X is made up of Polyester, a synthetic fiber which makes the pillow highly flexible so that it doesn't slip out like other travel pillows.
More: Trekology UL Inflatable Pillow Review
The material of the pillow is a soft brushed stretched fabric which is super-comfortable against the skin.
Pros & Cons
Pros
​Very soft and comfortable

​Inflates easily in 1-2 breaths

​It rolls into a small sleeve for ultra portability

​Made of Rugged material which resists water and abrasion

​Lighter than most of the pillows available in the market

​Perfect for back sleepers as well as side sleepers

​The X patterned design on the pillow helps to position the head on it perfectly
Cons
​Makes noise while repositioning the head

​Slightly slippery because of the material that is used
Customer Reviews
Tons of genuine positive reviews by trustworthy customers all over the world.
Most of the customers are extremely glad because of the compactness and comfort that this pillow gives to them. They appreciate the design and compact size of the pillow. The X pattern helps them to rest their head right in the center of the pillow.
More: Nemo Fillo Luxury Camping Pillow Review
It's adjustable, and the users found it offering great support even as back cushion or as a pillow in their hammock.
On the contrary, few customers are not very happy about the product, because it makes a noise while repositioning your head and they had to cover it with a sweatshirt or cloth to avoid the noise.
Price
The price of Klymit Pillow-X ranges from $25 to $35, depending upon the size. On comparing with other products, the Klymit-X is one of the feature-rich yet cheapest travel pillows that you can get anywhere.
Frequently Asked Questions (FAQs)
Q. What is so special about the design?
A: A bed is not a bed if it doesn't have a pillow. This is applicable even if you are traveling out. Klymit Pillow-X is designed technically to cradle your neck and head while sleeping on it. The hot attraction is its shape and look! Well, the pillow is known for its X-shape, and few people also feel that it looks like a butterfly.
More: Sea to Summit Aeros Pillow Review
Q. Does Klymit Pillow-X have a warranty?
A: Klymit Pillow-X comes with a limited lifetime warranty against manufacturing defects and normal wear and tear.
Q. Does it have leaking issues?
A: You will have absolutely no leaking issues the pillow. I'm using it for a year, and my travel pillow doesn't leak at all!
Q. Is it waterproof?
A: Yes, the Klymit x Pillow is made of such a fabric that it doesn't allow the water to enter into it. It also resists abrasion.
Q. Is an ideal pillow to take on long flights?
A: Yes, the small size of the pillow makes it perfect for long journeys or flights. It bends to your head and face for utmost comfort.
Q. What is the height of the pillow after inflation?
​A: The pillow inflates to a maximum height of 4 inches when fully inflated.
Warranty
Klymit offers a limited lifetime guarantee on this inflatable pillow. The warranty covers any manufacturing defects and any leak or pop that may happen due to normal wear and tear.
To claim the warranty, you need to send the product back to the manufacturer, and they'll get it repaired or replaced as the case may be.
More: Sierra Designs DriDown pillow review
So, the only cost that you'll incur is the cost of shipping the product. The manufacturer will return the repaired/replaced product to you free of charge.
The process of in-house repair takes 3-7 days after receiving the product.
​Final Verdict
If you are looking for a comfortable, lightweight, smooth, and compact travel pillow, you got to check out Klymit Pillow x. It's one of the best camping pillows that enhances the quality of your sleep without being heavy on your pack.
The "X" design of the pillow indents in the middle keeps your head in the center, whereas, the ultra-soft polyester material offers unmatched comfort.
The pillow is reasonably priced along with being durable and offering great support. It's quick and easy to inflate and doesn't slip away from your head.
With so many excellent features, this pillow is undoubtedly the best choice for travelers, campers, and backpackers. So, what are you waiting for? Check more details about the product here and grab it for your next trip.
Do You Like It? Don't Forget To Pin It.