Were you hunting for an inflatable pillow for those long bus rides?
Are you a camper or backpacker? Or are you suffering from any back problems?
Then you just found yourself the right solution!
The Sea to Summit Aeros Pillow Premium is an adequately-priced inflatable pillow that solves all your needs. It can be inflated with just a few puffs while offering a simple design with a high-quality, rugged yet soft fabric.
By digging deep into the product with thorough research, I tried to put all the information about this sea to summit backpacking pillow that will help you make an informed decision.
So, let's check the review.
Brief Overview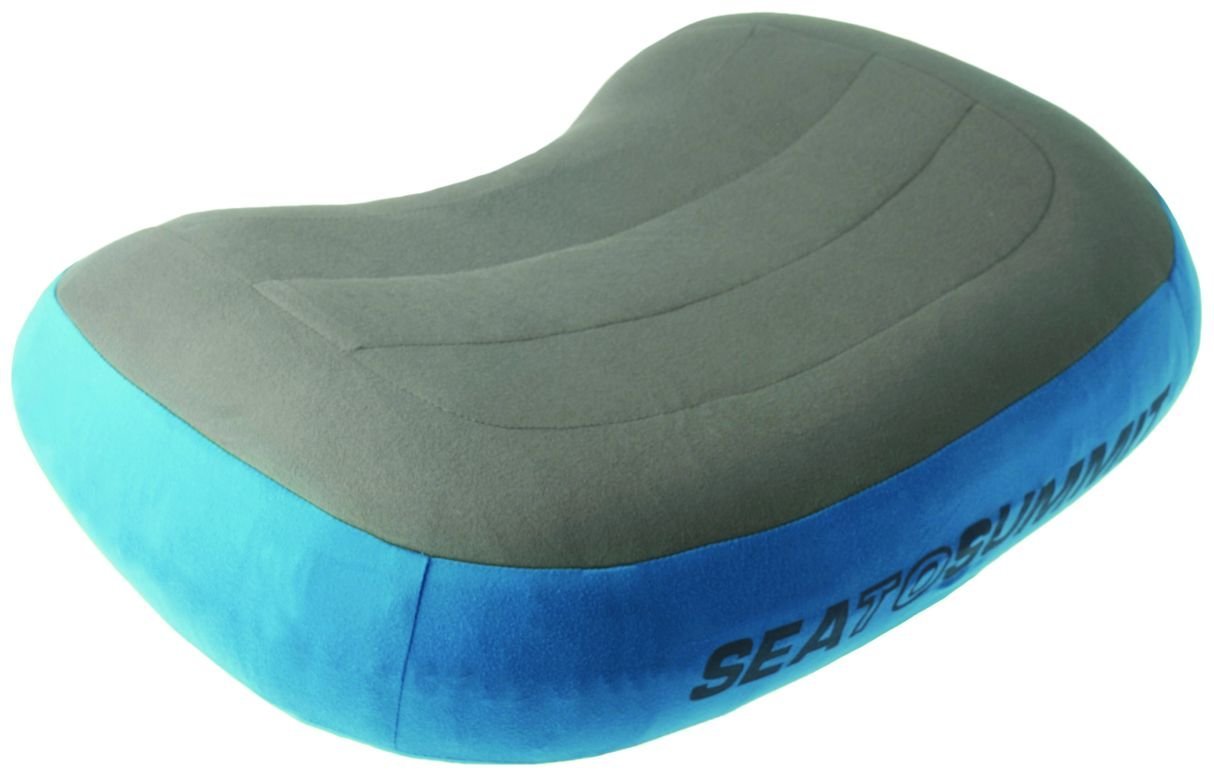 This bestselling Aeros Pillow Premium from Sea to Summit has changed the way many people sleep during camping, backpacking, or while traveling.
This is a luxurious high-performance option in a lightweight and compact size. Made out of brushed 50D polyester knit, it's very soft for sleeping and durable enough for any wear-and-tear.
It has got a low-profile multi-function valve allows fine tuning for your comfort level.
Offering support of a standard full-sized pillow, this sea to summit aeros premium pillow deflates into a small pouch size and thus can be stored easily too. Plus, it is available in different size and color variants.
Who is it for?
The Sea to Summit Aeros Pillow Premium is primarily for campers, backpackers, travelers, and anybody requiring a portable pillow for a quick nap. It's handy for passengers on trains or buses that need support for their back and neck.
Since the pillow provides excellent lumbar and back support, it can be handy for old people and spinal patients too.
This pillow can be quite popular because of its tiny size, above average comfort and that superb support that it provides. You can take it for a long trip lasting several days.
​Sea to Summit Aeros Pillow Review: Key Features
Travel-Sized
The Aeros Pillow Premium comes in two variants, which is perfect few people move around more in their sleep.
When completely inflated, the regular version of pillow measures only 14 x 10 x 5 inches and the sea to summit Aeros premium pillow large measures 16.5 x 11.5 x 5.5 inches. It might feel a little small, but it is perfect to fit under the neck.
The weight for the two sizes is around 2.7 ounces and 4 ounces respectively.
It's also great for the backpacker who wants a little luxury and won't carry extra weight.
Occupying only 0.4 liters of space, the Aeros Pillow Premium is a great addition to your sleep system without taking any extra space. Also, it easily fits inside the hood of sleeping bags.
More: Sierra Designs DriDown Pillow Review
Easy to Inflate/Deflate
The inflation valve of this pillow allows you to easily inflate your pillow without any air escaping in the process. Also, when it's time to deflate the pillow, the second tab makes packing the Aeros Pillow Premium quick and easy.
You can also adjust the height and slowly release the air by pressing the small button inside the valve. This is a great option to release some air without any risk of escaping all the air.
The sea to summit pillow inflates with just three to four breathes and stays in that way the whole night.
Soft to Touch and Comfortable to Use
It's made from brushed 50D polyester knit which is so soft, that you can sleep comfortably. The synthetic fill between the pillowcase and the TPU bladder makes this packable pillow feel comfortable yet durable.
The surface of the pillow feels like velvet, which is suitable for even delicate skin.
The one side elevated design with ideal thickness makes this pillow perfect for side as well as back sleepers.
​More: Thermarest Compressible Pillow Review
Perfect Design
The Aeros Premium from Sea to Summit has a revolutionary design. The curved internal baffles create contours that cradle your head in the middle while the scalloped bottom edge centers pillow around your shoulders whether you are sleeping on your back, side or upright in a chair.
It's got synthetic fill between the pillowcase, and TPU bladder increases comfort and wicks away perspiration.
Pros & Cons
Pros
​Super Lightweight at 2.7 ounces (Regular) and 4 ounces (Large)

​I have made from a material which is both rugged and super soft

​Easy to Inflate with just 4-5 breathes

​Very Comfortable

​Easy to pack, store, and travel with

​Great for people with lower back and neck issues
​Cons
​Air squeezes out regularly deflating the pillow

​Bigger sizes available from other brands

​The silky outer fabric slides and causes the pillow to slide around
Customer Reviews
Many users found this Sea to summit pillow as one of the best camping pillows. One user got the regular-sized for her husband and larger version for her self. She figured there wasn't much difference in the amount of space they took, and even the weight difference was negligible.
Another user felt even though it's not as comfortable as her pillow at home, it's still better than sleeping on spare clothes. This pillow is very light and small, hardly noticeable in a big backpack. The material on the bottom sticks to her sleeping pad, preventing it from sliding around while she slept.
​On the downside, some users found valve issues and said that sometimes the valve separates from the pillow and it leaks. Also, the soft cover makes it difficult to patch.
More: Cocoon Ultralight Aircore Pillow Review
Frequently Asked Questions – FAQs
Q. How big is this pillow?
Answer: The regular version of the Sea to Summit backpacking pillow is 14 x 10 x 5 inches. Whereas, the larger version is 16.5 x 11.5 x 5.5 inches.
Q. How heavy is this Aeros inflatable pillow?
Answer: The regular size weighs around 2.7 ounces/79 grams. The large size weighs roughly 4 ounces/105 grams.
Q: Is the pillow portable enough for traveling?
Answer: Yes, the pillow is small and can easily be packed inside its travel pouch and can be carried without taking any extra space.
Q: How much air does it need to inflate the pillow?
Answer: The pillow completely inflates after 4-5 breathes. So, few puffs are fine.
Q: I am just curious, how well is the product rated online?
Answer: The Sea to Summit Aeros Pillow is highly rated online with over 500 reviews, most of which are positive.
Q: What material is the pillow made from?
Answer: The Sea to Summit Aeros Pillow is made from superior quality brushed 50D polyester knit, which makes it both soft yet rugged. The cover can easily be taken off and washed.
Q: What sizes is this pillow available in?
Answer: There are two variants of the Sea to Summit Aeros Pillow, Regular and Large.
Q: Can I fit this pillow into my travel bag?
Answer: Yes, the pillow is both lightweight and small. After deflating it'll be the size of a soda can and will fit easily in its travel pouch.
Q: Will this be suitable for people with spinal problems?
Answer: It is especially great for people with spinal problems as it provides great lumbar support.
Q: Which company has manufactured this pillow?
Answer: The Sea to Summit Aeros Pillow is designed and manufactured by Australia-based Sea to Summit company. Sea to Summit is a leading camping and backpacking equipment store.
More: Klymit Luxe Pillow Review
Q: What colors is this pillow available in?
Answer: The Sea to Summit Aeros pillow premium is available in green and blue colors.
Q: How much will the Sea to Summit Aeros Pillow cost, and where can I purchase it?
Answer: The usual price for this pillow is $28-$48 (Regular/Large size) and can be purchased online on Amazon or any regular camping equipment store.
Q: How can I deflate this pillow? I hope it's not that difficult.
Answer: To deflate the pillow, you open the inflation nozzle and squeeze out the air inside.
Q: Can I wash this pillow in a washing machine?
Answer: No, you cannot wash the pillow in washing machines, but it's easy to hand wash the pillow.
Maintenance
Although the pillow is not machine washable, but you can hand wash by deflating the pillow. Use warm water to wash the pillow in a gentle kneading motion. Make sure to close the valve before washing. Also, the pillow must be air dried and shouldn't be used in a dryer.
You can also use a removable pillowcase from Aeros for simpler washing.
When you are not using the Pillow, make sure to deflate it and store it inside its travel pouch for better maintenance.
More: Teton Sports Camp Pillow Review
Warranty
​Sea to Summit Aeros Pillow isn't protected by a lifetime warranty by the manufacturer to protect the pillow against any material defects and craftsmanship. So, one has to be aware of the regular wear and tear, and misuse that might occur over time.
Final Verdict
With numerous inflatable pillow options available on the market, the Sea to Summit Aeros Pillow Premium defiantly has an edge. It's designed by a company that reputed in the field of revolutionizing the Australian backpacking gear and equipment.
It's even got a low-profile multi-function valve that allows fine tuning for your comfort level.
Overall, this is a luxury pillow with impressive performance. It's lightweight, extremely comfortable and machine washable too.
​Buy this, and it will surely become your best companion during travels and camping trips.