Back problems have become quite a common sight these days. Youngsters and aged- people suffer from it alike.
Those suffering from Lumbago (lower back pain) need to watch their posture at all times; while sitting at home, while traveling and at work too.
In such a scenario, the solution a compact yet comfortable pillow can be of great relief. And here comes the Therm-a-rest Lumbar travel pillow. You can take this inflatable pillow anywhere you want. And it will be your best friend for travel.
So let's check the Therm-a-rest Lumbar pillow review and find whether it is worth buying or not.
Overview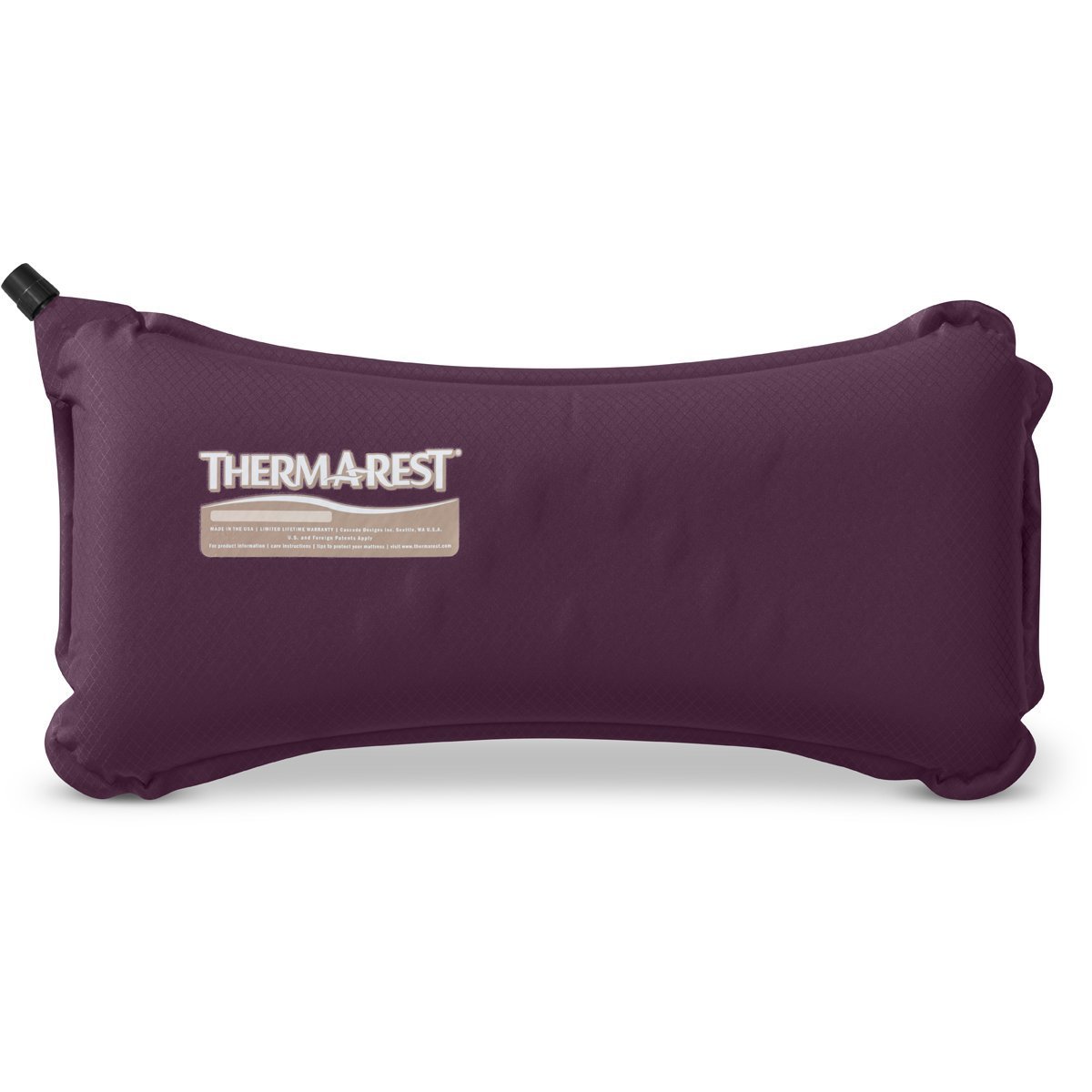 Therm-a-rest is well-known for crafting products that provide comfort to its customers. Their sole aim is to help you be at the highest level of comfort wherever you go.
And the Lumbar travel pillow is one such product that aims to give the required support to your lower back at all times.
This pillow is based on the pressure mapping technology with die-cut foam down the center, which helps in reducing the pressure on the spine.
More: Therm A Rest Compressible Pillow Review
It is a self-inflating pillow and is capable of allowing a personalized level of support to the lower back of the user. The level of inflation can be adjusted by the user with a lot of ease.
This lumbar pillow from Therm-a-rest is a life savior for all those facing back problems.
Who is it for?
Are you are a travel freak, and often undertake long journeys?
Does your profession require you to sit for hours at a stretch for work?
Then Therm-a-rest Lumbar pillow can be your companion for ultimate comfort.
It is specially designed for people with lower back problems also known as Lumbago. So, if you have been combating back pains then this pillow can be the ideal one for you.
Let us see who all can use this wonderful pillow:
This pillow can be used by those traveling long distances, which require them to sit for hours together in planes or cars.
If you work on computers and laptops at the office and need to sit up all day, then this pillow can go with you to the office too. It is also a great choice for office chairs to give support to your back.
You can also this when you are at home, just sitting or watching TV.
​If you are suffering from severe back pains and are advised to sit straight and upright without any slump, this pillow can help you to maintain a correct posture while sitting at all times.
​Therm-a-rest Lumbar Pillow Review: Key Features
Experience a high level of comfort while sitting with this Lumbar travel Pillow, from Therm-a-rest.
The pillow is designed very minutely, keeping in mind little facts, to give maximum comfort to the user. It sports some amazing features, which make it one of the most like lumbar pillows in the market.
Portable
The pillow is deflatable, and you can carry it around by removing the air from it when not in use.
Carrying the pillow to places means taking care of the lower back and providing it with the desired support at all times.
​More: Exped Ultralight Air Pillow Review
Ergonomic Design
The Therm-a-rest Lumbar pillow is designed ergonomically, which gives maximum support to the spine and helps in relieving pressure. This helps in keeping the back comfortable even while sitting for a long time.
Improves the sitting posture
This Lumbar pillow helps in improving the user's sitting posture and at the same time solves musculoskeletal conditions.
The lumbar pillow can be used at all times. You can use it while sitting at home, working in the office, and while traveling too. It can go with you to literally all the places.
Premium foam material
The Therm-a-rest travel lumbar pillow is made using memory foam, which is a premium upgrade.
This feature enables the pillow to form well around the contours of the spinal area thus, relieving pressure off the spine and supporting the lower back.
And when the pillow is not being used, it returns to its original shape.
More: Trekology Aluft 1.0 Ultralight Inflating Pillow Review
Easy Mechanism​​​​​
If you thought that these sophisticated pillows came with complicated mechanisms to inflate and deflate, then hang on!
This pillow from Therm-a-rest is sophisticated yet easy to handle.
Inflating and deflating it takes only a minute or two.
The dedicated valve works smoothly while filling the air or removing it.
All you have to do is blow some air to inflate and open the valve to let out some air and deflate it. Sound easy.
Hygienic
If you are a cleanliness freak, this one of the best camping pillow will not disappoint you.
The breathable material of this pillow promotes hygiene. It allows ample amount of airflow without compromising on the comfort level of the user.
It is made in such a way that it responds well to the users' body heat and pressure too.
A microclimate prospers inside the cushion due to the airflow, promoting dissolution of heat and sweat
More: Nemo Fillo Luxury Camping Pillow Review
Non-allergic and odour-resistant
One of the most highlighting features of the inflatable lumbar pillow is that it is non-allergic, contaminant and odour-resistant.
It comes with a soft polyester cover, which can be cleaned regularly to keep germs and bacteria away.
So you need not panic about the pillow becoming dirty or stained. You can easily clean it on the go!
When is a Lumbar Pillow needed?
The most basic question that arises is that when is the lumbar pillow supposed to be use?
You can use the lumbar pillow whenever you are sitting. Be it at home, car, office, or while traveling.
If you are sitting for hours together, it could do serious harm to your spine and sitting posture. In such a scenario, the lumbar pillows work as a great life savior!
They are designed to provide the required support to your back while seated. It is made in such a way that it can perfectly take the shape of your lower back and relieve of any discomfort.
More: Sea to Summit Aeros Pillow Premium Review
How to use the Lumbar Pillow?
Once you know why you need the Lumbar Pillow, the next question arises is How to use it? It is important to use the pillow correctly so that it can benefit you by improving your posture.
While you are seated, the pillow must be placed vertically across your back so that it can support your lower back appropriately.
​Another important thing to remember is that the pillow should keep your ear, shoulders, and hips in alignment to maintain the natural curvature of your spine.
Pros &Cons
Pros
​Compact and portable to be carried along easily

​The contour of the pillow fits the lower back most perfectly, giving ample support

​The self-inflatable feature of the travel pillow helps in getting the required amount of support for any seat

​This Lumbar pillow is a great product to be used when you are traveling on long-distance flights or taking a road trip

​Inflating and deflating this lumbar pillow is as easy as it can be. It takes only a few seconds to adjust the amount of inflation
Cons
​The pillow has no additional strap that can hold it in place. This prevents the pillow from staying in one place for longer

​Cases have been reported where the pillow tends to lose air after a couple of months

​Lack of carrying pouch for the deflated pillow may sometimes make it difficult to fit it elsewhere
Customer Reviews
Positive Reviews
Majority of the customers have given big thumbs up to the Therm-a-rest Lumbar Pillow.
This lumbar travel pillow was rated as one of the best product to support your lower back. It can be easily be carried everywhere; in the car, on plane journeys, at the theatre and home too while working on the computer or watching TV. This pillow is especially for those who have been advised to watch their posture by the physical therapist.
The pillow was also applauded for its adjustable firmness depending upon how firm you want it to be. You can increase/decrease the firmness by blowing in some air or taking it out.
More: Sierra Designs DriDown pillow review
Negative Reviews
On the negative side, some customers were disappointed with the pillow. Some complained about the leakage, while some did not find it up to the mark. They complained that the pillow deflated itself after using it for a couple of times.
Another set of users felt that the pillow should be accompanied by a carrying pouch and a strap that can hold it in place.
​Frequently Asked Questions (FAQs)
​ Q. What is the size of this pillow?
A: This pillow is 18" by 9" by 2". This includes a 0.75" flat rim all around it. You can adjust the size by inflating or deflating it as you wish.
Q. Is there a way to keep the pillow in place?
A: The pillow has no additional strap or buckle that could tie it to a chair. It has to be kept all by itself.
Q. Can the pillow cover be washed?
A: The pillow cover is made up of polyester material and is not removable. All you can do to clean it is wipe it off with soap and wet cloth. For deep cleaning, you can deflate it and wash it in a sink or tub by keeping the cap closed.
​ Q. Can the degree of inflation be adjusted?
A: Yes. The pillow is self-inflating. You can adjust the amount of air as per your comfort and liking.
​ Q. How to inflate the pillow?
A: It's very simple. Just unscrew the cap and blow the desired amount of air in it.
​ Q. Does it have a carrying case?
A: No. It does not have a carrying case/pouch. But once you roll it up tight and lock the air device, it stays compact.
Final Verdict
After extensive research on the Therm-a-rest Lumbar travel Pillow, I can fairly conclude that the Therm-a-rest lumbar pillow review is majorly positive and sound great.
The design, the mapping technology, and the fact that the lumbar pillow fits perfectly on your lower back makes it worth.
If you are among those who are required to sit for long hours each day, the lumbar pillow is a must try product. It can help you to protect your spine posture and relieve you of back pain and problems.
What are you waiting for? Order your Therm-a-rest Lumbar Pillow now and say goodbye to back pain forever.
Do You Like IT? Don't Forget To Pin It.