Do you rest your head on uncomfortable backpacks while camping? I am having trouble finding a Trekology Aluft 1.0 Ultralight Inflating pillow that's comfortable and lightweight enough to carry on travels and outdoor adventures?
Then, inflating pillows has to be your ultimate choice, as they are quite comfortable and allow you to have a good night's sleep just about anywhere. Being dead tired while camping is a matter-of-course, but a comfortable pillow can make the experience more enjoyable.
After hours of use, we bring you insightful Trekology Ultralight pillow review, so you can decide whether it's the one for you!
Trekology Ultralight Inflating Travel/Camping Pillows
Small in Size - Big on Comfort! This is the most compact & lightweight inflatable camp pillow on the market – folds down to 5x2 inches, smaller than a soda can! Inflates to a comfortable pillow for head or lumbar support. Deflating back down in only seconds. This backpacking pillow can easily be carried in your backpack or pocket for convenient access. Weighing a mere 2.75oz (78g), lighter than a can of soda! This is the only travel pillow you will ever need period!
Newly Designed with Your Ultimate Comfort in Mind - Improved Ergonomic Design with Enhanced neck support for a restful night's sleep! The Dreamer Comfort Air Pillow is ideal for back, side and stomach sleepers alike. Inflates to a generous 16 x 12 x 4 inches, in a mere 3-5 breaths (approx.). Ergonomically designed for superior neck and back support while you travel—sleep like at home. The only thing left to decide is where to go. You can Rest easy with our 100% Satisfaction Guarantee!
Now More Durable Than Ever! Enhanced design with added layers for head support that is constructed from highly durable elastic TPU fabric that boasts water resistance. So, whether sleeping under the stars in the mountains, in your boat on the open seas, tenting at your favorite national park or staying at a hotel on holiday—your Dreamer comfort travel pillow is the perfect travel companion.
Ease Of Use! With the simple click of a button, Inflate pillow by mouth with approximately 3-5 breaths. Once you are done you can conveniently deflate the pillow with the Quick Deflate feature which rapidly releases air after use in only seconds. With the unique technology in this compact and light pillow, you are able to adjust firmness to your personal sleep preference.
Sleep Without Worry with Our Propitiatory Slip-Resistant Design - No more slipping off your pillow in the middle of the night! The Dreamer Comfort pillow back is made up of a slip resistant material to prevent your head from moving around while you sleep. Always ensures you have a good night rest! Pairs well with air inflatable sleeping pads.
Overview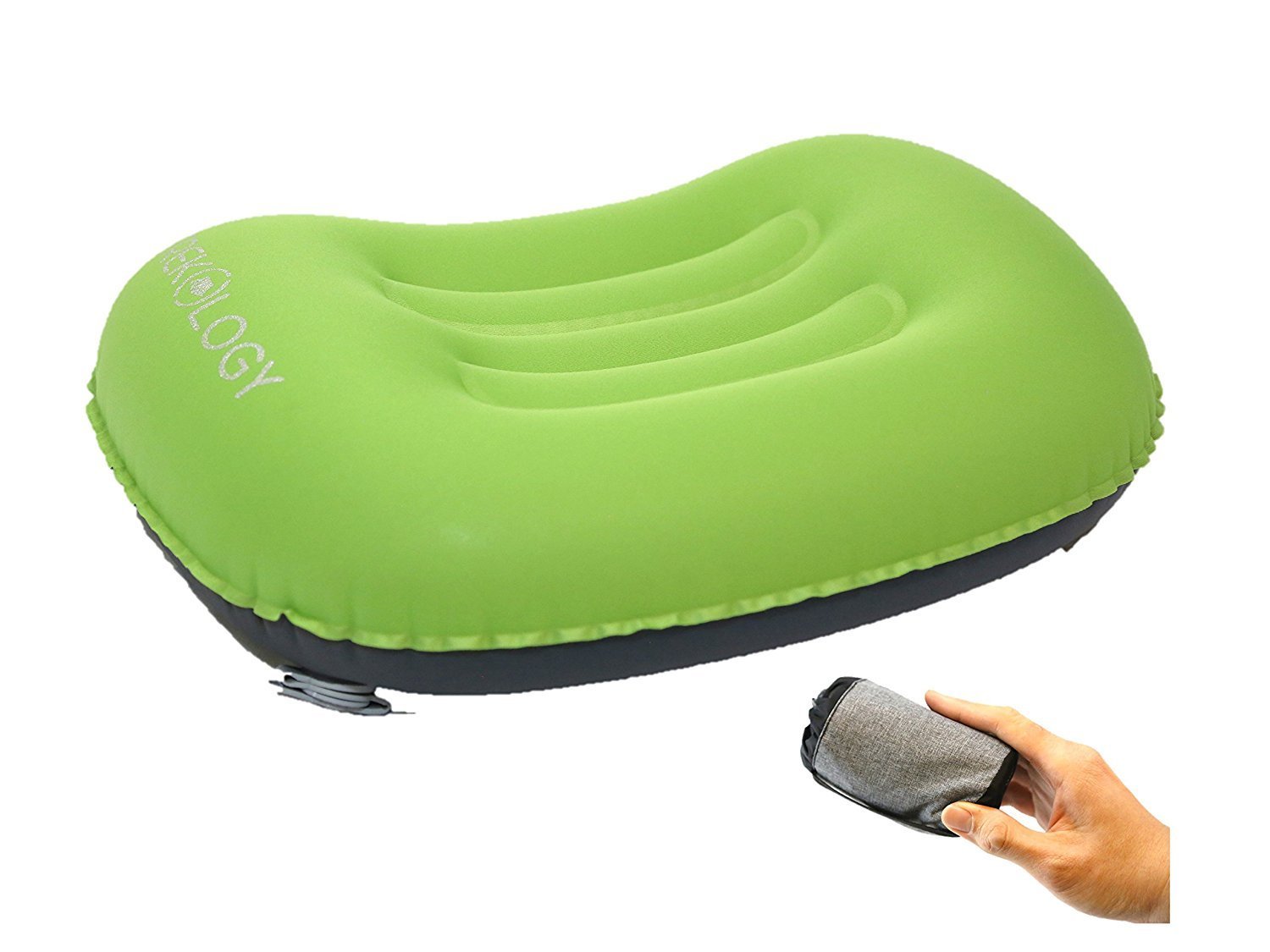 Trekology is one of the innovative startup companies to manufacture premium equipment exclusively for outdoor adventures.
Based in Portland, Oregon- Trekology aims to deliver an affordable range of products to adventure fanatics that excel in usability as well as performance.
Their Aluft 1.0 Ultralight pillow is amongst the best camping pillows in the market. The improved version of Trekology Aluft 1.0 features an ergonomic design that conforms to the shape of your neck and provides better support.
Additional layers at the head support further enhance its durability. Its easy inflation and deflation system makes it an ideal choice for camping or other long trips.
Who is it for?
Trekology Aluft 1.0 Ultralight Inflating pillow is deliberately designed for campers who need lightweight, compact gear that isn't a burden to haul around.

Anyone who needs good-quality, comfy curvature camping pillow for good night's sleep is going to like this unique design.

People who prioritize the space and weight of their luggage are going to find this ultralight pillow amazing.
Trekology Aluft 1.0 is extremely comfortable and can hold its shape well to provide firm support to your head. Biggest advantage of this pillow is that you can adjust its height or firmness just by inflating or deflating the desirable amount of air from it.
​Trekology Ultralight Inflating Pillow: Key Features
Improved Ergonomic Design
Flat, inflatable pillows can be quite uncomfortable to sleep on all night!
Which is why Trekology has come up with an improved design, such that its shape will contour to the shape of the user's neck.
New Ergonomic Curvature Design of the pillow provides enhanced neck and back support, so campers and travelers can have a comfy good night's sleep just about anywhere.
It's comfortable, yet the firm structure is ideal for stomach, back as well as side sleepers alike.
​More: Nemo Fillo Luxury Camping Pillow Review
Size
Trekology Aluft 1.0 looks compact, yet is big on comfort!
Most impressive feature about this pillow is that it folds down to the size of a soda can- just about 5" x 2". It comes all-included with a stuff sack for easy carrying wherever you'd like.
In just 3 to 5 breaths, it inflates to a generous 16" x 12" x 4" pillow for enhanced lumbar and head support.
Weighing merely 2.75 oz. (78 grams), the Trekology pillow is a breeze to carry around! Its ultralight and comfortable design is what makes it one of the best travel pillows in the industry.
The stuff sack effortlessly fits into your pocket, no need to add extra weight to your luggage. Even a child can carry it around with ease.
Light packers are going to love this compact design of Trekology Aluft 1.0.
More: Sea to Summit Aeros Premium Pillow Review
Durable Material
The improved design of the pillow features head support made out of elastic TPU fabric that is water-resistant and highly durable.
Additional inter-layers in the front provide extra cushioning and better support to your neck, head, and shoulders.
The pillow in itself is made from 80% polyester and 20% TPU.
Quick Deflate system
At the bottom side of the pillow, there's an air valve with a button having two positions- upward and downward. Such double-decked air valve system is deliberately designed for quick deflation of the pillow within seconds.
For inflating, keep the button in an upward position and inflate the pillow by mouth in 3 to 5 breaths. If you feel the pillow is too firm, release air by pressing the button and then close the valve. Such unique technology allows you to adjust the firmness or height of the pillow as per your individual sleep preference.
More: Sierra Designs DriDown Pillow Review
For complete deflation, open the valve, press the button and the pillow will fully deflate in seconds.
Slip-Resistant Design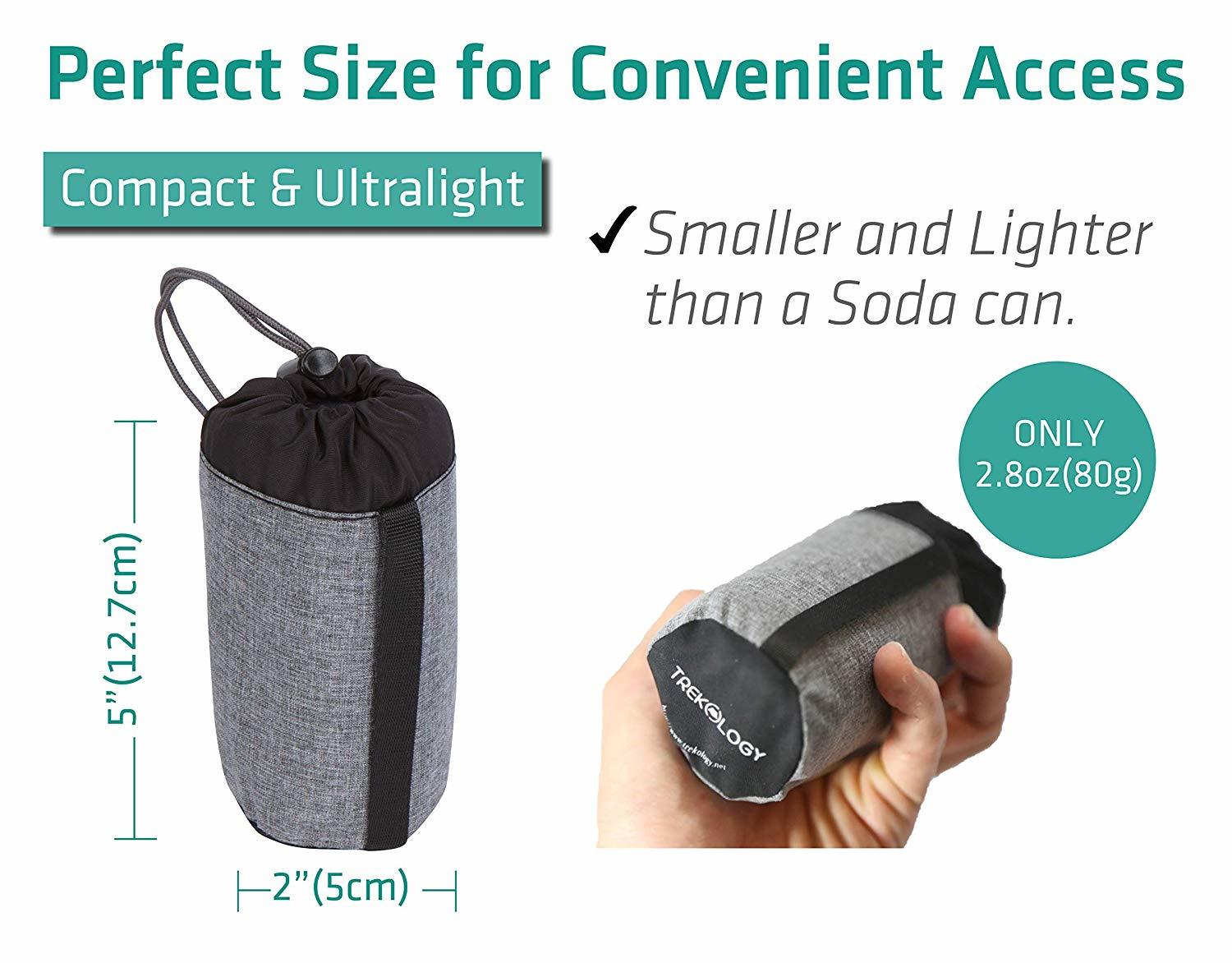 Small camping pillows are prone to slip from under your head during sleep, causing great inconvenience.
But Trekology Ultralight Pillows have a propitiatory slip-resistant design that won't allow it to slip off in the middle of the night.
The back of the pillow is constructed from slip-resistant fabric to ensure your head does not move around much while sleeping.
Such a slip-resistant design works well with air inflatable sleeping pads.
More: Thermarest Compressible Pillow Review
For all Sleep Positions
Curvature design of this Trekology pillow ergonomically conforms around your neck and head, providing impeccable support- no matter what your sleep position is! You can even use the pillow for ergonomic sitting positions during travels for better lumbar support.
New, improved design of Aluft 1.0 makes it ideal for weekend getaways as well as long camping trips. It helps you get a comfortable sleep, just like when you are at home.
Color Options
Most travel pillows don't come in multiple color options, but Trekology offers their innovative Aluft 1.0 Ultralight pillow in a wide range of stylish hues to choose from with over 8 color options.
Pros And Cons
Pros
​Water-resistant and highly durable elastic TPU fabric

​​The valve system is quick for inflation and deflation

​Slip-resistant bottom material

​Improved Ergonomic design for enhanced neck and back support

​Extra inter-layers for additional head cushioning

​Comes with its stuff sack

​Folds down to just 5" x 2"

​Extremely lightweight
Cons
​Prone to leakage

​In cold weather, the air valve gets stiff to operate
Customer Reviews
Users are blown away with the quality and durability of Trekology Ultralight Inflating Camping pillow. Many have liked its unique Click Air Valve System that allows for quick inflation/deflation of the pillow.
One of the reviewers mentioned they've used the Trekology Ultralight for over 300 miles hiking adventure and several overnight trips, yet the pillow seems to hold up great. They've claimed it to be amongst the best affordable, ultralight pillows made for camping and traveling.
Others have found Trekology Inflating pillow to be extremely compact and lightweight to carry around. They've appreciated how the pillow rolls down to the size of a soda can! Which is why it does not take up extra space in your luggage. Rather, you can place it in your pocket, and you're set to go!
More: Klymit Luxe Pillow Review
On the downside, there were few complaints of leakage. Some users have witnessed leaks and found their pillow completely flat during the night.
​But since it is backed with 1 year manufacturer's warranty and 30-days world-class returns policy, you can easily replace your Trekology Ultralight if it happens to leak.
Lastly, some users claim that the valve gets stiff to use during cold weather. This is not a major problem but still worth mentioning.
FAQs
1. What is the warranty provided on Trekology Aluft 1.0 pillow?
Trekology provides 1-year Manufacturer's warranty against materials and manufacturing defects.
If the pillow is proven defective due to workmanship or material defects, Trekology takes full responsibility to replace the pillow within the warranty period.
The warranty does not cover normal wear and tear, damage, or misuse not caused due to manufacturing.
2. What is the price of Trekology Ultralight Pillows?
The price range of Trekology Ultralight Pillow is from $11 to $16. It is one of the premium quality pillows available at an affordable rate.
3. Where to buy Trekology Aluft 1.0 from?
You can purchase your Trekology Ultralight Inflating Pillow directly from Trekology's official website. Or, you can also buy it from trusted e-commerce platforms like Amazon.com or eBay.
4. Does Trekology provide international shipments?
Orders placed directly on Trekology's website are only shipped to domestic USA addresses. For international shipments, you need to purchase Trekology Ultralight Inflating pillow from authorized Amazon or eBay stores.
5. What is the return policy of Trekology?
If you want to return the pillow for whatever reason might be, Trekology has got you covered with the world-class returns policy.
Within 30 days of order, if you are unhappy or dissatisfied with the pillow for any reason, you can return it and get a full refund. The only condition is that you need to retain original packaging with all manufacturer tags. Also, the pillow needs to be in unused condition.
Trekology will pay for the return label- no charges to the customer.
More: Cocoon Ultralight Aircore Pillow Review
6. How to wash Trekology camping pillow?
Wash your Trekology Ultralight camping pillow after every few trips as and when required, to keep it clean and hygienic.
​To avoid degradation of the pillow, make sure you always hand wash your Trekology pillow and air dry it afterward.
Close the valve to ensure water does not enter inside the button system.
You don't need to inflate the pillow to wash it; you can do it while it's deflated.
Take a bathtub and fill it up with lukewarm water. Add some mild laundry detergent in it.
Place the pillow in this soapy water and softly scrub it with your hands.
Rinse off the soap from pillow's fabric with clean water. Squeeze out the excess amount of water from the pillow.
Hang it up to air dry naturally.
​To prevent it from mildew or mold, make sure it is completely dry before you insert it in the stuff sack.
Additional Tips
To prevent the TPU material from damage, make sure NEVER to tumble dry your Trekology camping pillow.
When you're using the pillow, don't throw the stuff sack in your luggage, backpack or pocket, also don't place it at the bottom of your tent. Instead, open the valve at the back of the pillow, slip the string of stuff sack into the valve and close it. This way you won't lose the sack, and it will be right there with your pillow for quick storage in the morning when you wake up.
If you don't want to transfer sunscreen or insect repellant applied on your face to the pillow, insert the pillow into any of your T-shirt. This way, your Trekology pillow will stay nice and clean.
More: Teton Sports Camp Pillow Review
Conclusion
In summary, Trekology Ultralight Pillow is one of the highest quality gear to have on a budget. Its unique curvature design offers enhanced back, neck, and shoulders support along with extra inter-layers cushioning.
From above Trekology Ultralight Pillow review, we conclude that it is one of the affordable and most alluring pillows to have for camping.
Ultralight in weight and made with highly durable materials, the Trekology Aluft 1.0 is sure to provide maximum comfort to the user- no matter what their sleeping position is. Not to mention, its unique click valve system allows for fine adjustments to its height and firmness.
Since the pillow rolls down into compact size mimicking a soda can, it's a great option for people who have weight and space as major priorities.