It is said that traveling is the solution to every problem. We all love traveling, isn't it? But many are quite particular about their sleeping habits. And such people often miss out on their precious sleep when they go camping. Camping pillows like Nemo Fillo Luxury Camping Pillow are available in the market, that's true. But at times it is tough to make a choice.
There are so many pillows, so many reviews. Whom to trust?
To solve this problem, I have written a Nemo Fillo Luxury Camping Pillow Review, which is an honest compilation of all the facts that I could find on this product.
​So, if you are confused whether this pillow is the right choice for you, then read on. I am sure that by the time you reach the end of this article, you will be sure of your decision.
Nemo Fillo Luxury Camping Pillow
ADJUSTABLE COMFORT - Thick luxury foam provides soft and yielding feel, while the 3" I-beam baffled air cell offers support substantial enough for side sleepers
LIGHTWEIGHT & COMPACT - Weighing in at a mere 12 oz and collapsing to the size of a grapefruit, you won't have to sacrifice pack space for comfort
MACHINE WASHABLE - The Fillo's ultrasoft microsuede pillowcase is easily removable for machine washing
INTEGRATED STUFF SACK - The Fillo's integrated stuff sack protects the microsuede surface from ever-invasive camp dust
MULTIPURPOSE DESIGN - Though designed for camping, the Fillo's portability and cushioning makes it a go-to solution for lumbar support on redeye flights and car trips
Overview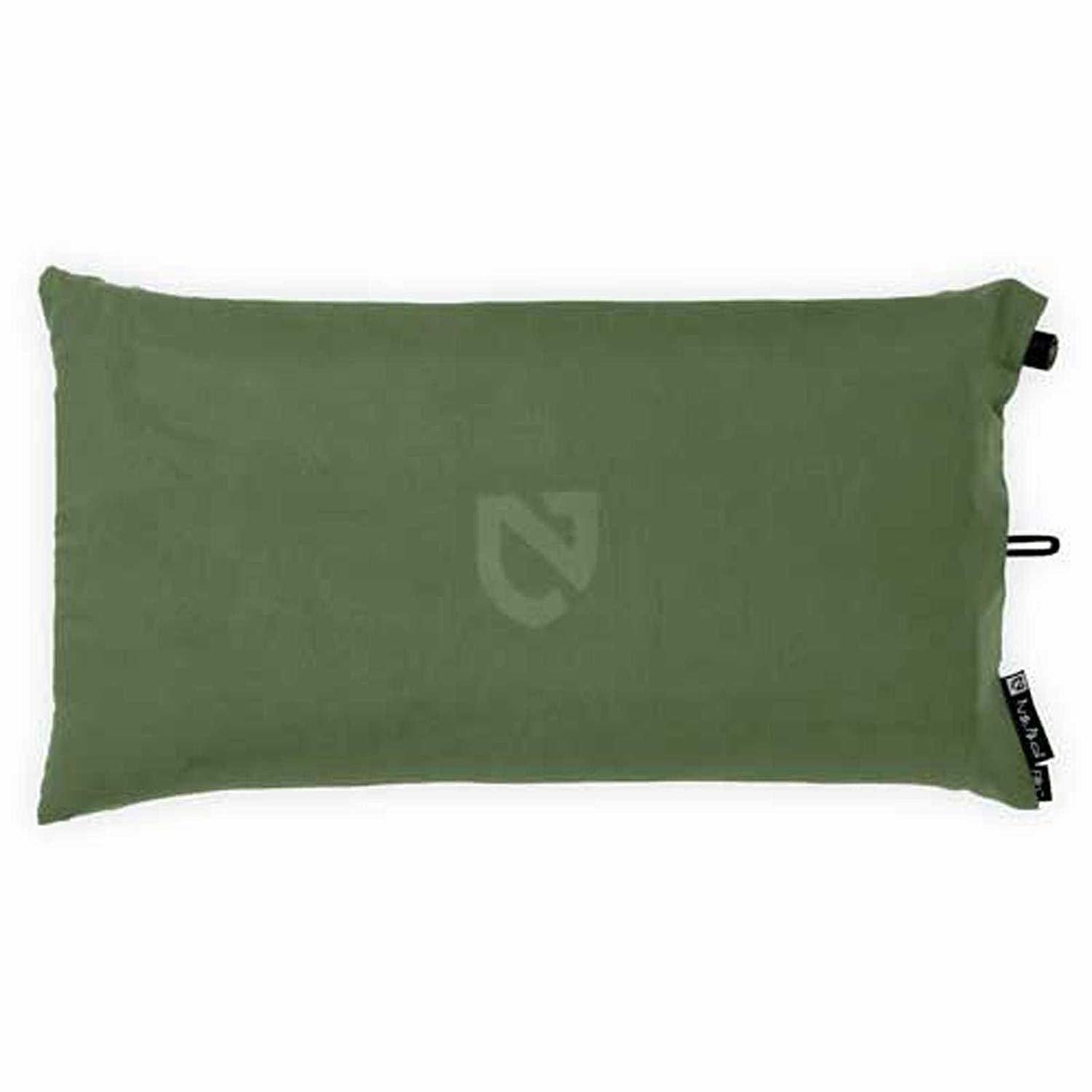 Nemo products aim at providing maximum comfort to the customers with its cleverly designed, comfortable pillows.
This Nemo Fillo backpacking and camping pillow strive to provide a peaceful sleep on camping trips and while traveling. check our the best camping pillow guide
It has memory foam and is inflatable, which makes it easy to use and covers the drawbacks of classic inflatable pillows. It can also be packed to a small size so that it's easy to carry on long trips.
Who is it for?
If you are a frequent traveler or camper, who don't want to compromise the good night sleep, then this pillow is for you.
This pillow is perfect for taking with you on camping trips, long journeys, or adventure trips of a day or two.
Are you among those who like to carry only a backpack and thus have no space to fit in extra clothes to serve as a pillow?
This pillow compresses to the size of a water bottle, and therefore, it easily fits into your backpack. It is perfect for you if you want to pack light and at the same time, ensure comfort on all your trips.
​Nemo Fillo Luxury Camping Pillow Reviews: Key Features
Large enough to ensure comfort
When inflated, the pillow measures around 20 inches in length. This ensures that even if you toss and turn in your sleep, your head will not slip off the pillow.
So, you can enjoy an undisturbed sleep and wake up fully energized.
More: Sea to Summit Aeros Pillow Premium Review
Packs to a compact size
The pillow comes with an integrated stuff sack, in which the pad can be easily compressed.
This not only facilitates packing but also provides a protective covering against dust.
When compressed into the integrated stuff sack, the Nemo Pillow measures around 9*6*5 inches. Roughly, it is the size of a water bottle. This helps in easily fitting the pillow into a backpack or a small bag.
Thus, you will not need to carry an extra bag or take out other stuff just because of your desire of a sound sleep.
Light in weight
The pillow weighs around 13.8 ounces. This is quite light in weight, so you will not need to torture your shoulders, if you want to carry it for long distances.
The Nemo Fillo Luxury Pillow can thus be easily carried over long distances, for hiking and other similar trips.
So, you can carry this product even if you are planning to pack light.
More: Sierra Designs DriDown Pillow Review
You can adjust it ac​cording to your needs
Do you like a soft and thin pillow which cradles your head? Or a pillow just slightly softer than a rock?
No matter what you prefer, the Fillo Pillow has it covered.
The Nemo Fillo Elite Pillow combines air insulation with memory foam. You can inflate it according to your wants.
This adjustable firmness makes it comfortable regardless of your preferences.
More: Therm-a-rest compressible travel pillow Review
Foam filling ensures a sound sleep
The pillow is filled with luxury foam. This expands when the pillow is allowed to rest in the uncompressed form for some time.
This foam ensures that the pillow is soft, and thus ensures that you enjoy a sound sleep, and gives the pillow a massive advantage over classic inflatable pillows.
So you wake up fully energized, ready to take challenges, and thus enjoy the trip to the fullest.
Also, the fact that the foam fills up on its own saves you the trouble of blowing air into it through your mouth.
However, the filling also has a drawback. Many customers have complained that the pillow is crunchy. They say that as they move around the pillow, it makes a crunchy noise. This results in a disturbed sleep for people who toss and turn a lot in their sleep.
It comes with a soft pillowcase
I know you don't want to buy a pillowcase to accompany this camping pillow.
The Nemo Fillo Pillow comes with a removable microsuede pillowcase. This ensures that the pillow feels soft against the face and ensures maximum comfort.
The Nemo pillowcase definitely gives the pillow an edge over other products of the same line.
Generally, users of other camping pillows are forced to buy a pillowcase or put old clothes over the pillow in order to create a soft surface.
In case of this product of the Nemo Camping gear, the users are not required to buy any such external pillowcases.
More: Teton Sports Camp Pillow Review
Easy to use
I am sure you don't want to confuse yourself with how the pillow works, how do you inflate it and other similar questions.
So here is the answer.
The pillow is filled with luxury foam and is fitted with a valve to blow in the air.
When you receive the pillow, it will be in the compressed state. You need to uncompress it and leave it in that state, for a couple of days.
When you think it has achieved the desired firmness, you are supposed to twist the valve to close it.
However, some customers have complained that the valve is poorly designed.
It can be twisted only upto a certain range, and if it is not twisted accurately, it will be nearly impossible to close the valve.
The manufacturer's advice that you should store it in the uncompressed state as it helps in inflating it to the maximum extent.
Comes with a shock cord at the back
Are you still not sure whether the pillow is big enough for you?
The Pillow has a shock cord attached at the back. So, if you want a bigger pillow, you can fix some extra clothes with the help of this cord.
Also, the elastic cord helps you to use the pillow as lumbar support while traveling by air or in a car.
This sets the product apart from the rest of its kind.
Multipurpose
The pillow has been designed cleverly in such a manner that serving as a camping and backpacking pillow is not its only purpose.
Owing to the elastic cord attached at the back of the pillow can be used as a lumbar support in flights and a car on long road trips.
Also, if you compress or deflate it a bit, you can use it as a neck pillow too!
In addition to this, the pillow can be used for comfort on picnics, concerts, on the poolside, in a park or for other similar purposes.
More: Cocoon Ultralight Aircore Pillow Review
Easy to maintain
The biggest plus point of this pillow is that the external cover can be washed in a machine.
So, you are getting a cover to protect the pillow from dust. And you can easily remove the pillowcase and wash it quite conveniently in a machine, and voila! Your pillow is as good as new.
It is advised that the pillow be compressed only when you pack it for trips.
When not on trips, you should keep the pillow in the expanded form so that it reaches the maximum firmness so you can utilize it to its fullest capacity.
Does the product fit into your budget?
The pillow costs around $35 to $50 USD. This may sound a bit pricey when compared to its competitors.
But when evaluated against the numerous benefits and features that the Nemo Fillo Luxury pillow offers, this price is reasonable.
Other camping pillows may be cheaper, but they do not offer so many advantages as the Nemo pillow.
​Pros and Cons
​Pros
​Comes with a removable, machine washable pillowcase, which ensures cleanliness

​Has an elastic cord attached at the back, which allows the user to attach extra clothes if they want a bigger pillow

​Can be used for multiple purposes, not just as a camping pillow

​Compressible to a compact size which facilitates packing

​Adjustable firmness, so you can inflate it according to your preference. This feature also helps in using it for multiple purposes
Cons
​The pillow is noisy. It makes a crinkle sound when one tosses and turns in his sleep

​The valve has to be used with extreme care, as it can be twisted only up to a small range

​It is not waterproof

​The velcro strip holding the compartment flap is very thin
Customer Reviews
Many customers were satisfied with the performance of the pillow. They have commented that it feels like a real pillow. They were pleased with the comfort provided by the pillow. They have appreciated the luxury foam present on the pillow.
The Nemo Fillo Luxury Inflatable Travel Pillow is almost the size of a regular pillow, just a bit lesser in width. Customers have said that this design is perfect for side sleepers, as the pillow fits in their head, their neck, and their arm as well.
Most of the users believe that the pillow was worth the money. One can remove or add memory foam as per their need. The hidden stuff sack is perfect for compressing it into a compact size for packing. The fact that the cover is removable and machine washable was appreciated by customers.
On the downside, however, some customers were not satisfied with the pillow.
Customers were disappointed because of the valve design. The valve is awkward to use and can be twisted only within a small range. So if one is not careful in twisting the valve accurately, they may damage the mechanism.
Many customers has also complained that the pillow is noisy. It makes crinkle sounds, which are extremely annoying at times.
Frequently Asked Questions
Q. Does the pillow slip if used with sleeping bags?
A. The pillow will slip if you toss and turn a lot because after all, it is not that heavy. However, no customers yet have complained of this issue.
Q. How long is the pillow when inflated?
A. The pillow is about 20 inches long when inflated properly. This is almost exactly the size of a regular pillow. It is long enough to fit in your head, neck, and your arm if you are a side-sleeper.
Q. Is the pillow waterproof?
A. No, the pillow is not waterproof. The removable pillowcase is washable.
Q. How small is the pillow when compressed into the stuff sack? Can it fit into a backpack?
A. The Pillow is about the size of a water bottle when you compress it into the attached stuff sack. And as for your second question. If a water bottle can fit into your backpack, the pillow definitely can.
Q. Is the pillow noisy?
A. Yes. That is a drawback many customers have complained about. The pillow is a bit loud when you move your head. This is certainly irritating.
Q. Can you please explain what the shock cord is?
​A. The Shock cord is an elastic cord attached at the back of the pillow. This helps the user in attaching more clothes to the pillow if they want it to be thicker.
Some Additional Tips
Now, let us have a look at some of the tips offered by customers. Hopefully, these tips will help you take full advantage of this pillow.
You should store the pillow in the unfolded form. You may keep it compressed for a week or two but not for months. That may flatten the foam permanently, and you will regret this action later.

Covering the pillow with additional pillowcases (that is, apart from the one that comes with it) can help a lot in drowning the crunchy noise to some extent.

Do not over inflate the pillow if you do not want to sleep on a balloon. Keep it slightly less inflated, as this makes the pillow feel like a regular one.

You can also use the pillow as a neck pillow, provided it is under-inflated. The shock cord at the back facilitates this.

Inflate the pillow as much as you can, and you will be able to use it as lumbar support on flights and in cars for long road trips.
Final Verdict
So, now that you have reached the end of the Nemo Fillo Luxury Camping Pillow Review, what have you decided?
I hope I have been able to provide you all the information you need to and should know.
If you have read the review carefully, you now should have a fair idea of the pros and cons of the pillow, and whether it is the right choice for you.
As for me, I completely recommend the pillow.
The fact that it makes noise when you move your head around is a major drawback. But as I mentioned above, the sound can be drowned by the use of additional pillow covers.
The one thing that I loved about the pillow is that it has a shock cord attached at the back.
I like my pillow thick. Therefore, I wasn't sure whether this one would be as thick as I want when inflated. So, the shock cord assures me that I won't need to compromise on my comfort.
Also, I don't like spending too much time on getting the dirt off my pillow when I can spend that time camping more.
Like It? Share It.