​Comfort is a simple 7-letter word, but it takes a lot to achieve it.
Have you ever craved for comfort on a long flight? Does your car seat give you back pain and you wish to find a solution which could help with some lumbar support?
After dedicating my hours to tedious research, I have found the ultimate and one-stop solution to all my back issues, be it back and lumbar support on a flight or a car trip.
The Teton Sports Camp Pillow is a superb mix of how a simple ergonomic design and high quality fabric can produce something so state-of-the-art.
I tested the Teton Sports Camp Pillow after reading a lot of customers reviews and articles applauding the product, and I was not disappointed.
TETON Sports Camp Pillow
SMALL PILLOW THAT'S BIG ON COMFORT: Extra soft travel pillow is the perfect support when it's time to relax; Just right for camping, backpacking and road tripping
WASHABLE: Designed to be taken anywhere; This travel pillow and pillowcase can be washed together or separately
NO INFLATING NECESSARY: Pillow lofts up on its own; Whether you're sleeping under the stars, driving cross-country or on an airplane, you'll rest easy
MATCHING CAMPING GEAR: Each pillow matches the lining of one or more TETON Sports Sleeping Bags and packs down tight
TETON SPORTS PROMISE: Reach out to our AMAZING product support team if you have any questions or concerns; YOU CAN COUNT ON US to get you taken care of and back OUTDOORS with TETON Sports
​Teton Sports Camp Pillow Review
Brief Overview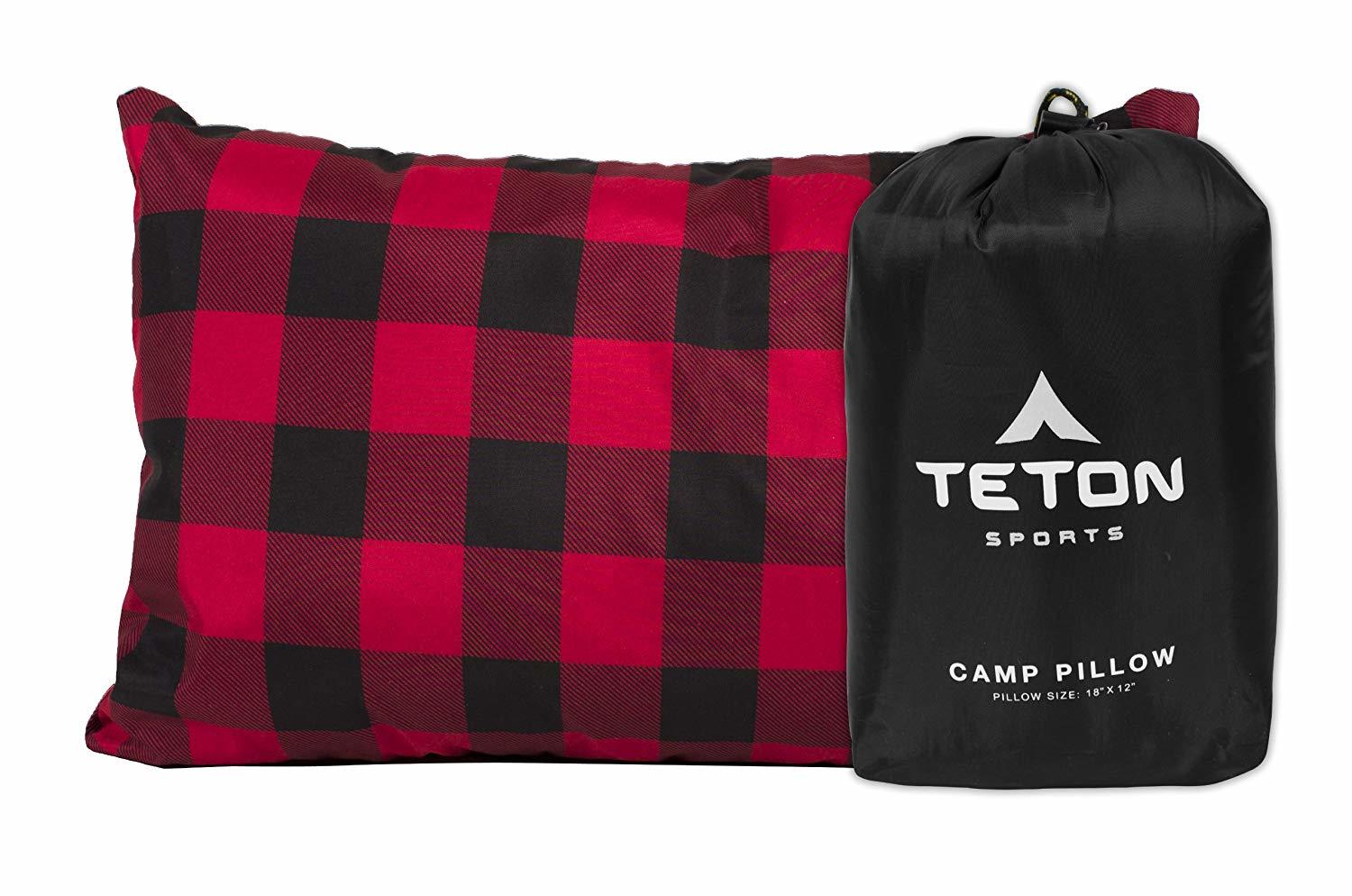 Teton Sports is a privately held firm which was started in 2005 in Utah and is owned by Scott Holmes, who started the firm to facilitate products for people to make traveling and staying in the outdoors easier.
The Teton Sports Camp Pillow follows the vision of the company closely and is a product that is good to look at – and is like a traditional pillow only that it is not.
The pillow has a smart design and ensures that it can be used as a camping pillow, with the comfort of a traditional pillow.
Who is it for?
The Teton Sports Camp Pillow is for campers and travelers, who could be traveling by bus/train or plane on a long journey and need to rest their back and neck.
The pillow provides excellent lumbar and back support, which makes it a must have for people with a spinal problem, or for old people who are traveling over long distances.
The Teton Sports Comfortlite is ideal for car camping and is perfect because of its size, comfort, and the superb support that it provides.
​Teton Sports Camp Pillow: Key Features
Small Dimensions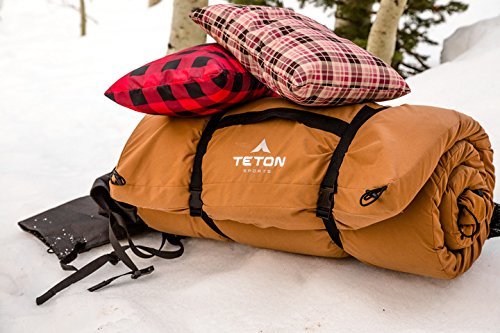 Do you travel quite often and need to keep your backpack small and light in weight? Or are you an adventurer and do not want to waste too much space to pack basic amenities like a pillow or maybe a blanket?
If the above is true, then the Teton Sports Camp Pillow is specifically for you.
Measuring only 12 x 18 inches, the Teton Sports Camp Pillow is small but sturdy in its make and weighs only 10 oz.
The small dimensions also ensure that the pillow is easy to fit in a travel bag, and can be carried comfortably.
More: Cocoon Ultralight Aircore Pillow Review
High on Comfort
Imagine a pillow so soft, that it is ideal for babies too!
The Teton Sports Camp Pillow is made up of brushed P5 poly hi-count, the texture of which is super soft and is filled with SuperLoft Elite 4-Channel Hollow fiber, making it super soft.
The poly-flannel pillow is perfect for a comfortable sleep on a camping trip or a long journey.
The large surface area of the Teton Sports Camp Pillow makes sure that your head gets plenty of space to move around and rest when you plan to sleep.
Also, the pillow's design maintains its shape even after regular use – which is a huge plus point.
Ease of Use
The Teton Sports Pillow can be unpacked from its sack, and that is it – it is ready to use!
Easily the best feature of the Teton Sports Pillow is its ease of use, where there is no need to inflate the pillow.
Why?
The pillow is self-inflatable, and lofts automatically to give you the necessary support and comfort.
The Teton Sports Camp Pillow can be washed in a machine, along with its pillowcase. The pillow also compresses down on its own in case you need to stuff it in your bag or cramp it in a corner.
More: Pelican 20 QT Cooler Review
Support
The Teton Sports Camp Pillow provides much needed support to your back, neck, and shoulders in case of a long journey.
The pillow is a top fit for someone who needs lumbar support in case of a back problem or is advised by the physician to not travel for long periods of time.
Teton Sports Pillow did not compress under the pressure of my head when I tested it the first time, and it was comfortable for my head too.
Value for Money
Small size, lightweight, machine washable, comfortable to rest on and ideal for people with spinal problems. With a price range of $12 – $20, the Teton Sports Camp Pillow is high on value for money and makes any other pillow in the same category look like a meager product.
The Teton Sports comfortlite self-inflating pillow is made from high quality materials and is priced pretty low for the amount of features it has, hands down!
More: Best Top Roof Cargo Box
Pros & Cons
Pros
​Lightweight in nature

​Made from brushed P5 poly hi-count, which makes it super soft

​Self-inflating, no need to inflate

​Easy to pack because of its small dimensions

​Good for people with lower back and neck issues

​Washable at home

​Great customer support from Teton

​Available in 4 color options
Cons
​Poorly packed size

​Size too small for some campers
​Customer Reviews
​​I first used this pillow on my camping trip to the rapids in Colorado back in 2011, and it has been my partner on every plane ride I have since had. Extremely comfortable, and the perfect size for my head – it does not succumb under pressure and can cutely fit between my things in my backpack, which is sometimes pretty tiny to fit something as important as a pillow in it.My night's sleep in Colorado in 2011 was great, and since then has been because of this super comfortable pillow." – Sebastien Rice
I ordered 2 of these a year before, and the pillows have been the perfect fit for me and my husband on our car camping trips around Texas. The pillows were easy to pack and super easy to ease as they are self-inflatable, which is an extremely helpful feature which saves a lot of our time and energy. We thought the pillows would crease if we fit them too tightly in our bags and they did, but by a couple of hours they looked normally plain and perfect. I would highly recommend this brand." – Alice Iwobi
I bought this for my camping trip with my friends, and I was so happy as soon as I opened the package because the pillow is exactly what I was looking for. It is super light, can compress down to as small as a pouch in your backpack, and has enough padding to make you forget that you are not sleeping on your pillow from back home. I wanted to find a disadvantage for the Teton Pillow, but after a year of use, I cannot find any." – Remy Mertens
I want to start this review by saying that I have replaced the pillow on my bed with the Teton one, and it makes me sleep better at night. I first used it when I borrowed it from a friend back in college, and it is very light and easy to use and wash. I give it 5 out of 5." – Jesse James
The product was smaller than I expected, but it does well by fitting in my rucksack and barely taking any space. A couple of times I had to find the pillow in my sack, that is how compactly it stored itself. It perfectly matches the pattern of the sleeping bag that I ordered from Teton, and that is a big plus for me." – Chris Hiddlestone
Frequently Asked Questions
Q: What are the dimensions of this pillow? Does it fit well?
A: The dimensions of this pillow are 12 x 18 x 18 inches, and yes it fits well.
Q: How light is the pillow?
A: The pillow weighs 9.6 ounces.
Q: Is the pillow portable enough if I travel by flight?
A: Completely, the pillow is small and is easy to pack.
Q: Does the pillow provide back and lumbar support? I am a Spondylitis patient.
A: The pillow provides good support to the spine, neck and lowers back – making it perfect for you.
Q: Can I fit the pillow in my rucksack? Is it small enough?
A: Yes, the pillow is lightweight and pretty small – depends on how big your rucksack is though.
More: Yeti Roadie 20 Cooler Review
Q: How does the pillow compare to a usual pillow in terms of size?
A: A traditional pillow is 20 x 26 inches, and the Teton Sports Camp Pillow is 12 x 18 inches.
Q: Can I wash the pillow in my machine? It is a semi-automatic.
A: Yes, you can (delicate cycle). The pillow is machine washable. Although they need some re-shaping when they get dried but they hold up well.
Warranty
​Teton camp pillow is protected by a limited lifetime warranty by Teton Sports to protect the product against material defects and craftsmanship. This warranty doesn't include normal wear, tear, and misuse.
More: Osprey Talon 22 Pack Review
Final Verdict
As has been mentioned in all the customer reviews above, the customers were happy about two particular factors regarding the pillow; its portability and softness – which are exactly what make the Teton Sports Pillow worthy to buy, and a class apart.
The Teton Sports Camp Pillow, is low-priced and outperforms expectations when used for car camping, and is great for daily use too
The pillow performs pretty better than a usual pad despite being smaller in size and is pretty soft because the pillowcase is made out of brushed flannel.
​The Teton Sports Camp Pillow is a great option if you are a camper, a traveler, or a normal person who travels once in 3 months like me – and is a perfect companion for airline and car travel.
Like it, Pin it